The BEST Ham & Cheese Egg Muffins + VIDEO
These Breakfast Egg Muffins are a quick and easy breakfast – so delicious and perfect to grab on the way out the door! Make this Egg Muffin Recipe for a delicious breakfast recipe today!
Egg Muffins
You know how kids are with food? So picky right? They love, love, love something and eat it day and night then the next week you are all on top of it and stock up at the grocery store. In your mind you are all like "Go me!" Then that week comes and your child turns up their nose at the mention of that certain food and decides that something else is the best thing since sliced bread. Been there? I know I have.
You are stuck with that overstocked item in your fridge and you stare at it wondering what to do with it or in the pantry. At least in the pantry you can leave it and hope they come back to it!
Currently Miss K is stuck on a few things. She's gone back to her yogurt loving tendencies. Last summer she ate so much yogurt I thought she was going to turn into yogurt and then suddenly she wanted nothing to do with it. Maybe it's a seasonal love for her?
I'm currently out of it and I'm dreading tomorrow because I guarantee you she will be asking for it. There might be an emergency run to the grocery store which I avoid at all costs. I'm a strict one time per week shopper if at all possible. Obviously sometimes I need to frequent it more often but whenever I do that I buy way to much food and it seriously backfires!
How long do Egg Muffins last?
Stored in the refrigerator these will last up to a week! Of course they won't really last that long because they will most certainly be gone before that! ?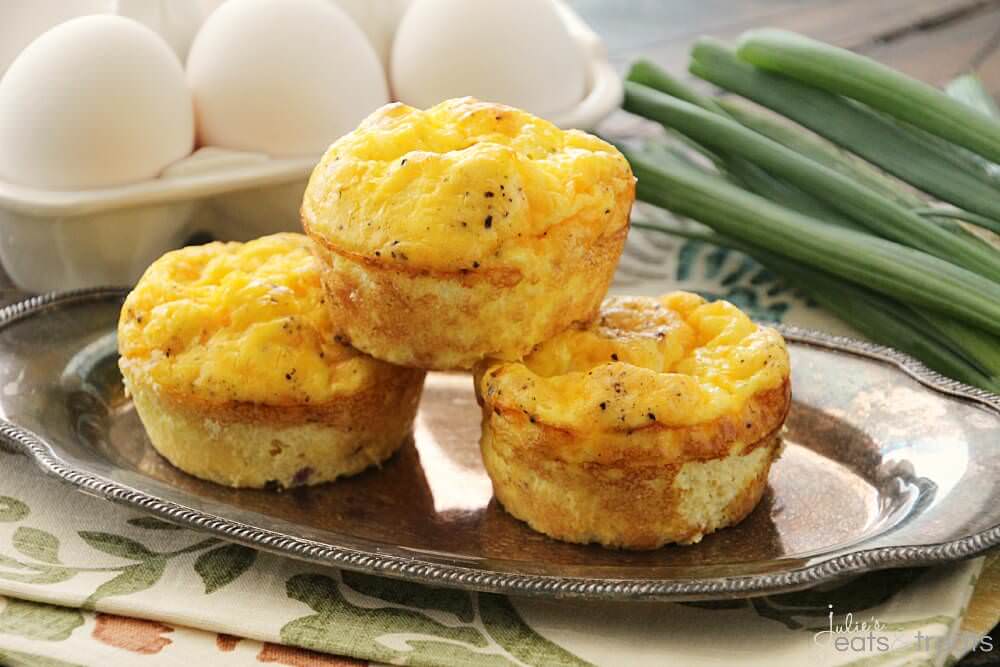 Egg Muffin Recipe
Sometimes I'm a bit of a kid myself and I tend to get stuck on specific foods. Usually it tends to be the delicious pan of bars that I just made. Not so healthy is it? Luckily for me my new obsession is these delicious Ham & Cheese Muffins. Seriously, so amazing. I love having them in the morning with my Bulletproof Coffee.
They are mind blowing. I know you've probably seen recipes for these around the web and I hesitated in posting them because they've been "done", but I had never made them before this and I thought, if I hadn't made them, then I'm guessing there are a few of you that haven't made them either.
I would like to fix this terrible injustice by posting them so you can enjoy them too!
Grocery list for Breakfast Egg Muffins
eggs
milk
cheddar cheese
ham
salt & pepper
You probably don't even need to go to the store, right? How awesome is that!!!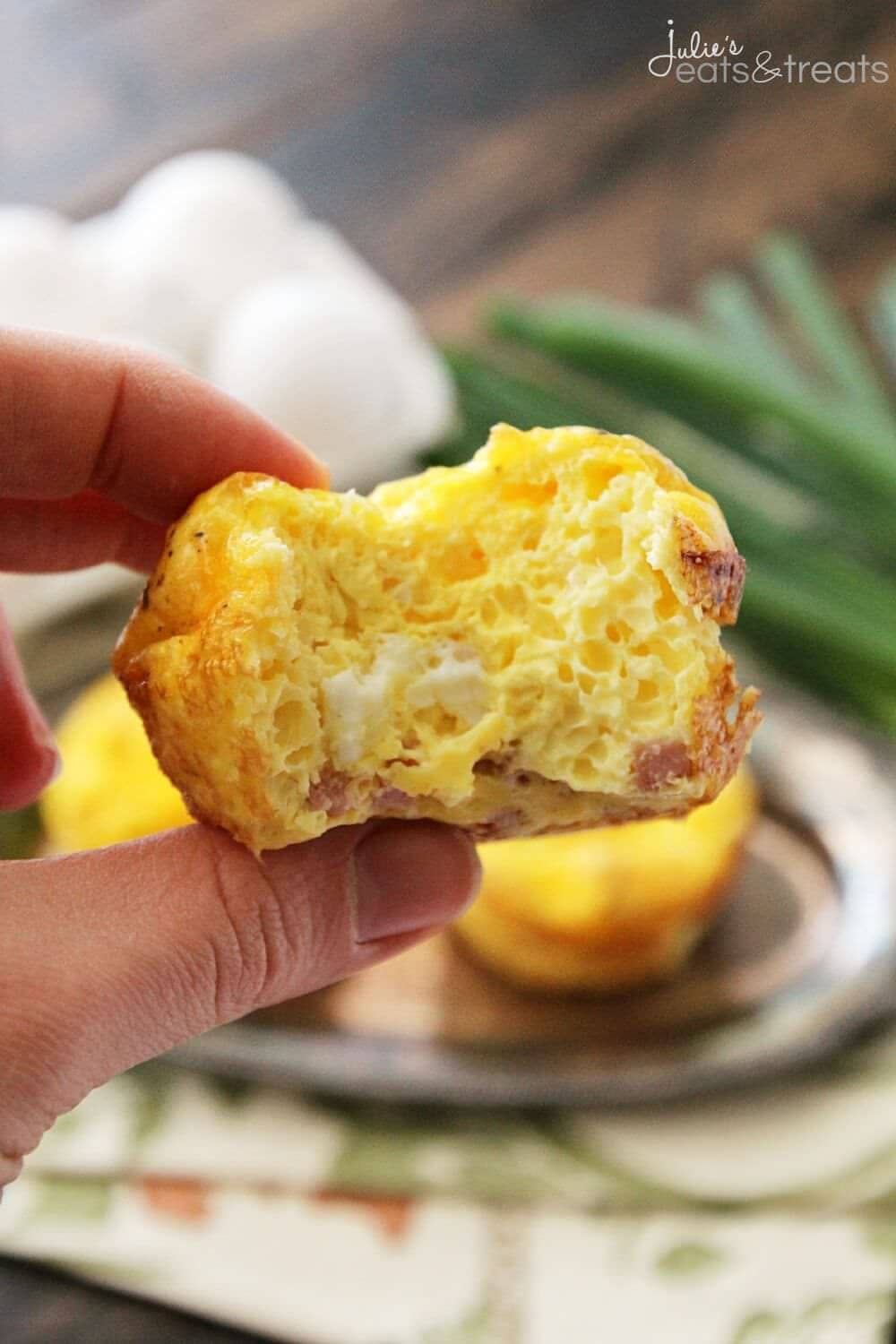 Breakfast Egg Muffins
Lately I've also been trying to shed the last of the baby weight and eat healthier to and these are the perfect solution. These are light and fluffy plus only about 100 calories per muffin and are loaded with protein. They fill me up and leave me satisfied. This Egg Muffin Recipe is a must in my life when eating healthier. There is nothing worse than being hungry and miserable in my eyes.
Can you eat this egg muffin recipe cold?
Yes, you certainly can. But I make an entire batch and tuck then in the refrigerator. Then when I want one, I pop them in the microwave when I need to warm one or two up for a snack. They warm up great!
This is another food that Miss K is obsessed with right now. She loves eggs in the first place but thinks it's so cool to eat these. I love that she can pick them up and eat them with no problem. Usually the first pan never makes it through the week and I have to make another batch half way through the week!
How do you make Breakfast Egg Muffins?
Preheat the oven
Spray muffin tin with non stick cooking spray
Shred the cheese and dice the ham
Whisk together eggs, milk and spice, stir in cheese and ham
Pour mixture evenly into the muffins cups
Bake for 25 minutes or until muffins are set in the middle
Remove from the pan and store wrapped in the refrigerator
Extras can even be frozen, to reheat just pop in the microwave for 30-45 seconds.
If you want to switch things up, be sure to try this recipe for Bacon Egg Muffins, Bacon Egg and Cheese Quesadillas, or Cheesy Egg in a Hole! (the kids love these also!!)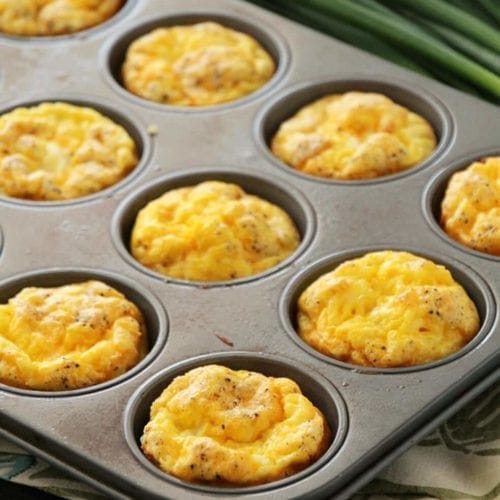 Ham & Cheese Egg Muffin Recipe
Quick, Easy and Delicious Breakfast or Snack! Fluffy Egg Muffin Recipe with Ham & Cheese!
Print
Pin
Rate
Ingredients
12

eggs

1/2

c.

milk

1/2

tsp

salt

1/4

tsp

pepper

1/2

c.

shredded cheddar cheese

1/2

c.

diced ham
Instructions
Preheat oven to 350 degrees. Spray muffin tin with non stick cooking spray.

In a large mixing bowl whisk together eggs, milk, salt and pepper. Stir in cheese and ham.

Pour mixture into 12 muffins cups.

Bake for 25 minutes or until muffins are set in the middle.
Notes
These are great reheated for a quick snack or breakfast!
Nutrition
Serving:
1
g
|
Calories:
119
kcal
|
Carbohydrates:
1
g
|
Protein:
10
g
|
Fat:
8
g
|
Saturated Fat:
3
g
|
Cholesterol:
180
mg
|
Sodium:
353
mg
|
Potassium:
83
mg
|
Vitamin A:
350
IU
|
Calcium:
107
mg
|
Iron:
0.9
mg
LEAVE A COMMENT