Easy to make Homemade Slushies are the perfect refreshing summer treat for kids! With only four ingredients it doesn't get easier than this treat on a hot summer day. Ready in under 5 minutes!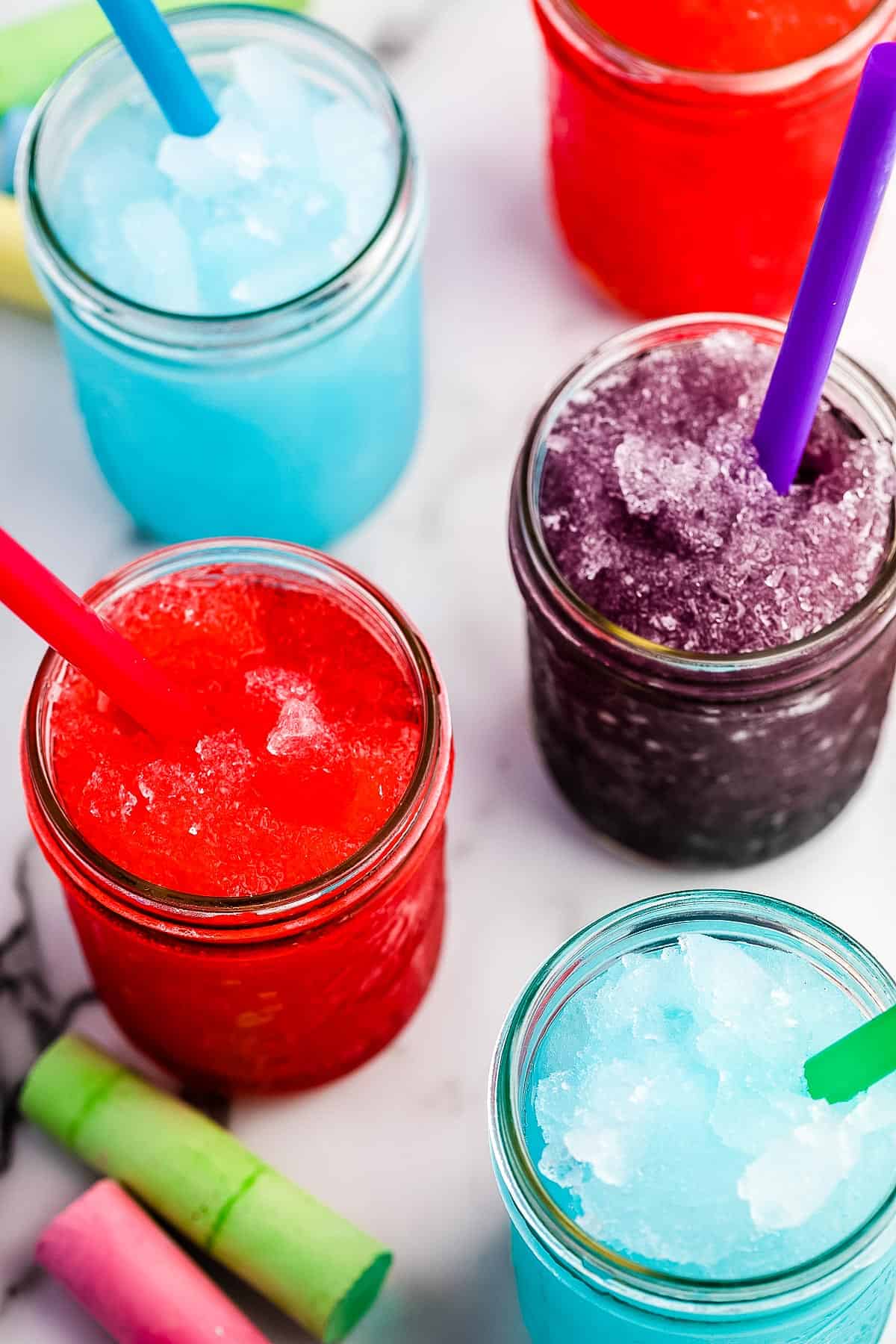 Skip the drive thru or snow cone stand and make some delicious homemade slushies with just 4 simple ingredients! I love that this recipe is really easy, so my kids can run into kitchen a make some slushies during the summer. They love to make these after a pool party or playing in the gorgeous sunshine!
We are currently in a cold treat kick and have loved making ice cream in a bag, slushies, and root beer floats. And us adults have been loving skinny margaritas!
Making slushies at home is so easy and won't take any time away from your outdoor fun. An endless supply of deliciously cold treats are at your fingertips! Have fun making as many flavors as your heart desires.
Why You'll Love Homemade Slushies
It only takes 5 minutes to make 2 perfect slushies! That's way less time than it would take you to load up in the car, drive to a restaurant and order your slushie.
This homemade slushie recipe can be used to make any flavor that you want. Everyone can get their favorite flavor!
You don't need any special syrups or mixes to make your own slushie. This recipe is simple ingredients that you can buy at the grocery store and keep on hand all summer long.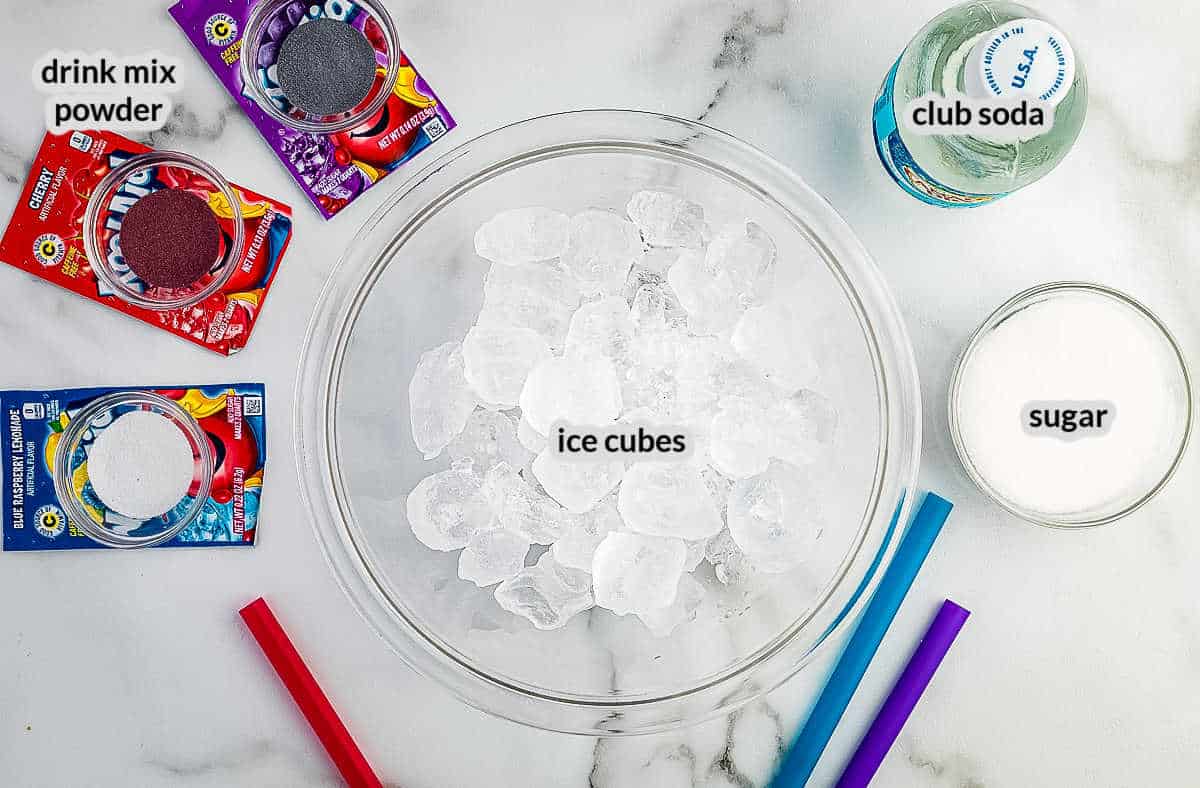 Ingredients for this Homemade Slushie Recipe
Ice cubes – You'll need plenty of ice cubes, so make sure your freezer ice machine is producing a lot! You can also buy a bag of ice at your local grocery store if your freezer does not have a built in ice machine.
Sugar – Use granulated sugar to sweeten your DIY slushies. If you want a sugar-free version you can use a sugar substitute and be sure that you grab sugar-free drink mix as well.
Club soda – Make sure that the club soda is chilled before you use it! Keeping everything extra cold will ensure that your slushies come out the perfect consistency.
Drink mix powder – Drink mix powders like Kool-aid and Crystal Light work wonderfully. You can make an electrolyte slushie by using gatorade powder!
Helpful Tools
Blender
Measuring cups
Straws
Serving cups
How to Make Homemade Slushies
Combine club soda, sugar, powdered drink mix, and ice cubes in a blender. Use a high-powered blender for best results. If you happen to have slushie machine, you can use that!
Blend on high for 30 seconds, then stop and stir. If needed, blend for another 30 seconds until the desired consistency is reached.
You can also pulse the blender if the slushie mixture is too thick.
Pour into two separate glasses, add a straw, and enjoy!
A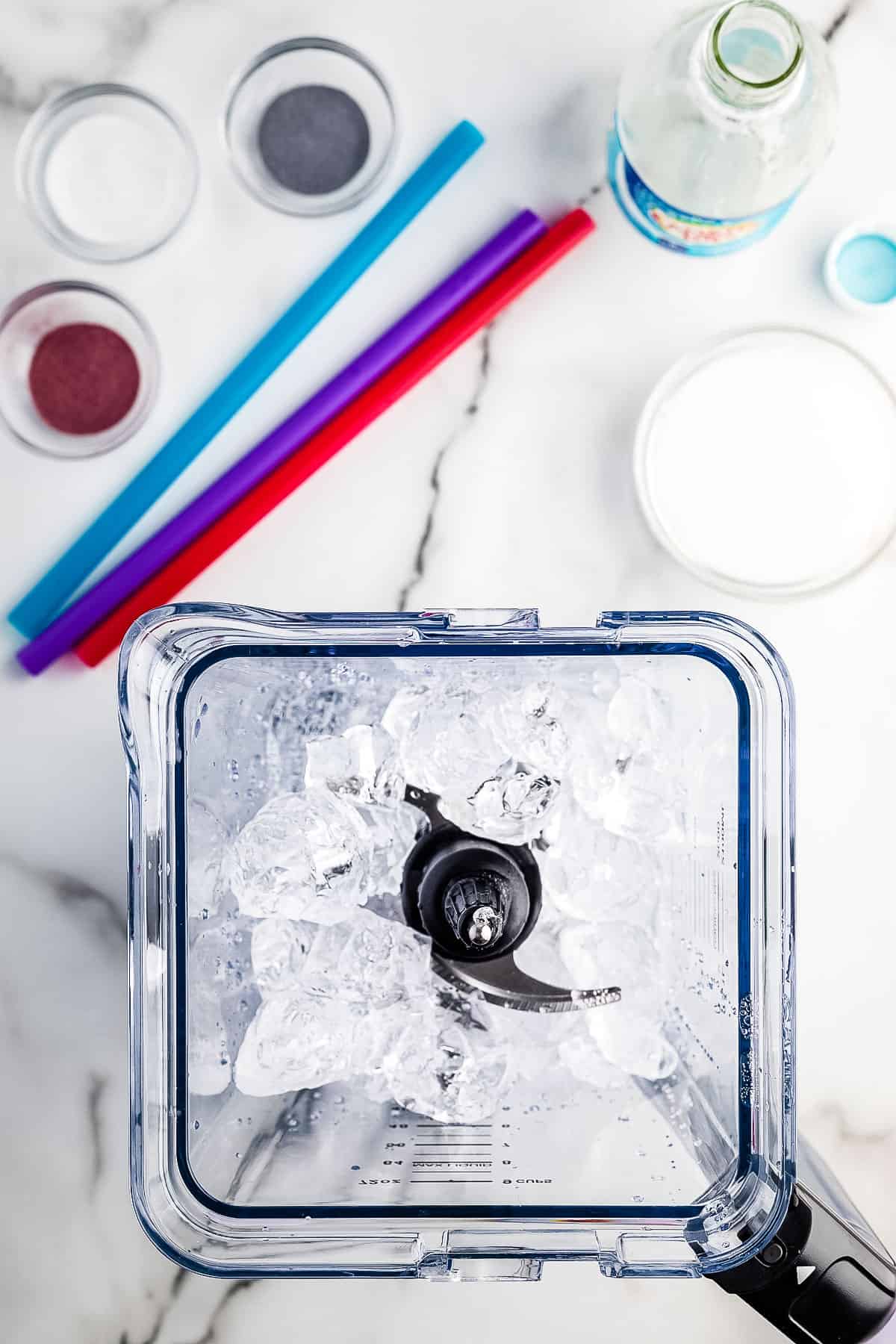 Can I store leftover slushee?
You can keep leftover slushies in the freezer, but it is likely that they'll freeze solid. If that happens, just pop it back into the blender to break it up in to the little ice chunks again! But, I recommend just making them fresh for best results.
What do I do if my slushy is too thick?
Just add a little more club soda and blend it again! You may also just haven't blended your slushie enough. Keep blending and see if that helps make a smoother consistency.
Can I use seltzer water instead of club soda?
Seltzer water would work perfectly in place of club soda! You can even buy some flavor seltzer water to enhance the flavor of your slushies. Just be sure the flavor will pair well with whatever drink mix you've chosen.
Can I use a liquid flavoring instead of powdered drink mix?
Sure! Any liquid flavoring or syrups can be used to make your own slushie. I recommend starting off with 1/4 tsp of liquid flavoring and then testing your slushie mixture. If it needs more flavor, add another 1/4 tsp and blend again. Keep adding until it reaches your desired flavor level.
What should I serve homemade slushies in?
It's best to serve these DIY slushies in a cup made of thick material, whether plastic or glass. This will help keep the slushie from melting because of the heat from hands. A mason jar works great!
However, you can serve homemade slushies in disposable plastic cups if you know they'll be eaten quickly. It does make for an easier clean-up!
Pro Tips!
Want to keep your slushies extra cold? Serve them in stainless steel insulated tumblers and they won't melt as quickly!
It is best to serve your DIY slushies immediately, especially on a hot day.
Clean your blender in between batches so that different flavors don't mix together.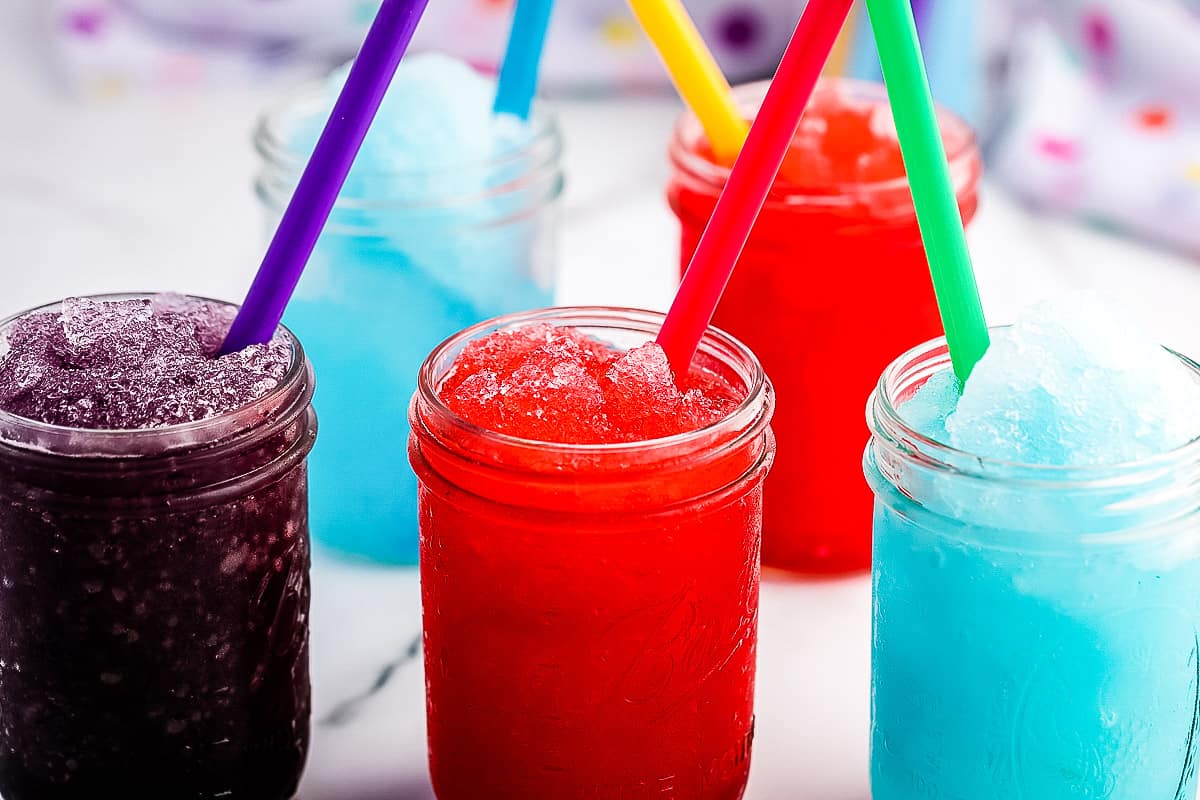 So, what flavor are you going to make first? Grape, cherry, blue raspberry? Let me know what your favorite flavor is!!
More Summer Recipes You'll Love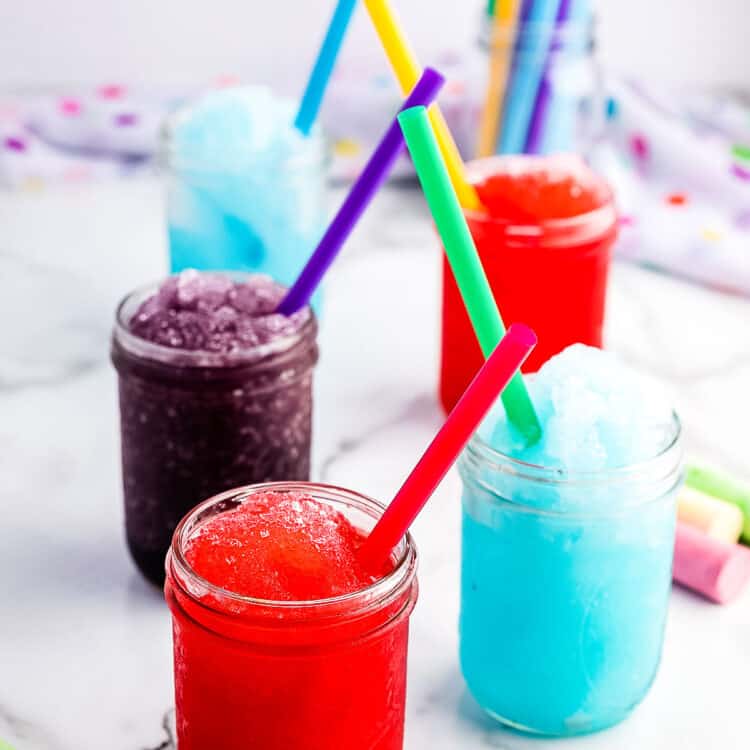 Homemade Slushies
Make these easy copycat Sonic Slushies at home with only four ingredients. They are ready in 5 minute making them to perfect summer treat to cool off with.
Ingredients
10

oz

bottle club soda

preferably cold

⅓

c.

sugar

½

tsp

drink mix powder

like Kool-Aid

4

c.

ice cubes
Instructions
In a blender, combine club soda, sugar, drink mix and ice cubes.

Blend for 30 seconds, stir if needed and blend another 30 seconds or until desired consistency is reached. You may need to pulse the blender if it's too thick.

Divide into glasses and serve with a straw.
Nutrition Information
Calories:
152
kcal
(8%)
,
Carbohydrates:
39
g
(13%)
,
Fat:
0.1
g
,
Sodium:
54
mg
(2%)
,
Potassium:
4
mg
,
Sugar:
39
g
(43%)
,
Calcium:
22
mg
(2%)
,
Iron:
0.04
mg