Nutter Butter Turkey Cookies
Add a festive touch to your fall and Thanksgiving celebrations with these charming Nutter Butter turkey cookies! Made with everyone's favorite Nutter Butter cookies and colorful candy corn, these adorable treats will bring smiles to both kids and adults. Click the link below to grab the recipe and create a batch of these delightful, gobble-worthy cookies!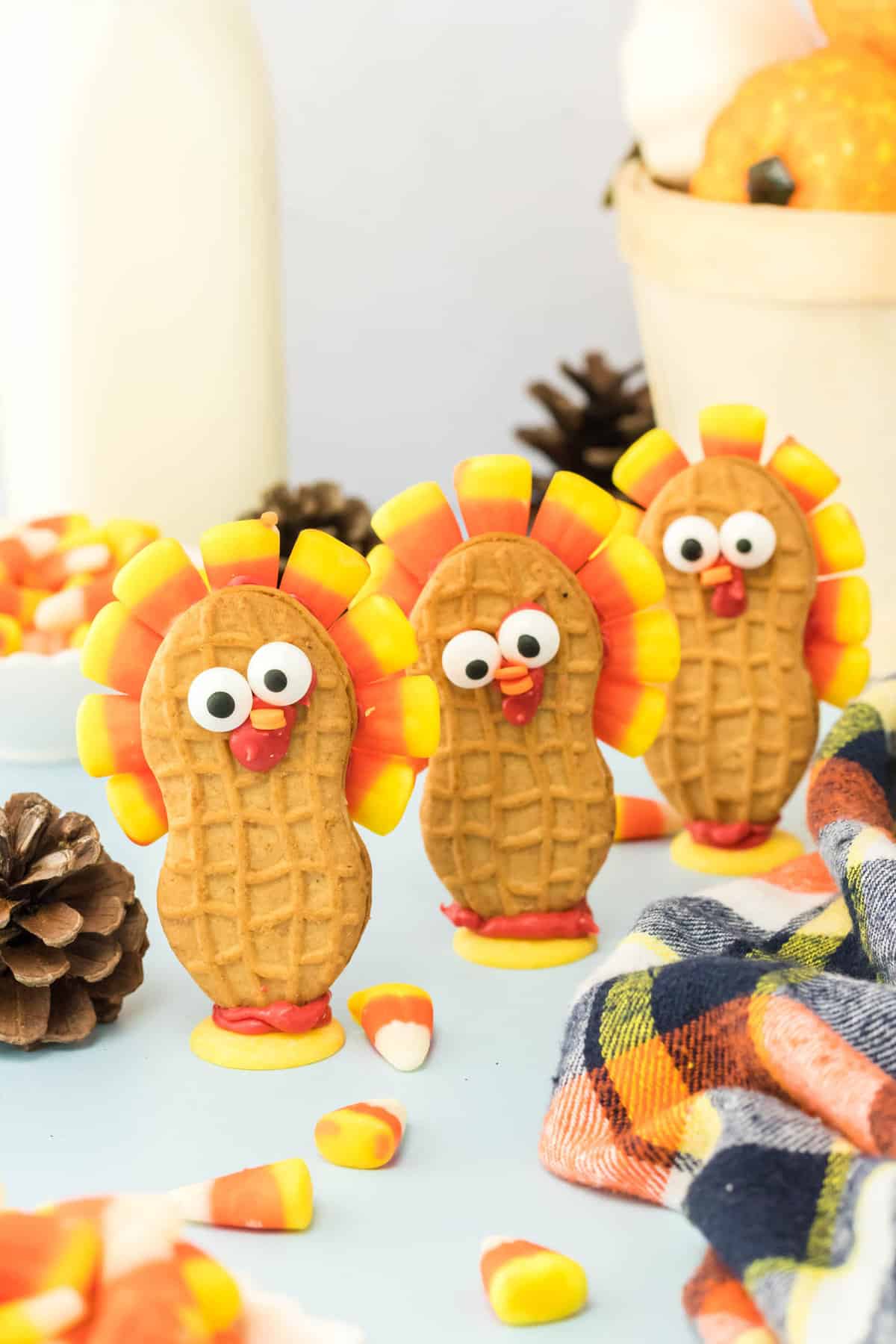 Thanksgiving is right around the corner, and you need to add these adorable nutter butter turkey cookies to your dessert table! These easy cookies are so fun to make. Not to mention, they're just so stinkin' cute!
This no bake recipe will help leave plenty of space in your oven. You can rest assured that you'll have a cute dessert, but an oven that is free to roast a turkey and bake green bean casserole.
I love how many fun uses nutter butter cookies can have. We use them to make snowman cookies in winter, and referee cookies during football season! Their long and curved shape just makes them the perfect cookie to decorate. Nutter butter turkeys are going to be the star of the show this Thanksgiving!
Why You'll Love Nutter Butter Turkey Cookies
These nutter butter Thanksgiving cookies are perfect to hand out as gifts, or bring to a party!
Your kids will love to help make this turkey cookies recipe. It's a super simple recipe and easy to follow.
It only takes about 45 minutes to make a dozen cookies. And that will go even more quickly if you've got some help in the kitchen!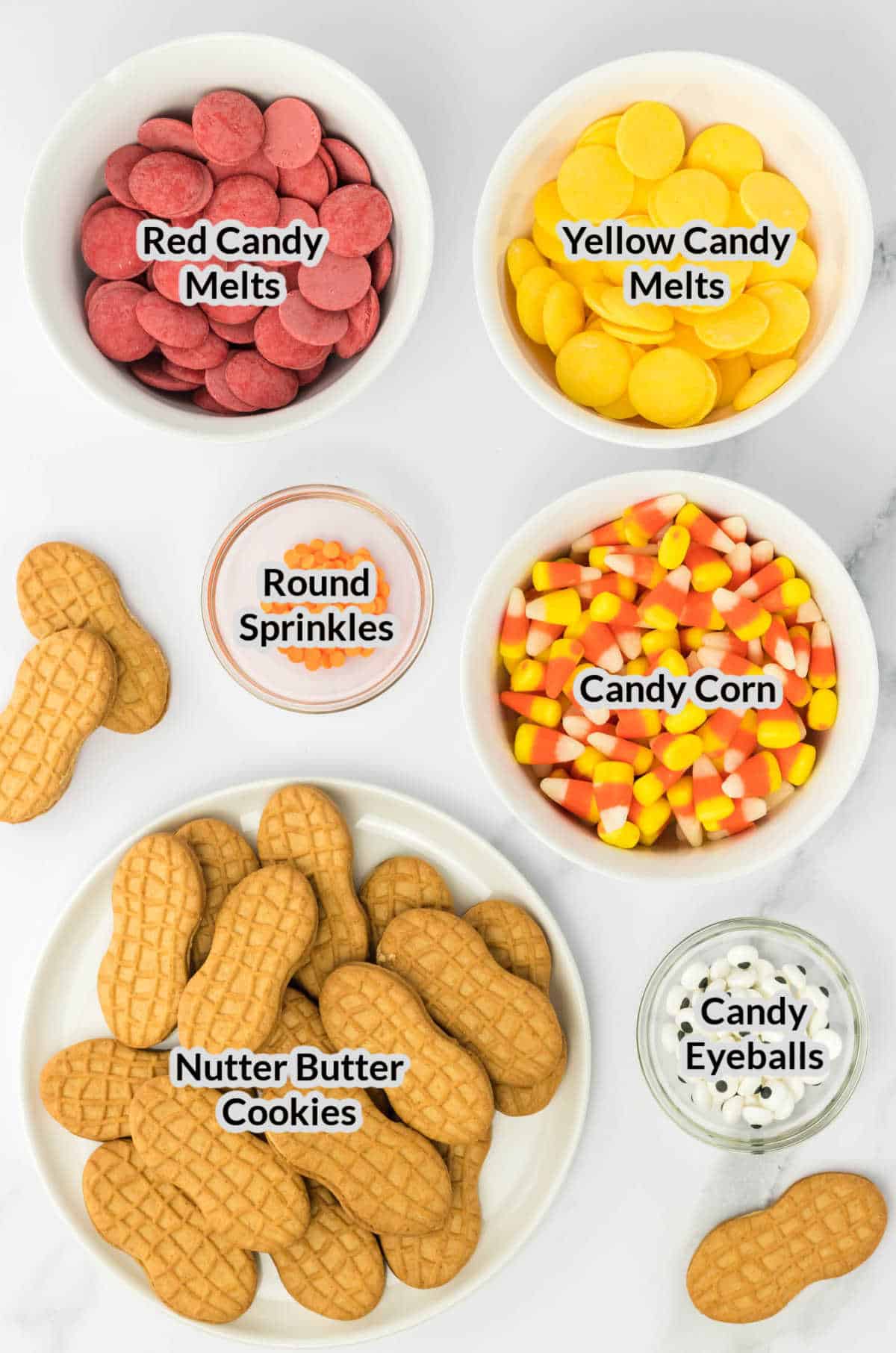 Ingredients for Nutter Butter Turkey Cookies
Nutter butter cookies – You'll need the classic regular sized nutter butter cookies for this cute turkey cookie recipe.
Candy corn – I like buying extra bags of candy corn right after Halloween when all of the candy is on sale. It last for a while in the pantry and then I'll have it on hand for this recipe.
Candy eyeballs – You should be able to find these at your local hobby store, or on the baking aisle of your local Walmart.
Round sprinkles – Round sprinkles will be the beak for your turkeys, so I recommend buying orange sprinkles.
Yellow candy melts – If you can't find yellow candy melts, orange candy melts will work great.
Red candy melts – Use red candy melts to make the turkey neck and to help create a stand that will keep your turkeys sitting upright.
How to Make this Nutter Butter Turkey Cookies Recipe
Grab a small microwave safe bowl, and melt the red candy melts in the microwave at 30 second increments on 50% power. Stir the candy between each 30 second interval and microwave for a total of 4-5 minutes until smooth and creamy.
Once melted, spoon the melted candy into a piping bag with small pointed tip. Then, pipe the red candy onto the outside edge of the nutter butters. Attach 9 candy corns to the melted candy with the flat end sticking out.
Allow the candy to set for 3 minutes.
Once set, flip over the cookies and use more melted candy to attach two eyes. Then use some of the red candy to make a "wattle" for your turkey cookies. Press two orange circles in to create a beak.
Allow the red candy to set again for 3 minutes. Then place a dollop of red melted candy on the base of each turkey and press it into a yellow candy melt. This will create a sort of stand for each of the nutter butter turkeys.
Allow the candy to set for 5 minutes and serve immediately or store for later!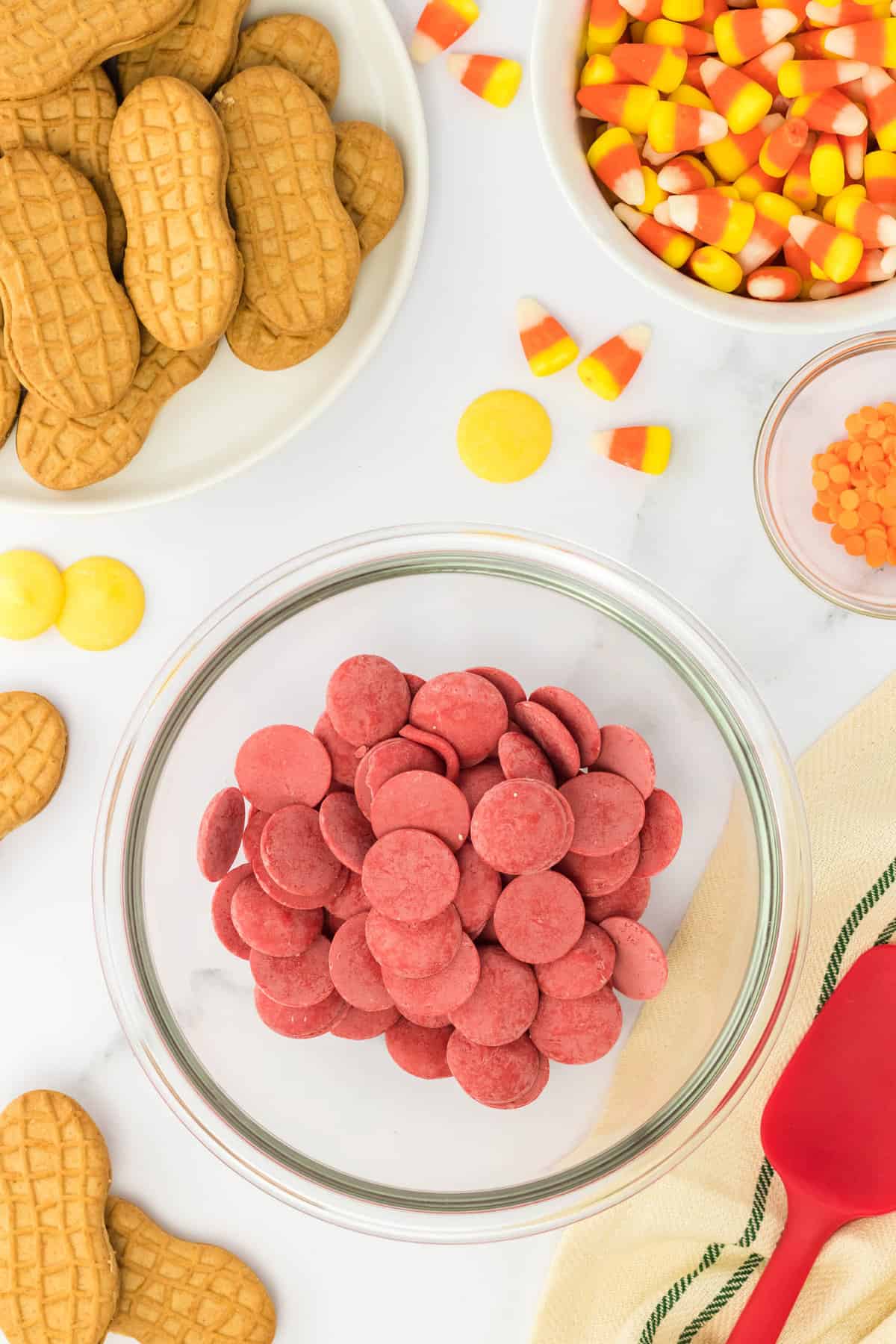 How to Store Leftover Nutter Butter Turkey Cookies
These nutter butter Thanksgiving cookies can be stored in an airtight container at room temperature for 3-4 days. Lay them down flat, or use a something tall like a cake container to store them standing upright.
Be sure to keep the cookies in a cool and dry place. This will ensure that the candy melts stay well set and the "glued" on decorations don't pop off.
Can't find those itty bitty round sprinkles? Not to worry. You can use a yellow or orange M&M on it's side, cut an orange starburst into a triangle shape, or even a jelly bean. There's also some substitutions you can make for the "wattle". Cut red licorice or a red jelly bean to use as a wattle.
Pro Tips!
Work quickly as you "glue" the candy and decorations on. Once the red melted candy is squeezed onto the cookie it will dry quickly. So do each step of decorations, one cookie at a time.
Don't have a piping bag? Just use a ziploc bag and cut the very tip off of a corner.
When attaching the candy corn feathers, allow the nutter butter turkeys to dry while laying flat. If you stand them up too early, the candy corn could just slide down off of the cookie.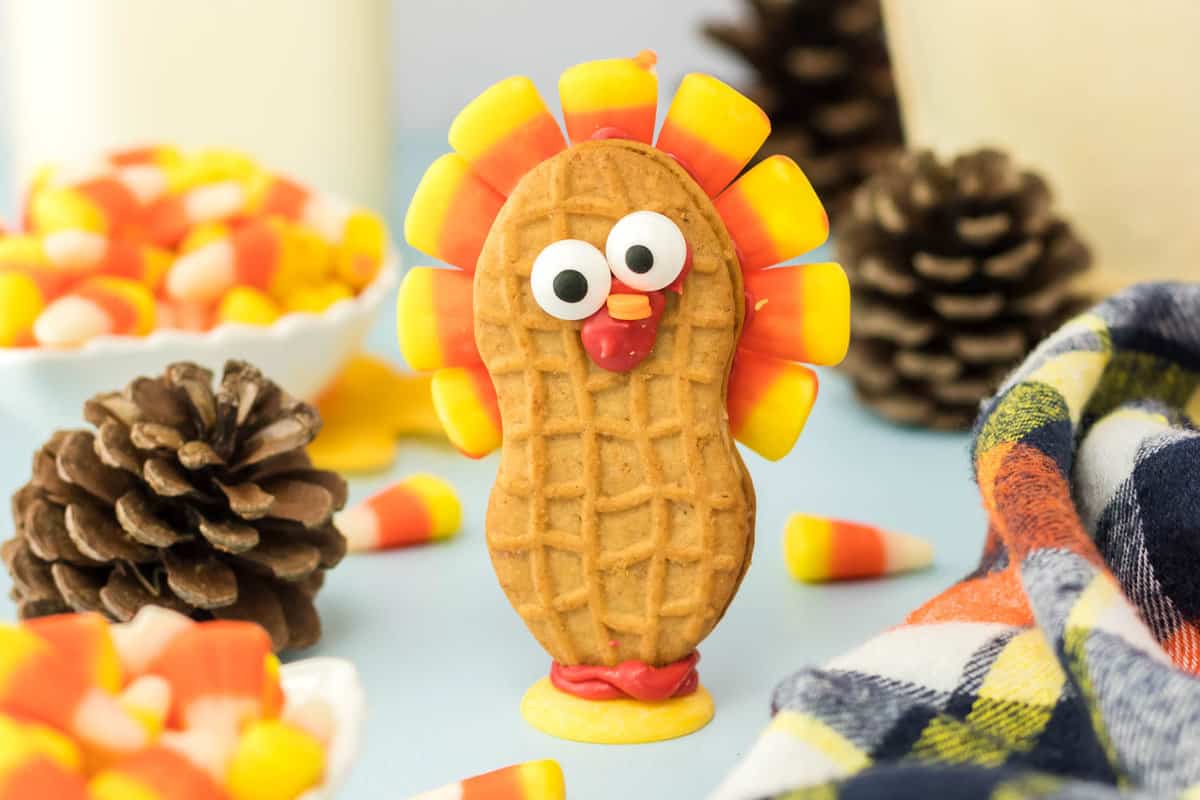 You're going to love how easy, and cute, these nutter butter turkey cookies are!
More Thanksgiving Desserts You'll Love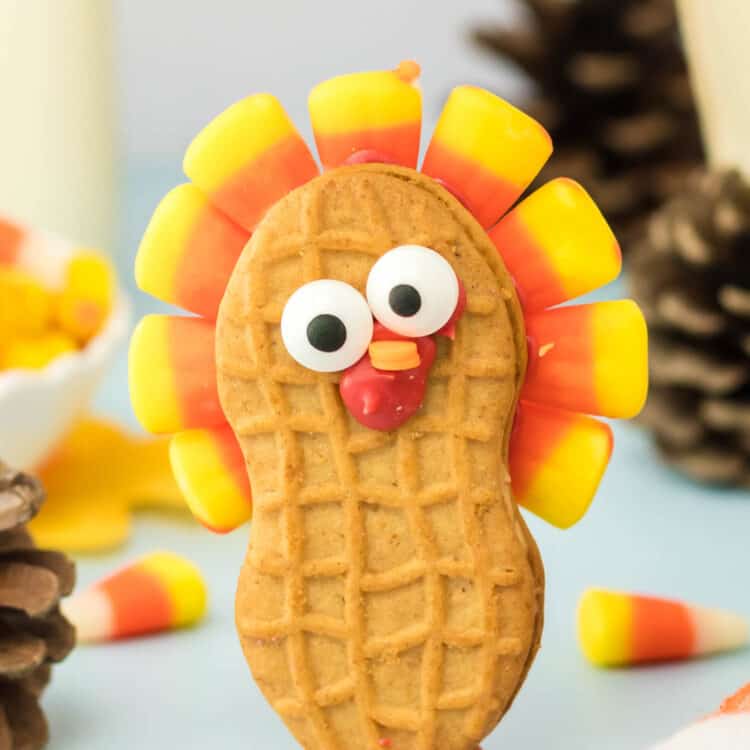 Turkey Nutter Butter Cookies
Made with Nutter Butters and candy corn these festive and cute Turkey Nutter Butter Cookies are the perfect fall or Thanksgiving treat.
Ingredients
12

Nutter Butter cookies

108

candy corns

½

cup

red candy melts

12

yellow candy melts

24

orange round sprinkle shapes

24

candy eyeballs
Instructions
In a small microwave safe mixing bowl, melt the red candy melts in the microwave. Melt in 30 second intervals at 50% power. Stir between each interval. This will take 4-5 minutes.

Transfer the melted candy melts in a piping bag. Pipe melted candy melts onto the outside edge of one side of the cookies. Use the piped candy melts to attach 9 candy corns to the outside edge of one side of the cookie. You want the narrow end of the candy corn to be facing inward. Allow to set for 3 minutes.

Flip the cookie over and using the melted candy, attach two eyes. Use the red melted candy to create a little "wattle" leading from the eyes and immediately press 2 orange round sprinkles to create a little beak. Allow the face to set for 3 minutes.

Place a dollop of the red melted candy at the base of the cookie and press one of the yellow candy melts into it to create a base. This will allow the cookie to stand upright.

Allow to set for 5 minutes and serve immediately or store in an airtight container for 3-4 days.
Nutrition Information
Serving:
1
cookie
,
Calories:
107
kcal
(5%)
,
Carbohydrates:
17
g
(6%)
,
Protein:
1
g
(2%)
,
Fat:
4
g
(6%)
,
Saturated Fat:
2
g
(13%)
,
Polyunsaturated Fat:
1
g
,
Monounsaturated Fat:
1
g
,
Sodium:
64
mg
(3%)
,
Potassium:
9
mg
,
Fiber:
0.1
g
,
Sugar:
12
g
(13%)
,
Vitamin A:
9
IU
,
Calcium:
1
mg
,
Iron:
0.3
mg
(2%)