Roasted Broccoli Alfredo ~ Fettuccine with a Rich Alfredo Sauce and Generous Portion of Roasted Broccoli! Easy Dinner Recipe in Thirty Minutes!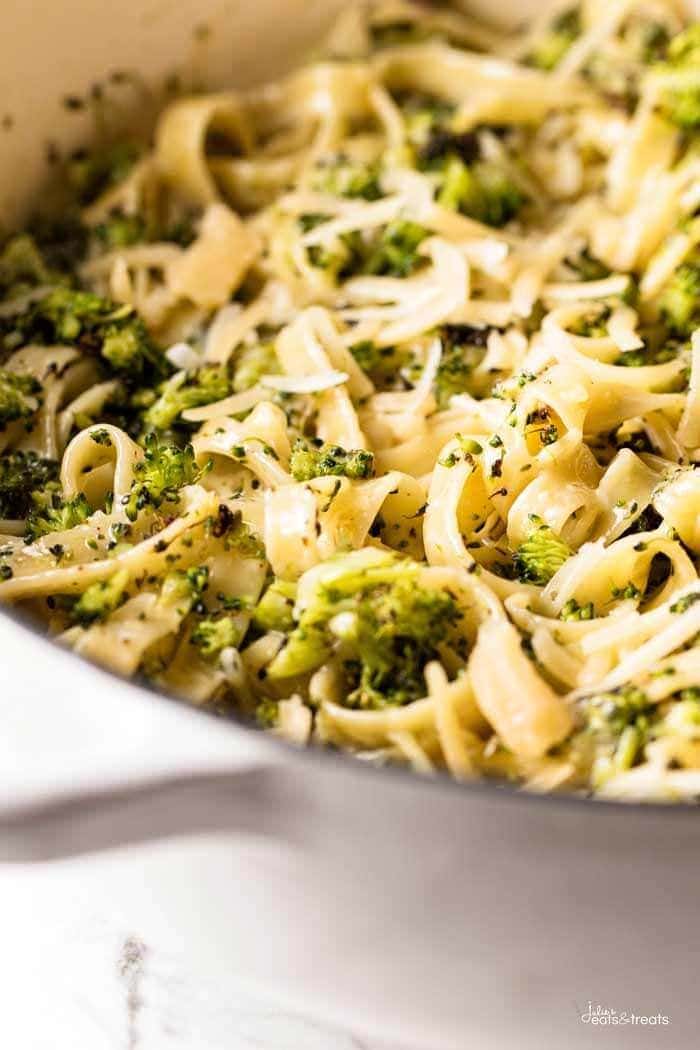 As a kid, nothing was more disheartening than a bowlful of boiled broccoli plonked down on the dinner table. Even worse, my parents expected that I scoop a spoonful onto my dinner plate and, let me tell you, that serving spoon was huge. I became an expert at pushing the sad stuff around my plate just enough to keep up the appearance that I had, in fact, eaten enough to justify dessert.
This was during the 80's. Nobody (especially folks in Wyoming, where I grew up) knew what to do with broccoli except boil the life out of it and call it good.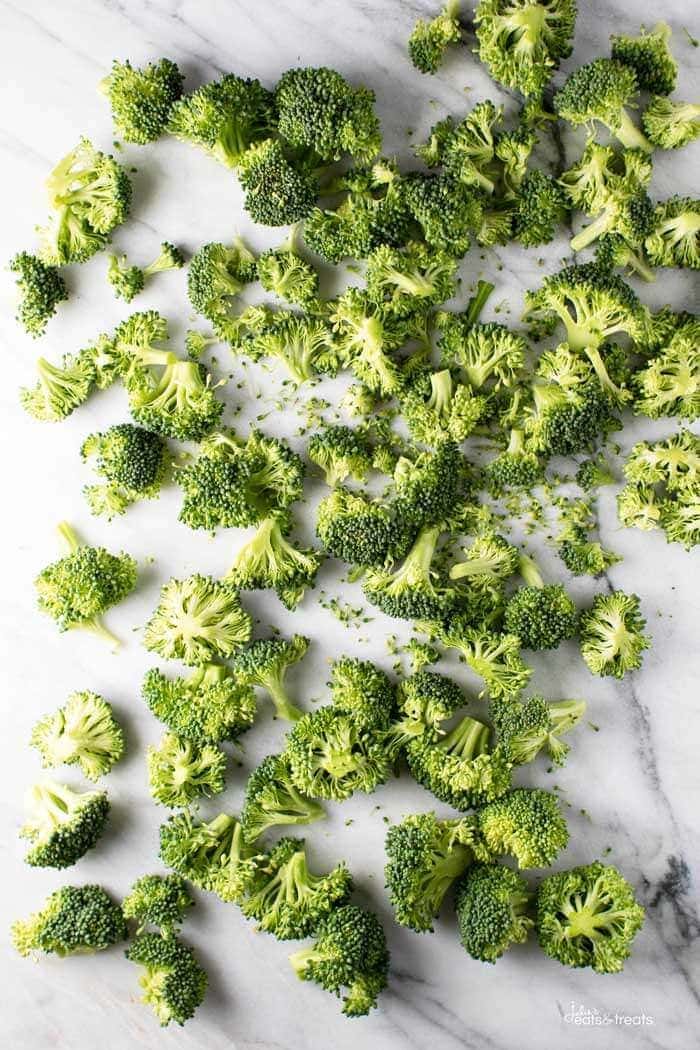 Now days, as a bonafide adult who understands that making room for some green stuff on my plate is a good thing, I've given my broccoli a little bit of an upgrade to make it more delicious and those sad bowls of over-boiled broccoli are just a thing of my past. Thank goodness.
And the upgrade is a simple one: roasting. Broccoli that spends some time in a hot oven, dressed only in a light coating of olive oil, undergoes a magical transformation that leaves it tender, yet with a bite. The edges of the florets crisp up providing an interesting contrast in texture to its more tender insides and the caramelization draws out a hidden sweetness guaranteed to change the hearts and minds of any self-professed broccoli hater.
I should know, I was one for many years.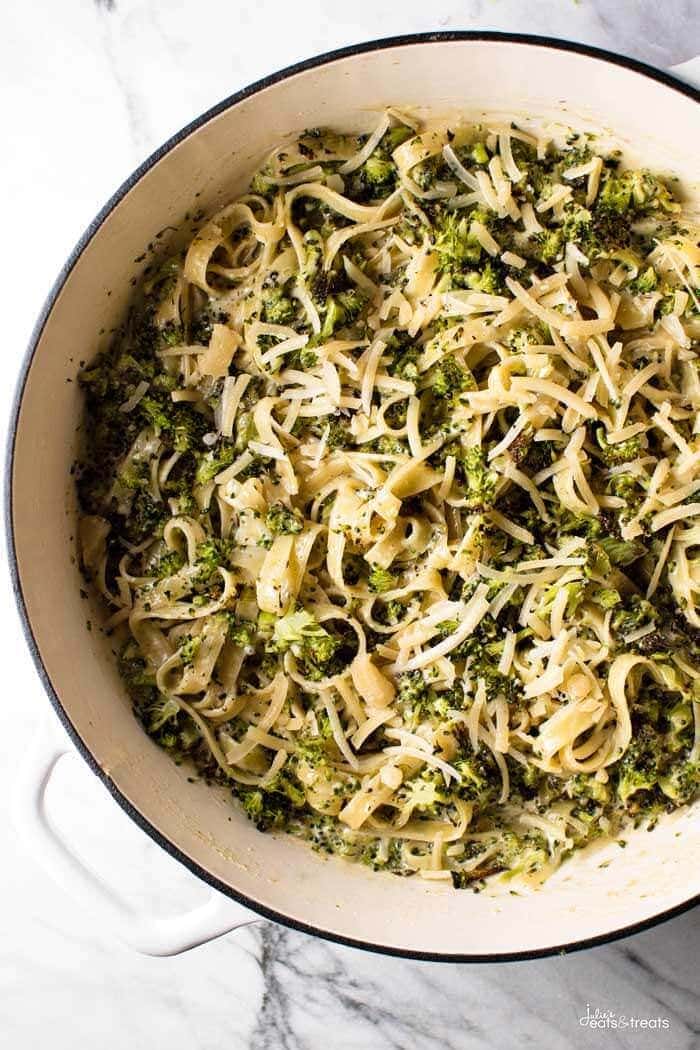 Oh, and the other thing that makes broccoli more tolerable: cheese! Now days I wonder why my parents didn't just drown all those florets in some cheese, Velveeta would have been a good choice for the times, but they didn't and being someone who prides herself on letting go of past disservices, I've decided not to make an issue of it. There's just no room to carry around a broccoli grudge, but, seriously? A little cheese could have changed the course of history in my family. Or, at the very least, a little melted cheese would have made dinnertime a bit more pleasant.
Now, as someone who loves comfort food, most of my dinner ideas start with questions about what sort of pasta should I cook and with what kind of cheese. From there, evidence of my more mature approach to dinner, I contemplate what veggies would be best to add in. It's this sort of thinking that got me to this roasted broccoli alfredo: fettucine tossed in a rich and decadent alfredo sauce with a generous helping of roasted broccoli stirred in for good measure.
This roasted broccoli Alfredo is a relatively quick dinner – the pasta and sauce come together in the time it takes for the broccoli to roast – and it's an easy way to work a few more good-for-you veggies into a weekly dinner rotation. The recipe easily serves four with some crusty bread served on the side, and, trust me, there won't be any undercover veggie avoidance behaviors at the dinner table with this one.
Try this easy homemade Alfredo sauce recipe can be made in minutes and pairs with your fettucine perfectly.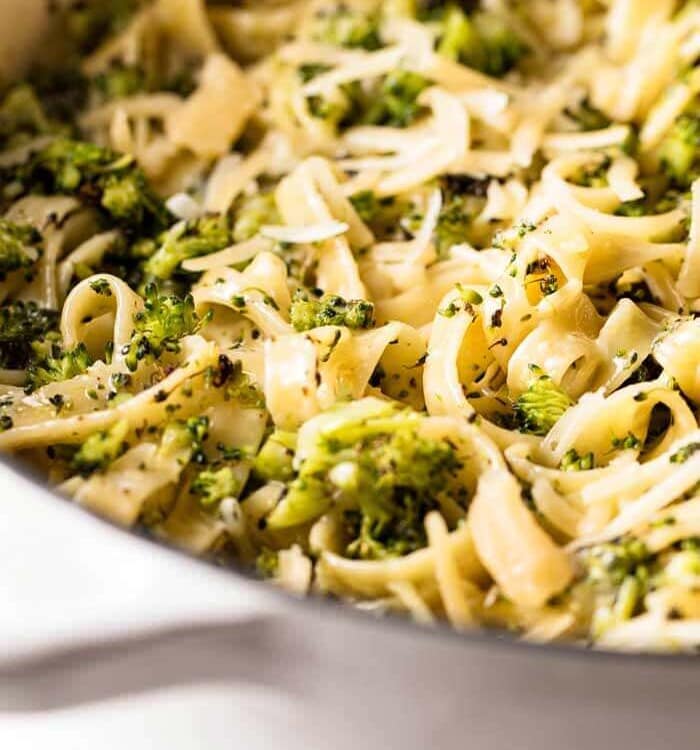 Roasted Broccoli Alfredo
Fettuccine with a Rich Alfredo Sauce and Generous Portion of Roasted Broccoli! Easy Dinner Recipe in Thirty Minutes!
Ingredients
4-5

cups

of fresh broccoli florets

from about 3 heads of broccoli

2

tablespoons

olive oil

1 1/2

teaspoons

kosher salt

divided

8

ounces

fettuccine

¼

cup

unsalted butter

1

cup

heavy cream

½

cup

grated Parmesan cheese

1/4

teaspoon

black pepper
Instructions
Preheat the oven to 425 degrees.

Spread the florets in an even layer on a large baking sheet lined with foil. Drizzle the olive oil over the top. Sprinkle the salt over the top and, using your hands, give the florets a little toss so they are evenly coated in the oil. Pop them in the oven and roast for 20-30 minutes or until they are nicely caramelized and crispy around the edges.

While the broccoli roasts, bring a pot of water to a boil. Add the pasta and cook according to package directions (about 7ish minutes).

While the pasta boils, make the sauce. Melt the butter in a large pan over medium heat. Add the cream and whisk to combine. Bring it to a simmer and let it cook for a minute or two. Add the grated Parmesan cheese and 1/2 teaspoon of salt and stir until the cheese is melted.

Using tongs transfer the cooked pasta directly to the sauce. The pasta will bring with it some of the starchy water which helps thicken the sauce. Toss the pasta in the sauce for a couple minutes.

Remove the broccoli from the oven and transfer to a cutting board. Run your knife through the florets to roughly chop them (see note). Stir them into the pasta and serve.
Tips
You don't have to chop up the broccoli, but I find it's a little easier to eat and every bite has a little bit of roasted goodness. If you prefer whole florets just toss them in the sauce as is and skip this step.
Nutrition Information
Calories:
671
kcal
(34%)
,
Carbohydrates:
48
g
(16%)
,
Protein:
16
g
(32%)
,
Fat:
46
g
(71%)
,
Saturated Fat:
24
g
(150%)
,
Cholesterol:
170
mg
(57%)
,
Sodium:
1129
mg
(49%)
,
Potassium:
486
mg
(14%)
,
Fiber:
4
g
(17%)
,
Sugar:
2
g
(2%)
,
Vitamin A:
1940
IU
(39%)
,
Vitamin C:
81.5
mg
(99%)
,
Calcium:
243
mg
(24%)
,
Iron:
1.9
mg
(11%)
More from Girl Gone Gourmet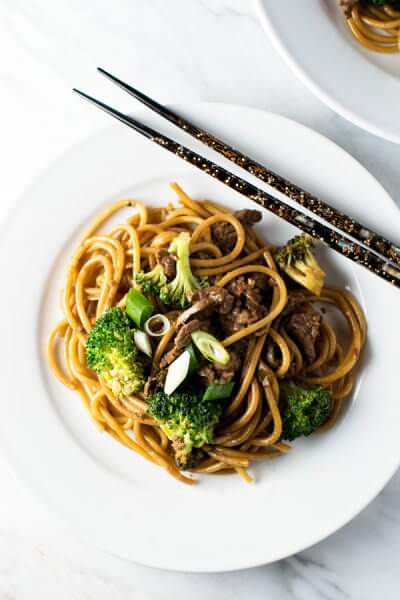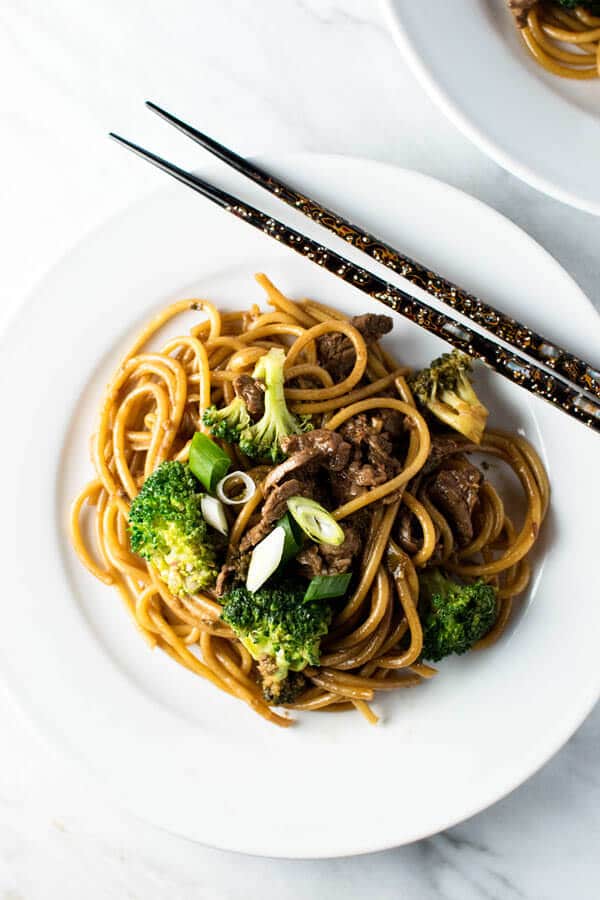 5-Ingredient Sun Dried Tomato Alfredo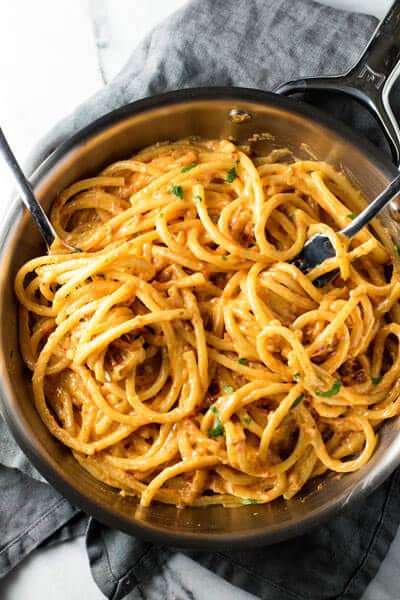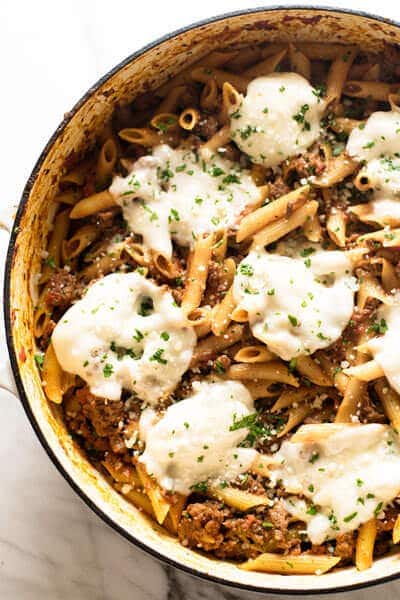 Easy, homemade Chicken Alfredo is the perfect dinner!
Need a quick, easy dinner recipe that the entire family will love in under 30 minutes? This delicious Shrimp Penne Pasta is what you need!
Unstuffed Chicken Alfredo Shells – Creamy, Delicious Casserole with Layers of Garlic Alfredo Sauce, Pasta and Chicken!