Peanut Butter Ritz Cookies ~ Our FAVORITE treats for the holidays! So easy too!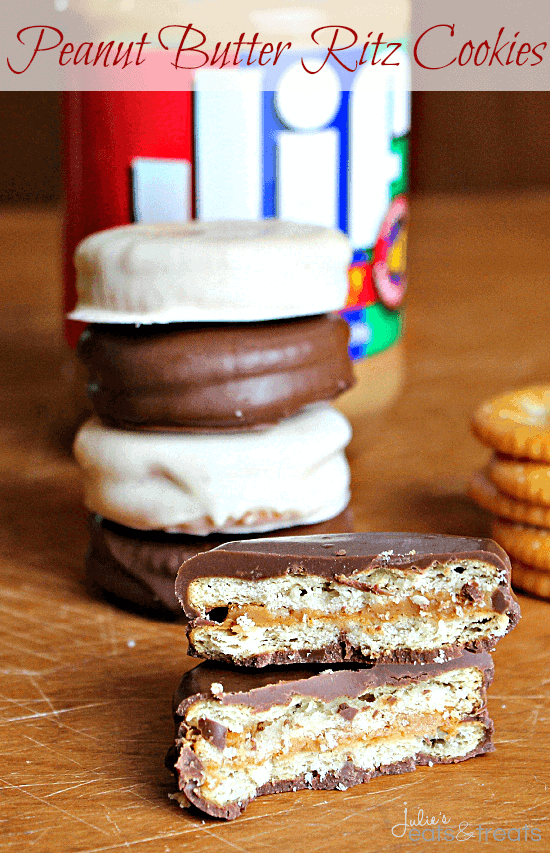 These are a staple in our house at Christmas time. I always remember mom making a batch of these right before Christmas. Before that my grandma always made them. Sometimes you just got to embrace the good old recipes that are a tradition in life.
I'm all about trying new things as you can tell from my Red Velvet Cookies and White Chocolate Molasses Cookies that I tried this year, but sometimes I just gravitate towards the trustworthy recipes. Nothing is worse than trying thirteen different recipes and have none of them come out the way you envisioned!
When my mom and I planned a baking weekend up at the lake I made sure these were on our list. Oh our weekend was a good time. We quickly loaded things up (a little to quickly because I forgot the cooler! Oh well, hubby ran to the grocery store when we got there..) and went up Friday after work and of course true to MN standards, there was a snowstorm brewing. The roads were crap. Literally crap, but we hopped in my trusty truck and slowly headed up there. Nothing was getting in the way of my baking weekend. Nothing.
When we arrived we were treated to Cheesy Wild Rice Soup. Soup for supper with it snowing outside. Life is good. After that we watched a movie and tucked ourselves in for the night. The next morning we got to baking bright and early. We were on a mission! We had a successful day with Goof Balls, Sweet Cherry Cookies, Oreo Truffles and many more being made. That night we watched another sappy Christmas movie and hunkered down. The snowfall amounts were supposed to be 8-12 inches.
The next morning we were awake bright and early with Miss K. Looked out to see all the snow and decided it was time to make the trek home. I had envisioned a lazy Sunday at the cabin relaxing but the wind hadn't came up yet and we were in a Blizzard Warning so we decided to call it safe and head home. Good thing we did as it got nasty, but we go our cookies made and are set for Christmas now!

This recipe may be shared on the following sites – Please give them a visit!
*This post may include links to my Amazon.com affiliate account and Julie's Eats & Treats earns a few cents on the dollar if you purchase the items I share with you. Thank you for supporting my blog when you shop at Amazon!