Caramel Apple Monkey Bread Recipe ~ Ooey, Gooey Monkey Bread Spiced with Cinnamon and Full of Apples! Prep it the night before and wake your family up to the amazing smell of cinnamon and apples!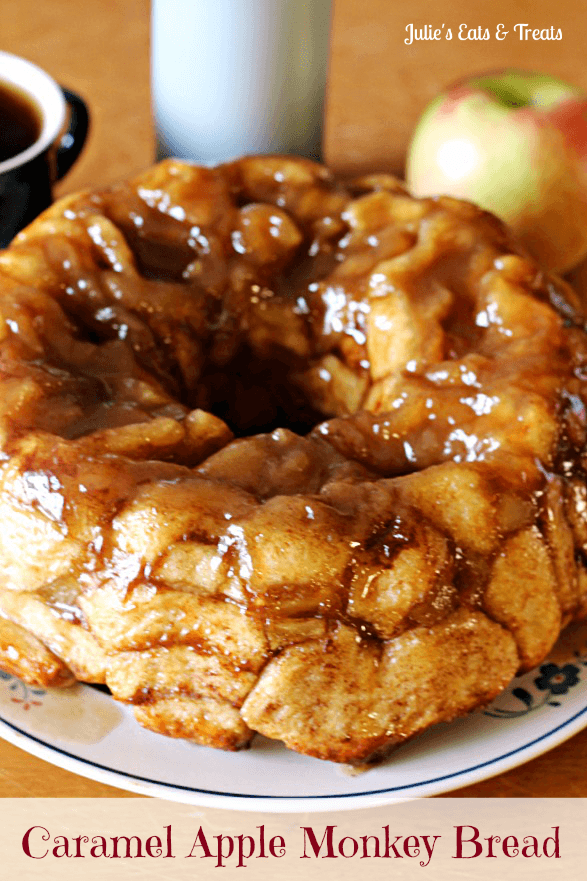 So I might have skipped apples this fall and went straight for pumpkin with the Sweet Pumpkin Dip, Cinnamon Chip Pumpkin Cookies and Cinnamon Swirl Zucchini Pumpkin Bread. I apologize for this, but I was so excited for fall and pumpkin I might have jumped the gun.
I digress, and go back to apples just for you with this Caramel Apple Monkey Bread. Inspiration hit when I needed a Sunday breakfast at the end of the summer when we were at the lake and well Monkey Bread is like the most awesome breakfast ever.
I love the ooey, gooey caramel pull apart bread more than I'd like to admit. And since it's full of those lovely things called calories I save it for special occasions. Occasions like being at the lake because obviously that's just an excuse to make it. Hey, sometime I have excuses for recipes!
MY OTHER RECIPES
So if you are looking for a recipe to use up all those apples you got at the orchard, or if you are like me at the grocery store (shhh I'm not telling!) grab those apples, caramel and bread dough and get to work! Make it the night before, stick it in the oven and let the amazing smell of cinnamon and caramel wake up your family!
Caramel Apple Monkey Bread
Ingredients
12 Rhodes Cinnamon Rolls, thawed but still cold
1/3 c. butter, melted
3/4 c. sugar
1 tsp cinnamon
1 c. apples, peeled and chopped
1/2 c. caramel ice cream topping
Instructions
Grease bundt pan.
Cut cinnamon rolls into quarters. Combine sugar and cinnamon in a small bowl.
Dip each roll in melted butter and roll in sugar. Place in prepared bundt pan. Sprinkle apples over cinnamon rolls as you place them in the pan. Drizzle caramel over the rolls.
Cover with plastic wrap and let rise on the counter overnight. Remove wrap and bake at 350 degrees for 35-40 minutes.
http://www.julieseatsandtreats.com/caramel-apple-monkey-bread/
Looking For More Apple Recipes?