The best Beer Cheese Soup that will warm you up from the inside out on a cold winter day! This homemade soup is one of our favorites and is smooth, creamy and delicious. We love topping it with popcorn! You can also topped it with fried bacon or make soft pretzels and dunk it in this soup recipe. There's nothing like this for dinner when it's snowy and cold!
Beer Cheese Soup Recipe
In our small Midwestern town I feel as if I'm some sort of novelty some days. It's kind of fun! I mean who else runs a blog about food in the whopping 5,000 people that live here? I assure you it's only a couple of us. A few of their favorite recipes are Hamburger Stroganoff, Cheesy Bacon Potato Soup and my famous Crockpot Chili!
The other day at my "real job" I was following up with a customer on a trouble they were experiencing with our service. As soon as I said I was Julie she's like, "Wait, as in Julie's Eats & Treats????" I said, "Yup, that's me!"
She quickly went on to rave about my recipes and how she loved them etc. I won't deny that on the other end of the phone I was smiling from ear to ear. I just LOVE to hear when you guys try something and love it and have tips on how you adapted it for me to try. I really does make this whole blogging thing so much more fun that's for sure!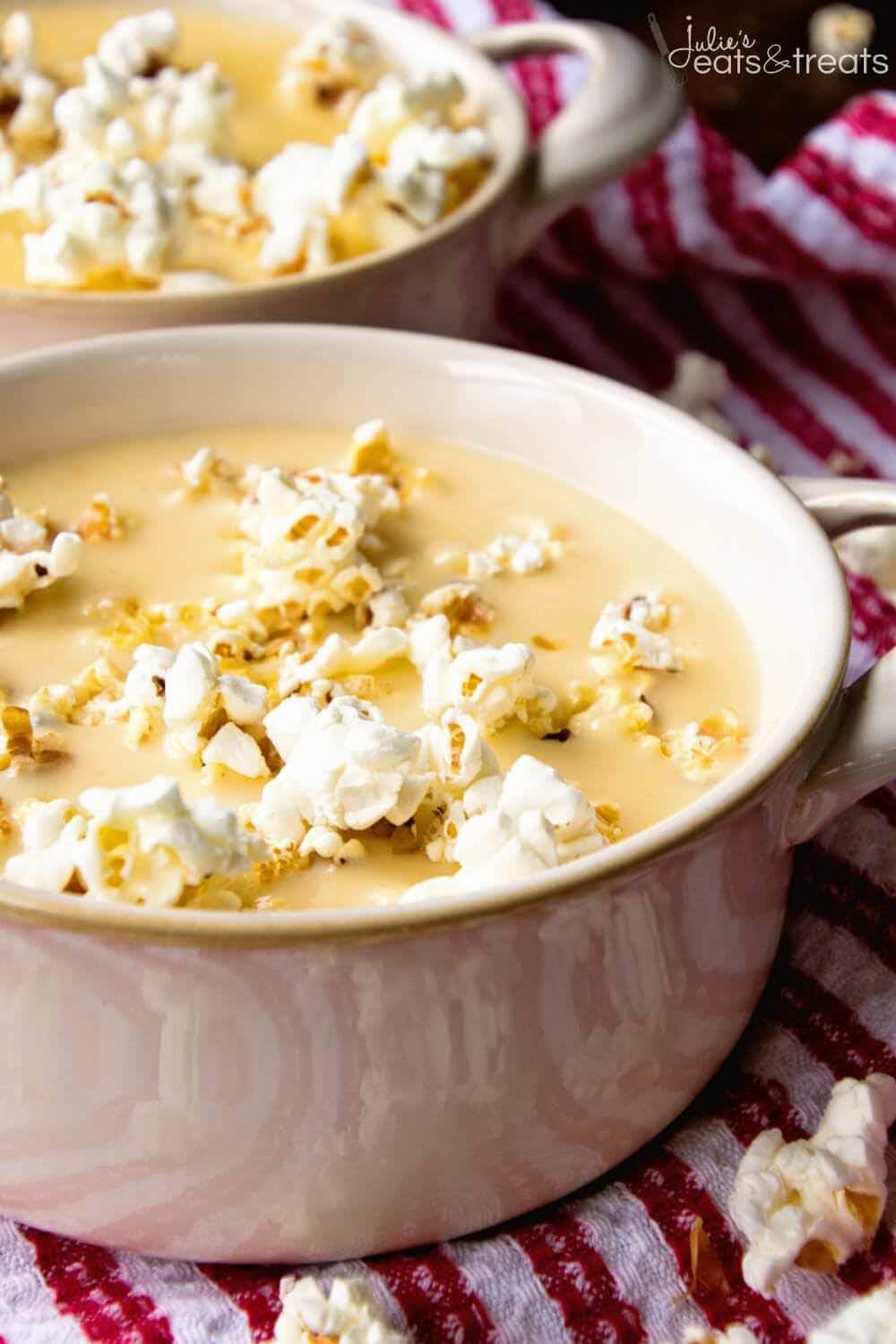 Beer Cheese Soup
This week I went to pick up my set of knives at a local hardware store after they sharpened for me. When I dropped them off the guy was admiring them and how fancy they were. I agreed since they are super awesome. They are engraved and quite stunning. When I picked them up he continued to ooooo and ahhhh over them. I let him. And then I giggled a bit inside. I felt like I should tell him about blogging, but some people look at me like I have four horns when I say something about it.
I kind of feel like I should put them on my table as a centerpiece because they are that beautiful, but I also feel like that might be super creepy…. I'm not sure anyone would want to come over and eat at my house if I had a huge knife set on my table!
Or should we talk about the time I was checking out at the grocery store and the teenager bagging my groceries made the comment, "Boy, you have a lot of cheese!" What can I say? This girl loves her Cabot Cheese!
Grocery list for Beer Cheese Soup Recipe
Butter
Flour
Chicken broth
Half and half
Worcestershire sauce
Beer
Velveeta
Popcorn for garnish
I brushed it off and made some offhanded comment about oh well I am a food blogger. His eyes quickly lit up and he started talking about this Julie's Eats & Treats blog that his teacher was always talking about.
I giggled, then informed him it was me and I was speaking in his class the next week!
Let's just say.
I'm a novelty.
It's halarious!
What is the best beer for Beer Cheese Soup?
A lager or stout would be a great choice. A Pilsner or Amber Ale, would also be delicious! Just like when you're cooking with wine, only cook with a beer you would drink! When it's the star of the show, you want to make sure you use good quality ingredients!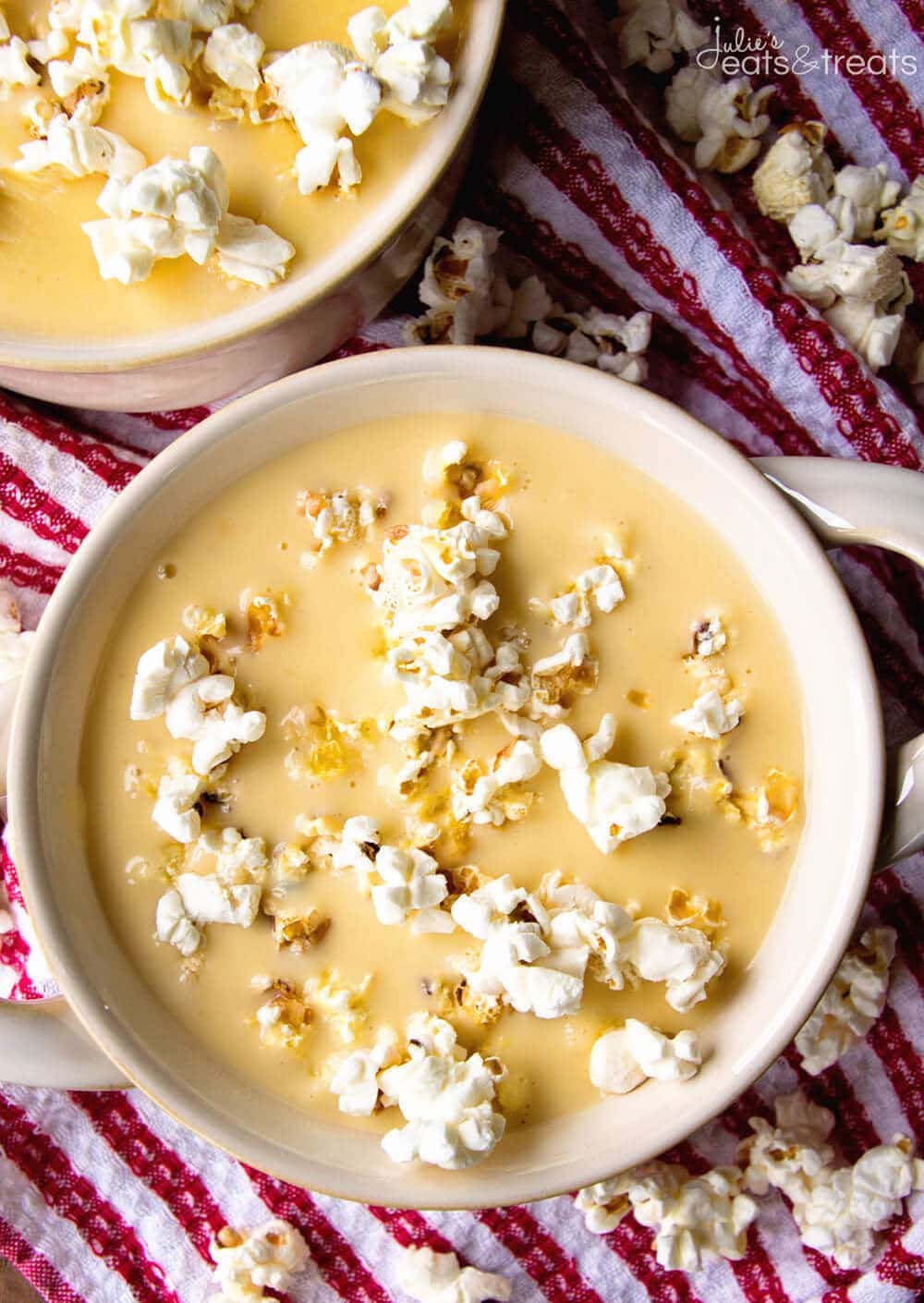 Luckily, for me and you that means people love to share their favorite, tried and true recipes with me! SCORE!
This delicious Beer Cheese Soup is one of those recipes. An amazing friend that I grew up playing basketball with, going to daycare with and now is my neighbor and still a great friend shared it with me years ago. Have I mentioned I really love living in my small town?!
I finally got around to making it this year.
Say WHAT?! Don't make the same mistake. If you are a craving a big bowl of comforting Beer Cheese Soup this is your baby!
How to make Beer Cheese Soup Recipe
Melt butter over low heat in a medium saucepan.

 

When the butter is melted, whisk in the flour until smooth.
Cook 5 minutes.

 

Gradually add broth to flour mixture while whisking.

 

Add the half and half continue to whisk.
Stir in cheese until melted. Simmer until hot.
Can you freeze Beer Cheese Soup?
Absolutely! This soup freezes great! Store well in an airtight container and you can store this soup in your freezer for up to three months.
Don't forget, topping your Beer Cheese Soup with a handful of popcorn is the perfect garnish! A little salty with good crunch, it makes the soup that much tastier!!!
More delicious soup recipes to try and love!
Please take a moment and leave a five star comment below, I know you'll love this soup! Or if it's easier, tag me on Instagram @julieseatsandtreats or #julieseatsandtreats – I can't wait to see what's cooking in your house!
WATCH THE STEP BY STEP VIDEO FOR THIS BEER CHEESE SOUP RECIPE BELOW:
If you enjoy watching these videos make sure you subscribe to my YouTube Channel to be notified each time a post a new video!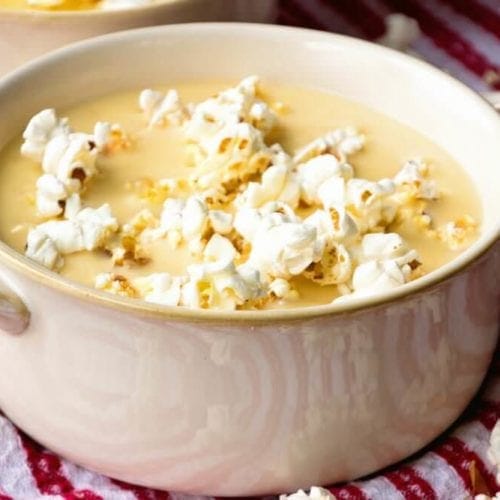 Beer Cheese Soup Recipe
The best Beer Cheese Soup that will warm you up from the inside out on a cold winter day! This homemade soup recipe is one of our favorites and is smooth, creamy and delicious.
Ingredients
1/2

c.

butter

1/2

c.

flour

2

14 1/2 oz cans chicken broth

1

can hot water

refill an empty chicken broth can with water

1

pt

half and half

1/2

tsp

Worcestershire sauce

1

12 oz can beer

16

oz

Velveeta

Popcorn for garnish
Instructions
In a large sauce pan melt butter over low heat. Slowly whisk in flour until smooth. Cook 5 minutes. Gradually add broth to flour mixture while continuously whisking. Continue to whisk and add half and half and Worcestershire. After that add hot water and beer while continuously whisking.

Continue to cook over medium heat while continuously whisking until soup thickens. Stir in cheese until melted. Simmer until hot.

Serve and garnish with popcorn.
Nutrition
Calories:
386
kcal
Carbohydrates:
22
g
Protein:
15
g
Fat:
25
g
Saturated Fat:
15
g
Cholesterol:
77
mg
Sodium:
1410
mg
Potassium:
382
mg
Sugar:
5
g
Vitamin A:
1135
IU
Vitamin C:
7.8
mg
Calcium:
401
mg
Iron:
1
mg