There's nothing like a hot churro that's rolled in cinnamon sugar! They are the quintessential treat when you are at a Mexican market and now you can make them at home.
They are crispy on the outside and soft and tender on the inside. Dip them in chocolate sauce for a sweet treat. If you love donuts, you are going to love this recipe!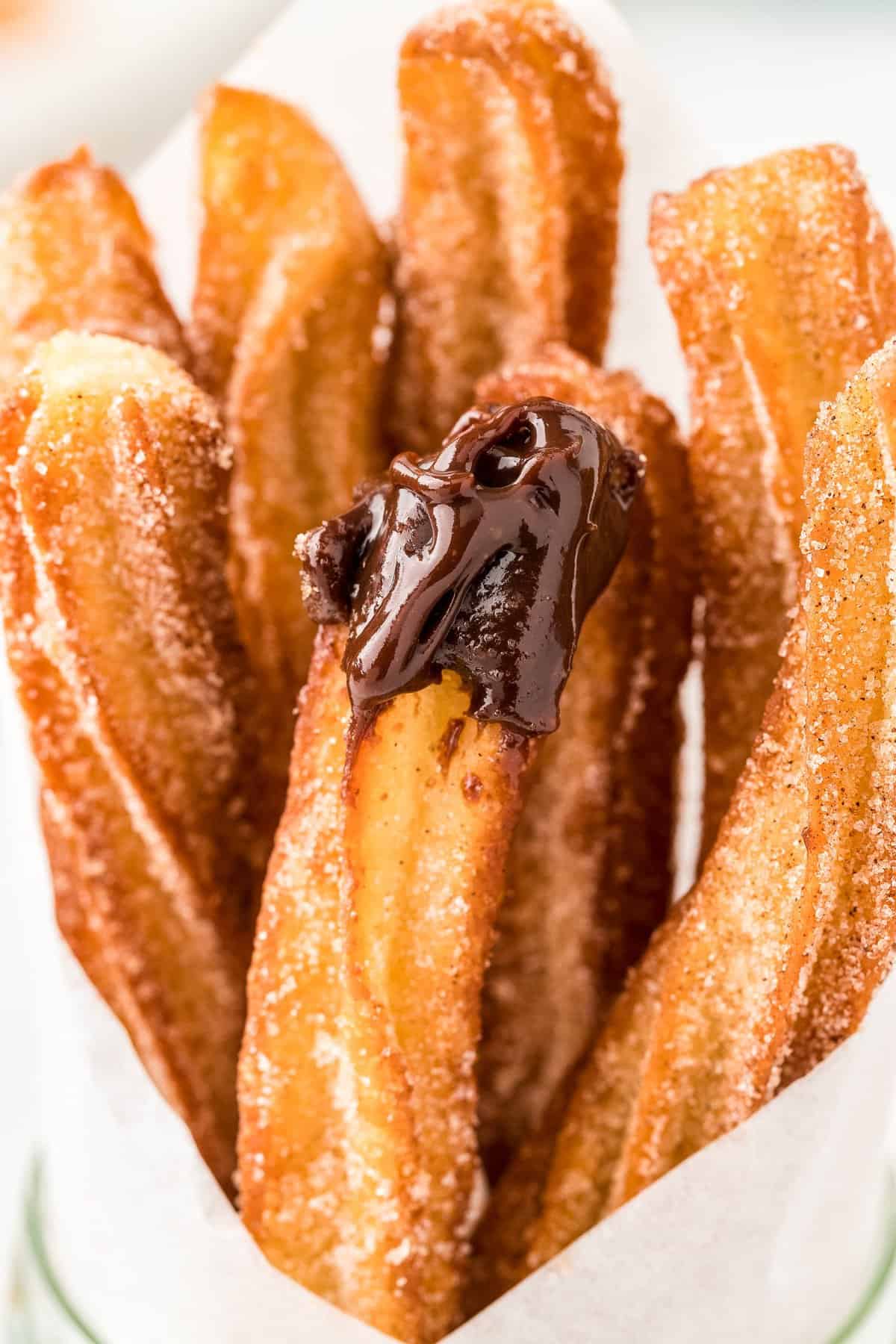 What is a Churro?
If you really want to treat your family and friends, a batch of homemade churros is definitely the thing to make! Churros are a type of fried donuts that originated in Spain and are also popular in Mexican cuisine.
They're made with simple ingredients and you don't need a big vat of oil to deep-fry them! They're easy to make and even better to eat – the dough is crispy on the outside and fluffy on the inside. Add a chocolate dip on the side and you will be hooked.
You Will Love This Churros Recipe
You don't need a deep pot and a ton of oil to make homemade churros. A large pan with less than two inches of oil is enough to make delicious fried churros.
The dough is very easy. It's a cooked dough enriched with egg that's similar to a choux dough but sweetened with sugar.
The dough is piped into the hot oil so you get thin donut strips and then you coat them in cinnamon sugar – they are so good!
I'm showing you step-by-step how to make them so they turn out perfectly! I know you're going to love this easy churro recipe.
Ingredients
Frying oil – Vegetable oil is best for deep-frying churros, but you can also use peanut oil. I don't recommend using canola oil because the taste is not that great. Always check the expiration date on your oil before using it.
Unsalted butter – Using unsalted makes it easier to control the amount of salt in the churros. If you use salted butter, you will need to reduce the amount of added salt.
Water – You can use tap water, but cooking with purified water is a good way to be sure to eliminate other additives that may impact the flavor profile of a recipe.
Granulated sugar – This sweetens the batter and is used to create a crunchy sugary coating for the fried churros.
Pure vanilla extract – Pure extract has a much better flavor than imitation vanilla.
Kosher salt – As mentioned, if you use salted butter you will want to reduce the amount of added salt by at least half.
All-purpose flour – For the best smooth batter, sift the flour before adding it.
Baking powder – This helps the churros puff up so they have a light and fluffy texture. Be sure to check the expiration date!
Large egg – Whisk the egg before adding it to the other ingredients. This makes it easier to blend with the other ingredients.
Ground cinnamon – This is combined with the sugar for the coating, but is optional.
Dipping sauce – Traditionally, churros are served with thick chocolate and we like to use hot fudge. You can also serve them with warm caramel sauce or strawberry syrup!
How to Make Churros
Preheat: Heat the vegetable oil in a large frying pan or deep fryer to a temperature of 350°F. There should be about an inch and half of oil in the pan,
Coating: Combine granulated sugar and cinnamon in a shallow baking dish. Set this aside – you will roll the hot churros in it before serving them.
Dry Ingredients: Whisk the sifted flour and baking powder in a mixing bowl.
Wet Ingredients: Place the butter, water, sugar, vanilla, and salt in a medium saucepan. Heat them over medium heat until the mixture comes to a boil.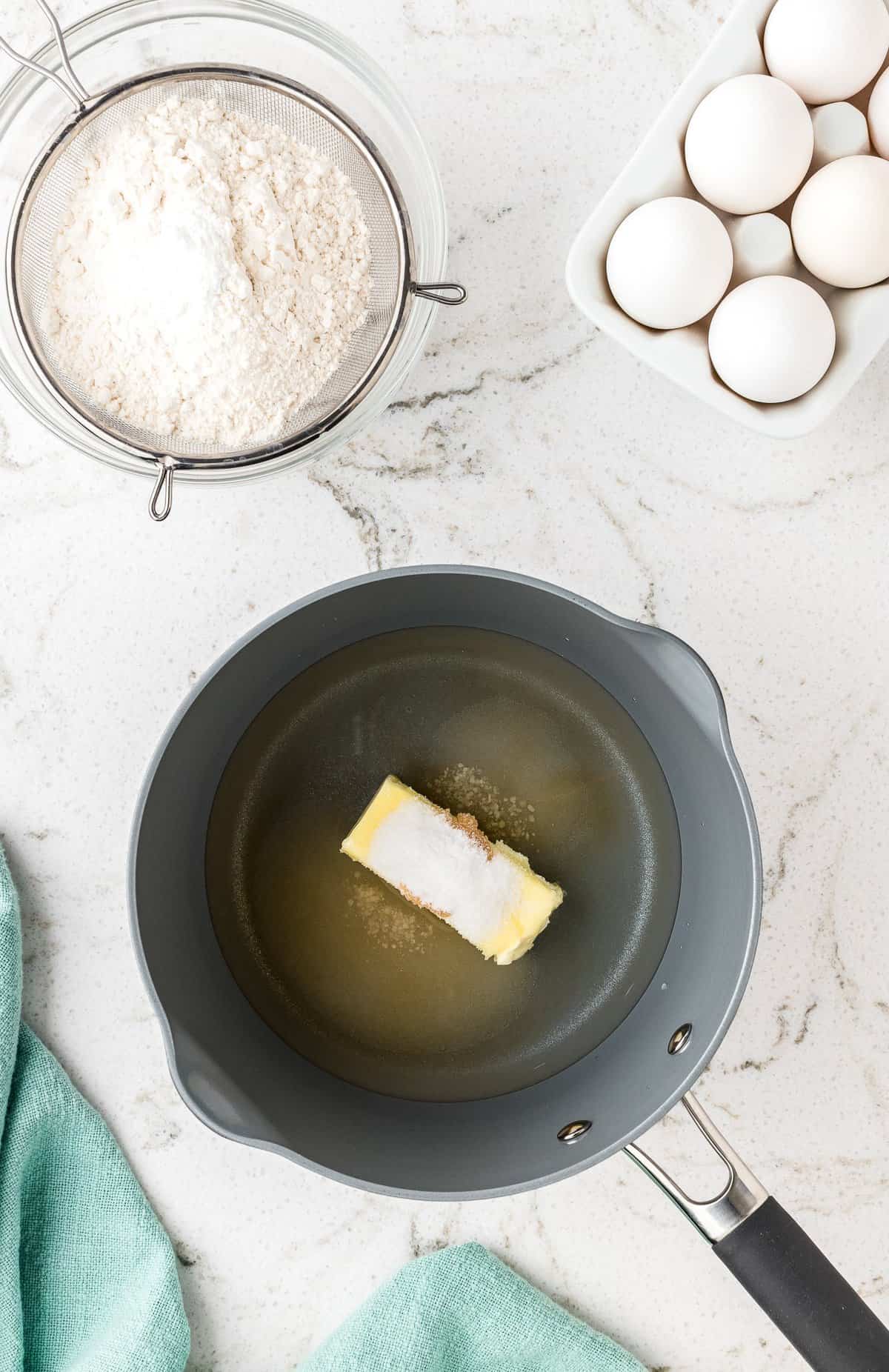 Combine: Once the mixture is boiling in the saucepan, quickly add the flour mixture and stir with a spatula until the dough is well combined. Transfer the dough to a mixing bowl and let it cool for five minutes.
Finish the Dough: Add the whisked egg to the dough and mix with an electric mixer until the dough is smooth.
Pipe: Transfer the dough to a pastry bag fitted with a star tip. For each churro, pipe six inches of dough into the hot oil. Use scissors to snip off the dough from the pastry bag once you've piped a strip.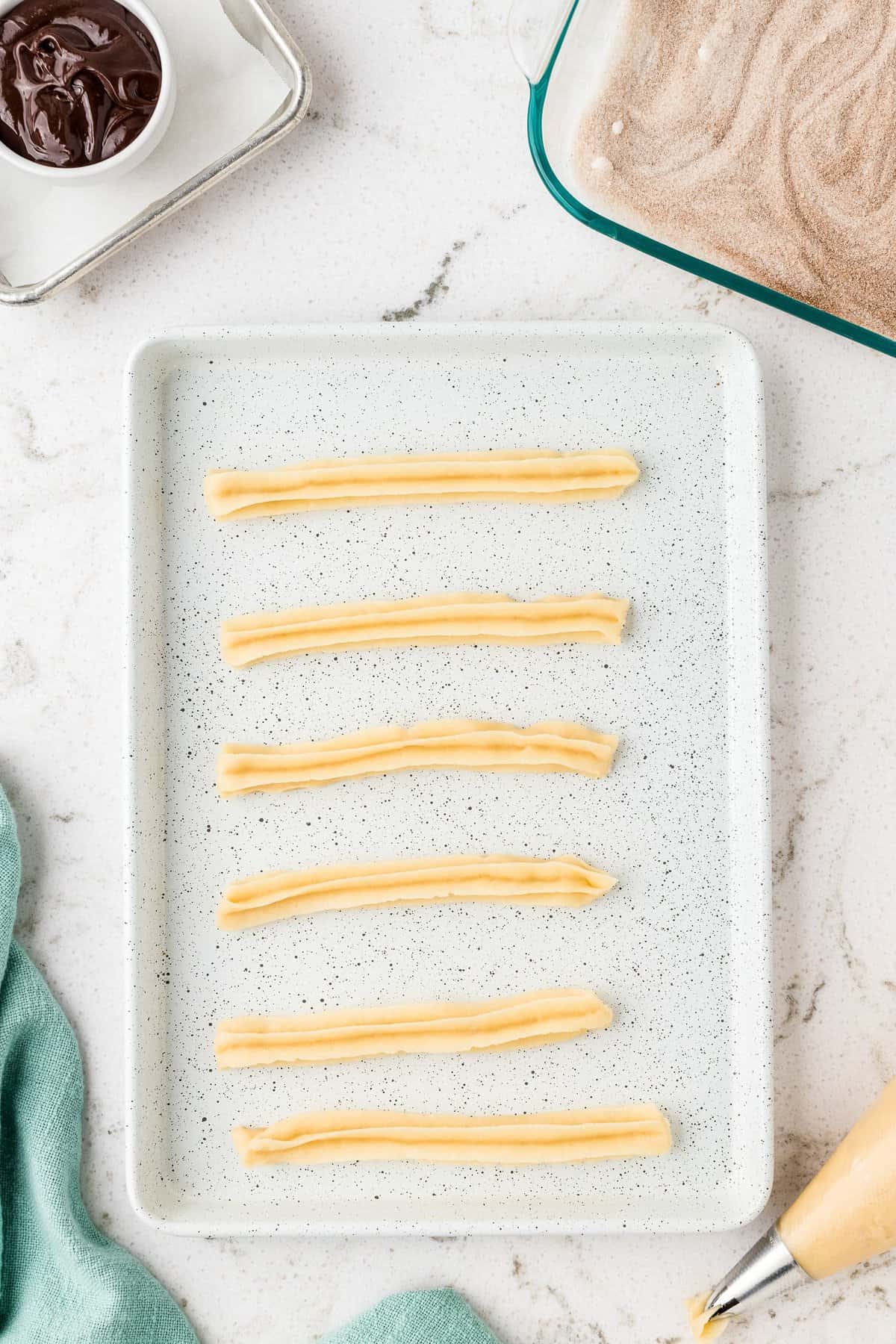 Fry: Cook the churros for a couple of minutes on one side, turn them, and then fry them for a few more minutes or until they are golden brown.
Drain and Coat: Transfer the fried churros to a cookie sheet lined with paper towels so they can drain. Roll them in the cinnamon-sugar mixture before serving with the chocolate sauce or other dipping sauces.
How should you store churros?
If you have any churros left, you can store them in an airtight container lined with a paper towel at room temperature for up to a day. After 24 hours the oil and dough begin to break down and they won't be very good. I don't recommend refrigerating them.
How much oil do you need to fry churros?
It will depend on the size of your frying pan. I like to fill a pan with about an inch and a half of oil. This is enough for the churros to float so they don't stick to the bottom.
If you are using an 8″ pan, this is about two cups of oil. If your pan is a different size you will need to add more or less oil.
Why are my churros raw on the inside?
They may need more time to fry if they are not cooked all the way through. They should be golden brown on the outside and fluffy on the inside.
If your churros are golden brown but still raw on the inside, your cooking oil may be too hot.
Recipe Tips
Be sure to heat your oil before you make the dough so it's ready to go. I like to heat the oil while I prepare the cinnamon-sugar coating and make the dough.
Using a deep-fry or candy thermometer is a must for this recipe. It's very hard to know the temperature of the oil without one. Maintain the temperature between 340 and 370°F while you are frying them. When you add churros to the oil, the temperature will drop so you will need to adjust the heat to maintain the ideal temperature range.
Depending on the size of your pan, you may need to fry the churros in batches. Doing fewer at time will also help keep the oil temperature steady.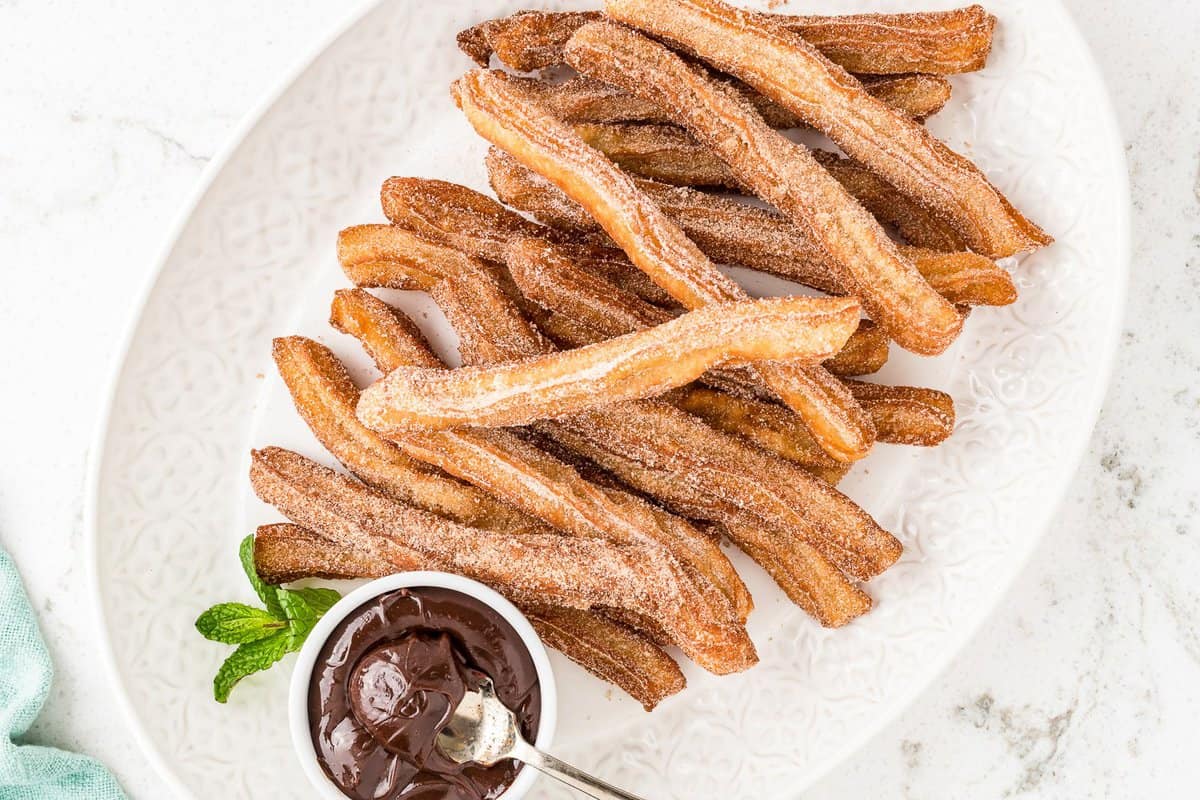 Homemade churros are perfect any time of day – breakfast, brunch, or dessert! They're such a treat and once you see how easy they are you'll want to make them on repeat. Enjoy!
More Sweet Treats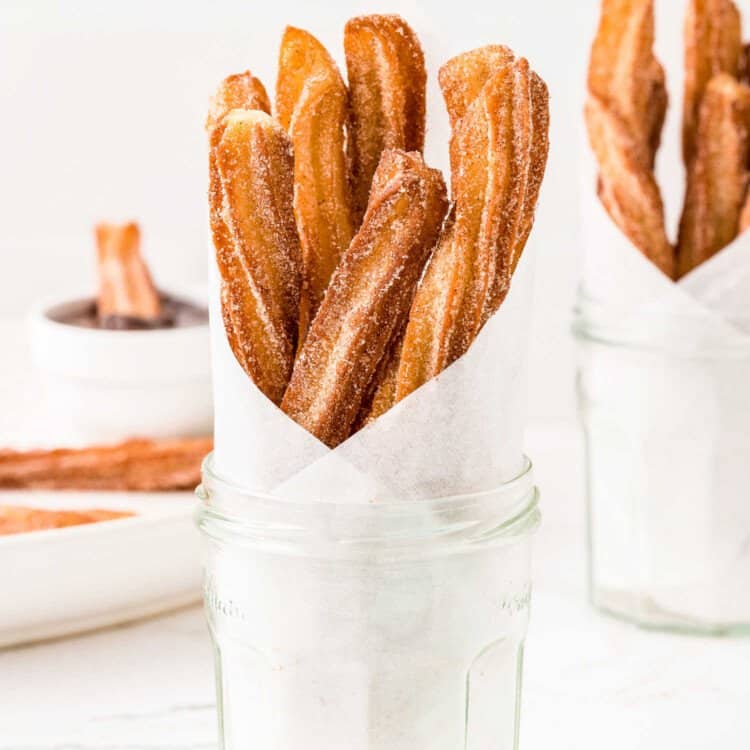 Homemade Churros
Crispy on the outside, soft and tender on the inside! These homemade churros are rolled in cinnamon sugar after they are fried and so delicious.
Ingredients
Churros
2

cups

vegetable oil

⅓

cup

unsalted butter

1

cup

purified water

2

tablespoons

granulated sugar

½

teaspoon

pure vanilla extract

¼

teaspoon

kosher salt

1

cup

all-purpose flour

sifted

½

teaspoon

baking powder

1

egg

whisked

Hot fudge topping

for garnish
Coating
1/2

cup

granulated sugar

1

teaspoon

ground cinnamon
Instructions
In an 8" or larger frying pan or deep fryer, heat 2 cups of vegetable oil to 350°F. It is important to have about an inch and a half of oil in your pan in order to float the churros properly.

Combine ½ cup granulated sugar and 1 teaspoon ground cinnamon in an 8 x 8-inch dish and set aside. Be sure the sugar and cinnamon are well blended.

Next, whisk together 1 cup sifted all-purpose flour, and ½ teaspoon baking powder in a bowl and set aside.

Then in a medium saucepan using medium heat, bring to a boil ⅓ cup unsalted butter, 1 cup purified water, 2 tablespoons granulated sugar, ½ teaspoon vanilla extract, and ¼ teaspoon kosher salt. Remove from heat once the ingredients come to a boil.

Then quickly add 1 cup all-purpose flour, and ½ teaspoon baking powder to the saucepan and stir ingredients together with a rubber spatula until the mixture is well blended and has a smooth dough-like consistency. Then pour the churro dough from the saucepan into the large mixing bowl. Allow the dough to cool for 5 minutes.

Now add 1 whisked egg to the dough and mix using a hand mixer on medium to high until the churro dough becomes smooth and silky.

Place the hot dough into a piping bag with a star tip. Pipe a line of churro batter 6 inches long directly into the preheated vegetable oil. Use scissors or a sharp knife to cut a 6-inch length of the churro.

Fry churros for 2 minutes, then flip them using tongs and continue to fry for 2 minutes or until golden brown on both sides.

Place the fried churros on a cookie sheet lined with paper towels and allow to drip excess oil and cool. Once cool enough to touch, roll in cinnamon-sugar mixture.

Garnish with hot fudge topping or any of your favorite toppings. Serve warm!
Tips
If you are using a larger pan than 8" you may need to add more vegetable oil to the frying pan. If you are using a deep fryer, follow the manufacturer's recommended amount of oil.
It is best to maintain the vegetable oil temperature between 340°F – 370°F during the frying process. As you introduce churro dough the temperature of the oil will lower. Use your digital thermometer to adjust the heat setting on your stovetop. If you drop below these oil temperatures it is possible your churros will appear dark brown. You are trying to achieve a golden brown appearance.
Nutrition Information
Serving:
1
churro
,
Calories:
93
kcal
(5%)
,
Carbohydrates:
14
g
(5%)
,
Protein:
1
g
(2%)
,
Fat:
4
g
(6%)
,
Saturated Fat:
2
g
(13%)
,
Polyunsaturated Fat:
1
g
,
Monounsaturated Fat:
1
g
,
Trans Fat:
1
g
,
Cholesterol:
10
mg
(3%)
,
Sodium:
38
mg
(2%)
,
Potassium:
23
mg
(1%)
,
Fiber:
1
g
(4%)
,
Sugar:
8
g
(9%)
,
Vitamin A:
119
IU
(2%)
,
Vitamin C:
1
mg
(1%)
,
Calcium:
10
mg
(1%)
,
Iron:
1
mg
(6%)