Soft, airy homemade donuts that are filled with a rich, creamy custard and topped with a decadent chocolate glaze! Thanks to this delicious recipe you can make your favorite Boston Cream Donuts at home.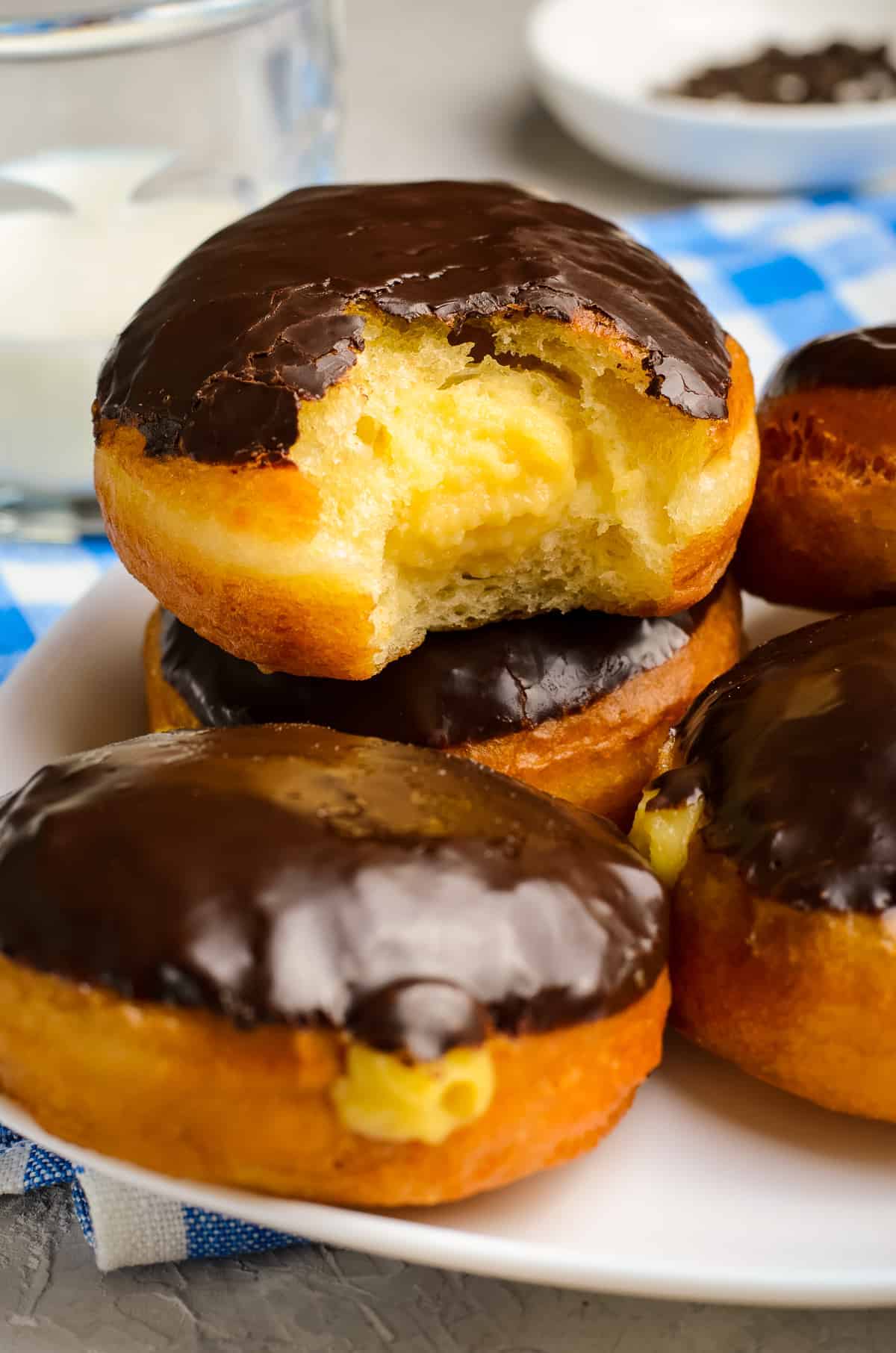 We are making Boston cream donuts from scratch, and I couldn't be more excited to share this recipe with you! These donuts taste just like the ones from a fancy donut shop and are the best breakfast treat.
I'm the first to admit these aren't your average weekend breakfast recipe! They do take time, but the effort is so worth it.
Make a batch of these donuts ahead of time and then serve up some scrambled eggs, bacon, and coffee for an epic breakfast or brunch your family won't forget!
What Are Boston Cream Donuts?
They are yeast donuts that are fried and filled with creamy, rich pastry cream. They are dipped or coated in chocolate on top, so they look like little Boston cream pies!
If you've never made yeasted donuts, I think you'll be surprised how easy they are to make. The dough is simple, and the only hard part is waiting for it to proof.
Why This Recipe Works
This is a completely homemade recipe! No shortcuts – just amazing donuts filled with the best filling and topped with chocolate.
These cream-filled donuts are soft, airy, and delicious!
This is a fried donut recipe – basically, my favorite kind of donut! Frying is the secret to making homemade donuts that taste like fancy donut shop ones.
I'm sharing all of the tips and tricks along with make-ahead tips so you get the perfect batch every time!
Short on time? Save these Boston cream donuts for later and try my baked Samoa donuts, snickerdoodle donuts, or air fryer donuts instead!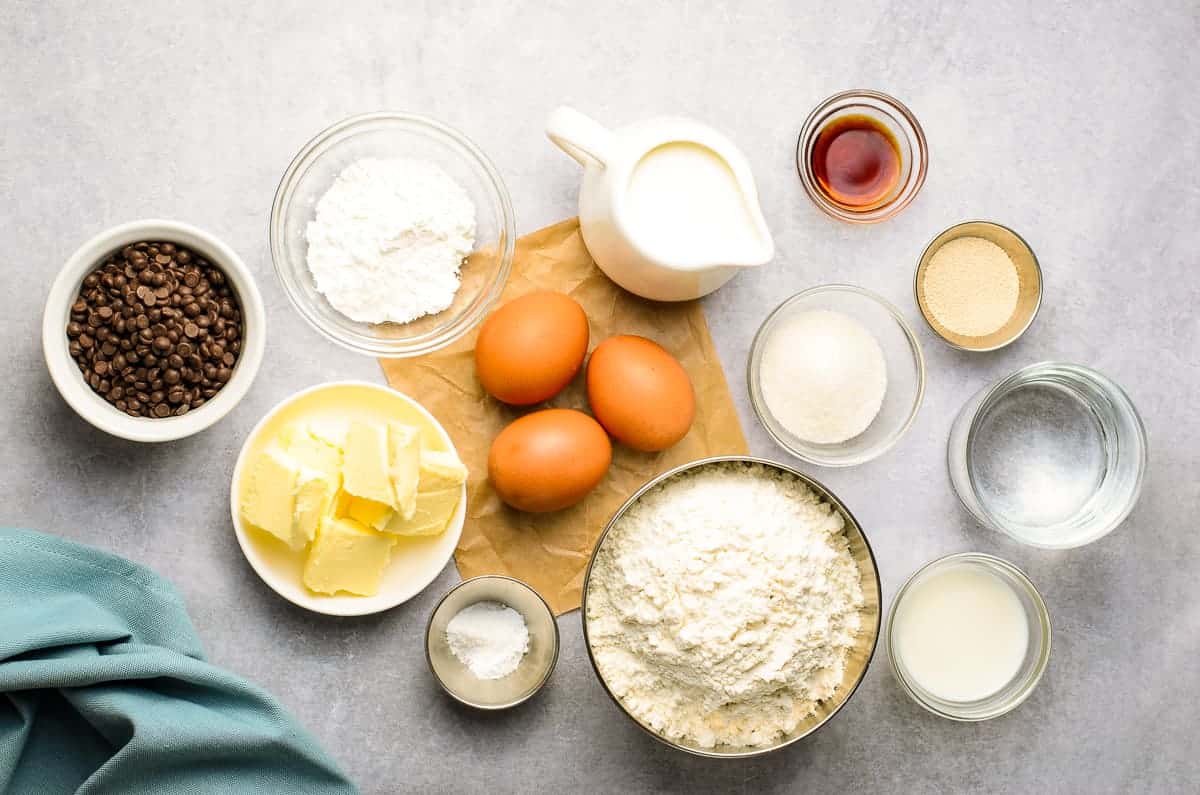 Ingredients for Boston Cream Donuts
All-purpose flour – Don't try to substitute this with anything else.
Fast-acting dry yeast – It's also called instant yeast. It's not the same thing as dry active yeast, so be sure to double-check the label.
Lukewarm milk – The best temperature is between 110 to 115°F. You'll want to use 2% or whole milk, the higher fat content helps you get the right consistency for the donut.
Lukewarm water – Mixes in with the dough.
Granulated sugar – The perfect sweetness.
Whole eggs and egg yolks – You will need whole eggs for the dough and just egg yolks for the cream filling.
Butter – Room temperature to mix in easily.
Baking powder – Gives the donuts their rise.
Salt – Brings out the sweetness.
Cornstarch – To thicken the custard filling.
Vanilla extract – To add flavor.
Semisweet chocolate chips – You could also use a semisweet baking bar.
Heavy cream – Combines with the chocolate to make the glaze.
How To Make The Dough
If you use a stand mixer to make the dough, it's a pretty quick and easy process. If you don't have one, you can still make it – it will just take a little longer to knead the dough by hand.
First, whisk the warm milk, water, sugar, and yeast in the stand mixer bowl. Leave it for five minutes or until the yeast starts to foam.
Add the softened butter, egg, and baking soda and mix to combine. Use the dough hook to knead the dough for about five minutes or until it's smooth. If you are kneading by hand, it will take eight to ten minutes. You will know when the dough is ready when it is smooth and soft.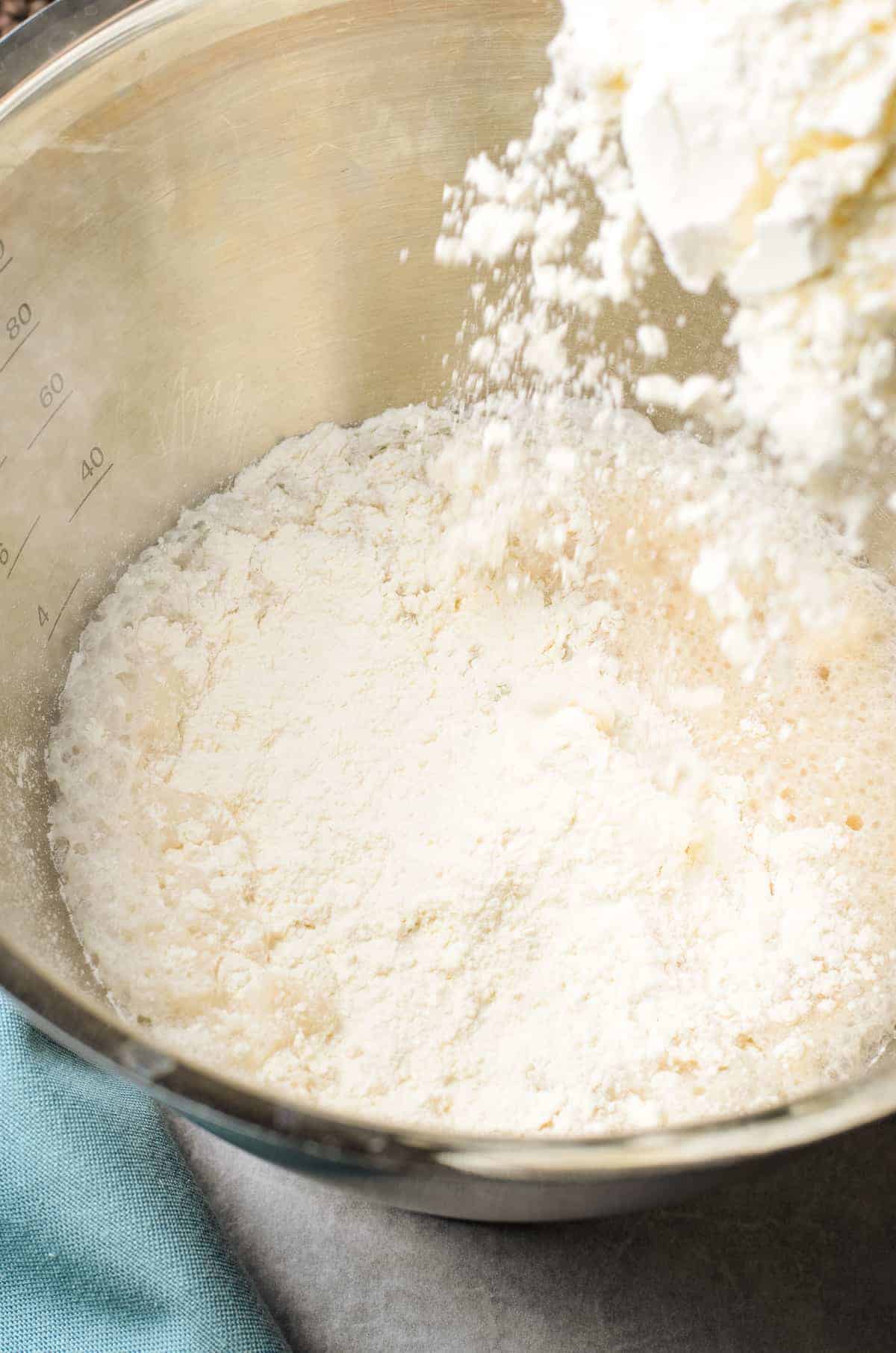 Place the dough in a greased bowl and cover it with plastic wrap. Leave it for about an hour or until it's doubled in size. Depending on the temperature of the room it could take more or less time. A colder room will cause the dough to rise slower.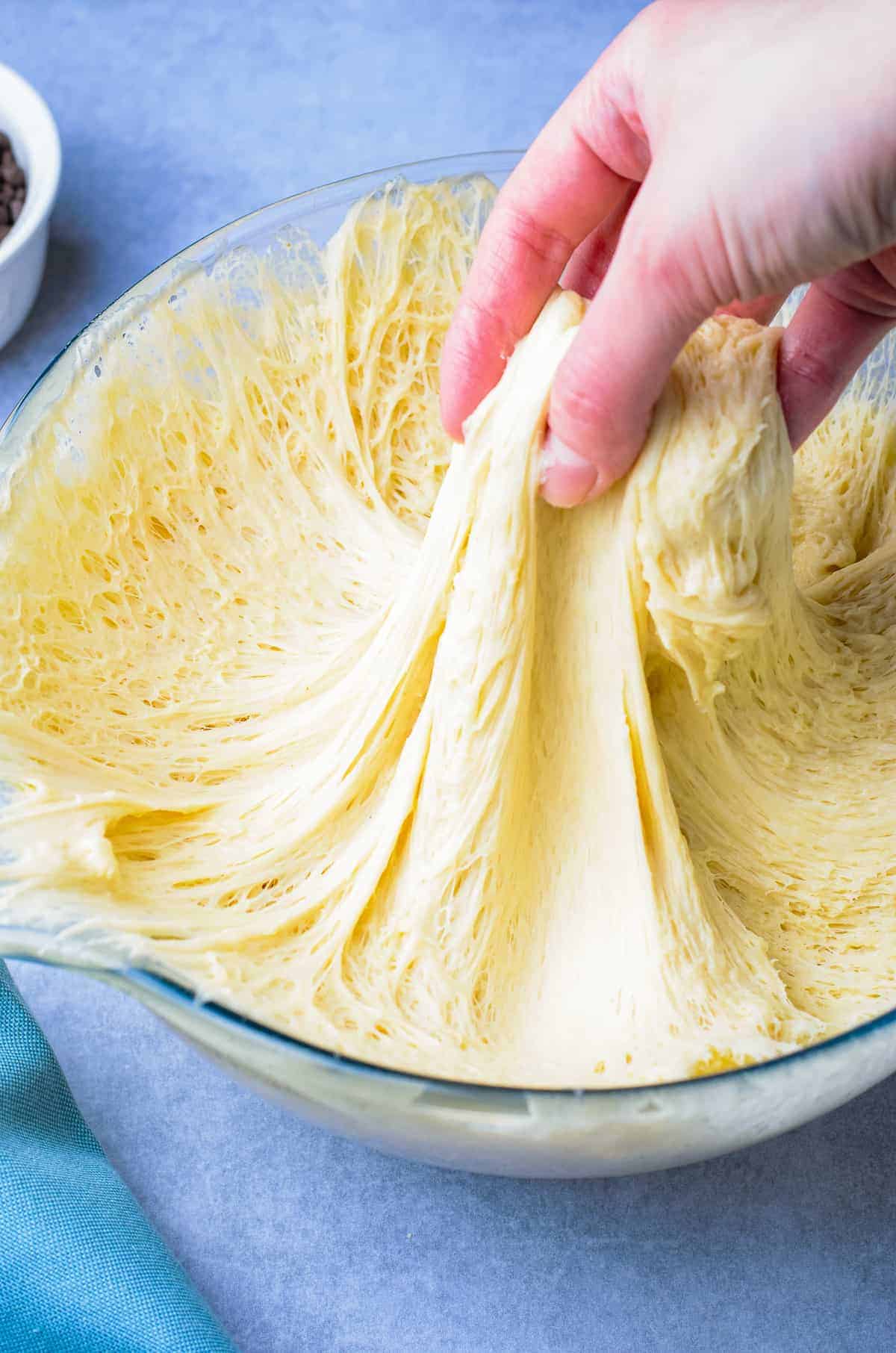 Once it's doubled in size, punch the dough down and roll it out on a floured surface. Roll it until it's 1/2″ thick.
Use the 3″ cutter to cut out each donut. Place them on a sheet pan lined with parchment, cover them, and leave them to rise for 15 minutes.
How To Fry The Donuts
While your donuts are proofing, prepare the oil for frying. Fill a large pot or Dutch oven with two inches of oil that has a high smoke point. Canola oil is good for frying donuts because it has a neutral flavor.
Heat the oil until it reaches a temperature between 350 to 360°F. Fry the donuts in batches of two or three. Carefully lower them into the oil and once they are golden on one side, carefully turn them to fry them on the other side. They usually take about two minutes per side.
Place them on a wire rack lined with paper towels to cool. They need to be completely cooled before you fill them.
How To Fill And Glaze The Donuts
All of the instructions for making the pastry cream are in the recipe card. Basically, you use a similar process for making a custard or homemade pudding. The filling needs to be chilled before you pipe it in the donuts.
Place the filling in a piping bag fitted with a round tip. Use a knife to cut a hole in each donut. You should cut the hole in the side of the donut – not on the top or the bottom. The hole should go about 3/4 of the way into the donut.
Pipe the filling into each donut and then set them aside.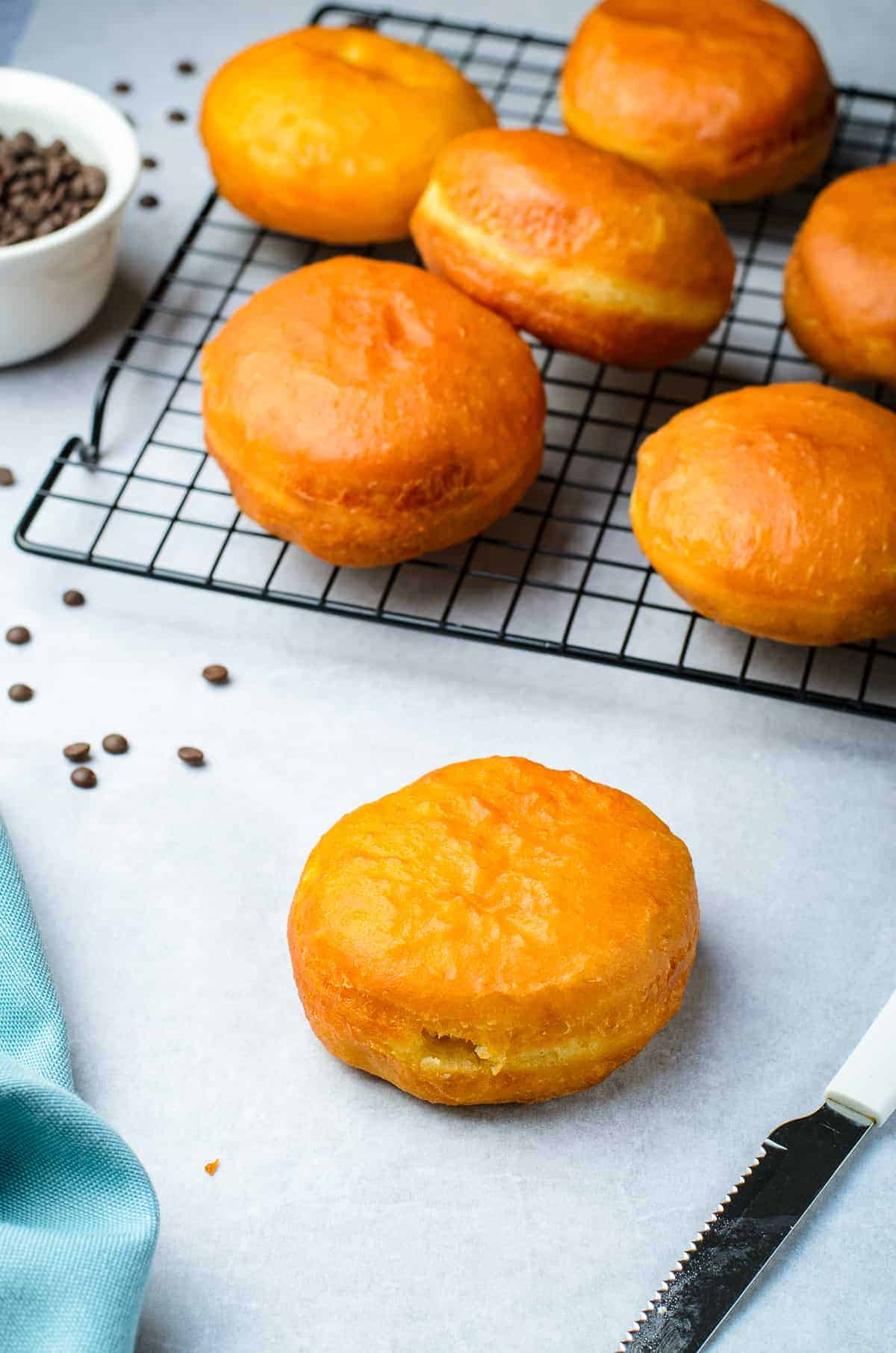 For the chocolate glaze, all you do is heat cream to just below the boiling point. So, it should be steaming hot. Pour it over the chocolate chips and stir until they are melted, and you have a smooth glaze.
Take each donut and swirl the top in the glaze, so it's evenly coated. Let the glaze set for a few minutes before serving the donuts.
Pro Tips
Make-Ahead Tip: You can make the cream filling a day ahead and keep it in the refrigerator. You can also make and fry the donuts a day in advance and fill and glaze them the next day. Keep the plain donuts in an airtight container in the refrigerator until you are ready to fill them.
How to Store Donuts: Once they are filled and glazed, it's best to eat them within a couple of days. They will keep in the refrigerator for up to two days. Just keep them in an airtight container.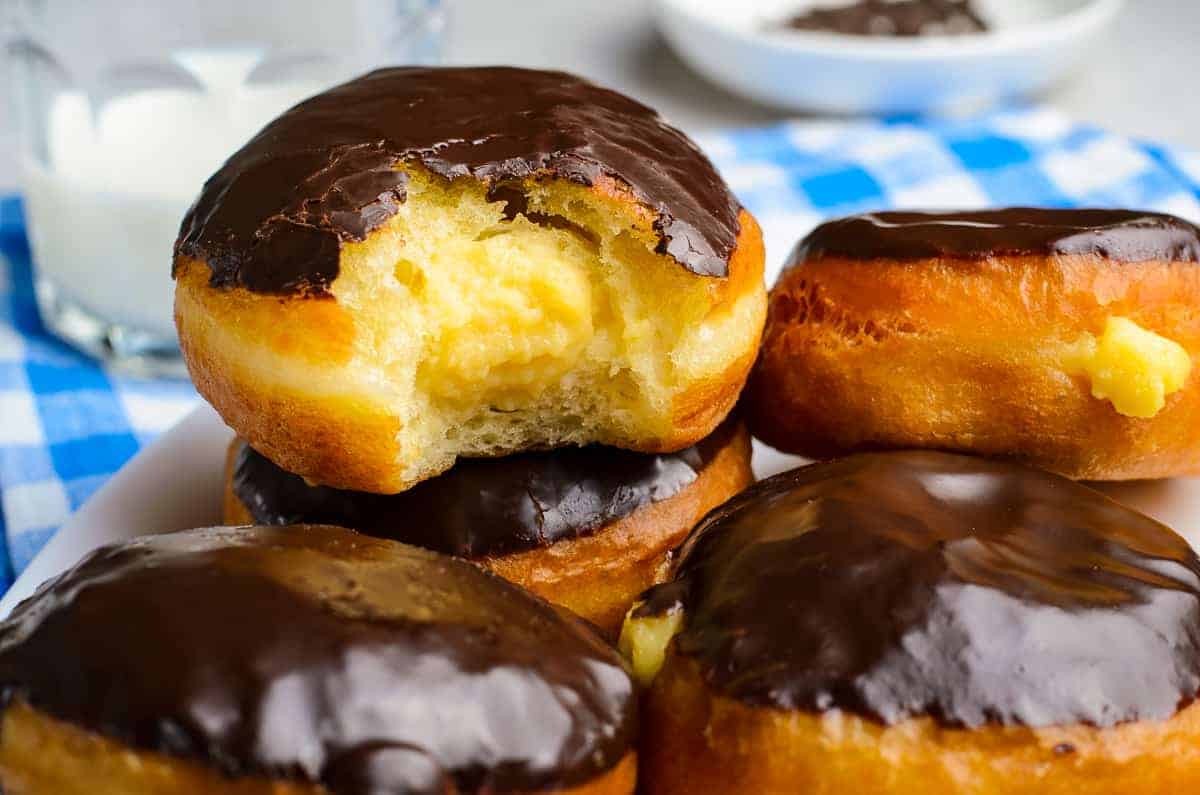 Are you ready to surprise everyone with homemade Boston cream donuts!? You are going to get rave reviews when you make this recipe, I can promise you! I hope you give these a try soon – enjoy!
More Special Breakfast Recipes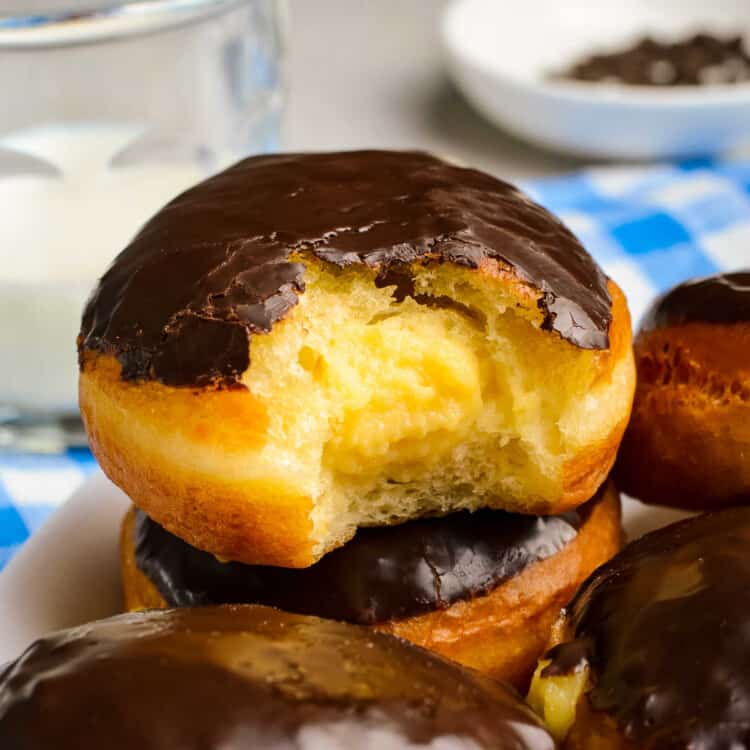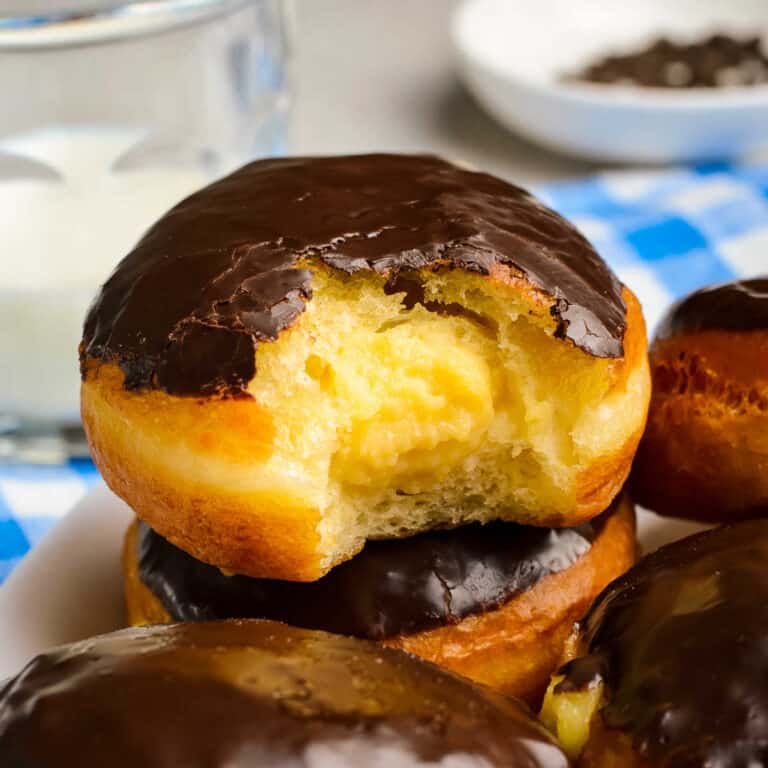 Boston Cream Donuts
Homemade Boston Cream Donuts or soft and airy donuts are filled with rich, creamy custard and topped with a decadent chocolate glaze.
Ingredients
Donuts
16

ounces

all-purpose flour

1

package

fast-acting dry yeast

(0.25 oz)

1

ounce

milk

lukewarm

7

ounces

water

lukewarm

3

Tablespoons

granulated sugar

1

egg

room temperature

3

ounces

unsalted butter

softened, cubed

⅓

teaspoon

baking powder

½

teaspoon

salt
Custard
1

cup

milk

2

egg yolks

1

Tablespoon

cornstarch

¼

cup

granulated sugar

1

Tablespoon

unsalted butter

1

teaspoon

vanilla extract
Chocolate Glaze
4

ounces

semisweet chocolate chips

⅓

cup

heavy cream
Instructions
Combine the warm water, milk, sugar, and yeast in a large bowl. Whisk to dissolve the yeast. Allow the yeast to proof for about 5 minutes or until it starts to foam.

Add the remaining ingredients. Knead on low using a dough hook on your mixer or by hand. Knead for about 5 minutes or until the dough is nice and smooth.

Place the dough into a greased bowl, cover with plastic wrap and let rise in a warm draft-free place until almost doubled in size, about an hour.

Punch the dough down and roll out on a lightly floured surface to 1/2-inch thick. Use a 3-inch cutter to cut the donuts. Place the donuts on a floured parchment-lined baking sheet, cover with plastic wrap, and let proof for 15 minutes. Re-roll the remaining dough, cut out the remaining donuts and add them to the baking sheet.

Heat 2 inches of oil in a heavy pot (Dutch oven) to 350-360°F. Drop 2-3 donuts at a time and allow to become golden before turning to the other side, about 2 minutes per side.

Remove from the oil and place on paper towel-covered wire rack. Let cool before filling.

For the pastry cream, add the sugar, cornstarch, and milk to a large saucepan and mix until smooth. Cook, stirring continuously, over medium heat until mixture begins to thicken and boil. Reduce heat to medium and simmer for 1 minute. Remove from heat.

Add a little bit of mixture to the egg yolks and whisk together, then add egg mixture to milk mixture. Place the saucepan back on the heat and bring to a light boil. Allow to boil for 2 minutes, stirring continuously.

Remove from heat, add butter and vanilla. Stir until smooth. Pour into a medium bowl. Cover with plastic wrap and press it directly on surface. Refrigerate until cold.

For the chocolate glaze, heat the cream in a microwave or over the medium heat until just below boiling point. Pour the heated cream over the chocolate chips and let sit for 1 minute. Whisk it all together until the chocolate it fully melted.

Fill a piping bag with a round tip with the cream. Using a small knife, cut a hole in the side of each donut about 3/4 of the way into the donut and pipe a generous amount of vanilla cream into the center of the donut.

Swirl the top of the donut in the glaze and allow to sit for about 10 minutes before serving.
Nutrition Information
Calories:
268
kcal
(13%)
,
Carbohydrates:
35
g
(12%)
,
Protein:
5
g
(10%)
,
Fat:
12
g
(18%)
,
Saturated Fat:
7
g
(44%)
,
Trans Fat:
1
g
,
Cholesterol:
60
mg
(20%)
,
Sodium:
96
mg
(4%)
,
Potassium:
128
mg
(4%)
,
Fiber:
2
g
(8%)
,
Sugar:
10
g
(11%)
,
Vitamin A:
331
IU
(7%)
,
Vitamin C:
1
mg
(1%)
,
Calcium:
46
mg
(5%)
,
Iron:
2
mg
(11%)