Cordon Bleu Crescent Ring
Cordon Bleu Crescent Ring ~ Flaky Crescent Rolls Stuffed with Swiss Cheese, Ham, Chicken and Topped with Garlic Butter! Quick & Easy Dinner!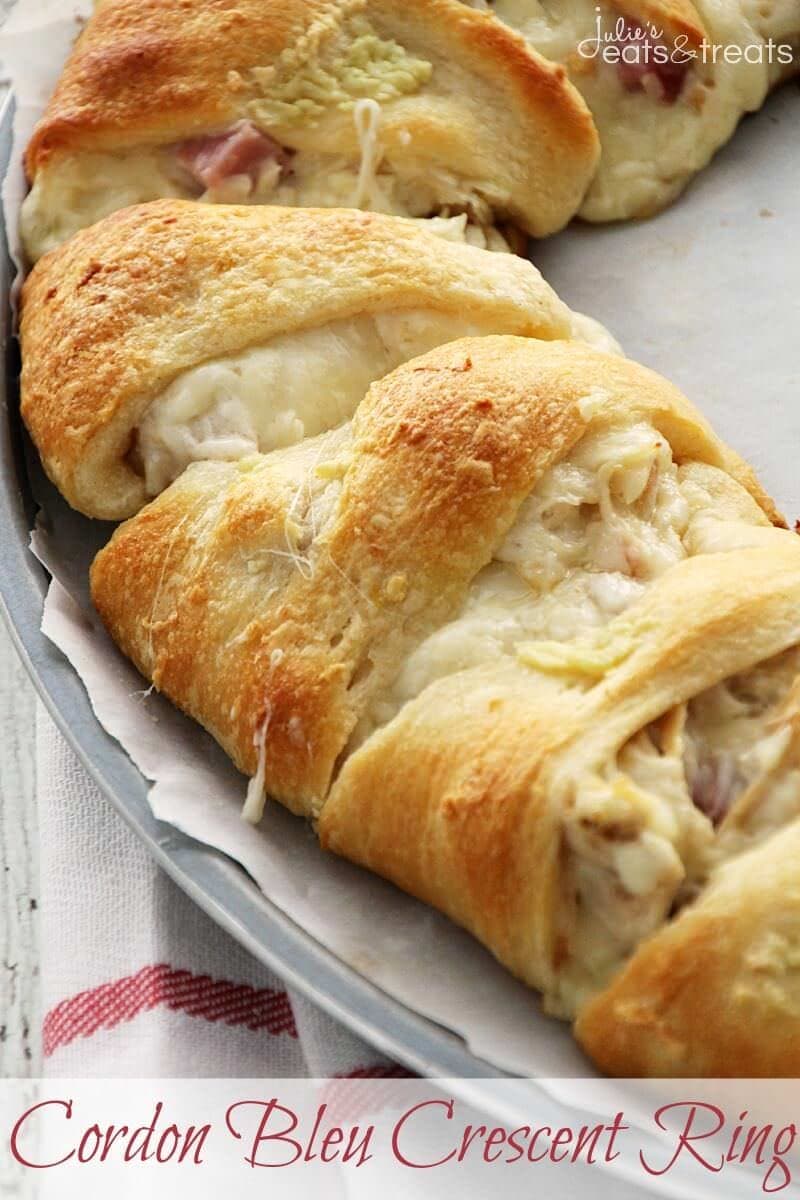 Having a baby is like some throwing you into the water when you can't swim I've decided. You tread water and then you think you are finally making it to shore and then a thunderstorm occurs and sends you back out to sea. As soon as I get something figured out, or so I think I've figured it out RyRy decides to change things up on me. She slept so great for a month that I thought I had this made. I'd have to wake her up in the morning and it was bliss. Then the last two weeks happened and it was 4:00 am wake up calls most mornings and we thought we might be dying. Literally. This woman needs sleep. No matter how much I try to make do without it I need it. I need it to function. When I don't get it that means I get cranky. Oh so cranky. Ask the hubs. He's been paying for it the last couple of weeks. Everynight I go to bed and pray that she'll sleep till at least 5:00 am because then at least that's the time I get up anyways. It might be more difficult to get up and have her up with me but at least she's not interfering with my sleep patterns.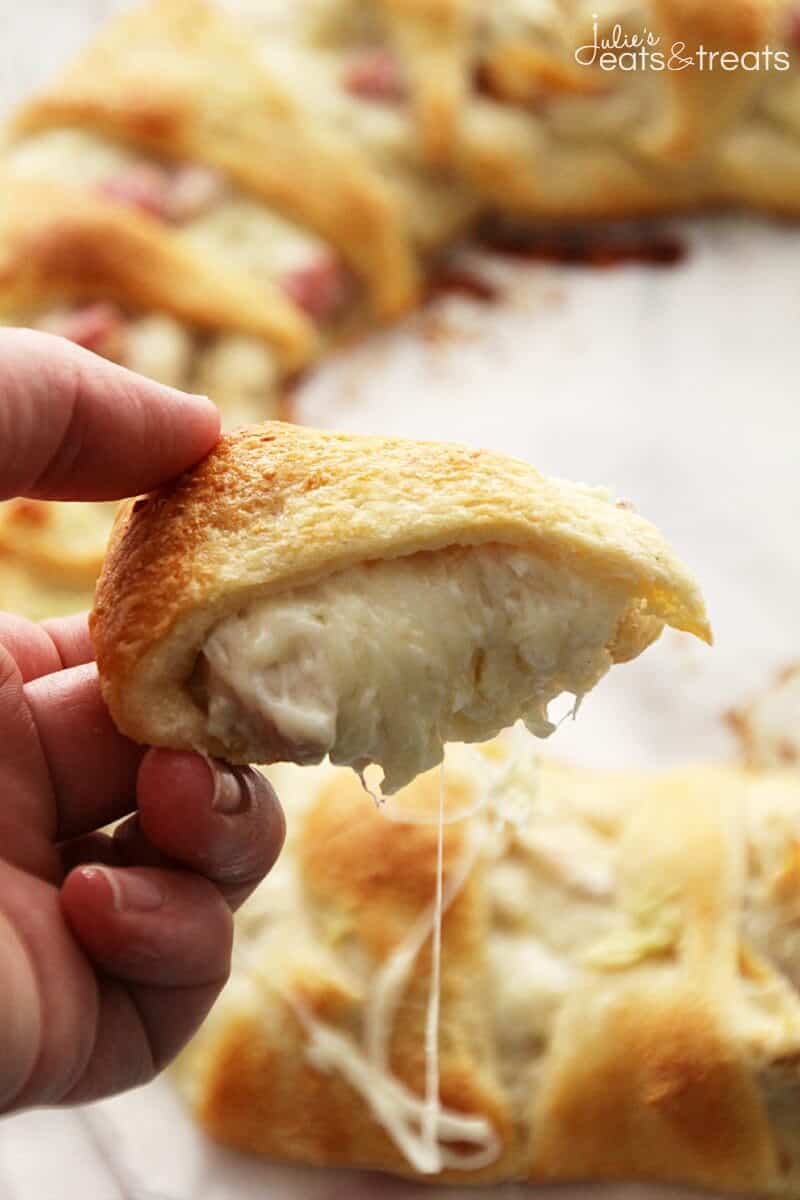 When I was at her four month appointment I asked the Doc what the guideline was for starting cereal and he looks at me and goes, "Go for it!" It seems as long as I think she's ready she apparently is. I was begining to think that she was hungry and that was why I got the 4 am wake up call. I ignored his advice for a few more days and then I finally broke. At dinner one night I decided to grab a spoon out of the drawer and put it up to her lips. Sure enough she opened up and tried to take a bite. Well so be it. I think she's ready I told Jason. She ate like a champ unlike when I tried to start feeding Miss K. Oh that was a nightmare. She was not ready at all. I was so nervous to start a little over 4 months because other people wait till 6 months but she's ready and she's hungry and the Doc said I could so I'm going for it. Hold the judgement. She's been sleeping better and Momma's been happier which everyone is thankful for!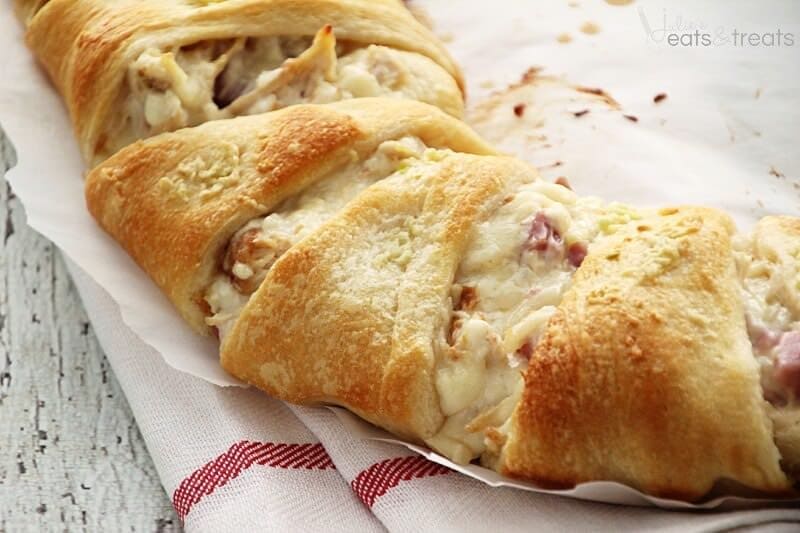 Pretty soon she'll be scarfing down fabulous dishes like this Cordon Bleu Crescent Ring. After you guys went nuts for the Taco Ring and 3-Meat Pizza Ring I decided I need to do another twist on that and here it is. Flaky, delicious crescent rolls stuffed with Cordon Bleu Filling. It's quick, easy and a fabulous dinner! You can't go wrong with this delicious recipe!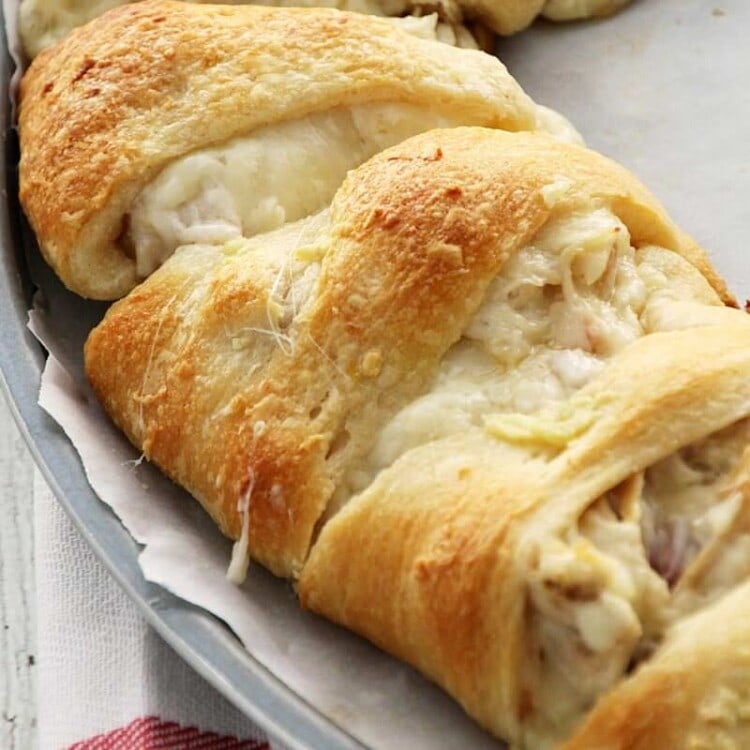 Cordon Bleu Crescent Ring
Cordon Bleu Crescent Ring ~ Flaky Crescent Rolls Stuffed with Swiss Cheese, Ham, Chicken and Topped with Garlic Butter! Quick & Easy Dinner!
Ingredients
2

8 oz tubes refrigerated crescent rolls

2

c.

shredded Swiss cheese

2

c.

cooked shredded chicken

1/2

c.

mayonnaise

1/2

c.

cooked and cubed ham

2

Tbsp

butter

melted

2

minced garlic cloves
Instructions
Preheat oven to 375 degrees.

Unroll the crescent roll dough and separate into triangles. Place triangles in a ring with points toward the outside of an ungreased 16 in. pizza pan. The wide ends of the triangles will overlap.

In a large mixing bowl combine the cheese, chicken mayonnaise and ham. Spoon filling across the wide end of the triangles. Fold pointed end of triangle over the filling. The filling will be visible.

Mix butter and garlic in small bowl. Brush over top of crescent rolls.

Bake ring 15-20 minutes or until golden brown and heated through.
Nutrition Information
Calories:
674
kcal
(34%)
,
Carbohydrates:
26
g
(9%)
,
Protein:
37
g
(74%)
,
Fat:
47
g
(72%)
,
Saturated Fat:
20
g
(125%)
,
Cholesterol:
132
mg
(44%)
,
Sodium:
1076
mg
(47%)
,
Potassium:
216
mg
(6%)
,
Sugar:
7
g
(8%)
,
Vitamin A:
615
IU
(12%)
,
Vitamin C:
0.2
mg
,
Calcium:
478
mg
(48%)
,
Iron:
1.3
mg
(7%)
Things You Might Need for this Recipe!
Craving More Delicious Dinner Ideas?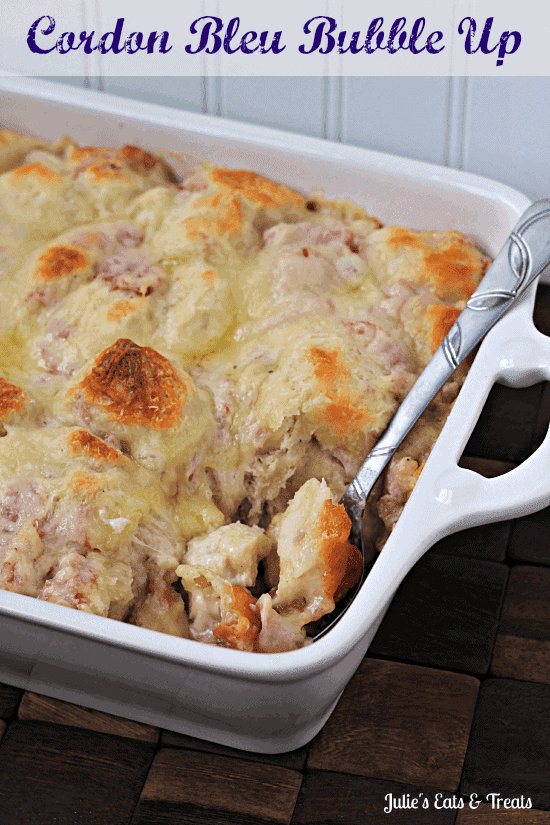 Cordon Bleu Bubble Up ~ Comforting casserole full of biscuits, Alfredo sauce, chicken, ham and Swiss cheese!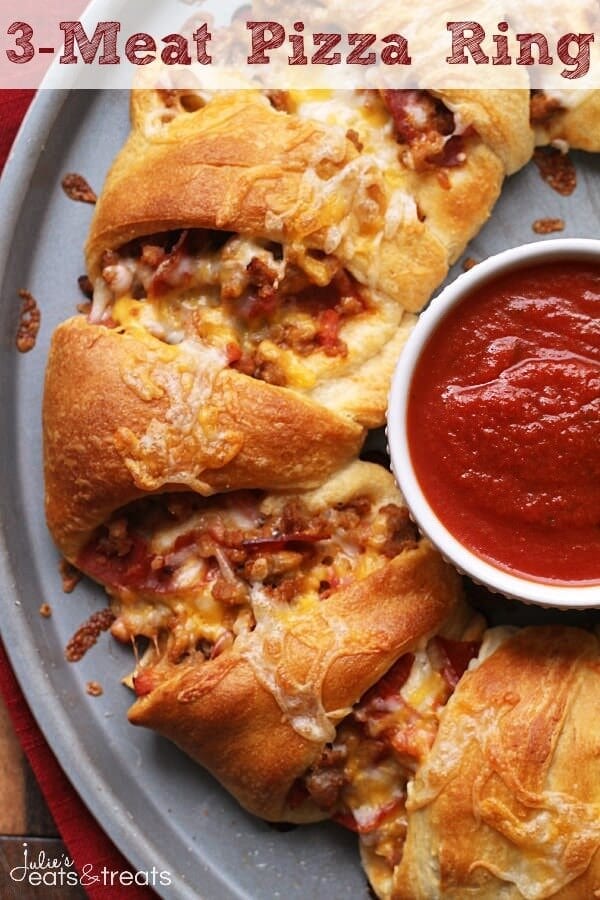 3-Meat Pizza Ring ~ Flaky Crescent Rolls Stuffed with Three Meats and topped with Cheese!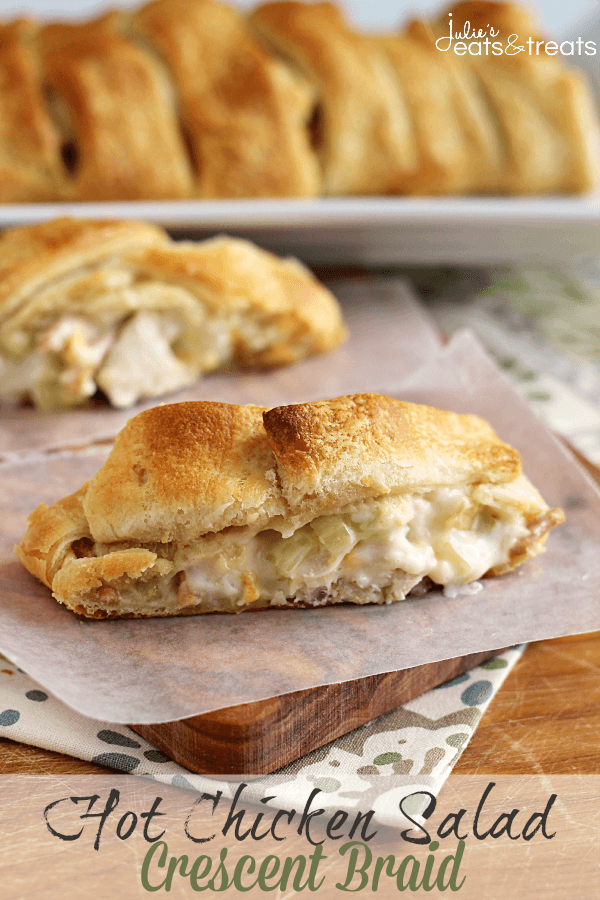 Hot Chicken Salad Crescent Braid ~ Flaky Crescent Rolls Stuffed with Chicken, Celery, Cheese, Almond and Chow Mein Noodles!