Football Scotcheroos are bite sized scotcheroos cut into a shape of a football, dipped in chocolate and decorated like a football. These are an easy sweet treat for the big game and so fun to make! You can never beat that ooey, gooey scotcheroo filling!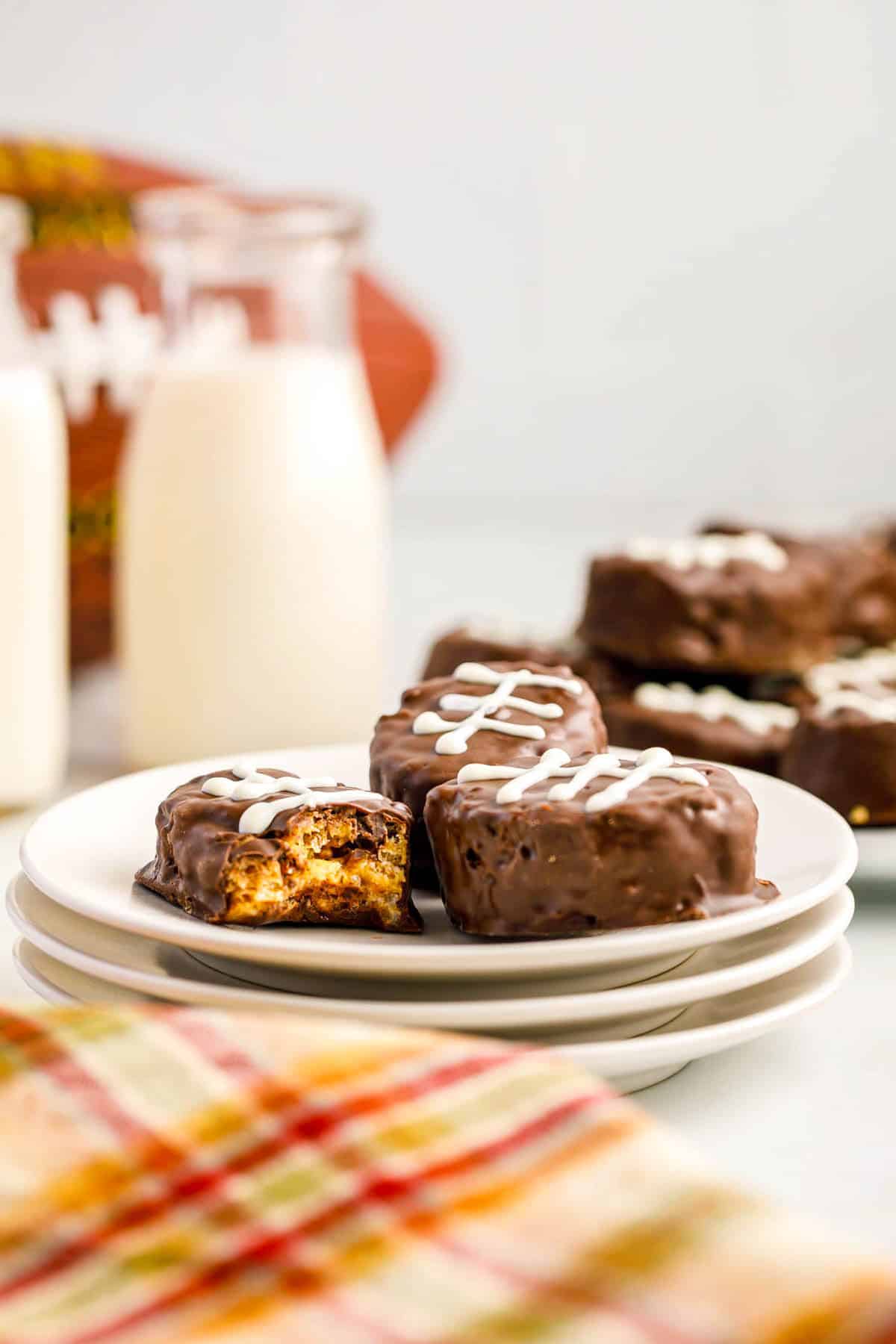 These are the perfect sweet treats for the "Big Game." A soft chocolate coating covers a crispy, peanut-buttery inside. With their tiny football shape and white laces, they're a guaranteed touchdown!
We took our favorite Scotcheroo recipe and turned it into the perfect Super Bowl recipe. The butterscotch, peanut butter and chocolate combo is irresistible!
I'm pretty much in love with these. My daughter calls them "cookies", and screams in delight when she sees them. You might want to do the same when you sink your teeth into these adorable bite-sized treats.
Why This Recipe Is the Best
They're crazy delicious. Think of a peanut butter Rice Krispie treat (sans marshmallows) covered in silky chocolate.
No baking required! These are made like classic no-bake cookies, then cut out and covered in chocolate.
The chocolate stays soft. The chocolate almond bark coating won't harden like regular chocolate does.
They're easy. No piping bag, stand mixer, or chocolate tempering required.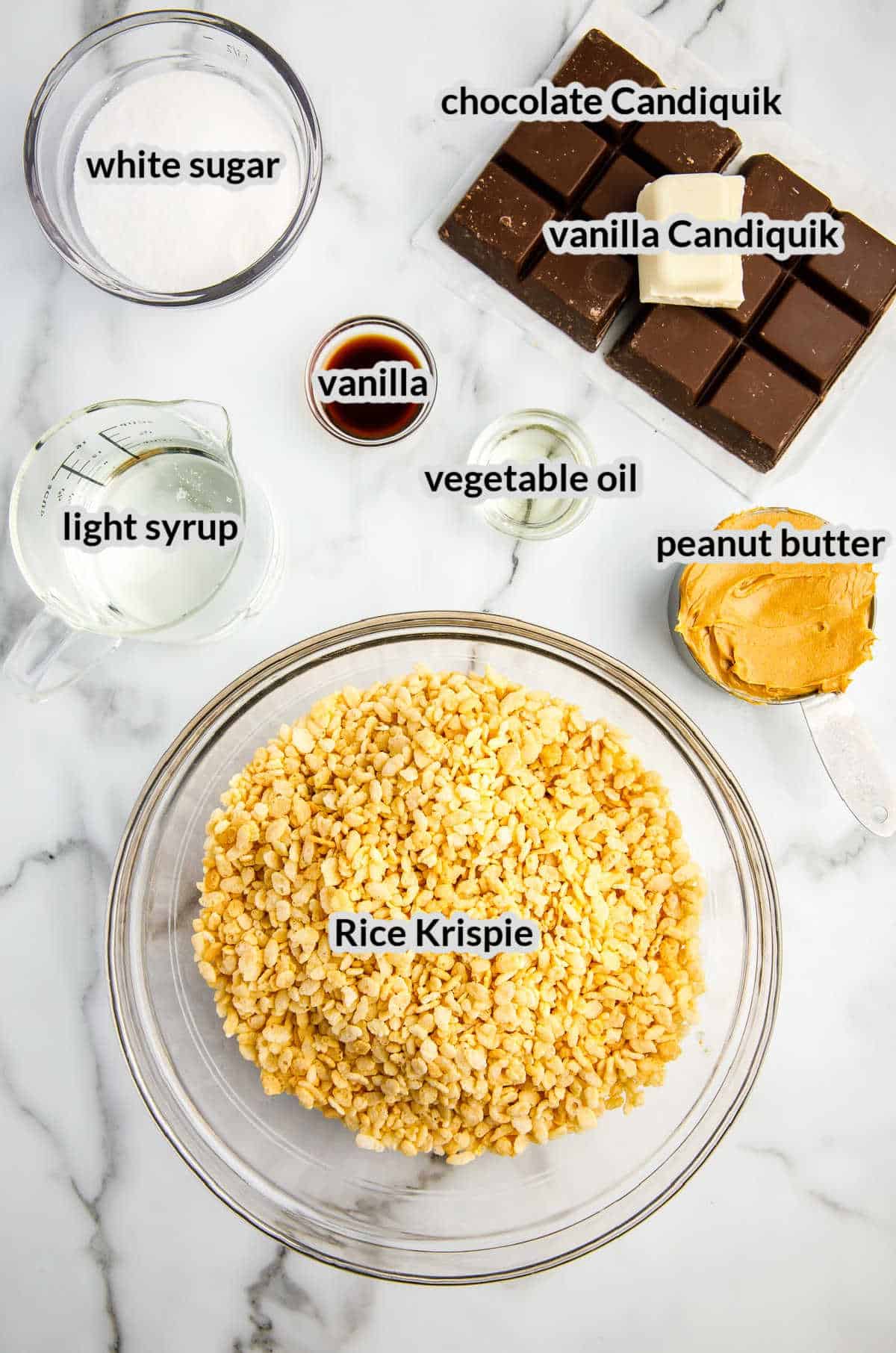 Ingredients Needed
Rice Krispies – Crispy rice cereal makes an easy base for these treats.
Peanut butter – This delicious roasted nut butter holds the crisp rice together and contributes tons of flavor. Do not get natural peanut butter that separates for this recipe.
Light corn syrup – Corn syrup helps bind the Rice Krispies together and adds sweetness.
Vanilla – Vanilla adds a pleasing taste and aroma.
Chocolate Almond Bark – This is what you'll dip the treats in to make them dark like footballs.
Vanilla Almond Bark – Vanilla coating that's like white chocolate will make the laces.
Vegetable oil – This helps make the vanilla almond bark easier to pipe.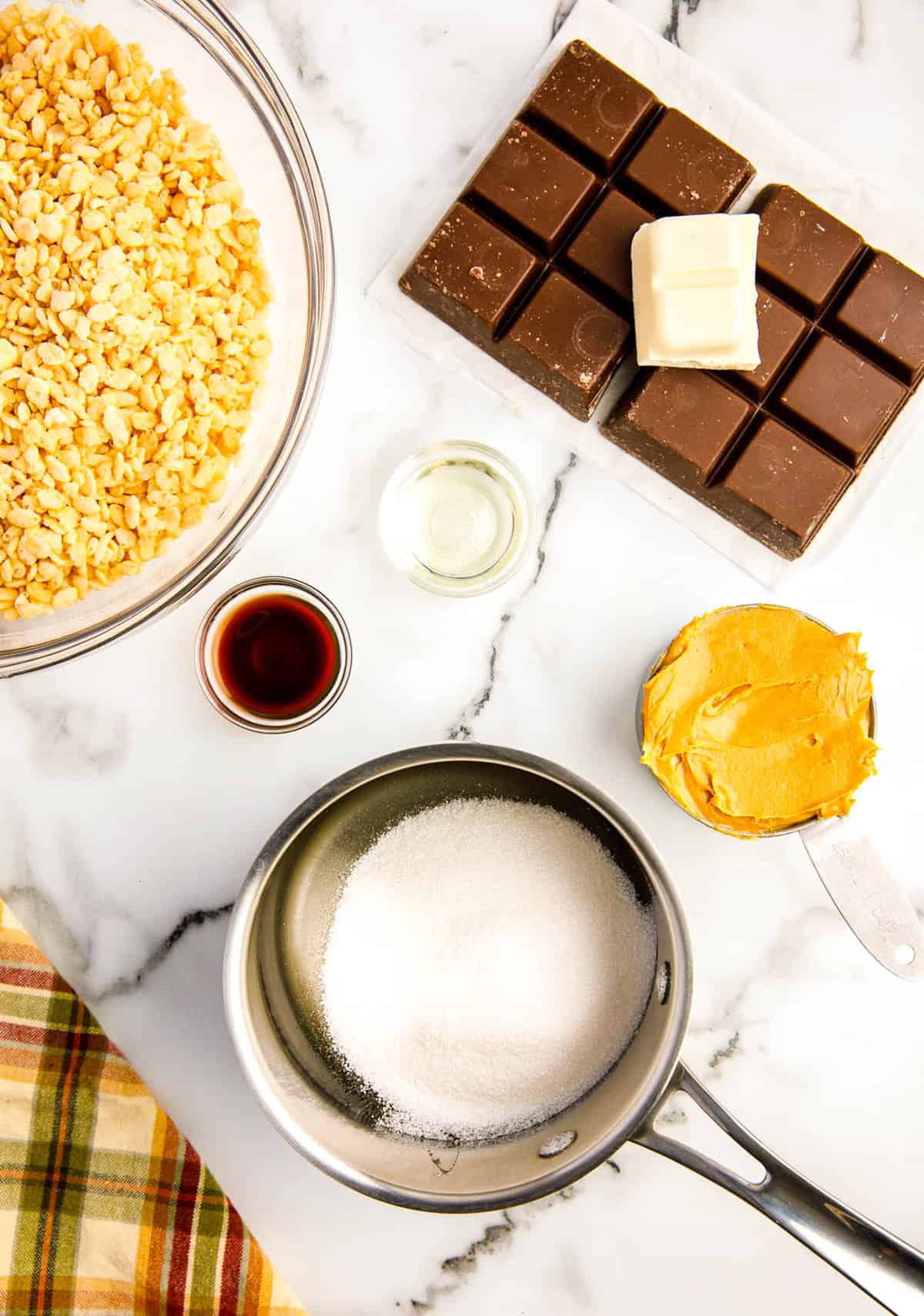 How to Make Football Scotcheroos!
In a small saucepan, combine the sugar and light corn syrup. Bring just to a boil, then turn it off.
Add the peanut butter and vanilla, then stir until melted and combined.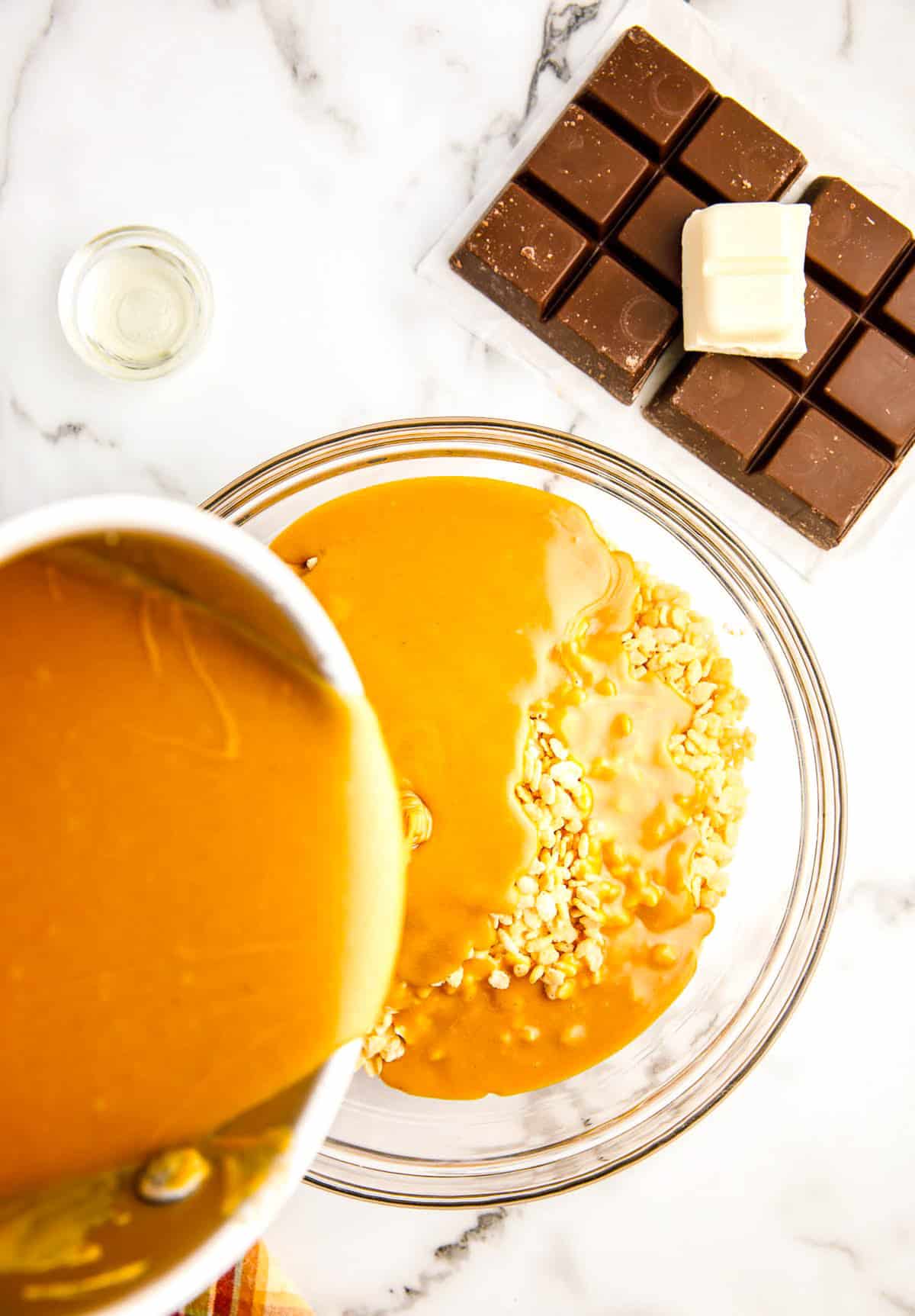 Make the Scotcheroos!
Pour the Rice Krispies into a large mixing bowl. Pour the peanut butter mixture over the cereal and stir until fully coated.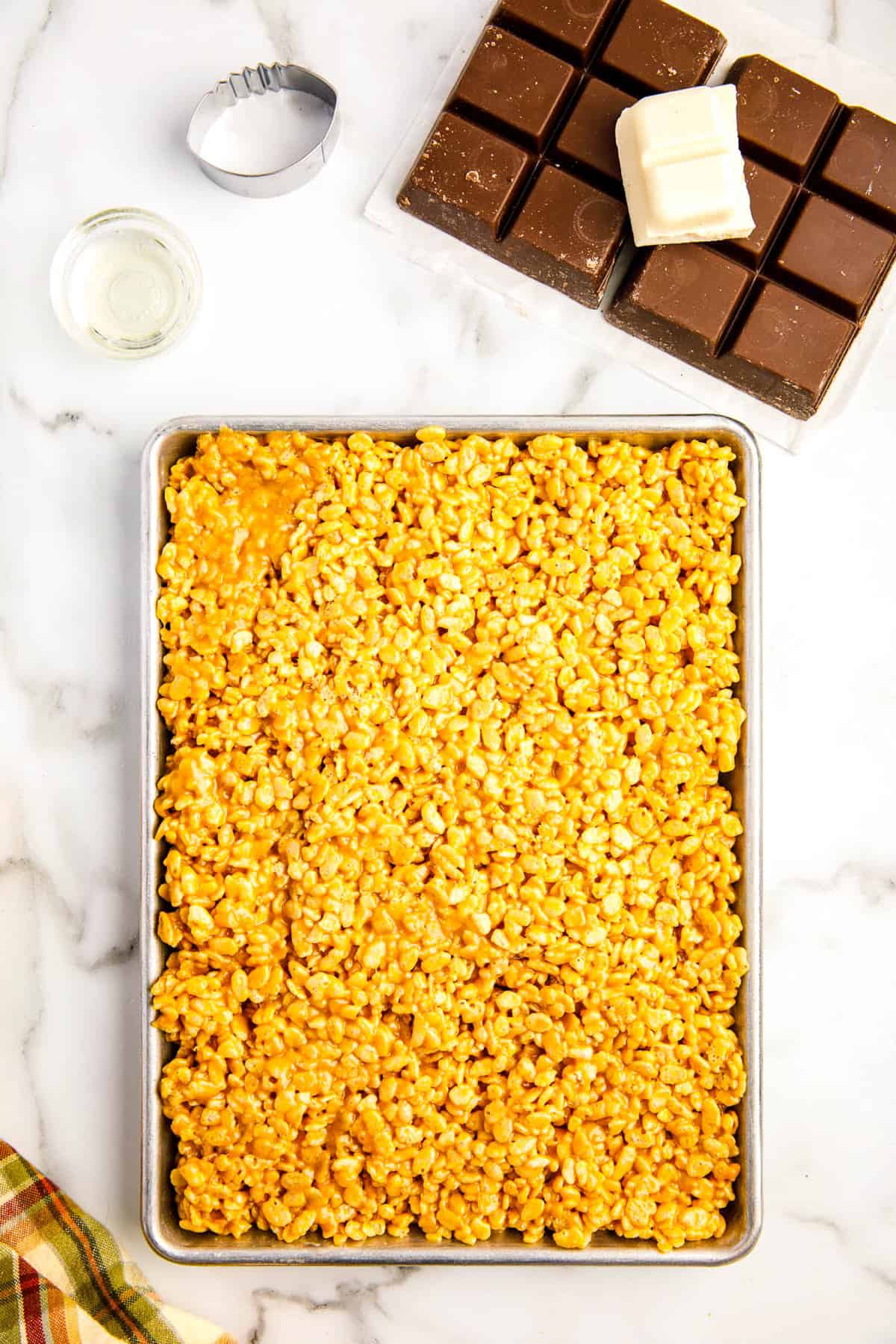 Cut into Footballs!
Spread the mixture in a greased 9×13-inch pan.
Let the bars sit for around 2 hours until firm.
Using the cookie cutter, cut out your football shapes.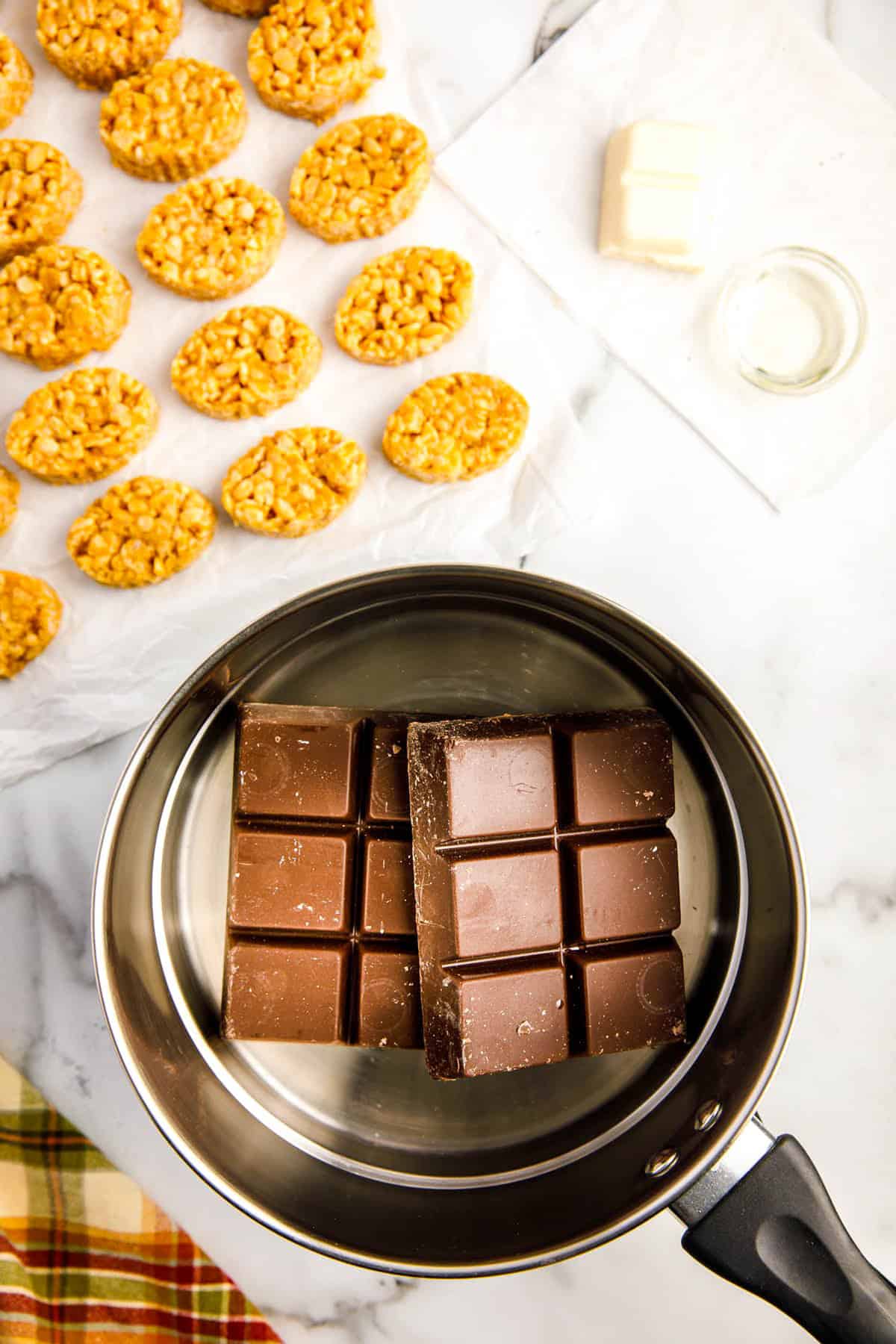 Dip the Footballs!
Melt the chocolate almond bark. Carefully dip the footballs in it and place them on wax paper until the chocolate has set.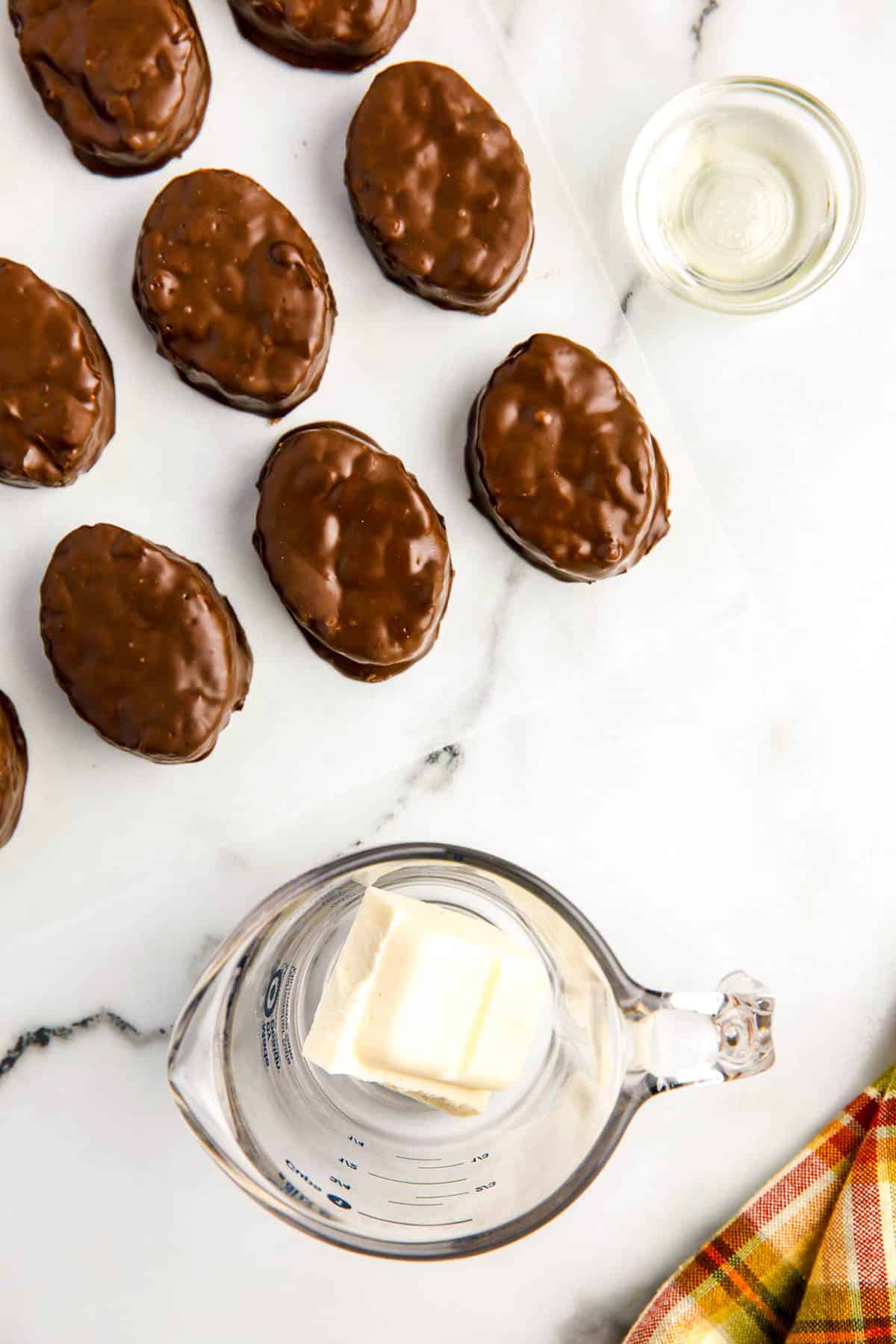 Decorate the Footballs!
Melt the vanilla almond bark and stir in the oil. Pour the vanilla almond bark into a small Ziploc bag. Cut a very small piece off the bottom corner of the bag, then pipe on the football laces.
Let the vanilla almond bark cool until it is set.
Tips and Tricks!
If you have nut allergies, you can make these with sunflower butter instead of peanut butter.

To microwave the sugar and corn syrup mixture, place it in a microwave-safe bowl. Cook it in 30-second increments, stirring after each until the sugar is dissolved.

Want to use butterscotch instead of dark chocolate for the coating? Make a butterscotch coating similar to almond bark by adding a few drops of vegetable oil or shortening when melting. 

For a classic Scotcheroo topping, use half butterscotch chips and half chocolate almond bark for the coating.
Serving Suggestions
Looking for more fun recipes for game day? This Football Cheese Ball will get everybody riled up for a good time. For even bolder flavor, try my Football BBQ Bacon Ranch Cheese Ball.
And if you love a creamy queso dip, my Football Pepperoni Pizza Dip can be served with bread, tortilla chips, or veggie sticks. Game on!
What is Almond Bark? Where do I find it?
Almond bark is a chocolate-like confection made with vegetable fats instead of cocoa butter. It's much easier to use than standard chocolate. It's widely available at places like your local grocery store, Amazon and Walmart.
How long do I need to boil the sugar and corn syrup mixture? 
The sugar and corn syrup only need to be brought to a boil, then the heat is turned off. If the sugar cooks too long, it can make your Scotcheroos hard.
Are Rice Krispies gluten-free? 
Unfortunately, Rice Krispies contain malt, which comes from gluten-containing barley. So they're not gluten-free but may be tolerable for people with gluten sensitivity.
How do I store Football Scotcheroos?
Store these Scotcheroos in an airtight container at room temperature. They'll last at least 5 days. If it's super hot in your house, you can store them in the fridge instead, but they might collect condensation.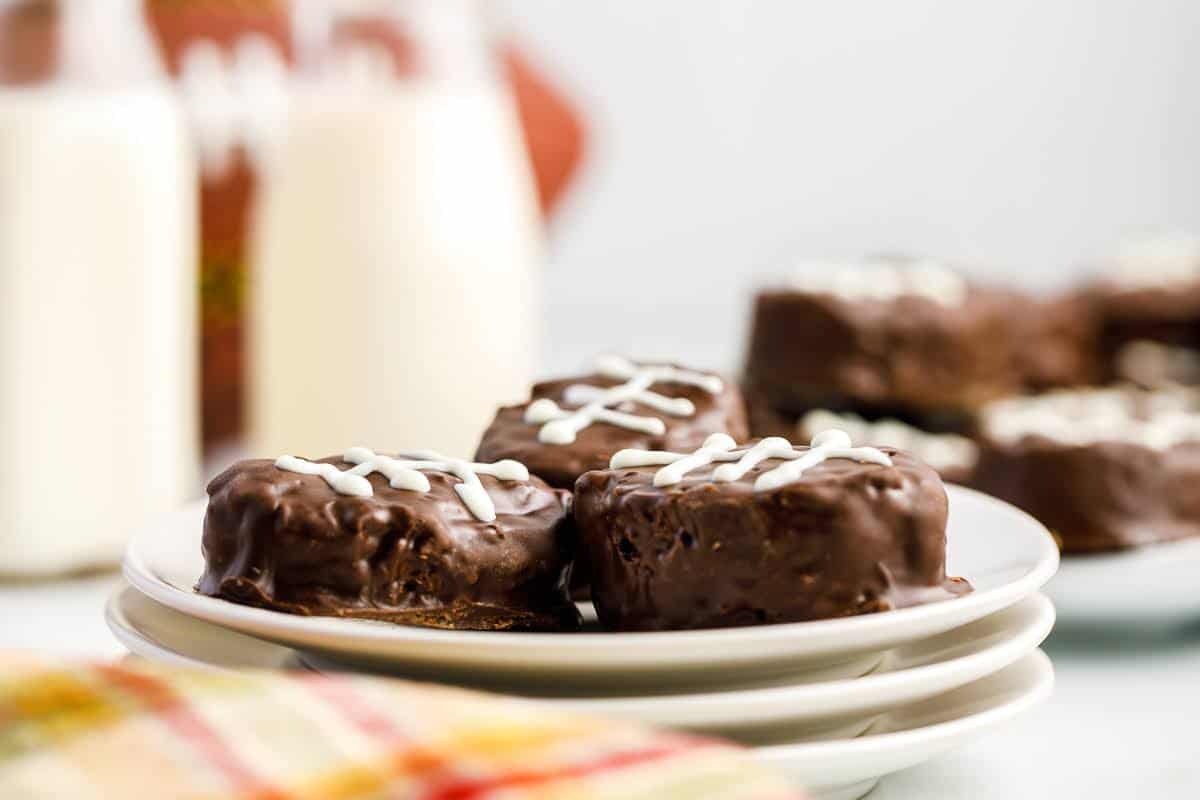 These cute, delicious Football Scotcheroos are so easy to make, but cute and fun to celebrate any football game with!
More Appetizer for a Party!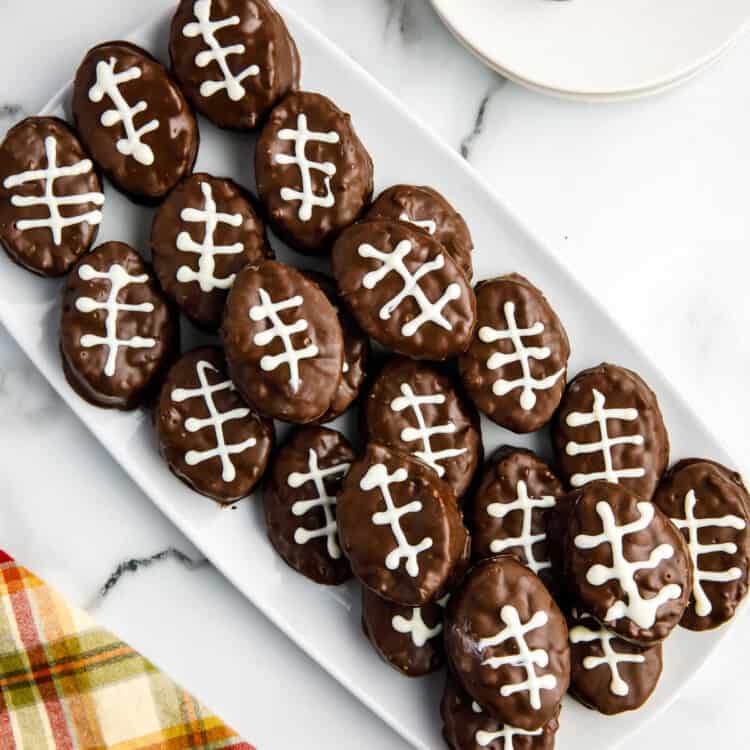 Football Scotcheroos
Football Scotcheroos ~ Festive treats for the big game! Ooey, Gooey Scotcheroos covered in chocolate!
Ingredients
1

cup

white sugar

1 ¼

cups

light corn syrup

1

cup

peanut butter

2

teaspoons

vanilla

6

cups

Rice Krispie

24

ounces

chocolate almond bark

1 package

2

ounces

vanilla almond bark

1 square

1

Tablespoon

vegetable oil
Instructions
In a small saucepan mix sugar and light corn syrup; bring to a boil. Add peanut butter and vanilla. Stir until melted and combined.

Put Rice Krispies in a large mixing bowl. Pour peanut butter mixture over Rice Krispies and stir until well combined. Spread in a 9×13 in. pan sprayed with non-stick cooking spray.

Let bars sit about 2 hours or until firm.

Cut bars out with football cookie cutter.

Melt chocolate Candiquik. Dip footballs in chocolate and place on wax paper. Let sit until chocolate is set.

Melt vanilla Candiquik and then stir in oil. Put mixture into a small Ziplock bag. Cut a very small piece off the tip of the bag. Use this to pipe on the football laces.

Store in a airtight container.
Nutrition Information
Serving:
1
,
Calories:
398
kcal
(20%)
,
Carbohydrates:
59
g
(20%)
,
Protein:
5
g
(10%)
,
Fat:
19
g
(29%)
,
Saturated Fat:
9
g
(56%)
,
Polyunsaturated Fat:
2
g
,
Monounsaturated Fat:
7
g
,
Trans Fat:
0.001
g
,
Sodium:
119
mg
(5%)
,
Potassium:
183
mg
(5%)
,
Fiber:
3
g
(13%)
,
Sugar:
48
g
(53%)
,
Vitamin A:
559
IU
(11%)
,
Vitamin C:
5
mg
(6%)
,
Calcium:
18
mg
(2%)
,
Iron:
4
mg
(22%)