This quick and easy Pico de Gallo recipe is so delicious! It adds so much flavor to so many dishes as a topping or right by itself on a chip. It only requires six ingredients!

Pico de Gallo
Oh Pico de Gallo where have you been my entire life? You just blew my socks off. I totally used to buy the pre-made Pico at the grocery store until one day I decided I was going to make it myself and with only six ingredients – tomatoes, peppers, cilantro, onion, lime and salt – it couldn't have been easier.
You want to know what I did?
I totally headed back to the grocery store, picked up the container of Pico de Gallo I always bought and took a picture of the back of it.
It was good. Seriously. Delicious. Why not copy it?
#noshamehere
Unlike my guacamole experience. Now that you have to make homemade. Store version doesn't measure up, unless I just haven't found the right one yet!
So armed with my ingredient list I dashed around the grocery store grabbing the ingredients. Then I went home and tackled the proportions.
If I don't say so myself I nailed this.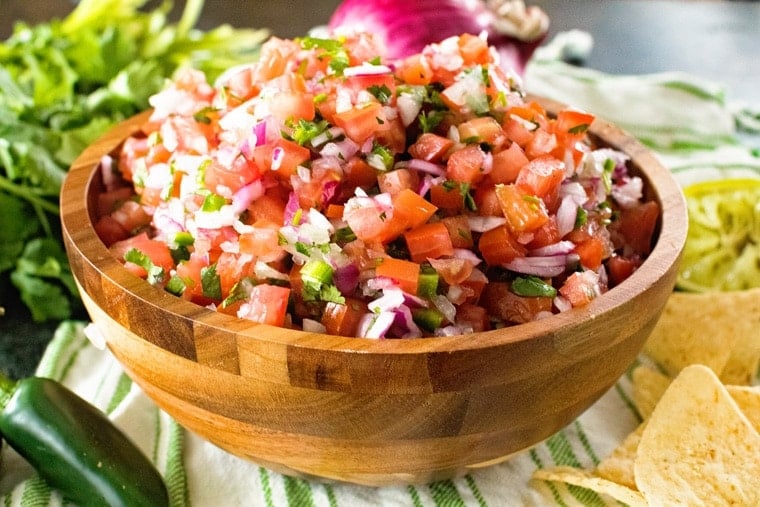 Pico de Gallo Recipe
Nailed it as in I might have ate my weight in it. I layered on chicken, in salads, on chips, on steak, tacos, you get the idea.
All the things were topped with Pico de Gallo in my life.
Including a breakfast sandwich.
Epic.
If you are like me and are for some reason waiting for the "right" time to make this recipe it is now. Now my friends. I did the research and figured it out so now you can enjoy it.
Plus, it's Cinco de Mayo soon so that's another excuse to eat your weight in Pico de Gallo.
Like I need another excuse.
I just eat it. Allllll the Pico. Because life.
At least it's healthy right?
Another one of my favorite lighter appetizer dip recipes is Texas Caviar! I also eat my weight in that!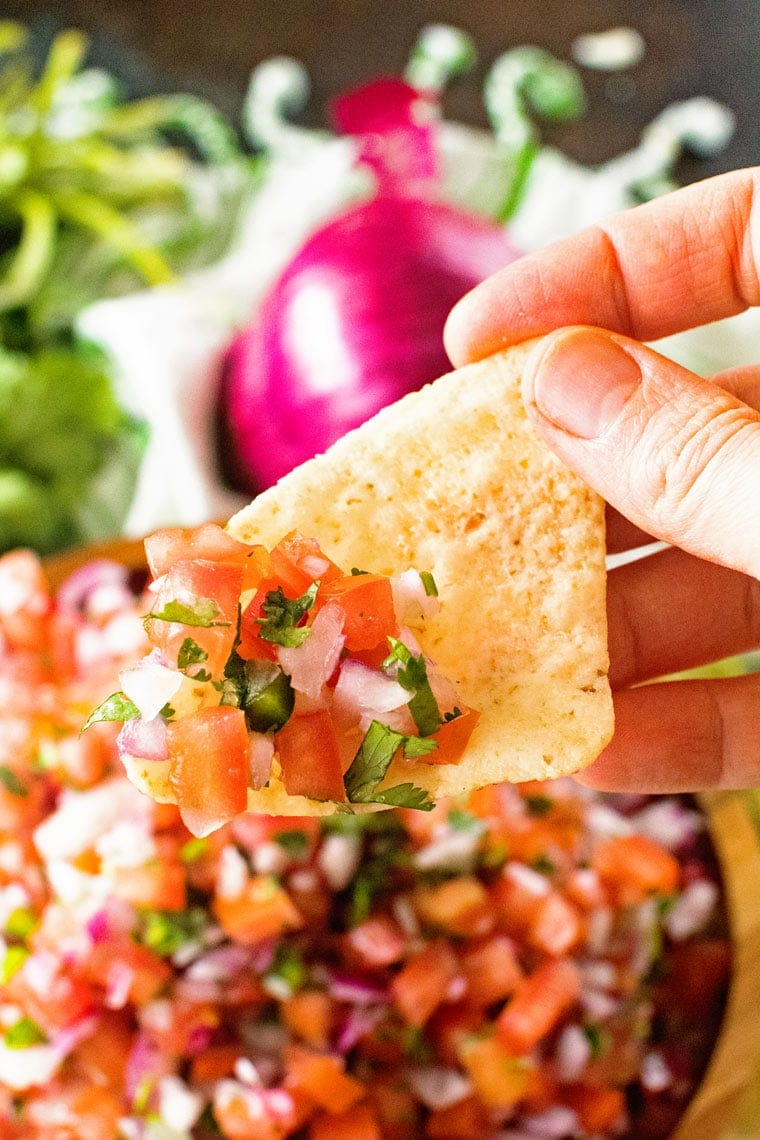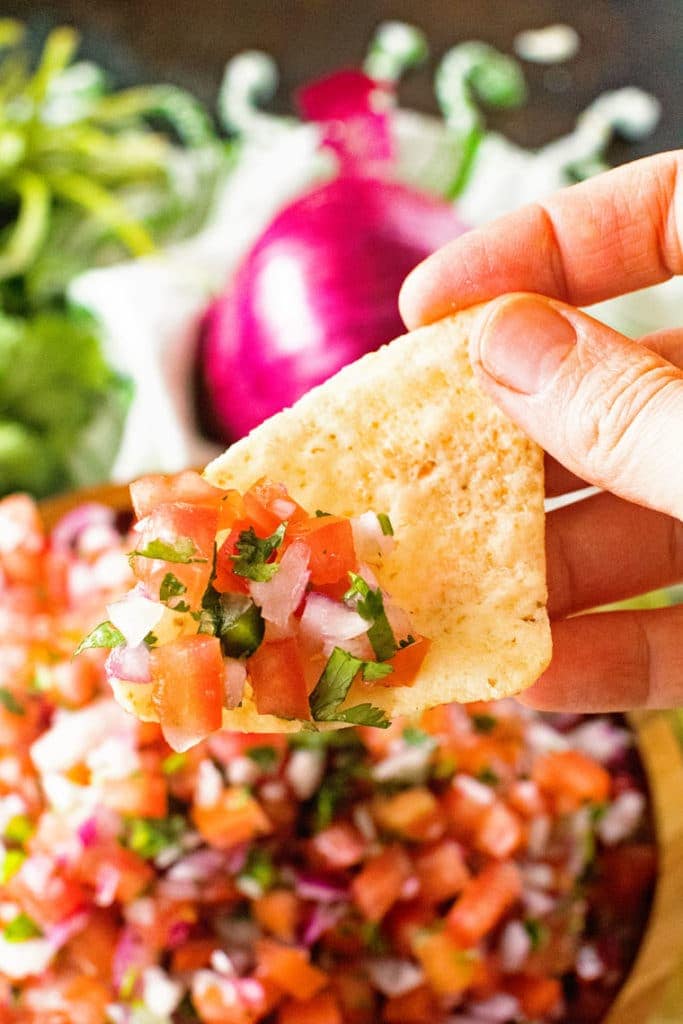 How to Make Pico de Gallo:
This really doesn't require a lot of explanation. The key is simple ingredients for pico de gallo. The best pico will be made with seasonally ripe ingredients.
Grab your ingredients listed below and combine them all!
I think it's best if you let this sit in the fridge for at least a hour before enjoying.
Ingredients Need to Make Pico de Gallo:
Fresh tomatoes: I prefer Roma tomatoes in my pico de gallo, but really any tomato will work. The key is the freshness of your tomatoes. Avoid bland or watery tomatoes that you find in the wintertime. Grab the dark red tomatoes that actually smell like a tomato. Fresh is key! I take the seeds out of mine. This isn't required but I think the extra work is worth it.
Onion: I prefer to use a red onion for a bit of extra sweetness. Traditionally a white onion is standard. You can use either or go crazy and use both!
Chili Peppers: You can use either Jalapeño or Serrano. The key is to remove the seeds and membranes for less heat.
Cilantro: I used a 1/3 c. but taste and add more if you'd like!
Lime: I used one in this recipe, if you taste it and would like more add it! Pop your lime into the microwave for 30 seconds and it will squeeze easier! Don't you dare grab a bottle of lime juice. It's not the same.
Salt: Don't skip it. Just don't. It's a must have! It draws out the flavors. There's purpose for having it in this recipe. Add it.
In the recipe below I gave you my favorite measurements for Pico de Gallo, but really it's totally up to you. Taste test it and add more of any ingredient you would like.
WATCH THE STEP BY STEP VIDEO FOR THIS PICO DE GALLO RECIPE BELOW:
If you enjoy watching these videos make sure you subscribe to my YouTube Channel to be notified each time I post a new video!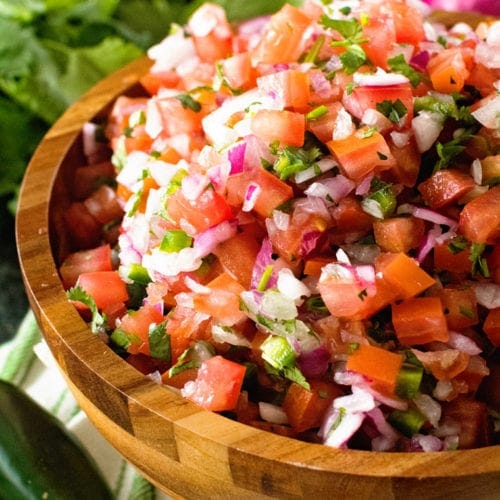 Pico de Gallo
This quick and easy Pico de Gallo recipe is so delicious! It adds so much flavor to so many dishes as a topping or right by itself on a chip. It only requires six ingredients!

Print
Pin
Rate
Ingredients
6

Roma tomatoes

seeded and chopped

1

green chili pepper

deseeded and deveined

1/3

c.

cilantro

chopped

1/2

red onion

finely diced

1

lime

juiced

1

tsp

salt
Instructions
Mix all ingredients in mixing bowl until combined.

Add all ingredients to a medium bowl and stir together until well-combined. Pour into serving bowl to serve with chips as an appetizer or to add as a topping to other ingredients.

You can enjoy this right away but it is best if you let it marinate for at least a hour in the refrigerator.

Serve with tortilla chips, on tacos, burritos, or anything else you can think of!

Nutrition
Calories:
17
kcal
|
Carbohydrates:
4
g
|
Sodium:
316
mg
|
Potassium:
180
mg
|
Fiber:
1
g
|
Sugar:
1
g
|
Vitamin A:
1055
IU
|
Vitamin C:
12.6
mg
|
Calcium:
16
mg
|
Iron:
0.3
mg
LEAVE A COMMENT