Homemade Ranch Seasoning (Dressing Mix)
Homemade Ranch Seasoning is quick and easy to make! You know exactly what is in it and you can make a big batch so it's in your pantry whenever you need it. This dressing mix makes the best Homemade Ranch Dressing ever! All you ranch lovers out there, you need this!
Easy Ranch Seasoning is perfect for dips, dressing and to season your favorite meals and recipes! It's made out of a combination of dry buttermilk, parsley, onion powder, chives, garlic powder, dill weed, salt and pepper! I bet you have all those ingredients right in your pantry.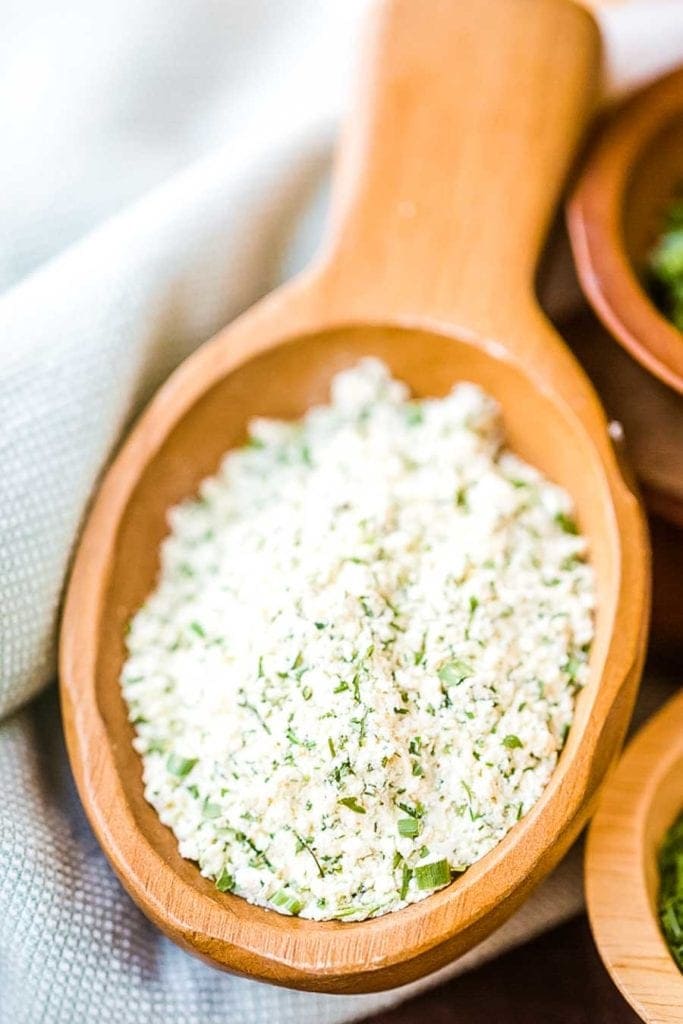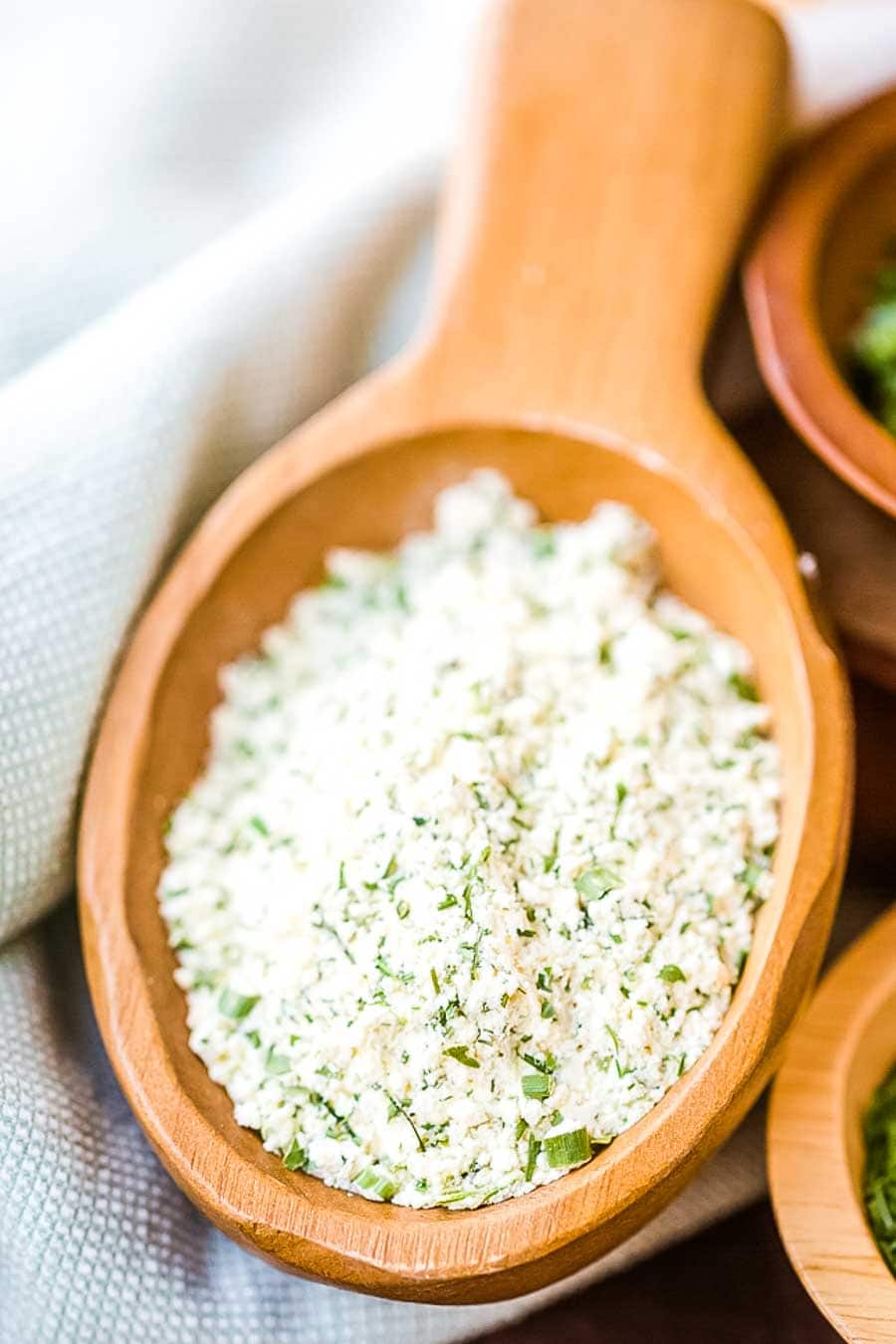 Homemade Ranch Seasoning is so EASY!
Okay, so those little packets of ranch seasoning you buy at the store are convenient, but I'm here to tell you that you can totally make your own homemade ranch seasoning! And the best news? You know exactly what's in it.
I don't know about you, but I like it when I can pronounce all of the ingredients! So, today I have an easy ranch seasoning recipe that you can use to make all kinds of delicious dips, dressings, and seasoning rubs for chicken and vegetables!
My family loves ranch. Seriously loves it! We love Bacon Ranch Chicken Salad Stuffed Tomatoes, Ranch Crock Pot Carrots, Chicken Ranch Enchiladas. I swear if I'm worried my kids won't eat something I just add some ranch seasoning or dressing and they gobble it up.
I used to go through so many bottles of ranch dressing and those little seasoning packets before I learned how to make it myself and now I'm never turning back to the store-bought stuff. I also learned how to make homemade fajita seasoning, and it's amazing too!
I'm pretty sure you won't want to go back to store-bought once you give this ranch seasoning a try.
Why Homemade Ranch Seasoning?
I'm all about convenience, but there are some things at the store that you can easily make yourself. One of those things is ranch seasoning. Have you ever read the ingredient list on the back of the packet?
For something as simple as seasoning there sure are a lot of ingredients! I feel like I need an advanced science degree to understand what some of them even are. My homemade ranch seasoning is made with simple ingredients, has no msg or other chemical ingredients, and tastes great
Plus, it keeps for up to two months and you can use it to make a variety of dishes.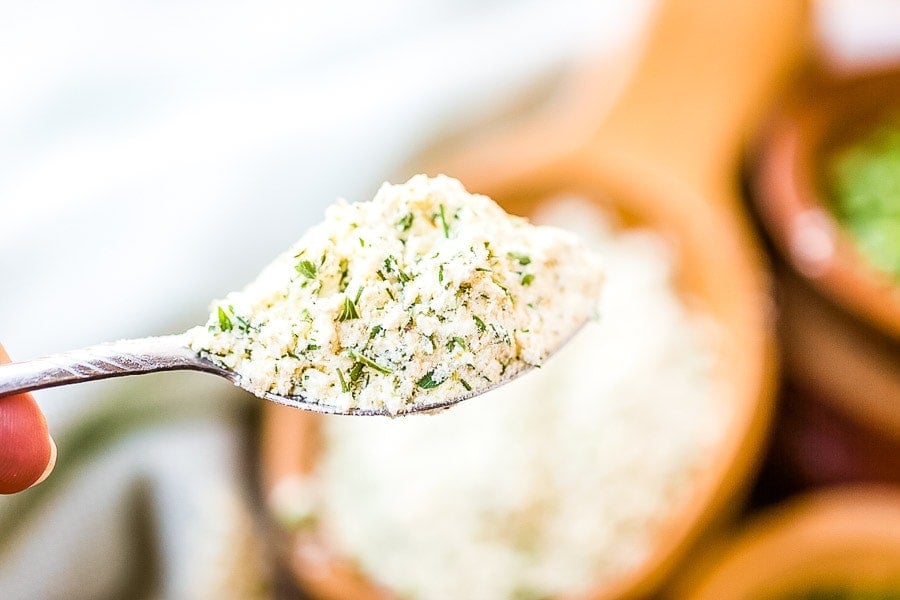 What is ranch seasoning made of?
If you'd rather skip my (very helpful, I think) tips and tricks, essential cooking info, and similar recipe ideas – and get straight to this delicious easy homemade Ranch Seasoning recipe – simply scroll to the bottom of the page where you can find the printable recipe card.
Homemade ranch seasoning is made with pantry spices! You probably have most of them already on hand.
dry buttermilk
dried parsley
onion powder
dried chives
garlic powder
dill weed
sea salt
pepper
What is dry buttermilk?
Dry buttermilk is a powder that is like powdered milk, except it's made from buttermilk. You know how ranch dressing is made with buttermilk? Well, dry buttermilk or buttermilk powder is what you use to get that tangy buttermilk flavor in your ranch seasoning mix.
You can find buttermilk powder in the baking aisle at the grocery store. It's probably the one ingredient you don't have on hand but, trust me, it's very important so don't leave it out. Your ranch seasoning won't be the same without it!
How do I make homemade ranch seasoning?
Once you have all of your ingredients all you have to do is mix them up and, voila, you have homemade ranch seasoning mix! If you want your seasoning mix to have a finer texture, you can whirr it up in the food processor to make it more of a powder. It's your choice!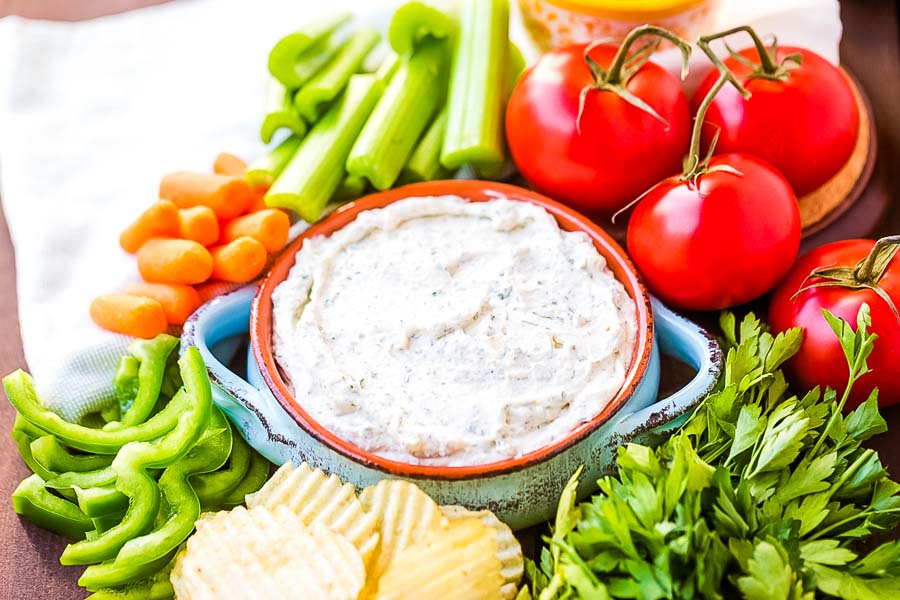 Quick Tips & Tricks for Ranch Seasoning Recipe!
Once you've made your own homemade ranch seasoning you might be wondering, well how can I use it? You can use it to make all kinds of dips, different kinds of dressings and pretty much any recipe that calls for store-bought ranch seasoning.
I love to sprinkle it on roasted vegetables and I also love it as a seasoning for chicken! Here are a few more information tidbits in case you were wondering…
How many tablespoons are in a packet of ranch mix?
Most store-bought ranch seasoning packets are 1 ounce, which is approximately 3 tablespoons of seasoning mix. This is good to know if you have a recipe that calls for one packet, you can substitute 3 tablespoons of your own homemade ranch seasoning mix!
How long does homemade ranch seasoning last?
Store your homemade seasoning in an airtight container and it will last up to two months. I keep mine with my other spices in the pantry.
What's the difference between ranch dip mix and dressing mix?
You can use the same ranch seasoning mix to make dips and dressings! The difference is the other ingredients. Ranch dressing has a thinner consistency and is usually made with buttermilk. Ranch dip is thicker so it's scoopable and is made with other ingredients like sour cream, Greek yogurt or mayonnaise.
Convinced yet? I know you're going to love this ranch seasoning mix! Once you try it you'll want to give all of your favorite dishes a ranch-flavored spin! To get you started here are some of my favorite recipes that have ranch seasoning…
Recipes to use Ranch dressing mix in!
Try it and love it? Rate it, please!!! ? Seriously though a five-star rating below will make my day! If you snap a photo, please be sure tag me on Instagram at @julieseatsandtreats or #julieseatsandtreats so I can see your yummy treat!!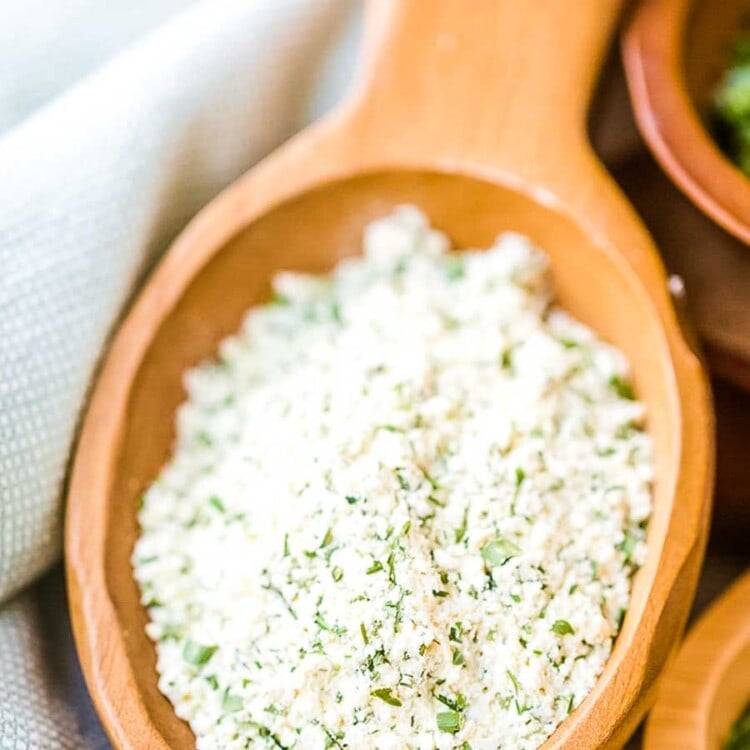 Ranch Dressing Mix Recipe
Quick and easy ranch dressing mix recipe that uses pantry ingredients! Contains no MSG and is perfect for seasoning your favorite recipes, dressings and dips!
Ingredients
1/2

cup

dry buttermilk

2

Tbsp

dried parsley

1

Tbsp

onion powder

2

tsp

dried chives

2

tsp

garlic powder

2

tsp

dill weed

1

tsp

sea salt

1

tsp

pepper
Instructions
To Make Ranch Seasoning Mix
Mix all ingredients together in a medium bowl.

If you would like a more finely-ground mixture place it in a food processor and pulse the mixture until it reaches the desired consistency.

Store mixture in the refrigerator in a sealed container for up to 2 months.
To Make Ranch Dressing
Add 3 Tbsp ranch seasoning mix, 1/2 c. mayonnaise, 1/2 c. sour cream and 3/4 c. milk. Whisk together in small bowl until smooth and combined. Chill for 20 minutes before serving.
To Make Ranch Dip
In a bowl combine 2 Tbsp ranch dressing mix and 16 oz sour cream. Chill for at least 2 hours before serving.
To Replace Ranch Seasoning Packet
About 3 Tbsp is equal to a 1 once packet of seasoning mix.
Tips
Nutrition is based on only the ranch seasoning mix.
Full recipe makes about 1/2 c. and is equal to about 3-4 seasoning packets.
Nutrition Information
Calories:
54
kcal
(3%)
,
Carbohydrates:
8
g
(3%)
,
Protein:
4
g
(8%)
,
Fat:
1
g
(2%)
,
Saturated Fat:
1
g
(6%)
,
Cholesterol:
7
mg
(2%)
,
Sodium:
444
mg
(19%)
,
Potassium:
246
mg
(7%)
,
Fiber:
1
g
(4%)
,
Sugar:
5
g
(6%)
,
Vitamin A:
1150
IU
(23%)
,
Vitamin C:
12
mg
(15%)
,
Calcium:
142
mg
(14%)
,
Iron:
1
mg
(6%)