Hot Chocolate Cookie Cups
These cute and festive Hot Chocolate Cookie Cups are so easy to make! Turn store-bought sugar cookie dough, Reese's Cup and decorations into a cute Christmas cookie perfect for Christmas parties, cookie exchanges and snacking on during the holidays.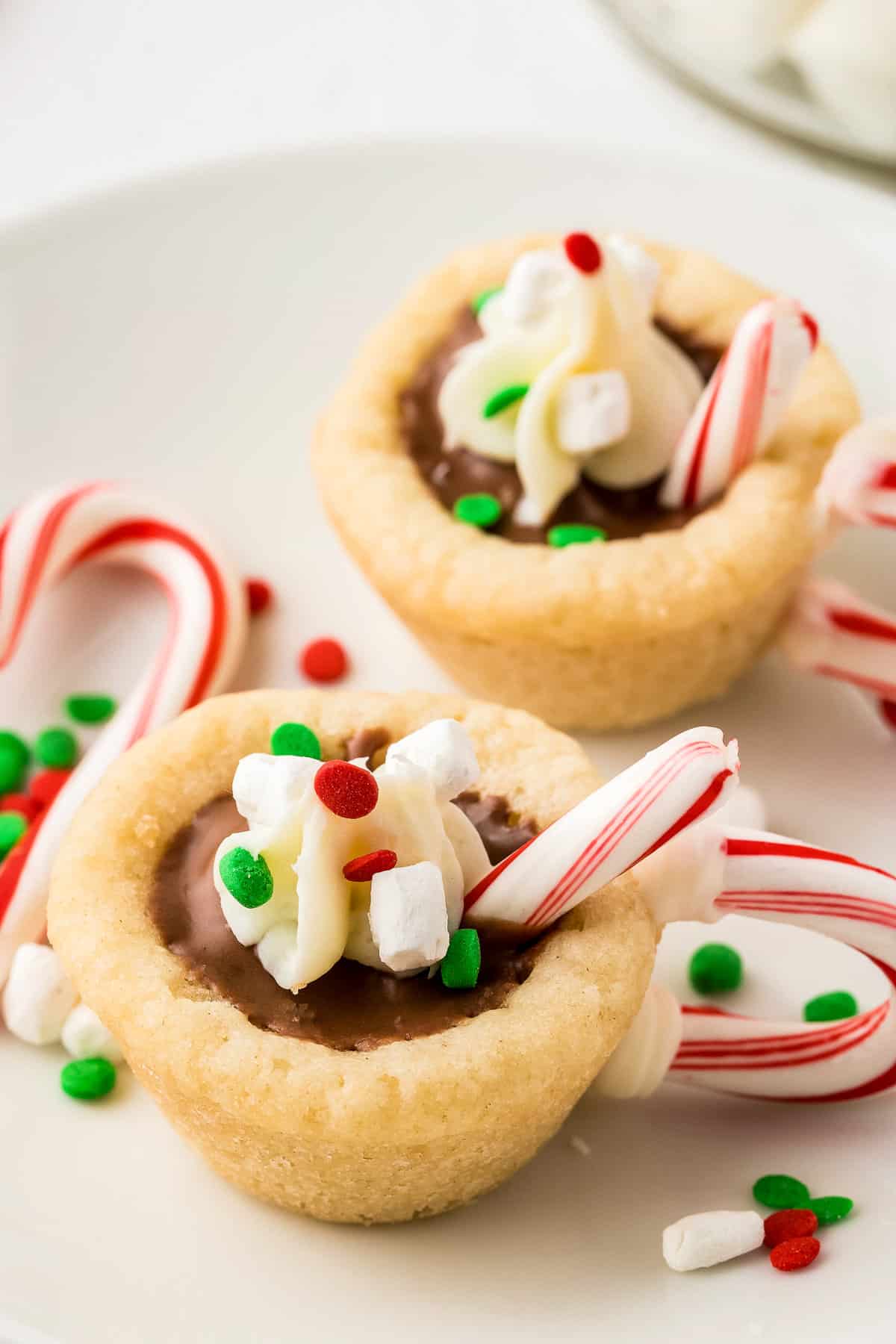 These Hot Chocolate Cookie Cups are fun, easy, and festive. They're the perfect cookie for all your holiday parties and cookie trays. Or simply a fun treat to make with the kids this weekend.
These easy Christmas cookies remind me of my Peanut Butter Cup Cookies, but are a little bit more festive! Why not make them both for this holiday season?
Why Hot Chocolate Cookie Cups Are The Best
This recipe utilizes pre-packaged ingredients to make this bake effortless.
With no raw eggs or messy flour, it's extremely kid-friendly.
If you're in a pinch, you can have these cookie cups completed in 35 minutes, but they'll look like you spent all day creating them.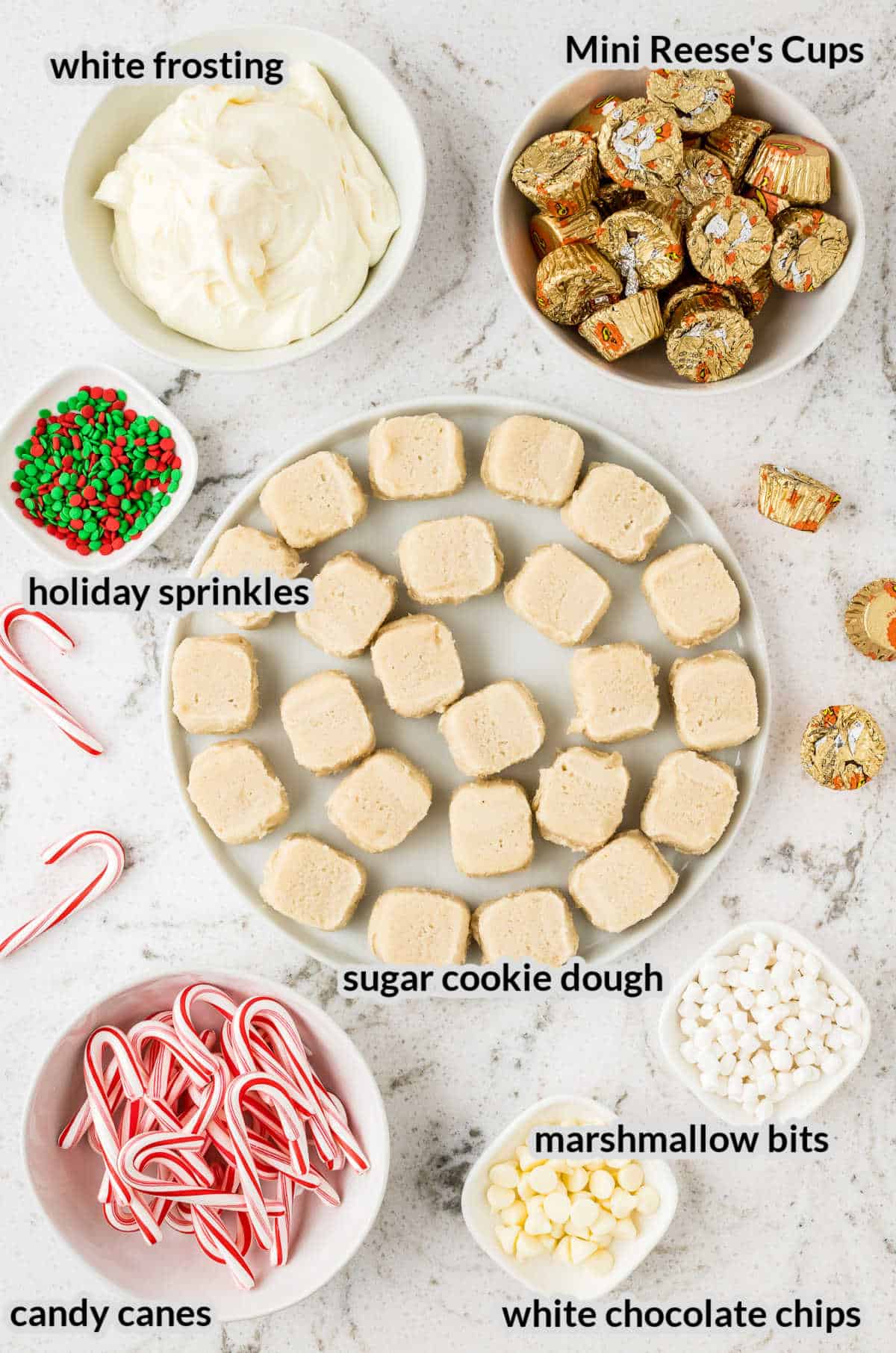 Ingredients Needed For Hot Chocolate Cookie Cups
Sugar Cookie Dough – Store-bought cookie dough is best for quick assembly, but feel free to switch up the flavor. Holiday confetti or peanut butter cookie dough are great options. Or, whip up my Snickerdoodle Cookies, which are amazing in this recipe.
Miniature Reese's Cups – Any brand of mini cups will work for this recipe. Trader Joe's has milk and dark chocolate versions or ones stuffed with almond butter.
White Chocolate Chips – This is the "glue" to hold the candy cane handle on the hot chocolate cup.
Mini Candy Canes – To form the handle on the cup.
White Frosting – Again, the premade kind from the grocery store is perfect for this recipe. But you could always use homemade Buttercream frosting too.
Marshmallow Bits – It's not hot chocolate without marshmallows!
Holiday Sprinkles – We just used green and red sprinkles but feel free to pick whatever you'd like.
What if I need an allergy-free version of this recipe?
First, reach for a cookie dough that's gluten-free, dairy-free, and isn't processed in the same facility as peanuts or tree nuts. Then, swap out Reese's cups for Trader Joe's sunflower butter cups. Or, use melted chocolate or chocolate frosting as the "hot chocolate" in this recipe.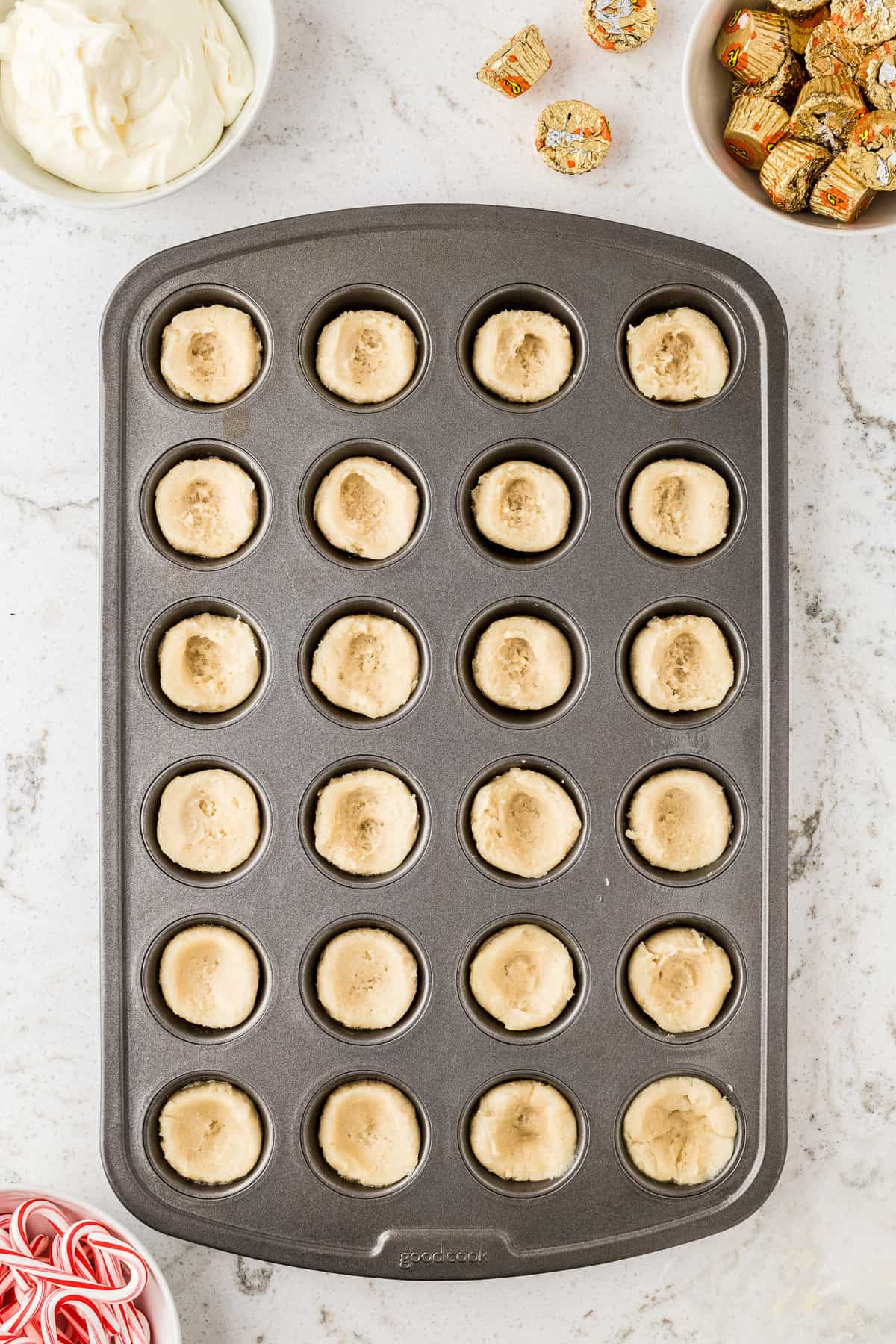 How To Make Hot Chocolate Cookie Cups!
Press Cookie Dough Into Mini Muffin Tin – Divide cookie dough roughly into 24 pieces. Place each piece into a greased divet in a mini muffin pan and press it into the shape of the tin. You're creating a reservoir in the center of the cookies to form the shape of a cup.
Pre-Bake – Move the prepared mini muffin tins into a preheated 350°F oven to bake for 13 minutes or until set and lightly golden brown.
Prepare Decorative Ingredients – To make decorating easier, get a head start by creating a prepped assembly line. Unwrap all the peanut butter cups, place frosting into a piping bag, and get the marshmallow bits and holiday sprinkles ready to go. Use a serrated knife to separate the hooks from the straight sticks on each candy cane.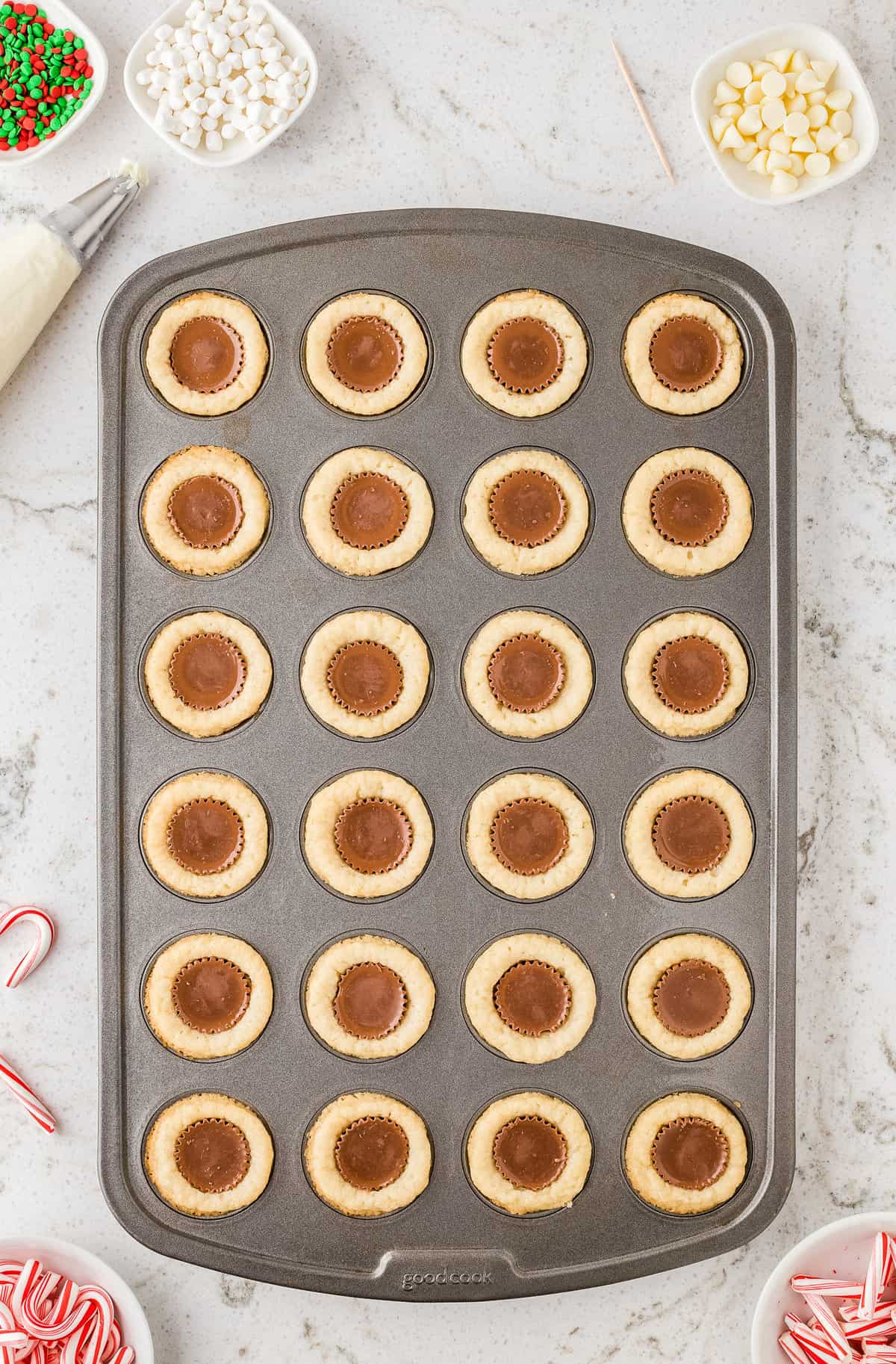 Insert Peanut Butter Cup & "Stir Stick" – Remove the cookies from the oven. While they're still hot, press a Reese's cup into the center reservoir of each cookie. Then, insert a peppermint "stir stick" at an angle near the edge of each cookie.
Cool – Set the cookies aside to cool completely, at least 20 minutes, before continuing.
Attach Candy Cane Handles- Melt 1 tablespoon of white chocolate chips in the microwave. Only heat it for 5 seconds at a time, so it doesn't burn. Stir it between each increment. Next, dip the 2 cut ends of a candy cane hook into the melted chocolate. Use the chocolate as glue to attach the candy cane hooks like a handle to the side of each cookie cup.
Finish Decorating – Finally, pipe a dollop of frosting into each "hot chocolate" center to serve as "whipped cream." Add marshmallow bits and holiday sprinkles to complete the look.
Tips & Tricks!
Use wax paper to prevent the cookie dough from sticking to your fingers. Press the cookie dough into the muffin tin using the wax paper as a protective layer. Once the dough is shaped, remove the wax paper and move on to pressing the next cookie cup.

Place all of the Reese's into the cookies first. This way, the Reese's will melt by the time you get to the step requiring you to insert a peppermint stir stick.

Use a resealable freezer bag if you don't have a piping bag. First, spoon the frosting into the freezer bag, and leave it unsealed. Next, twist the bag while directing the frosting toward one of the bottom corners. When ready to pipe, snip off a small corner of the bag, and voilà! 

Grab Marshmallow Bits not the mini marshmallows. Usually you can find them by the hot chocolate in the grocery store.
How can I store these Hot Chocolate Cookie Cups?
Place the cookie cups into an airtight container, and keep them at room temperature for 2-3 days.  Don't stack them one on top of another in storage, or the decorations can get messed up.
Is this recipe scalable?
Since these Christmas cookies call for pre-made store-bought ingredients, making more of them is a breeze. There are no ratios to skew or mess up. Instead, buy another roll of cookie dough, more Reese's cups, candy canes, and any other decorative accents.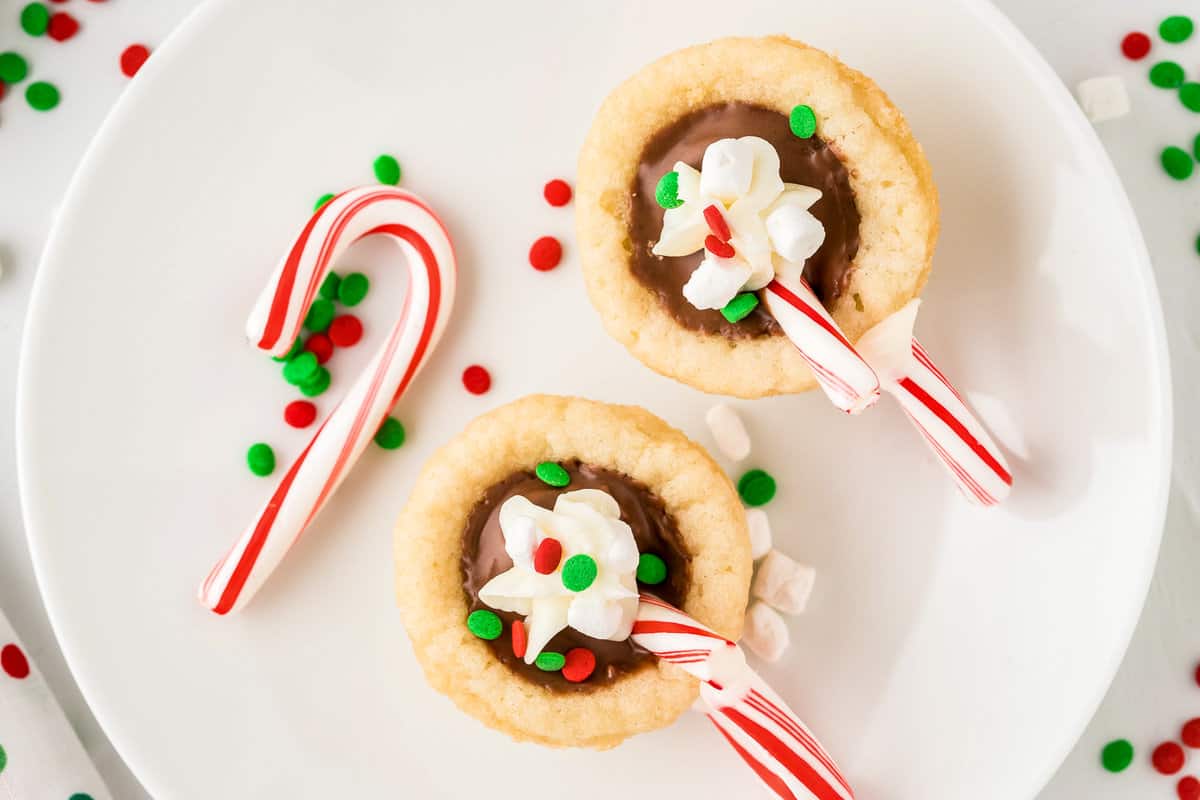 Everyone will ooo and ahhh over these fun Christmas Cookies, plus they are delicious. What better combo than peanut butter and chocolate? Make sure these are on your cookie trays this holiday season!
More Christmas Cookie Recipes!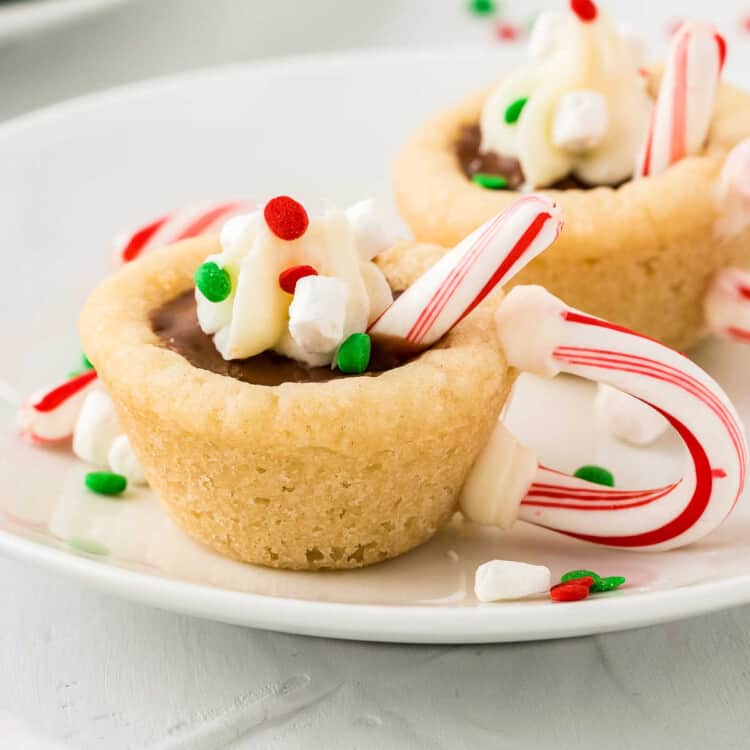 Hot Chocolate Cookie Cups
Cute and easy Christmas Cookies are these delicious Hot Chocolate Cookie Cups!
Ingredients
24

count

Store-bought sugar cookie dough

16 ounce package

24

Miniature Reese's cups

unwrapped

11

ounce

package white chocolate chips

24

Mini candy canes

16

ounces

tub of white frosting

Marshmallow bits

Holiday sprinkles
Instructions
Preheat the oven to 350 degrees Fahrenheit and spray a mini muffin pan with non-stick spray.

Unwrap your store-bought sugar cookie dough and break it apart. Place a piece of uncooked dough in each mini muffin pan cup. Take a small square of wax paper and press the middle of the dough with your fingers to create a reservoir in the middle of each cookie. Bake in preheated oven for 13 minutes or until slightly golden brown.

Make sure all your miniature Reese's cups have been unwrapped. Then gather your mini candy canes and, with a serrated knife, carefully cut off the hooks used for the handle of your hot chocolate "mug." Set aside the remaining part of the candy cane to use later as a peppermint "stir stick."

Place your store-bought white frosting in a piping bag and set it aside. Make sure your marshmallow bits and holiday sprinkles are ready.

Once the cookies are done, remove them from the oven and press one mini Reese's cup in the center of each cookie. Repeat until all cookies have a miniature peanut butter cup.

Then take your prepared "peppermint sticks and insert them at an angle near the edge of the cookie cup. Set the cookies aside to cool for at least 20 minutes.

Melt 1 tablespoon of white chocolate chips to use as the glue for your hot chocolate cookie cup assembly. Use your "glue" to place our previously prepared "handles" on the side of the cookie cup. Repeat for all cookie cups and set them aside to dry for at least 10 minutes.

Once the handles are dry, take your prepared piping bag of icing and pipe a tiny dollop of "whipped cream" on your "hot chocolate."

Finally, sprinkle your desired amount of holiday sprinkles and marshmallow bits on top.
Nutrition Information
Calories:
321
kcal
(16%)
,
Carbohydrates:
50
g
(17%)
,
Protein:
2
g
(4%)
,
Fat:
13
g
(20%)
,
Saturated Fat:
5
g
(31%)
,
Polyunsaturated Fat:
2
g
,
Monounsaturated Fat:
5
g
,
Cholesterol:
5
mg
(2%)
,
Sodium:
126
mg
(5%)
,
Potassium:
95
mg
(3%)
,
Fiber:
0.4
g
(2%)
,
Sugar:
40
g
(44%)
,
Vitamin A:
15
IU
,
Vitamin C:
0.1
mg
,
Calcium:
33
mg
(3%)
,
Iron:
0.5
mg
(3%)