Learn how to make an Italian Soda! This refreshing beverage is so easy to make with sweet syrups, cream and club soda. A festive drink, perfect for any occasion.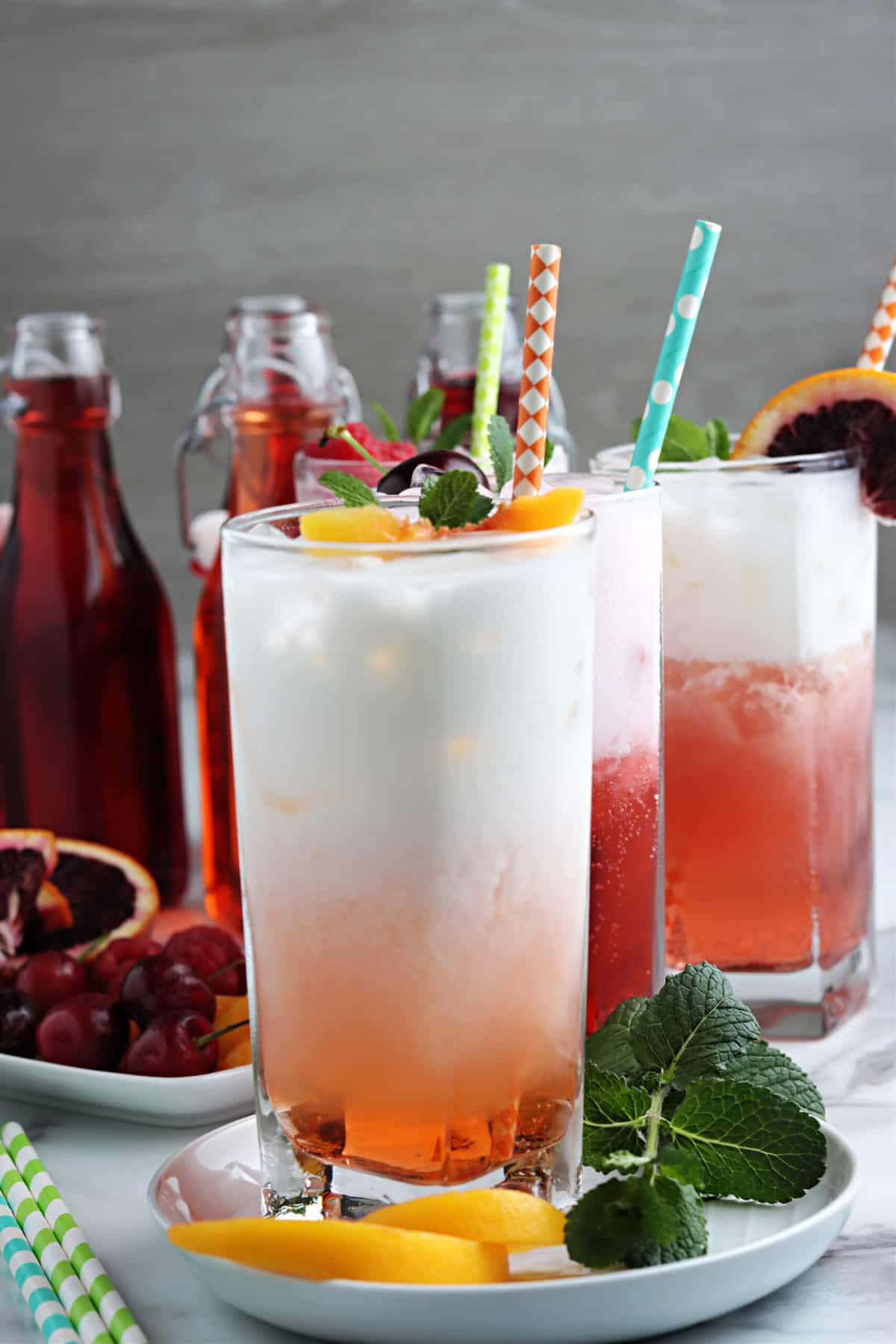 Italian soda is a fun fizzy drink that you can easily make with five simple ingredients. Make it as a refreshing summer drink, or even as a super cool party drink! This drink is also kid friendly and can be flavored to fit any and all preferences.
We love to make some tasty snacks like ham and cheese sliders, air fryer fried pickles, and rotel dip with chips to serve on a snack table. Then, I have a little station prepped for everyone to make their own glass of Italian soda. It is always a hit with any crowd, kids and adults alike!
This recipe is made from really affordable ingredients that you can use over and over again. You can essentially have an endless supply of this bubbly drink! Just keep some flavored syrup and club soda on hand and you can make it whenever you want.
Why You'll Love Italian Soda
This drink doesn't take long to make. You only need five minutes and five ingredients to make this fizzy and fun beverage.
Making it one glass at a time ensures that each glass has the perfect balance of flavor and bubbles. This recipe will always produce the perfect glass of soda!
It is really easy to learn how to make Italian soda. So, if you are learning how to make drinks or want a really easy recipe, this is a great place to start.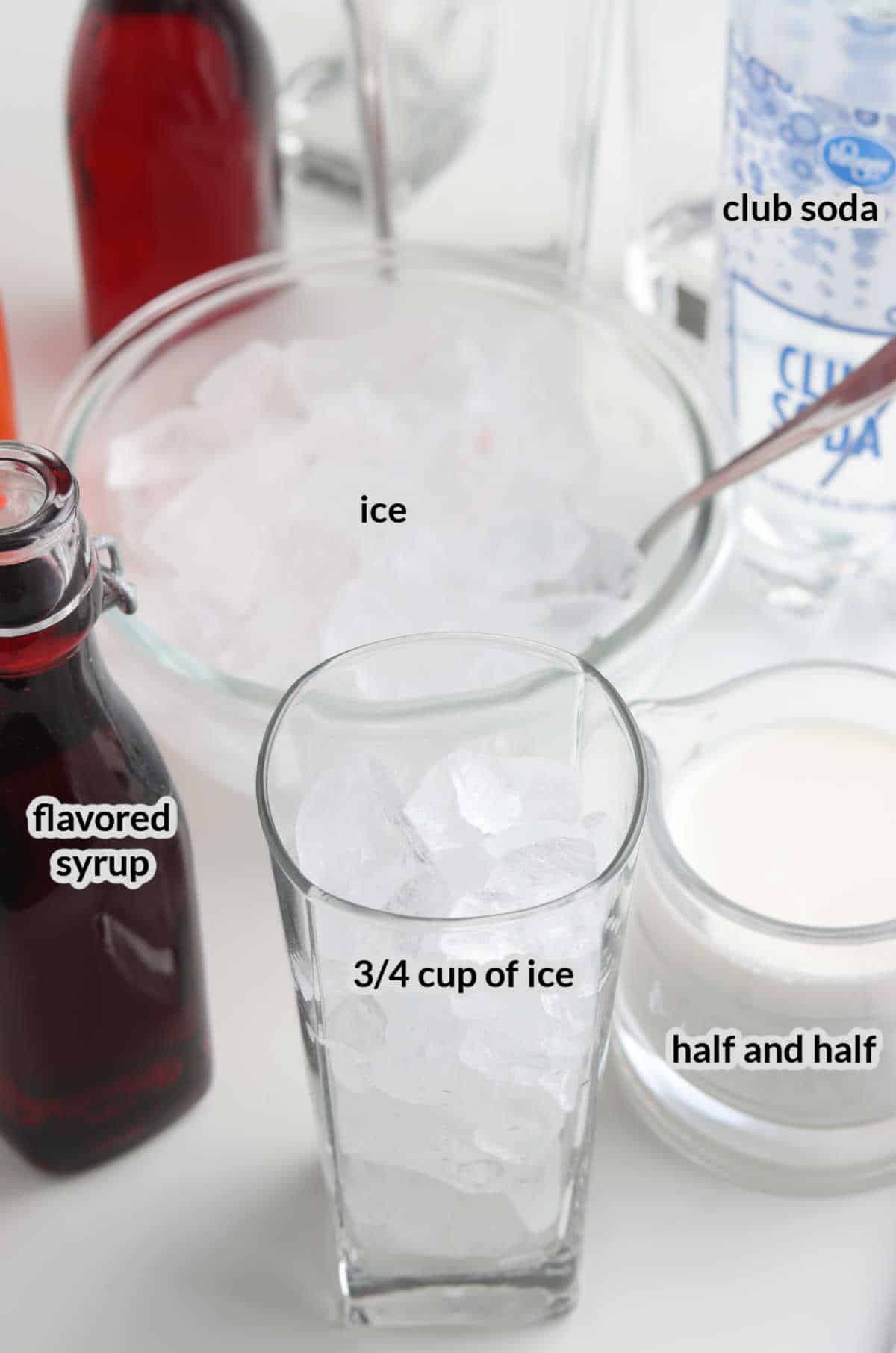 Ingredients for the Italian Soda Recipe
Crushed ice – You can either buy a bag of crushed ice from your local sonic, or crush regular ice cubes. Place regular sized ice cubes into a gallon size freezer bag, and crush them with a rolling pin or other heavy object.
Flavored syrup – Purchase flavored syrups at the grocery store or online. You can also make your own flavored syrups! Any flavor will work.
Half and half – If you don't have half and half, you can use heavy cream or whole milk. Half and half tends to be the best ratio of cream to soda.
Club soda – Use plain club soda to make the perfect fizzy drink! You can also use seltzer water. Make sure your club soda hasn't been opened before and is super fizzy!
Optional:

Whipped cream and fresh fruit for garnish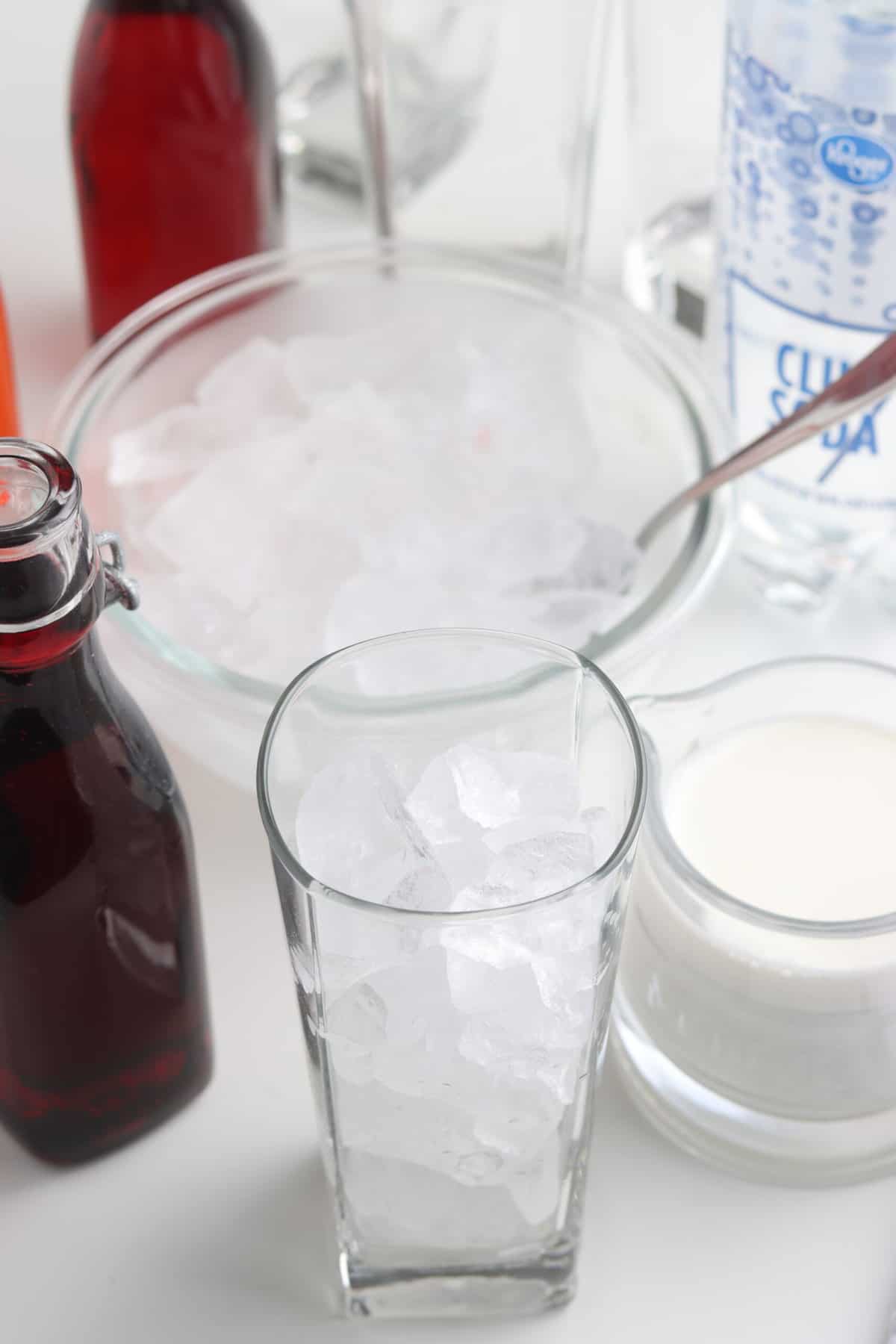 How to Make Italian Soda
Fill a drinking glass with crushed ice, about 3/4 of the way full. I recommend using a tall glass so you have plenty of room!
Next, pour 1/2 -3/4 cup of club soda over the ice. If your glass is extra large, you can pour more club soda! Just use your best judgement. It may take a couple tries to get the most perfect ratio for the glasses that you choose to use.
Then, pour 3-4 tablespoons of your choice of flavored syrup. Lastly, add 2 tablespoons of half and half into the glass.
Stir everything together until well combined. Use a tall spoon or a long stirrer so that you can reach the bottom and get everything well combined.
Top your Italian cream soda with homemade whipped cream and sliced fruit, then serve!
Can I store leftover Italian soda?
If you store leftover soda in an airtight container, it will stay good in the fridge for about 2 days. Any longer and the bubbles will go flat. A mason jar or bottle with an airtight lid will work great!
Can I use flavored seltzer water instead of plain club soda?
Absolutely! Make sure that the flavors compliment whatever flavored syrup that you plan to use. But it could be a really great way to add extra flavor to your Italian soda recipe.
What is different about Italian soda?
Italian soda does not have caffeine and is typically made one glass at a time. Whereas, your typical soda is batch made and most contain caffeine. Italian sodas typically do not contain artificial ingredients either.
Pro Tips!
Garnish with some fresh herbs like mint or rosemary for a really pretty presentation. You can also top the whipped cream with some shimmery sugar sprinkles to add an extra flair to your presentation.
Use a glass that can hold at least 16 oz of liquid. Anything smaller and the ratios may be difficult to level out.
Make sure the club soda is cold so that it doesn't melt to ice too quickly. You don't want to water down your Italian soda!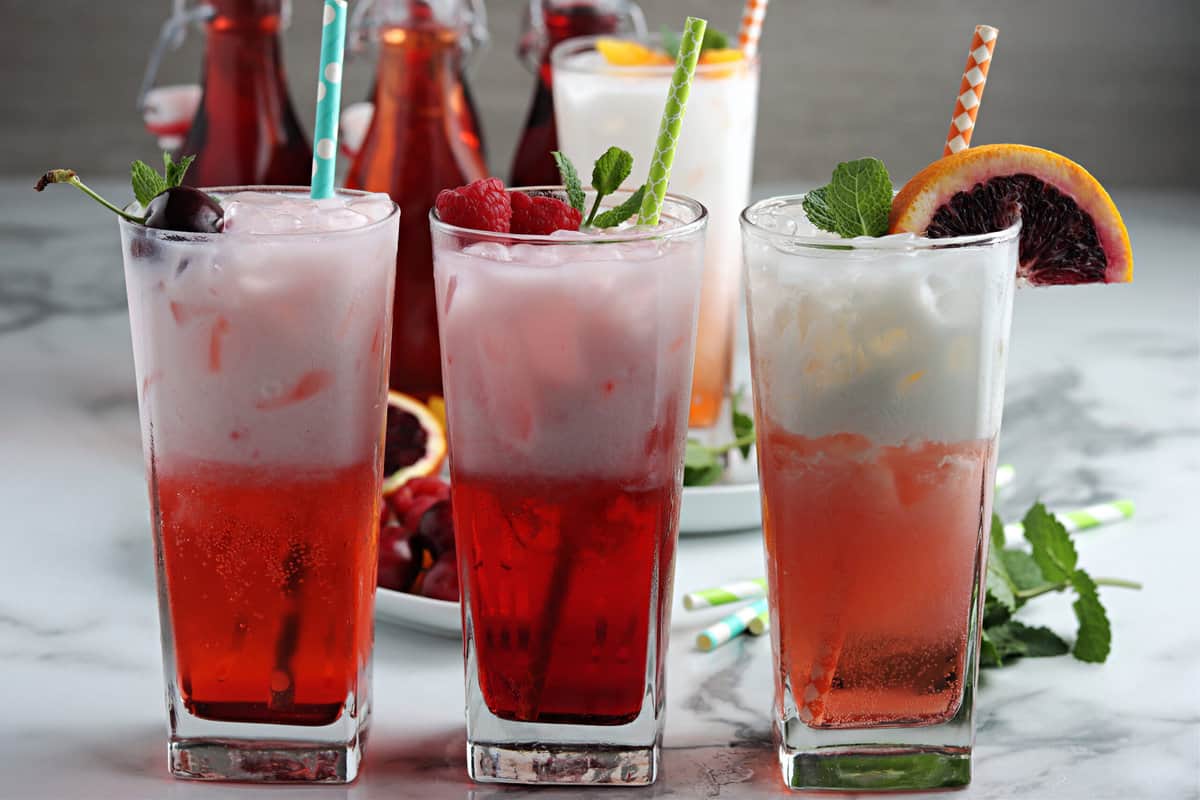 This fizzy fun Italian cream soda is such a great treat! It is absolutely delicious and so much fun to make. Make a tall glass to cool off on a a hot summer day. You're gonna love it!
More Drink Recipes You'll Love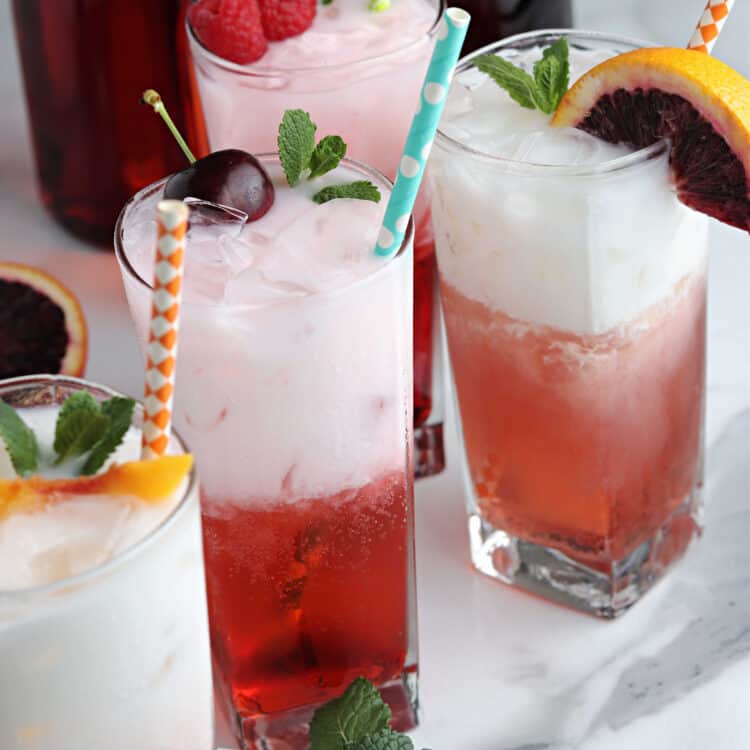 Italian Cream Soda
With only three ingredients this easy homemade Italian Cream Soda is a fun, refreshing treat.
Ingredients
Crushed ice

enough to fill glass about ¾ full

3-4

Tablespoons

flavored syrup

2

Tablespoons

half-and-half

½ – ¾

cup

club soda

depending on the size of your glass

Whip cream

optional

Fresh fruit for garnish

optional
Instructions
Fill a tall glass about ¾ full of ice.

Add ½ – ¾ cup club soda, more if you have a large glass.

Add 3-4 tablespoons flavored syrup, more if you like.

Pour in 2 tablespoons half-and-half.

Top with whip cream and fruit, if desired.

Stir and drink immediately.
Tips
If you store leftover soda in an airtight container, it will stay good in the fridge for about 2 days. Any longer and the bubbles will go flat. A mason jar or bottle with an airtight lid will work great!
Nutrition Information
Serving:
1
soda
,
Calories:
217
kcal
(11%)
,
Carbohydrates:
46
g
(15%)
,
Protein:
1
g
(2%)
,
Fat:
4
g
(6%)
,
Saturated Fat:
3
g
(19%)
,
Polyunsaturated Fat:
0.2
g
,
Monounsaturated Fat:
1
g
,
Cholesterol:
13
mg
(4%)
,
Sodium:
102
mg
(4%)
,
Potassium:
44
mg
(1%)
,
Sugar:
1
g
(1%)
,
Vitamin A:
143
IU
(3%)
,
Vitamin C:
0.3
mg
,
Calcium:
39
mg
(4%)
,
Iron:
0.1
mg
(1%)