Homemade Caramel Latte Recipe
Homemade Caramel Latte Recipe ~ Delicious, Easy, Homemade Caramel Latte Recipe that Will Have You Sipping Lattes Whenever You Want!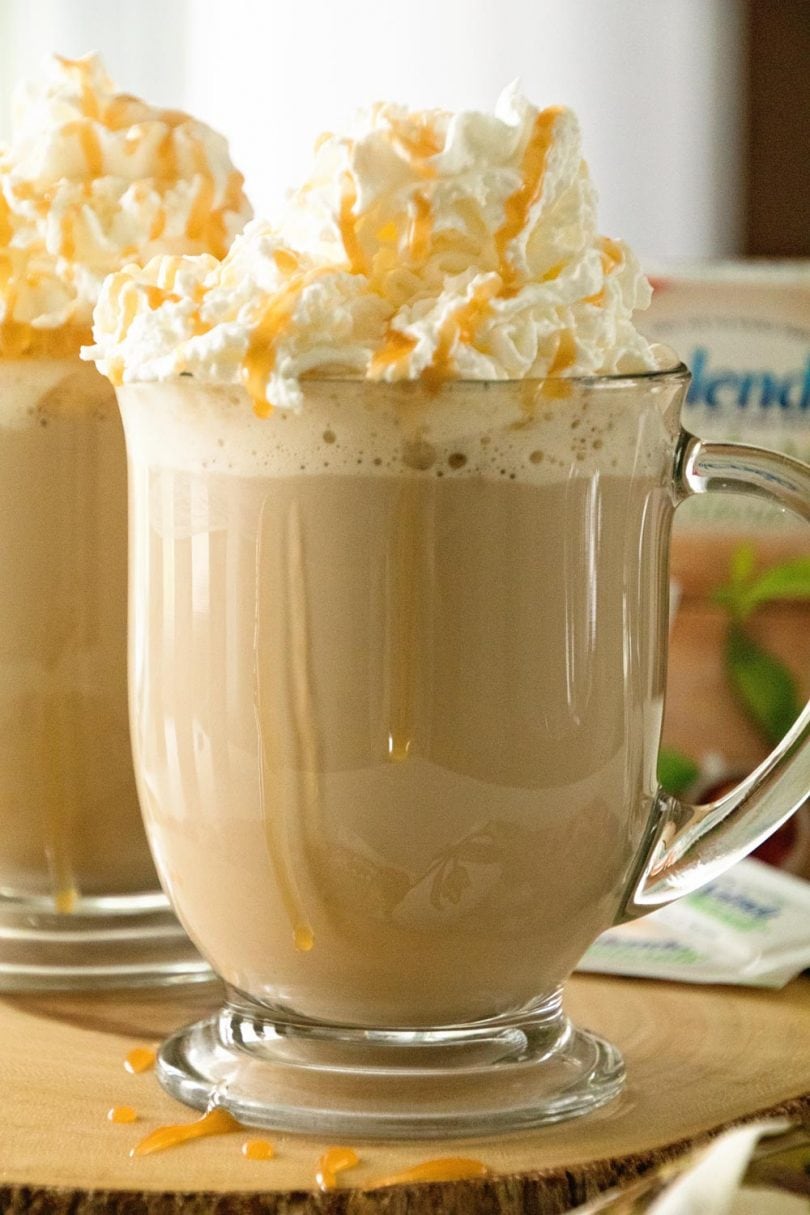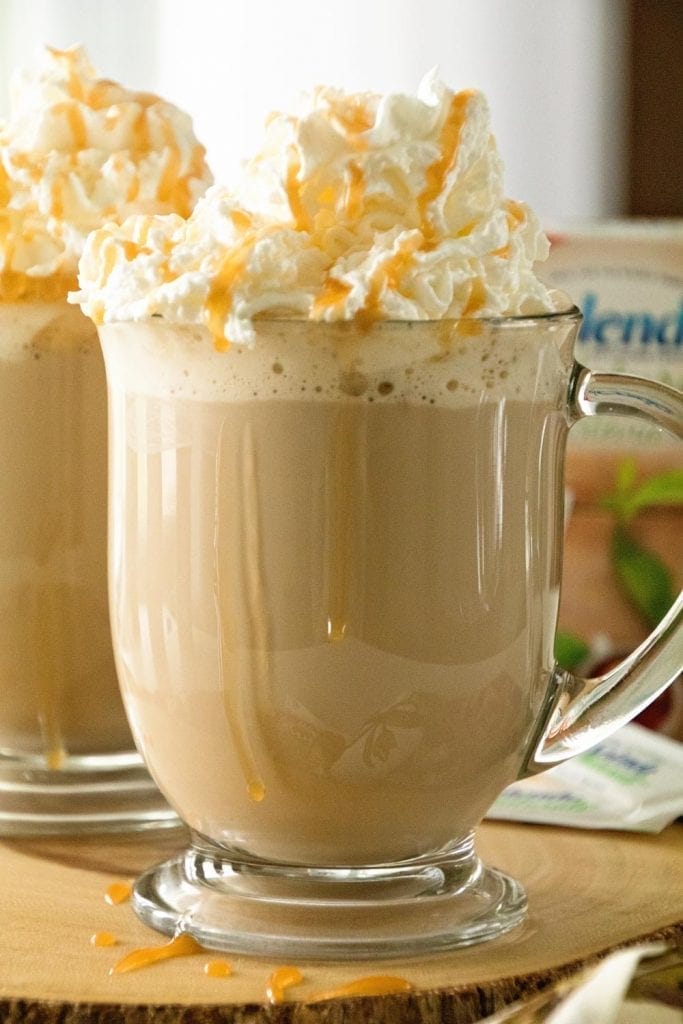 Disclosure: Splenda has compensated me for my time to create this recipe. Thank you for supporting the brands that make Julie's Eats & Treats possible. All thoughts are my own.
It's that time of year that you all seem to go crazy over your favorite latte recipes! The most popular one is my famous White Chocolate Latte followed by Cinnamon Roll Latte and Easy Eggnog Latte.
I think it's the cool, crisp autumn air that gets you in the mood. I just want to grab a latte, curl up in front of the fireplace with a slice of Cinnamon Banana Bread, a good book and snuggle in my favorite Doublehood Sweatshirt! We are adding onto our house right now. The hubs is working on a living room addition and one of my MUST haves was a fireplace. A gas fireplace that is. We currently have a wood burning one and I love it, but let's get real. It's a big of a pain to make a fire all the time and it's dirty.
My parents added on a living room to their house after I graduated high school and one of my favorite things to do was come home on the weekends from college and curl up in front of it with a book. Now, my friends, that may not happen in my life for another 18 years, but when the time comes I want to be prepared!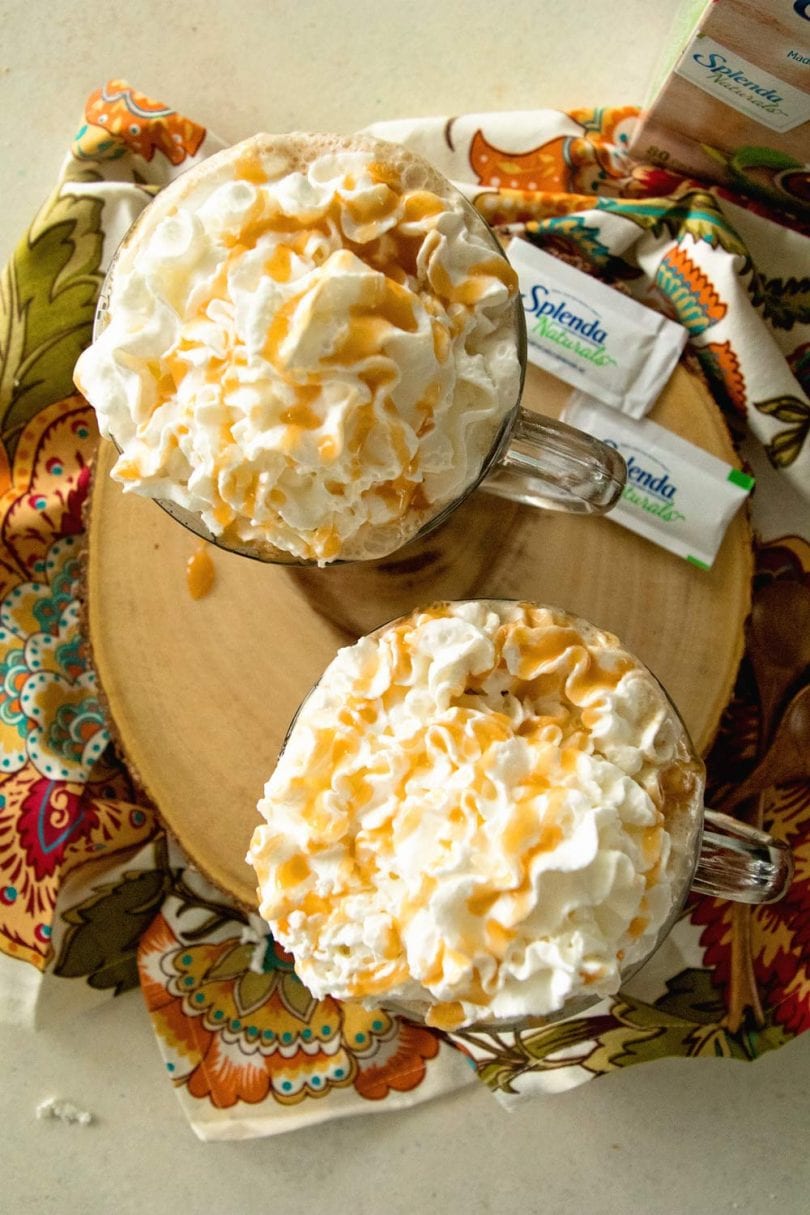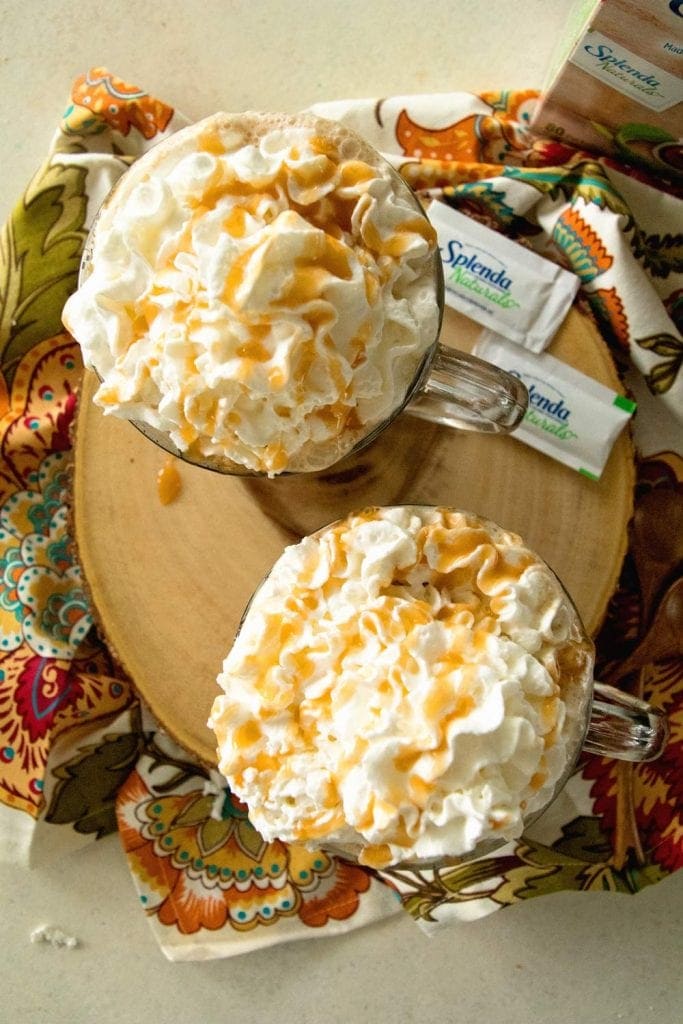 We kept debating whether or not to add onto our current home and my Mom finally looked at me and politely said, "DO IT." Her reasoning was that if we are going to do it, do it now so we can enjoy it longer. Smart woman isn't she?
Our house isn't small, it's not huge, but it's a 1970's rambler and they were not built for entertaining. My parents house is similar and they added on a living room to gain a formal dining room. I'm not going for the formal dining room, but extending the kitchen a bit and then moving my dining room into the old living room.
The thing is, I have nowhere to put people when we have company. Both of our families live here and it's 25-30 people when we have the kids birthday parties and things like that. I want somewhere to put up tables and not smush everyone on top of each other. I mean we love each other, but not quite that much! It's going to be so nice to have that extra room. I know our families will only continue to grow!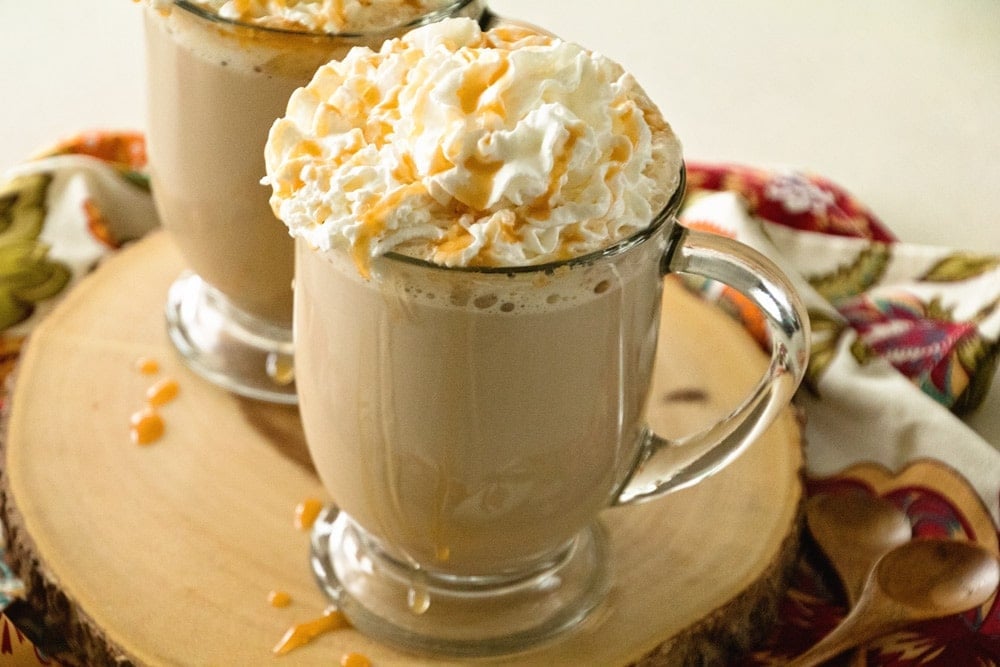 After getting the bid back on the fireplace I was a little shocked. Those things aren't cheap. Now, I knew this going in but it still doesn't help the sticker shock.
When my husband had gave his estimate on this addition, I took it, glanced over it, then smiled and said you might want to double that. He then returned a look of, "Really, Julie? Really?"
I wanted a fireplace! After I coaxed, begged and bribed him, he came around and agreed to one. Thank goodness! I might be making his favorite cookies weekly for a long time!
In preparation for enjoying my new fireplace I decided I'd develop another yummy latte recipe and that my friends, is when this Homemade Caramel Latte Recipe was born. Plus, it's super easy so I can make it quickly and get to enjoying my fireplace and book because that's the true focus! I bet you have these ingredients on hand so you can make one too!
Homemade Caramel Latte Recipe Ingredients
Whole milk

Instant coffee

SPLENDA® Naturals Stevia Sweetener, Packets

Caramel extract

Reddi Wip

Caramel Ice Cream Topping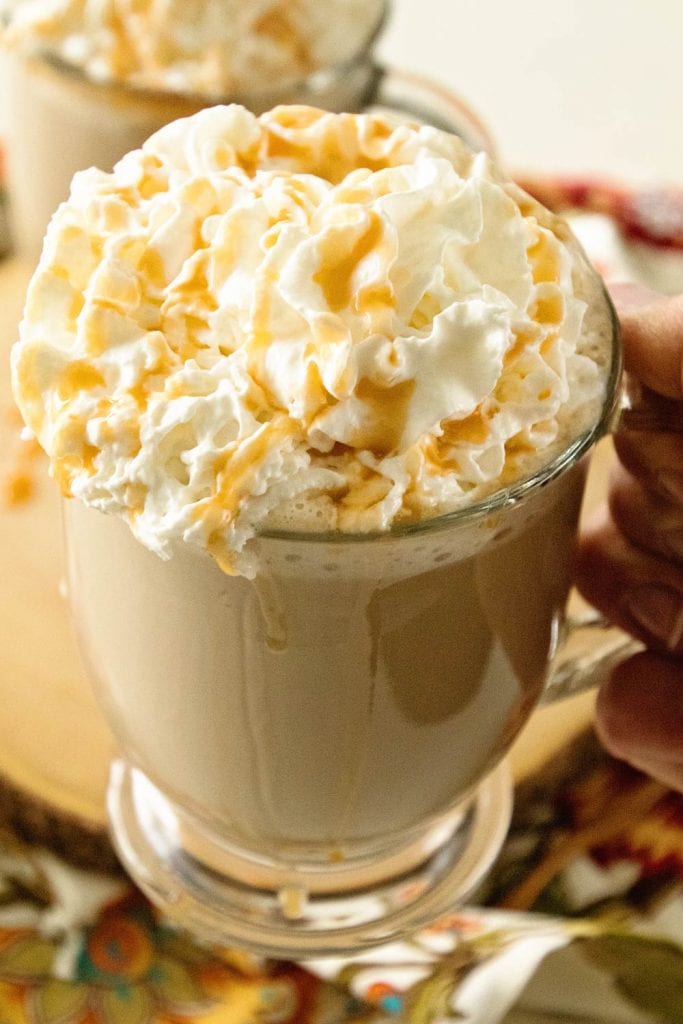 On of my tricks to keeping my lattes a little lighter is using SPLENDA® Naturals Stevia Sweetener. Each teaspoon provides the same amount of sweetness as two teaspoons of sugar but with no calories. Plus, SPLENDA® Naturals has no artificial ingredients. I used it in this Homemade Caramel Latte instead of sugar.
So, go grab your ingredients, find a good book and a hoodie and enjoy your Homemade Caramel Latte! You deserve some "me" time. It's a HEALTHY thing for us busy ladies. You deserve it! Remember that my friends! If you like this recipe, you might like my Irish Coffee recipe which has a boozy kick!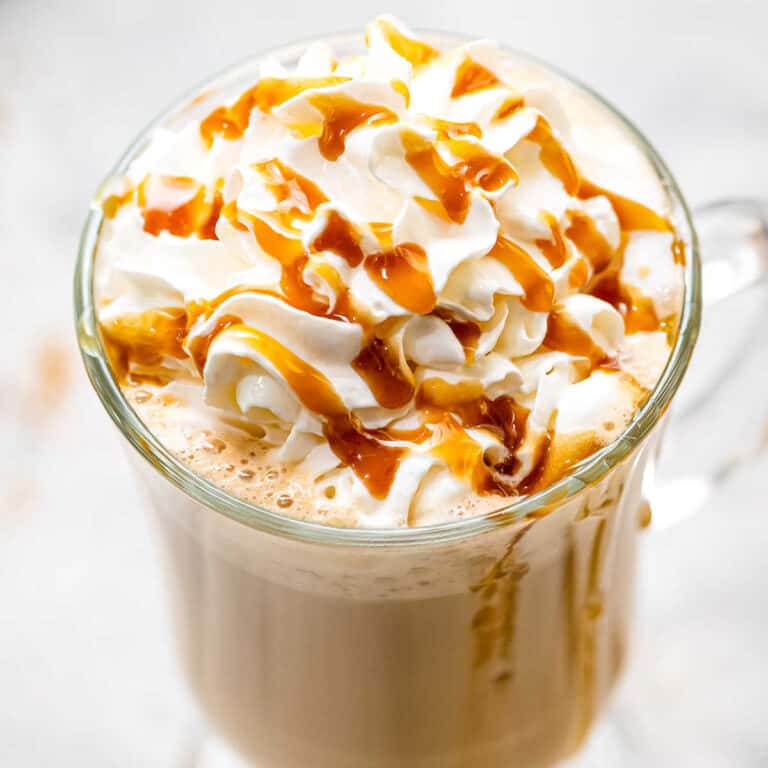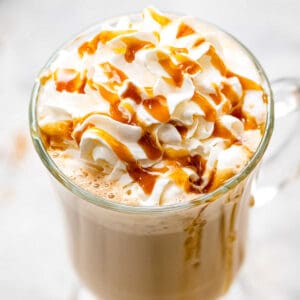 Caramel Latte
Delicious, Easy, Homemade Caramel Latte Recipe that Will Have You Sipping Lattes Whenever You Want!

Ingredients
3

c.

whole milk

2

Tbsp

instant coffee

2

Tbsp

brown sugar

1

tsp

vanilla extract

1

tsp

caramel extract

Reddi Wip

Caramel Ice Cream Topping
Instructions
In a medium size saucepan heat milk, instant coffee and brown sugar, Packets on low until it starts to simmer.

Stir in vanilla and caramel extract.

Pour into coffee mugs and top with Reddi-Wip and drizzle with caramel ice cream topping if desired.
Notes
You can use any milk you'd like including nut milk, but whole milk will provide a thicker drink.
Nutrition
Calories:
249
kcal
Carbohydrates:
22
g
Protein:
11
g
Fat:
11
g
Saturated Fat:
6
g
Cholesterol:
35
mg
Sodium:
154
mg
Potassium:
645
mg
Sugar:
19
g
Vitamin A:
575
IU
Calcium:
408
mg
Iron:
0.3
mg