Homemade Ranch Dip is a classic recipe that everyone should make! We love making it at home because it uses simple pantry staples and there are no preservatives like there is in the store-bought version. Make up a big batch of ranch seasoning and keep it in the fridge and whip up this easy dip recipe whenever you want.
There are so many options for dipping in ranch dip, but a few of our favorites are carrots, celery, cherry tomatoes or potato chips. Once you make ranch dip at home you'll never go back to the store-bought ranch dip!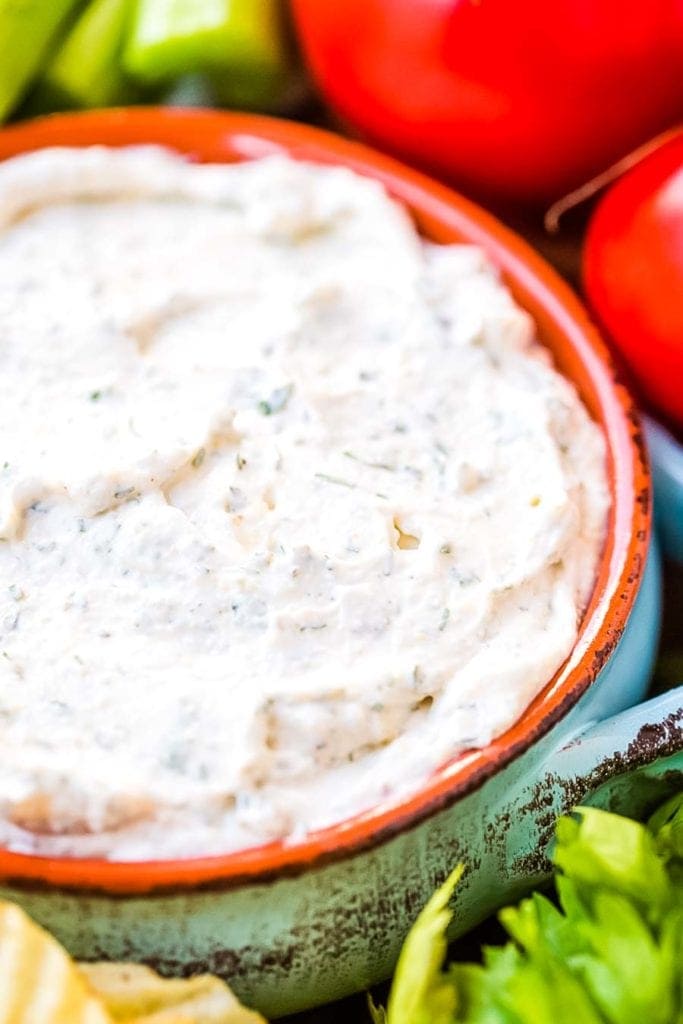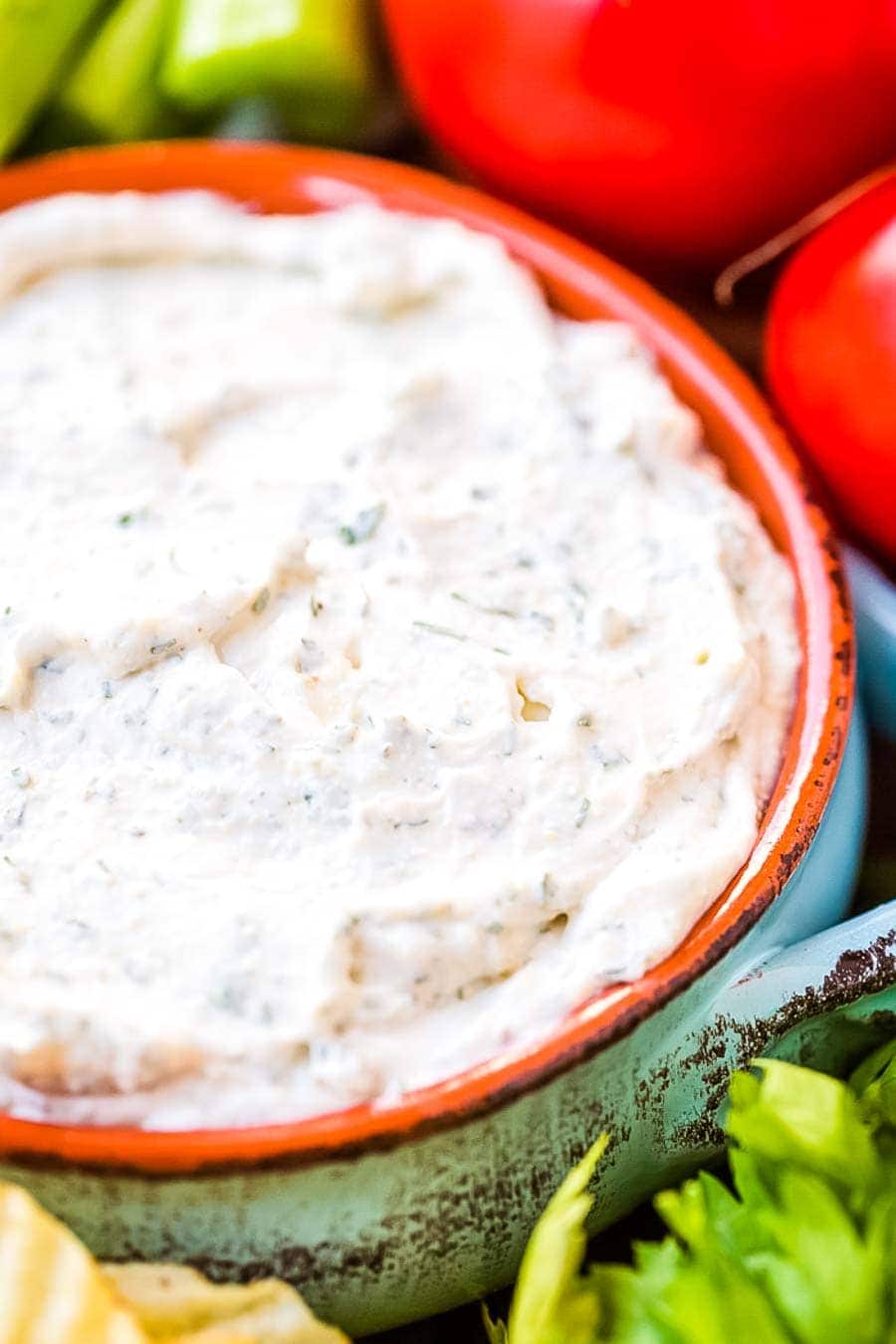 Easy Homemade Ranch Dip!
Cool and creamy Homemade Ranch Dip comin' at you today! We are all about dips at our house whether it's for a party with friends and family or just regular Tuesday. I always have some kind of dippable concoction tucked in the fridge for the family to snack on like Texas Caviar, Homemade Salsa or Garden Vegetable Spread. This Ranch Dip is another favorite (my family is ranch crazy!) and it's a seriously easy dip to make. Does your family love ranch as much as mine does? If so, you're going to want to make this dip!
What I love best about this dip (besides the fact that it's delicious!) is that it's made with real ingredients that you probably already have on hand in your pantry. No store-bought ranch seasoning packet required! When you make your own homemade ranch dip you get all the tangy savory flavor without all of the preservatives and other "additives" that are in the store-bought version. Don't get me wrong, I'm all about shortcuts in the kitchen, but this ranch dip is so easy to make from scratch there's no reason to buy those little packets. Are you with me? I know you're going to love this dip! But, first things first…
Why is it called Ranch?
This ranch dip is a variation of ranch dressing, which (and you probably know this!) is a very popular salad dressing made with buttermilk and spices. It was actually created by a man and his wife who owned a dude ranch called Hidden Valley Ranch in California and they sold so much of their "ranch" dressing to their customers that they created a company and called it – you guessed it – Hidden Valley Ranch! I don't know about you, but I always thought Hidden Valley Ranch was a made-up place!
Ranch dip is very similar to ranch dressing except it's thicker so you can scoop it up with veggies or chips. There are many variations, but my favorite way to make it is with sour cream because I think it creates a perfect texture for scooping!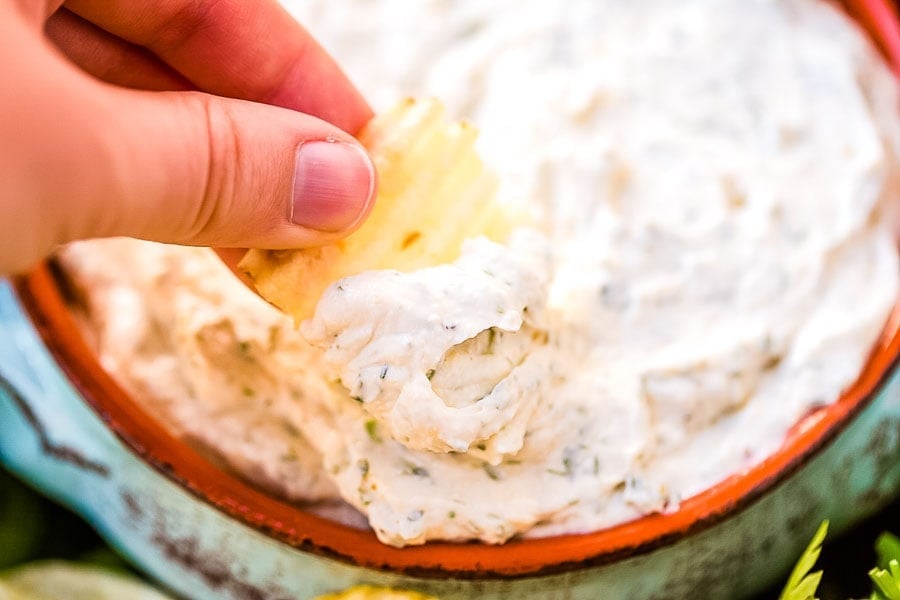 What is Ranch Dip made of?
If you'd rather skip my (very helpful, I think) tips and tricks, essential cooking info, and similar recipe ideas – and get straight to this delicious easy Ranch Dip recipe – simply scroll to the bottom of the page where you can find the printable recipe card.
dried parsley
onion powder
dried chives
garlic powder
dill weed
sea salt
pepper
sour cream
How do I make Ranch Dip?
Combine the parsley, onion and garlic powders, dill weed, salt and pepper, add the sour cream, stir and it's done! So easy, right?
I recommend chilling it in the refrigerator for at least 30 minutes before serving so the flavors have a chance to develop. This ranch dip is great to make ahead because it keeps well for up to week as long as it's stored in an airtight container. Plus, the longer it has to sit the more flavorful it will be!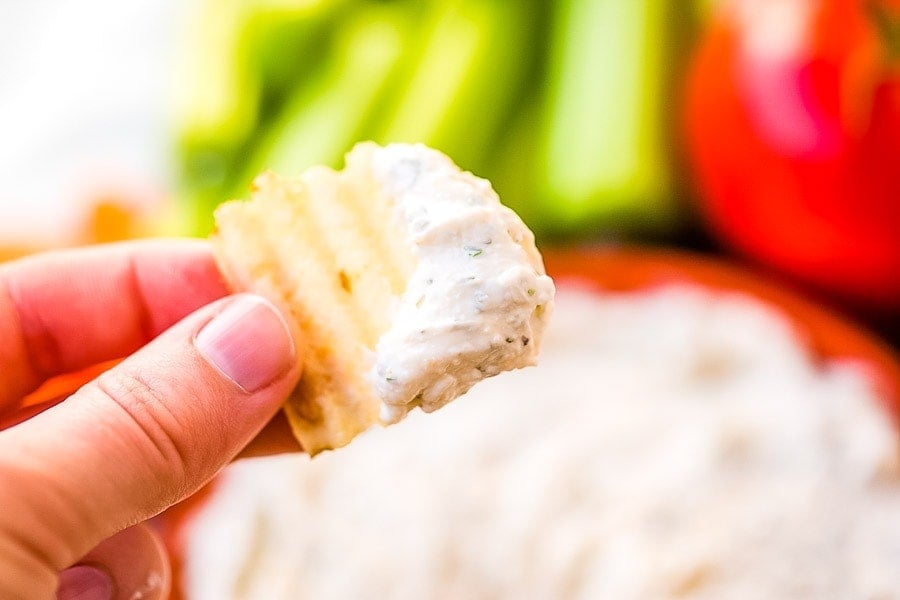 Quick Tips and Tricks to make the BEST Ranch Dip!
If you have any additional questions comment below and we will do our best to answer your questions!
Is ranch dressing and ranch dip the same?
Ranch dip and ranch dressing are made with the same kind of seasonings, but their consistency is different. Ranch dressing has a thinner consistency to make it easy to pour over salads. Ranch dip is thicker to make it easier to scoop it with chips or veggies.
How long does homemade ranch dip last?
Homemade ranch dip will last up to a week in the refrigerator. Be sure to store it in an airtight container!
What do I serve with ranch dip?
I love to pile a bunch of snacks and veggies on a serving platter with a big bowl of ranch dip on the side. Here are some ideas for you to try!
Carrot sticks
Celery sticks
Sliced cucumbers
Radishes
Broccoli and Cauliflower florets
Cherry or grape tomatoes
Sliced bell peppers
Potato chips
Crackers
Pita wedges
Tortilla chips
Can I use Greek Yogurt in this?
Yes, you can substitute plain Greek yogurt for the sour cream in this ranch dip. Depending on how thick your yogurt is, your dip might be a little thinner.
Can I use mayonnaise in this?
You can add mayonnaise to this ranch dip! My recommendation is to replace some of the sour cream (not all of it!) with the amount of mayo that suits your tastes. The mayo will add more richness.
You'll never go back to store-bought ranch dip after you give this homemade one a try! Once you've tried this cool and creamy Homemade Ranch Dip be sure to check out some of my other favorite dip recipes or some of our other ranch-flavored recipes!
More easy Dip Recipes!
Dips are a great go-to appetizer for parties when you need a quick treat for a party. Here are a few of our favorite quick and easy dip recipes that are party friendly!
More Ranch Flavored Recipes!
Love ranch as much as we do? Then you will love these side dishes, appetizers and main dishes that are flavored with ranch!
MORE TOP RATED RECIPES YOU'LL LOVE!
Try it and love it? Rate it, please!!! ? Seriously though a five-star rating below will make my day! If you snap a photo, please be sure tag me on Instagram at @julieseatsandtreats or #julieseatsandtreats so I can see your yummy dip!!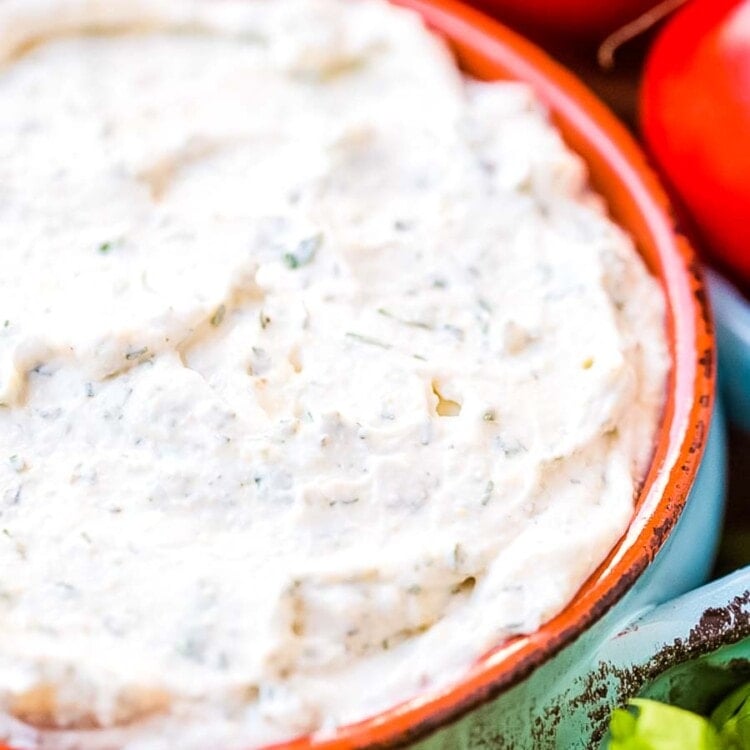 Homemade Ranch Dip Recipe
Homemade Ranch Dip is quick and easy to make! Dip fresh vegetables, potato chips and more into it!
Ingredients
1/2

tsp

dried parsley

1/4

tsp

onion powder

1/2

tsp

dried chives

1/2

tsp

garlic powder

1/2

tsp

dill weed

1/8

tsp

sea salt

1/8

tsp

pepper

16

oz

sour cream
Instructions
Combine all the dry ingredients. Stir in sour cream and mix until combined

We recommend chilling for at least 30 minutes before serving so the flavors have time to meld together.

Store leftovers in refrigerator.
Tips
You can also make a large batch of our Ranch Seasoning Mix and add 3 Tbsp of it to 16 oz of sour cream and make a dip!
Nutrition Information
Calories:
74
kcal
(4%)
,
Carbohydrates:
1
g
,
Protein:
1
g
(2%)
,
Fat:
7
g
(11%)
,
Saturated Fat:
4
g
(25%)
,
Cholesterol:
20
mg
(7%)
,
Sodium:
55
mg
(2%)
,
Potassium:
59
mg
(2%)
,
Fiber:
1
g
(4%)
,
Sugar:
1
g
(1%)
,
Vitamin A:
376
IU
(8%)
,
Vitamin C:
2
mg
(2%)
,
Calcium:
43
mg
(4%)
,
Iron:
1
mg
(6%)