Parmesan Orzo is a quick and easy side dish perfect for a weeknight dinner! You can have this easy side dish recipe on your table in 15 minutes and the entire family will devour it. What's not to love about quick and easy, plus loaded with garlic and cheese? Nothing! Make it tonight!
We love pairing this quick and easy pasta side dish with our favorite recipes like Barbecue Baked Chicken Drumsticks or Sweet and Sour Meatballs. Whatever you serve it with your family is going to flip over it.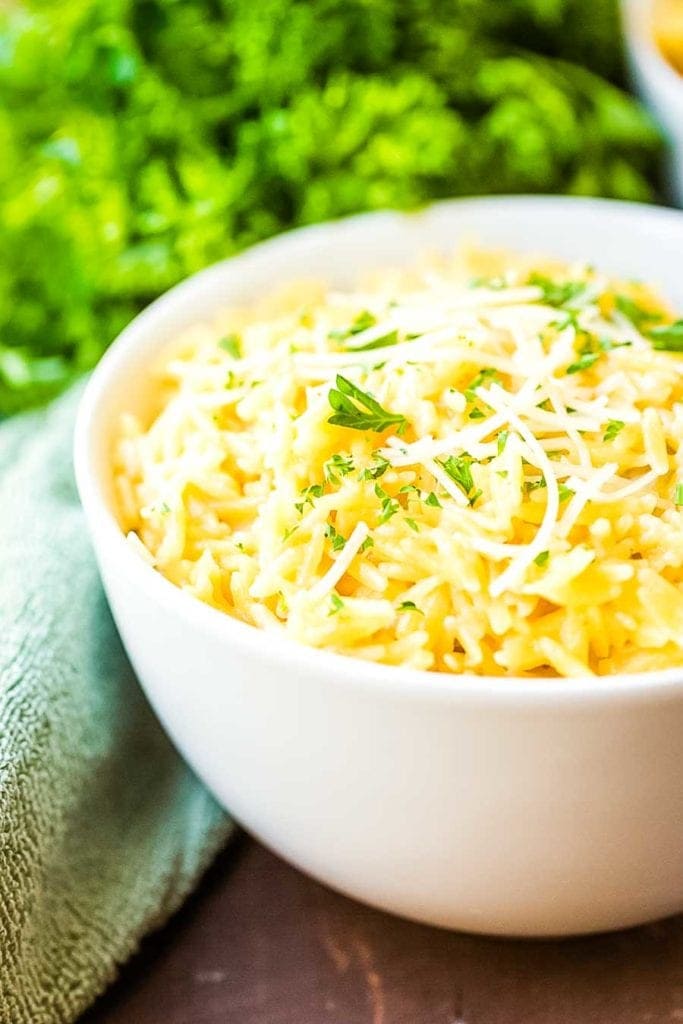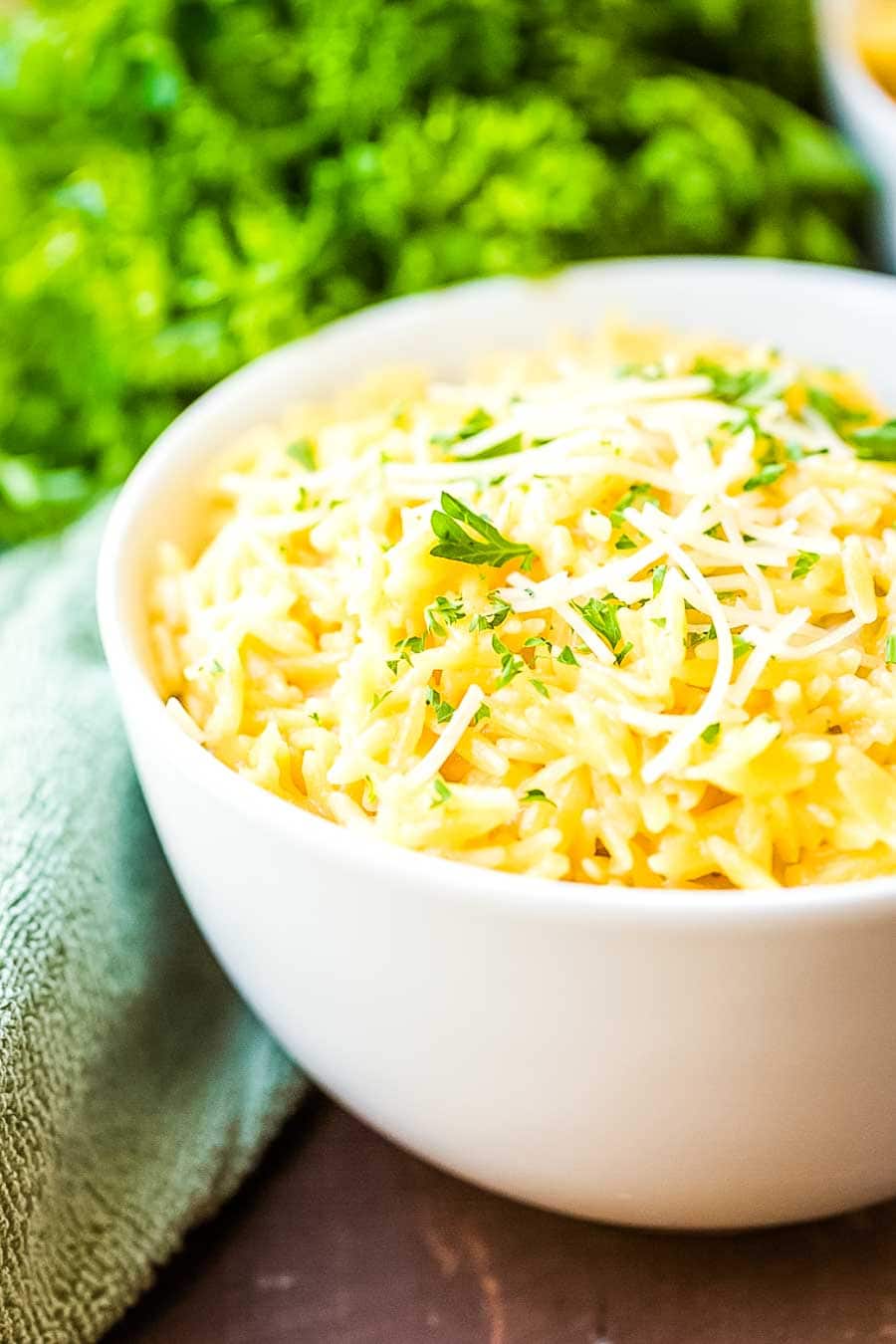 The BEST Parmesan Orzo!
Do you ever get in a side dish rut? You know, when you realize you've dished up the same old side dish night after night? Hey, it happens to the best of us and that's why I'm sharing this creamy cheesy Parmesan Orzo recipe with you!
I don't know about you, but I used to get stuck serving up rice as a side dish and then I discovered orzo, which is a little pasta that looks like rice. Cooking up some orzo is an easy way to change-up your side-dish dinner game! Don't get me wrong – I love rice, but sometimes you need a little switch-up, right?
When I make my Parmesan Crusted Pork Chops or Cheesy Meatloaf I love to serve this creamy Parmesan Orzo because it's so easy to make and my family loves it. Sometimes I make it as a side for my Air Fryer Chicken Parmesan instead of spaghetti with red sauce. It's such a versatile dish and goes with practically everything!
Don't worry, if you haven't tried orzo yet I'm sharing all the details in this post! You're going to love it and this Parmesan Orzo recipe.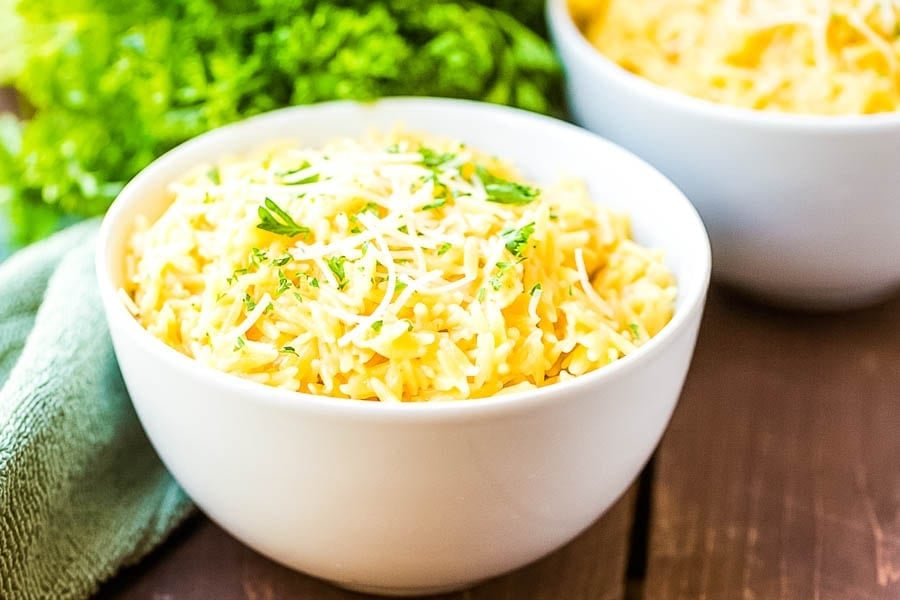 Parmesan Orzo is a quick and easy side dish!
During the week the last thing I want to worry about is a high maintenance side dish and this Parmesan Orzo is definitely NOT complicated! I can't decide what I love more – how fast and easy it is to make or how cheesy and creamy it is once it's ready to serve!
Plus, it goes with practically any main dish. Pork chops, meatloaf, chicken, meatballs… I could go on, but you get the idea, right? It's a super easy cheesy creamy pasta side dish that will get you out that rice side dish rut!
We all need a quick and easy side dish like this and I'm so excited to share it with you. Did I mention you only need one saucepan and five simple ingredients to make it?
What ingredients do I need for Parmesan Orzo?
This is a brief overview of the recipe continue scrolling down to the recipe box for the full recipe!
Orzo
Butter
Chicken broth
Garlic powder
Parmesan cheese
That's it! You probably have most of it on hand and, I can promise you, once you this Parmesan Orzo you'll want to keep all of the ingredients on hand so you can make it whenever you need a quick side dish! I'm telling you – my family gobbles it up and never gets tired of it.
How do I make Parmesan Orzo?
First, melt the butter in a saucepan with the orzo. Cook the orzo in the butter for a couple of minutes.
Add the chicken broth and cook it with the orzo over low heat. Don't turn the heat up high otherwise, the broth will boil off before the orzo can absorb it. You want to cook it over low heat until the orzo has absorbed all of the broth. This usually takes about 10 minutes.
Add the Parmesan cheese and stir all together until the cheese has melted. Serve and enjoy!
Five simple ingredients and three easy steps to make this creamy cheesy Parmesan Orzo. Doesn't get any easier than that!

Parmesan Orzo FAQs!
Here are a few of the more frequently asked questions.
If you have a question that isn't answered please leave us a comment below and we will do our best to answer it!
What is Orzo?
Orzo is a small pasta that looks like rice. Some people think it is rice because it looks a lot like arborio rice, which is used to make an Italian rice dish called risotto, but orzo is pasta and not the same thing as rice.
I love orzo because you can use it like rice in lots of different recipes, like this Parmesan Orzo recipe I'm sharing today. I always have a box of orzo in my pantry because it's great to serve as a side dish, toss in soups, or serve it with sauce and a protein as a main dish. It's so versatile!
Where do I find Orzo in the grocery store?
You can find orzo with the other types of pasta. Sometimes it's sold in small boxes and I've also seen it packaged in bags.
Is Orzo better than rice?
It all depends on your tastes! Both orzo and rice are considered grains, but orzo is pasta and is made from white flour, although you can find orzo made from whole wheat flour, too.
Personally, I love both orzo and rice and use them in place of each other in lots of different recipes, but keep in mind that the cooking process is different for both.
If you substitute orzo for rice (or vice versa) it may take more or less time to cook it. They are definitely not the same thing and each has a different texture once they're cooked.
What is the difference between Orzo and Risoni?
Orzo and risoni are the same thing! Orzo is the Greek word for this kind of pasta while rosini is what it's called in Italian. They are both small rice-shaped pasta, so if you see a package of risoni it's the same thing as orzo.
Are you checking your pantry yet to see if you have the ingredients to make this tonight? I know you're going to love this Parmesan Orzo like we do!
Serve your Orzo with these Main Dishes!
Have you tried this Parmesan Orzo? I'd love if you would rate this recipe!! A five-star rating will make my day!
Don't forget to tag me on Instagram @julieseatsandtreats or #julieseatsandtreats that way I'm sure to see your pictures!!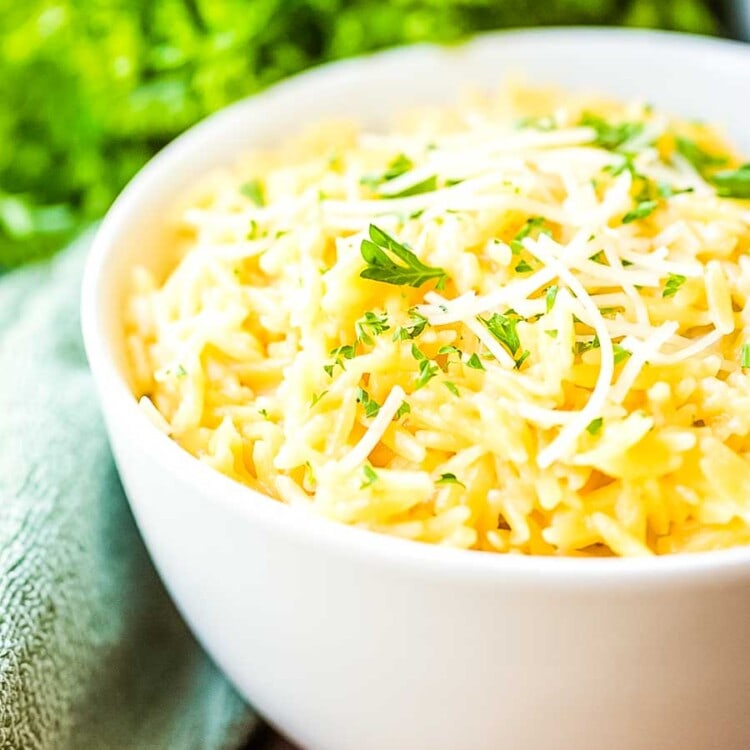 Parmesan Orzo Recipe
Quick and easy side dish recipe! This Parmesan Orzo is ready in 15 minutes and loaded with cheese and garlic.
Ingredients
1

c.

orzo

1

Tbsp

butter

14.5

oz

chicken broth

1

tsp

garlic powder

1/2

c.

Parmesan cheese

freshly grated
Instructions
In a small saucepan combine the orzo and butter. Melt butter over medium heat and stir regularly. Lightly toast the orzo. This should take about 2-3 minutes.

Pour the can of broth and the garlic in the orzo mixture. Heat over low heat, stirring regularly until all the broth is absorbed. Make sure not to turn it up to high or the broth will be absorbed before the orzo is done.

Stir in Parmesan cheese until melted. Serve immediately.
Nutrition Information
Calories:
369
kcal
(18%)
,
Carbohydrates:
46
g
(15%)
,
Protein:
19
g
(38%)
,
Fat:
12
g
(18%)
,
Saturated Fat:
7
g
(44%)
,
Cholesterol:
28
mg
(9%)
,
Sodium:
879
mg
(38%)
,
Potassium:
251
mg
(7%)
,
Fiber:
2
g
(8%)
,
Sugar:
2
g
(2%)
,
Vitamin A:
320
IU
(6%)
,
Vitamin C:
7.2
mg
(9%)
,
Calcium:
369
mg
(37%)
,
Iron:
1.2
mg
(7%)
Adapted from: Stephanie Cooks