Parmesan Crusted Pork Chops
Parmesan Crusted Pork Chops are breaded with a crunchy, flavorful coating, seared and baked. These boneless pork chops are tender, juicy and delicious. Such an easy dinner recipe that the entire family will love. If you need a new pork chop recipe this is it. No more dry, chewy pork chops that you fear!
You can finish your quick and easy dinner by serving it with our famous Cheesy Garlic Butter Noodles and Roasted Vegetables! It's a complete meal that the entire family is going to love. If you want a dessert to finish the meal we recommend this quick and easy Apple Crisp! Don't forget the Cool Whip on top!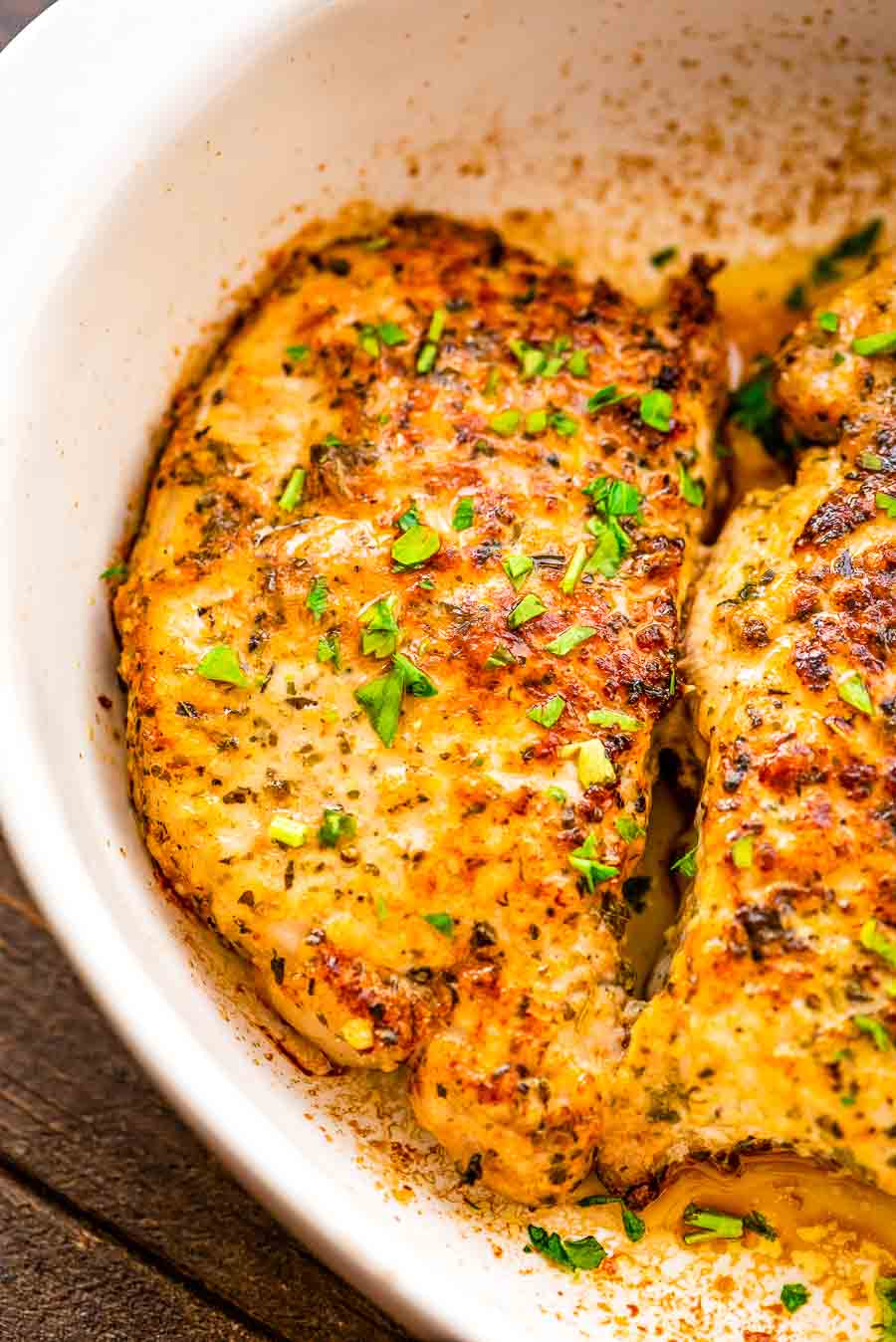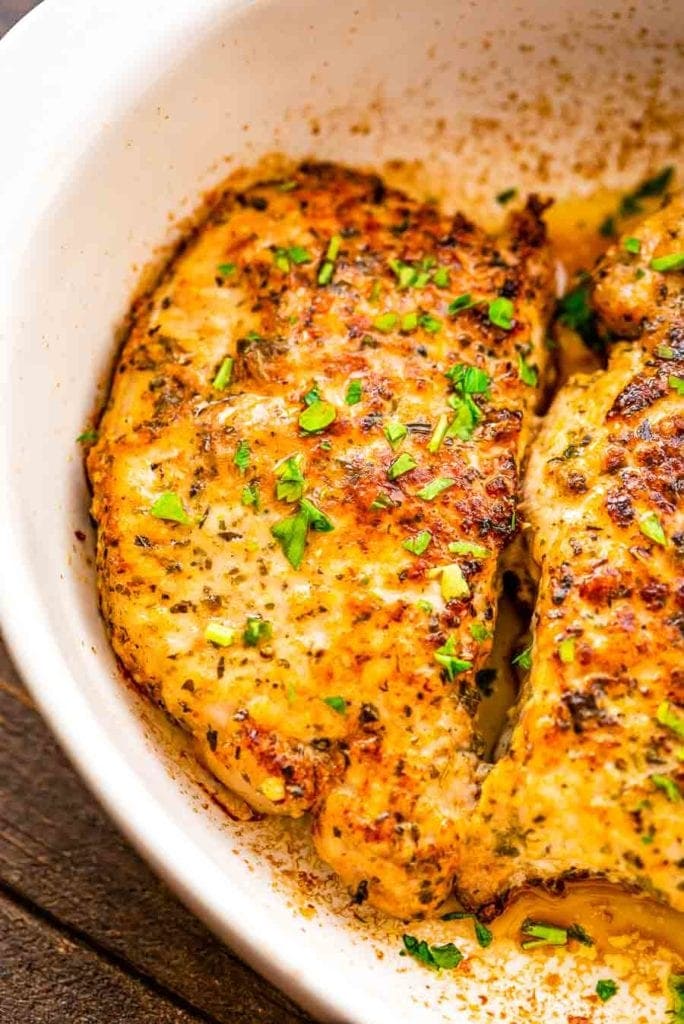 The BEST Baked Pork Chops!
Can't say I make a lot of pork chops but I've had a few hanging out in the depths of my freezer and all of a sudden, I decided it was time those bad boys be gone. I used to be a little nervous to cook pork chops because they sometimes come out too dry and chewy, but I've learned how to cook them properly so they come out juicy every time!
As we were sitting eating supper the hubby glances my way and says, "So where'd you get this recipe. It's really good!"
My answer is, "Oh so I can't come up with anything on my own dear?"
Yup, that's right these little baked pork chops were my creation and they are so easy to make. They come out the oven juicy and so tender with a crispy Parmesan breadcrumb coating. You probably have most of the ingredients to make them!
What ingredients do I need to make Parmesan Crusted Pork Chops?
Boneless pork chops
Grated Parmesan cheese
Italian-seasoned breadcrumbs
Smoked paprika
Dried parsley
Garlic powder
Black pepper
Olive oil
How do I make Parmesan Crusted Pork Chops?
Combine the Parmesan cheese, breadcrumbs, paprika, parsley, garlic powder, and pepper in a shallow dish. I like to use a pie plate because it's wide enough for the pork chops.
Heat the olive oil in a frying pan over medium heat. While you wait for the oil to heat up, bread the pork chops by dipping them in the breadcrumb mixture. Gently press the pork chops into the breadcrumbs so they are evenly coated.
Place the breaded pork chops in the frying pan and cook them for about two minutes on each side.
If your frying pan is oven-safe you can transfer the pork chops in it to bake in the oven. Or, transfer the pork chops to a baking dish.
Bake the pork chops for 8 to 10 minutes or until the internal temperature is 145 degrees F. Remove the pork chops from the oven and let them rest for a few minutes before serving.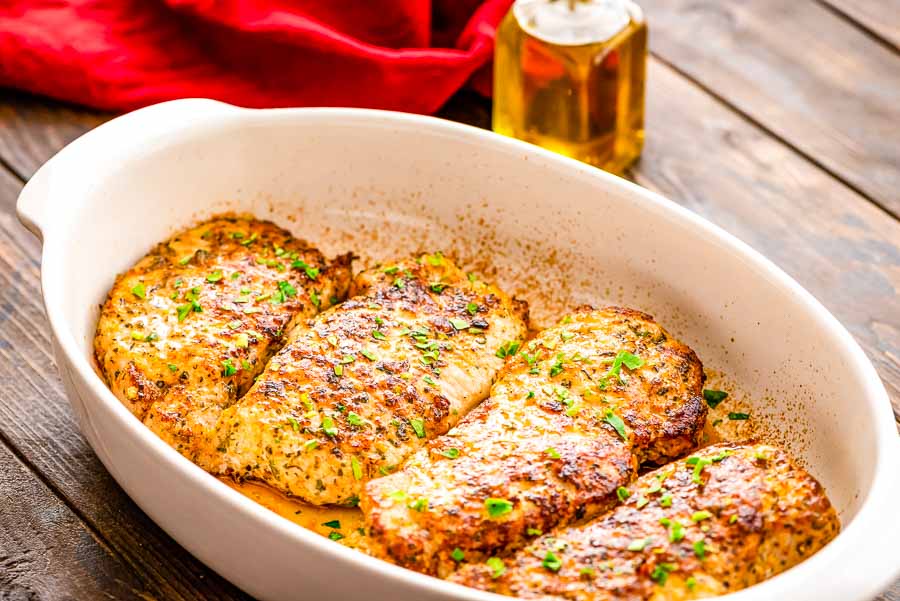 Baked Pork Chops FAQs
I used to avoid pork chops until I learned how to properly cook them. They either came out not quite done or chewy and dry – the worst!
Now that I make them more often, I've learned a few things and our baked pork chops always come out the oven juicy and perfectly cooked. Here are all my best tips so you can make delicious baked pork chops, too!
What temperature should pork chops be cooked too?
Pork chops should be cooked to an internal temperature of 145 degrees F. The best way to check the temperature a boneless pork chop is to insert a meat thermometer into the center of the pork chop to check it's temperature.
It's always good to remember that the cook times in the recipe are a recommendation, but depending on your oven and the thickness of your pork chops may take more or less time. That's why it's always best to check the temperature of the meat with a thermometer. Depending on how hot your oven runs you may need to add more time or reduce the cooking time.
Are pink pork chops safe to eat?
Cooked pork chops that are a little pink inside are safe to eat as long as the internal temperature is at 145 degrees F.
Why are my pork chops chewy?
If your pork chops are chewy it is most likely because they are overcooked. Pork chops are very lean and overcooking them makes them dry and chewy.
The best way to avoid chewy pork chops is to use – guess what! – a meat thermometer to check the internal temperature. I know I keep mentioning it, but seriously, the key to perfectly cooked pork chops is to use a thermometer!
Like I mentioned, you should cook the pork chops to a temperature of 145 degrees F and then take them out of the oven to rest.  This way they'll be juicy and tender.
Are pork chops healthy?
Boneless pork chops are low in fat compared to other cuts of meat. They are a high-quality protein and lower in calories compared to other cuts of pork and beef.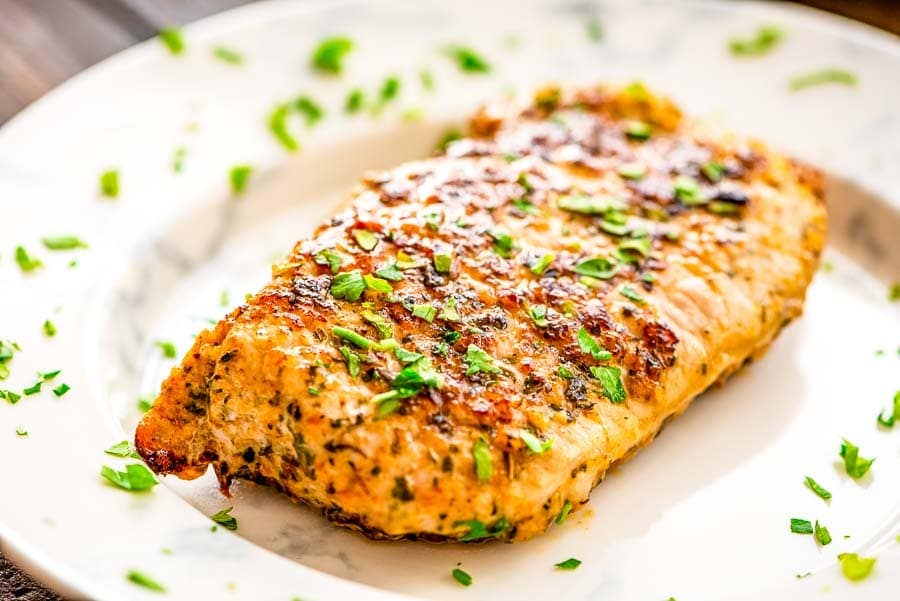 So, if you have some pork chops hanging out in that freezer whip these up. You might even have all the ingredients on hand!
Complete your Baked Pork Chops Dinner with these Side Dishes!
WATCH THE STEP BY STEP VIDEO FOR THIS PARMESAN CRUSTED PORK CHOP RECIPE BELOW:
If you enjoy watching these videos make sure you subscribe to my YouTube Channel to be notified each time a post a new video!
I'd love it you would rate this recipe!! A five-star rating will make my day!
Don't forget to tag me on Instagram @julieseatsandtreats or #julieseatsandtreats that way I'm sure to see your pictures!!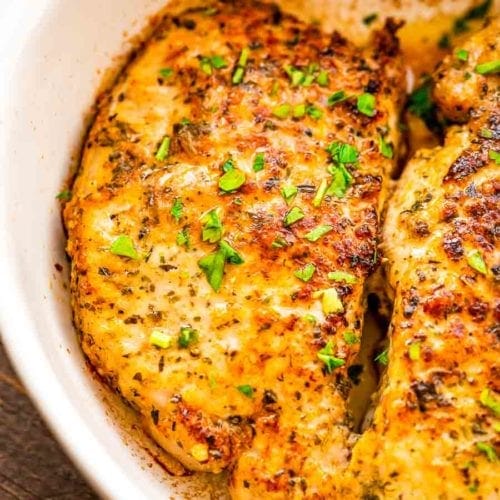 Parmesan Crusted Pork Chops Recipe
Quick and Easy Pan Fried Pork Chops that are finished by baking them with a crunchy Parmesan coating!
Print
Pin
Rate
Ingredients
4

boneless pork chops

1/4

c.

Parmesan cheese

grated

2

Tbsp

Italian seasoned breadcrumbs

1/4

tsp

smoked paprika

1

tsp

dried parsley

1/2

tsp

garlic powder

1/4

tsp

fresh ground pepper

2

Tbsp

olive oil
Instructions
Preheat oven to 450 degrees.

Mix Parmesan cheese, breadcrumbs, paprika, parsley, garlic powder and pepper together in a pie plate.

Put olive oil in a frying pan and heat on medium-high. Swirl the pan to coat.

Dip each pork chop in the bread crumb mixture. Pat to make it stick if needed.

Add pork chops to pan and saute for 2 minutes on each side until golden brown. Place in a glass baking dish or leave it in the pan if it is oven safe.

Place pork chops in preheated oven for 8-10 minutes or until internal temp reaches 145 degrees. Remove from oven and let rest for 5 minutes.
Nutrition
Serving:
1
g
|
Calories:
349
kcal
|
Carbohydrates:
4
g
|
Protein:
35
g
|
Fat:
20
g
|
Saturated Fat:
6
g
|
Cholesterol:
99
mg
|
Sodium:
369
mg
|
Potassium:
524
mg
|
Vitamin A:
175
IU
|
Calcium:
194
mg
|
Iron:
1
mg
LEAVE A COMMENT