Barbecue Baked Chicken Drumsticks
Easy Barbecue Baked Chicken Drumsticks ~ Marinated Chicken Legs Make an Easy Dinner Recipe! Bake them and Finish with Barbecue Sauce for Juicy, Flavorful Drumsticks! We love to pair these delicious chicken drumsticks with Parmesan Orzo, Smashed Potatoes and Roasted Vegetables.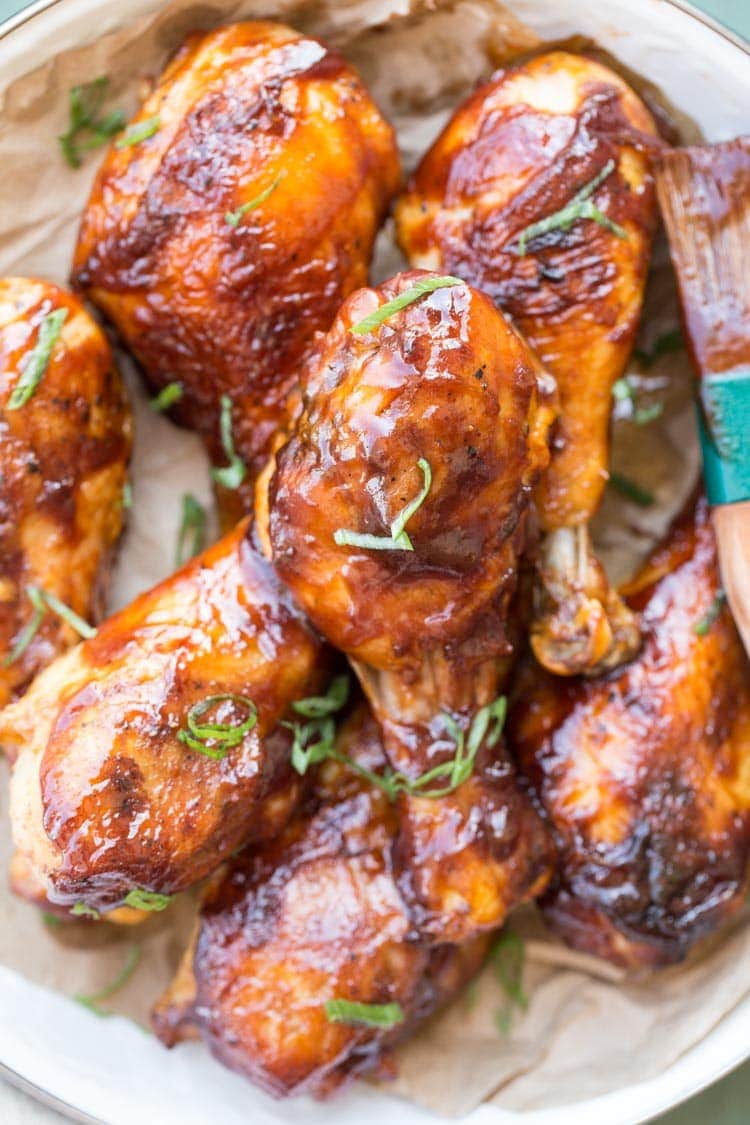 Chicken Drumsticks
I'm sure you will agree there are those recipes you love to serve when you are having guests over like Baked Sweet and Sour Chicken or maybe you want to serve more of a fancier meal than usual. We also love this quick and healthy meal of baked boneless chicken thighs.
Or there are those quick and simple appetizer style recipes that hold a spot in your recipe book for brunch or a ladies get together. Recipes like canapes, dips or easy sides.
This recipe, however, is a family favorite for those dinners you want to enjoy with your family around the table. One that is super easy to make and is enjoyed by the whole family.
I love that the drumsticks are not fried. Baking is so much easier and healthier than frying and you don't have to worry about standing at the stove top and frying the chicken to perfection.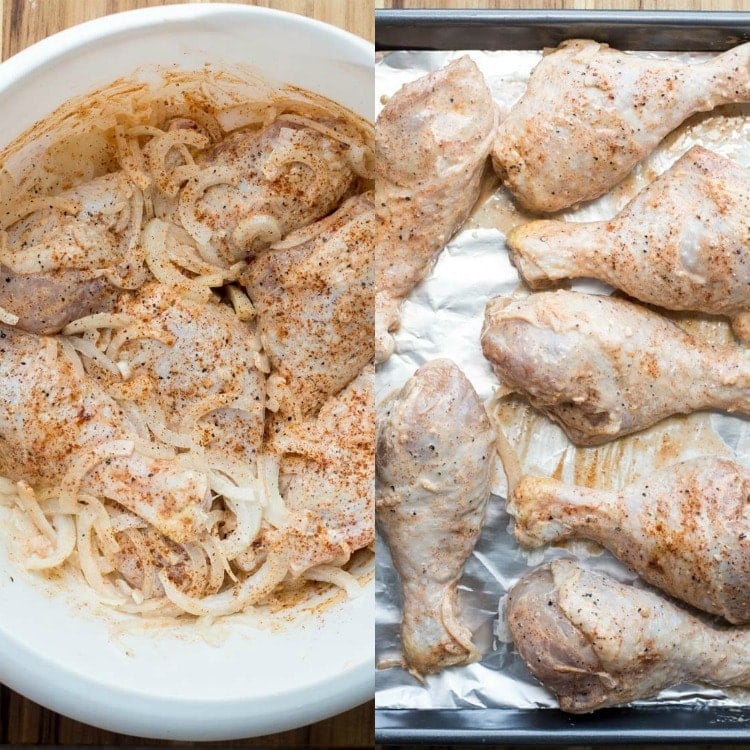 Baked Chicken Drumsticks
Yes, fried chicken is so delicious and has a crunchiness that is so wonderful, but being able to bake the chicken yet get the feeling it wasn't baked but perhaps fried is pretty phenomenal. These drummies are baked at a high temperature which gives them a crunchiness you normally don't get when baking food.
Then adding the barbecue on the chicken and baking just a little longer makes the chicken so juicy and doesn't lose much of flavor yet has the added flavor that the barbecue provides.
You can use your favorite barbecue sauce. We love Sweet Baby Ray's. It's not too sweet, not too tangy and gives a great balance of both. You just cannot go wrong with this recipe, friends.
Ingredients for chicken drumsticks
chicken drumsticks
mayonnaise
creamy horseradish
olive oil
garlic
onion
salt
paprika
pepper
barbecue sauce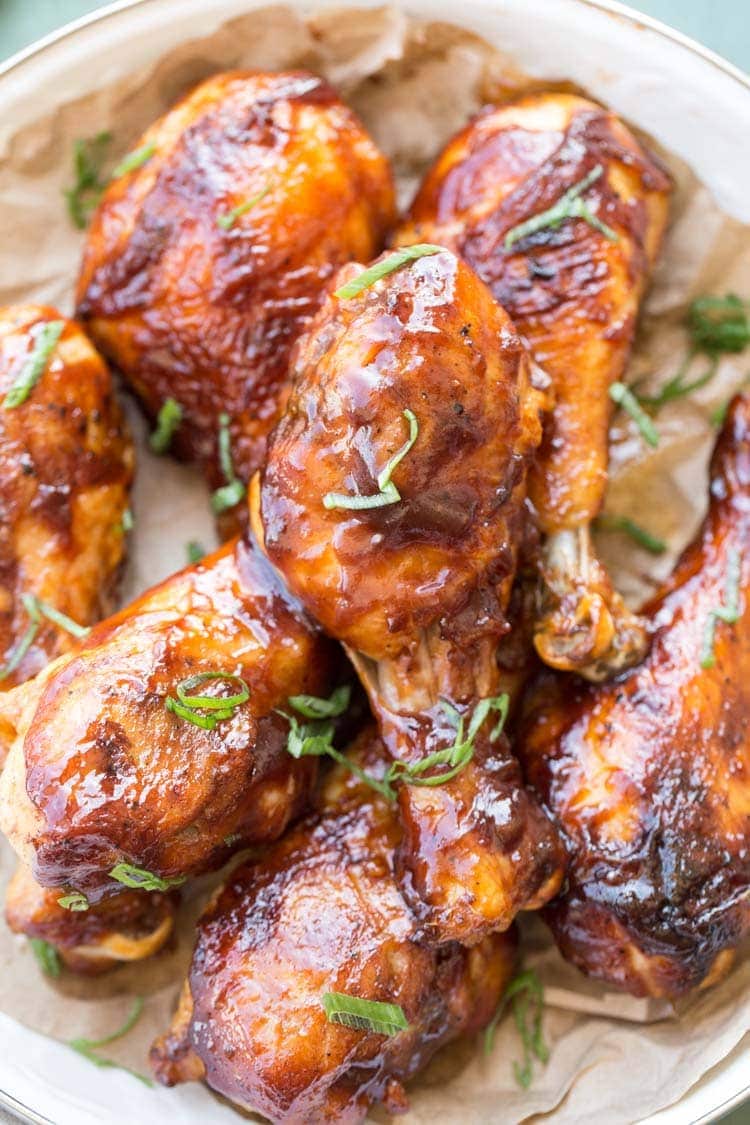 Barbecue Chicken Drumsticks
Whenever we serve recipes like this one, I always have sweet memories of when I was still at home and my mom would serve us chicken with creamy mashed potatoes and a side salad.
As kids, we loved drumsticks more than any other recipe she would serve us. It was one of those dinners everyone got their fingers in barbecue as they enjoyed their food. Mom would not mind at all that we were making a huge mess!
This marinade is so delicious. It really adds juiciness and so much flavor to the chicken and takes away the blandness drumsticks can sometimes have.
When making salads I always love preparing then with the kiddos together. Though making food with them takes twice as long (if not three times), the memories are unforgettable.
Love barbecue? Be sure to try this recipe for Oven Baked Smokey Barbecue Ribs!
How long do you marinade chicken legs?
At least 3 hours! Place the chicken into the marinade first thing in the morning and refrigerate covered, then bake before you are ready to enjoy dinner.
Then all you have to do when it's time for dinner is make the sides! How about Roasted Cauliflower or Baked Lemon Asparagus or a Greek Salad or the BEST Vegetable Casserole – don't they sound delicious?!!
How long should you cook drumsticks for?
Start to finish this, you will bake them for 45-50 minutes.
How do you make baked chicken crispy?
Baking chicken at a high temperature helps crisp up the skin! Though it's not the issue with chicken legs, if you're making breasts or thighs – skin on be sure to place the skin side up when baking.
How many calories does a chicken drumstick have?
On an average, chicken legs have just under 100 calories each – this is before any sauce is added. This will vary a bit because chicken drumsticks vary in size.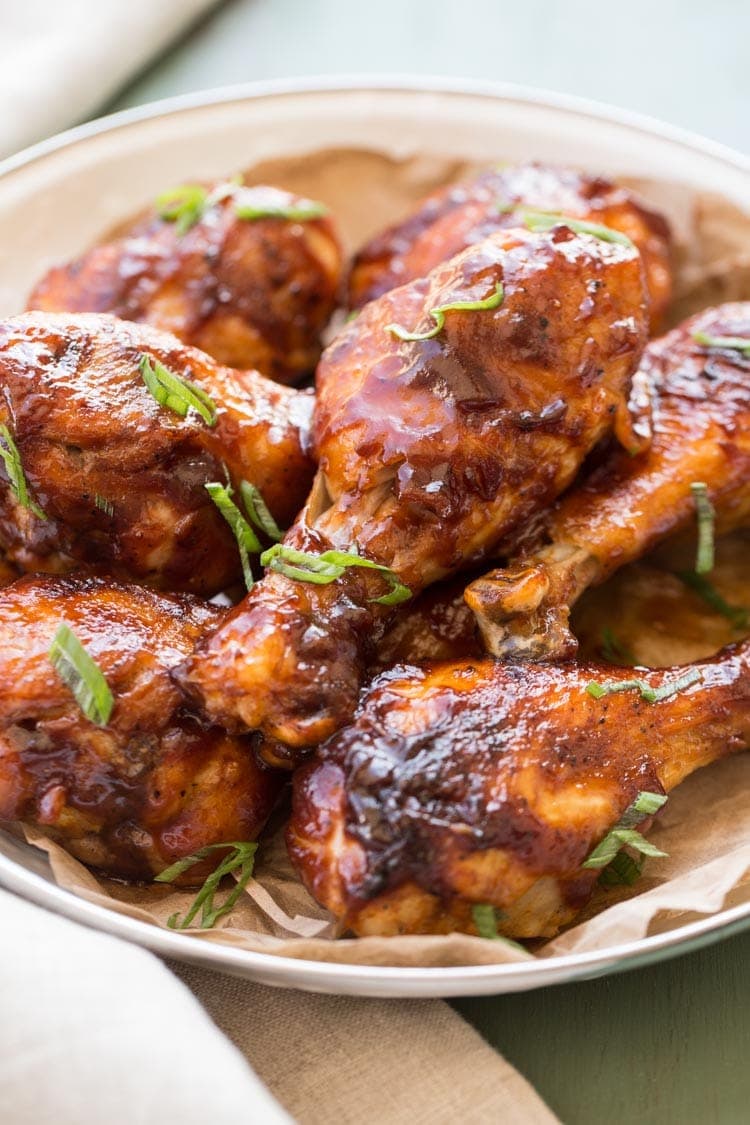 How to make Barbecue Chicken Drumsticks
Preheat the oven.
Combine the marinade – mayo, horseradish, oil, garlic, salt, paprika, and pepper. Pour over chicken and mix well. Add onion, mix again, cover and refrigerate.
Line your baking sheet with parchment paper for easy clean-up.
Lay out chicken on the sheet. Bake about 35 minutes until skins of drumsticks become crispy.
Remove from the oven and coat drumsticks generously with barbecue sauce.

 

Return to oven. Bake another 10-15 minutes.
More of my favorite Chicken Leg recipes!
WATCH THE STEP BY STEP VIDEO FOR THIS BARBECUE BAKED CHICKEN DRUMSTICKS RECIPE BELOW:
If you enjoy watching these videos make sure you subscribe to my YouTube Channel to be notified each time I post a new video!
Try it and love it? Rate it, please!!! ?Seriously though a five-star rating below will make my day! If you snap a photo, please be sure tag me on Instagram at @julieseatsandtreats or #julieseatsandtreats so I can see your yummy treat!!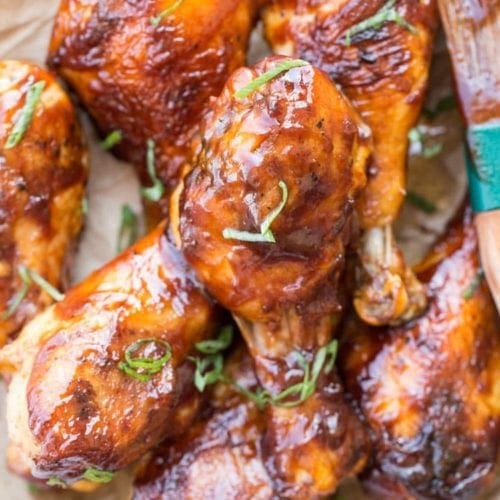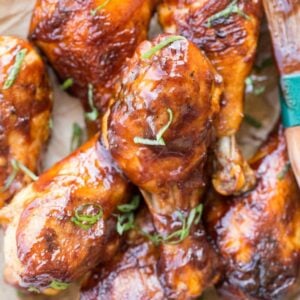 Barbecue Baked Chicken Drumsticks
Marinated Baked Chicken Drumsticks Make an Easy Dinner Recipe! Bake them and Finish with Barbecue Sauce for Juicy, Flavorful Drumsticks!
Ingredients
3

lbs

chicken drumsticks

3

Tbsp

mayonnaise

2

Tbsp

creamy horseradish

1

Tbsp

olive oil

3

garlic cloves

minced

1

onion

sliced

1 1/2

tsp

salt

1

tsp

paprika

1/2

tsp

pepper

1/2

cup

barbecue
Instructions
Preheat oven to 400°F.

Combine the mayo, horseradish, oil, garlic, salt, paprika, and pepper. Pour over chicken. Mix well. Add onion, mix again. Cover and refrigerate at least 3 hours or overnight.

Lay out chicken on baking sheet or parchment paper (clean-up will be easier). Discard of the onions. Bake about 35 minutes until skins of drumsticks become crispy (baking time may slightly vary, depending on the size of drumsticks).

Coat drumsticks generously with barbecue sauce. Return to oven. Bake another 10-15 minutes.
Nutrition
Calories:
363
kcal
Carbohydrates:
13
g
Protein:
27
g
Fat:
21
g
Saturated Fat:
4
g
Cholesterol:
142
mg
Sodium:
1050
mg
Potassium:
447
mg
Sugar:
9
g
Vitamin A:
310
IU
Vitamin C:
3.2
mg
Calcium:
33
mg
Iron:
1.2
mg
More Recipes You Might Enjoy!
BEST BLUEBERRY LEMON CAKE LOAF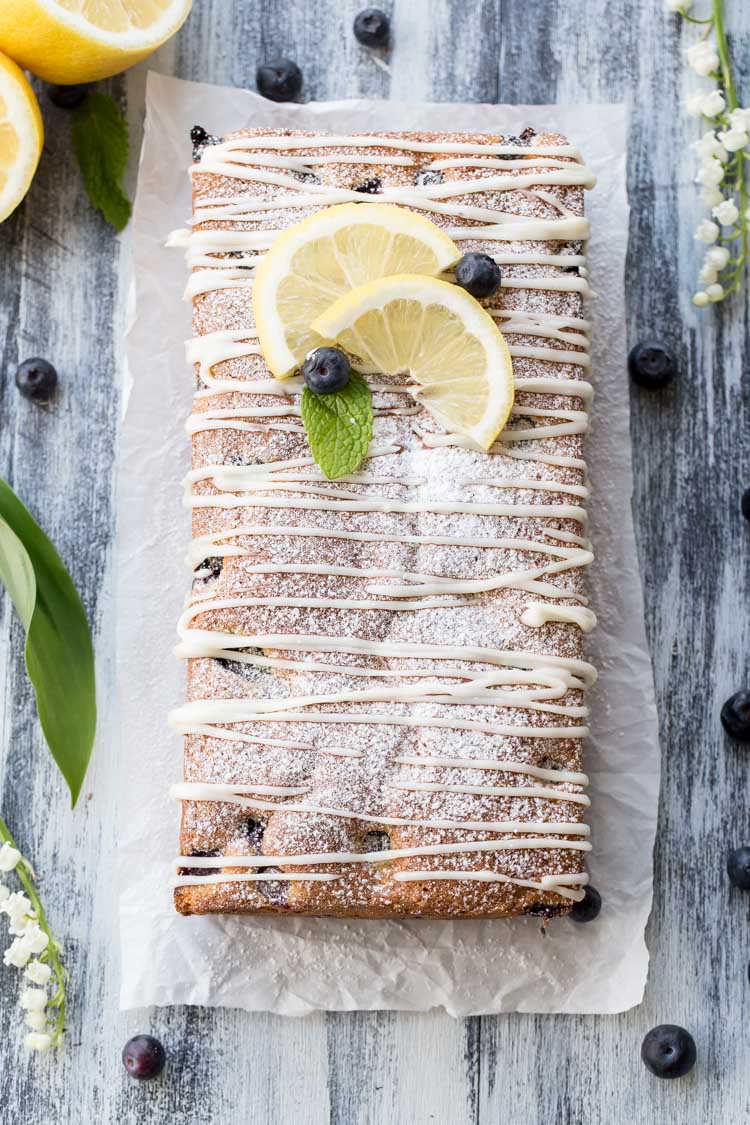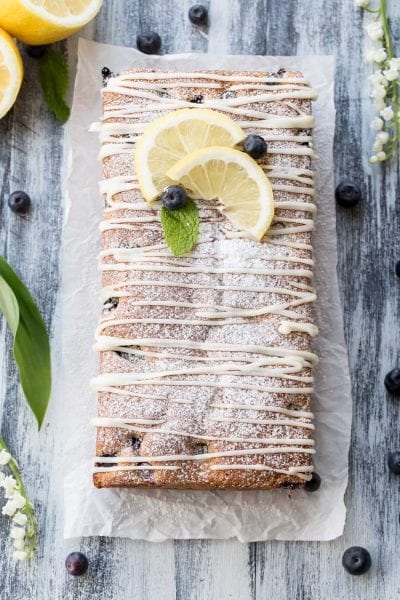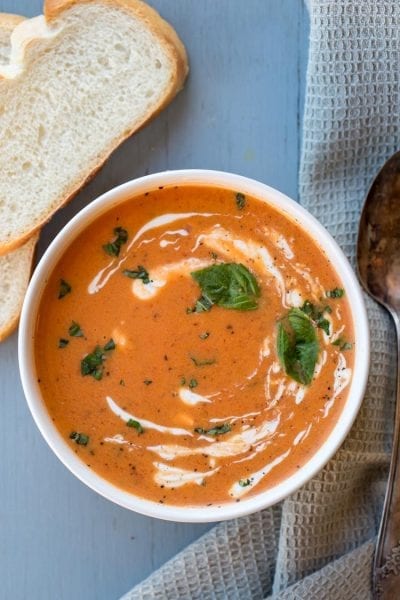 ZUCCHINI CHOCOLATE BANANA BREAD