Pumpkin Baked Oatmeal ~ This Easy, Make-Ahead Baked Oatmeal is the Perfect Breakfast for Busy Mornings! Filled with Pumpkin, Oats and Spices to Fill You Up!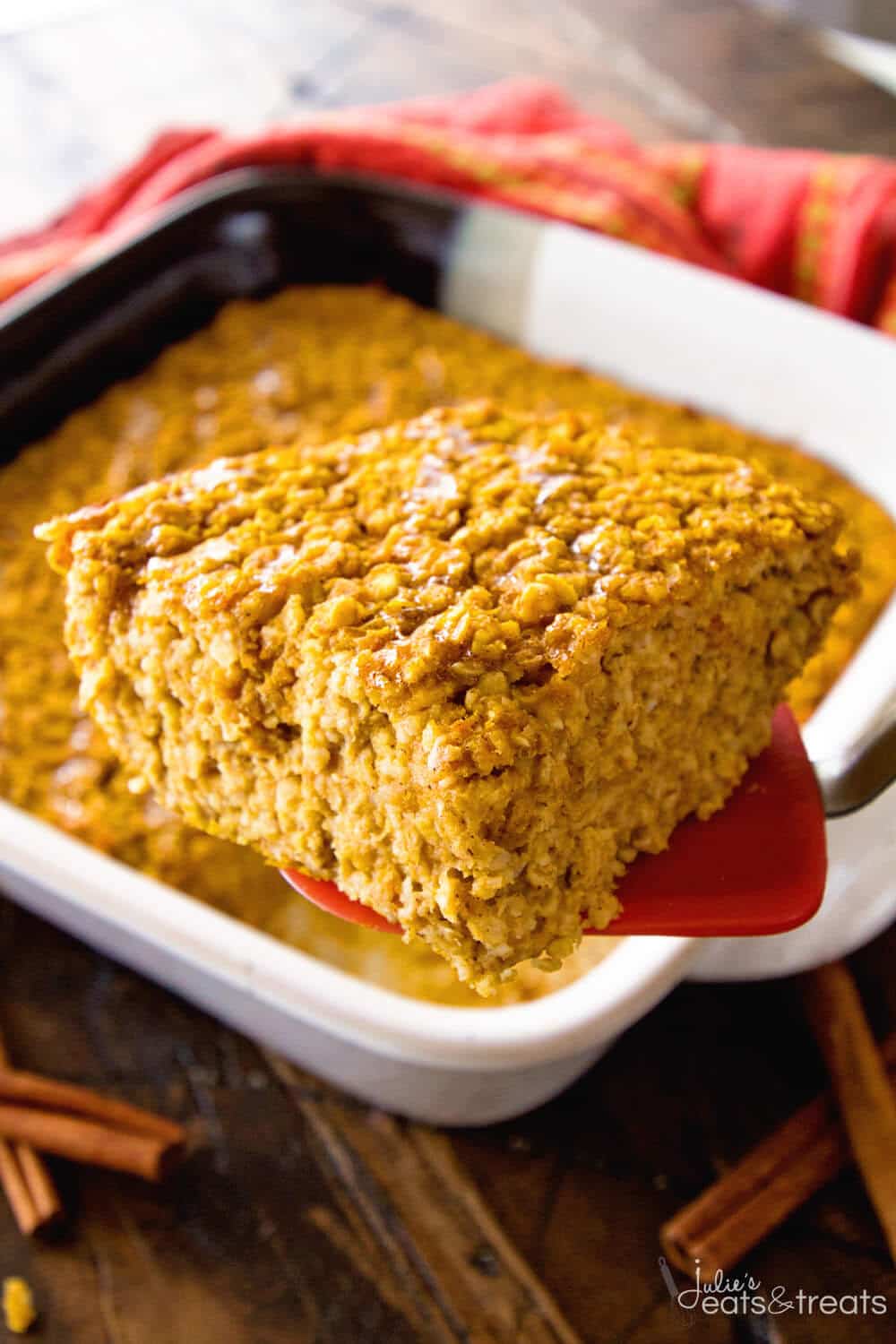 Can you believe I have never tried baked oatmeal until now? Why didn't someone tell me how fantastic this is for breakfast (like this recipe for Mixed Berry Baked Oatmeal Recipe!!) Seriously. This is like eating pumpkin pie and not feeling guilty about it at all! I mean how is this not a home run?
Let's talk pumpkin pie. I've found that either people seem to love it or hate it. I have to admit. I'm not a huge fan. You see, I like pumpkin treats, but pumpkin pie is just not my thing. I'd rather it be a pumpkin cheesecake or something on that line. Pumpkin pie has this mushy texture that makes me think of eating baby food. Now I've went and ruined pumpkin pie for all of your haven't I? Whoops!
You see I could use all the treats right now. All the treats. Pumpkin, Apple, Cookies, Cheesecake, anything really.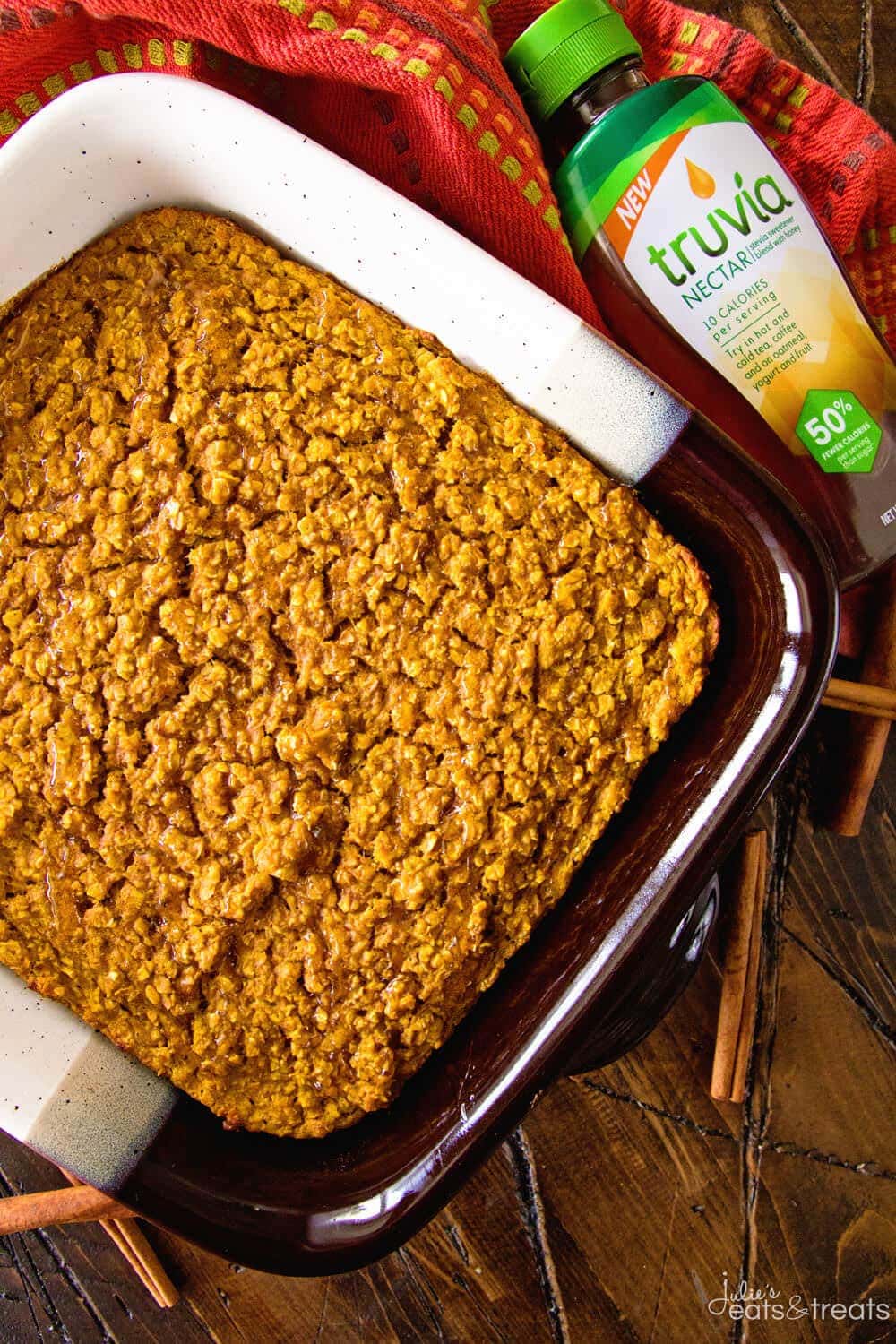 I went in for my 20 week ultrasound, which is my first one of the pregnancy and hopefully last one. It always makes me incredibly nervous. I'm anxious the whole time praying everything looks right. I pay close attention to the ultrasound tech's facial expressions, trying to read if she finds something "off". After my ultrasound I went to have my checkup with my midwife. She kept telling me the radiologist wasn't beating down her door if something was really wrong, so I should relax.
Two days later I see the hospital's phone number pop up on my caller ID and I pretty much stop breathing. I quickly answer and it's my midwife. She starts off by saying everything on the ultrasound looks really good and that I'm a "rock star" at producing amniotic fluid. I take this as a good thing. Then she goes onto explain that I'm at the "High Normal" level. All I hear is HIGH. I start panicking. She keeps repeating "Julie, you have to listen, it's still normal.'"
Now do you really think I do that? Nooooo instead I turn to my friend Google. Wrong answer. Very wrong. It never tells you anything good! Needless to say after a 911 text to my friend who is a doctor to talk me off the ledge, which she does, I vow not to go onto Google for this reason ever again. This leaves me impatiently waiting for the follow up ultrasound which is about three weeks away now. Pray for me!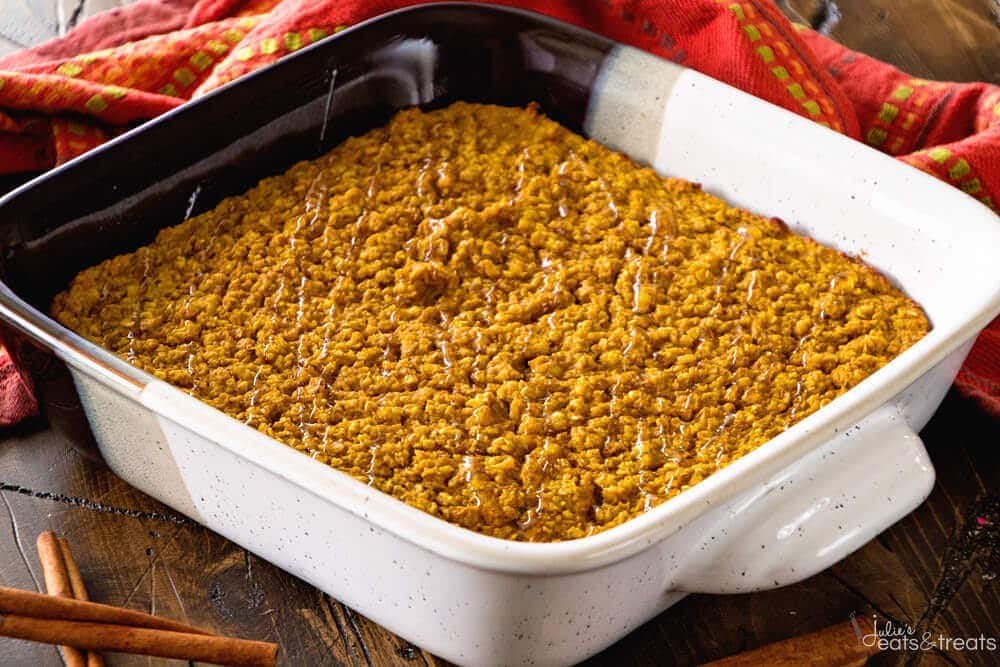 It also leaves me wanting to eat my feelings. All the feelings. That's why I'm in love with this Baked Pumpkin Oatmeal. It feels like I'm treating myself but it's actually good for me and it fills me up!
To make this Baked Pumpkin Oatmeal a little bit lighter I used Truvía® Brown Sugar Blend. They are my favorite secret ingredients because it helps me reduce the calories in delicious recipes and not sacrifice the flavor. Truvia® sweetener is natural, great-tasting sweetness that was born from the leaves of the stevia plant. Baked Pumpkin Oatmeal is the perfect comforting fall breakfast that will start your day off on the right foot!
*This post was compensated by Truvia. All opinions are my own as always.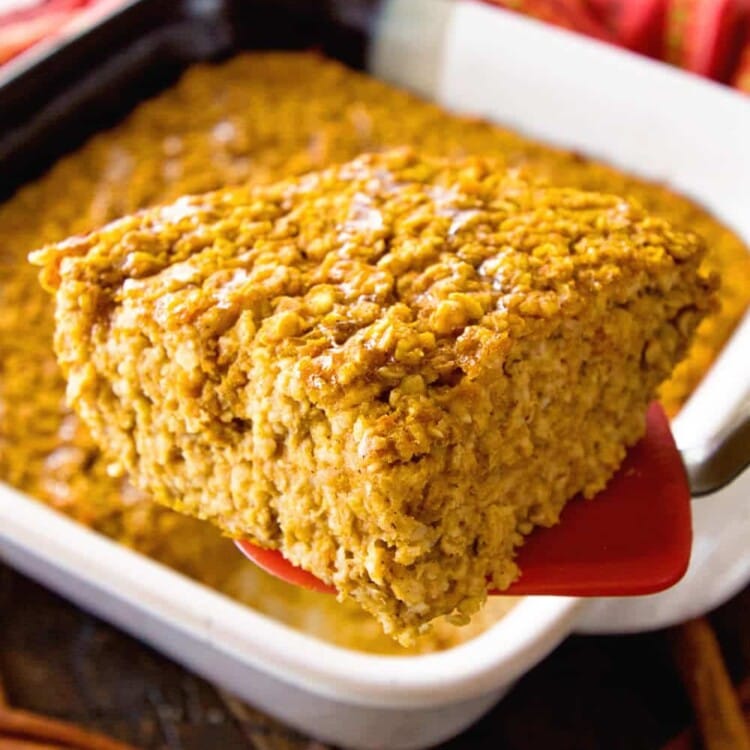 Pumpkin Baked Oatmeal
Packed with fall flavors this Pumpkin Baked Oatmeal is easy to make for breakfast or meal prep.
Ingredients
15

ounces

pumpkin puree

(1 can)

½

cup

Brown Sugar

packed

2

large eggs

1 ½

teaspoons

pumpkin pie spice

½

teaspoon

salt

1

teaspoon

baking powder

1

teaspoon

cinnamon

¼

teaspoon

nutmeg

1

teaspoon

vanilla extract

1 ½

cups

milk

2 ½

cups

dry old-fashioned oats

Honey for topping
Instructions
Preheat oven to 350 degrees Fahrenheit. Coat a 8x8 baking dish with non-stick cooking spray and set aside.

In a large bowl whisk together pumpkin puree, brown sugar, eggs, vanilla, pumpkin pie spice, salt, baking powder, cinnamon, and nutmeg until smooth. Whisk milk into mixture.

Mix the dry oats into the pumpkin mixture. Pour mixture into prepared baking dish. Bake in the preheated oven for 45 minutes or until center no longer looks wet and edges are golden brown.

Serve hot right out of oven topped with honey to taste or refrigerate until read to be served. Can be eaten cold or reheated.
Nutrition Information
Serving:
1
,
Calories:
185
kcal
(9%)
,
Carbohydrates:
34
g
(11%)
,
Protein:
6
g
(12%)
,
Fat:
3
g
(5%)
,
Saturated Fat:
1
g
(6%)
,
Polyunsaturated Fat:
1
g
,
Monounsaturated Fat:
1
g
,
Trans Fat:
0.04
g
,
Cholesterol:
40
mg
(13%)
,
Sodium:
169
mg
(7%)
,
Potassium:
313
mg
(9%)
,
Fiber:
4
g
(17%)
,
Sugar:
16
g
(18%)
,
Vitamin A:
7448
IU
(149%)
,
Vitamin C:
2
mg
(2%)
,
Calcium:
111
mg
(11%)
,
Iron:
2
mg
(11%)
Craving More Breakfast?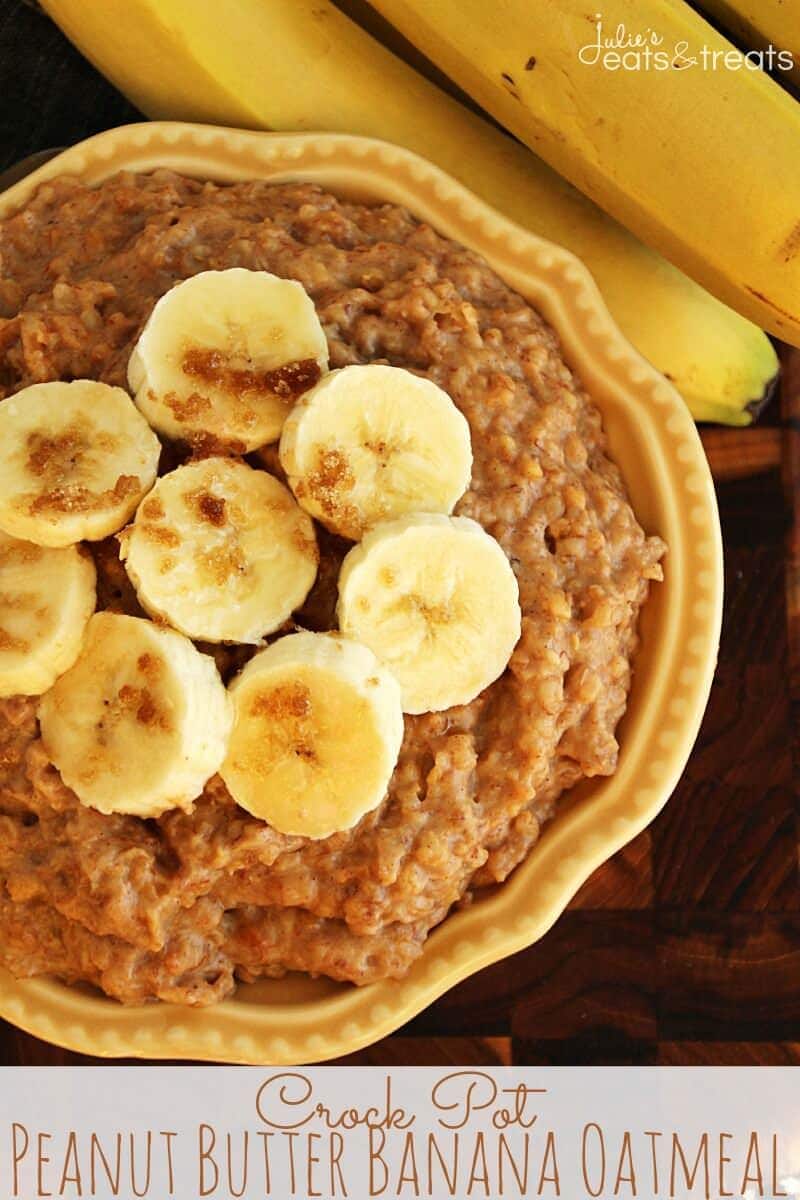 Crock Pot Peanut Butter Banana Oatmeal ~ Easy, Overnight Oatmeal Loaded with Peanut Butter, Bananas, Steel Cut Oatmeal and Flax Seed To Get You Going in the Morning!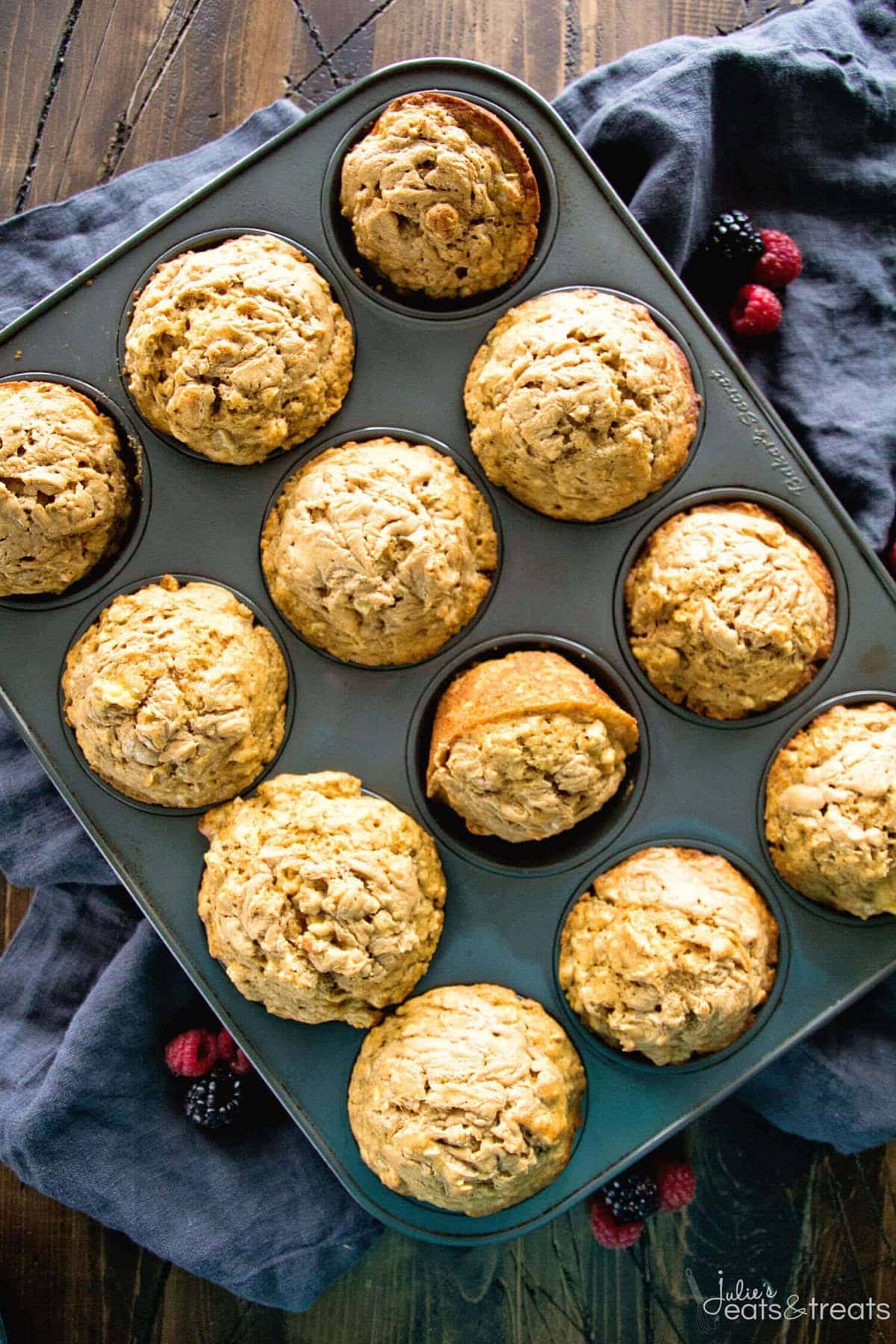 Healthier Peanut Butter Banana Muffins ~ This Peanut Butter and Banana Combo Muffin is so Delicious! They are made with Whole Wheat Flour and Oats to Fill You Up at Breakfast!