Cheddar and Ham Quiche Cups
These easy Cheddar and Ham Quiche Cups are made with a puff pastry crust, making these a great quick-and-easy breakfast recipe!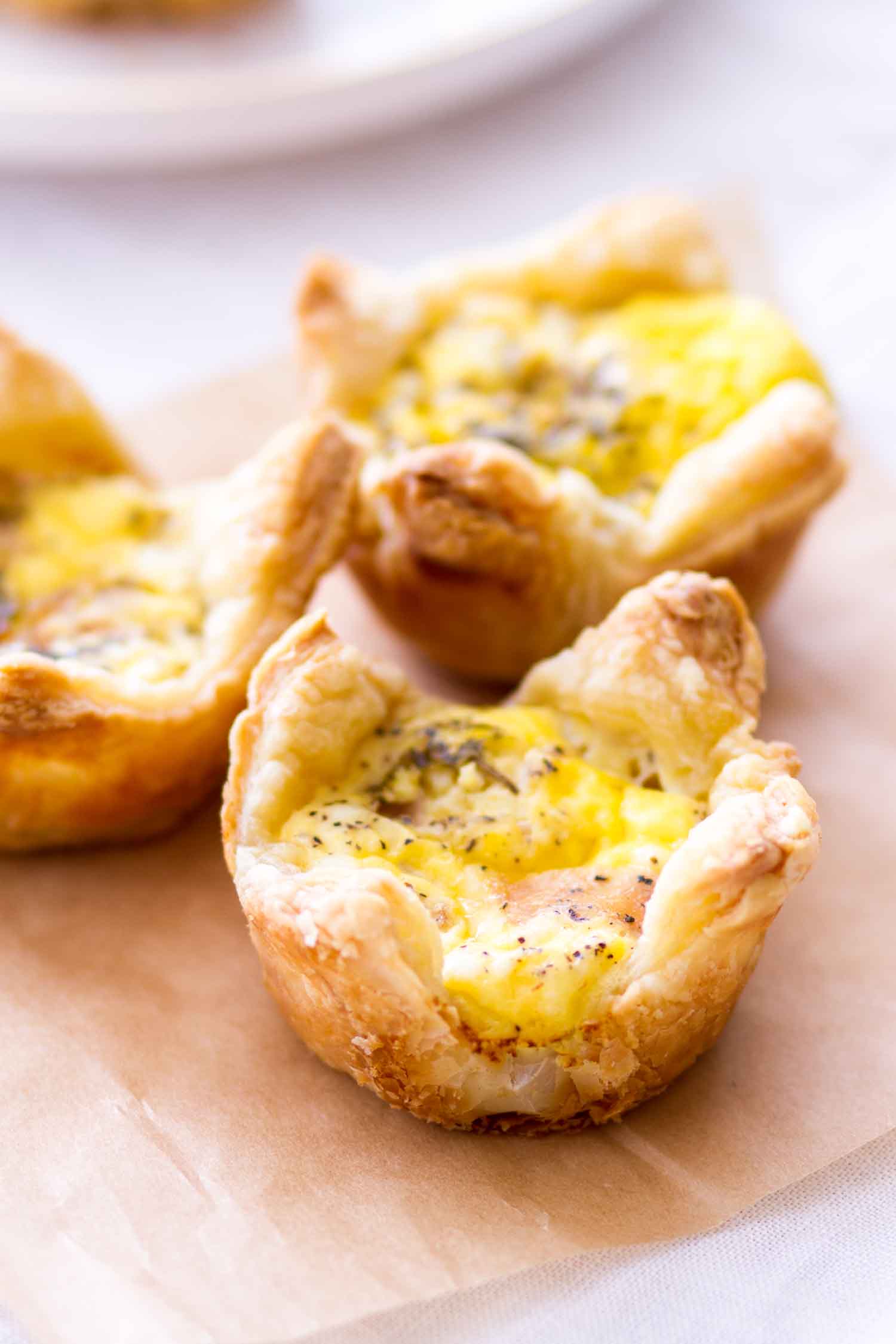 These easy Cheddar and Ham Quiche Cups start with a puff pastry crust which is filled with eggs, ham and cheese! These make a great quick-and-easy breakfast recipe. Plus, this cheddar and ham quiche recipe can be made ahead of time, stored in the freezer, and baked up whenever you need an on-the-go breakfast!
A few of my other favorite on the go breakfast are Chocolate Banana Baked Oatmeal Cups, Ham & Cheese Egg Muffins and Berry Yogurt Breakfast Parfait.
Ingredients Needed for Cheddar and Ham Quiche Cups!
Puff pastry

Eggs

Milk

Ham

Cheddar cheese

Salt and pepper

Dried Italian herbs
Sometimes, I think I'd love to own a B&B.
There's something that sounds incredibly idyllic about owning a quaint little cottage where guests and tourists can visit and feel like they're at home. Of course, I love the idea because I'll take any excuse to bake an excessive amount (and I really want a room devoted to a library).
Plus, can you imagine what it would look like at Christmas?!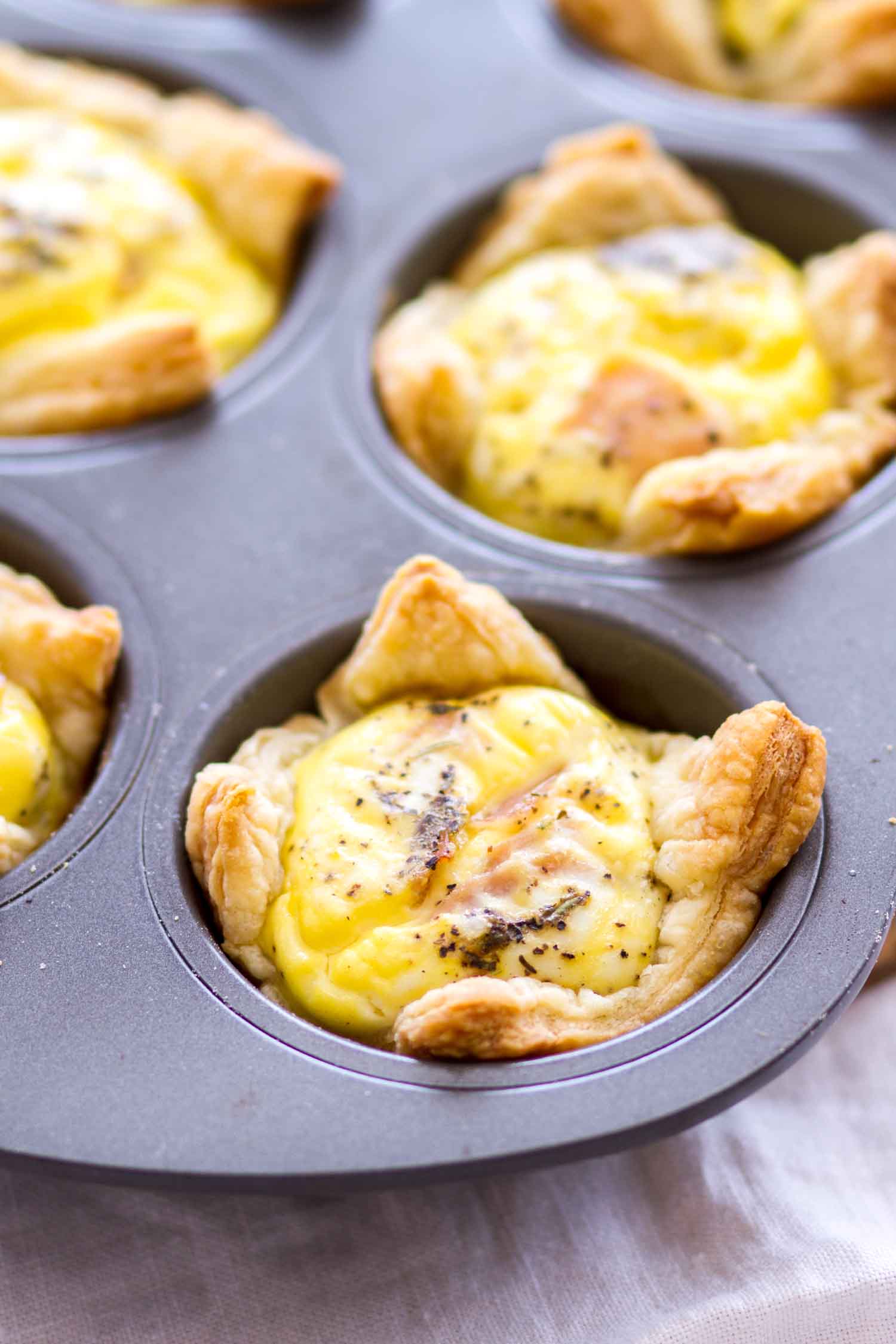 When I think about things like this, I tend to conveniently ignore the fact that a bed and breakfast would also come with a whole slew of chores (and probably a lot of problems), and there would also be the task of creating small talk with guests, and if there's one thing I'm not great at, it's definitely chit-chat.
Despite all the chores and awkward small talk, if I did own a B&B, I can safely say these Cheddar and Ham Quiche Cups would definitely be on the menu. Throw in some Strawberry Cream Cheese Scones and some Apricot Lemon Iced Tea for an afternoon snack, and I'm pretty sure I'd never leave my own B&B.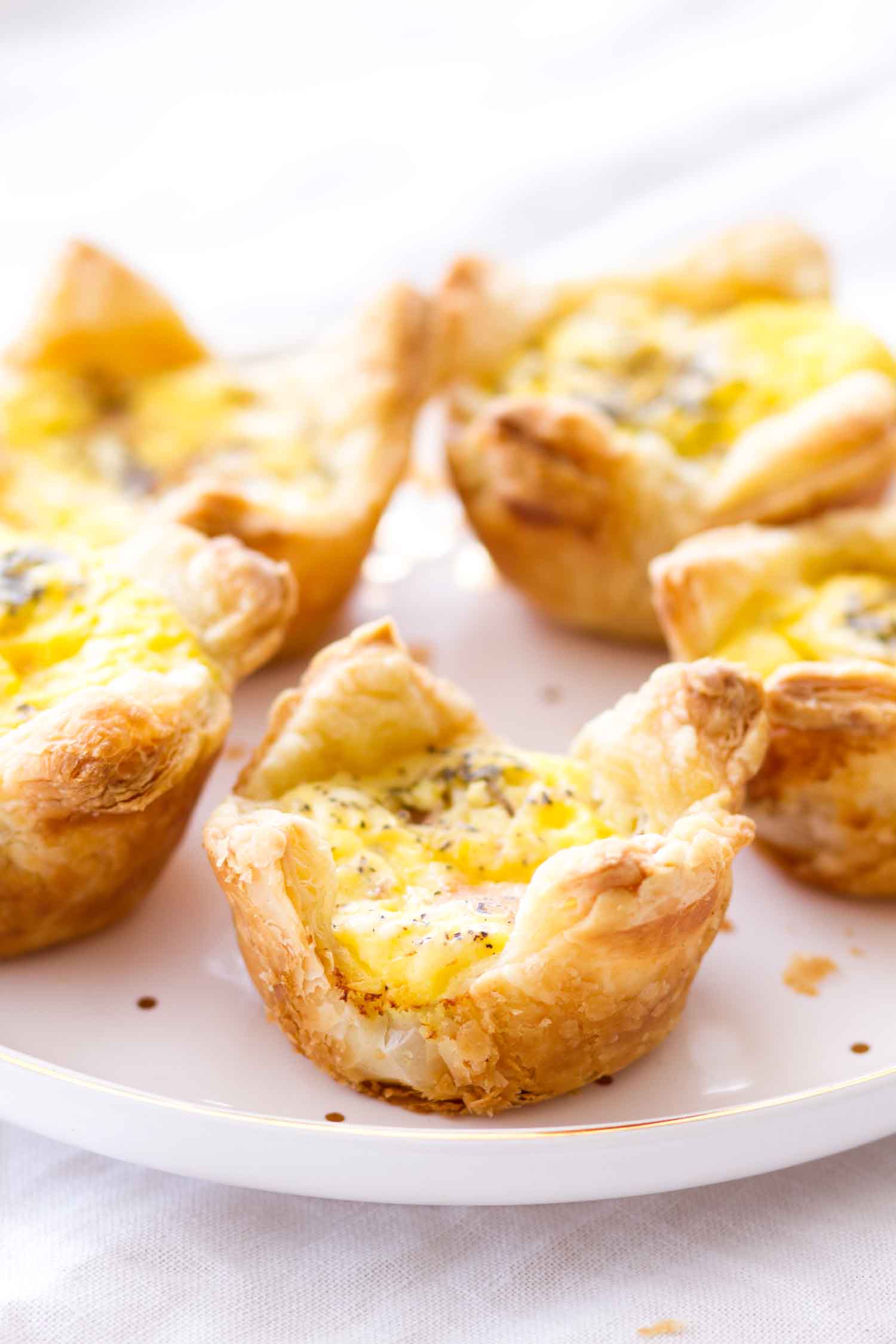 I'm a big breakfast and brunch person, so quiche and I are great friends. What I love about these Cheddar and Ham Quiche Cups is how simple this recipe is, especially the quiche crust.
The crust is made from puff pastry, which is a pre-made pastry dough you can find in the freezer section of your grocery store. Now I love puff pastry, and usually always have a box or two on hand. Not only is it a great ingredient for a quick breakfast quiche, it's great for dessert tarts or turnovers (like these Lemon Cream Turnovers).
For these Cheddar and Ham Quiche Cups, the puff pastry crust is not only convenient, it also adds an extra layer of flavor. It puffs up as it bakes and gets all flaky and buttery… it's incredible.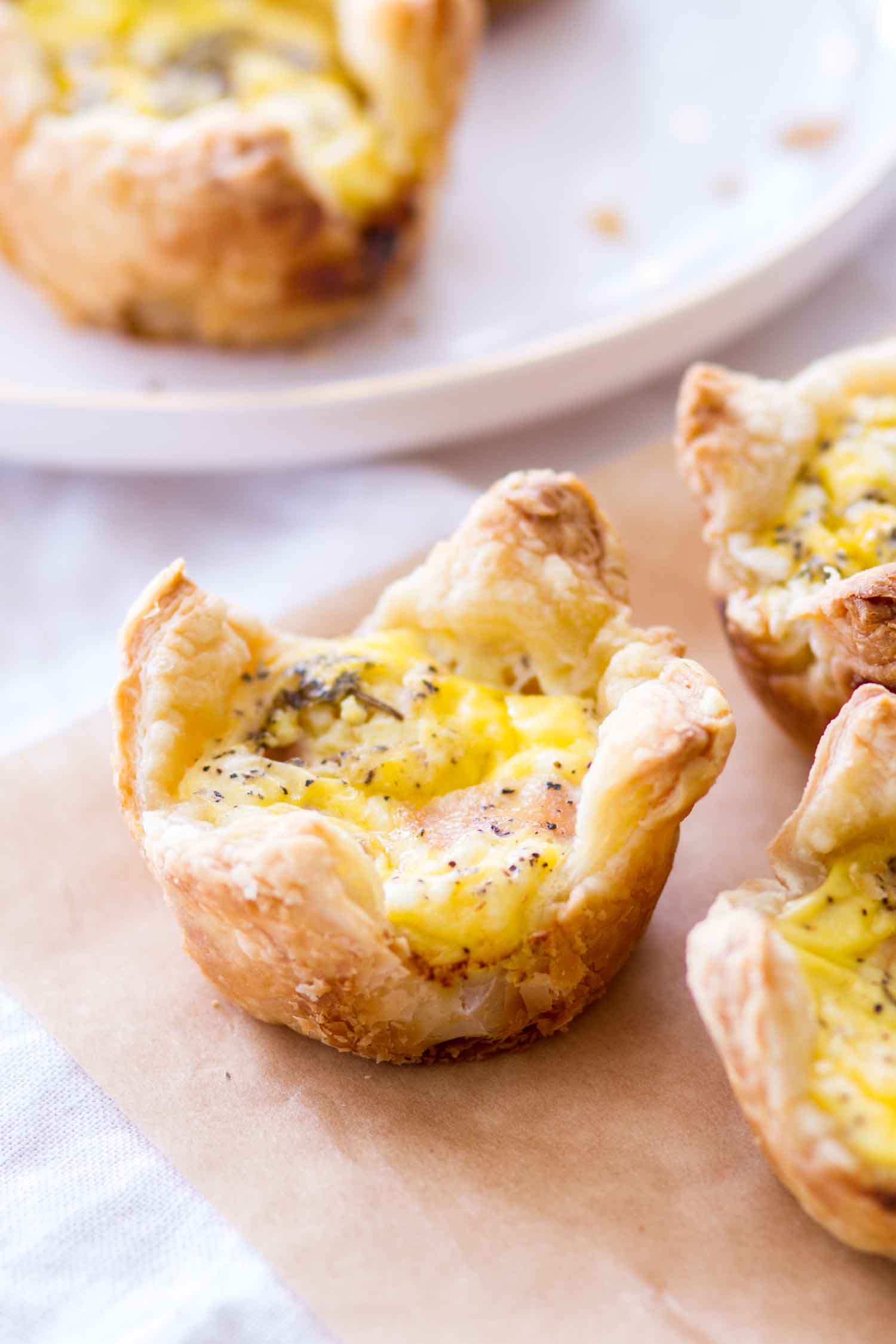 All right, so let's get down to details of how to make ham and cheddar quiche.
Cheddar and Ham Quiche Cups Tips & Tricks!
This recipe only calls for a few ingredients: eggs, milk, ham, cheddar cheese, and puff pastry (plus seasonings).
Once the puff pastry has thawed (the back of the box offers instructions on how to thaw puff pastry), you need to use a rolling pin and make the puff pastry thinner (12×12 square), otherwise the puff pastry will be too thick and the eggs will cook before the pastry is cooked through.
When you press each square of dough into the muffin cups, you want most of the muffin cups sides to be covered with dough, letting the four corners point up/rest on the top of the muffin tin (see the step-by-step picture below).
Be careful not to overfill the cups, as both the pastry and egg mixture will rise while baking.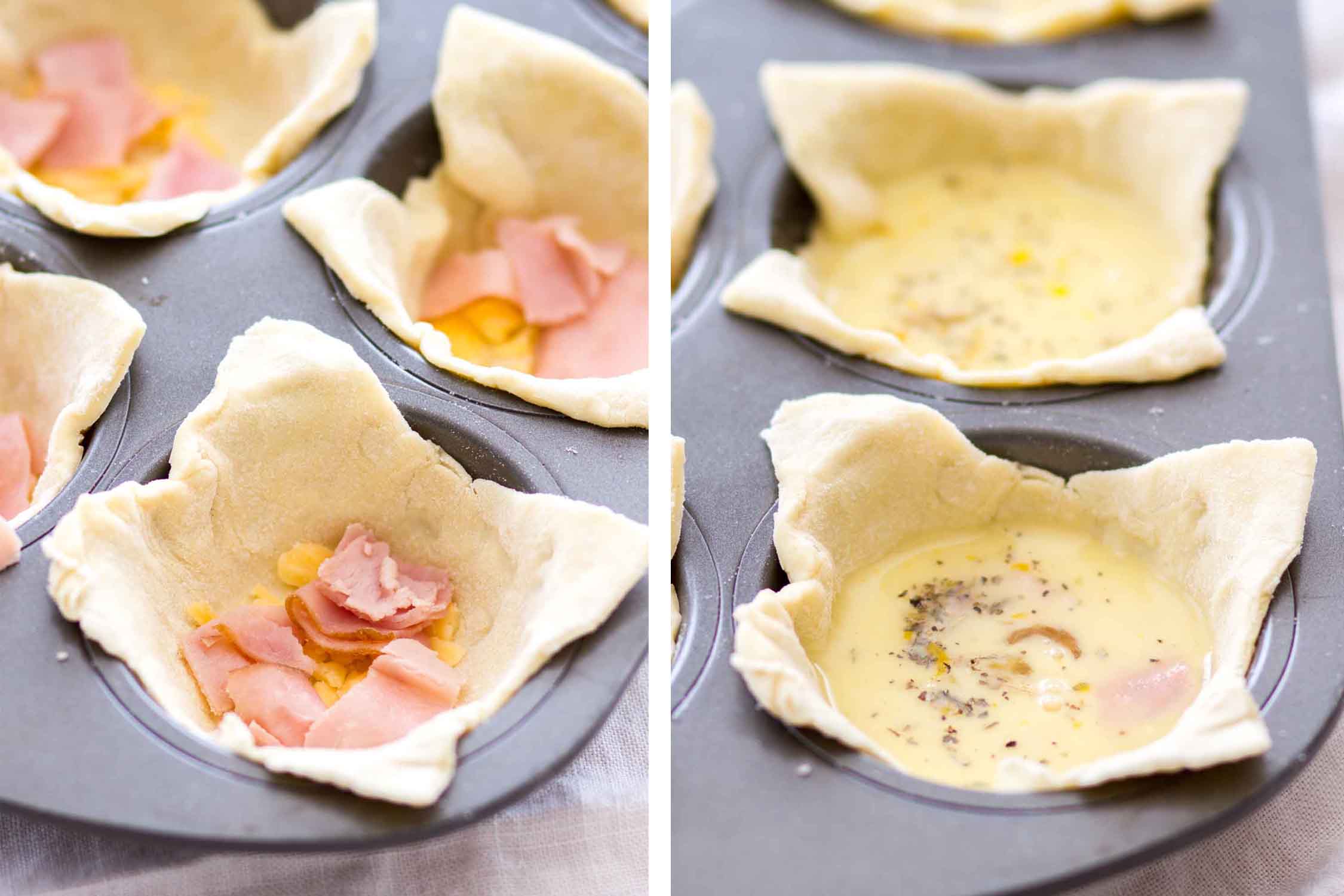 Lastly, if you want to make these ahead of time, you can store them in freezer.
Bake these as directed in the recipe below and allow to cool slightly before transferring the quiche cups to a baking tray. Flash-freeze the quiche on a baking tray, uncovered, (making sure none of the quiche cups are touching one another) for about 1-2 hours, or until firm.
Once firm, store quiche cups in either a freezer storage bag or airtight container and place back in the freezer until ready to bake. The reason for flash-freezing is to not only help prevent ice crystals from forming (freezer burn), but also to prevent the quiche from freezing to one another.
When you're ready to eat, reheat for about 15-17 minutes in a 375 degree oven.
Other great recipes you'll be sure to enjoy are my Spinach Frittata and Bacon Egg Muffins!
Edit Recipe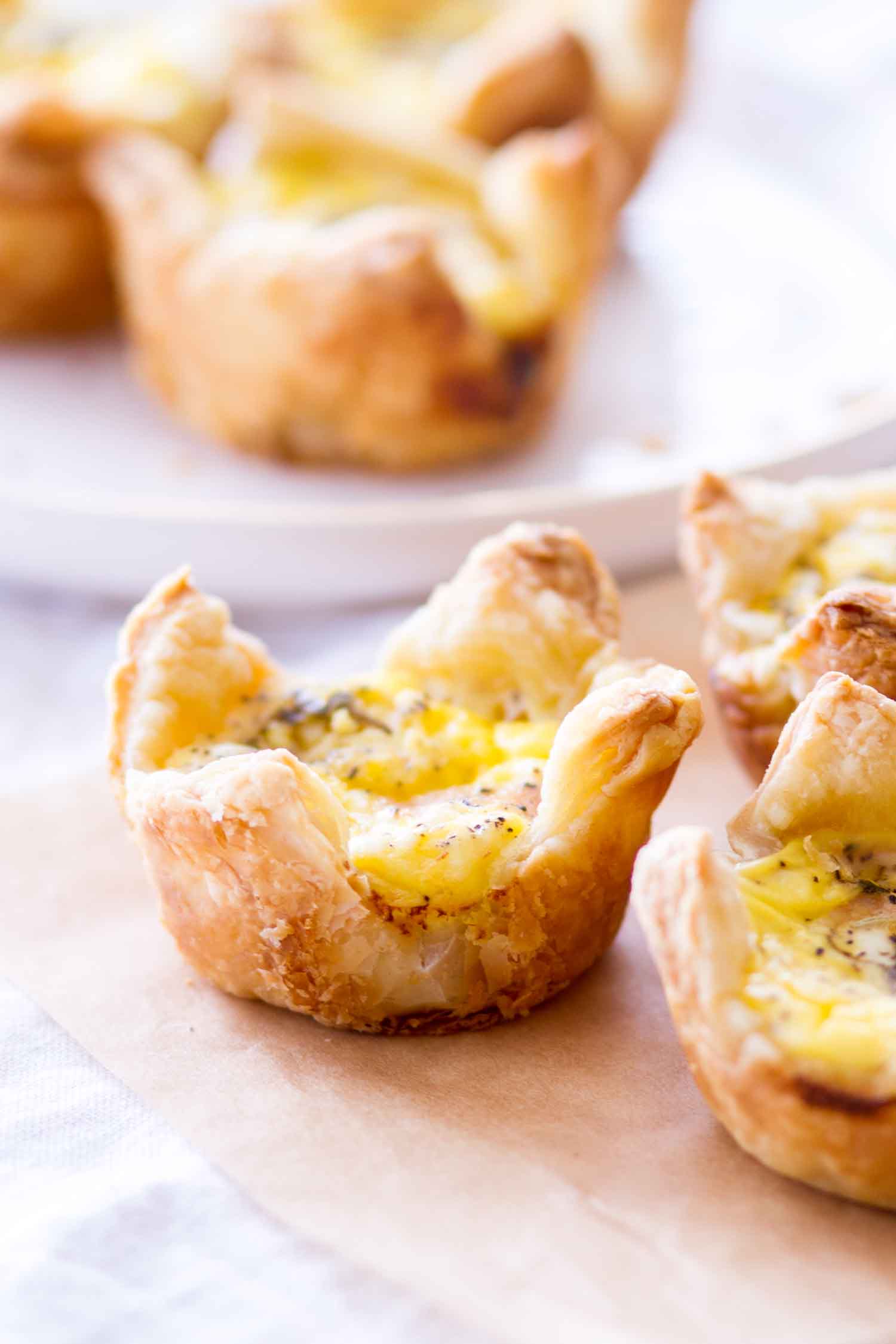 Brunch, anyone??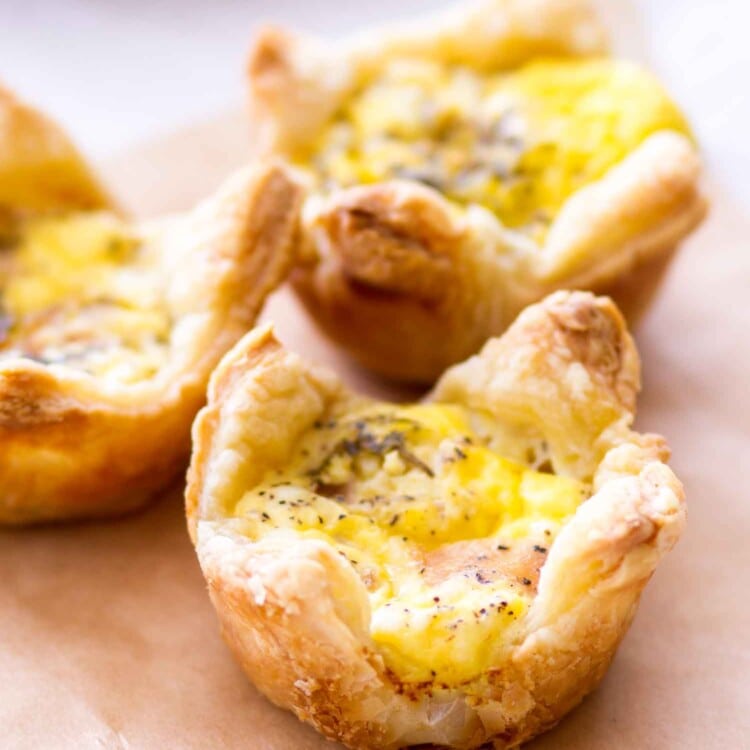 Cheddar and Ham Quiche Cups
These easy Cheddar and Ham Quiche Cups are made with a puff pastry crust, making these a great quick-and-easy breakfast recipe!

Ingredients
1

sheet puff pastry

thawed (boxes of puff pastry come with 2 sheets)

4

eggs

large

2/3

cup

milk

I used 2% but whole milk is fine

1/3

cup

ham

chopped or cubed (I used smoked ham deli meat)

1/3

cup

cheddar cheese

shredded (I used sharp white cheddar and sharp cheddar)

salt and pepper to taste

I used 1/4 tsp table salt, 1/4 tsp seasoned salt, and 1/4 tsp black pepper

1/4

tsp

dried Italian herbs
Instructions
Preheat oven to 400 degrees.

On a baking mat or lightly floured surface, roll out puff pastry into a 12x12 square. With a sharp knife, cut the pastry into 9 equal squares.

Place each puff pastry square into the cups of a non-stick muffin tin (the muffin tin does not need to be greased—the puff pastry has enough butter in it), pressing the dough into the bottom of the muffin cups and up the sides, letting the four corners rest on top of the muffin tin (see picture above for more detail).

Sprinkle ham and cheddar cheese evenly in the bottoms of each quiche cup.

In a bowl, whisk eggs, milk, and seasonings together. Pour egg mixture into each quiche cup, filling about 2/3 of the way full (the eggs and the puff pastry will rise as it bakes).

Bake for about 16-17 minutes, or until eggs are set and puff pastry is puffed and golden brown.

Allow to cool a couple of minutes before removing from the muffin tins and serve warm.

Enjoy!

*For freezer tips, see the tips above in the post.
Nutrition Information
Calories:
225
kcal
(11%)
,
Carbohydrates:
14
g
(5%)
,
Protein:
8
g
(16%)
,
Fat:
15
g
(23%)
,
Saturated Fat:
5
g
(31%)
,
Cholesterol:
94
mg
(31%)
,
Sodium:
221
mg
(10%)
,
Sugar:
1
g
(1%)
Here are some other A Latte Food recipes you might enjoy!
Strawberry Cream Cheese Scones