Did you know you can make bacon in the oven? Seriously! It's life altering! Baking bacon in the oven allows you to get every slice perfectly crispy and evenly cooked. It also allows you to make big batches of bacon all at once. We will tell you how to get the perfect oven baked bacon that you will love without all the grease splatters you get from making it on the stove top!
I love using this technique especially when I'm making a few of my favorite recipes like my Cheesy Bacon Turkey Sliders and Sour Cream, Chive, and Bacon Deviled Eggs! So, put your frying pan away and let me show you how easy it is to bake bacon in the oven. You'll never want to fry bacon on the stove again!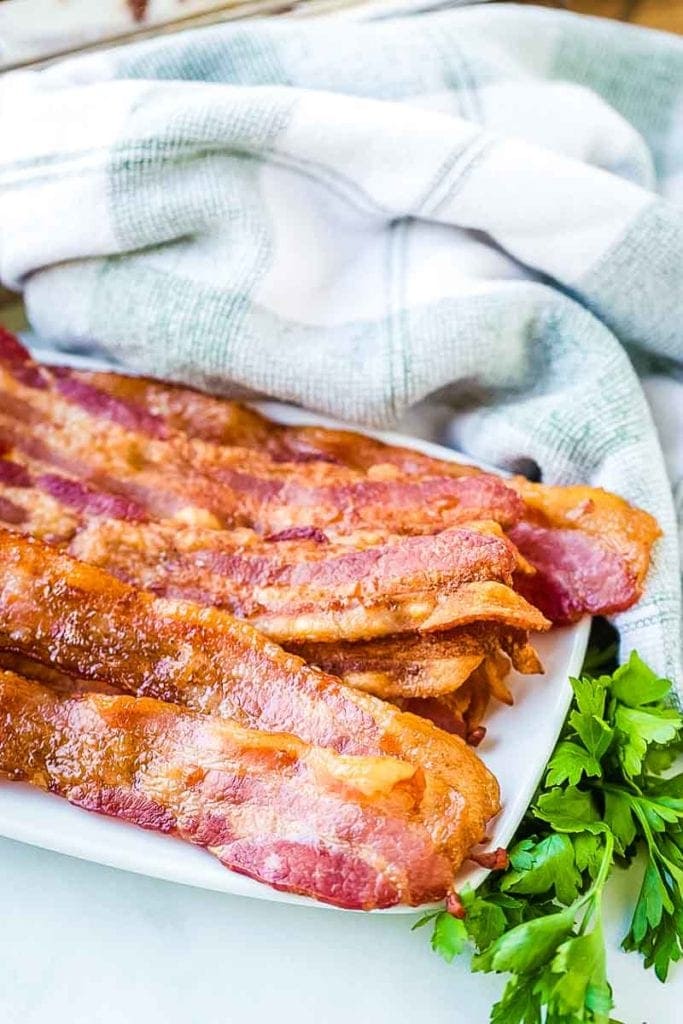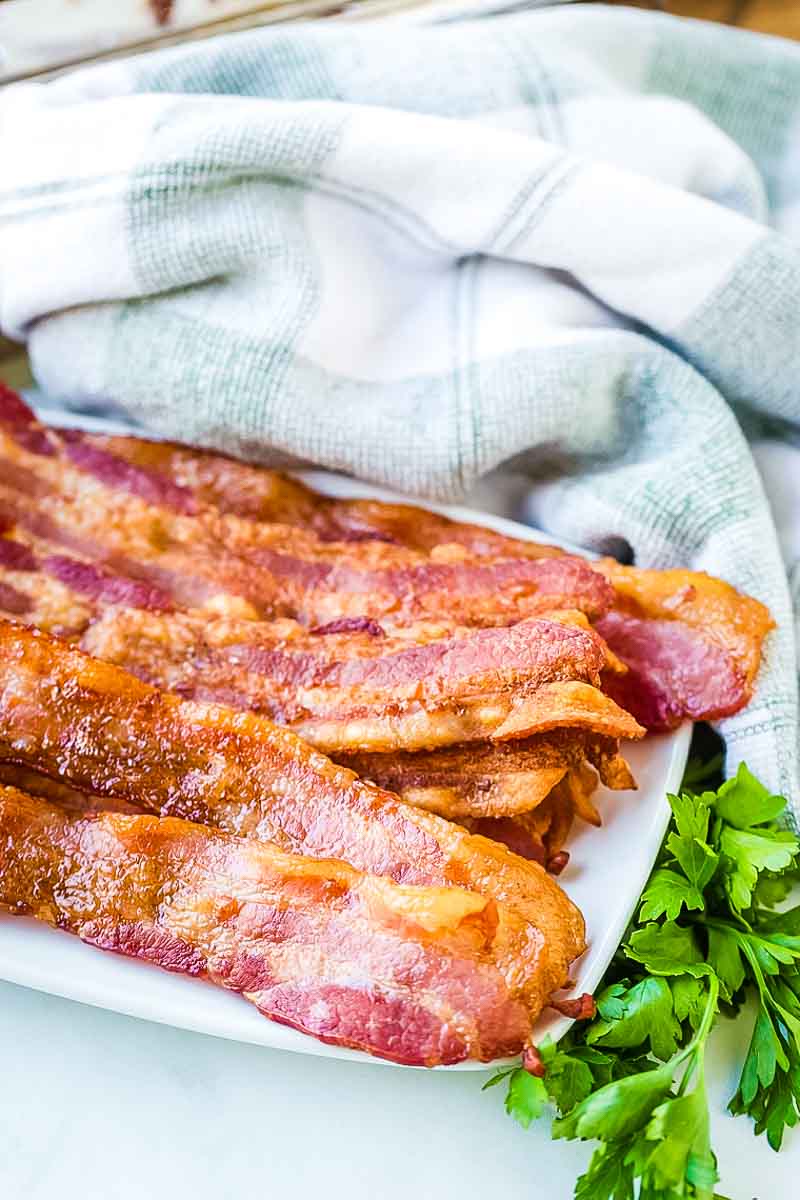 The BEST Oven Baked Bacon!
This post is all about my attempt at making Oven Baked Bacon. I had heard about oven bacon, saw it and never tried it. Well, I finally took the leap and I will be making my bacon like this forever. It's super simple and easy and you get perfectly straight fried bacon pieces with just to the right amount of crispiness.
Before I tried making oven bacon, when I would see a recipe that had bacon listed as an ingredient I would actually avoid making it because I don't love my whole house smelling like bacon for days and I can't stand the mess of the grease flying everywhere when I cooked it. I mean, don't get me wrong, I love bacon, but sometimes frying it on the stove is just more than I want to deal with!
What I love about baking bacon in the oven is that you can cook a bigger batch than you can on the stove and it's perfectly cooked every time whether you like your bacon extra crispy or more on the chewy side. Plus, the clean-up is so easy. No grease splatters! Make a batch of my amazing French toast and scrambled eggs to go with the bacon for a great breakfast.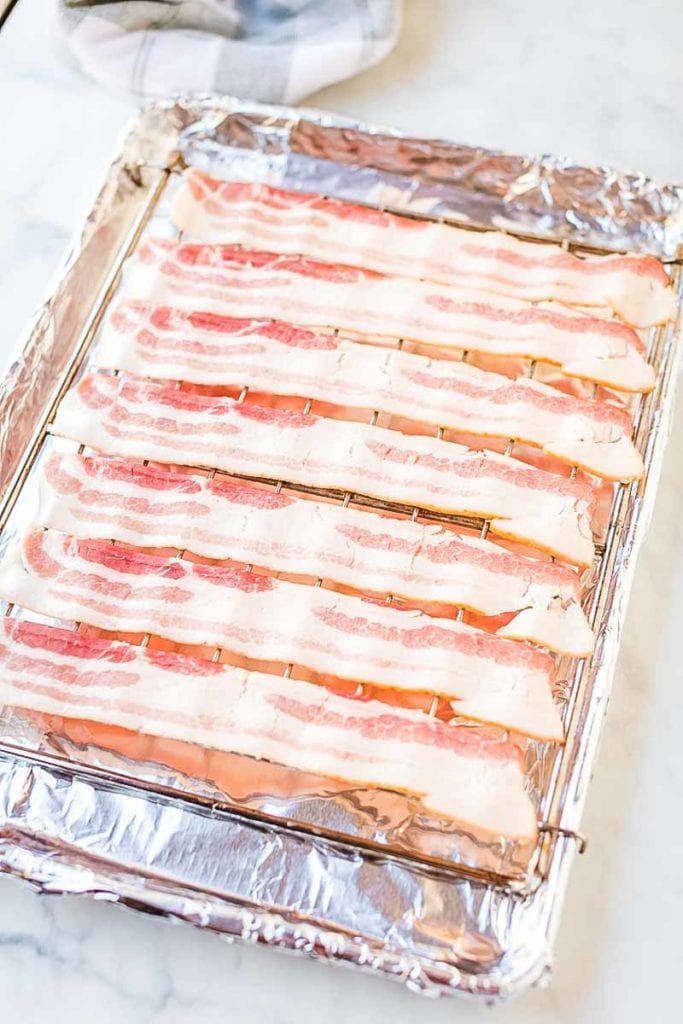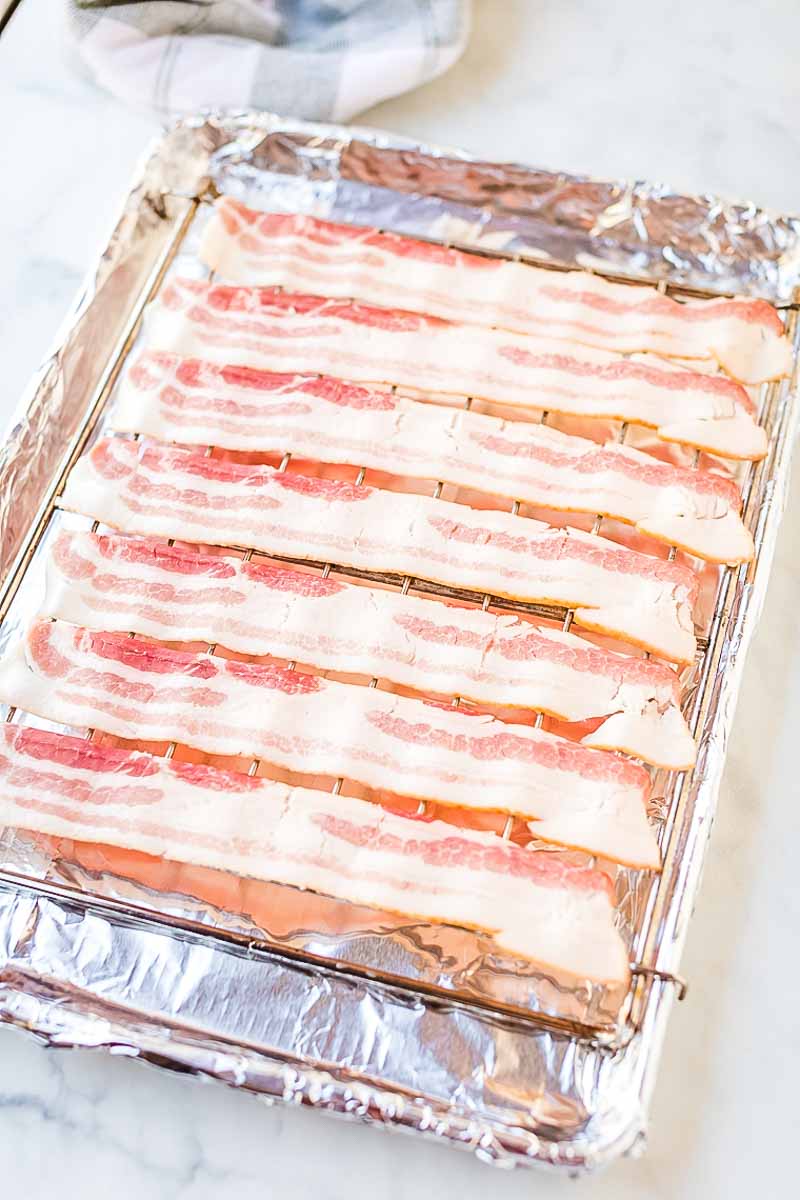 What do you need to make bacon in the oven?
There's hardly any prep required for making oven bacon and once you get the bacon in the oven it's a completely hands-off experience. No standing at the stove, no flipping bacon slices while getting burned by splattering grease, and no greasy stove to clean-up after you've cooked the bacon. Here's what you need: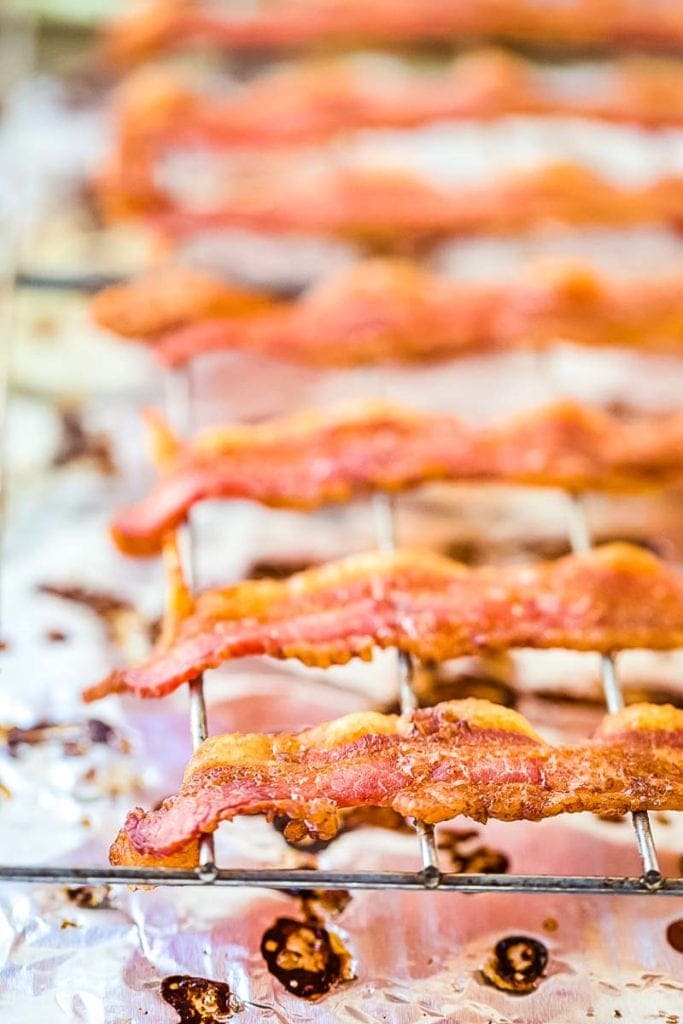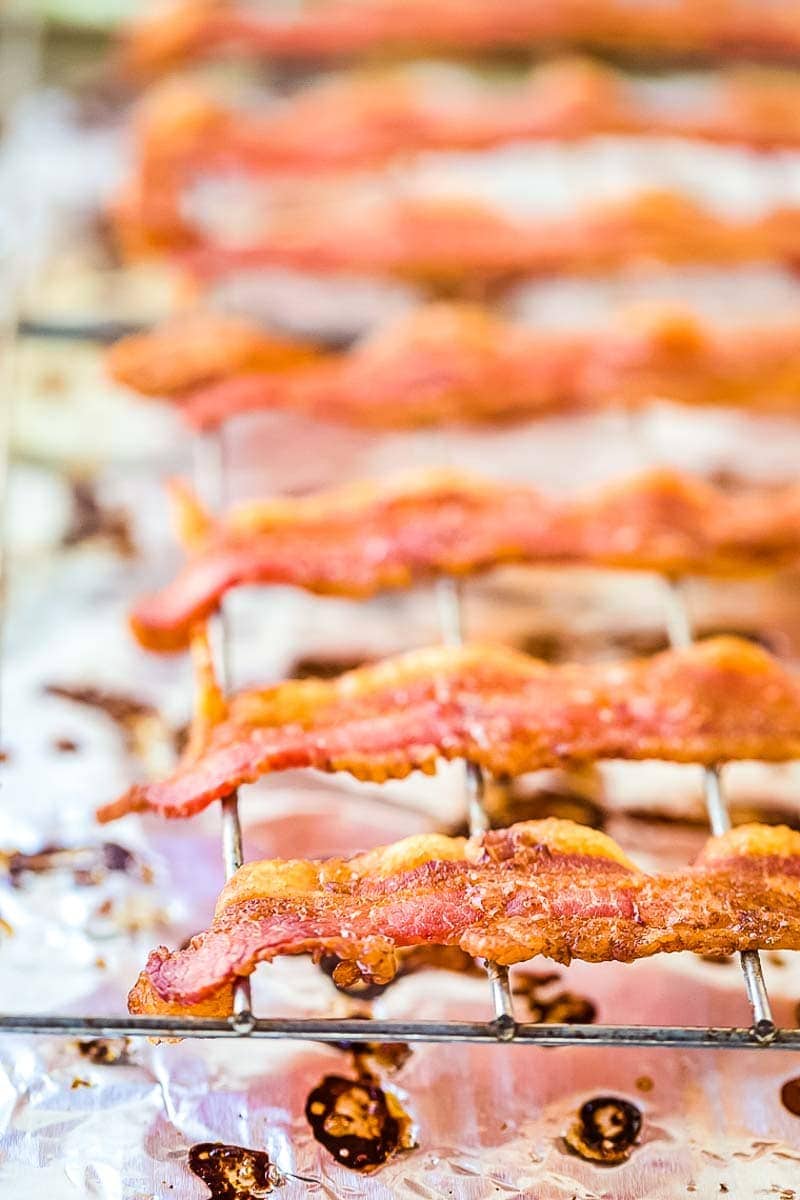 How to Bake Bacon in the Oven
Baking bacon in the oven is so easy and you get perfectly crispy and evenly cooked bacon every time! I love that I can make a big batch of bacon at one time with easy clean-up. For my family, I like to cook eight strips of bacon at a time. If I fried this much bacon on the stove I'd have to do it in batches and there'd be so much grease splattered everywhere. Oven bacon solves all of these problems.
Preheat the oven to 400 degrees F. While the oven is preheating get the bacon ready.
I like to line a large baking sheet with tinfoil. This makes clean-up so easy!
For Crispy Oven Bacon: If you like your bacon extra crispy, place an oven-safe metal cooling rack on the tinfoil-lined baking sheet. Place the bacon in a single layer on the cooling rack. Elevating the bacon will allow it to cook from all sides and make it extra crispy. This is my favorite way to cook bacon in the oven because the fat drips off the bacon and collects in the pan so the bacon is extra crispy and not too chewy.
For Chewy Oven Bacon: If you like your bacon a little chewier, skip the cooling rack and just lay the bacon strips directly on the tin foil.
Don't overlap the slices on the pan or rack otherwise, they won't cook evenly. Be sure to leave some space in between each slice.
How Long to Bake Bacon in the Oven
The cooking time will vary depending on a few factors, but I've found it takes between 15 to 18 minutes at 400 degrees F to cook bacon in the oven. There are a few things to keep in mind when figuring out the perfect amount of time to bake bacon.
Depending on how thick your bacon slices are you may need more or less time for it to bake. Thicker slices will need more time than thinner ones so keep that in mind.
Cooking the bacon on a metal cooling rack will take a little longer than bacon cooked directly on the pan. The bacon baked on the pan is partially cooked in the fat it releases (like frying it in a pan) which speeds up the cooking process. Since the fat drips off bacon cooked on a rack it takes a few minutes longer.
The amount of time also depends on how crispy you like your bacon so keep an eye on it and pull it out of the oven when it's reached your desired level of doneness.
I like to transfer my cooked bacon to a plate lined with paper towels which will soak up any extra grease. Then it's ready to serve.
The first time you make oven baked bacon, start checking on it at 15 minutes. If it's not ready, keep an eye on it until it's done to your tastes.
Then just note the amount of time for next time because I'm pretty sure after you try this method you'll be on team Oven Baked Bacon from here on out!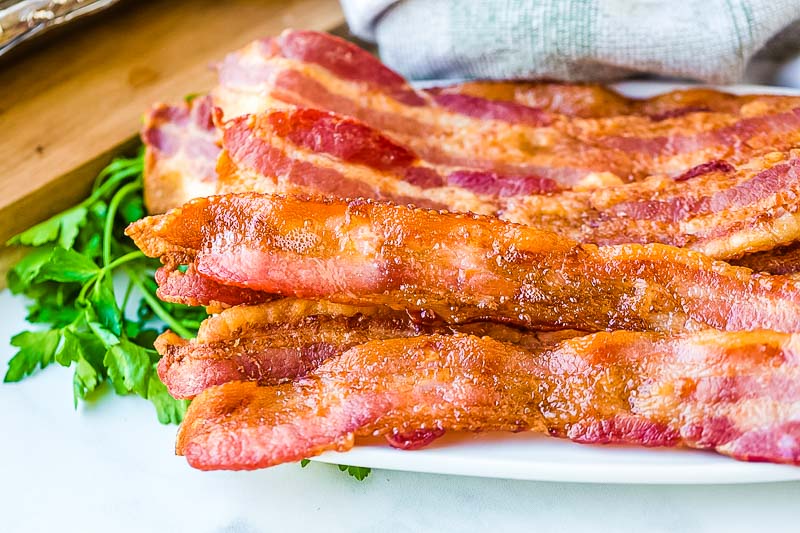 This is definitely the best way to cook bacon so give it a try the next time you need cooked bacon for a recipe! Instead of frying it on the stove you can cook bacon in the oven whenever you need it. Need some inspiration? Check out a few of my favorite bacon recipes!
Some Favorite Bacon Recipes!
Try it and love it? Rate it, please!!! Seriously though a five-star rating below will make my day! If you snap a photo, please be sure tag me on Instagram at @julieseatsandtreats or #julieseatsandtreats so I can see your perfectly cooked oven bacon!!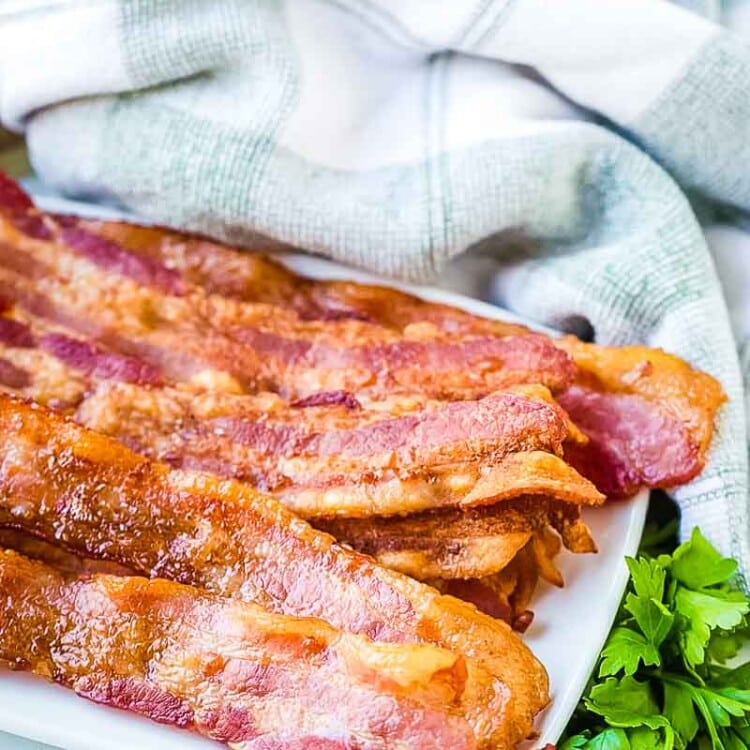 Oven Baked Bacon Recipe
Baking your bacon in the oven makes it perfectly crispy and evenly cooked every single time!
Instructions
Preheat oven to 400 degrees. Line a large baking sheet with foil. Lay bacon strips in a single layer on your bacon sheet.

Bake 15 – 18 minutes until they reach your desired crispiness!

Drain on a paper towel-lined plate and serve.
Tips
I prefer my bacon extra crispy. If you also prefer a nice crisp piece of bacon put a metal cooling rack inside the baking sheet. Elevating the bacon allows the strips to cook from all sides. If you like your bacon with a bit more chew then skip the baking rack!
Nutrition Information
Calories:
183
kcal
(9%)
,
Protein:
5
g
(10%)
,
Fat:
17
g
(26%)
,
Saturated Fat:
5
g
(31%)
,
Cholesterol:
29
mg
(10%)
,
Sodium:
291
mg
(13%)
,
Potassium:
87
mg
(2%)
,
Vitamin A:
15
IU
,
Iron:
0.2
mg
(1%)