How to Cook Bacon in the Oven
Did you know you can make bacon in the oven? Seriously! It's life altering! Baking bacon in the oven allows you to get every slice perfectly crispy and evenly cooked. It also allows you to make big batches of bacon all at once.
We will tell you how to get the perfect oven baked bacon that you will love without all the grease splatters you get from making it on the stove top!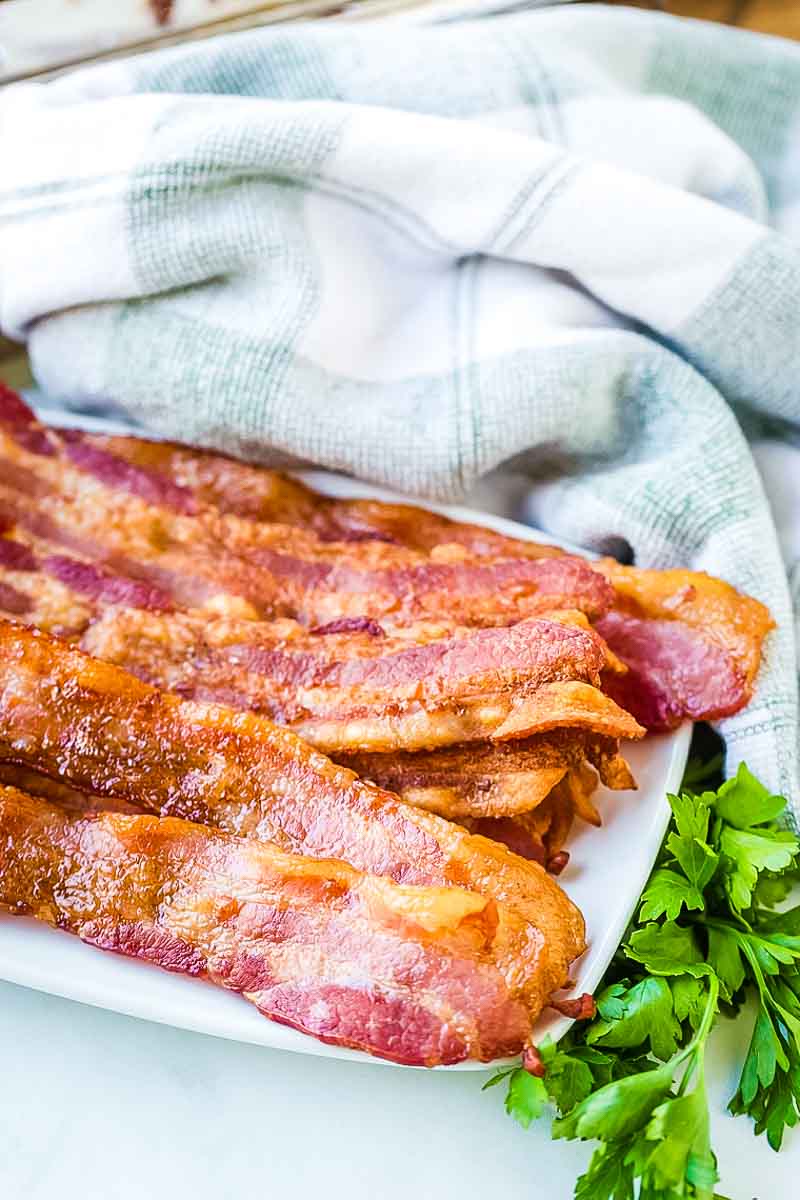 I love using this technique especially when I'm making a few of my favorite recipes like my Cheesy Bacon Turkey Sliders and Sour Cream, Chive, and Bacon Deviled Eggs! So, put your frying pan away and let me show you how easy it is to bake bacon in the oven. You'll never want to fry bacon on the stove again!
What I love about baking bacon in the oven is that you can cook a bigger batch than you can on the stove and it's perfectly cooked every time whether you like your bacon extra crispy or more on the chewy side.
Plus, the clean-up is so easy. No grease splatters! Make a batch of my amazing French toast and scrambled eggs to go with the bacon for a great breakfast.
Why You'll Love Cooking Bacon in the Oven!
Easy clean up! We like lining our baking sheet with aluminum foil so for a super easy clean up.
Less bacon smell. That's right, we love bacon but don't like the house smelling like it for days. Baking the bacon in the oven helps reduce this.
No splatter! I always end up with grease splattered on me when preparing it on the stovetop in the skillet. I avoid this by baking bacon in the oven.
Ingredients for Oven Baked Bacon
Bacon – That's it! We like a thicker cut of bacon, but grab your preference.
How To Bake Bacon In The Oven
Preheat the oven to 400 degrees F. While the oven is preheating get the bacon ready.
I like to line a large baking sheet with tinfoil. This makes clean-up so easy!
For Crispy Oven Bacon: If you like your bacon extra crispy, place an oven-safe metal cooling rack on the tinfoil-lined baking sheet. Place the bacon in a single layer on the cooling rack. Elevating the bacon will allow it to cook from all sides and make it extra crispy. This is my favorite way to cook bacon in the oven because the fat drips off the bacon and collects in the pan so the bacon is extra crispy and not too chewy.
For Chewy Oven Bacon: If you like your bacon a little chewier, skip the cooling rack and just lay the bacon strips directly on the tin foil.
Don't overlap the slices on the pan or rack otherwise, they won't cook evenly. Be sure to leave some space in between each slice.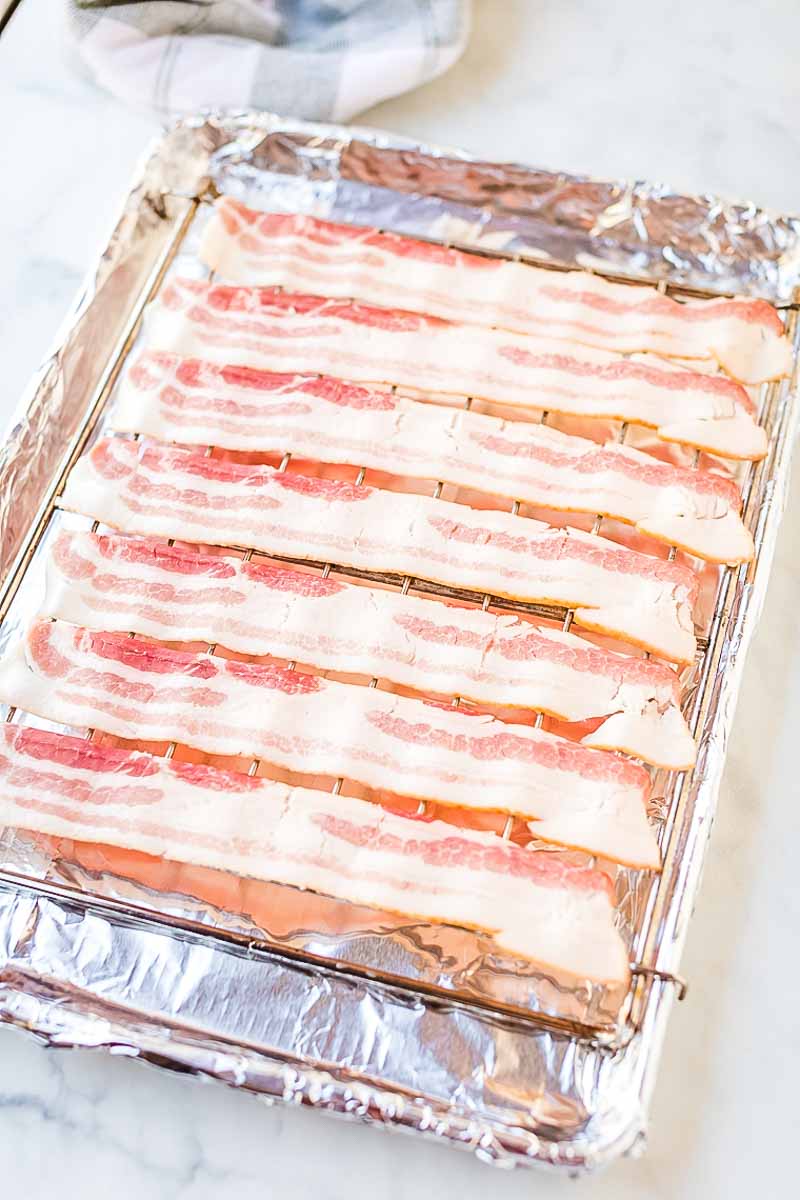 Pro Tips!
Depending on how thick your bacon slices are you may need more or less time for it to bake. Thicker slices will need more time than thinner ones so keep that in mind.
Cooking the bacon on a metal cooling rack will take a little longer than bacon cooked directly on the pan. The bacon baked on the pan is partially cooked in the fat it releases (like frying it in a pan) which speeds up the cooking process. Since the fat drips off bacon cooked on a rack it takes a few minutes longer.
The amount of time also depends on how crispy you like your bacon so keep an eye on it and pull it out of the oven when it's reached your desired level of doneness.
I like to transfer my cooked bacon to a plate lined with paper towels which will soak up any extra grease. Then it's ready to serve.
How Long to Bake Bacon in the Oven?
The cooking time will vary depending on a few factors, but I've found it takes between 15 to 18 minutes at 400 degrees F to cook bacon in the oven. There are a few things to keep in mind when figuring out the perfect amount of time to bake bacon.
The main thing is the thickness of your bacon. The thicker it is the longer you will want to bake it. It's also a personal preference of how crispy you want your bacon!
The first time you make oven baked bacon, start checking on it at 15 minutes. If it's not ready, keep an eye on it until it's done to your tastes.
Then just note the amount of time for next time because I'm pretty sure after you try this method you'll be on team Oven Baked Bacon from here on out!
How do you know when bacon is done?
You'll want the bacon to be darker in color and firm to the touch. This means the bacon is done cooking.
Do you need to flip the bacon?
No! You don't need to flip the bacon when baking it in the oven. That's why we love this method. It's hands off.
We recommend using a wire rack so the air circulates around the bacon. If you don't use a wire rack we would flip the bacon then.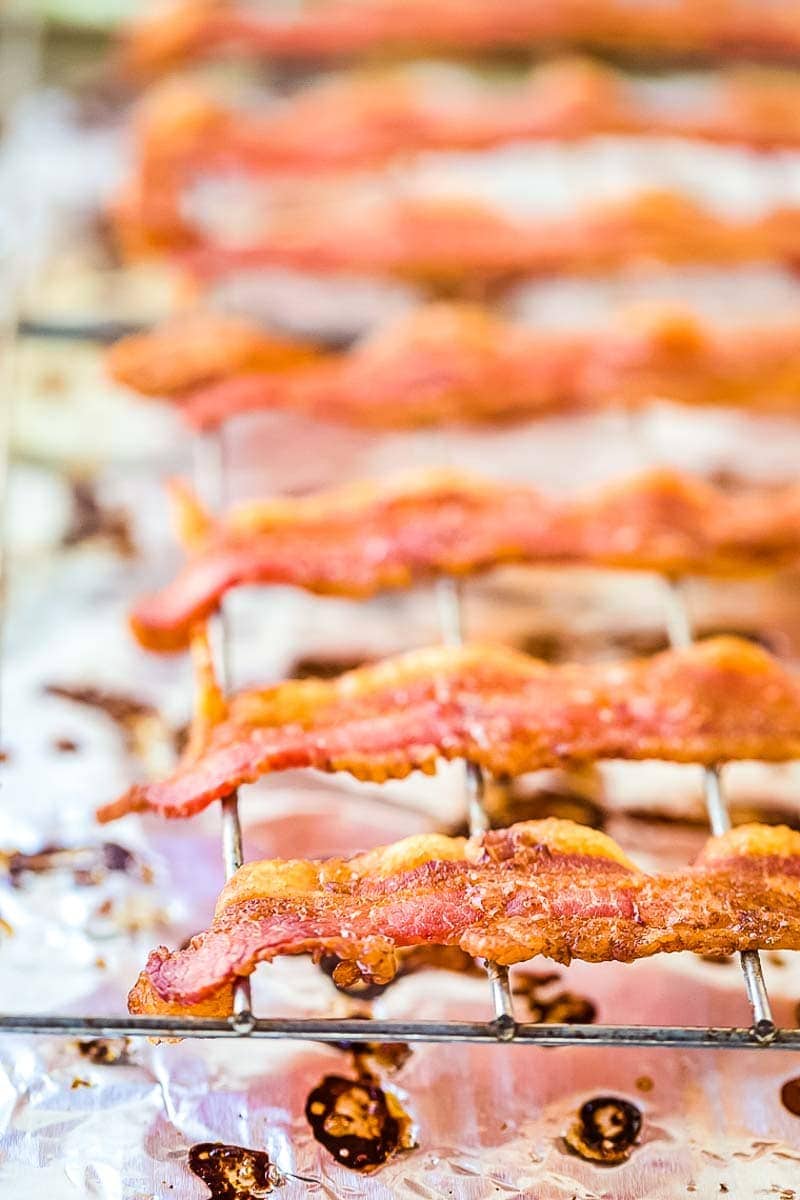 How to Store Bacon
Let the bacon cool to room temperature than transfer it to an airtight container and store it in the refrigerator for up to 5 days.
How to Reheat Bacon
The easiest way is to reheat this in the microwave. Place the bacon on a microwave safe plate, do not overlap, then place a paper towel on top of the bacon.
Microwave for 60-90 seconds until hot.
Personally, I love using my air fryer to reheat it so it stays crispy!
How to Freeze Leftover Bacon
Cook up a big batch of this easy oven baked bacon and freeze the leftovers to use in other meals!
To freeze the bacon let it cool completely, transfer to freezer safe gallon sized bag, remove as much air as possible and sea. It will keep for up to three months.
We like to chop it up before we use it so it's easy to pull out and use in recipes from frozen.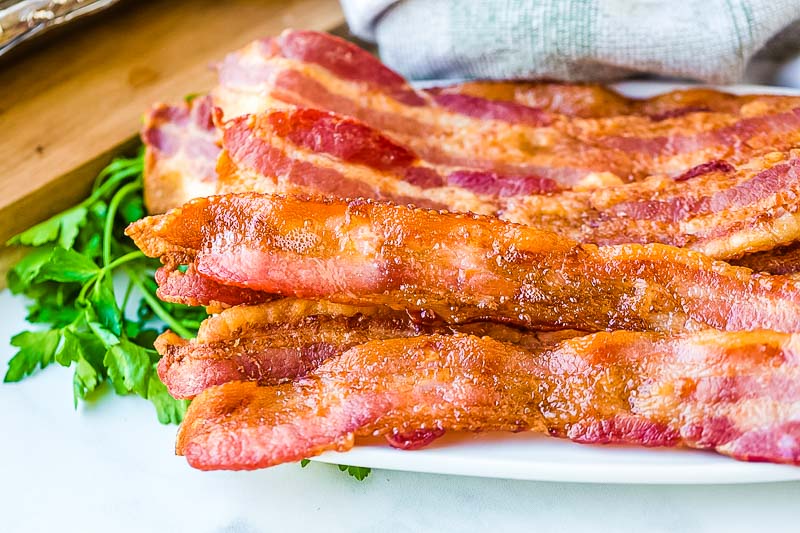 This is definitely the best way to cook bacon so give it a try the next time you need cooked bacon for a recipe! Instead of frying it on the stove you can cook bacon in the oven whenever you need it. Need some inspiration? Check out a few of my favorite bacon recipes!
Use Your Bacon in these recipes!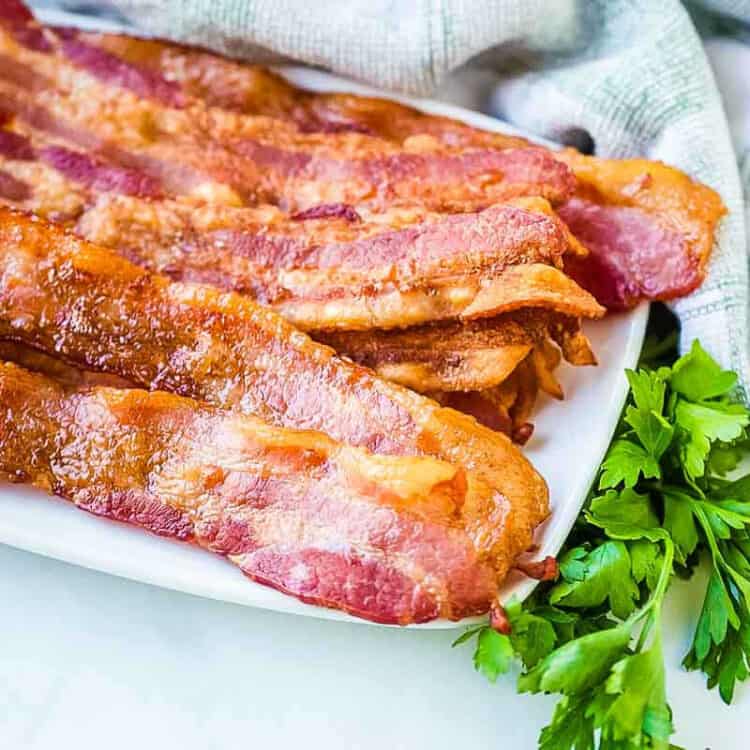 Oven Baked Bacon
Baking your bacon in the oven makes it perfectly crispy and evenly cooked every single time!
Instructions
Preheat oven to 400 degrees Fahrenheit. Line a large baking sheet with foil. Place baking rack on top of aluminum foil then lay bacon strips in a single layer on your baking rack.

Bake 15 – 18 minutes until they reach your desired crispiness!

Drain on a paper towel-lined plate and serve.
Nutrition Information
Calories:
183
kcal
(9%)
,
Protein:
5
g
(10%)
,
Fat:
17
g
(26%)
,
Saturated Fat:
5
g
(31%)
,
Cholesterol:
29
mg
(10%)
,
Sodium:
291
mg
(13%)
,
Potassium:
87
mg
(2%)
,
Vitamin A:
15
IU
,
Iron:
0.2
mg
(1%)