Cheesy Bacon & Egg Crescent Ring Recipe
Cheesy Bacon & Egg Crescent Ring ~ Flaky Crescent Rolls Stuffed with Scrambled Eggs, Cheese, and Bacon for a Delicious Breakfast Recipe!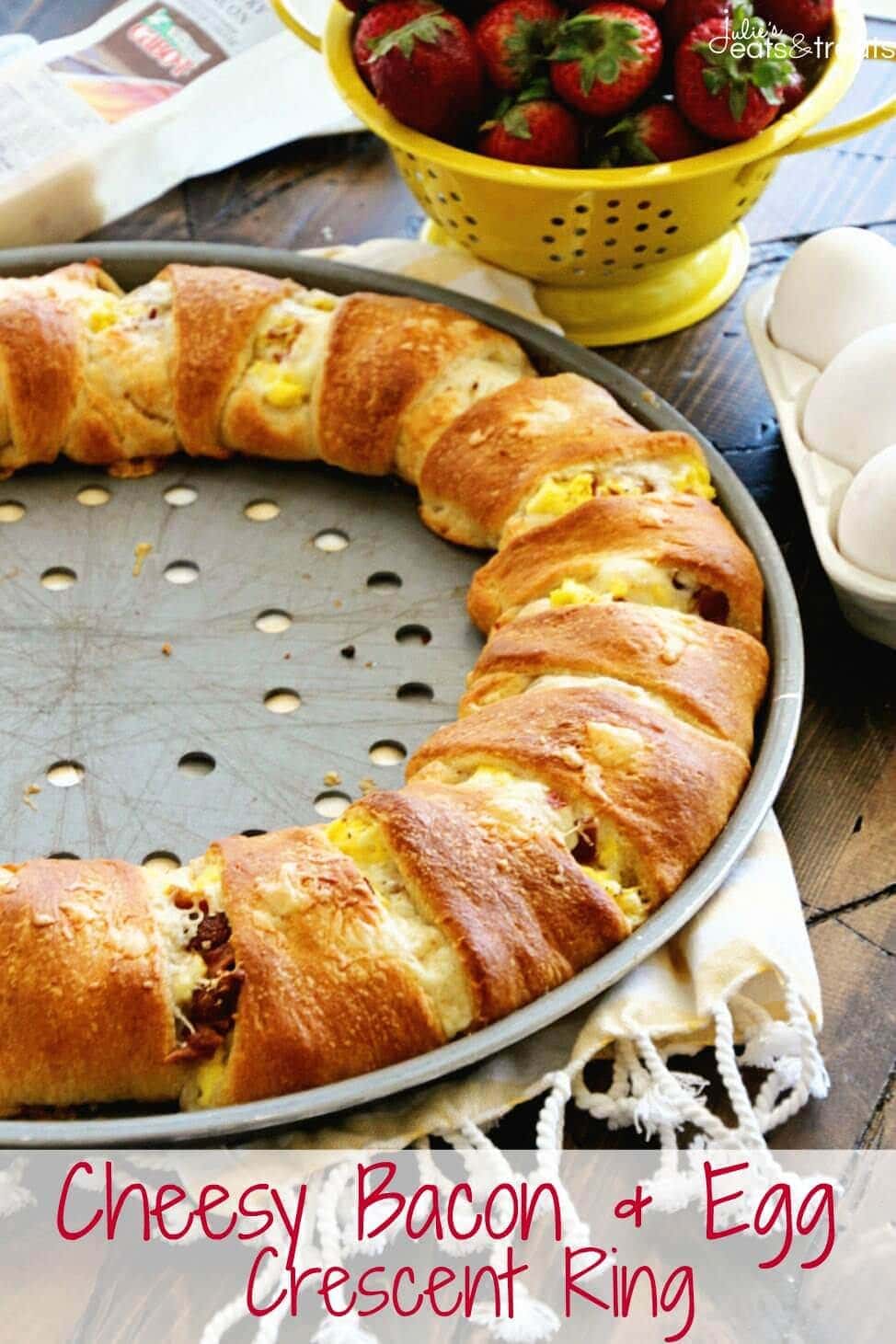 I never realized how many crazy things that kids say until Miss K started saying crazy things. The things she says half the time just crack me up. Plus, she says them and cocks her head to the side like duh Mom!
On Sunday when we were leaving church the hubs was buckling her into her car seat and she sticks out her hand and wants him to shake it which he does. Then she giggles and says, "Nice to meet you!" We about died laughing. She giggles then does the same thing to me. I have no idea where she learned that move because no one had done it to her in church! Then as we were pulling out of the parking lot she goes, "I have fun at church"! I said, "Oh Really? What was your favorite part?" I was really excepecting her to say the treats! Low and behold she surprised me and said, "Jesus!"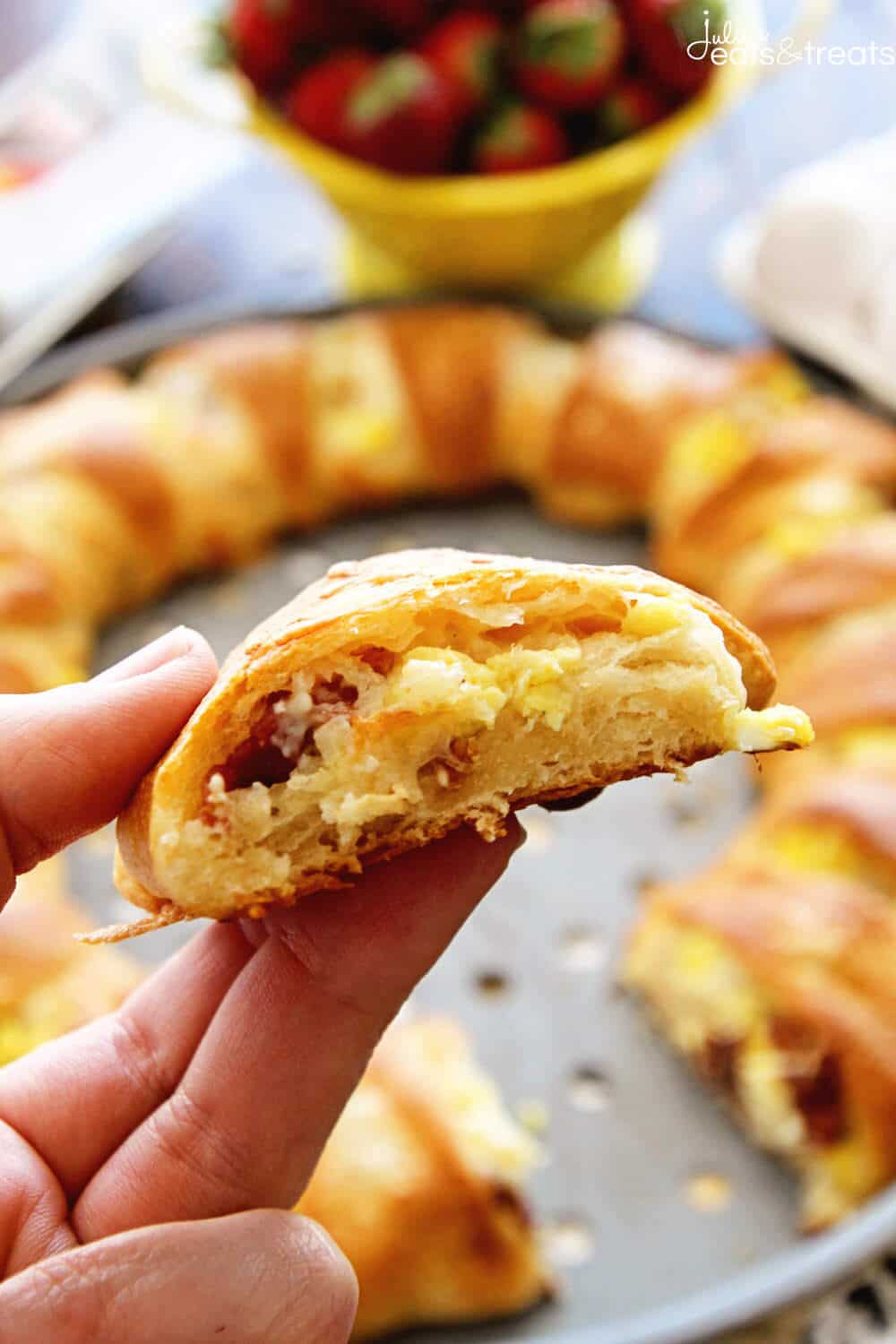 Say what?! You just turned three and I didn't really think that you knew this stuff. Plus, I honestly didn't think she listened to a word the entire church service, but apparently I was wrong. Then melt heart exploded and melted all at once. Proud Mom moment. I just love those.
Trust me, it's not always roses and rainbows on the Mom front that's for sure, but those little moments like that kind of make up for the other 75% of the time I think I just might quit being a Mom. Ok, I'm exaggerating a little it's only like 50% of the time. Don't worry I adore my children but sometimes days are tough! I just had a few weeks of roughness with illness and I thought to myself quite frequently I might not make it through this. I'm not old enough to be handling this or mature enough! Anyone else feel like that somedays? Hopefully I'm on the mend and something else doesn't go wrong!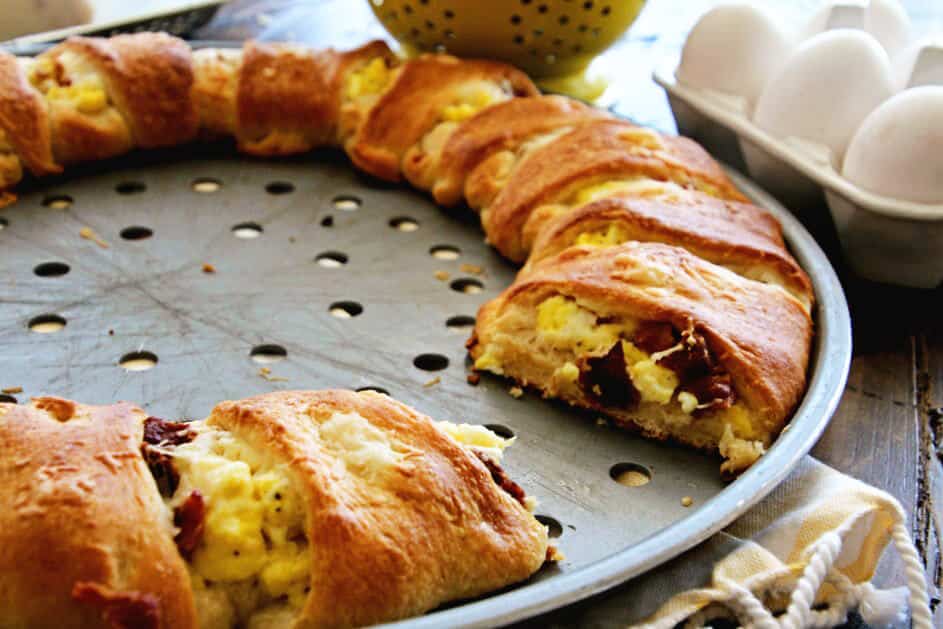 Now for this delicious recipe of Cheesy Bacon & Egg Crescent Ring. Let's be real can you go wrong with Crescent Rolls stuffed with anything? Nope, you can't, but this is super duper delicious. I made it for breakfast one weekend and I'm pretty sure the hubs ate about half of it and would have kept going when I raised my eyebrows and said, "Hungry?" He sheepishly giggled and said but it's sooooo good. I'm not going to disagree with him. I mean it's stuffed with eggs, bacon cheese and eggs. Drooling yet? I'm starting to think I might go make this right now because I am!
If you want another great breakfast recipe you have to try my Baked Omelette!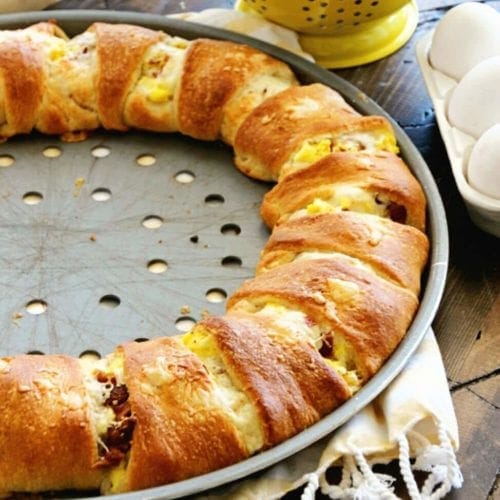 Cheesy Bacon & Egg Crescent Ring Recipe
Cheesy Bacon & Egg Crescent Ring ~ Flaky Crescent Rolls Stuffed with Scrambled Eggs, Cheese, and Bacon for a Delicious Breakfast Recipe!
Ingredients
4

slices

bacon

cooked and crumbled

4

eggs

1/3

c.

milk

1/4

tsp

pepper

1/2

tsp

salt

1

c.

shredded Cabot Smoky Bacon Cheddar Cheese

2

8 oz tubes refrigerated crescent rolls
Instructions
Preheat oven to 375 degrees.

In a mixing bowl combine eggs, milk, pepper and salt. Whisk until combined.

Pour eggs into skillet and scrambled over medium heat.

Unroll crescent dough and separate into triangles. Arrange triangles on a 14 inch ungreased pizza pan with points toward the outside and wide ends overlapping at the center, leaving a 4 inch opening in the center. Press overlapping dough to seal.

Spoon eggs over the wide ends of the crescent rolls. Sprinkle the cheese over eggs and top with crumbled bacon. Fold pointed ends of triangles over filling, tucking points under to form a a ring. The filling will be visible.

Bake for 12-15 minutes or until the crescents are golden brown.
Nutrition
Serving:
2
g
Calories:
227
kcal
Carbohydrates:
3
g
Protein:
12
g
Fat:
18
g
Saturated Fat:
9
g
Cholesterol:
121
mg
Sodium:
492
mg
Potassium:
94
mg
Sugar:
1
g
Vitamin A:
430
IU
Calcium:
237
mg
Iron:
0.7
mg
Things You May Need For This Recipe!
Craving More Crescent Rings?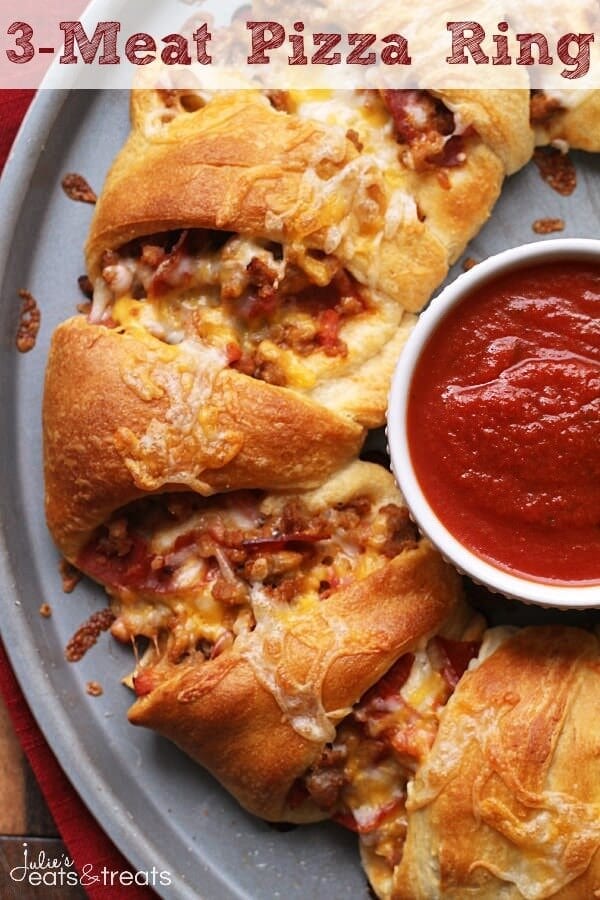 3-Meat Pizza Ring ~ Flaky Crescent Rolls Stuffed with Three Meats and topped with Cheese!
Cordon Bleu Crescent Ring ~ Flaky Crescent Rolls Stuffed with Swiss Cheese, Ham, Chicken and Topped with Garlic Butter! Quick & Easy Dinner!