Crock Pot Sweet Bacon Smokies ~ Delicious Smokies Covered in Butter and Brown Sugar and Loaded with Bacon! Perfect Appetizer for Anytime!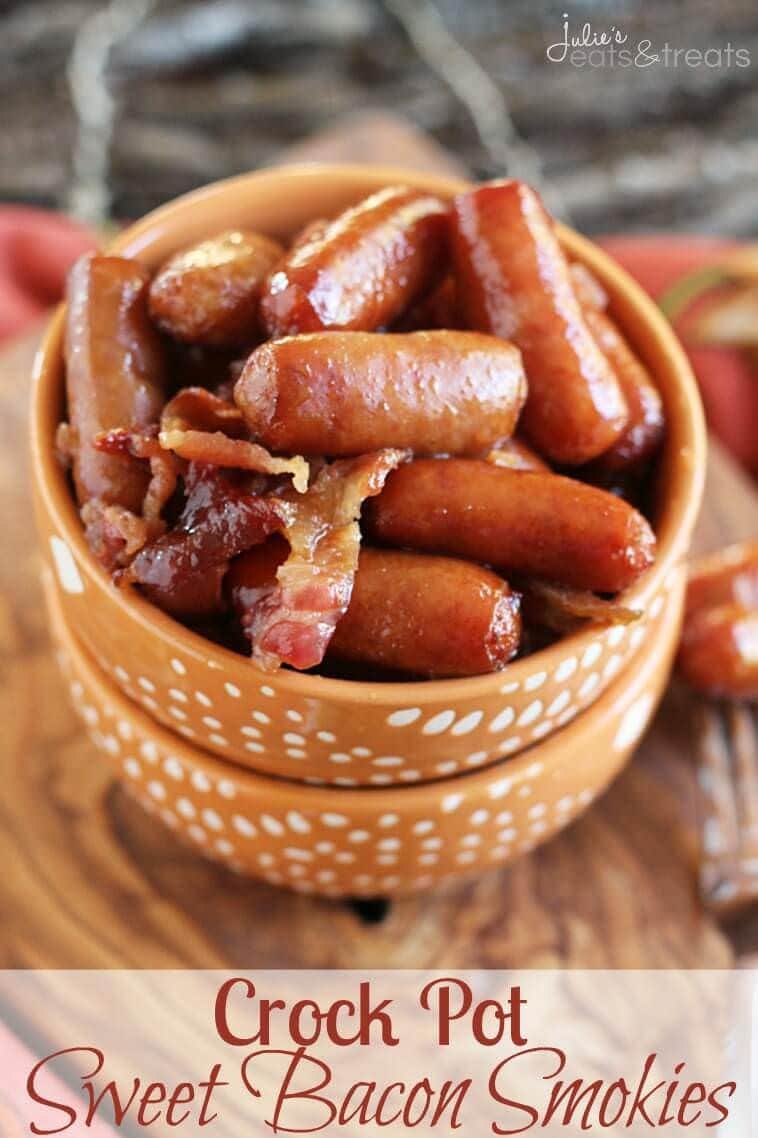 Clutter. Let's talk clutter. It's starting to drive me nuts. All that "stuff" that you don't really know if you should throw, but yet it's so annoying as it builds up and you run out of junk drawers and closets and finally you get to you breaking point. Then it's game on and the decluttering starts and everyone should guard their possessions and hide them when I'm in this mood! Note to husband if you are currently reading this the mood has struck and nothing is safe so if there's anything laying around you might just want to hide it!
Then the toys. Can we talk toys for a second? They start to slowly, gradually overtake your house and it starts to drive you bonkers. The stuffed animals and dolls are starting to overflow out of the totes and mom's starting to throw and discard. What do you do with all the "stuff"? I seriously need a play room. That office might start to do double duty soon if the toys continue to grow. We've actually taken half of them downstairs to the family room, but somehow little Miss K gradually drags it upstairs until I haul it all back downstairs!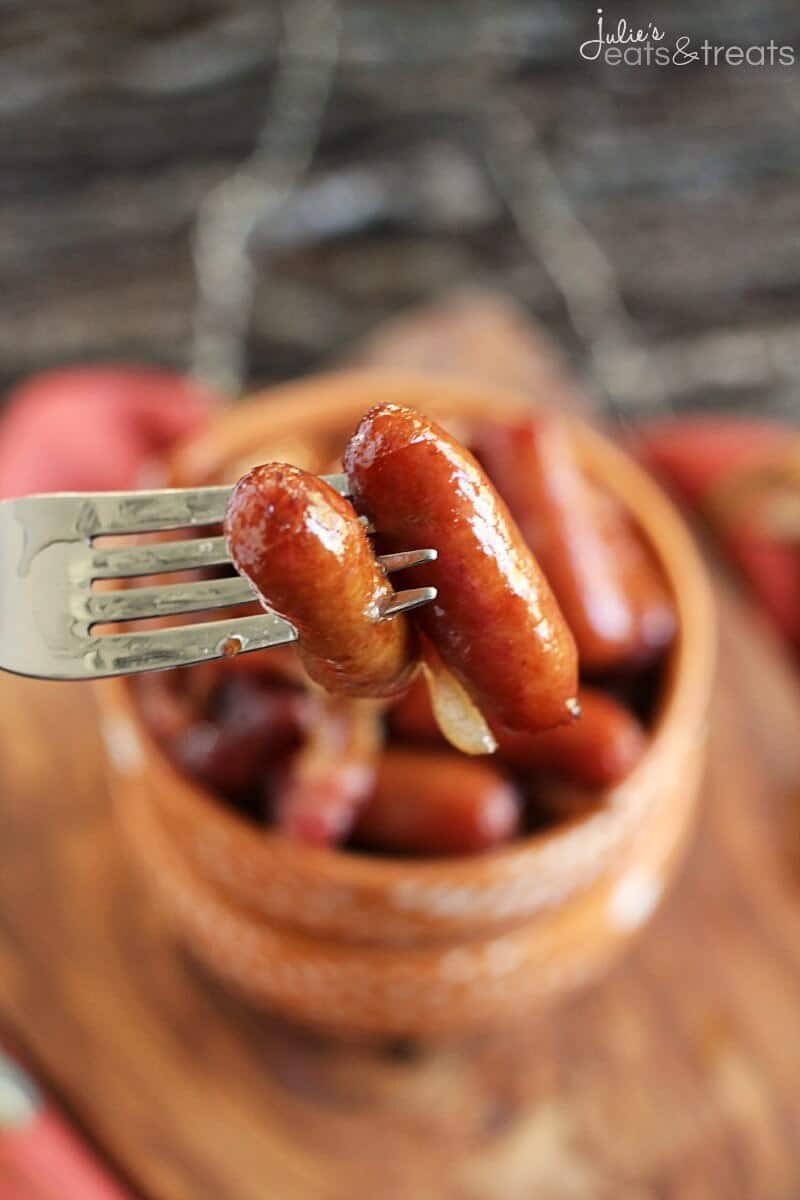 With Christmas right around the corner I know this problem is not going to get any better so I might have to hide some of the toys and bring them out later and they will be brand new again on a day she is bored. Clever aren't I? My sister-in-law got Kinzee this awesome thing when Miss RJ was born to help with entertaining her and making her feel special too and it's been a true gift. She plays with it every day. Have you ever heard of Moon Sand? It's still messy but it doesn't stick to everything and is easy to clean up. She's busy creating cupcakes and castles and whatever her little imagination can come up with. It's a heaven sent gift for me!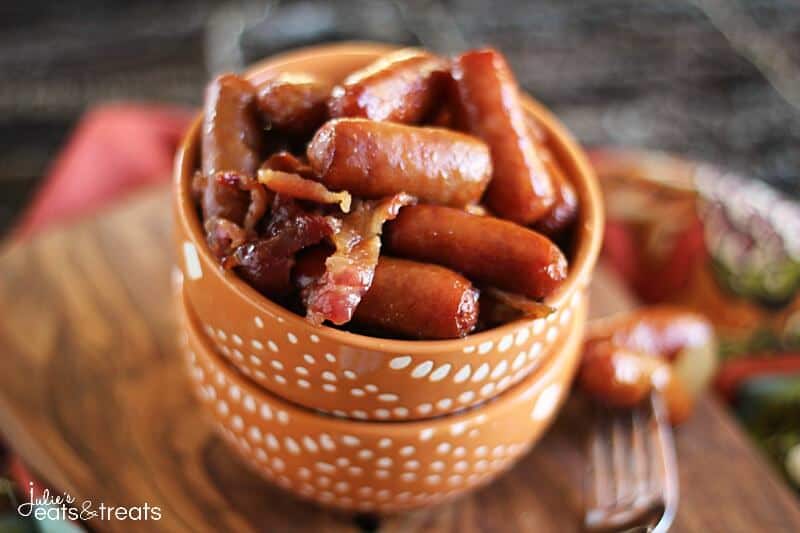 Now let's talk about these Crock Pot Sweet Bacon Smokies. If you try these, which I totally hope you do, you will never go back to your plain old smokies again. They are amazing. For example, I can kind of take or leave smokies. Sure they are good and they are easy for quick appetizer but it's nothing that I would crave like I crave Vegetable Pizza or Tortilla Pinwheels, but that has changed my friends. These are totally craveable and totally easy for a quick and delicious appetizer. Plus they are still super simple so you just impress everyone and don't have to slave at all!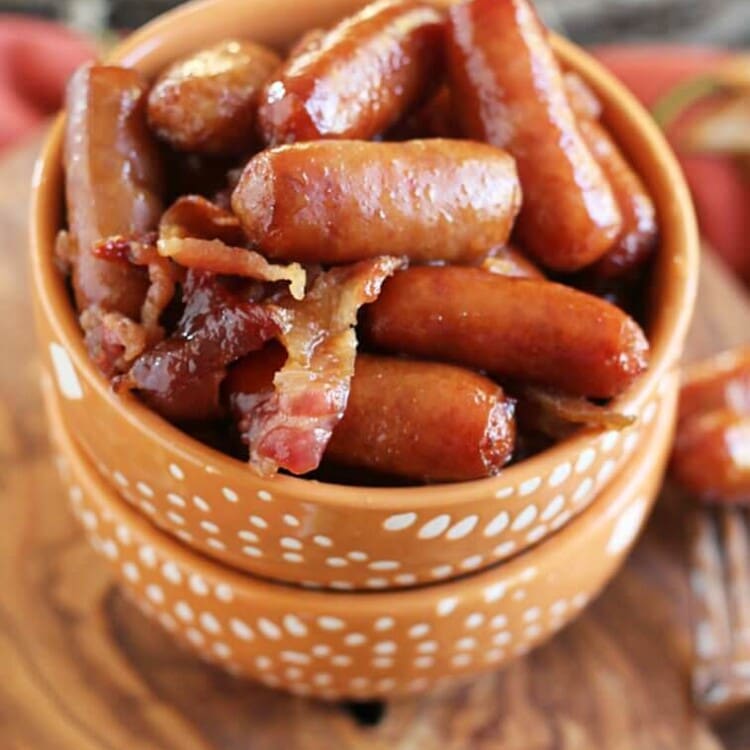 Crock Pot Sweet Bacon Smokies
Crock Pot Sweet Bacon Smokies ~ Delicious Smokies Covered in Butter and Brown Sugar and Loaded with Bacon! Perfect Appetizer for Anytime!
Ingredients
1

lb

bacon

crisply cooked and crumbled

2

14 oz smokies

1

c.

brown sugar

packed

1/2

c.

butter

diced
Instructions
Mix together all ingredients in small crock pot.

Cover and cook on low for 4 to 6 hours.
Nutrition Information
Calories:
602
kcal
(30%)
,
Carbohydrates:
25
g
(8%)
,
Protein:
15
g
(30%)
,
Fat:
49
g
(75%)
,
Saturated Fat:
19
g
(119%)
,
Cholesterol:
106
mg
(35%)
,
Sodium:
1202
mg
(52%)
,
Potassium:
258
mg
(7%)
,
Sugar:
24
g
(27%)
,
Vitamin A:
310
IU
(6%)
,
Calcium:
33
mg
(3%)
,
Iron:
1.3
mg
(7%)
Looking for more Delicious Appetizers?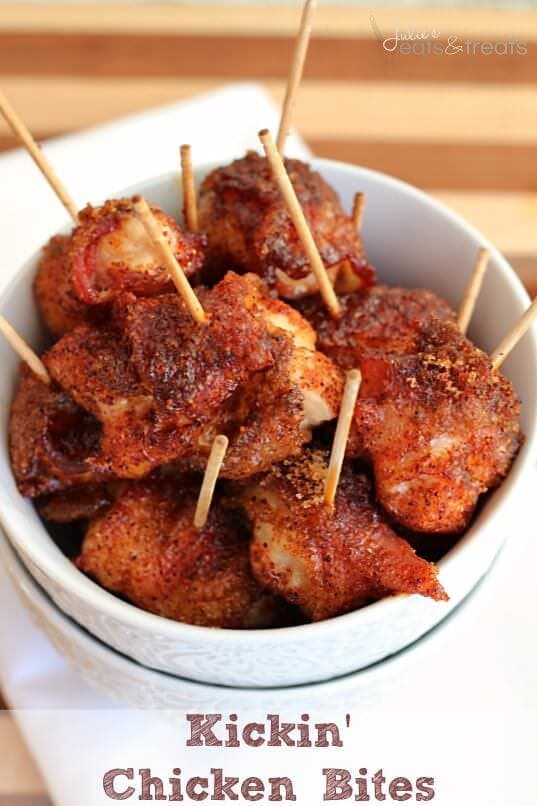 Kickin' Chicken Bites ~ Bite sized pieces of chicken wrapped in bacon and dusted in brown sugar & cayenne pepper!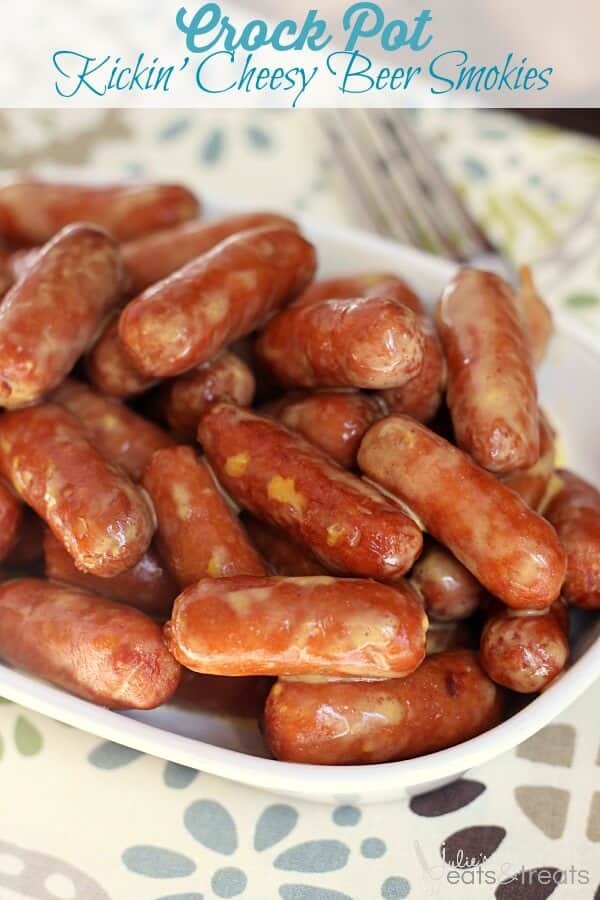 Crock Pot Kickin' Cheesy Beer Smokies ~ Your Favorite Smokies Loaded with Beer Cheese Sauce and Tabasco for a Kick!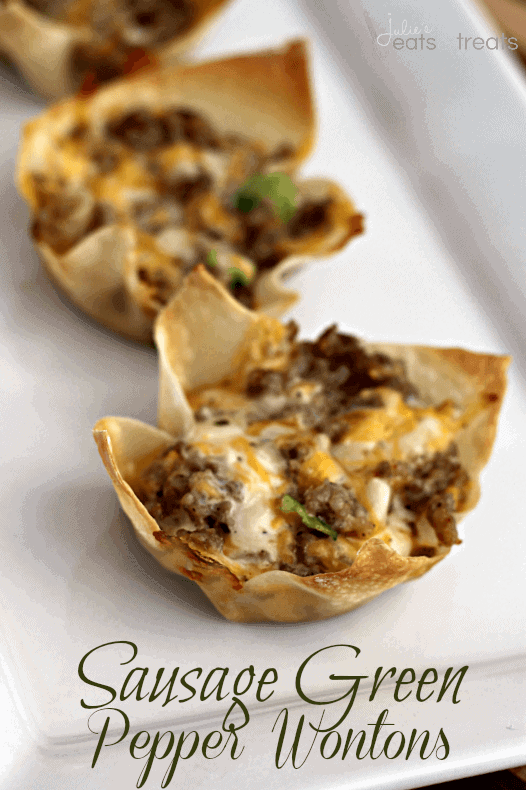 Sausage Green Pepper Wontons ~ Crispy Wontons loaded with sausage and green peppers!