The Best Small Bite Party Appetizers
Get ready for holiday parties and New Year's Eve by making small bite appetizers! All of these recipes are party favorites during the holiday season. These recipes are easy to make, full of flavor and easy to enjoy.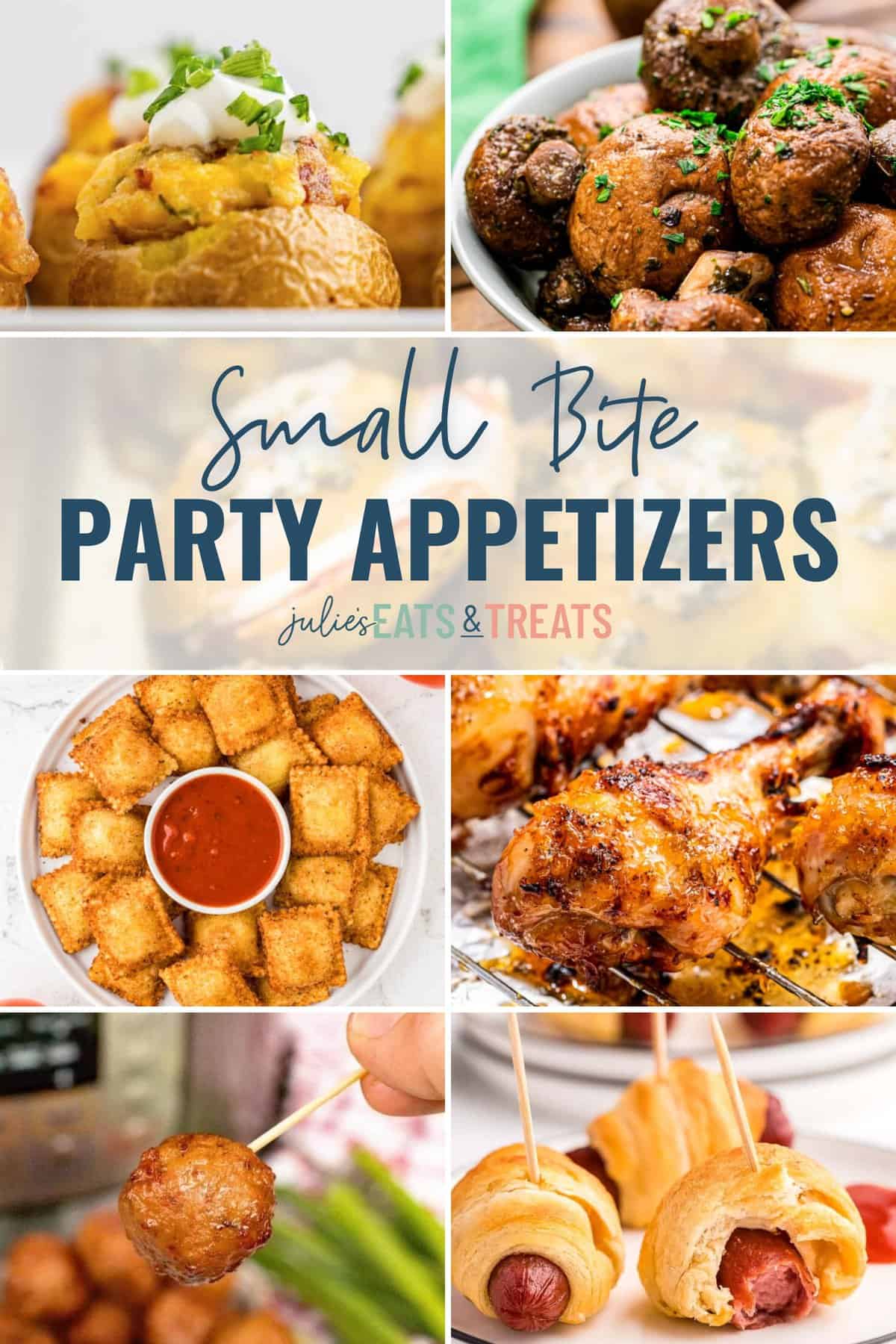 Let's face it, the life of the party often starts with the food, and when it comes to small bite party appetizers, the possibilities are endless. The holiday season is the perfect time to gather with loved ones and indulge in delightful flavors.
Whether you're hosting or attending a potluck, having an array of delicious small bite appetizers is a must. These recipes for small bite party appetizers are designed to spark joy and impress your guests with their delicious tastes and charming presentation. From meatballs to chicken wings, we've go it all in this round-up of easy small bite appetizers!
Small in size, big on flavor! These mini twice baked potatoes are an irresistible delight. 🥔🧀
A quick and easy appetizer for any time of day, or a delightful addition to any gathering! These ham and cheese rollups are not only an easy lunch, but perfect to serve as small bite appetizers.
Crispy, tender, and bursting with flavor, these wings are oven-baked to perfection. Skip the take-out and make the most perfect wings right in your own kitchen.
Embrace the timeless delight of classic deviled eggs! 🥚😋 They may not be the first thing you think of when you hear small bite party appetizers, but once you try this recipe they'll be the first thing to pop in your mind next time you need to make an app!
Creamy, tangy, and packed with savory goodness, these deviled eggs are a delightful twist on a classic favorite. Bacon lovers will swoon over these creamy deviled eggs with salty crunch of bacon.
Crispy, tangy pickle slices coated in a flavorful breading, air-fried to perfection. If you love fried pickles but hate the calories of deep fried food, these will quickly become one of your favorite small bite appetizers.
Crispy and golden on the outside, tender and delicious on the inside, these breaded and fried pasta pockets are the perfect appetizer. These little fried bites of Italian cuisine are always a hit.
Perfect for a flavorful appetizer or a tasty addition to your Asian-inspired meal. You'll love theses incredibly crispy wontons and their deliciously bold flavors.
Air-fried to crispy perfection, these pigs in a blanket are the ultimate crunchy, bite-sized delight! You can make these as easy small bite party appetizers or even serve them for breakfast, lunch, or dinner.
Tiny bites, huge flavor! All you need is two ingredients to make these classic small bite appetizers. Pigs in a blanket never fail to be a crowd pleaser at any gathering.
Get ready for fall-off-the-bone deliciousness with these crock pot chicken wings! These perfectly cooked delights are tender, juicy and loaded with flavor. Who needs to order out when you've got a wing recipe like this one?!
A classic appetizer featuring tender meatballs drenched in a delectable combination of grape jelly and zesty chili sauce, creating a mouthwatering fusion of flavors. While it may sound odd to cook meatballs in jelly, these will become one of your go-to easy small bite appetizers in no time.
Whip up a delicious party favorite with these Instant Pot grape jelly meatballs! Utilizing the Instant Pot for apps is a game-changer. You can save so much time and pack so much flavor into these easy recipes.
Simple, savory, and utterly delicious! Everyone needs a recipe for ham and cheese sliders and this is a show stopper.
Combining the savory goodness of turkey, crispy bacon, and melty cheese, these mini delights pack a delicious punch in every bite. They are great small bite appetizers for parties where you know your guests want some substantial food to eat!
A crowd-pleasing party favorite that brings the taste of pizza in every bite! This fun recipe combines all of the best things about pizza and sliders into one simple dish.
Step-up up your appetizer game with these homemade oven baked jalapeño poppers! A gooey small bite appetizer that'll add a little spice to your life.
Slow-cooked perfection awaits with these crock pot ranch mushrooms! These little bursts of flavor are quick to make and pair well with any of your favorite small bite appetizers.
These yummy garlic stuffed mushrooms are a perfect savory appetizer or a delightful side dish. Loaded with butter, garlic and a melty cheese filling these little small bite appetizers are bursting with flavor.
An appetizer that disappears faster than you can say 'cheese pull'! Mozzarella sticks are always a crowd pleasing dish.
Indulge in the perfect combination of savory ham and gooey cheese baked inside a fluffy roll. If you're looking for easy small bite appetizers, this one should go to the top of your list!
A scrumptious medley of pizza goodness – pepperoni, gooey cheese, and zesty tomato sauce, all rolled up in a perfect bite-sized package.
Indulge in the ultimate flavor trio! Cheesy, savory, and oh-so-delicious, these cheesy turkey bacon ranch pinwheels are a taste sensation.
Perfect for any gathering and guaranteed to vanish fast! This super simple appetizer is filled to the brim with creamy savory goodness. You can even make these simple small bite appetizers for an easy lunch!
Roll into flavor town with these crescent chicken taco pinwheels! I have been know to make these on taco night too, so they're more than just an easy appetizer!
These delectable bites combine the flakiness of puff pastry with the richness of cheddar and the smoky goodness of bacon. So flavorful and easy to make.
Perfectly baked, and loaded with cheese, bacon, and all your favorite fixings. Potato skins are a classic game-day appetizer that are great for any of the gatherings you have planned!
Crunchy, savory, and utterly addictive! These ranch pretzels are a delicious snack that would be perfect to serve alongside other small bite party appetizers.
These barbecue baked chicken drumsticks are a perfect blend of tender, juicy goodness and smoky, saucy flavor. A protein packed app that anyone would enjoy!
These honey garlic chicken drumsticks are a crowd-pleaser! If you're looking for a hearty small bite appetizer to serve to your party guests, this is it.
These kickin' bacon wrapped chicken bites are ideal for parties, game nights, or simply when you're craving a deliciously addictive snack. The flavor of these small bite appetizers is second to none!
This appetizer is a delightful mix of savory, crispy bacon and the subtle crunch of water chestnuts, all complemented by a sweet and tangy sauce that's just perfect for dipping.
Layer saucy pizza dough bits in a pan, add a sprinkle of cheese, plenty of pepperoni, and your other chosen toppings between each layer. The more layers, the better! Bake and then serve the gooey appetizer and wait for the oo's and ahh's.
Each piece that is pulled from this pizza monkey bread reveal strings of cheese and pockets of savory toppings. It's like a flavor adventure in every bite!
These little bites are like the dynamic duo of the snack world, bringing together the best of both worlds in a single, snackable package.
Add a touch of sweetness to your day with these delectable glazed kielbasa bites – a flavorful twist on a classic favorite!
Indulge guilt-free with these skinny buffalo chicken wonton cups – the perfect blend of spice and crunch in every bite! Small bite appetizers like these are always a hit.
These grilled shrimp skewers are coated in a creamy, spicy sauce that gained popularity from an upscale seafood restaurant chain. You'll love this delicious recipe for easy small bite party appetizers!
Get ready to savor the flavors of the Southwest with these light Tex Mex shrimp bites – a zesty twist on seafood perfection! 🍤
Spice up your day with these delightful sweet pepper poppers! 🌶️ With only 7 ingredients, you can make these small bite appetizers in no time at all.
Spice up your fiesta with these zesty Mexican sausage balls! This tasty app is bursting at the seams with incredible flavor.
Sizzle up your taste buds with these grilled BBQ pineapple shrimp bites – a tropical twist on skewered perfection! 🍤🍍 These are one of our favorite small bite party appetizers to serve during the summer.
Add a kick to your gathering with these Crock Pot kickin' cheesy beer smokies – a flavor-packed sensation that will have your guests asking for more!
Wrap up the festivities with these irresistible Crock Pot sweet bacon smokies – the ultimate holiday party crowd-pleaser!
Sweet Heat Delight: Crispy Cauliflower Bites glazed in Honey Sriracha Sauce! 🔥🍯 A vegetarian small bite appetizer that is packed with flavor.