Boo! Did we just spook you? Well, don't worry; it's all in good fun because Halloween is just around the corner, and we're brewing up some magic in our cauldron of creativity to make this spooky season unforgettable! 🎃👻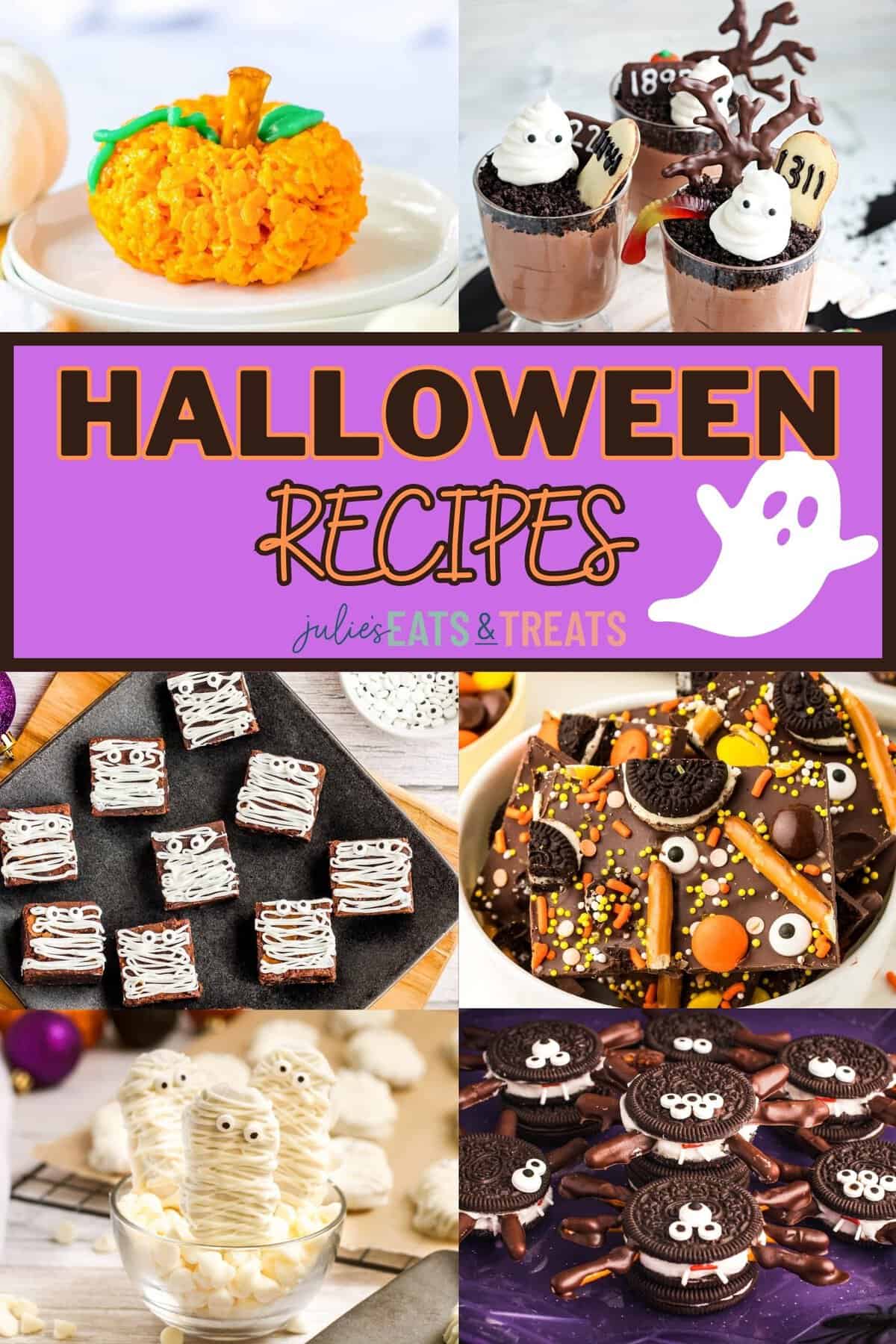 Whether you're planning a hauntingly fun Halloween party for your little monsters, or just looking for some scrumptious ideas to delight your family, you're in for a treat! We've compiled the master list for all of the best Halloween recipes. If you've got a sweet tooth, there's more than enough spooky sweet recipes for you! If you'd rather something savory, we've got some Halloween recipes for you too.
From mummy hot dogs to spider web oreos and ghostly cupcakes, we've got a bewitching array of Halloween snacks that will turn your kitchen into a spooktacular laboratory of culinary magic. Mix up a batch of your favorite Halloween recipes and celebrate this spooky holiday in style!
Get ready for a monstrously delicious Halloween snack! 🧟‍♂️🍿 Monster munch will have you dancing the monster mash.
Getting cozy with these pumpkin patch cookies – the sweetest way to embrace fall vibes! One of the best Halloween recipes, and they're perfect for the entire fall season too.
Creep it real with these Oreo spiders! 🕷️🍪 Just spooky enough and totally tasty…no creepy crawlers ever taster this good.
Warm up your spooky spirit with a cauldron of Halloween hot chocolate! ☕🎃👻 Halloween recipes like this only come around once in a full moon.
Wrap up your sweet cravings with these adorable Nutter Butter mummies! 👻🍪 I think these are fighting for the number one best Halloween recipes spot. Who wouldn't love a chocolate covered peanut butter cookies?!
Wrap up your taste buds in delicious mummy hot dogs! 🌭👻 Perfectly spooky and wonderfully tasty. There are tons of sweet Halloween recipes, so we've gotta balance it out with savory snacks like mummy hot dogs.
Colorful candy corn pudding cups: a sweet delight to brighten your day! Sweet Halloween recipes like this one are great for the entire season of fall. Serve at your Halloween parties, fall festivals, and everything in between!
Sink your teeth into spooky Halloween bark – a wickedly good treat! 🎃 You can customize the sweet treat with anything you want. So yum and scary easy to make.
Create monstrously good memories with Halloween monster cookies. Don't worry, those eyes staring back at you are just candy…and quite delicious!
Add boo-tifully delicious ghost cupcakes to you list of Halloween recipes for a hauntingly sweet treat! 👻
Dive into the darkness with our ghost in the graveyard dessert – a spooky indulgence you won't forget! 👻🌑 Halloween snacks like this one are super kid friendly and always a hit with any crowd.
Bite into the night with Dracula dentures – a fang-tastic Halloween treat! 🧛‍♂️ Super easy to make and what a great spooky presentation!
Wrap your taste buds in deliciously spooky delight with Mummy Pretzel Rods – perfect for Halloween snacking. A salty and sweet combo that everyone will enjoy.
Get your monster groove on with these spooky and scrumptious Monster Pops! Plus, look at how cute they are. No one would turn down these adorable Halloween snacks.
Pumpkin rice krispie treats are on of the best Halloween recipes. It's a delightfully tasty activity kids will love to make and eat!
Sink your teeth into spooktacular Halloween sugar cookies! Skip the bakery and make professional quality cookies in just a few simple steps.
Halloween snacks are a necessity. Mix up the fun with this Halloween snack mix! A delightful combination of salty and sweet, you're gonna love it.
Mummy brownies are a fun and spooky twist on traditional brownies, perfect for Halloween or any other occasion where you want to add a touch of eerie excitement to your dessert table.
Halloween Dirt Cups are a delightful and playful dessert often served during Halloween festivities. A festive twist on a classic favorite.
Witches Brew Hot Chocolate is a whimsical and enchanting beverage perfect for Halloween or any spooky-themed occasion. Warming and spooky, the best combination.
Monster Rice Krispie Treats are a fun and playful twist on the classic Rice Krispie Treats, perfect for Halloween or any monster-themed celebration. A lovely Halloween themed recipe!