The Monte Cristo Sandwich is one of my favorites when I go to a restaurant and they have it on the menu. When I saw this recipe over at Plain Chicken I knew I had to try it out.
I love that it's super simple and comes together for a quick lunch on a weekend. The hubby got all excited when he saw the recipe sitting on the counter to try out!
If you are looking for a quick lunch or supper this won't dissappoint!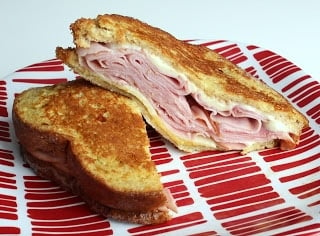 Monte Cristo Sandwich
Printer Friendly Recipe
Ingredients
Honey mustard
8 slices country bread
Swiss cheese slices
Honey-Baked Ham
4 large eggs
1/2 cup milk
1/4 tsp pepper
1/8 tsp ground nutmeg
4 Tbsp butter
1. Spread mustard on bread. Layer 4 bread slices with Swiss cheese, ham, and cheese again. Place remaining bread slices on top.
2. In a pie plate, whisk together eggs, milk, salt, pepper, and nutmeg. Dip each sandwich in the egg mixture, turning to coat well.
3. In a large skillet, melt half the butter over medium-low heat. When butter is foamy, add two sandwiches, and cook, turning once, until golden brown on both sides, 6 to 8 minutes total. Repeat with remaining sandwiches. Serve immediately.
*Next time I'm going to try this on the panini grill and see how that goes!
Recipe from: Plain Chicken
Shared on the following sites – Please give them a visit!