A classic Monte Cristo Sandwich is layers of cheese, ham and turkey in between bread that is dipped in an egg batter and then pan or deep fried. You can finish it off with a dusting of powdered sugar and jam if you'd like. It's the ultimate form of grilled cheese and you can make one at home!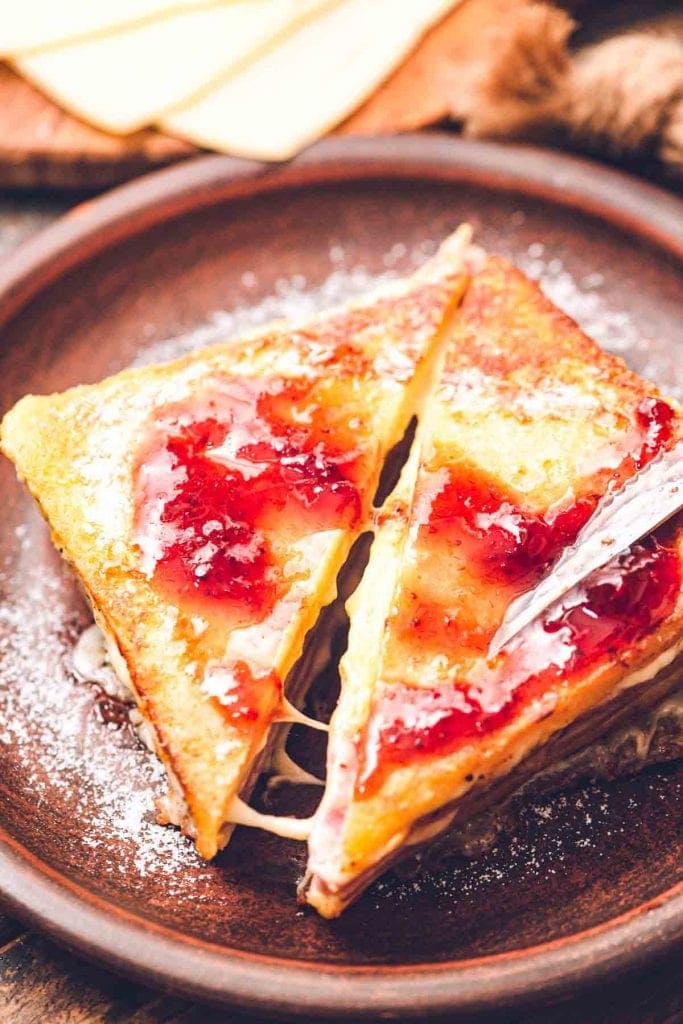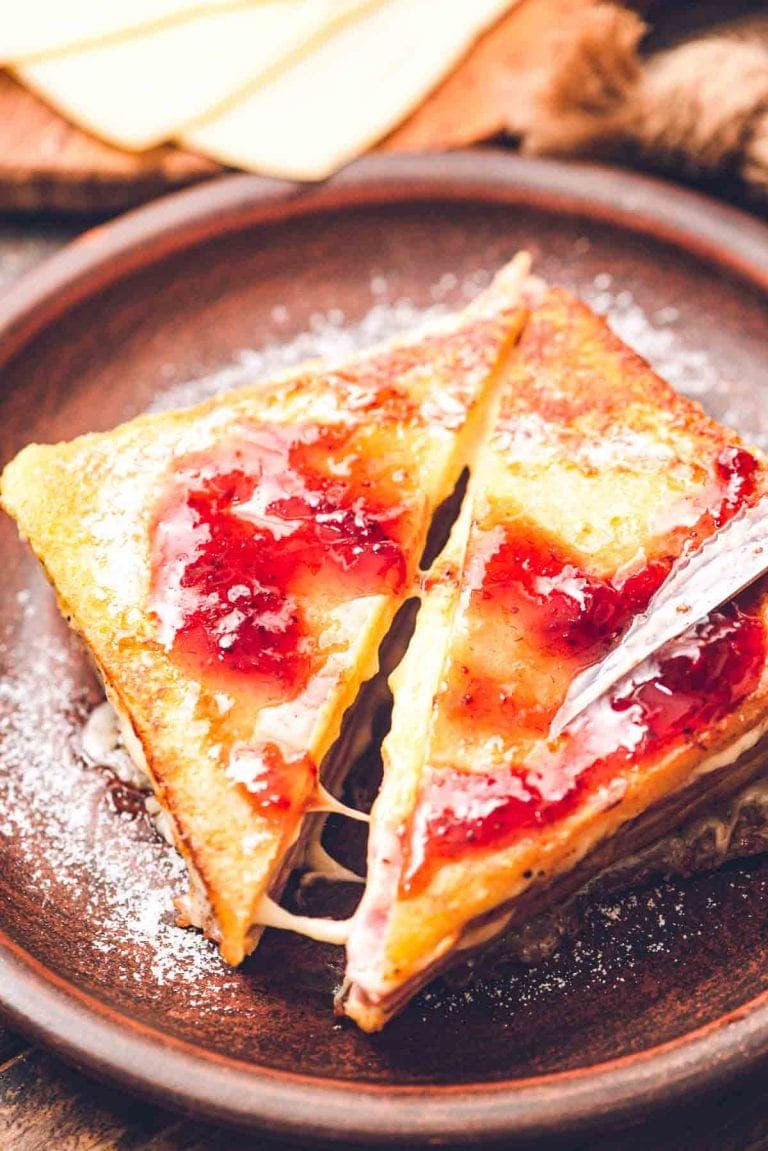 The Monte Cristo Sandwich is one of my favorites when I go to a restaurant and they have it on the menu. It's like a cross between a grilled cheese sandwich and French toast and is so, so delicious! I love that it's super simple and comes together for a quick lunch on a weekend.
I'm always a little surprised when I make a restaurant dish at home and discover they're not that complicated. I've made French dip sandwiches, restaurant-style salsa and other copy cat recipes like breadsticks and soup recipes and it's so fun to recreate them at home!
These sandwiches are my new favorite – they look fancy and like they might be hard to make, but they're not! If you've ever made a grilled cheese you can make a Monte Cristo. There are just a few more steps and ingredients.
I love the combination of sweet and savory – this sandwich is loaded with ham, turkey and cheese and when you add some warm jam and a dusting of powdered sugar the flavors just really work. Plus, it's great for breakfast, brunch, lunch or dinner – I love that! You can serve it with potato chips or French fries for lunch or dinner, but it's also great with fruit salad on the side for brunch.
This is the ultimate hot sandwich recipe and now you don't have to go out to a restaurant get one!
What is a Monte Cristo?
Have you ever heard of Croque-Monsieur? It's similar to that French sandwich but instead of broiling it, a Monte Cristo is battered with an egg and milk mixture and fried. It's also known as French toasted ham and cheese. Every recipe is a little different and mine is a combo of ham, turkey, Swiss cheese sandwiched together and then battered and fried. I love mine with warm strawberry jam spread on top, but you can also drizzle maple syrup over the sandwich.
These are easy sandwiches to make in just a few simple steps: assemble the sandwiches, batter and fry them, and garnish them for serving! I love making a batch of Monte Cristo sandwiches for a special weekend brunch or lunch. They're also super fun for dinner!
Step 1: Assemble the Sandwiches!
For the sandwiches you will need:
Sturdy white bread. You want it to be sturdy enough to hold the meat and cheese even after it's been battered.
Yellow mustard and mayonnaise
Swiss cheese
Ham and turkey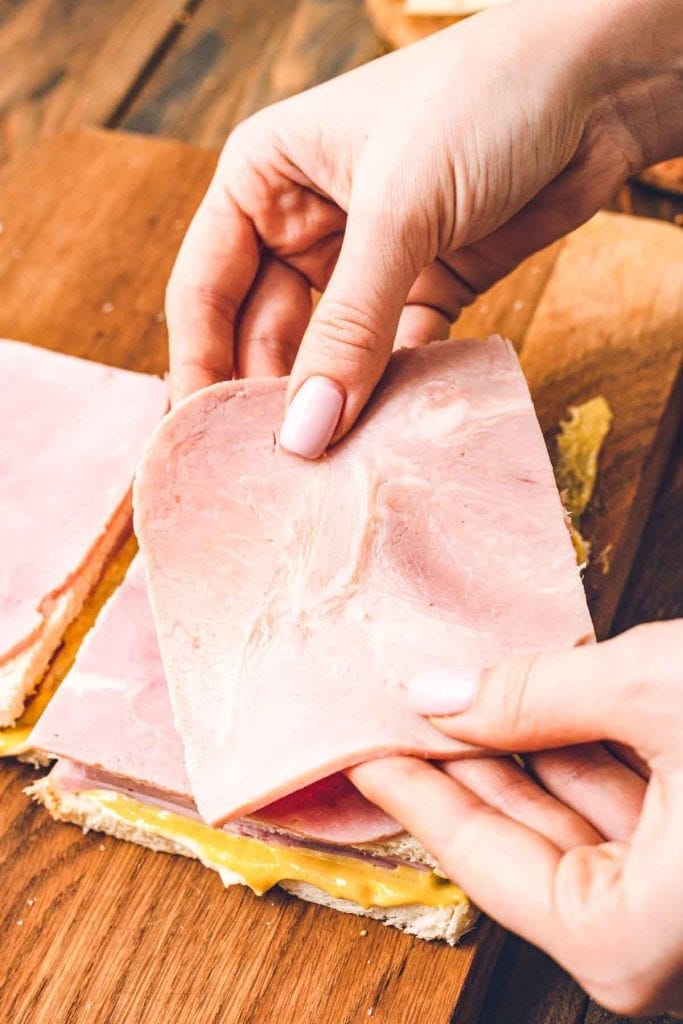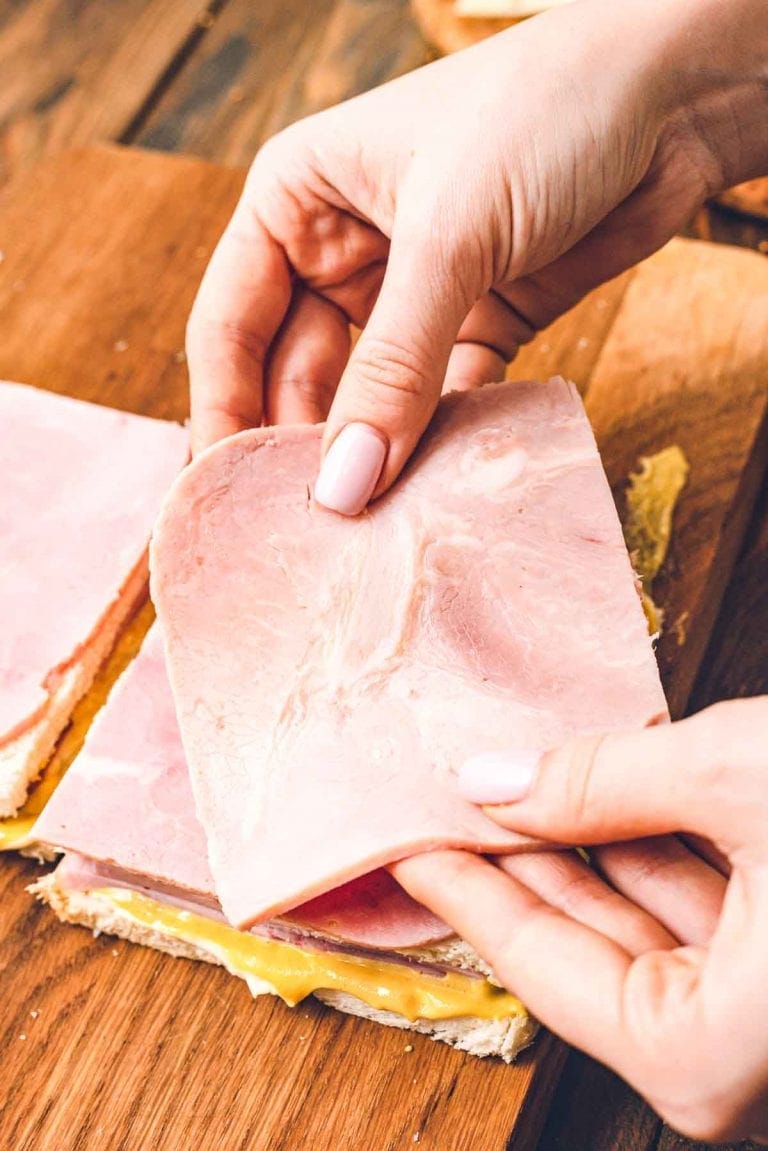 I like to make one sandwich with three slices of bread – here's how you assemble it!
First, cut the crusts off your bread slices.
Take two slices of bread and slather each with mustard and mayonnaise. Add the ham and a slice of cheese on top. These two pieces will be the top and bottom of the sandwich.
Take one of those and place another slice of bread on top of the ham. Layer on the turkey and another slice of cheese. Top this layer with the other piece of bread with the ham.
Press your sandwiches using a heavy pan or cutting board. Pressing them will ensure they don't fall apart when you batter and fry them.
Now the sandwiches are assembled – time to batter and fry them!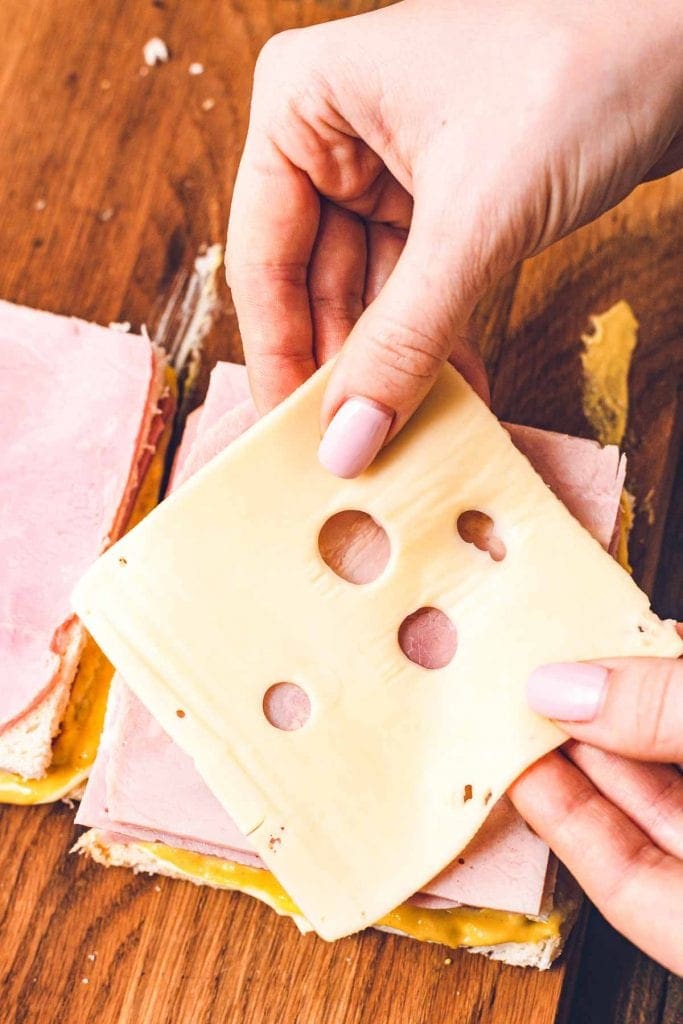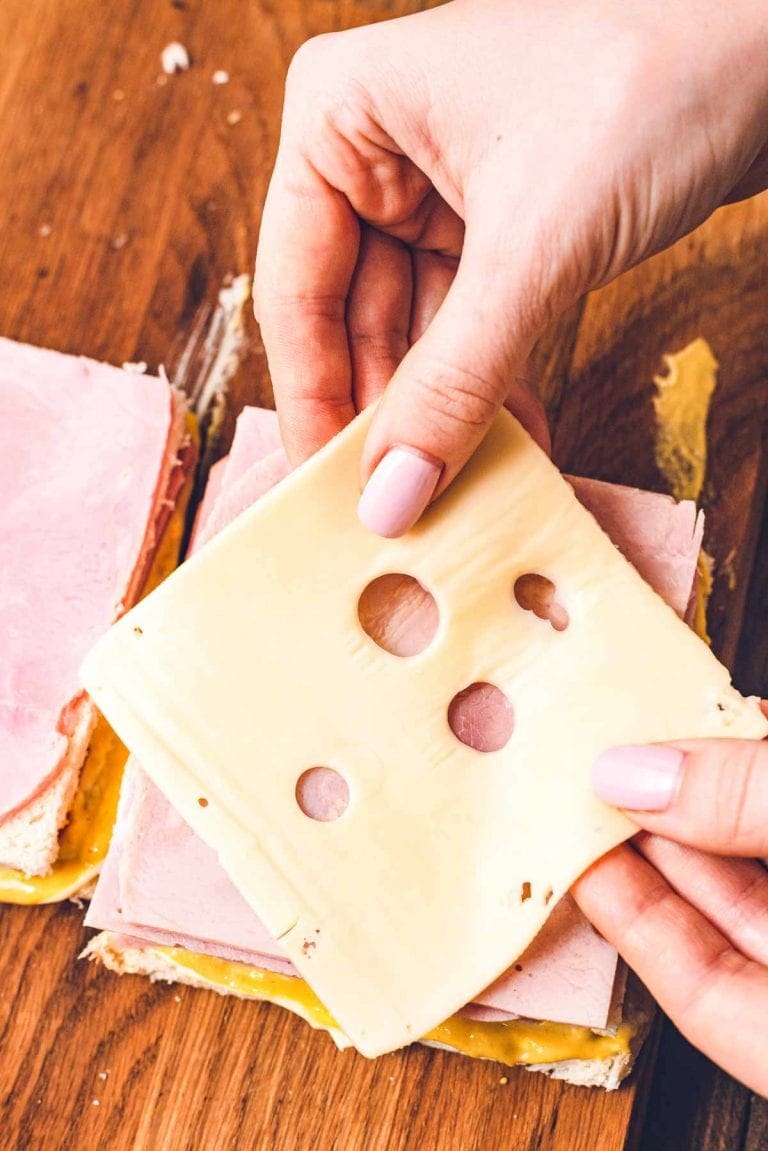 Step 2: Batter and Fry the Sandwiches
The batter is just a combination of eggs and milk with some salt and pepper. It's just like making a French toast batter – just mix them up together until its well combined.
Carefully dip each sandwich into the batter completely coating it.
Heat butter in a skillet over low heat. Once the butter is melted, add the sandwiches and cook them on one side until they're golden, about four to six minutes. Turn the sandwiches and cook them on the other side until golden brown and the cheese is melted.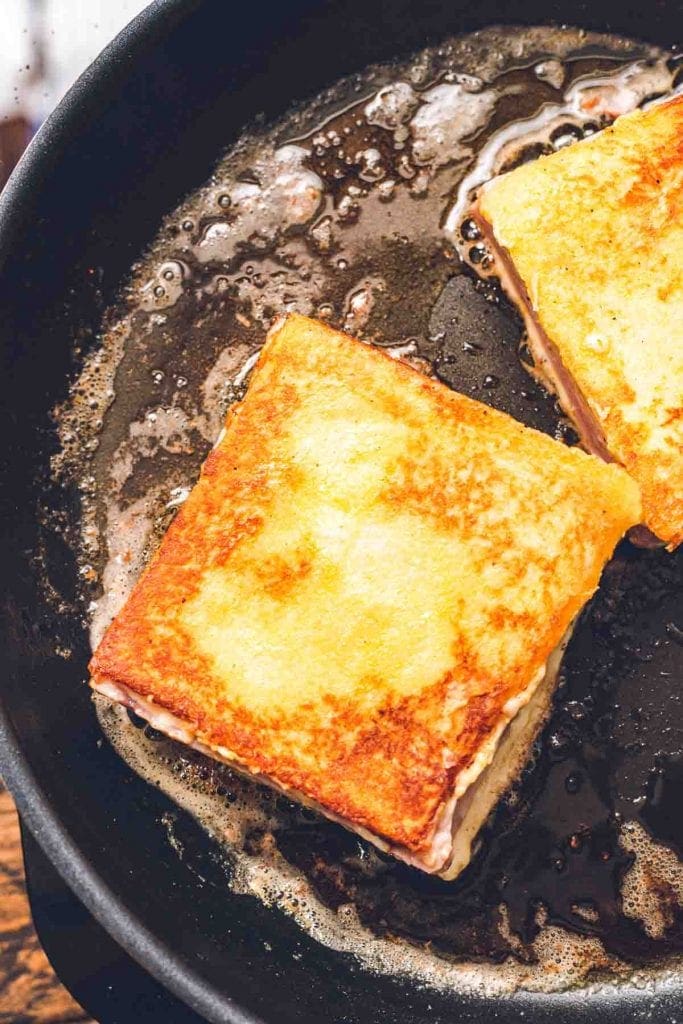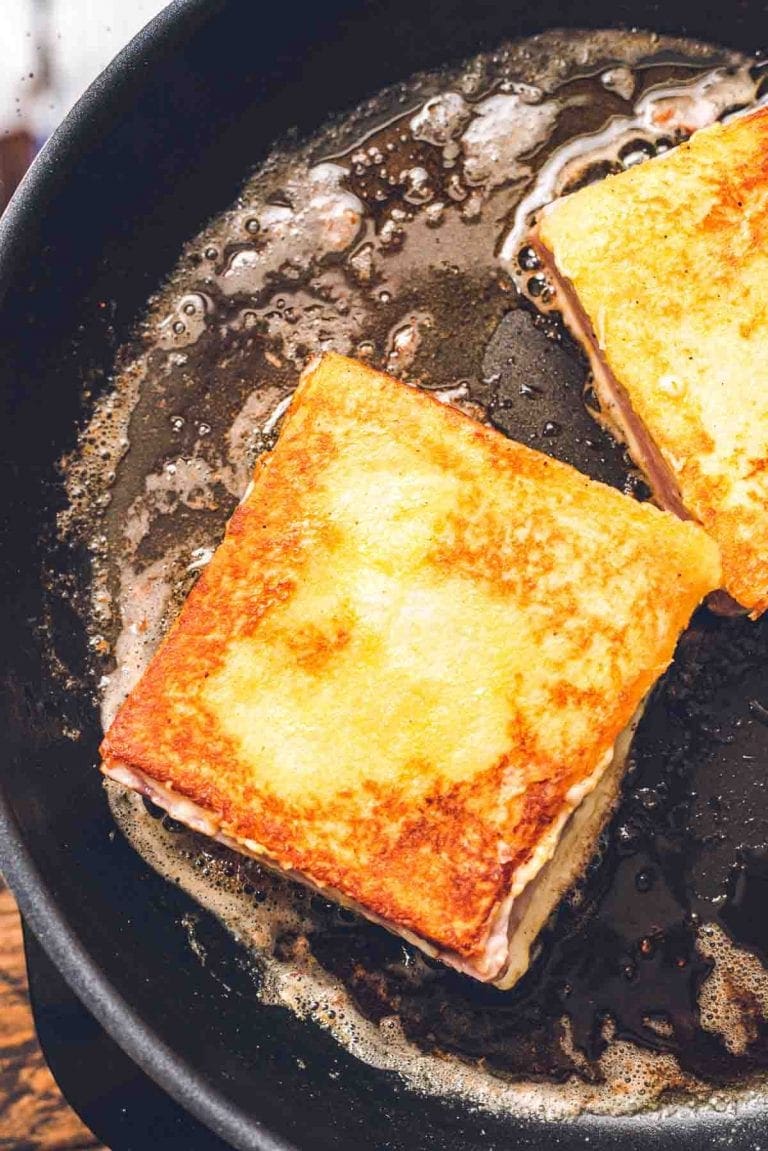 Step 3: Serve the Monte Cristo!
Slice your sandwiches in half and now it's time to dress them up! These are all optional – the sandwiches are delicious just as they are – but adding a touch of sweetness makes it extra-special.
Once the sandwiches are cooked you can dust them with some powdered sugar.
I love to spread some warm strawberry jam on my sandwich!
Or, you can serve some warm maple syrup on the side, too. This is nice if you're serving the sandwiches for brunch.
This buttery hot sandwich is so delicious! Now that I make them at home I skip them when we go out and get something else! I hope you love this sandwich recipe as much as I do.
More Hot Sandwiches
We are all about the hot sandwiches at my house, especially during the colder winter months! Here are more ideas to browse!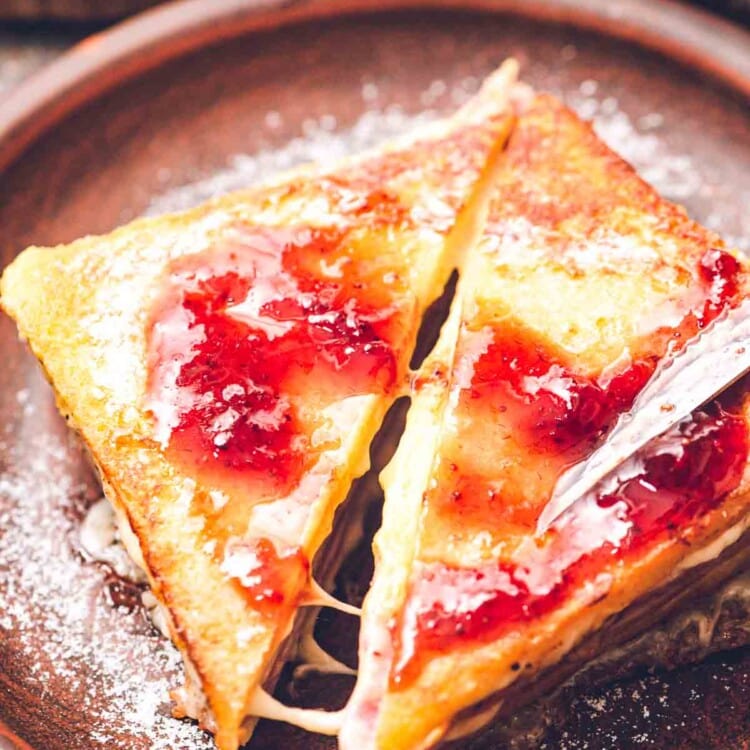 Monte Cristo Sandwich
Grilled sandwich with ham, turkey and cheese that's dipped in an egg batter and pan fried. Top it with a dusting powdered sugar and jam.
Ingredients
6

slices

sturdy white bread

2

Tbsp

yellow mustard

4

Tbsp

mayonnaise

4

slices

Swiss cheese

4

slices

ham

4

slices

turkey

4

eggs

1/2

c.

milk

salt and pepper

to taste

4

Tbsp

butter

2

Tbsp

powdered sugar

optional

strawberry jam

optional

maple syrup

optional
Instructions
On a cutting board slice the crust off the slices of bread.

To build the sandwiches spread mustard and mayonnaise on two slices of bread. Top those two slices of bread with a slice of cheese and then 2 slices of ham on each slice of bread. Top the ham on each slice with another piece of bread. Then add 2 slices of turkey and another slice of cheese. Top with final piece of bread.

Next you will need to press the sandwich using the bottom of a frying pan or cutting board.

In a small bowl whisk together eggs, milk, and salt and pepper. Carefully dip each sandwich into mixture.

Preheat skillet over low heat and add butter. Melt butter in skillet then add the sandwich. Cook the first side 4-6 minutes or until golden brown, flip and cook an additional 4-5 minutes or until cooked through and cheese is melted.

Remove from pan and dust with powdered sugar if desired. You can also serve this with warm strawberry jam or maple syrup.
Nutrition Information
Calories:
1174
kcal
(59%)
,
Carbohydrates:
52
g
(17%)
,
Protein:
55
g
(110%)
,
Fat:
82
g
(126%)
,
Saturated Fat:
35
g
(219%)
,
Cholesterol:
510
mg
(170%)
,
Sodium:
1874
mg
(81%)
,
Potassium:
589
mg
(17%)
,
Fiber:
3
g
(13%)
,
Sugar:
16
g
(18%)
,
Vitamin A:
1756
IU
(35%)
,
Calcium:
777
mg
(78%)
,
Iron:
5
mg
(28%)