Strawberry Banana Popsicles
Easy, healthy Strawberry Banana Popsicles are made with frozen strawberries, Greek yogurt, banana and sweetened with honey. They are a delicious, creamy frozen treat for summer.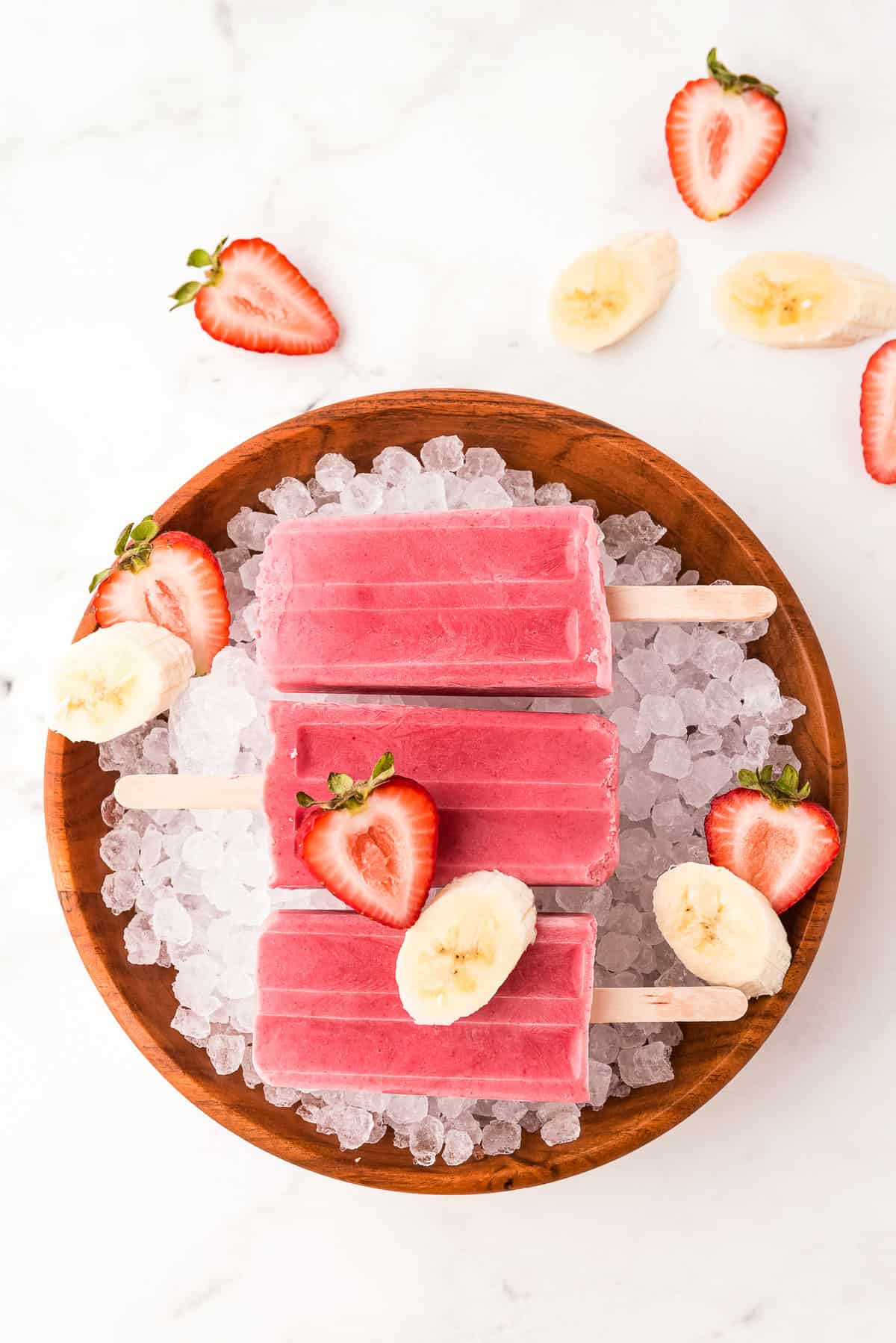 Are you already tired of the summer heat? Then make a delicious batch of strawberry banana popsicles! This easy recipe only calls five simple ingredients and you can make as many as you want in a matter of minutes. Make a batch in the evening, and let them freeze overnight. Then, your summer activities the next day will be well stocked with a yummy treat to cool down.
We're on a kick with these cold treats and love making berry smoothies, blueberry lemonade, or popsicles to beat the heat. I've been loving making some dinners summery dinners like shrimp tacos too. When fruit and veggies are in season during the summer, everything just tastes so much better!
I think I've perfected this recipe and made a popsicle that is perfectly creamy and not overly sweet. Plus, it's a more healthy option than ice cream. It's so refreshing and way better than anything you could buy at the grocery store. You're going to love these strawberry and banana popsicles!
Why You'll Love Strawberry Banana Popsicles
Popsicles are a great way to cool off on a hot summer day, that way you can get back to the fun things you're doing instead of being too hot!
Making your own popsicles is an affordable snack option. Way cheaper than buying tons of boxes at your grocery store.
You only need 5 minutes to prep your homemade popsicles. Let them freeze for at least four hours and they're ready to go.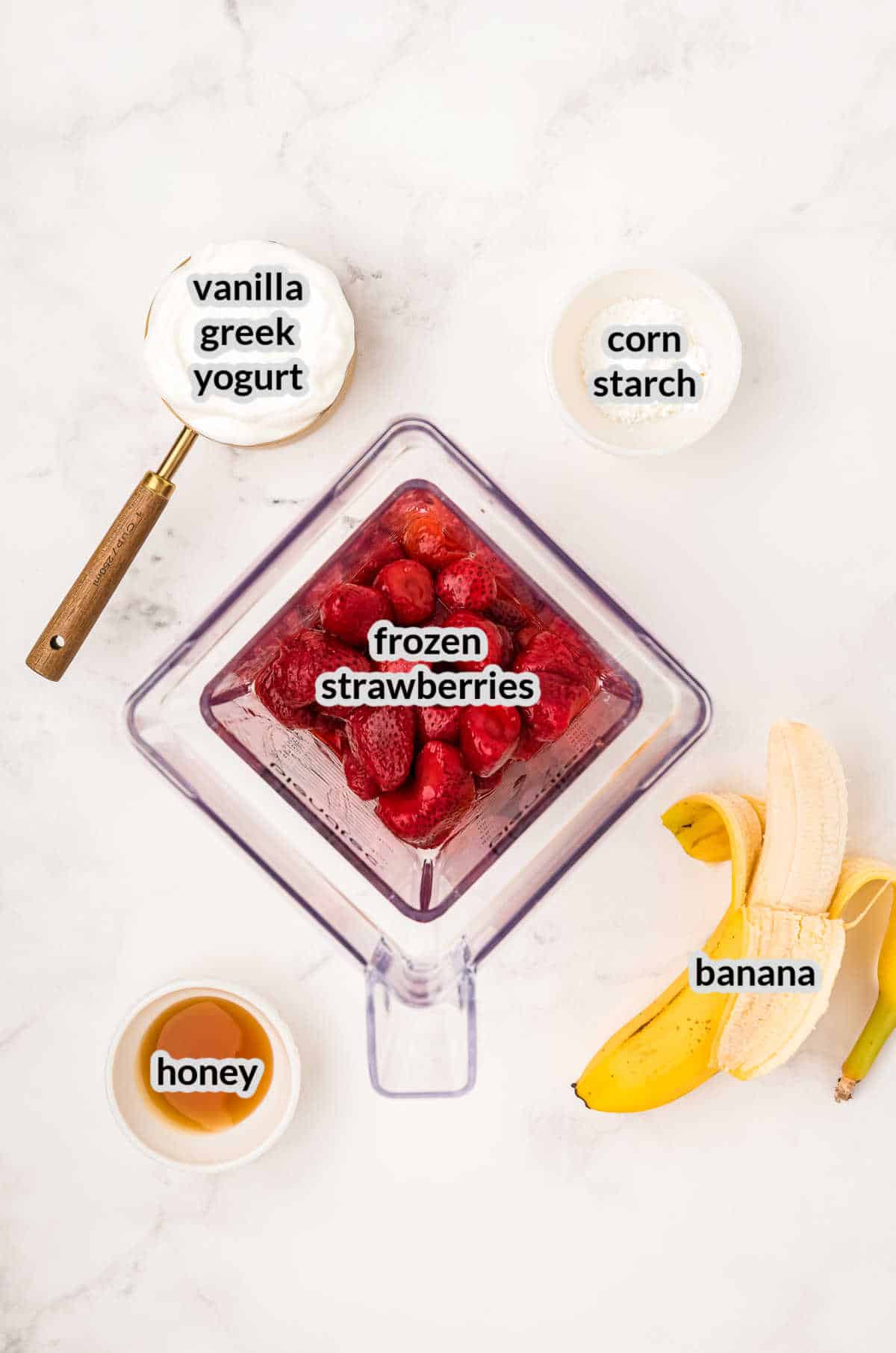 Ingredients for this Strawberry Banana Popsicle Recipe
Frozen strawberries – You can also use fresh strawberries! Or, just purchase a big bag of frozen strawberries in the freezer section of your local grocery store.
Banana – Bananas makes smoothies really creamy, so when you add them to a popsicle mixture it adds a great creamy texture! Plus, strawberry and banana taste delicious together.
Vanilla Greek yogurt – Feel free to substitute this for plain Greek yogurt or any other flavor that you want.
Honey – Honey pairs well with strawberry and banana, but you could also substitute maple syrup, agave syrup, or stevia extract.
Corn starch – Adding a little corn starch gives the popsicle mixture some structure and creates the perfect texture.
How to Make Strawberry Banana Popsicles
Thaw a bag of frozen strawberries and keep the juice.
Place the thawed strawberries, one full banana, vanilla Greek yogurt, honey, and cornstarch into a blender. Blend on high for a few minutes until smooth and creamy.
Carefully pour the mixture into each slot of the popsicle molds. Then, cover the molds with the lid and put popsicle sticks into each one.
Freeze the popsicles for at least 4 hours, but overnight is best! Once they are frozen and you're ready to enjoy a cold treat, just run the molds under warm water for a few seconds. This will release the popsicles and help them come out easily!
Keep frozen until ready to eat, and enjoy.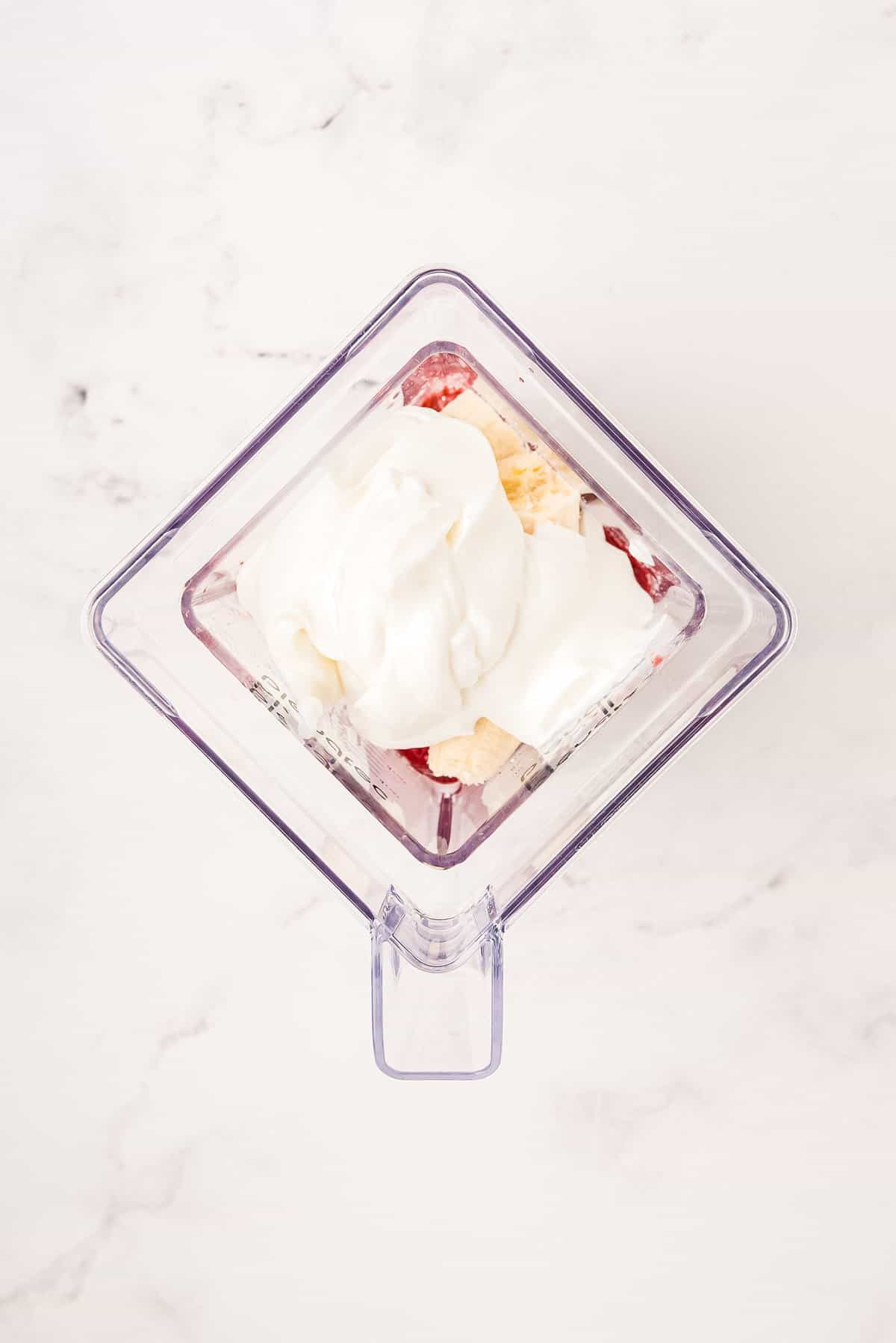 How to store Strawberry Banana Popsicles
Homemade popsicles will last for 2-4 weeks in the freezer, if stored correctly. Make sure that you cover them well to prevent freezer burn from happening. You can wrap each popsicle in plastic wrap, or place them in a freezer safe plastic bag.
But, I think they'll be gone before you know it! So you can easily just throw together another batch and have fresh popsicles on hand whenever you need. Just keep these simple ingredients on hand.
Can I add more fruit to my popsicles?
Always! Blueberries would be really tasty, as well as kiwi or mango. Just blend it up with the other ingredients to keep the same smooth texture. You can also dice up some fruit into really tiny chunks and place them into each slot of the popsicle mold. That way you'll have little bursts of fruit throughout each popsicle!
Is there anything I can use if I don't have popsicle molds?
A simple alternative to popsicle molds is plastic cups and popsicle sticks. Just some small disposable cups onto a baking sheet and fill each one with the popsicle mixture. Place plastic wrap over the top of the cups and poke a hole for popsicle sticks above each cup. Then carefully place the tray in the freezer.
Once frozen, you can slide the popsicles out the cups or cut them away! The popsicles will be a more thick than popsicle molds would make them, but they'll taste great.
Pro Tips!
Ensure that you blend your popsicle mixture thoroughly and make it really smooth and creamy.
After filling the popsicle molds, tap them gently on the countertop to remove any air bubbles before freezing.
Use reusable popsicle sticks so that you always have the supplies on hand that you need to make a these perfect homemade strawberry banana popsicles.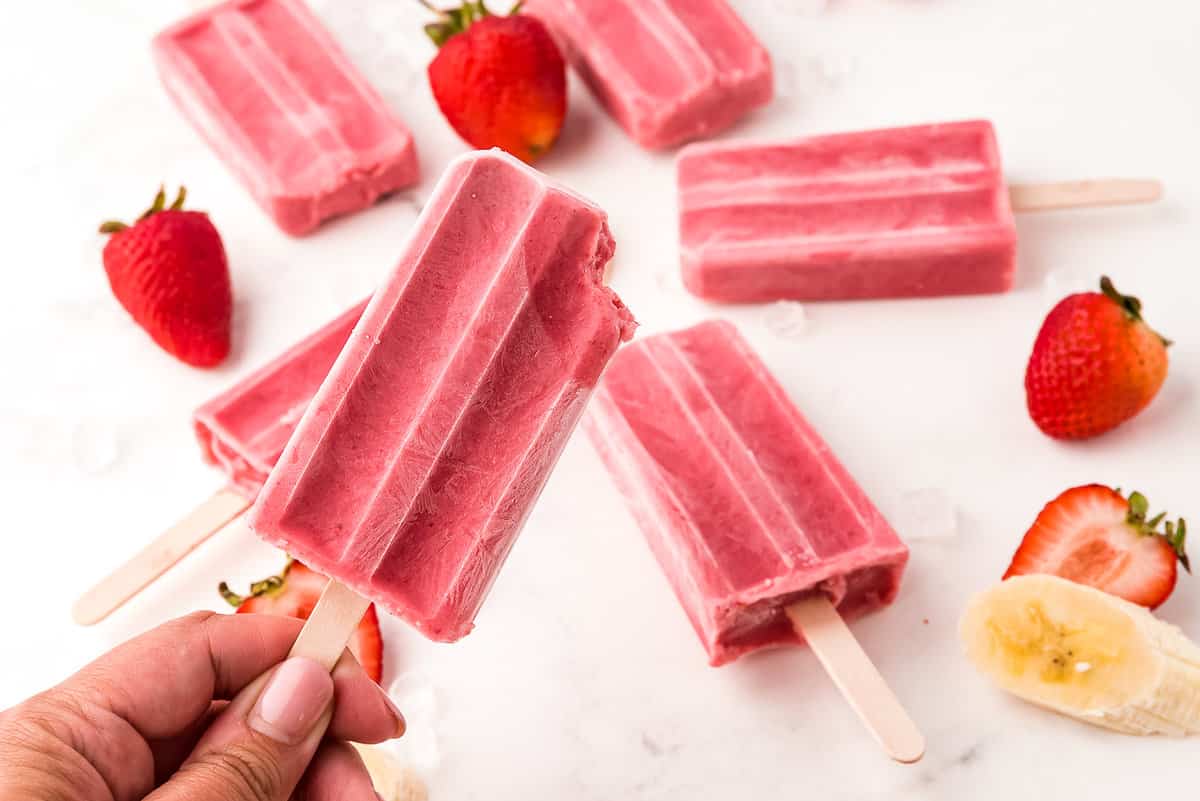 You're going to become a popsicle making pro in no time! Enjoy your summer and your refreshing frozen treats.
More Strawberry Recipes You'll Love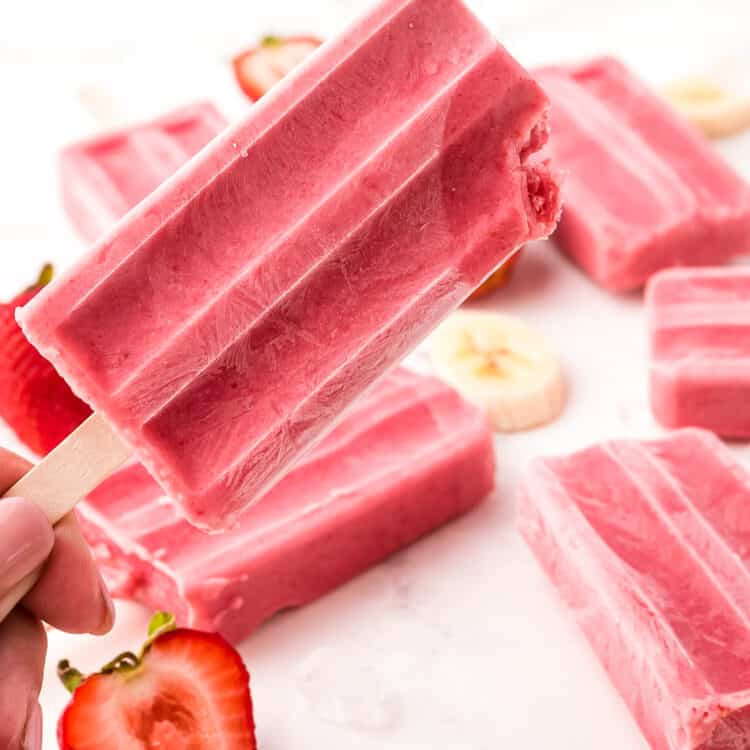 Strawberry Banana Popsicles
Easy, creamy Strawberry Banana Popsicles are a sweet frozen treat perfect for summer.
Ingredients
2

cups

frozen strawberries

thawed, with juice

2

cups

vanilla Greek yogurt

1

banana

1

tablespoon

honey

1

tablespoon

cornstarch
Instructions
Thaw frozen strawberries, retain juice.

In a blender add add strawberries, banana, yogurt, honey and cornstarch. Blend on high until smooth.

Pour mixture into popsicle molds cover with lid and place popsicles sticks into the mixture.

Freeze for at least 4 hours.

When it's time to serve, you can run the molds under warm water for a few seconds or allow them to sit on the counter to warm slightly.
Nutrition Information
Serving:
1
popsicle
,
Calories:
65
kcal
(3%)
,
Carbohydrates:
13
g
(4%)
,
Protein:
4
g
(8%)
,
Fat:
0.1
g
,
Saturated Fat:
0.02
g
,
Polyunsaturated Fat:
0.1
g
,
Monounsaturated Fat:
0.02
g
,
Cholesterol:
2
mg
(1%)
,
Sodium:
14
mg
(1%)
,
Potassium:
128
mg
(4%)
,
Fiber:
1
g
(4%)
,
Sugar:
10
g
(11%)
,
Vitamin A:
11
IU
,
Vitamin C:
18
mg
(22%)
,
Calcium:
6
mg
(1%)
,
Iron:
0.2
mg
(1%)