This quick and easy dessert recipe only requires three ingredients! Grab your strawberry pie filling, yellow cake mix and butter then bake this Strawberry Dump Cake.
I love strawberry recipes and this dump cake recipe is so simple – the perfect cake for a last-minute potluck, BBQ, or party! Or just make it to treat your family – they will love a slice with some vanilla ice cream, whipped cream, or Cool Whip on top.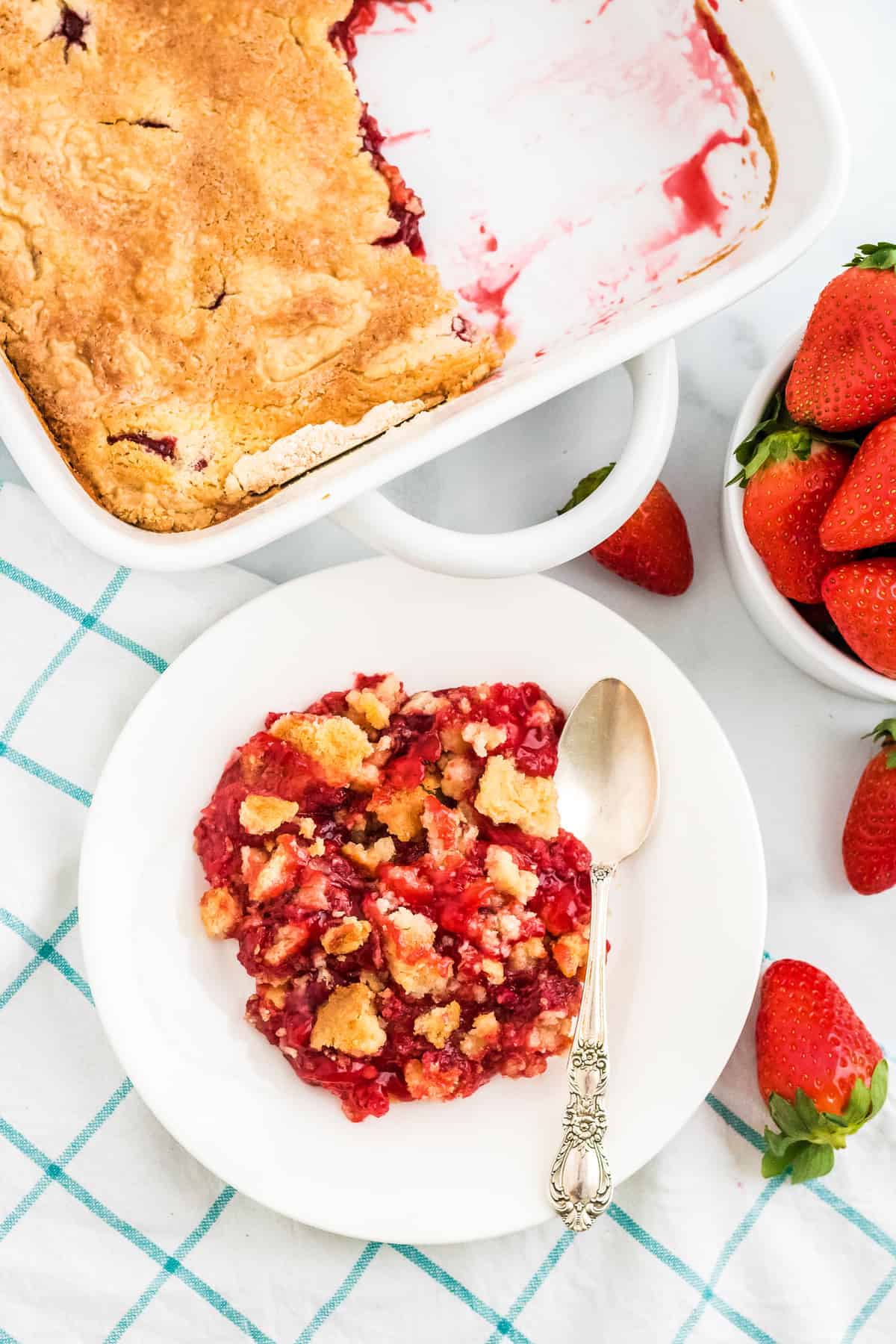 Today, we're going to dive into a recipe that's sure to satisfy your sweet tooth and add a touch of joy to your day. We're talking about a delightful Strawberry Dump Cake.
This recipe is all about simplicity and flavor, combining the sweet and tangy taste of strawberry pie filling with the comforting, homey flavor of a yellow cake. The result? A dessert that's both incredibly delicious and ridiculously easy to make.
Imagine biting into a warm piece of this cake. The top is golden and slightly crispy, contrasting beautifully with the soft, moist interior. The strawberry filling adds a burst of fruitiness, while the yellow cake brings a familiar, comforting taste. It's like a hug for your taste buds!
Why would you want to make this? Well, aside from the fact that it's absolutely scrumptious, this recipe is also incredibly easy to whip up. It's perfect for those days when you want a homemade dessert but don't have the time or energy for something complicated.
Plus, it's a great way to impress your friends and family at your next gathering. Trust us, they'll be asking for seconds!
Why You Should Make This Dump Cake with Strawberries!
Yes, three simple ingredients! It's music to my ears and I bet to yours, too. If you've never made a dump cake, you will love how easy it is!
What I love is that it requires pantry staples I have on hand so I can make it whenever I need a quick dessert. Pie filling, cake mix, and butter are the only things you need.
This is a one-pan strawberry dump cake – you don't need a bowl or a hand mixer to make it. The ingredients are layered in the baking dish – pop it in the oven and that's it!
It's always a hit when I make it – it's a mainstay in my family favorites recipe file! Give it a try and I know your family will love this delicious dessert, too.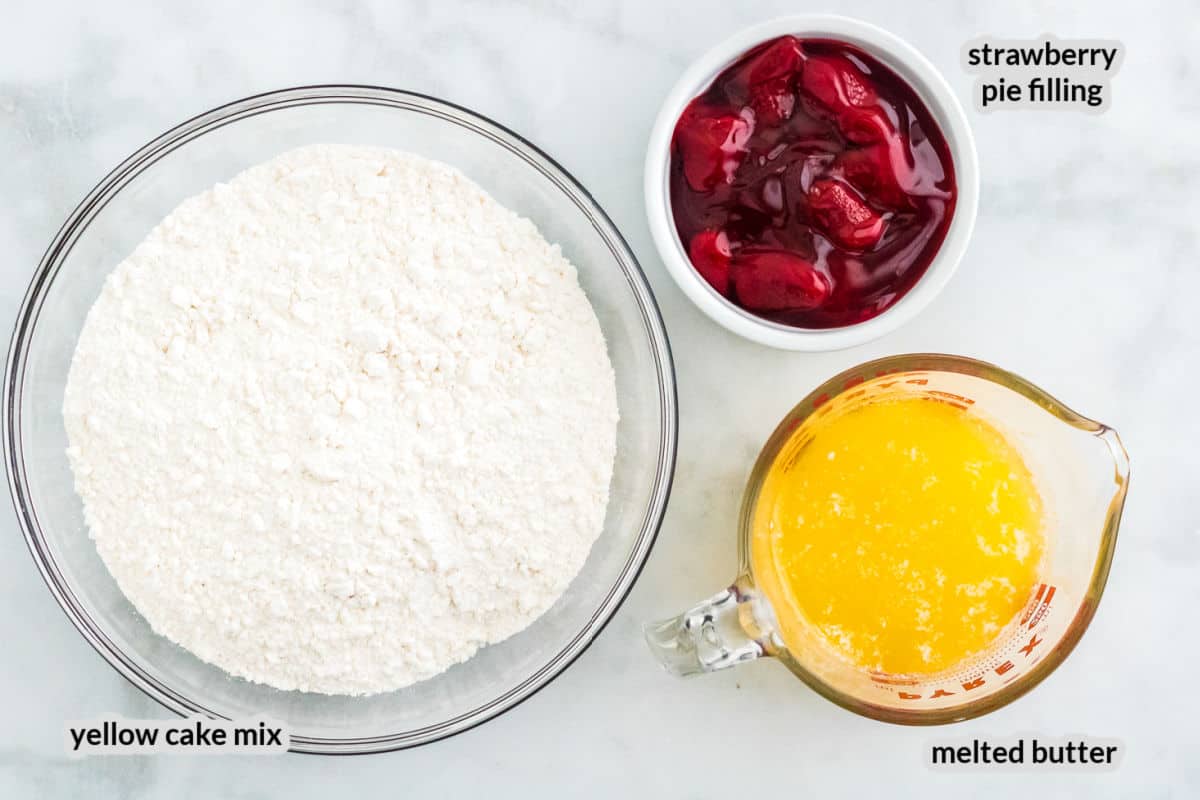 Ingredients
Canned strawberry pie filling – other any fruit pie filling will work, too!
Yellow cake mix – or try white cake mix to switch it up!
Melted butter – I melt mine in the microwave in 30-second increments.
How to Make Strawberry Dump Cake
Spread the pie filling in the bottom of a prepared baking pan.
Sprinkle the dry cake mix over the top in an even layer.
Pour the melted butter evenly over the top of the cake mix.
Bake until the top is golden brown and the filling is bubbling!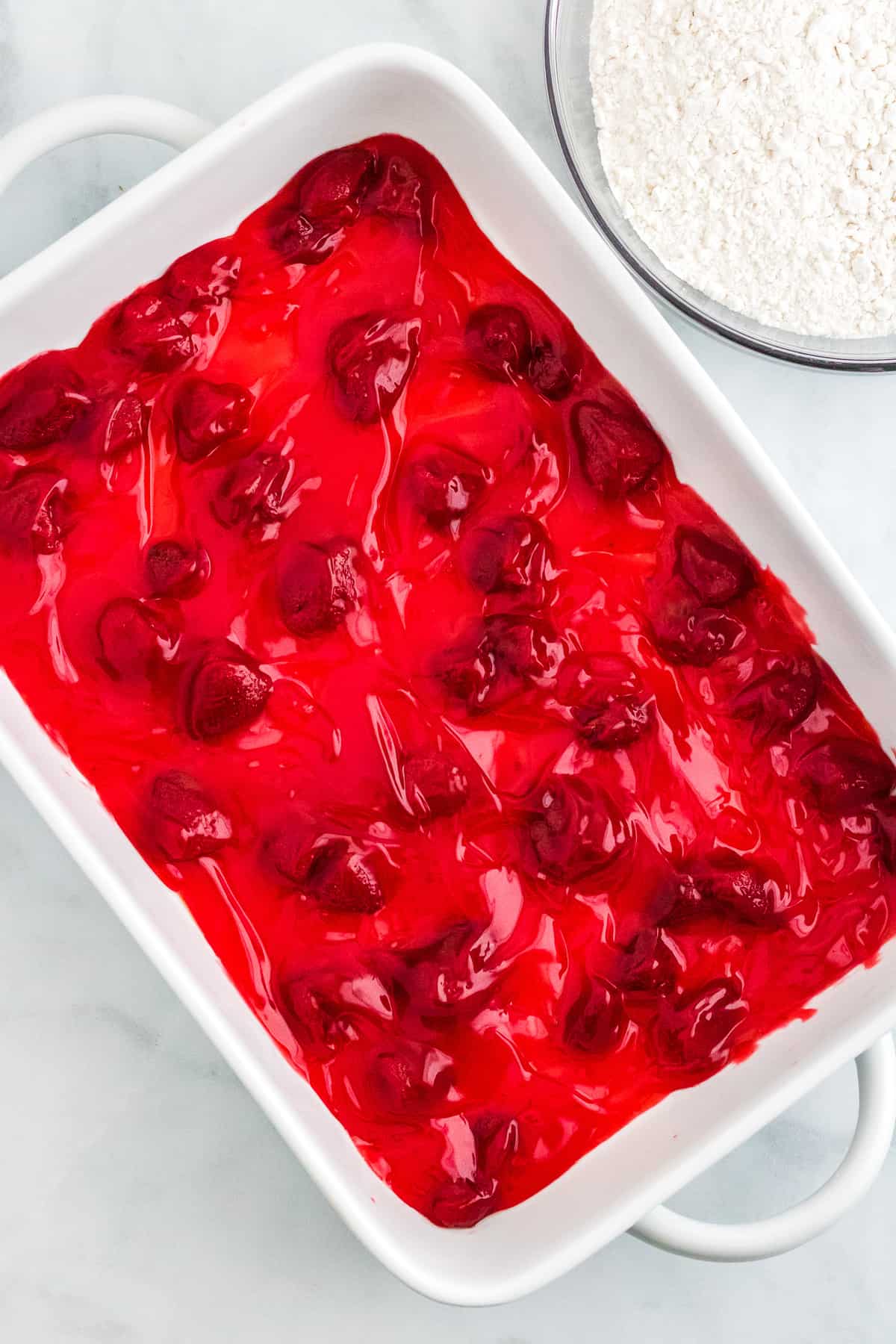 How to Serve It
It's tempting to eat is straight from the pan, but if you can resist here are some ways to serve it!
Add a scoop of vanilla ice cream on top. This is so good when the cake is warm – the ice cream melts over it and creates an amazing sauce!
A dollop of whipped cream or Cool Whip is also good!
Feeling fancy? Garnish each serving with ice cream or whipped cream, sliced strawberries, and a sprig of fresh mint!
Variations of Dump Cake
Once you know how to make a dump cake, it's easy to switch it up to create all kinds of flavors! Here are some ideas:
Caramel apple dump cake is perfect any time of year but especially during the fall!
Love peaches? You have to try peach dump cake!
Skip the pumpkin pie and make a pumpkin dump cake instead.
Try cherry filling to make cherry dump cake, or try blueberry, raspberry, or blackberry canned pie filling!
Can you use any cake mix flavor to make a dump cake?
Pretty much! You can mix and match the cake mix and fruit to come up with all different kinds of dump cakes. Try white cake mix, lemon, chocolate, or strawberry cake mix – it's fun to experiment!
Can I use a homemade cake mix?
Yes, you can. If you have a favorite homemade cake mix recipe, feel free to use it.
Can I make this recipe ahead of time?
Yes, you can prepare the cake and bake it just before serving. It tastes best when served warm.
How to Store Strawberry Dump Cake
Refrigerator: Leftovers can be stored in an airtight container in the refrigerator for up to 5 days. To reheat, simply warm it in the microwave or in the oven at a low temperature until heated through.
Freezer: First, you'll want to let the cake cool completely after it's been baked. Once it's cool, slice the cake into individual servings. Next, take each piece and wrap it tightly in plastic wrap, followed by a layer of aluminum foil.
This double layer is a great way to prevent freezer burn and keep your cake tasting fresh.
After you've wrapped your pieces, place them into a freezer-safe bag or container. Don't forget to label the bag or container with the date so you'll know how long it's been in the freezer. This cake can be frozen for up to 3 months.
If you prefer to freeze the Strawberry Dump Cake as a whole, here's how you can do it:
First, ensure that the cake has completely cooled after baking. Once cool, you can leave it in the baking dish if it's freezer-safe, or transfer it to a freezer-safe container that's just the right size for the cake.
Next, wrap the entire dish or container tightly with a layer of plastic wrap. Make sure all sides are well-covered to prevent any air from getting in. Follow this up with a layer of aluminum foil, which adds an extra layer of protection against freezer burn.
Label the wrapped cake with the date, so you'll know how long it's been in the freezer. The cake can be frozen for up to 3 months.
When you're ready to enjoy the cake, it's best to let it thaw overnight in the refrigerator. Once it's thawed, you can reheat it in the oven at a low temperature until it's warmed through. Enjoy your delightful Strawberry Dump Cake!
How do I reheat leftover dump cake?
In the Oven:
Preheat your oven to 300°F (150°C).
Place the leftover cake in an oven-safe dish.
Heat for about 10-15 minutes, or until it's warmed through. Be sure to check it frequently to prevent it from drying out.
In the Microwave:
Place a slice of the cake on a microwave-safe plate.
Heat it on medium power for about 1 minute. If it's not warm enough, continue heating in 15-second intervals until it reaches your desired temperature.
Remember, the times may vary depending on your appliance, so it's always a good idea to check the cake partway through the reheating process. Enjoy your delicious cake!
Pro Tips!
Make sure to spread the cake mix evenly over the pie filling to ensure even baking.
For a richer flavor, you can add a sprinkle of cinnamon or nutmeg to the cake mix before baking.
Serve the cake warm with a scoop of vanilla ice cream for an extra treat.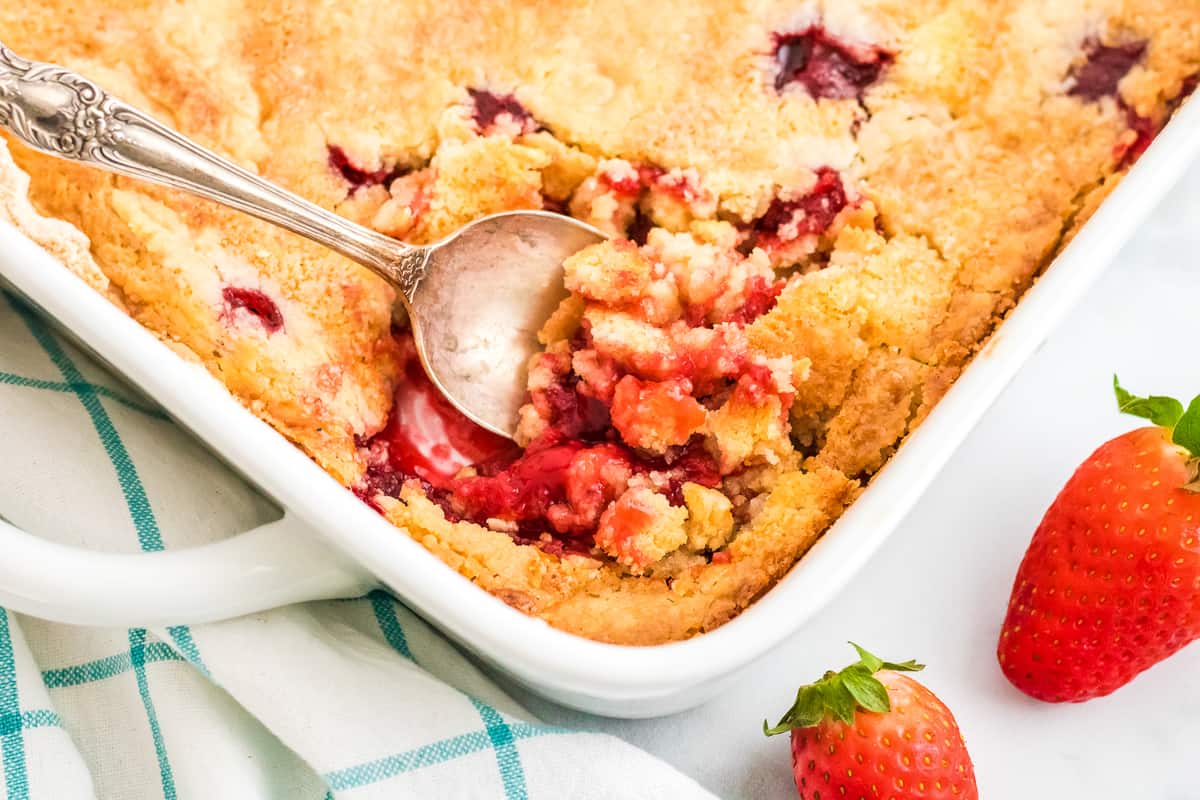 You can never have enough easy recipes for dessert, right? Well, this strawberry dump cake recipe is one to keep up your sleeve. It's easy, delicious, and always a hit! And if you need a recipe to cool off during the summer, then check out these fudgsicles.
More Easy Desserts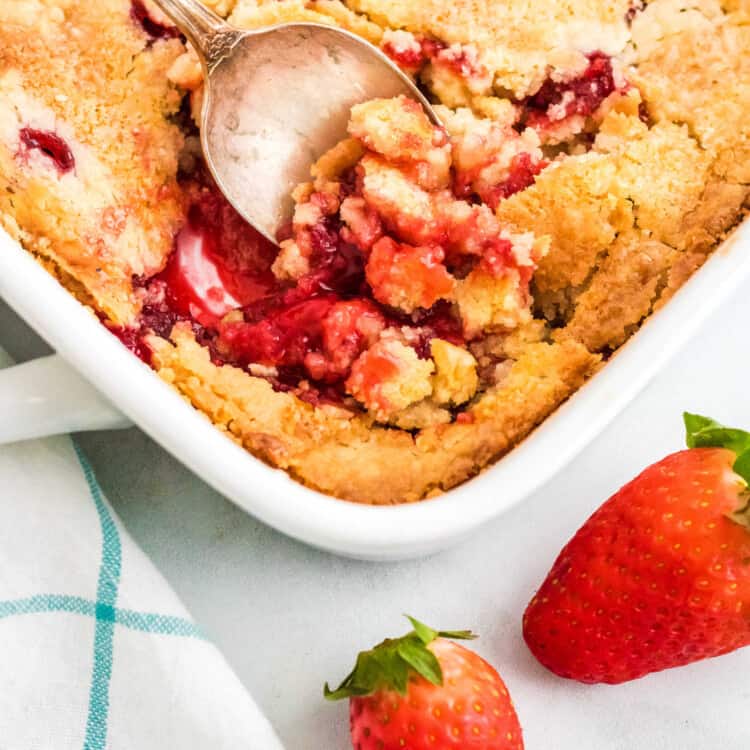 Strawberry Dump Cake
Quick and easy Strawberry Dump Cake with only three ingredients!
Ingredients
21

ounces

canned strawberry pie filling

15.25

ounce

boxed yellow cake mix

¾

cup

melted butter
Instructions
Preheat the oven to 350 degrees and spray a 9×13 inch baking pan with cooking spray and set aside.

Add the strawberry pie filling to the baking pan and spread out evenly on bottom of pan.

Sprinkle the cake mix over the top of the pie filling in an even layer until the pie filling is completely covered.

Pour the melted butter on top of the cake mix, making sure to cover as much as possible to avoid dry spots.

Place the baking pan in the preheated oven and bake for 45-50 minutes or until top is golden brown.

Remove the baking pan from the oven and let it cool slightly.

This can be served warm or room temperature. Top with Cool Whip, Vanilla Ice Cream or Homemade Whipped Cream.
Nutrition Information
Calories:
358
kcal
(18%)
,
Carbohydrates:
53
g
(18%)
,
Protein:
2
g
(4%)
,
Fat:
15
g
(23%)
,
Saturated Fat:
9
g
(56%)
,
Polyunsaturated Fat:
1
g
,
Monounsaturated Fat:
4
g
,
Trans Fat:
1
g
,
Cholesterol:
37
mg
(12%)
,
Sodium:
438
mg
(19%)
,
Potassium:
24
mg
(1%)
,
Fiber:
1
g
(4%)
,
Sugar:
31
g
(34%)
,
Vitamin A:
425
IU
(9%)
,
Vitamin C:
13
mg
(16%)
,
Calcium:
109
mg
(11%)
,
Iron:
1
mg
(6%)