Strawberry Bellini Recipe
Strawberry Bellini Recipe ~ Delicious, Easy Bellini Recipe Perfect for Celebrating! Fresh Strawberries, Brandy and Sparkling Moscato Make this a Festive Drink!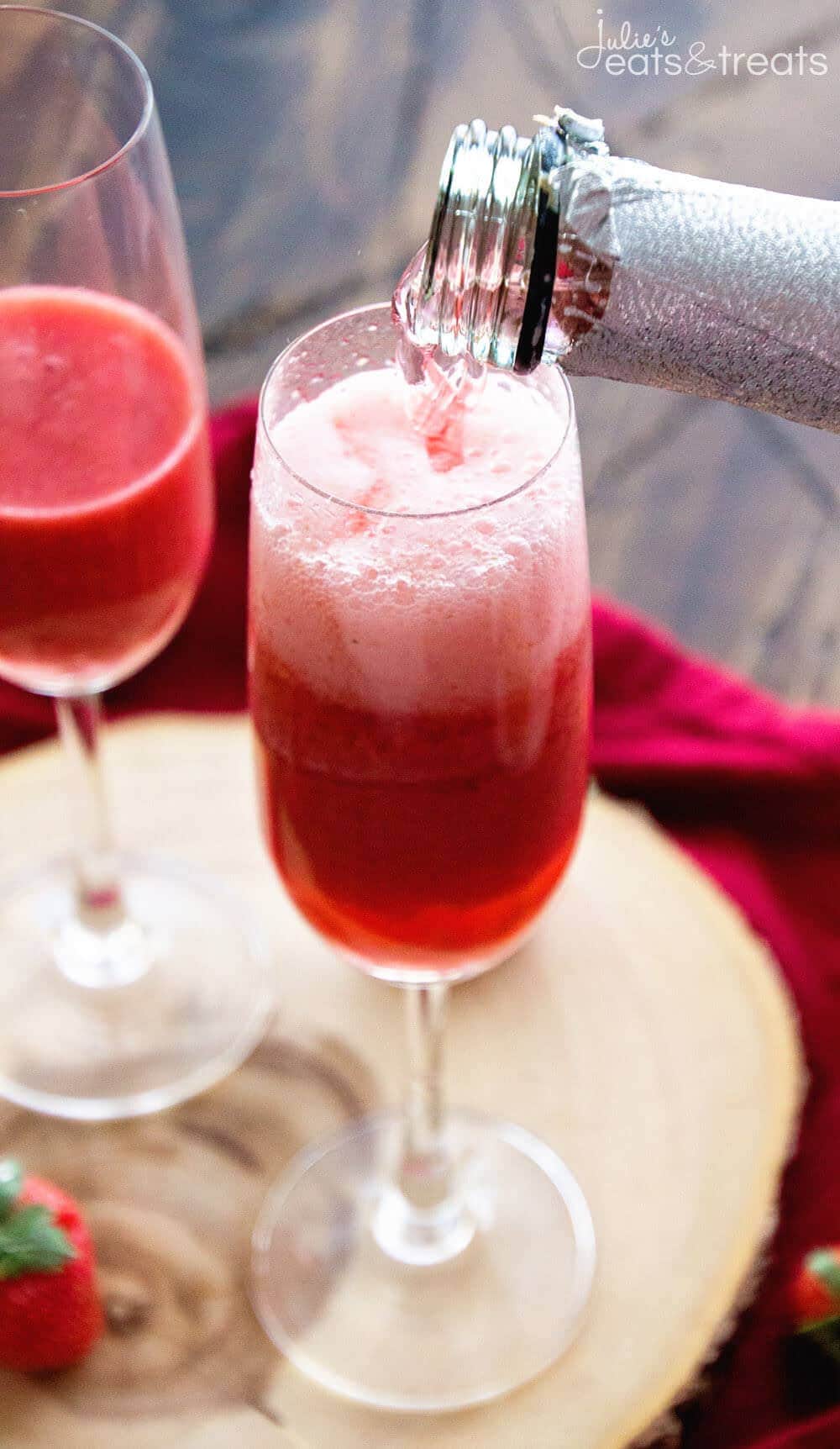 Can you believe this time last year I hardly had any beverage recipes on this blog? I mean that's just a shame! We all need a great drink to celebrate with or a few to choose from! I've been adding them like crazy this year to make up for lost time. Some of my favorites are these Mimosa Floats because everyone needs a fun drink like that to start their day off! If it's the afternoon and you need an excuse for a fun coffee beverage then you need to check out this RumChata Iced Coffee Slush that I adore. Another great option to celebrate with is Peach Rosé Sangria!
With New Years Eve coming up I felt the need to share another delicious drink recipe with you. I wanted something light, fizzy and fruity because obviously that's a winning combination! These Strawberry Bellinis are spot on with all of those needs!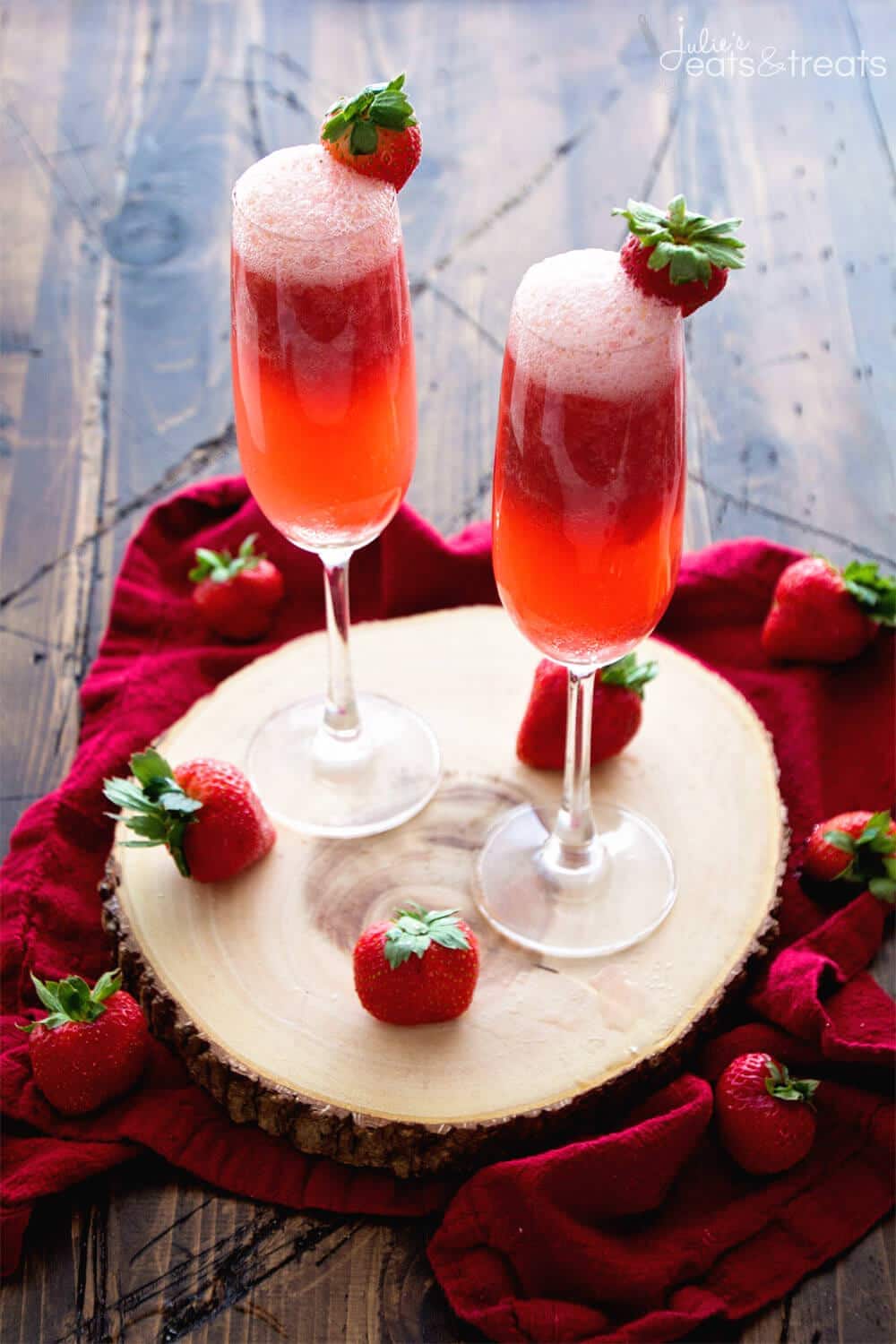 Can we rewind to the fact that it's almost 2016? I mean HELLO when did that happen? I'm not real sure, but I think in there somewhere I blinked my eyes and it happened. Craziness.
Does anyone remember when it was 1999 and we were deathly afraid of the year 2000? Everything was going to quit and the earth was apparently going to quit revolving is what I remember. I wasn't very old when this was going down but I remember there was a lot of hype and fear that's for sure. People were stocking up on groceries and hiding out in their basements thinking the earth was going implode.
I'm proud to say it's almost 2016 and so far none of that has happened! Ahhhh the silliness when we look back on it!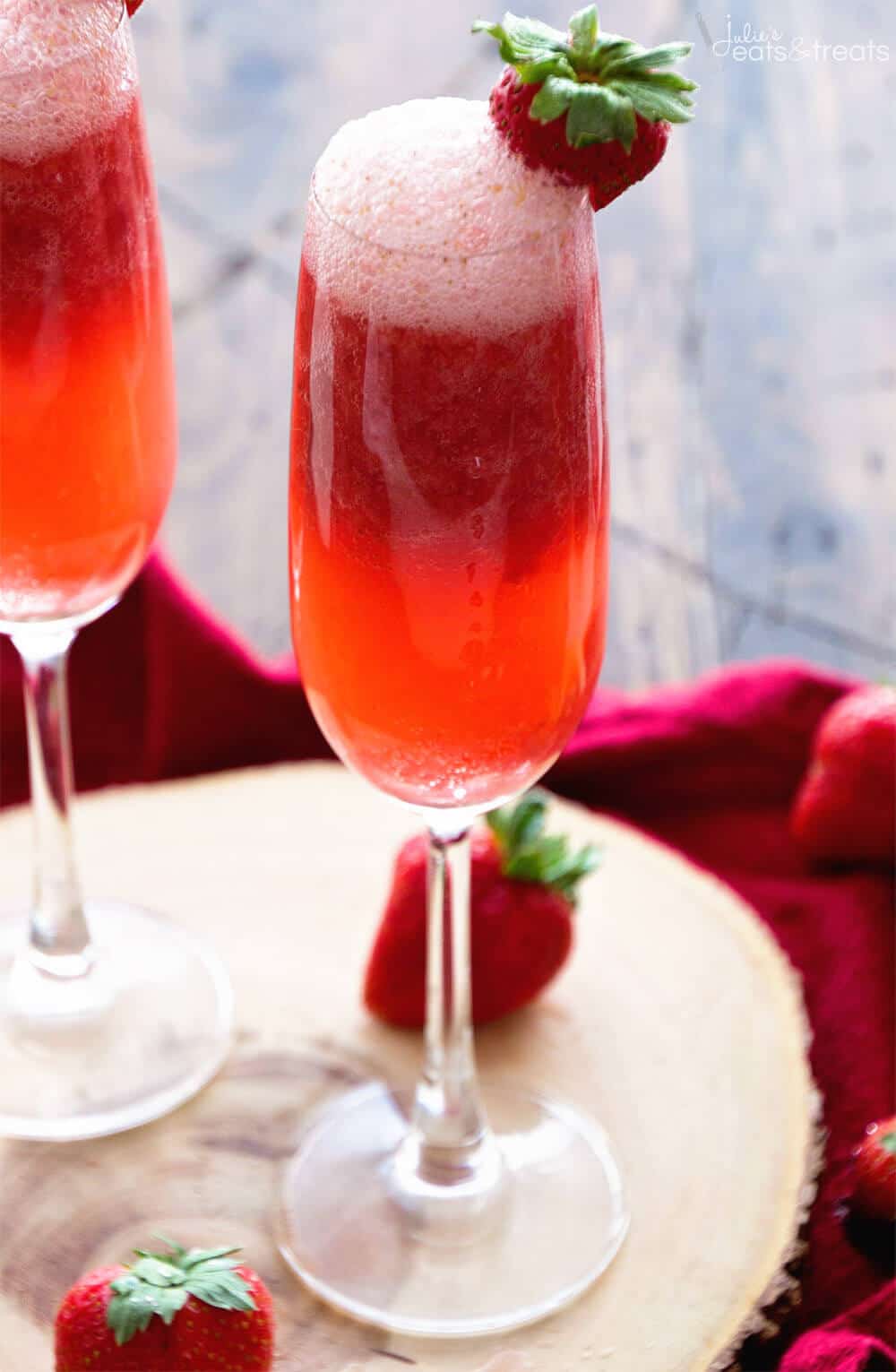 You know what else we can celebrate if you don't want to stay up until midnight on New Years Eve or you just can't wait to taste test one of these Strawberry Bellinis? The fact we survived Christmas! Anyone else feeling like that's a major feat? I know I sure am. We have eight family Christmases and it gets a tad bit overwhelming. Family I love you, but that's a lot of parties with two little children, working full time and running this blog. I'm purely exhausted. I feel like I should take the next week off just to recover!
I might have been complaining about all the stuff going on to my Mom the other night. Complaining that I was overwhelmed and having a hard time enjoying the fact that it was Christmas and the holidays. She commiserated with me like a good Mom, but then she politely reminded me that I'm very blessed to have this problem. I have a large, loving family that wants to spend time with me! Or maybe they just want to see my adorable little girls, either way it's a good thing! So I went with that the rest of the season. I'm blessed and I'm going to enjoy it! So what if my gifts aren't wrapped perfectly or I'm throwing them in bags as we walk out the door? At least I bought them!
We survived! We did it! We came out on top!
Cheers to you! Go treat yourself to a Strawberry Bellini my friends!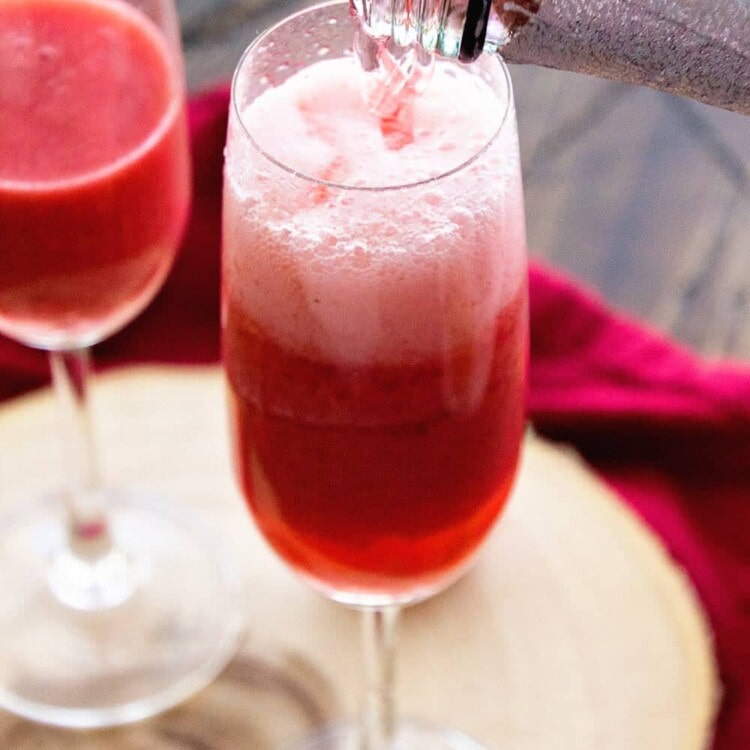 Strawberry Bellini Recipe
Delicious, Easy Bellini Recipe Perfect for Celebrating! Fresh Strawberries, Brandy and Sparkling Moscato Make this a Festive Drink!
Ingredients
3

c.

strawberries

1/4

c.

powdered sugar

1

Tbsp

Brandy

2

c.

sparkling strawberry Moscato

4

Additional Strawberries for Garnish
Instructions
In a blender blend together the strawberries, powdered sugar and brandy until smooth.

Chill in refrigerator for at least 1/2 hour.

Divide the strawberry mixture among 4 champagne flutes. Top each with 1/2 c. sparkling Moscato. Stir.

Garnish each glass with strawberry.
Nutrition Information
Calories:
223
kcal
(11%)
,
Carbohydrates:
35
g
(12%)
,
Protein:
1
g
(2%)
,
Sodium:
2
mg
,
Potassium:
289
mg
(8%)
,
Fiber:
3
g
(13%)
,
Sugar:
23
g
(26%)
,
Vitamin A:
20
IU
,
Vitamin C:
111.4
mg
(135%)
,
Calcium:
28
mg
(3%)
,
Iron:
0.8
mg
(4%)
Get More Great Drink Recipes!
Follow my Beverages & Drink Recipes Board on Pinterest!
Follow Julie Evink | Julie's Eats & Treats's board Beverages & Drink Recipes! on Pinterest.
Find These on Julie's Eats & Treats!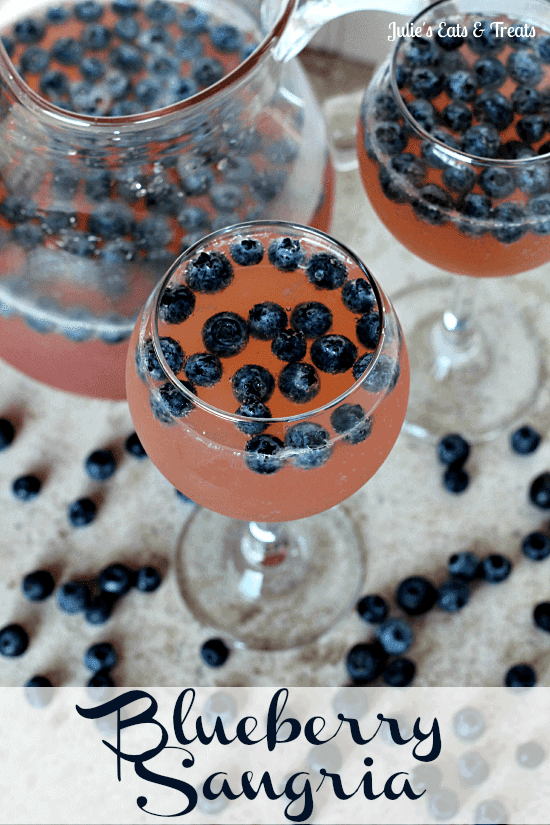 Blueberry Sangria ~ You won't be able to stop with just one of these fabulous drinks! A mixture of Chardonnay, Pink Lemonade, Brandy, Sprite and Blueberries will have you coming back for more!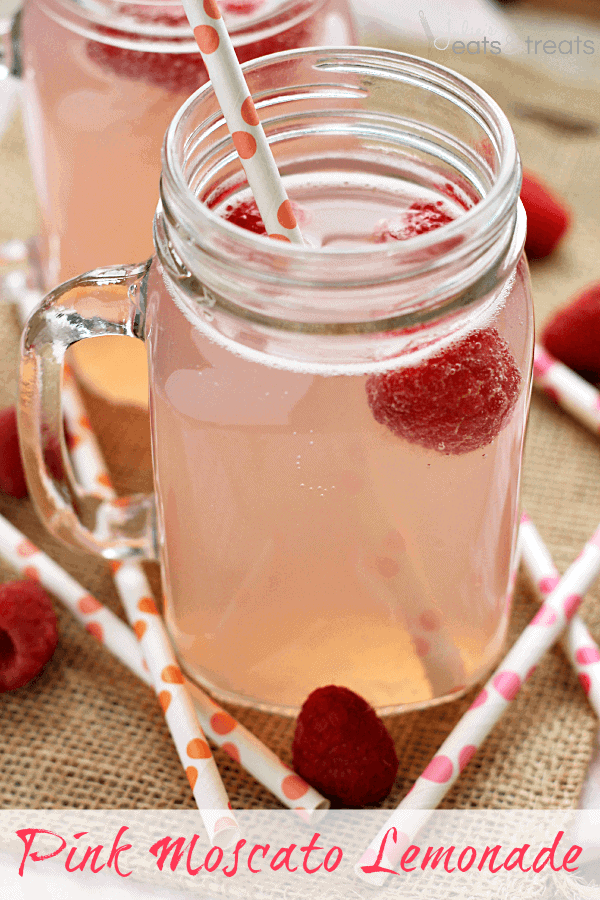 Pink Moscato Lemonade ~ Pink Lemonade spiked with Moscato, Loaded with Raspberries and Bubbly!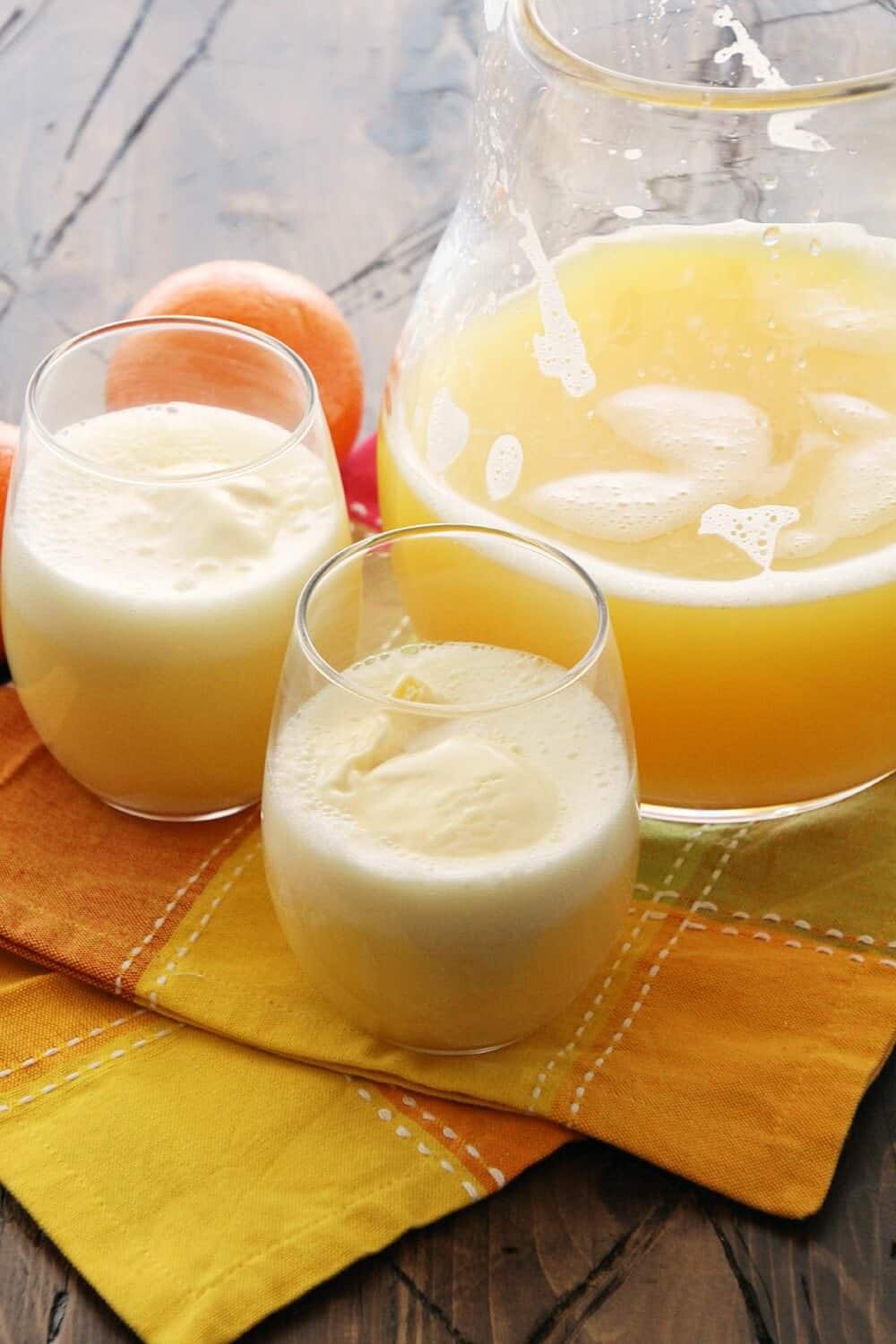 Mimosa Floats ~ Your Favorite Mimosa Dressed Up with Ice Cream! How Can You Not Love This?