There's nothing like plump, juicy strawberries bursting with flavor! Strawberry desserts, drinks, salads and more are always a hit because there's rarely a person that doesn't love the flavor of strawberry. We have recipes using fresh, jam and more so you can enjoy these all year long.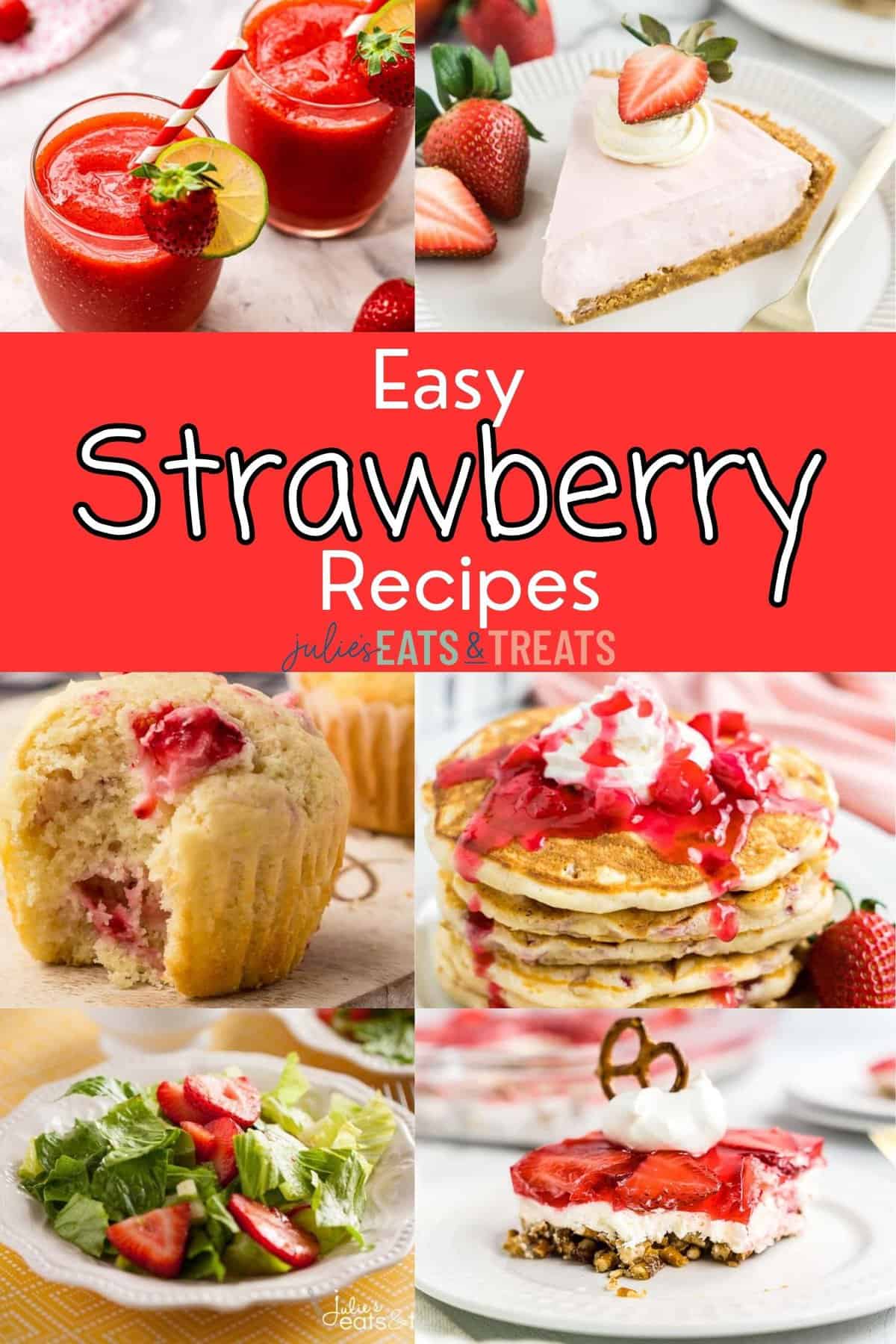 Easy Strawberry Recipes to Make!
If you love strawberry flavored treats you have come to the right place! No matter if it's desserts, drinks, side dish or salads we have found our favorites for you.
These Strawberry Recipes use fresh and frozen strawberries plus jams so you can make them any time of the year. Even if you are crazing something strawberry flavored in the dead of winter you can satisfy your urge!
If you click on the headings below like Breakfast, Salads & Sides, Drinks, etc. it will bring you directly to that category.
Strawberry Breakfast Recipes
Wake up to a delicious breakfast bursting with strawberry flavor! There's no better way to greet the morning!
Delicious and Nutritious Whole Grain Strawberry Breakfast Bars: A Healthy Way to Start Your Day.
Start Your Day on a Berrylicious Note.
Kickstart Your Morning with a Stack of Happiness: Introducing our friendly Strawberry Pancakes.
Indulge in the Sweetness of Strawberry Overnight Oats: A Refreshing and Filling Breakfast Delight.
Packed with vitamins and antioxidants, this smoothie is not only delicious but also a nutritious way to kickstart your morning or satisfy your snack cravings. So grab your blender, take a sip, and embrace the fruity goodness of our delightful Strawberry Banana Smoothie!
Indulge in the Irresistible Strawberry Cheesecake Crescent Ring!
Berry Bliss in Every Bite. 🍓😋
Strawberry Salads & Sides
Strawberries have so much flavor that they are perfect for sneaking into your salads and sides. That burst of flavor makes the recipe!
Whip Up This Easy Strawberry Rhubarb Jam for a Burst of Flavor!
Fresh and Vibrant: Discover the Delightful Combination of Strawberries and Romaine in This Refreshing Salad!
It offers a burst of flavor and creamy texture, making it a popular choice for a range of occasions.
Bursting with the flavors of juicy strawberries and creamy bananas, these homemade popsicles are a refreshing treat that will bring joy to both kids and adults.
Dive into this Easy Fruit Salad for a Burst of Refreshment!
Strawberry Tapioca Salad is a refreshing and creamy dessert salad that combines the sweetness of strawberries with the delightful texture of tapioca pearls.
Experience the Refreshing Symphony of Flavors in this Layered Strawberry Salad!
Strawberry Drinks
Quick and easy cocktails and mocktails featuring strawberries! We even have a two-ingredient cocktail perfect for parties.
This icy cocktail is the ultimate summer refresher, blending the luscious sweetness of ripe strawberries with the tropical allure of rum.
This vibrant cocktail combines the classic flavors of a mojito with the luscious sweetness of fresh strawberries.
Quench Your Thirst with a Zesty Twist: Sip on Strawberry Vodka Lemonade, the Perfect Refreshing Beverage for Any Occasion!
Indulge in the Bubbly Bliss of Sparkling Strawberry Lemonade, the Perfect Friendly Drink for Every Celebration!
Sip on Strawberry Lemonade Margaritas for a Refreshingly Friendly Twist on a Classic Cocktail!
Savor the Sweet and Tangy Blend of Spiked Strawberry Lemonade, Perfect for Laid-Back Gatherings and Summer Celebrations!
Enjoy the Virgin Strawberry Margarita, the Tequila-Free Fiesta that Keeps the Laughs Rolling and the Taste Buds Tingling!
Dive into the Berrylicious Twist of Strawberry Limeade Sangria, Where Fruity Fun Meets Sangria Swagger!
When life throws you limes, make limeade.
Cheers to you! Go treat yourself to a Strawberry Bellini my friends!
Strawberry Desserts & Pies
There's nothing like a sweet ending to finish off a meal. Strawberries make desserts and pies light and refreshing!
Upside Down, Smiles All Around: Enjoy the Irresistible Delight of Friendly Upside Down Strawberry Cake!
Indulge in the Delicate Sweetness of Strawberry Pie Bars, a Perfectly Portable Treat for Any Occasion!
Delight in the Delicate Layers of Easy Strawberry Napoleon, a Simple Yet Impressive Dessert!
With its smooth and velvety texture, this no-bake strawberry cheesecake is an easy and delicious treat that will impress your family and friends.
Strawberry Rhubarb Crisp is a delectable dessert that combines the vibrant flavors of ripe strawberries and tart rhubarb, topped with a sweet and crunchy oat-based crisp topping.
Topped with a light and fluffy lemon whipped cream, each slice is a heavenly treat that will leave you wanting more.
Whether you're indulging in a sweet craving or sharing them with friends and family, these brownies are sure to bring smiles and leave a lasting impression.
Dive into the Irresistible Strawberry Pie with Jello, a Burst of Juicy Goodness in Every Slice!
With each bite, you'll experience the perfect balance of textures and flavors, from the buttery richness of the biscuit to the burst of sweetness from the strawberries.
A Heavenly Dessert Packed with the Classic Flavors of a Banana Split!
With the perfect balance of juicy strawberries and tangy rhubarb, this classic dessert will surely put a smile on your face!
Beat the Heat with a Slice of Refreshing Bliss: Introducing our friendly Strawberry Lemonade Icebox Pie.
With every bite, you'll experience a burst of strawberry goodness that will leave you craving more.
This unique and crowd-pleasing dessert combines the crunch of pretzels, the creamy goodness of a cream cheese layer, and the refreshing sweetness of strawberry jello.
Embrace the Taste of Summer with a Simple and Delicious Dessert.
Chocolate angel food cake with strawberry sauce is a heavenly dessert that combines the light and airy texture of angel food cake with the richness of chocolate, topped with a luscious strawberry sauce.
Try This Irresistible No-Bake Strawberry Cheesecake Icebox Cake!
Layer on the bananas, strawberries and lighter versions of pudding, graham crackers and Cool Whip and you have an awesome "Skinny" version of this terrific treat!
The result is a dessert that people will think you slaved all day over, but I won't tell them the truth if you don't!
Strawberry ice cream is a classic frozen treat loved for its sweet and refreshing taste.
The combination of zesty lemon and sweet strawberry creates a delightful flavor profile.
The cookies have a rich chocolate taste, while the strawberry filling adds a fruity and sweet element to the combination.
A Dreamy Delight That Melts in Your Mouth!