Strawberry Tapioca Salad is a favorite fluff salad recipe from my childhood! This light, fluffy strawberry Jello salad with tapioca is one of the most requested dessert salad at holidays!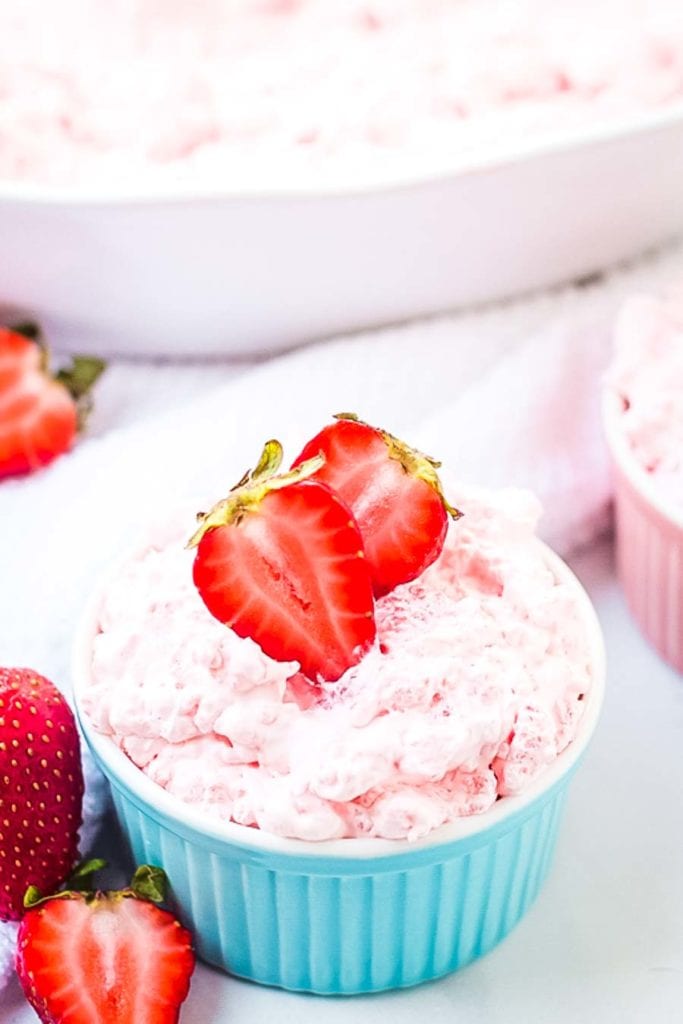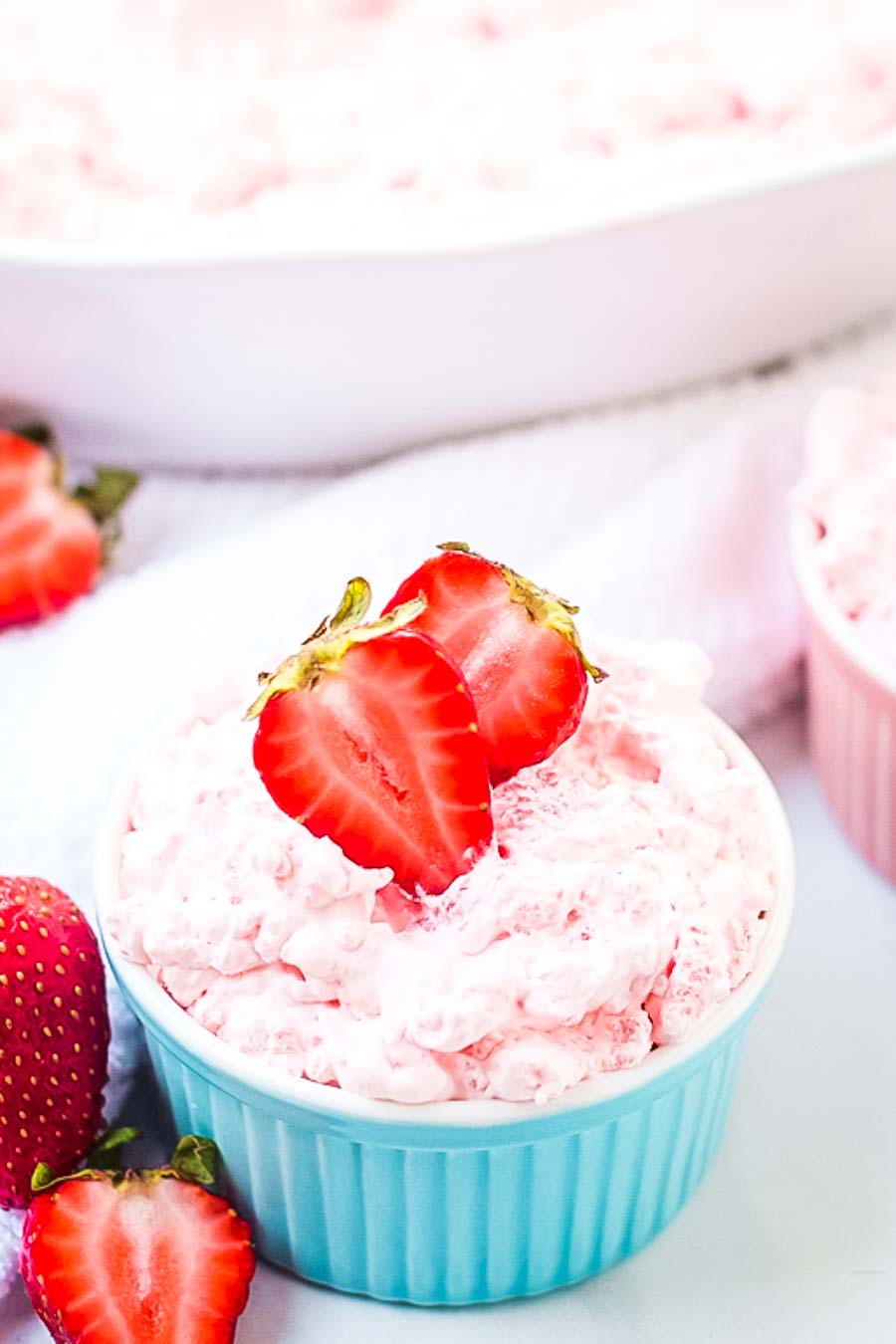 The BEST Strawberry Tapioca Salad!
For midwesterners, dessert salads (also known as fluff salads) are practically a requirement at all potlucks and the most popular question I get when I post one here is "how is this a salad?" The only answer I have is, "it just is!" I know it looks like dessert, but these sweet salads are served as a side dish where I'm from!
Dessert Salads are a THING!
Dessert salads are something I grew up with and this Strawberry Tapioca Salad was always a staple and one of my mom's favorite go-to salads whenever she needed a dish for a family outing or potluck. I've shared other dessert salads like my Snicker Salad and Cookie Salad and now I'm sharing this strawberry dessert salad that's super easy to make. There's a reason my mom made it all the time – everyone seems to love it!
My kiddos and hubby love it, too! Light and fluffy whipped cream combined with strawberry jello, vanilla pudding and tapioca pudding is definitely a kid magnet! I have to watch their serving size because if my family had their way they'd load up their plates with this Strawberry Tapioca Salad and nothing else!
I remind my kids that potlucks are all about sharing dishes – when a fluff salad is around they need the reminder sometimes! The last time I made this strawberry salad I also made a batch of my Cashew Rotini Salad and they much preferred the sweet salad – go figure!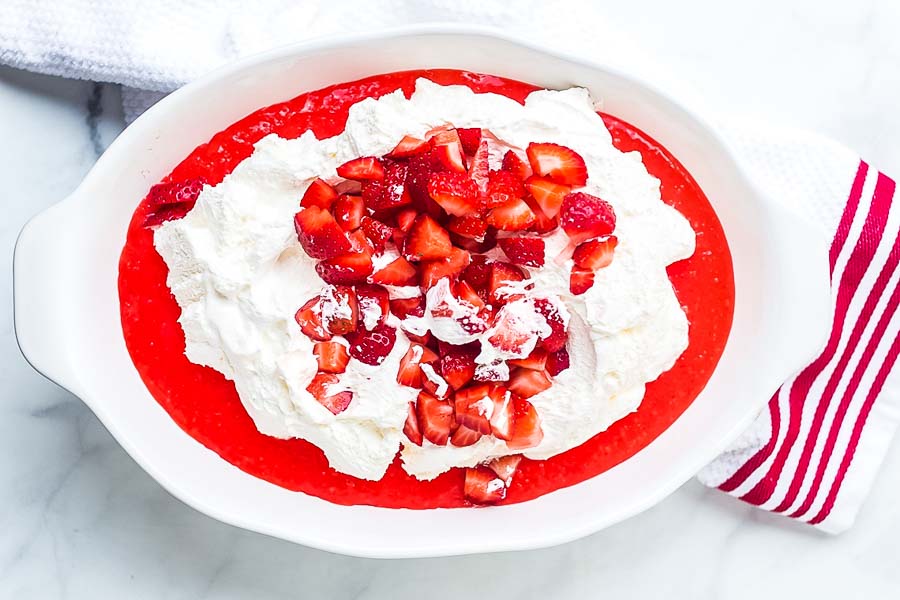 What do I need to make Strawberry Tapioca Salad?
If you'd rather skip my (very helpful, I think) tips and tricks, essential cooking info, and similar recipe ideas – and get straight to this delicious Strawberry Tapioca Salad – simply scroll to the bottom of the page where you can find the printable recipe card.
tapioca pudding (cook & serve)
vanilla pudding (cook & serve)
water
1 box strawberry jello
Cool whip
fresh strawberries
How do I mix Strawberry Tapioca Salad?
Boil – combine the tapioca pudding and vanilla pudding in a sauce and add the water. Bring it to a boil, stirring continuously, until thickened. Add the strawberry jello, stir, and then remove it from the heat to cool.
Mix – when the pudding/jello mixture is cooled combine it with the Cool Whip and strawberries.
Serve – you can serve it right away or keep it in the refrigerator to serve later.
What tools do I need to make this salad?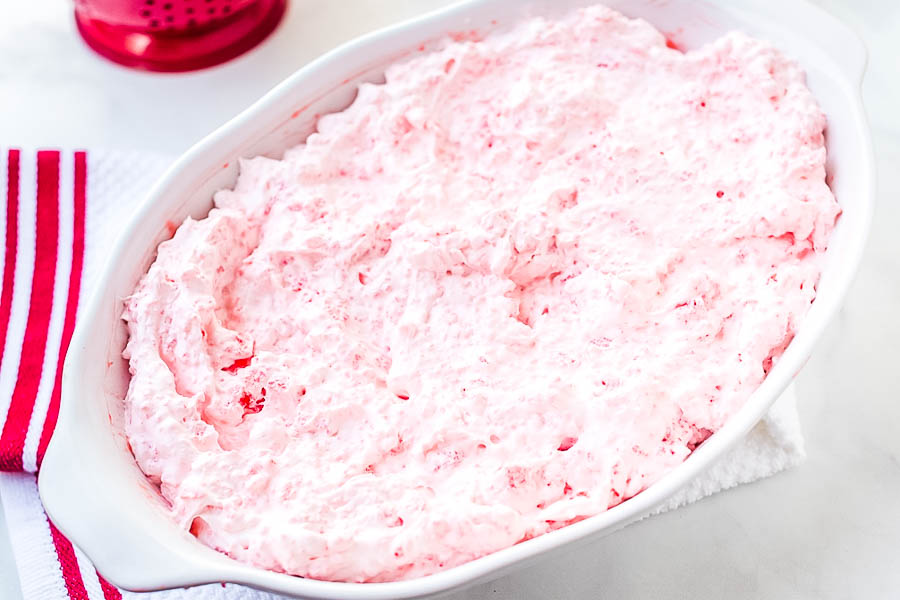 Quick tips and tricks to make the BEST Strawberry Tapioca Salad!
My family's been making this Strawberry Tapioca Salad for years! Here are some commonly asked questions and my best tips for making it. If you have any additional questions comment below and we will do our best to answer your questions!
Do I need cook and serve Jello and Pudding?
For this recipe, I use cook and serve pudding which is different from instant pudding. For cook and serve, you need to cook it first (it only takes three to four minutes) so they set properly. For instant pudding mixes all you do is add milk, stir and the pudding thickens without any cooking required.
I've always used cook and serve pudding and haven't tested this recipe with instant pudding. If you try it, please let us know in the comments how it worked!
How do I store this fluff salad?
If you don't plan to serve the fluff salad right away, transfer it to an airtight container and store it in the refrigerator.
How long do leftover jello salads last?
In the unlikely event that you have leftovers (we never do!), the salad will keep well for a couple of days in the refrigerator. Just be sure to keep it in an airtight container!
Is this a dessert or salad?
It's a salad! Dessert salads like this Strawberry Tapioca Salad are usually served as a side dish and not as a separate dessert. At potlucks, people add it to their plates alongside other savory dishes!
Are you ready to make this and make a lot of people very, very happy? I know you're going to love this Strawberry Tapioca Pudding! Once you try it be sure to check out my other fluff salad recipes or browse some of my other favorite potluck dishes!
More Dessert Salad Recipes!
If you are a big fan of salads that are really desserts like we are then I know you will flip over these other favorites of ours!
Other Potluck Recipes to Try!
Need a delicious recipe to share? Try these are great potluck recipes that are sure to be a hit wherever you bring them!
Try it and love it? Rate it, please!!! ? Seriously though a five-star rating below will make my day! If you snap a photo of you enjoying Strawberry Tapioca Salad, please be sure tag me on Instagram at @julieseatsandtreats or #julieseatsandtreats so I can see your yummy dessert salad!!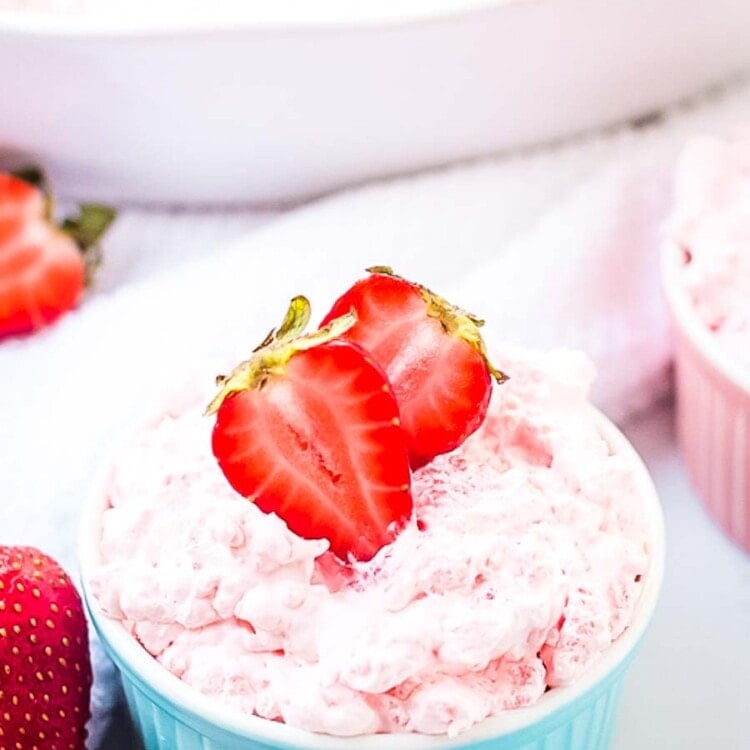 Strawberry Tapioca Salad Recipe
Strawberry Tapioca Salad is a light fluffy dessert salad with strawberry jello and tapioca.
Ingredients
3

oz

box tapioca pudding cook and serve

4.6

oz

box vanilla pudding cook and serve

3

c.

water

3.4

oz

pkg strawberry jello

12

oz

Cool Whip

1

c.

strawberries

cut up
Instructions
Mix tapioca and vanilla puddings in saucepan. Add water and stir to combine. Bring to a boil, stir constantly until thick. About 3-5 minutes. Add strawberry jello. Cool.

When it is cool add cool whip and strawberries. Mix well. Serve immediately or store in refrigerator.
Nutrition Information
Serving:
1
,
Calories:
147
kcal
(7%)
,
Carbohydrates:
32
g
(11%)
,
Protein:
1
g
(2%)
,
Fat:
1
g
(2%)
,
Cholesterol:
4
mg
(1%)
,
Sodium:
175
mg
(8%)
,
Potassium:
60
mg
(2%)
,
Sugar:
26
g
(29%)
,
Vitamin A:
50
IU
(1%)
,
Vitamin C:
11.6
mg
(14%)
,
Calcium:
36
mg
(4%)
,
Iron:
0.1
mg
(1%)