Shrimp Macaroni and Cheese Pizza
Shrimp Macaroni and Cheese Pizza ~ Easy & Delicious Cheesy Macaroni and Cheese on a Pizza Crust and Topped with Popcorn Shrimp!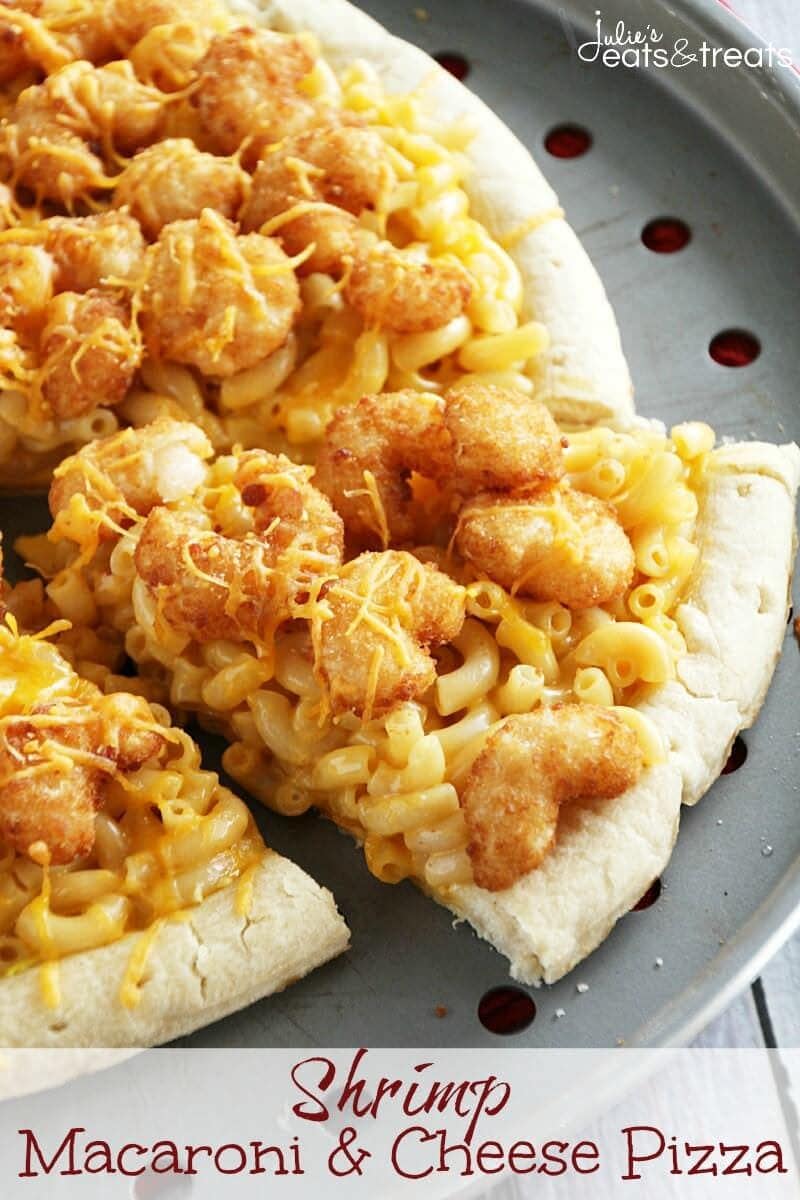 Is your mind spinning by that picture and title? It's kind of over the top isn't it? I made this fabulous pizza one day for lunch and sent a Snapchat to a few of my friends and it was quickly replied with "WHAT IS THAT???" It's epic people. Mind blowing. Delicious. That's what it is. You know what else it is? Quick and Easy because that's the way I roll. I had seen other Mac 'N Cheese Pizza recipes around the world, but I hadn't ever saw one topped with shrimp.
Remember how I said it was quick and easy? It really it is. It starts with a premade crust, is topped with Mac N Cheese from a box plus a few ingredients then comes the ultimate topping, the popcorn shrimp. That's what makes it of course! I know that the day to day business of life makes it hard to prepare home cooked meals and sometimes it's just easier to eat out, but I'm here to let you know that you don't have to do that. Simple recipes like this will make it easy to prepare meals at home. Often times just as fast as hitting the drive through that sometimes isn't always very fast at all. Or is that just me that gets stuck in the slowest line ever?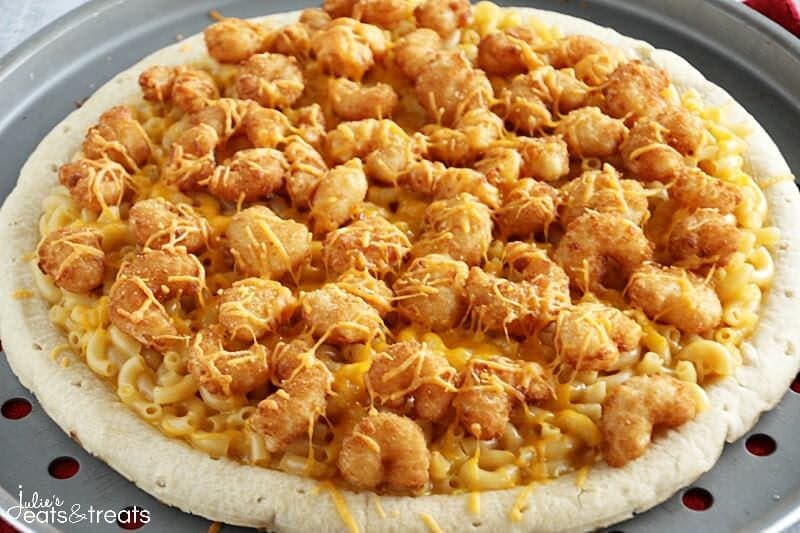 You know what else helps me when I want to make homemade meals for my family while working and trying to keep up with life? It's really something I live and die by. It's a weekly meal plan, in fact did you know every Thursday I post a meal plan to give you ideas for the next week? Every week before I get groceries I come up with about five different recipes that I can make during the week, write them down, add the ingredients to my grocery list and I'm set for the week. There is nothing worse then coming home after a long day at work, walking into the kitchen and standing there wondering what on earth I'm going to throw on the table for supper. That's when I break down and eat out a lot of the time. When I have five different options to pick from it's so much easier and I don't even have to think. I know that I have the ingredients and it's a whole lot less stressful!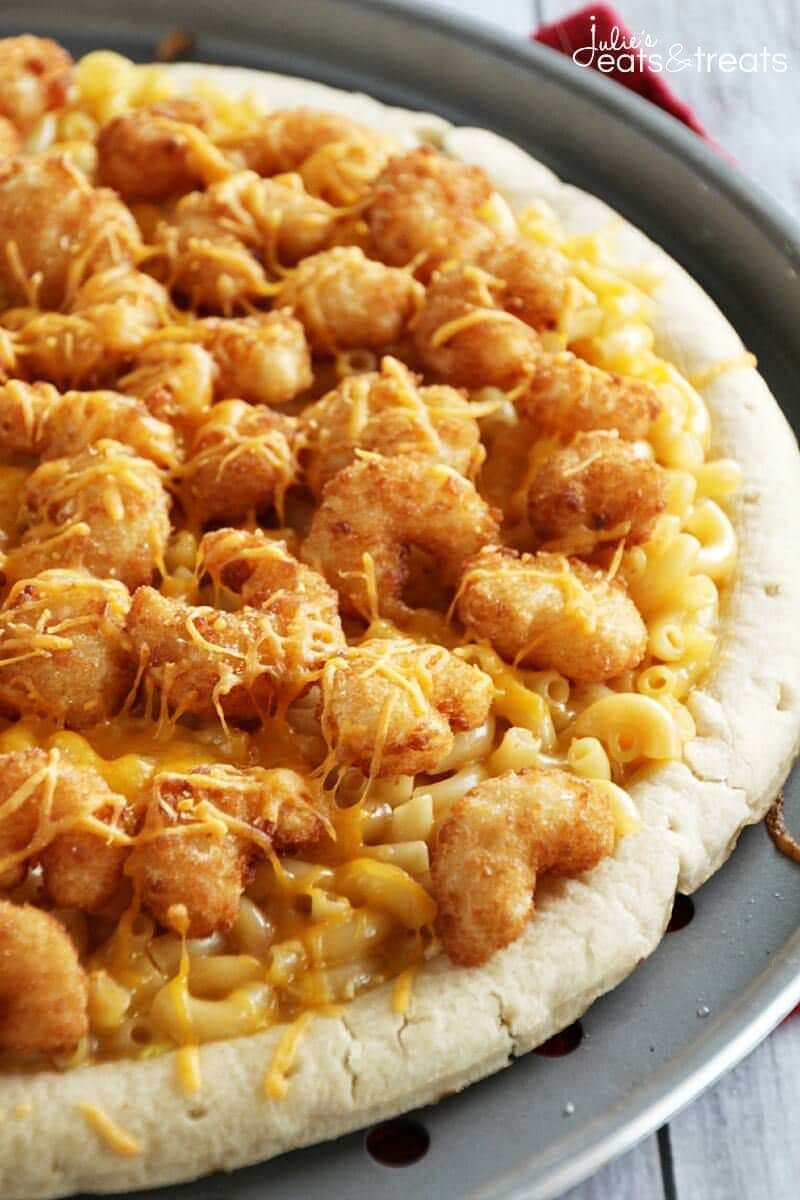 Today I've teamed up with my amazing friends over at SeaPak to bring a few ideas to you for a meal plan plus this fantastic Shrimp Macaroni and Cheese Pizza. Have you tried SeaPak Shrimp yet? If not you need to go to your grocery store ASAP and grab some. It's fabulous. SeaPak is the country's No. 1 selling frozen seafood company. As I was making the shrimp for this pizza my hubs was snitching the shrimp as fast as I could slap his hands. If that doesn't speak for itself I don't know what does!
Be sure to try the easy and delicious Shrimp Scampi recipe perfect for weeknight dinners! Dinner doesn't get easier than this delicious Instant Pot Shrimp Boil!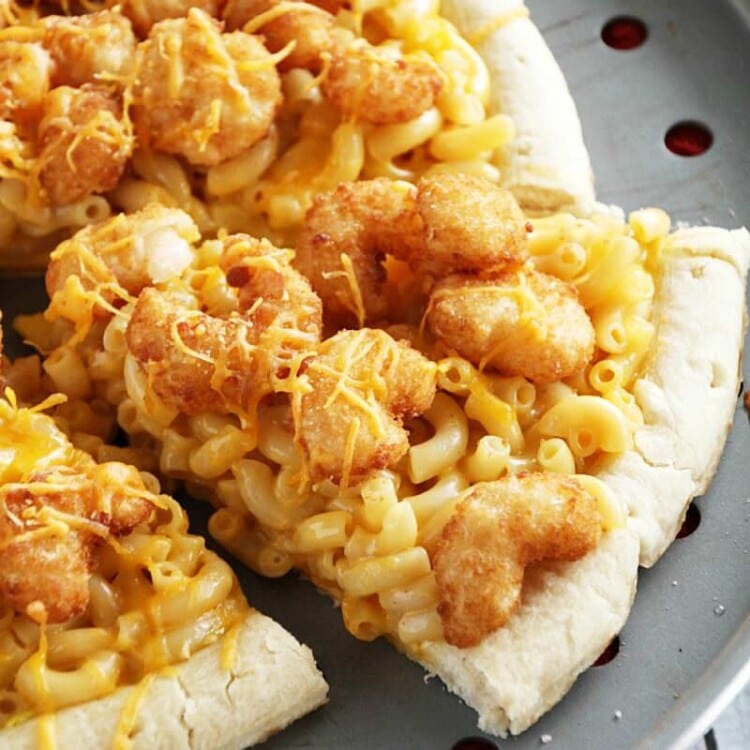 Shrimp Macaroni and Cheese Pizza
Shrimp Macaroni and Cheese Pizza ~ Easy & Delicious Cheesy Macaroni and Cheese on a Pizza Crust and Topped with Popcorn Shrimp!
Ingredients
2

cloves

garlic

minced

2

tsp

olive oil

1

14 oz box Cheddar Cheese Sauce Macaroni and Cheese

1/4

c.

milk

1/2

c.

shredded cheddar cheese

1

12 oz box SeaPak Popcorn Shrimp
Instructions
Prepare popcorn shrimp according to package directions.

Meanwhile prepare macaroni and cheese according to package directions. Stir in milk until combined.

Brush olive oil and minced garlic over pizza crust. Spread prepared macaroni and cheese over pizza crust. Top with prepared popcorn shrimp. Sprinkle cheddar cheese over popcorn shrimp.

Bake pizza at 450 degrees for 10 minutes or until crust is turning golden brown and cheese is melted.
Nutrition Information
Serving:
2
,
Calories:
418
kcal
(21%)
,
Carbohydrates:
47
g
(16%)
,
Protein:
23
g
(46%)
,
Fat:
14
g
(22%)
,
Saturated Fat:
4
g
(25%)
,
Cholesterol:
123
mg
(41%)
,
Sodium:
1068
mg
(46%)
,
Potassium:
156
mg
(4%)
,
Sugar:
1
g
(1%)
,
Vitamin A:
160
IU
(3%)
,
Vitamin C:
2
mg
(2%)
,
Calcium:
295
mg
(30%)
,
Iron:
3.4
mg
(19%)