Need an easy dinner recipe ready in 30 minutes? Spaghetti alla Carbonara is the perfect meal on a busy weeknight. It's indulgent, yet quick and easy. A delicious carbonara sauce with bacon, pasta and Parmesan cheese.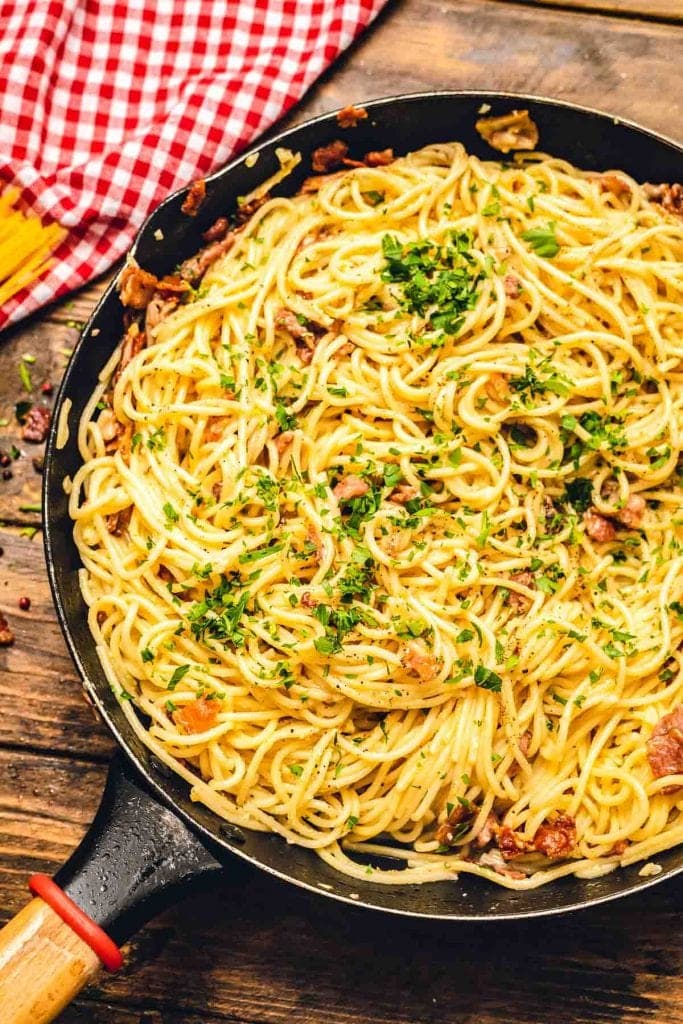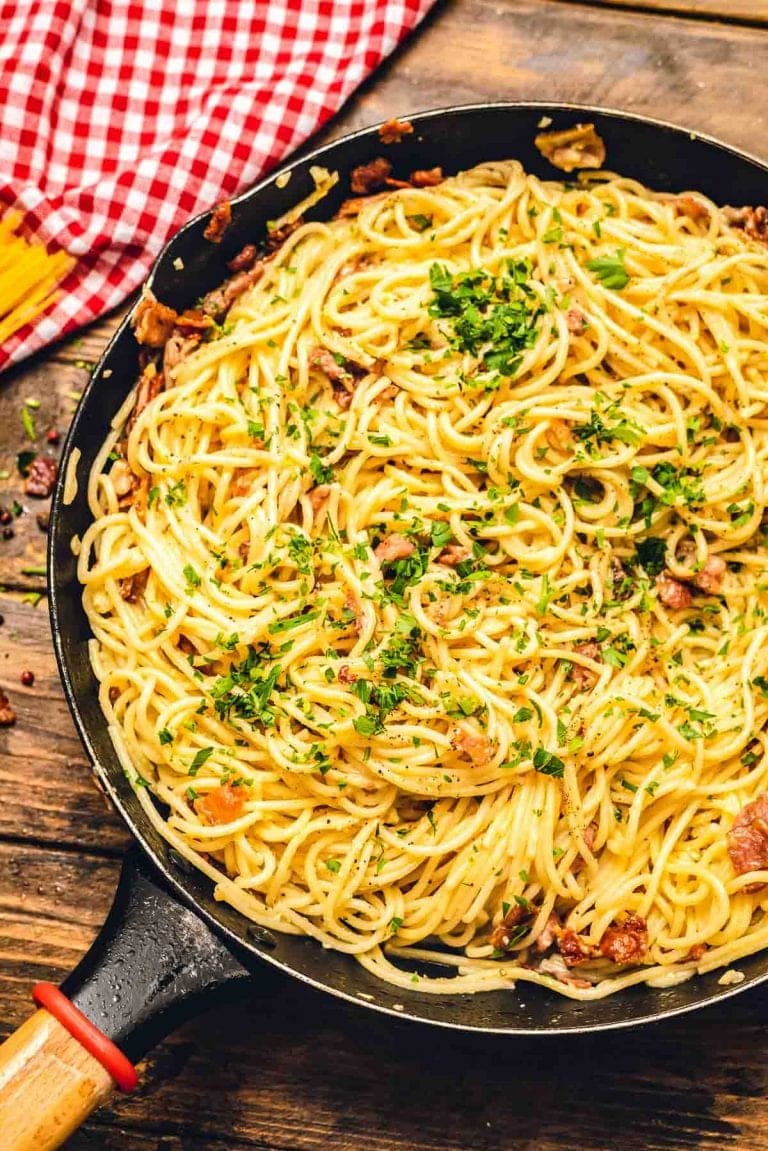 Spaghetti alla Carbonara sounds so fancy, doesn't it? Well, it sounds fancy but it's a super easy pasta recipe you can make in less than 30 minutes. If you love bacon, pasta and cheese you are going to love it!
What is Carbonara?
It's a simple pasta dish from Italy that's traditionally made with eggs, pancetta, and Parmesan cheese. There are many variations and a lot of the time bacon is used in place of the pancetta, which is what I like to use. I can't always find pancetta and bacon is a good substitute!
The interesting thing about this dish is how the eggs are cooked. Once the pasta is boiled and while it's still hot you add the raw eggs with the cheese and toss them with the hot pasta. The eggs cook really fast this way and create a light and velvety sauce. Some people get weirded out by it, but it's so delicious! Carbonara has so few ingredients, but it has amazing flavor – it seems way more complicated than it really is.
My family loves Italian food and a lot of the time you can make favorite dishes at home and it's a lot less expensive than when you go out! Most of the time Italian-style dinners are easy to make, too, like chicken parmesan and spaghetti and meatballs. This Spaghetti alla Carbonara is just another one to add to the list. It's so simple!
7 Simple Ingredients in Spaghetti alla Carbonara
Spaghetti or other pasta like fettuccine or linguini will work. Just make sure you use a long pasta shape because the sauce will cling to it better!
Bacon, but you can also use pancetta if you can find it. I like the flavor of the bacon which is smokier than pancetta.
Chopped garlic
Eggs
Grated Parmesan cheese. Normally, I'm totally fine with pre-grated cheese but for this recipe, I encourage you to grate your own so it's really fresh! It is also free of other additives that are in pre-grated cheese (like stabilizers) which could change the texture of your sauce. Plus, it tastes amazing!
Black peppers
Chopped parsley
I like to get my water boiling first and, while I'm waiting for it to boil, I prep all of the other ingredients. You want to have everything ready when you put the pasta in because this recipe goes fast!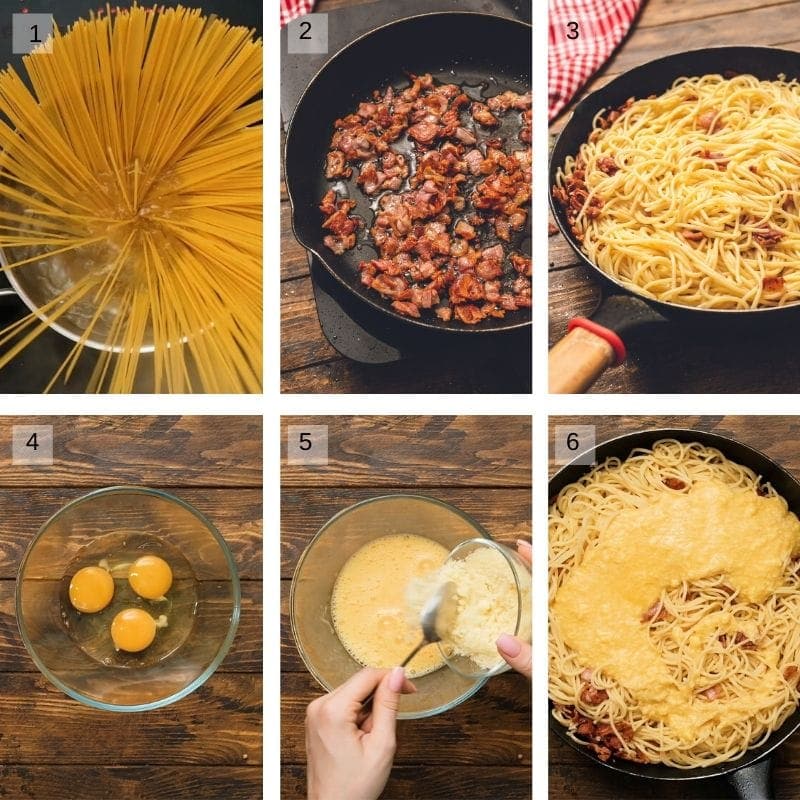 4 Easy Steps!
Prepare Pasta – Boil the pasta according to the package directions. Reserve some of the pasta water before you drain it to use for the sauce.
Make Bacon – While the pasta boils, cook the bacon in a large pan over medium heat. You want it to release the fat and turn crispy! Add the garlic to the bacon and cook it for a minute.
Mix Eggs – In a bowl, lightly beat the eggs with some Parmesan cheese.
Combine – Once the pasta is drained, add it to the pan with the bacon and toss it around so the bacon mixes in. Take the pan off the heat and add the egg mixture. Working quickly, toss the hot pasta with the egg mixture. You will see the eggs start to thicken into a sauce – that's when you know it's ready! Tossing the pasta quickly will help ensure the eggs don't scramble – you want a smooth sauce.
If you need to thin the sauce you can add a few splashes of the pasta water and toss it with the pasta. You might not have to do this, but it's good to have it just in case! To serve, I like to garnish the Carbonara with the parsley and some more grated cheese.
More Recipe Tips and Suggestions!
Spaghetti alla Carbonara is one of those dishes that tastes best when it's made so plan to serve it immediately. If you have leftovers you can keep it in the refrigerator for a day or two, but it won't be as good as when it was first made, so just be aware.
This recipe serves six people, but you can easily cut it in half if you're serving fewer people!
We love to have some breadsticks on the side with this dinner! You can also serve it with a simple salad or roasted vegetables. You can also go all out and serve some yummy tiramisu for dessert to make it a complete Italian meal!
I hope you love this easy Carbonara recipe as much as we do! It's one of our favorite Italian restaurant inspired dinners to make at home. If you love pasta you have to try some of these other recipes, too!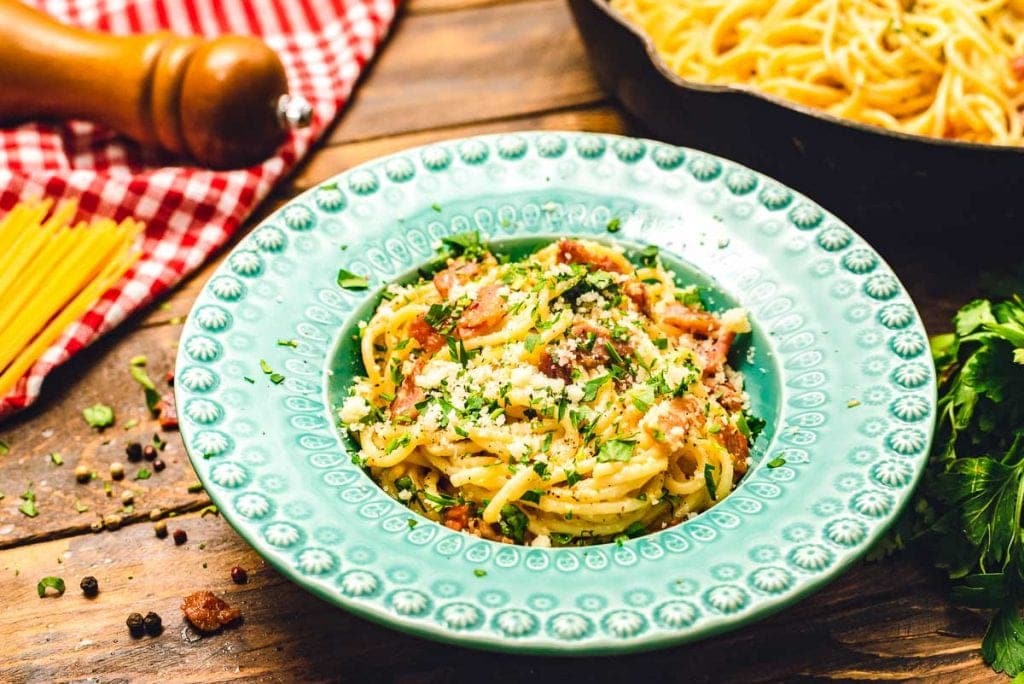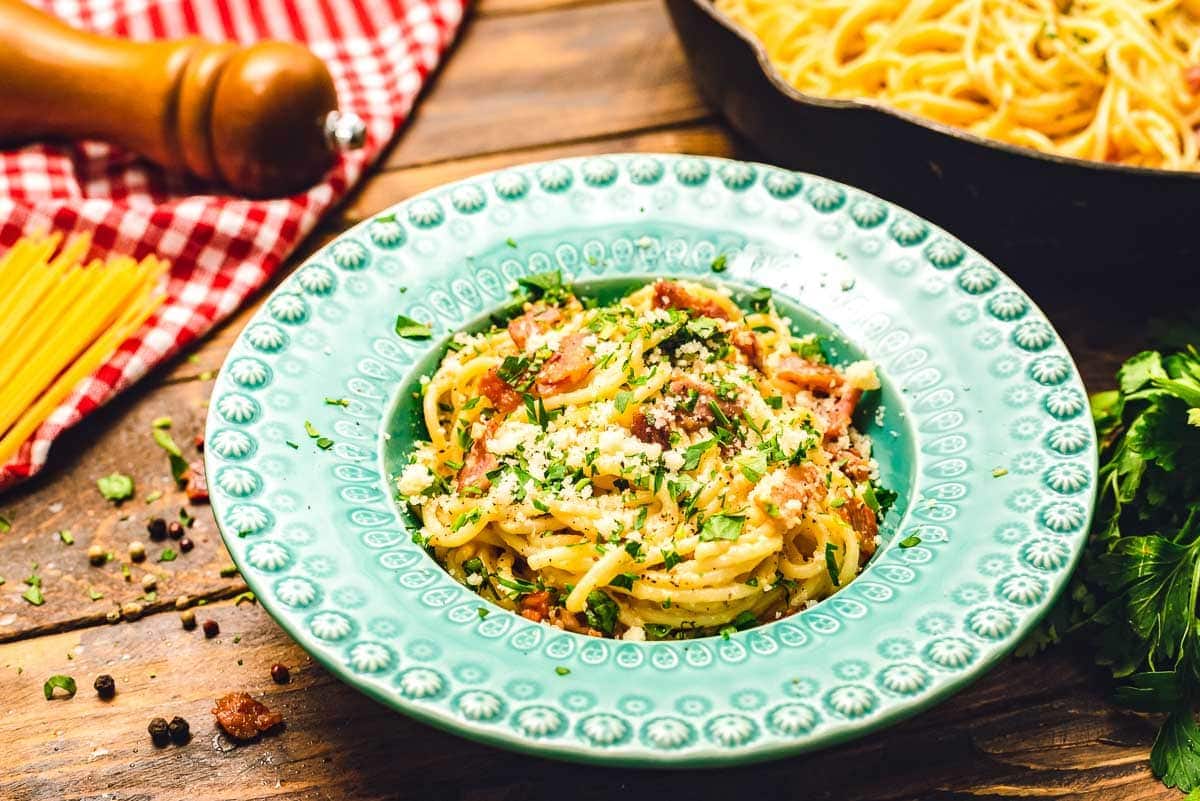 More Easy Pasta Dinner Recipes
WATCH THE STEP BY STEP VIDEO FOR THIS SPAGHETTI ALLA CARBONARA RECIPE BELOW:
If you enjoy watching these videos make sure you subscribe to my YouTube Channel and click the bell icon to be notified each time a post a new video!
Try it and love it? Rate it, please!!!? Seriously though a five-star rating below will make my day! If you snap a photo, please be sure tag me on Instagram at @julieseatsandtreats or #julieseatsandtreats so I can see your yummy treat!!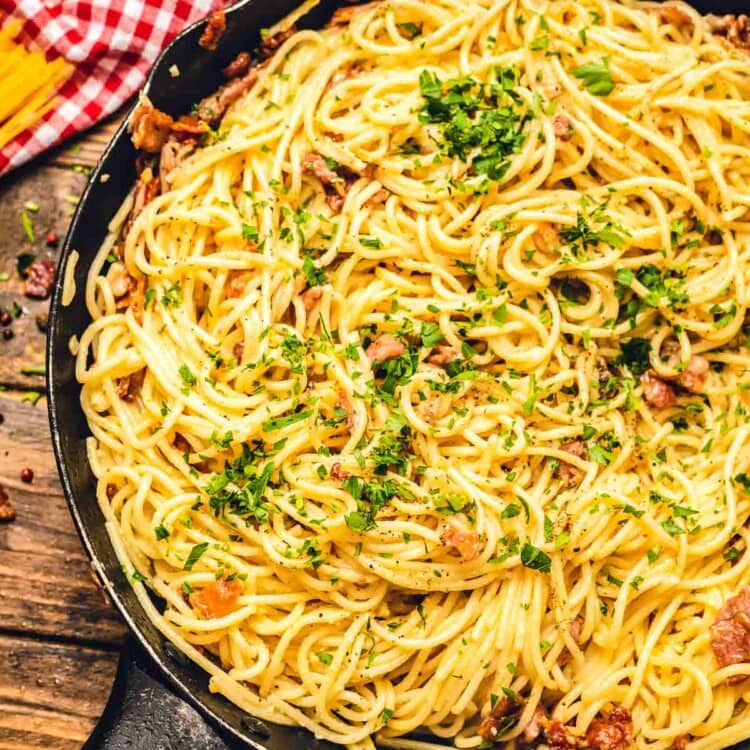 Spaghetti alla Carbonara
Quick and easy Italian dish that's loaded with flavor from the bacon and carbonara sauce over pasta.
Ingredients
1

lb

dry spaghetti noodles

12

oz

bacon

cubed

4

garlic cloves

finely chopped

3

eggs

1

c.

freshly grated Parmesan cheese

½

tsp

ground black pepper

¼

c.

chopped parsley
Instructions
Prepare spaghetti according to package directions. When draining pasta reserve ½ c. pasta water to use in the sauce.

Meanwhile, heat a deep skillet over medium heat. Add the chopped bacon and saute for about 5 minutes or until the bacon is crisp. Toss the garlic into the skillet and saute for 1 minute.

Add the hot drained spaghetti the pan and toss for 2 minutes to coat the pasta in bacon fat. Remove pan from heat.

Beat eggs and Parmesan together in a mixing bowl. Add mixture to the pasta, whisking quickly until the eggs thicken, but do not scramble. Thin out the sauce with reserved pasta water if desired. Season carbonara with black pepper.

Garnish with parsley add more Parmesan cheese if desired.
Nutrition Information
Calories:
725
kcal
(36%)
,
Carbohydrates:
60
g
(20%)
,
Protein:
35
g
(70%)
,
Fat:
37
g
(57%)
,
Saturated Fat:
15
g
(94%)
,
Cholesterol:
154
mg
(51%)
,
Sodium:
1020
mg
(44%)
,
Potassium:
423
mg
(12%)
,
Fiber:
3
g
(13%)
,
Sugar:
3
g
(3%)
,
Vitamin A:
1311
IU
(26%)
,
Vitamin C:
14
mg
(17%)
,
Calcium:
486
mg
(49%)
,
Iron:
3
mg
(17%)