Easy Oven Roasted Vegetables
These delicious easy oven roasted vegetables are a great side dish and also for meal prep! I love making a big batch at the beginning of the week and eating them for lunch. Onions, Sweet Potatoes, Red Onion, Zucchini and Carrots drizzled in balsamic, seasoned and roasted to perfection in the oven!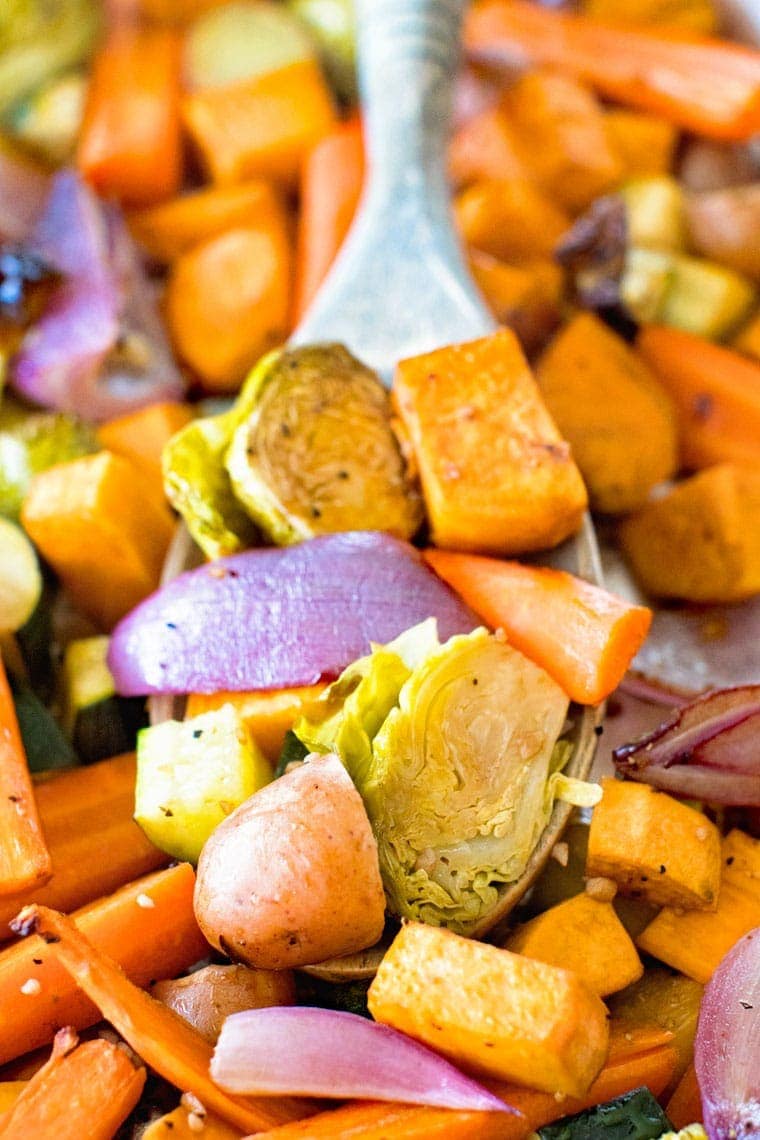 Roasted Vegetables
How have I never shared my oven roasted vegetables with you? Sometimes I figure that every one has the "easier" recipes and I should skip them, but lately I've realized that's not always the case. Therefore my new mission is to bring you some of my "go-to" recipes that are a little bit more basic like these easy roasted vegetables. I love to make them for an easy, healthy side dish that's full of flavor. I also love making a big batch at the beginning of the week and having them for lunch.
It's always great to have some vegetables (like Roasted Air Fryer Sweet Potatoes, Roasted Cauliflower and Parmesan Roasted Butternut Squash) sitting in the fridge waiting for me because if they aren't there I typically don't eat them. I'd rather have roasted vegetables then raw ones so it helps when I have them made up for the week!
Does anyone else meal prep vegetables for the week ahead?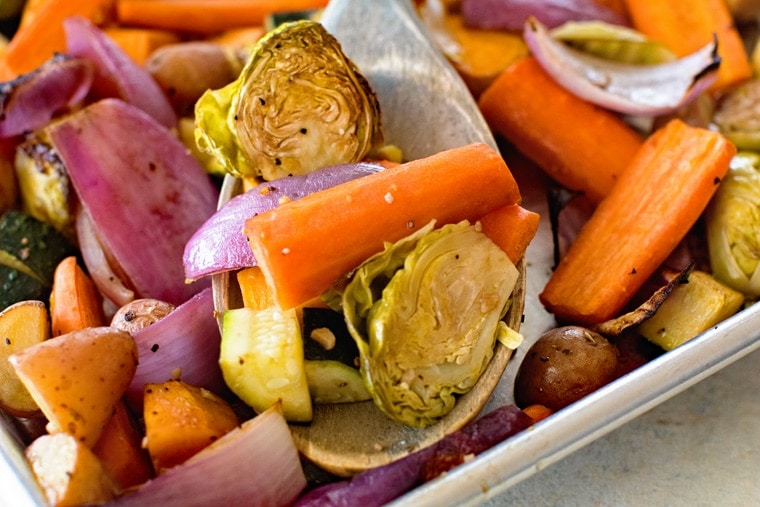 Oven Roasted Vegetables
I also love that there are so many variations for making roasted vegetables. It's totally flexible depending on what I have on hand. This time around I used purple onion, sweet potatoes, yukon gold potatoes, zucchini, Brussels spouts and carrots. Tossed them with some seasonings and balsamic and roasted them.
Such a simple and flavor packed recipe!
My kids even love them! Miss K is always grabbing the zucchini, RyRy prefers to help herself to the carrots and well little man just eats whatever we put in front of him, but usually it sweet potatoes! Even the hubs likes them and that's saying a lot.
He grew up in one of those families that cringe at the site of vegetables. After 7+ years of marriage I have him branching out a little. Not a lot but a little. One rule we have is that he can never bad mouth the vegetables in front of the kids and so far that's working. They LOVE vegetables.
I mean they snitch the lettuce off my plate as soon as I turn around. I hope that never changes!
I love making easy Air Fryer Chicken Parmesan and Crockpot Chicken and Stuffing to pair it with these Roasted Vegetables!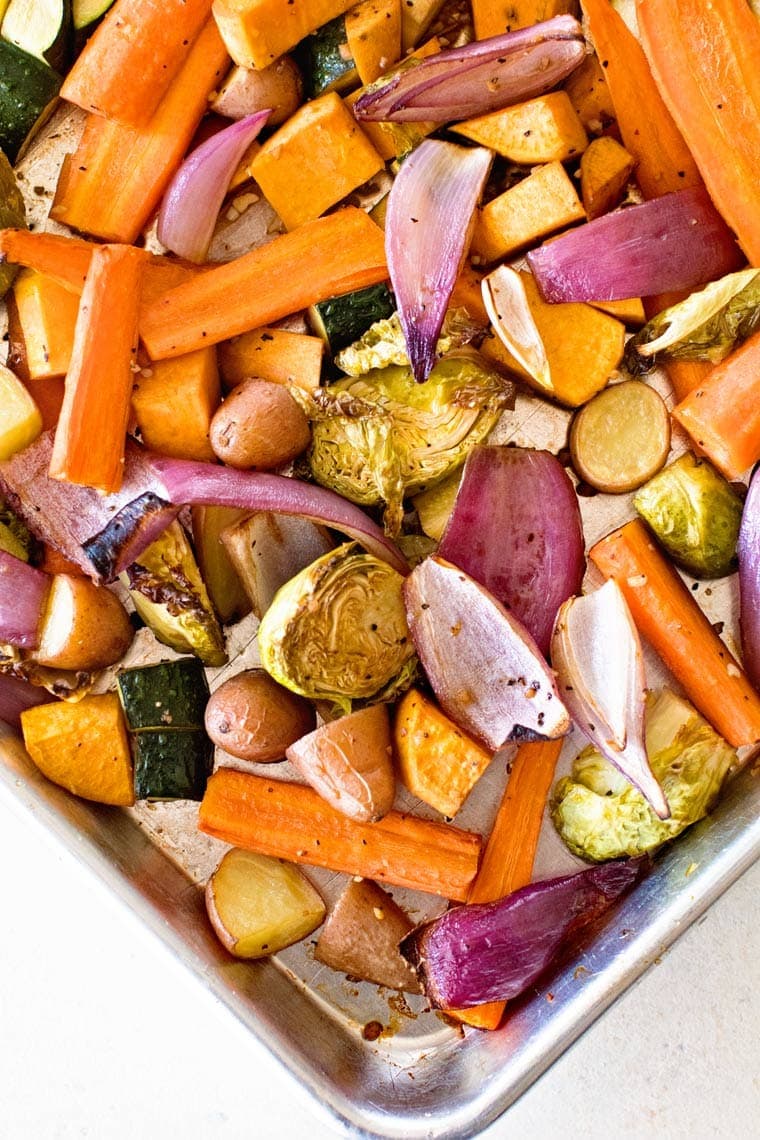 How to Roast Vegetables:
First thing is to make sure none of the vegetables overlap. If they overlap the vegetables will steam and not roast. You want them to roast so they get that delicious caramelization and flavor. This essential to making the perfect oven roasted vegetables. Use a big sheet pan or two smaller pans with sides.
Season the vegetables! Personally, I went pretty basic because I wanted that balsamic flavor to come through. If you want to add some thyme, basil, oregano or crushed rosemary go for it! Also, the balsamic isn't over powering in this recipe. If you LOVE balsamic feel free to kick that amount up a little.
Make sure that you stir and flip the vegetables half way through the baking time. This makes sure that they all get roasted nice and evenly.
Mix up the vegetables! That's right, no need to use the same ones every time. This time I used onion, sweet potatoes, yukon gold potatoes, red onion, carrots and zucchini. Peppers, mushrooms, butternut squash all make great additions. If you add broccoli just realize it cooks a little quicker!
COMPLETE THE MEAL WITH THESE RECIPES: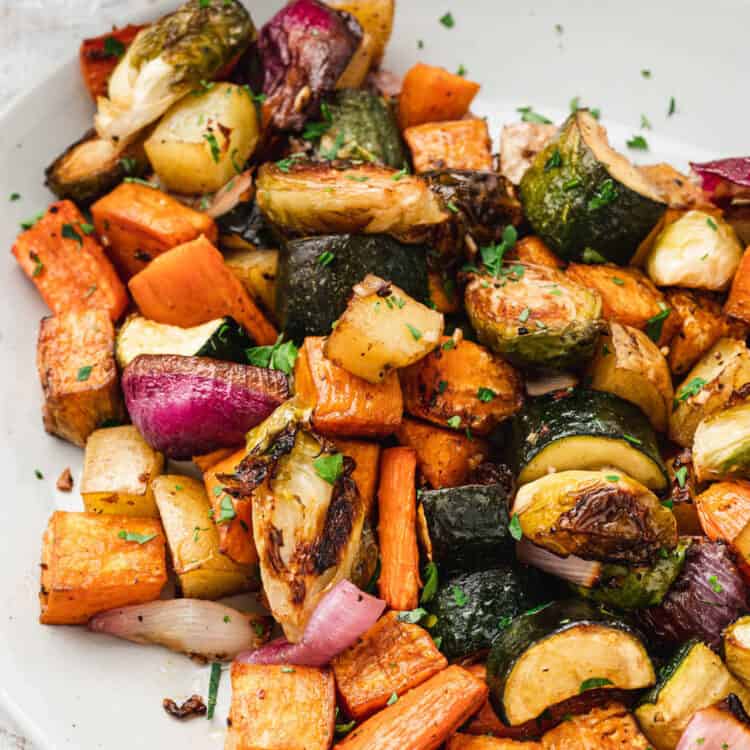 Easy Roasted Vegetables
These delicious easy roasted vegetables are a great side dish and also for meal prep! Drizzled in balsamic, seasoned and roasted to perfection in the oven!
Ingredients
2

sweet potatoes

peeled & cubed

1

cup

yukon gold potatoes

cubed

1

red onion

quartered

1

zucchini

cut into 1'' cubes

3

carrots

peeled and cut into 1 1/2'' chunks

½

pound

brussels sprouts

outer leaves removed and halved

2

Tablespoons

olive oil

2

Tablespoons

balsamic vinegar

6

cloves garlic

minced

1

teaspoon

sea salt

½

teaspoon

pepper
Instructions
Preheat oven to 400 degrees Fahrenheit. 

Place all prepared vegetables in one even layer on a 11 x 17 inch pan or 2 smaller sheet pans with sides. Make sure they are not overlapping.

Add sea salt, pepper and garlic. Then add the olive oil and balsamic; toss to combine and until all vegetables are coated.

Place pan in preheated oven at 400 degrees Fahrenheit on middle rack. Baked for 35-40 minutes. Flip vegetables half way through baking time. 
Tips
Place roasted veggies into an airtight container or zip top plastic bag. Store in the refrigerator for 3 to 4 days.
I do not recommend freezing roasted veggies as they tend to change texture after being thawed and then reheated.
To reheat, place on a baking sheet and back into the oven until warm. You can also reheat on the stove top or in the microwave. However, the veggies are more likely to maintain that slight crispy crunch if they're reheated in the oven.
Nutrition Information
Calories:
228
kcal
(11%)
,
Carbohydrates:
36
g
(12%)
,
Protein:
6
g
(12%)
,
Fat:
7
g
(11%)
,
Saturated Fat:
1
g
(6%)
,
Sodium:
676
mg
(29%)
,
Potassium:
1025
mg
(29%)
,
Fiber:
7
g
(29%)
,
Sugar:
9
g
(10%)
,
Vitamin A:
17390
IU
(348%)
,
Vitamin C:
71.4
mg
(87%)
,
Calcium:
98
mg
(10%)
,
Iron:
3.6
mg
(20%)