Air Fryer Chicken Thighs (Perfectly Crispy!)
Tender, juicy chicken thighs are a quick and easy dinner recipe! These Air Fryer Chicken Thighs are coated with olive oil and then tossed with a blend of seasonings before they are cooked. This gives them a delicious flavor and crispy skin!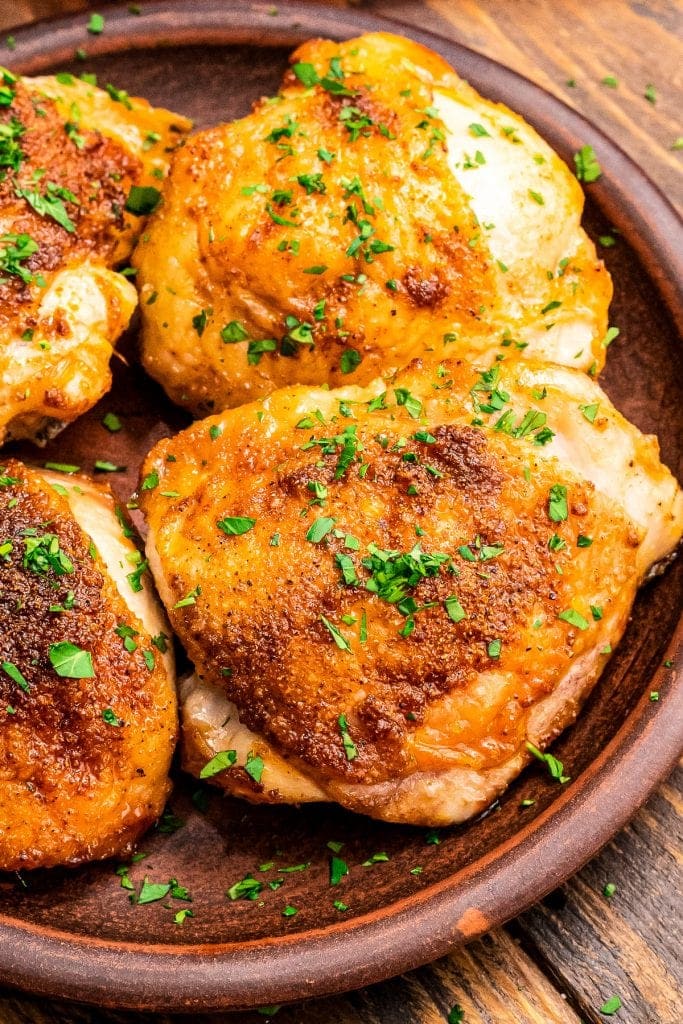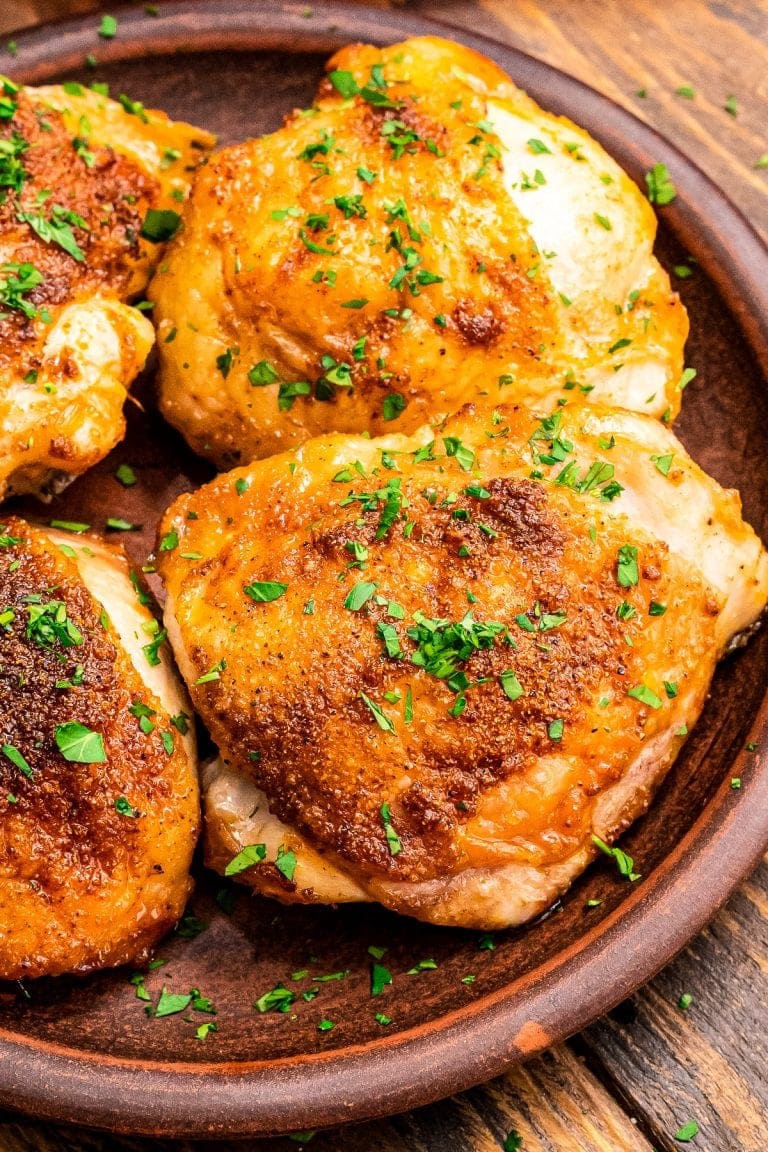 Perfectly Crispy Air Fryer Chicken Thighs (Bone In Skin On)
Juicy chicken thighs with crispy seasoned skin is a quick and easy dinner recipe you can make in your air fryer!
You guys know how much I love air fryer recipes – you can use it for so many things and you get that crispy texture without having to fry anything. I love it! And these air fryer chicken thighs are so delicious we have them in our dinner rotation on a regular basis.
Just like my air fryer fried chicken, pork chops and chicken legs, these crispy-skinned thighs come out perfectly cooked every time. Plus, they only take 30 minutes to make start to finish.
They are seasoned with a homemade seasoning mix made with smoked paprika and chili powder so they have tons of flavor! If you've been wanting to try a new chicken recipe you are going to love this one! Don't have an air fryer? Make my baked chicken thighs instead!
Ingredients for these Air Fryer Chicken Thighs (Bone In Skin On)
Chicken Thighs – We used bone-in chicken thighs, but you can use boneless. Boneless chicken thighs will cook faster so watch cooking time.
Olive Oil – Any type of oil will work, but it should have a high heat point, so we used olive oil.
Rub – We used a mixture of sea salt, black pepper, garlic powder, smoked paprika, chili powder and onion powder in our homemade rub, but you can use your favorite chicken rub.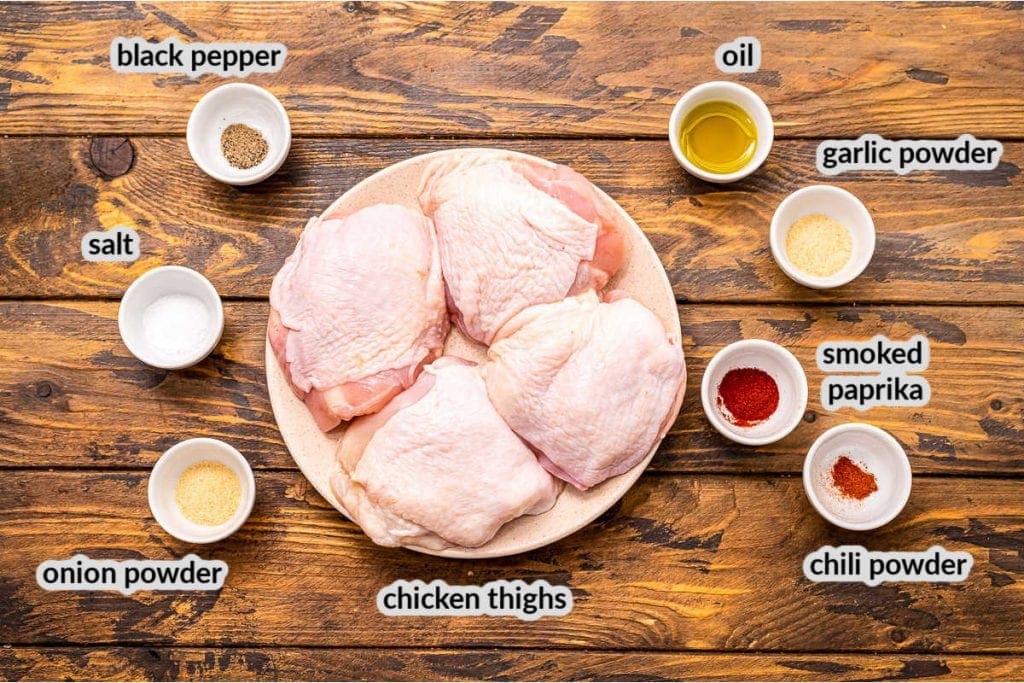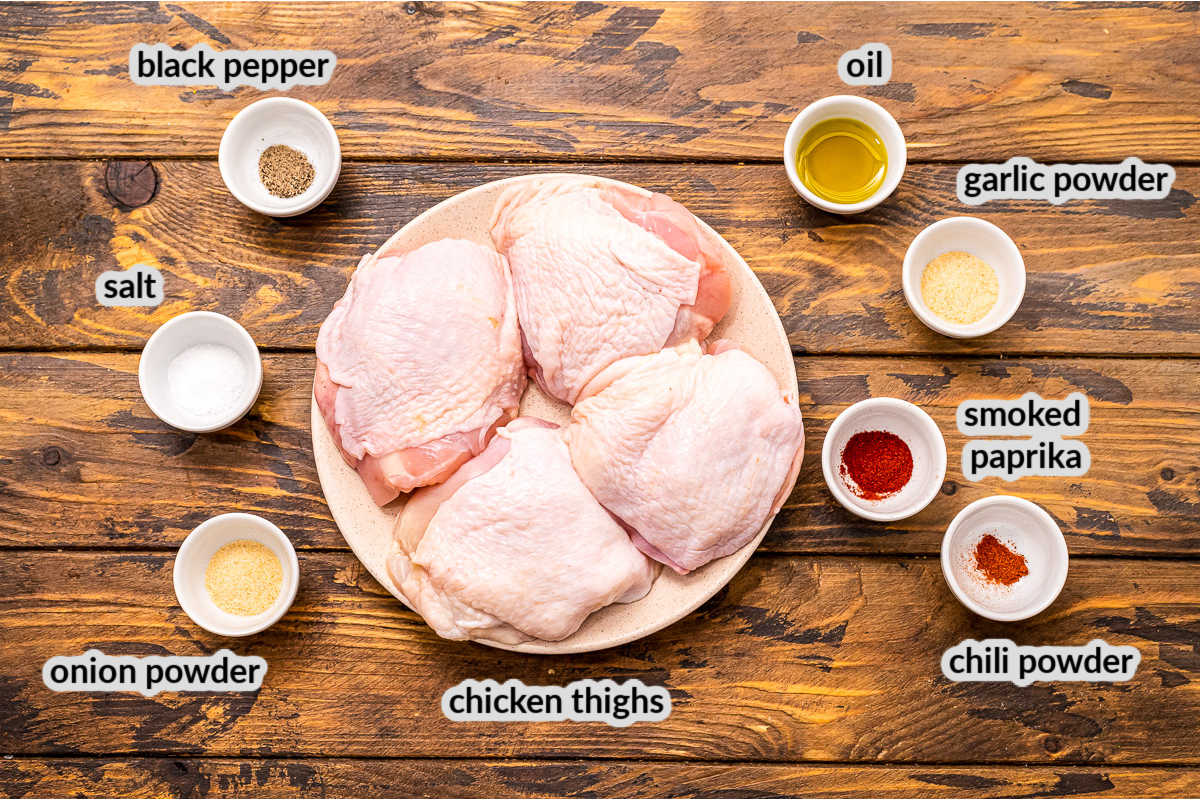 How to Cook Chicken Thighs in Air Fryer
First, make your seasoning mix by combining garlic powder, smoked paprika, chili powder, onion powder, salt and pepper.
Pat the thighs dry. This is an important step! Removing excess moisture will ensure your they cook up with really crispy skin.
Brush the chicken with olive oil and then sprinkle the seasoning all over the chicken.
Place the thighs in the air fryer in an even layer. Cook them for 18 minutes at 400 degrees F or until they are cooked through.
At What Temperature Should I Air Fry Chicken Thighs?
Air Fry chicken thighs at 425 degrees Fahrenheit for a juicy, tender chicken thigh that has a crispy skin.
How Long Do You Air Fry Chicken Thighs?
Technically, they're done when the internal temperate is 165 degrees F and the juices run clear.
I actually prefer to cook mine until they are 185 to 190 degrees F. That way, you won't have any of those blood spots near the bone. Thighs have plenty of fat so they won't dry out if you cook them a little longer.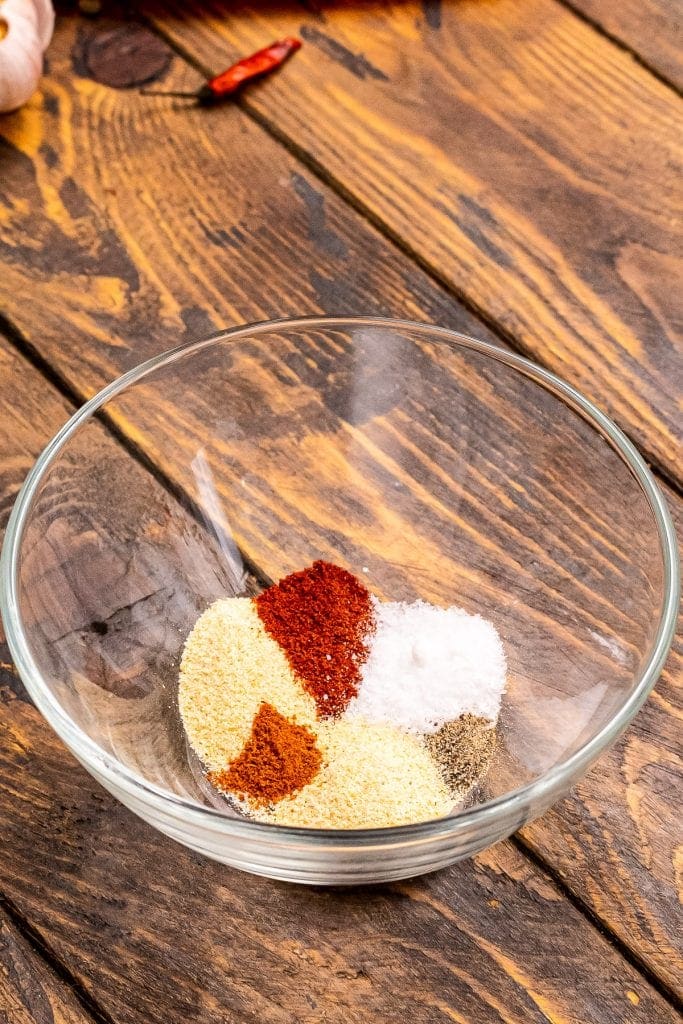 Air Fryer Chicken Thighs Recipe FAQs
Can I Use Chicken Breasts for this Air Fryer Thighs Recipe?
Well, first let me explain why I love chicken thighs for this recipe. First, they are a little smaller and fit perfectly in my air fryer. Bone-in, skin-on chicken breasts are a lot bigger so you would have to cook them in batches. Also, the cooking time will vary.

I don't recommend using boneless, skinless chicken breasts for this recipe because you won't get the crispy skin! Also, they will dry out more and not be as juicy as thighs.
Can I Cook Them In The Oven?
If you don't have an air fryer, you can cook them in the oven. You can use the same temperature (400 degrees F) but they will take longer to cook than the air fryer. I haven't tested them this way, so I can't give you a time estimate.

Also, the skin may not be as crispy because an oven works differently than an air fryer. When you cook them in an air fryer, hot air is circulated around the food which is what makes the skin so crispy. It's a lot like a convection oven!
Can I Use Boneless Chicken Thighs in Air Fryer?
Yes, you can use boneless chicken thighs instead of bone-in chicken thighs. They will cook faster than the bone-in version.
Can You Put Raw Chicken in the Air Fryer?
Yes, you can put raw chicken in the air fryer. Cooking chicken in the air fryer is the perfect way to get tender, juicy chicken!
How to Store and Reheat Leftover Air Fryer Thighs
Allow chicken thighs to cool, then place in an airtight container. Store in the refrigerator for up to four days.
To reheat Air Fryer chicken thighs, place them in the air fryer for 6-8 minutes at 375 degrees Fahrenheit. Flip them halfway through cooking time.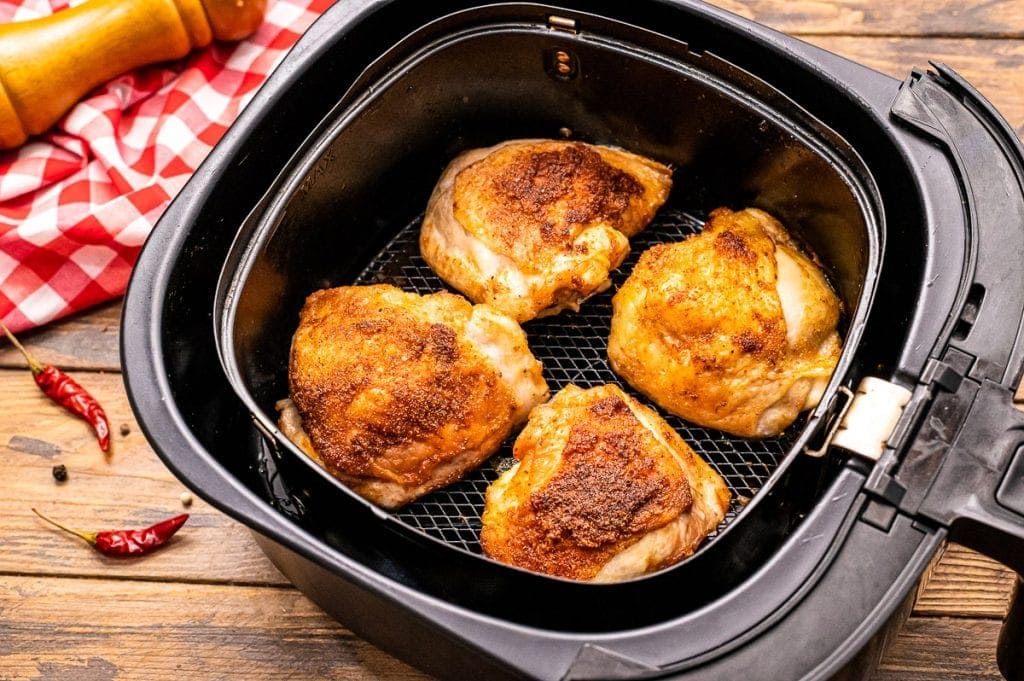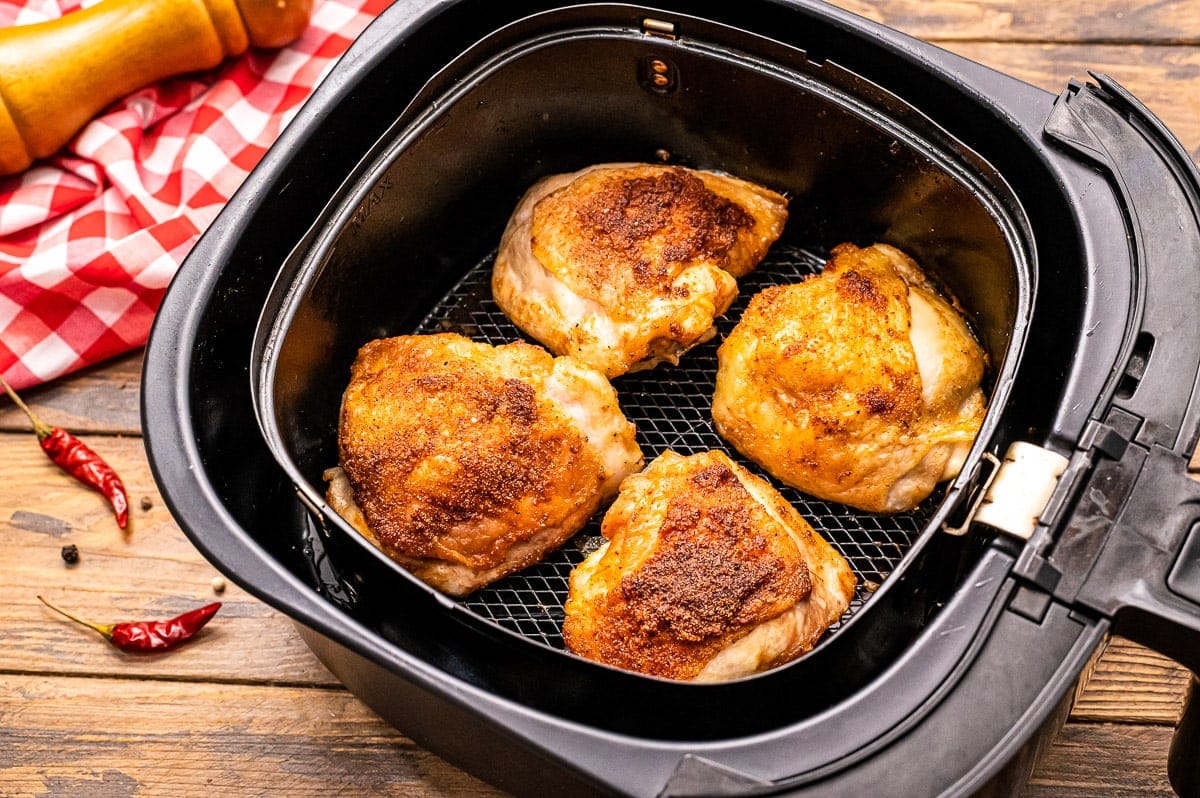 What to Serve with Air Fryer Thighs
Oh, the possibilities are endless! It's what I love best about this dish – you can pair them with so many side dishes. Here are some of my favorites:
Seriously, though, they go with almost anything so check out all of my side dish recipes for even more ideas!
Whatever you do, you have to try these easy air fryer chicken thighs! Crispy on the outside and juicy on the inside – they are so delicious! Might I suggest that you make them this week? You won't regret it!
MORE RECIPES YOU'LL LOVE!
Try it and love it? I'd love it if you'd give it a rating below and comment.
If you snap a photo, please be sure tag me on Instagram at @julieseatsandtreats or #julieseatsandtreats so I can see your yummy treat!!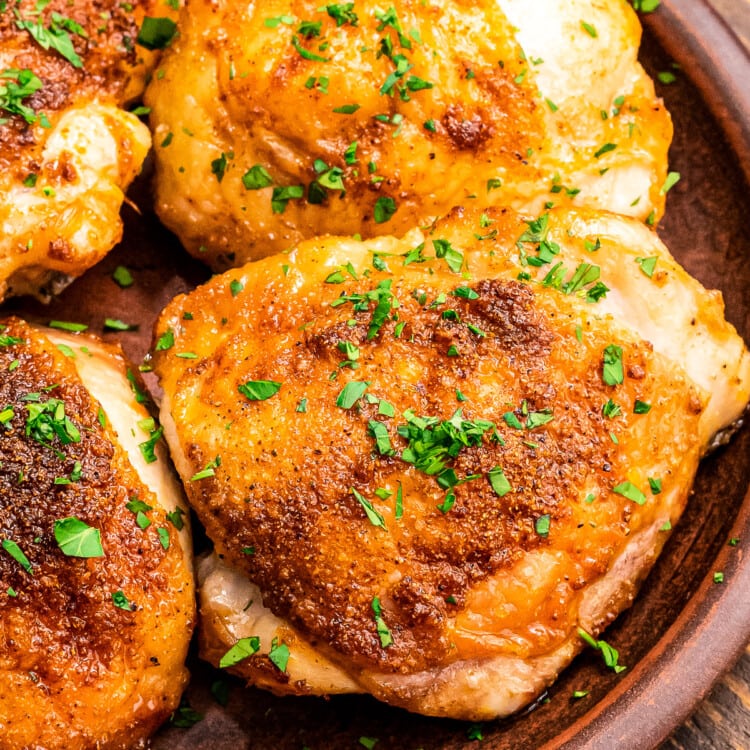 Air Fryer Chicken Thighs (Bone In Skin On)
Crispy, tender and juicy chicken thighs that are seasoned and made in an Air Fryer!
Ingredients
4

skin-on bone-in chicken thighs

1

Tbsp

olive oil
Rub
½

tsp

sea salt

¼

tsp

ground black pepper

½

tsp

garlic powder

½

tsp

smoked paprika

⅛

tsp

chili powder

½

tsp

onion powder
Instructions
Preheat the air fryer to 400 degrees F.

In a small bowl combine all the rub ingredients.

Pat chicken thighs dry with a paper towel and brush the skin-side of each piece with olive oil. Place chicken thighs skin-side down in a single layer on a plate.

Sprinkle rub mixture evenly over the chicken thighs. Turn the thighs over and evenly sprinkle remaining seasoning mixture on top. Place chicken thighs in the air fryer basket in a single layer, skin-side up.

Cook in an air fryer 18-22 minutes or until the juices run clean and the center reads 185-190 degrees F.
Tips
Technically the internal temperature needs to be 165 degrees F, but I find that there are no bloody spots around the bones if you cook it a little longer and the chicken falls off the bone tender and juicy.
Nutrition Information
Calories:
351
kcal
(18%)
,
Carbohydrates:
1
g
,
Protein:
24
g
(48%)
,
Fat:
28
g
(43%)
,
Saturated Fat:
7
g
(44%)
,
Cholesterol:
142
mg
(47%)
,
Sodium:
404
mg
(18%)
,
Potassium:
296
mg
(8%)
,
Fiber:
1
g
(4%)
,
Sugar:
1
g
(1%)
,
Vitamin A:
261
IU
(5%)
,
Calcium:
12
mg
(1%)
,
Iron:
1
mg
(6%)