Roasted Cauliflower is a quick and easy side dish that is healthy! It's great for making during the weeknight as a healthy recipe to go along with your favorite main dish. Changing up the seasonings on this roasted cauliflower is easy so you can enjoy it in multiple ways! If you need an easy side dish and are looking to eat healthy this baked cauliflower is the answer!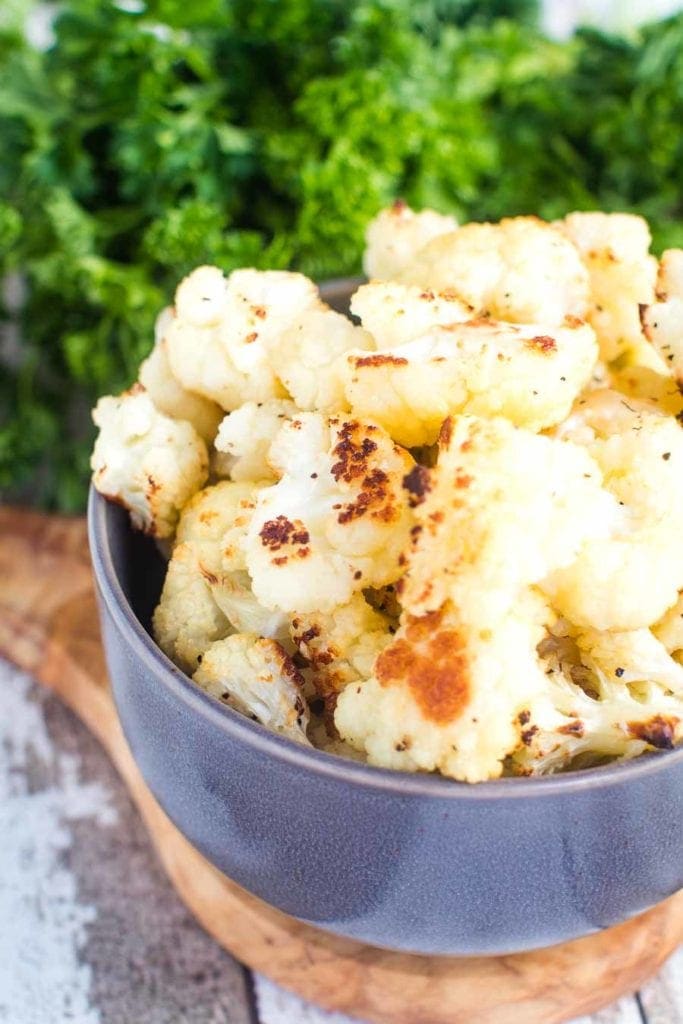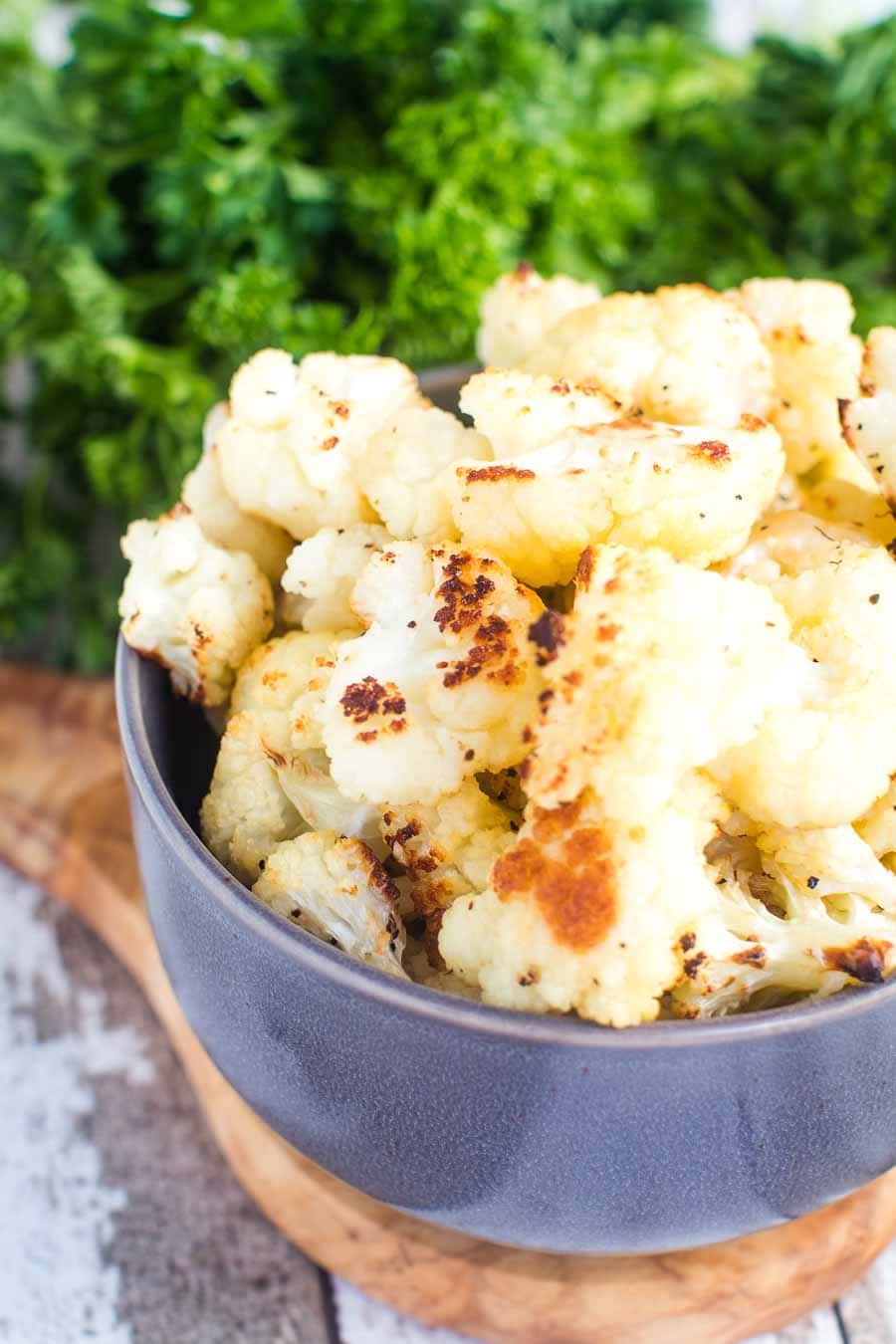 I have the EASIEST side dish for you today that is so delicious and healthy, too! Roasted Cauliflower is one of my favorite side dishes to make because with just a few simple steps you can have it ready to go. Plus, it goes with so many main dishes – we love it with Balsamic Crock Pot Roast!
Cauliflower is one of those veggies I can sneak into a lot of dishes so my kiddos will eat it. My family loves Cauliflower Broccoli Casserole so I knew they'd love this too. This Roasted Cauliflower is one of my favorites because it's just so darn easy to make and I love the flavor.
Healthy Side Dish Recipe!
Something magical happens when you roast cauliflower in the oven. The cauliflower softens and caramelizes on the outside creating a nutty flavor. I'm sure there's some kind of science behind it, but it just seems like magic to me!
If you need a super simple side dish that's good for you, too, this Roasted Cauliflower needs to go on your must-make list for sure!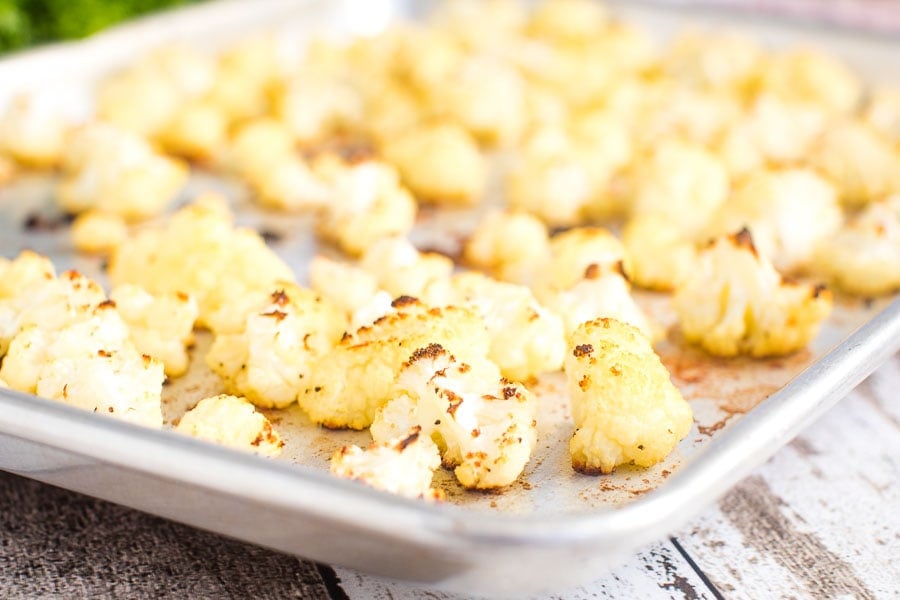 Once you know how to make Roasted Cauliflower there are so many ways you can switch it up with different seasonings. The recipe I'm sharing is a basic one, which is great because it goes with practically any main dish, but later on in this post, I share how you can switch things up with different seasoning and spices!
This is a quick overview of your shopping list! Scroll down for complete recipe with step by step instructions!
What ingredients do I need for Roasted Cauliflower?
Cauliflower florets
Olive oil
Fine sea salt
Freshly-cracked black pepper
Garlic powder
How do I roast cauliflower?
Preheat Oven – The first thing you want to do, preheat the oven to 425 degrees F. Spray a large baking sheet with cooking spray.
Prepare Cauliflower – Spread the cauliflower florets into an even layer on the baking sheet. Drizzle the olive oil over the top of the florets and sprinkle them with the seasoning. Gently toss the florets to coat them evenly in the olive oil.
Bake Cauliflower – Roast the cauliflower florets for 25 to 30 minutes or until they have softened and turned golden.
See? Told you it was so easy! It only has threes steps! While the cauliflower roasts you can easily pull together your main dish and then dinner is served.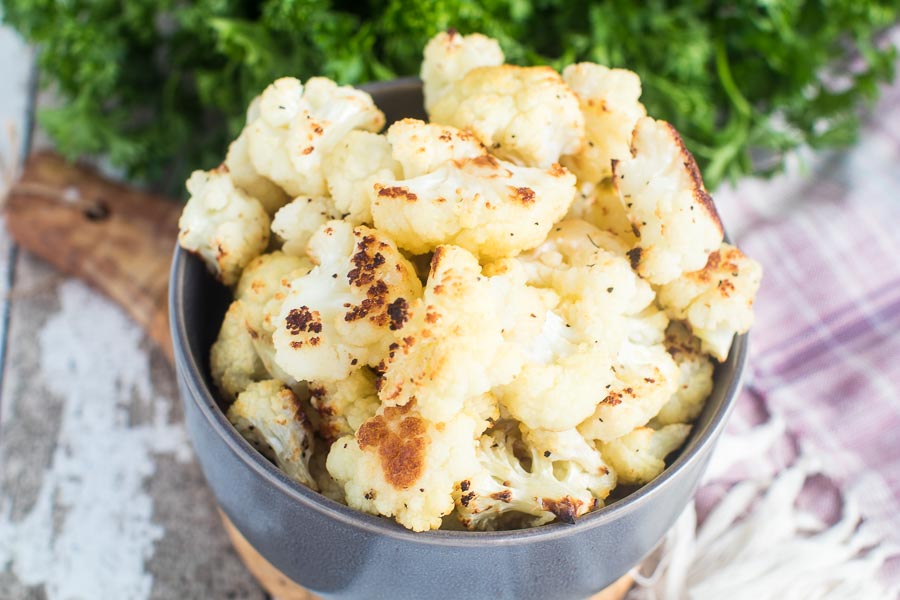 Quick Tips and Tricks for Roasted Cauliflower!
Here are some frequently asked questions about making baked cauliflower. If you have any additional questions please comment below and we will do our best to answer them!
How do I choose cauliflower?
Choose a head of cauliflower that is firm and compact. The color should be white or creamy-white. Don't buy one that is soft or has brown spots. For this recipe, you will want to choose a medium-sized head of cauliflower.
How do I store fresh cauliflower?
Cauliflower is one of those veggies that will keep for a few weeks if you properly store it. Keep it in the refrigerator loosely wrapped in plastic wrap. A whole head of cauliflower will keep well for up to two weeks.
If you break down the cauliflower into florets before storing it, the florets will keep for about a week.
How do I cut cauliflower?
It's super simple! Here's a few quick directions on how to quickly cut your cauliflower head into florets.
Remove the leaves from the outside of the cauliflower.
Slice the head of cauliflower in half and then cut each piece in half again so you have four pieces.
Cut the stem out from the cauliflower.
cut the cauliflower into florets using your knife.
Can I add different seasonings to roasted cauliflower?
Yes! You can season roasted cauliflower so many different ways. This way you never get tired of having it and you can change it up to compliment your main dish.
dried Italian seasoning
chili or taco seasoning
Herbes de Provence
onion powder
dried herbs like parsley, thyme, rosemary, and oregano
smoked paprika or regular paprika
cumin
curry powder
tumeric
red pepper flakes
cayenne pepper
lemon-pepper seasoning
Or, garnish your roasted cauliflower with fresh herbs just before serving. Fresh chives, parsley, or cilantro work really well!
What should I do with leftover roasted cauliflower?
You can reheat it and serve it again as a side dish or try a few of these ideas (depending on how you spiced it!):
Turn it into soup
Make cauliflower mash
Add it to your omelet or frittata
Use it for veggie tacos
Add it to salads
How long does roasted cauliflower last?
Refrigerator: 3 to 5 days tightly wrapped in a container
Freezer: Roasted cauliflower can last several months in the freezer as long as it is stored in an airtight container.
How do I reheat roasted cauliflower?
You can reheat leftover roasted cauliflower in the microwave, but I prefer to reheat it in the oven. It takes a little longer, but it will crisp up and will taste great! Spread it out on a baking sheet and pop it in a 325 degree F oven until it's warmed through.
Is roasted cauliflower healthy?
Yes, roasted cauliflower is healthy. Cauliflower is full of fiber and other healthy nutrients. Plus, it's low-carb!
Easy, healthy, versatile and so delicious! I know this Roasted Cauliflower recipe will be your new favorite side dish. Looking for dishes to serve with Roasted Cauliflower? Here are some of our favorite main dishes or try some of my other healthy side dish recipes!
What do you eat cauliflower with?
Love this Roasted Cauliflower? I'd love it you would rate this recipe!! A five-star rating will make my day!
Don't forget to tag me on Instagram @julieseatsandtreats or #julieseatsandtreats that way I'm sure to see your pictures!!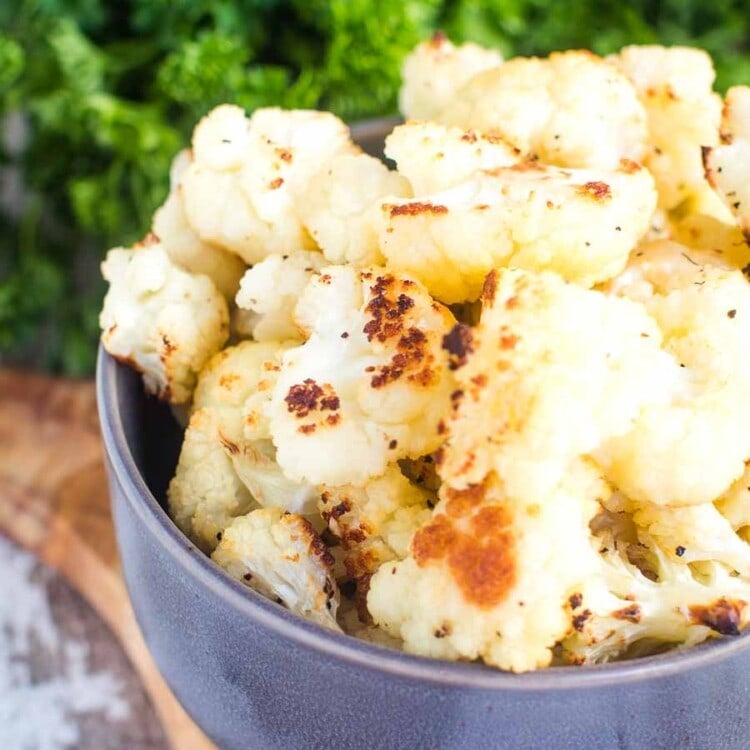 Roasted Cauliflower Recipe
Easy Roasted Cauliflower recipe is the perfect healthy side dish recipe for a busy weeknight. Make sure you try this baked cauliflower with your favorite main course!
Ingredients
1

medium head of cauliflower

cut into florets

2

Tbsp

olive oil

1

tsp

fine sea salt

1/4

tsp

freshly-cracked black pepper

1/2

tsp

garlic powder
Instructions
Preheat oven to 425 degrees F. Spray a large rimmed baking sheet with non-stick spray.

Spread the cauliflower out on the baking sheet. Drizzle olive oil over the top of the cauliflower. Sprinkle seasonings over the top. Toss gently to coat cauliflower.

Bake for 25-30 minutes, until soft and lightly golden.

Serve immediately.
Nutrition Information
Calories:
398
kcal
(20%)
,
Carbohydrates:
30
g
(10%)
,
Protein:
11
g
(22%)
,
Fat:
30
g
(46%)
,
Saturated Fat:
4
g
(25%)
,
Sodium:
2500
mg
(109%)
,
Potassium:
1719
mg
(49%)
,
Fiber:
12
g
(50%)
,
Sugar:
11
g
(12%)
,
Vitamin C:
277
mg
(336%)
,
Calcium:
127
mg
(13%)
,
Iron:
2
mg
(11%)