Air Fryer Sweet Potato Fries
Need an easy side dish that's healthy? Try these delicious Air Fryer Sweet Potato Fries! They are perfectly seasoned and roasted in your Air Fryer. Quick, easy and so versatile so you can serve them with your favorite main dish.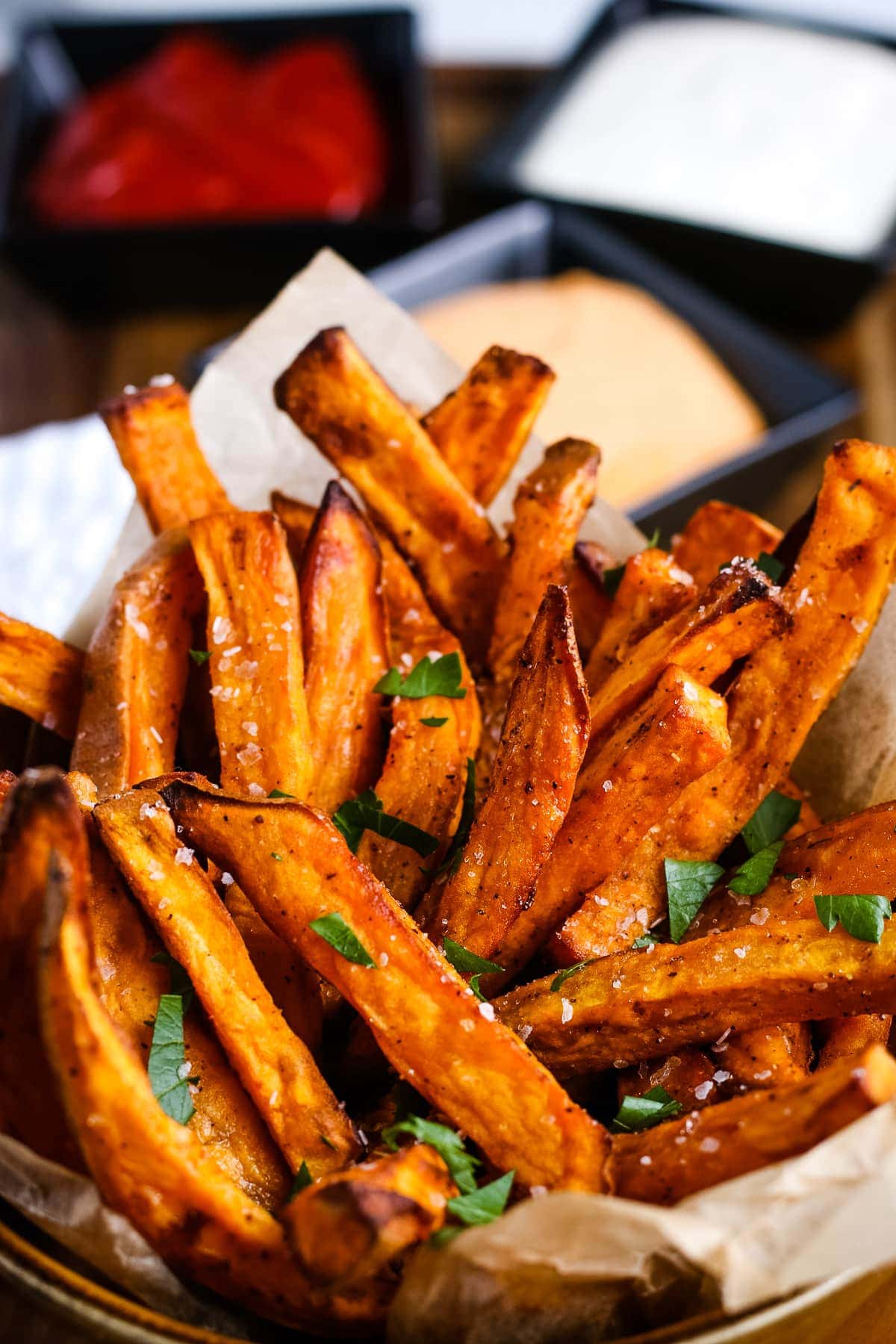 Who can't resist ordering sweet potato fries when you eat out? I am definitely on team sweet potato and I can't wait to show you how to make sweet potato fries in your air fryer!
They are hot and crispy and taste like they were deep-fried, but so much healthier because you only need a little oil to cook them.
So, now you don't need to go out – you can make them at home whenever you get a craving. Which, for me, is pretty much all the time – I love to dip them in ranch dressing!
Why this recipe works:
We are making fries from scratch – they taste so much better than frozen fries and aren't hard to make!
I use a paprika-garlic seasoning with spices you probably already have on hand. It gives them so much flavor!
Never cut your own fries before? No worries! I am showing you how to cut a sweet potato so you get perfect sized sweet potato fries.
Unlike baked sweet potatoes, air fryer sweet potato fries come out super crispy on the outside and soft on the inside. Just like your favorite restaurant version.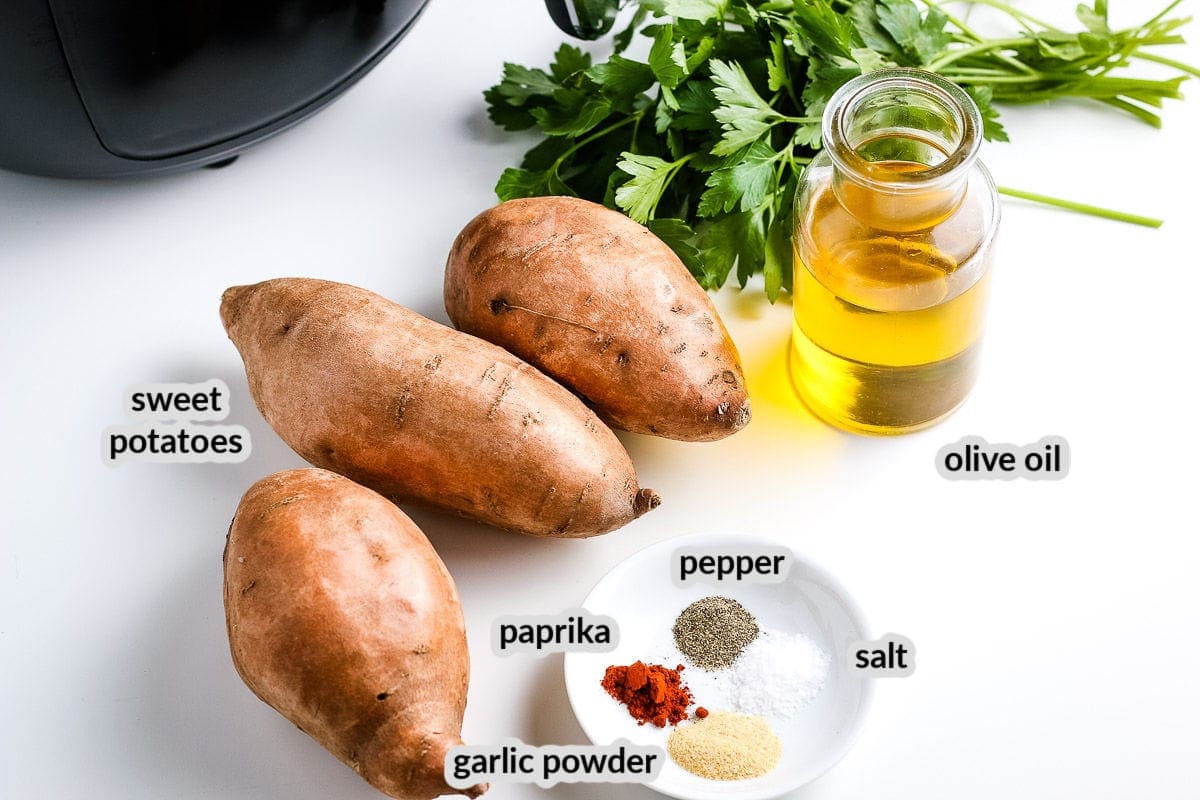 Healthy fries that are crispy and delicious? Sounds like a dream, right? Well, that is just one of the many reasons I love my air fryer. You only need a small amount of oil, but whatever you cook comes out crispy. It's a great way to enjoy dishes that maybe aren't so healthy (like French fries!) when you cook them in other ways!
You could make air-fried sweet potato French fries with just salt and pepper, but you'd be missing out! I highly recommend mixing up the spices so you get delicious seasoned fries. It makes a big difference!
How to Cut a Sweet Potato
You don't have to peel the potatoes, but be sure to wash and dry them thoroughly before cutting them. Also, be sure to use a sharp knife!
First, slice a small piece off of one side of the potato to create a stable base. Turn the potato so this cut side is down on the cutting board. Doing this will make it easier to hold the potato steady as you slice it.
You can slice the potato into pieces as thick as you want, but French fries are usually between ½" and 1" thick. So, slice the potato lengthwise first into the thickness you would like. Now you will have several pieces that are wide and flat which you can lay flat on the cutting board and slice into fries.
If the French fries are too long, you can slice them in half.
How to Season and Cook Them
Place the cut fries into a large mixing bowl and drizzle the oil over the top. Sprinkle all of the spices and seasonings over the top and toss the fries until they are evenly coated.
Depending on how big your air fryer basket is, you may need to cook the fries in batches because they need to be in a single layer. This allows the air to circulate around them so they cook up nice and crispy!
So, place a single layer in the basket and cook them for 10 to 15 minutes at 400 degrees F. Stop halfway through the cooking time to turn them over.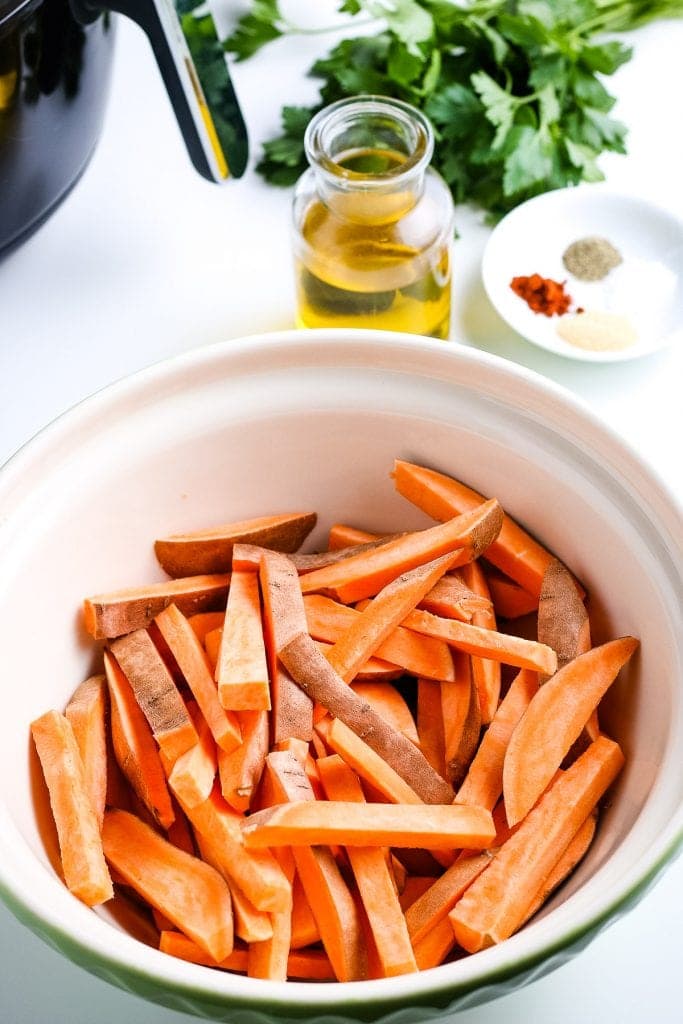 How to Keep French Fries Warm
Since you have to cook them in batches, you'll want to keep them warm so you they are all hot when you serve them. I just place the air fried fries on a baking sheet and keep them in a 200-degree oven while I cook the rest of the batch.
Things to Serve Them With!
Besides the obvious way to serve them which, for me, is straight from the air fryer, there are tons of ways to serve these crispy fries for dinner, parties, and snacks!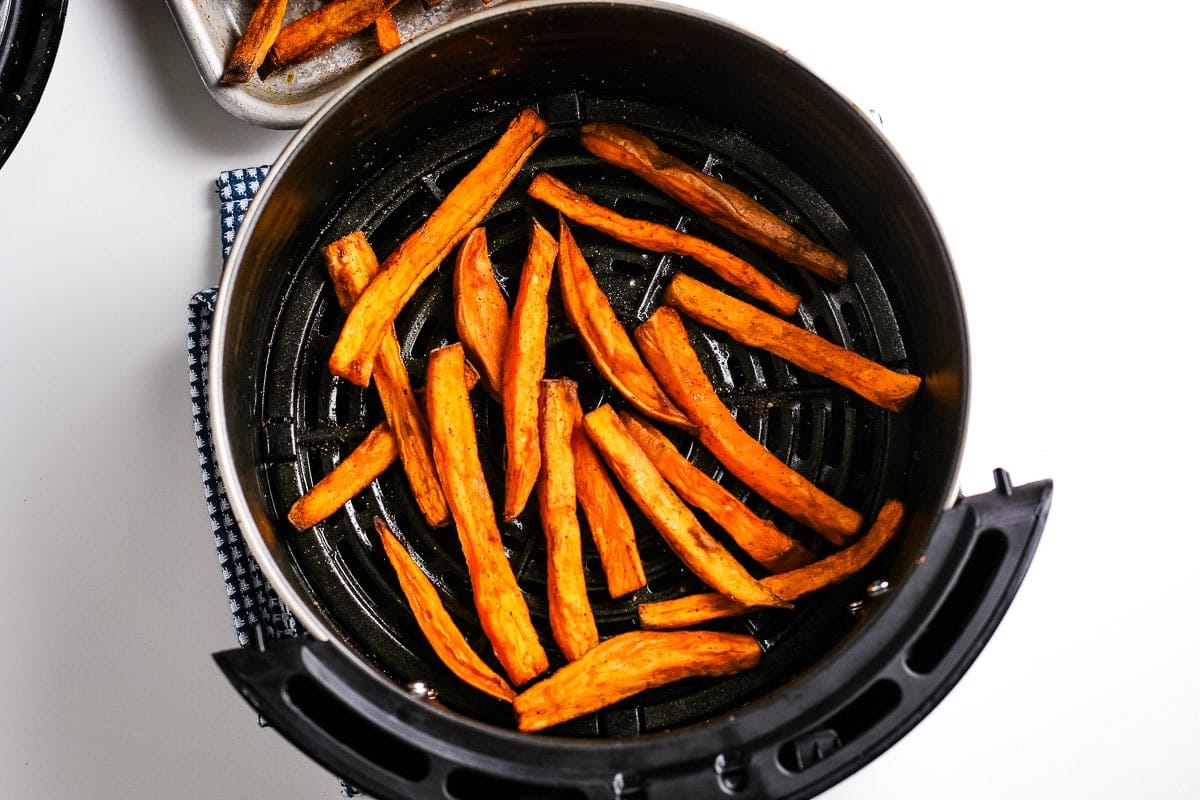 No matter how you serve them you are going to LOVE these air fryer fries! You won't have to go out to get them once you know how to make them at home – I know you will love them!
Be sure to try the healthy and delicious Zucchini Fries are tender slices of zucchini that are dipped in a Parmesan Panko breading and then baked until they are crispy!
Try it and love it? Rate it, please! Seriously though a five-star rating below will make my day!
If you snap a photo, please be sure tag me on Instagram at @julieseatsandtreats or #julieseatsandtreats so I can see your yummy dish!!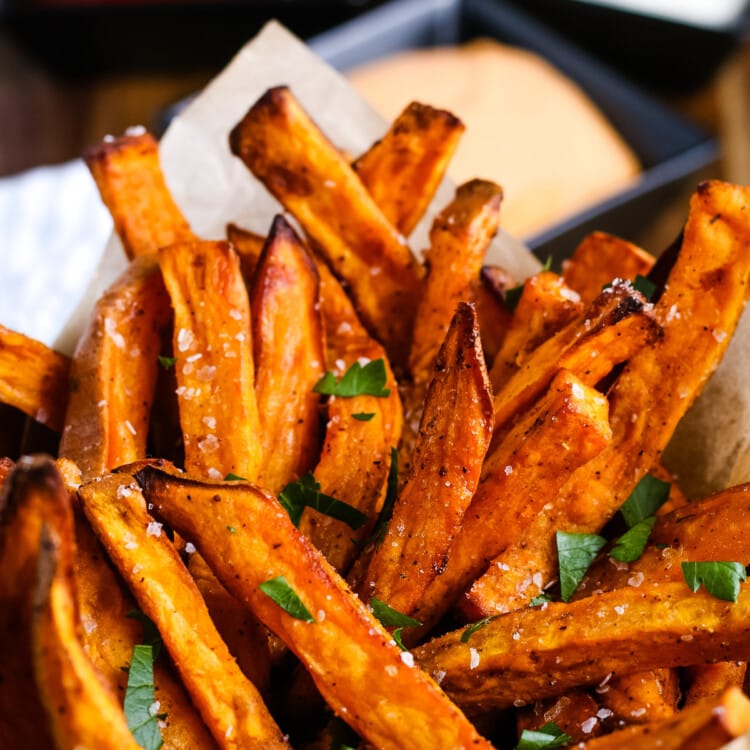 Air Fryer Sweet Potato Fries
Quick, easy and delicious sweet potato fries made in your Air Fryer. Perfectly seasoned and roasted!
Ingredients
2

lbs

2-3 sweet potatoes

cleaned and cut into fries

2-3

Tbsp

olive oil

½

tsp

coarse salt

¼

tsp

black pepper

¼

tsp

paprika

½

tsp

garlic powder

Fresh parsley

chopped for garnish
Instructions
Preheat air fryer to 400 degrees F.

Clean and cut sweet potatoes into French fry pieces. Place in mixing bowl.

Drizzle sweet potatoes with oil. Sprinkle with salt, pepper, paprika and garlic powder. Toss mixture together until it is evenly coated.

Place fries in the air fryer basket allowing enough space for them to cook evenly, you will need to fry these in batches for them to cook to a crispy outside.

Cook at 400 degrees F for 10-15 minutes, turning halfway through.

Remove and place on a baking sheet in a 220 F oven to keep warm.

Continue cooking remaining fries in batches until you are done cooking all fries.

Serve immediately with ketchup or condiments of your choice
Tips
How to Keep French Fries Warm
Since you have to cook them in batches, you'll want to keep them warm so you they are all hot when you serve them. I just place the air fried fries on a baking sheet and keep them in a 200-degree oven while I cook the rest of the batch.
Nutrition Information
Calories:
259
kcal
(13%)
,
Carbohydrates:
46
g
(15%)
,
Protein:
4
g
(8%)
,
Fat:
7
g
(11%)
,
Saturated Fat:
1
g
(6%)
,
Sodium:
416
mg
(18%)
,
Potassium:
764
mg
(22%)
,
Fiber:
7
g
(29%)
,
Sugar:
10
g
(11%)
,
Vitamin A:
32246
IU
(645%)
,
Vitamin C:
5
mg
(6%)
,
Calcium:
68
mg
(7%)
,
Iron:
1
mg
(6%)