Roasted Sweet Potatoes are a quick and easy side dish recipe perfect for busy weeknights! These sweet potatoes are diced, then seasoned and roasted in the oven. The result is sweet potatoes with a caramelized outside and soft center. This is the best way to enjoy them!
PIN IT HERE!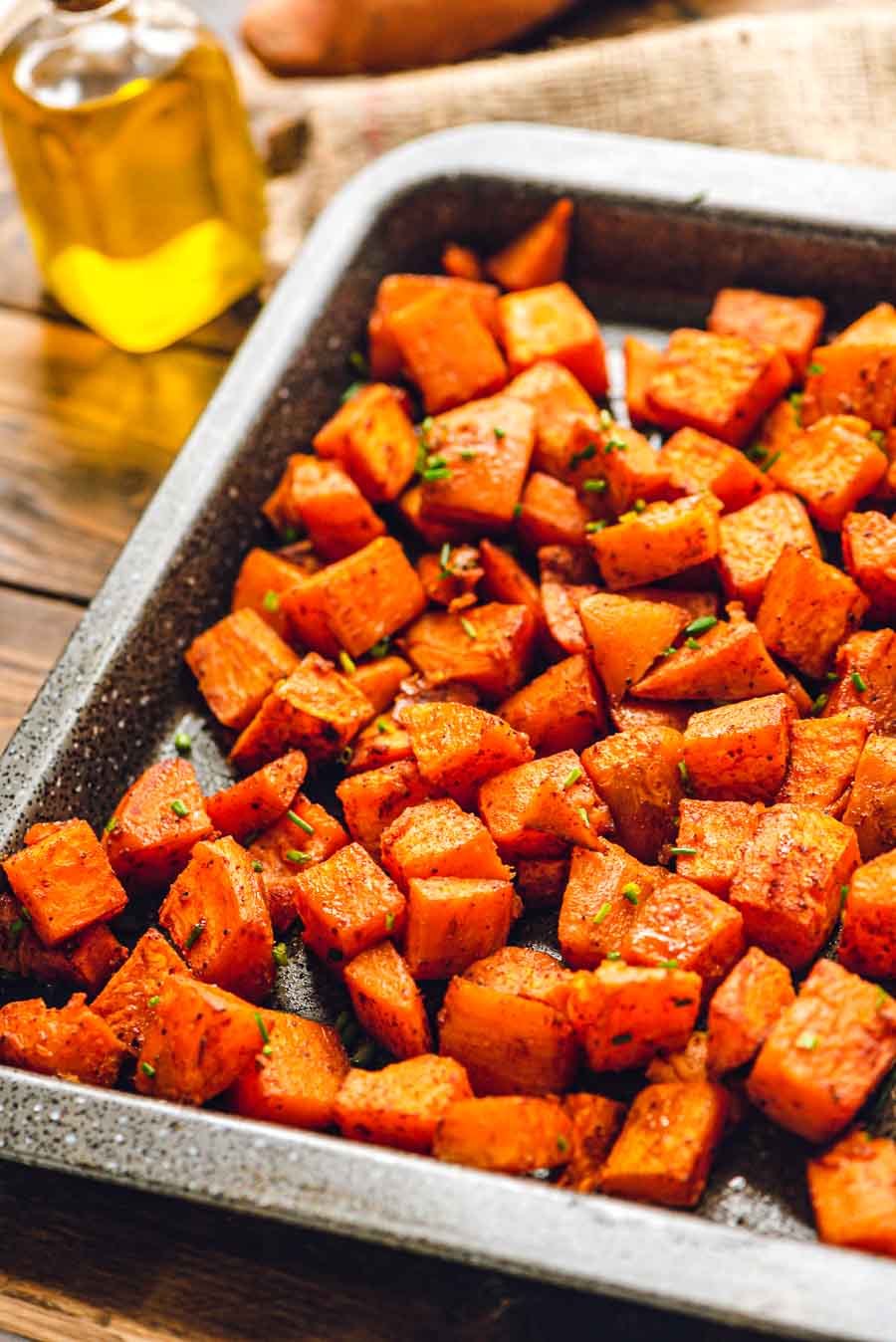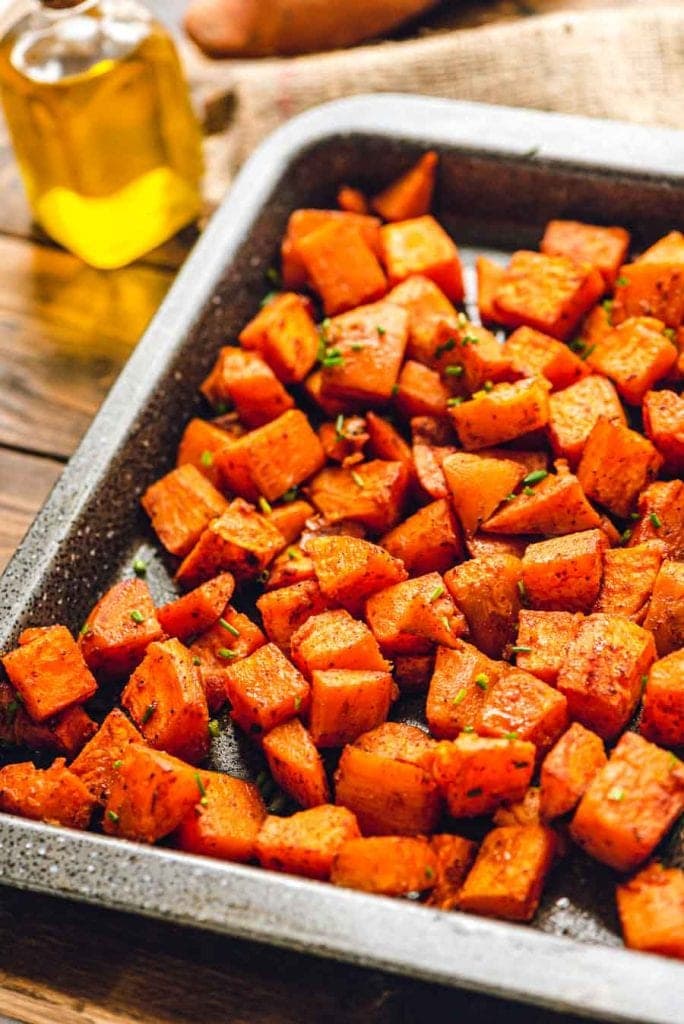 Healthy Oven Roasted Sweet Potatoes!
If you need a quick, easy and healthy side dish look no further than these Roasted Sweet Potatoes! Seasoned, crispy and tender sweet potatoes are probably one of my most favorite weeknight side dishes.
I like to season them with smoked paprika, but you can easily switch up the seasonings to change the flavor. I love a versatile side dish and these roasted potatoes go with practically any main dish – we love them with Parmesan Crusted Chicken and Air Fryer Chicken Legs!
The best thing about this potato side dish is that the prep is quick. Just dice the sweet potatoes, toss them with oil and seasoning and pop them in the oven! 30 minutes later they're hot and crispy on the outside and tender and soft on the inside – just the way roasted potatoes should be. While they're in the oven you have plenty of time to pull together your main dish!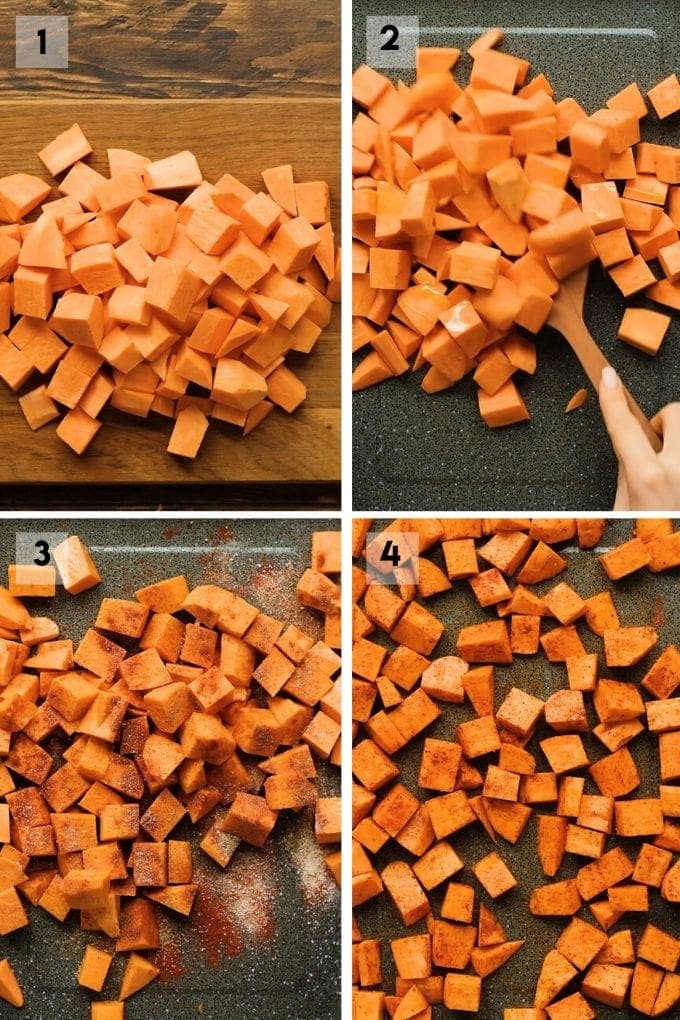 Ingredients Needed to make Roasted Sweet Potatoes
If you'd rather skip my (very helpful, I think) tips and tricks, essential cooking info, and similar recipe ideas – and get straight to this delicious recipe – simply scroll to the bottom of the page where you can find the printable recipe card.
Sweet potatoes
Olive oil
Garlic salt
Smoked paprika
Ground pepper
How to make Roasted Sweet Potatoes
Prep the potatoes – peel and cut the potatoes into 1/2″ pieces. Spread the diced potatoes on a half sheet pan.
Season the sweet potatoes – drizzle the olive oil over the top of the potatoes. Sprinkle the spices over the top and then toss the potatoes to coat them evenly in the oil and spices. Spread the potatoes into an even layer (they should have space between them so they don't steam).
Roast the potatoes – roast the sweet potatoes for 30 minutes at 425 degrees F. Flip them over every ten minutes while they're roasting so they cook evenly.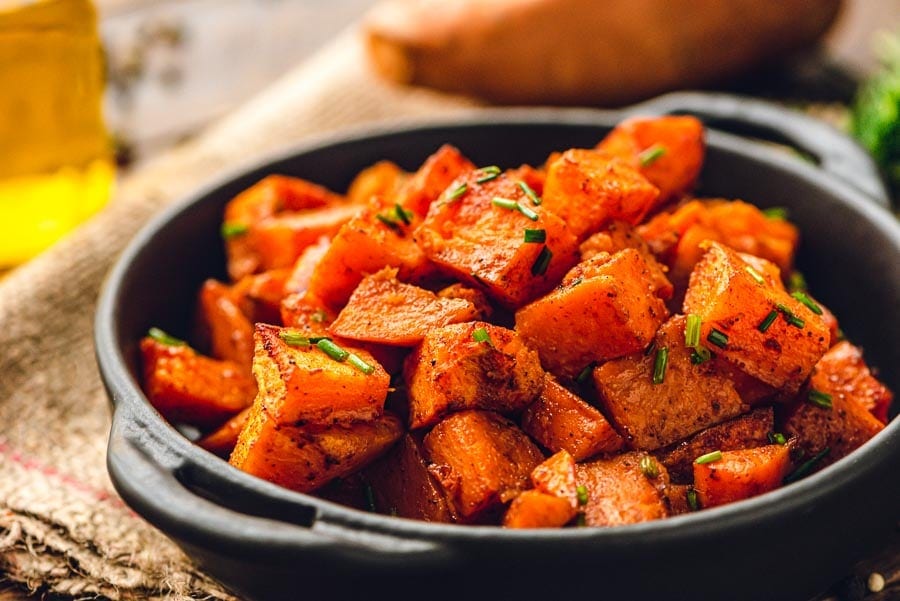 Tips to get the best roasted sweet potatoes!
First, be sure to cut your potatoes into equal-sized pieces. I recommend cutting them into 1/2″ pieces because they will roast in 30 minutes. The bigger you cut them the longer it will take them to roast. If your diced sweet potatoes are all different sizes they won't cook evenly – the small ones will burn before the bigger ones are done!
Use the right amount of oil! For this recipe that serves four, I think 2 tablespoons of olive oil is the perfect amount. The oil gives the potatoes flavor but it also ensures that they don't stick to the pan.
Don't overcrowd the pan. In order to roast, the potatoes need to release their moisture so be sure to give them plenty of space. If they are crowded together they will end up steaming and won't turn crispy and golden.
How to pick a good sweet potato
Look for sweet potatoes that are firm with smooth skins that are even in color. Smaller sweet potatoes are sweeter and less starchy than larger ones and are great for roasting.
Do you peel sweet potatoes?
It's up to you! I prefer to peel my sweet potatoes for roasting because I like the texture and flavor of the potatoes without the skins. You don't have to peel them, though!
Can you eat sweet potato skin?
Yes, sweet potato skin is full of nutrients and is edible.
How to cut a sweet potato for roasting
You will need a sharp knife to cut the potatoes!
Peel your potatoes (or not if you like the skin!)
First, slice off a bit of the potato on one side so it will sit on the cutting board without rolling over. This will make it much easier (and safer!) to slice the potato.
Slice the potato into 1/2″ round slices.
Slice each round into 1/2″ pieces.
Do sweet potatoes need to be parboiled?
For this recipe, it's not necessary to parboil the sweet potatoes before roasting them. In some cases, you might want to parboil them if you want them to roast faster so it really depends on the recipe!
What do you eat sweet potatoes with?
Roasted Sweet Potatoes go with so many dishes! Serve this easy side dish with chicken like my Cheesy Bacon Kale Stuffed Chicken. For a hearty meat and potatoes dinner, Roasted Sweet Potatoes go great with Meatloaf, too! We also love them with Crock Pot Honey Ham and Instant Pot Ribs which are both delicious and easy dinners. Or try them with Grilled Tenderloin – while the potatoes are in the oven you can use your grill to cook the tenderloin.
These Roasted Sweet Potatoes are definitely a family-favorite side dish recipe – I know you'll want this easy recipe in your dinner rotation!
More quick and easy side dishes!
I often get stuck in a rut with my side dishes, but it's easy to mix them up! Here are a few of my go-to recipes to break out of the "norm"!
WATCH THE STEP BY STEP VIDEO FOR THIS RECIPE BELOW:
If you enjoy watching these videos make sure you subscribe to my YouTube Channel to be notified each time a post a new video!
Try it and love it? Rate it, please!!! ? Seriously though a five-star rating below will make my day! If you snap a photo, please be sure tag me on Instagram at @julieseatsandtreats or #julieseatsandtreats so I can see your yummy treat!!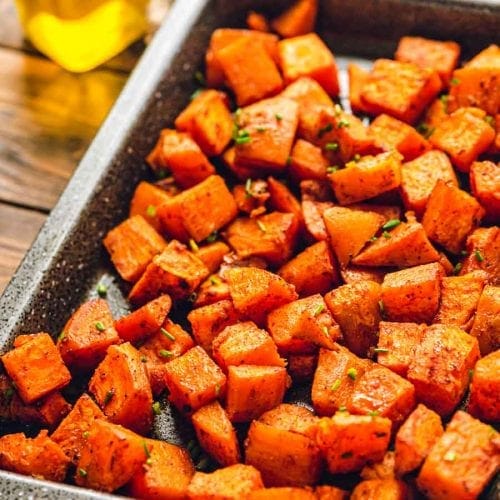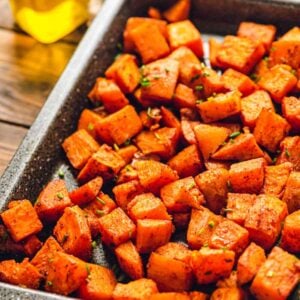 Roasted Sweet Potatoes
Quick, easy oven roasted sweet potatoes are a healthy side dish with tons of flavor from a few simple seasonings.
Ingredients
3

sweet potatoes

2

Tbsp

olive oil

1

tsp

garlic salt

2

tsp

smoked paprika

1/2

tsp

ground pepper
Instructions
Preheat oven to 425 degrees F.

Peel and dice the sweet potatoes into ½'' pieces. Place on half sheet pan. Pour olive oil over the potatoes and toss to cover the potatoes. Sprinkle seasonings on top of potatoes and toss until potatoes are seasoned.

Spread potatoes out the potatoes so they are not overlapping. If they overlap you will steam them and not roast them.

Place potatoes in an oven and bake for 30 minutes or until roasted to your desire. Flip potatoes ever 10 minutes during cooking.
Nutrition
Calories:
149.18
kcal
Carbohydrates:
20.32
g
Protein:
1.7
g
Fat:
7.19
g
Saturated Fat:
1.01
g
Sodium:
635.86
mg
Potassium:
351.38
mg
Fiber:
3.34
g
Sugar:
4.18
g
Vitamin A:
14324.87
IU
Vitamin C:
2.34
mg
Calcium:
29.25
mg
Iron:
0.81
mg