Make Ahead Mashed Potatoes Recipe
These Make Ahead Mashed Potatoes are smooth, rich and creamy! I love making potatoes ahead of time so the holidays aren't so rushed the day of! They are made with cream cheese which makes these potatoes amazing! Grab this recipe for a hectic free holiday dinner.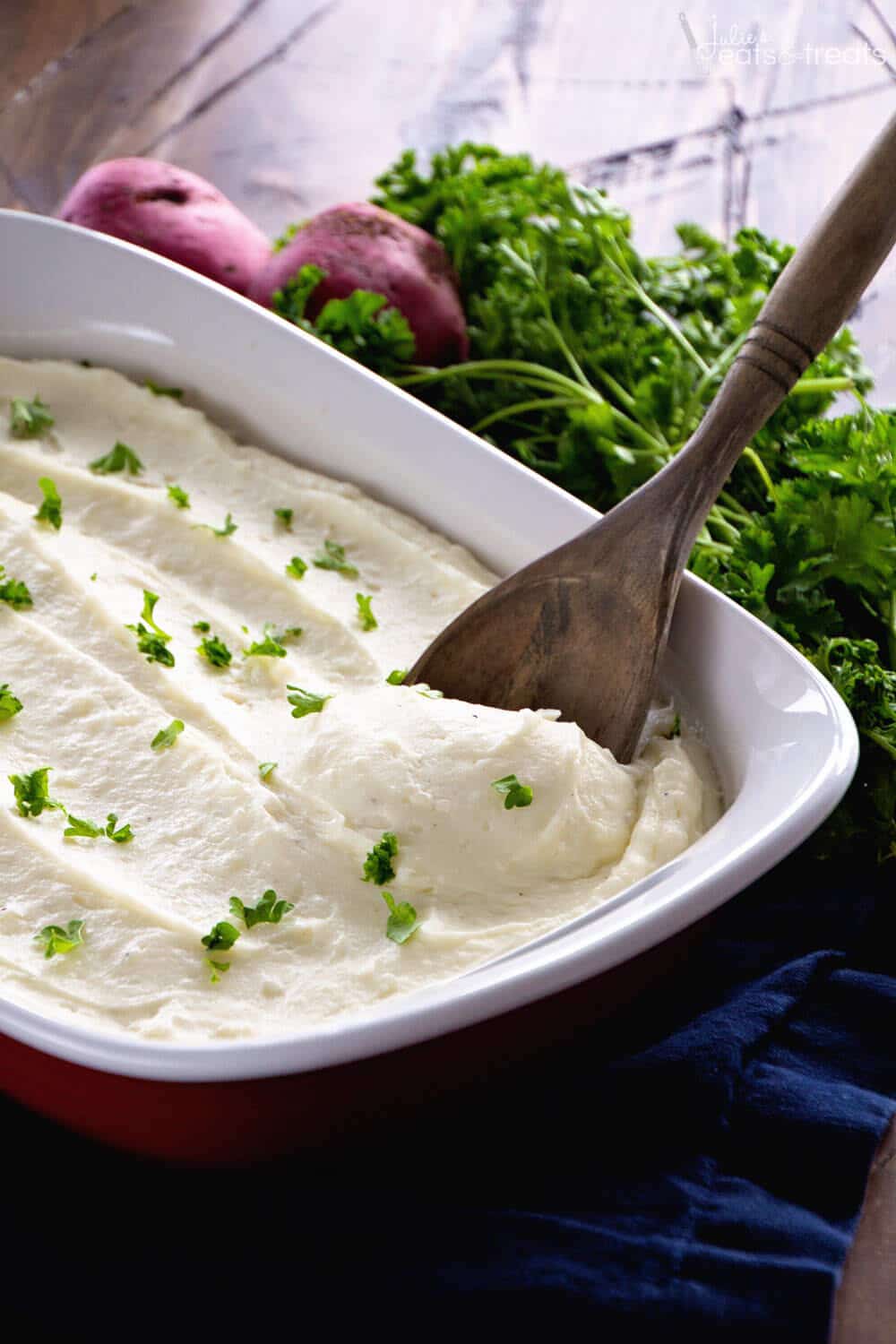 Make Ahead Mashed Potatoes
Making side-dishes ahead of time is a smart way to help free up your time on the holidays and lessen the stress of making a big meal! That why I love my Crock Pot Make Ahead Turkey and Seven Layer Salad! They both lead to as stress-free of a holiday that you can get if you are hosting.
Make-ahead mashed potatoes are a staple for our holiday get-togethers and I recommend it becomes yours too! The fact that you can make mashed potatoes ahead and then just stick it in the oven that day is a wonderful benefit. I mean honestly as much as we like to have it together sometimes the day of the holiday gets a bit hectic!
Grocery list for Mashed Potatoes with Cream Cheese
Red potatoes
Cream cheese
Sour cream
Butter
Milk
Onion salt, salt, pepper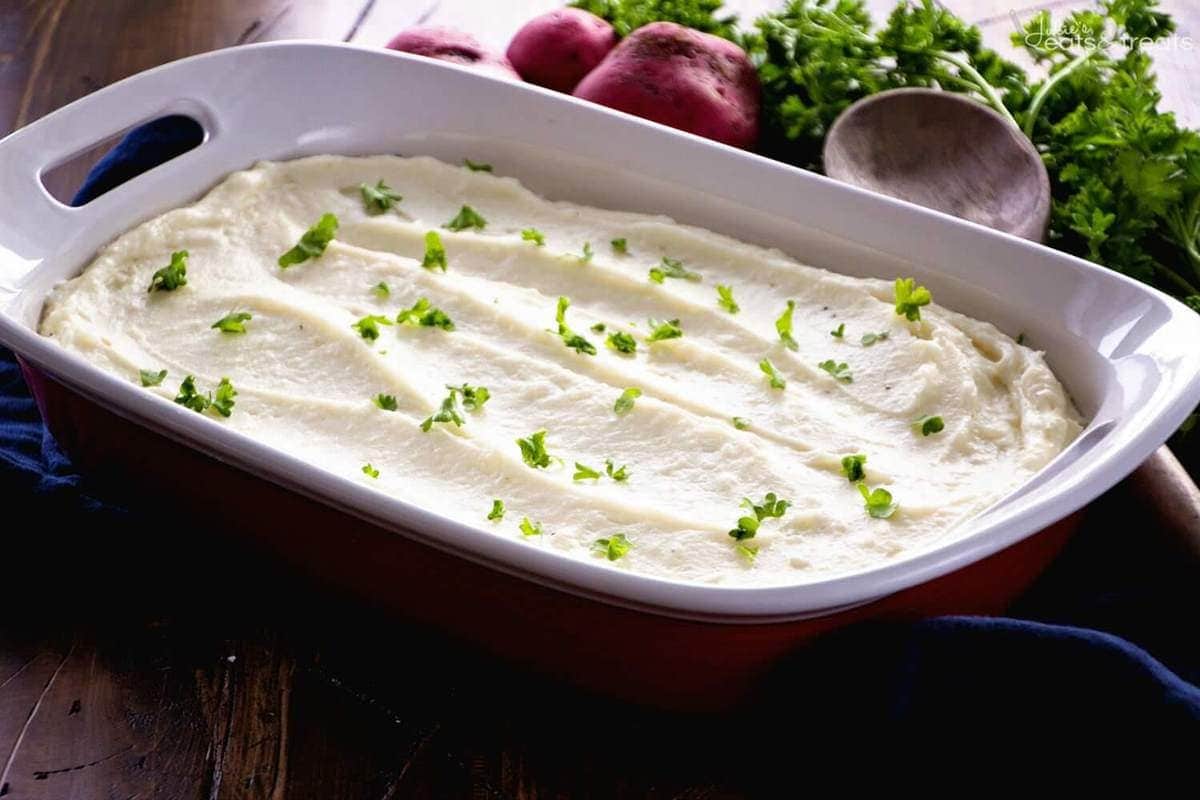 Mashed Potatoes with Cream Cheese
This recipe is another "mom" original so I'm once again saying you can't go wrong! Family recipes tried and true are always the best!
In fact we were just planning Thanksgiving and someone asked what everyone wanted to bring to dinner. I started laughing and said well I can tell you that my Aunt with bring the stuffing, my cousin will bring the seven layer salad and Mom will bring these mashed potatoes!
We always bring the same things every year and I think some of us would have a fit if we veered off from traditional.
I always make the turkey and bring my super, ridiculously easy gravy of course to top these mashed potatoes with. It's not Thanksgiving without mashed potatoes and gravy!
You have to have the staples when you're serving big family meals! Other great side dishes some that come to mind are Corn Pudding Casserole and Crock Pot Bacon Green Beans. All so terrific!
Why am I using red potatoes in this recipe?
Red potatoes make a super creamy mash! The cream cheese gives them an especially tangy bite, yum!! The few additions that you add in to these make ahead mashed potatoes make them so flavorful an delicious.
Steps to Making Mashed Potatoes ahead of Time
Prepare the potatoes, clean, peel and dice.
Cook in a large pot until the potatoes are fork tender.

 

Drain well. Add the remaining ingredients and beat until fluffy. Add milk as needed.
Allow to cool, cover with foil and refrigerate.
Bake at 350 degrees for 30-45 minutes.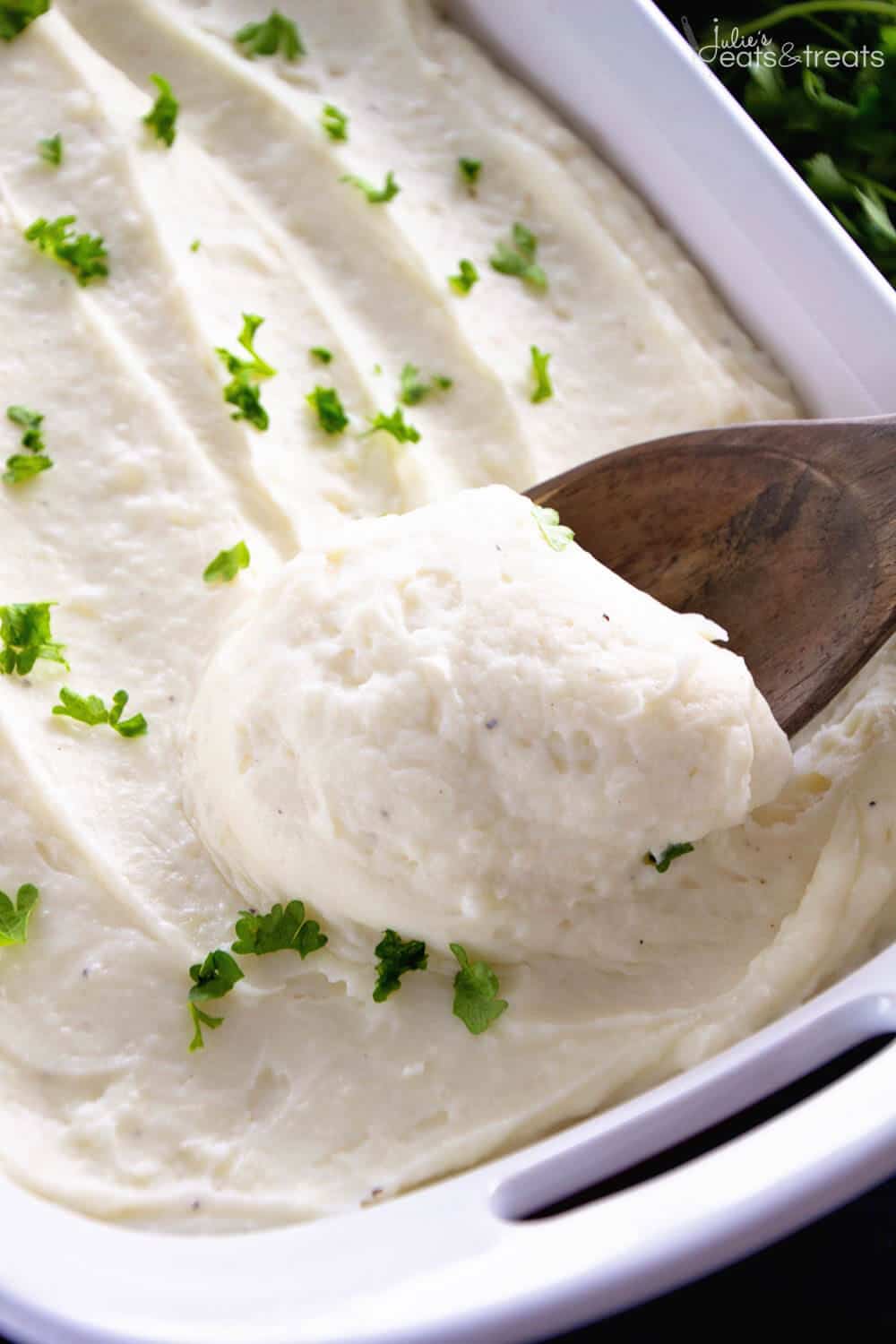 Make Ahead Mashed Potatoes Recipe
If you have leftover mashed potatoes I recommend making a delicious batch of Turkey Meatballs and serve them over the leftover potatoes!
Of course, I rarely have leftover, but just in case you do!
More easy holiday side-dishes!
Are you hosting the big meal or you traveling to spend time with family and friends? Comment below and tell me what your plans are!
P.S. I know you'll love these mashed potatoes! So easy and delicious!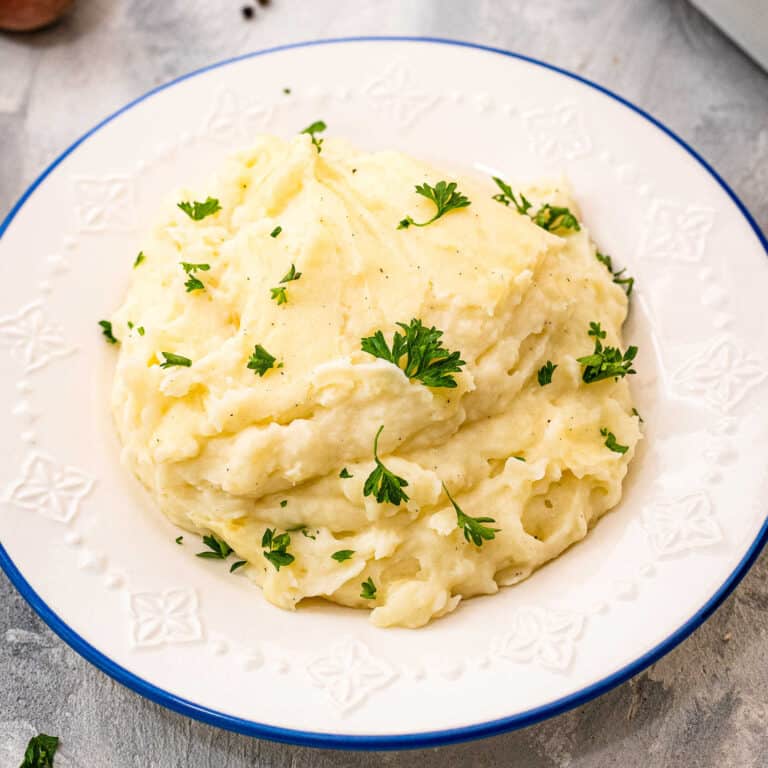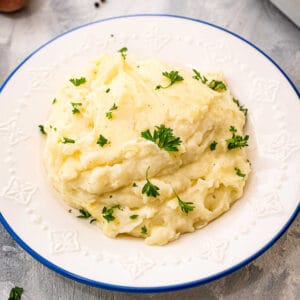 Make Ahead Mashed Potatoes
Prep these creamy Make Ahead Mashed Potatoes the day before and then just bake them the day of your holiday dinner.
Ingredients
5

pounds

red potatoes

13 medium

4

ounces

cream cheese

1

cup

sour cream

2

teaspoon

onion salt

1

teaspoon

salt

if desired

1/4

teaspoon

pepper

2

Tablespoon

butter

1/4

cup

milk

optional
Instructions
Spray a 9x13 inch baking dish with non-stick spray. Set aside.

Wash, peel and dice potatoes into cubes. Place the potatoes in a large pot and cover with cold water, so water is about 2 inches over potatoes. Bring to a boil over medium heat and simmer until the potatoes are tender with pierce with a fork, about 20 minutes depending on how big you dice your potatoes.

Drain water off of potatoes and return to large pot. Add the rest of the ingredients and beat until fluffy.

Smooth out the potatoes in the prepare baking dish. Then cover and refrigerate overnight or for up to two days.

When ready to use remove casserole dish from oven and let come to room temperature while oven is preheating. Preheat oven to 350 degrees F.

Place potatoes in oven and bake for 30-45 minutes or until heated through and just beginning to turn golden brown.
Nutrition
Calories:
221
kcal
Carbohydrates:
31
g
Protein:
5
g
Fat:
9
g
Saturated Fat:
5
g
Polyunsaturated Fat:
1
g
Monounsaturated Fat:
2
g
Trans Fat:
1
g
Cholesterol:
26
mg
Sodium:
680
mg
Potassium:
909
mg
Fiber:
3
g
Sugar:
4
g
Vitamin A:
328
IU
Vitamin C:
16
mg
Calcium:
56
mg
Iron:
1
mg