Love using your Instant Pot? We have tons of delicious Instant Pot Recipes for dinner, dessert and more! We love using our pressure cooker to make quick and easy family meals. Everything from pasta and tacos, to soup and cheesecake!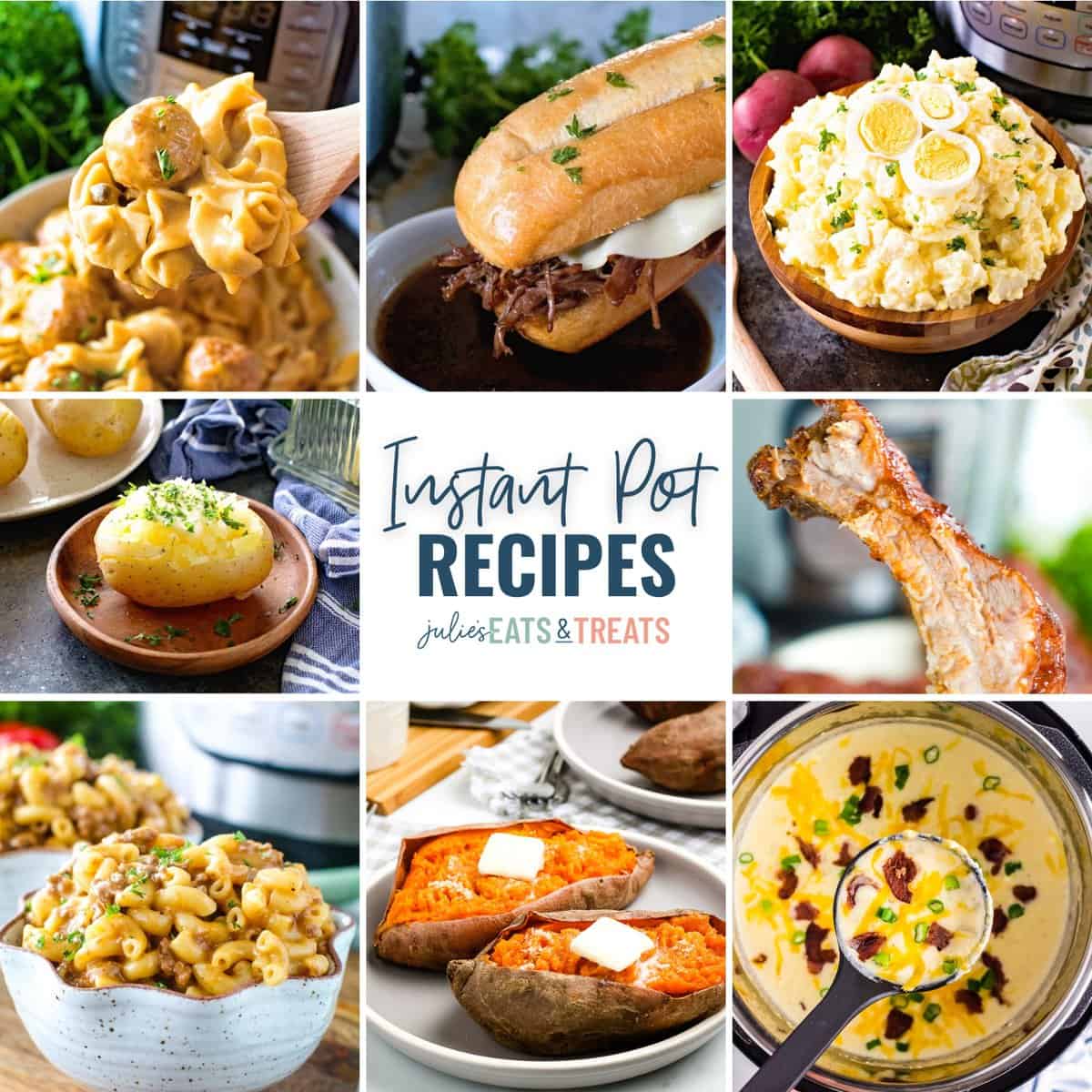 Have you joined the Instant Pot craze yet?! I drank the juice. I love this pressure cooker so much! At first, I'll admit, I let it collect dust. I was overwhelmed at the thought of trying to figure it out.
I think that happens to quite a few people who purchase an Instant Pot. Sometimes it's a little difficult to learn what to cook in it!
That's why I rounded up a bunch of great pressure cooker dinner recipes just for you! My Hamburger Stroganoff is super popular. In fact, it's one of my top recipes on my blog!
Since life never seems to slow down and we are always looking for easy, delicious, and family-friendly recipes, this Instant Pot dinner recipe round-up will be super useful!
Easy Instant Pot Recipes
Click the words below to jump to that section!
Instant Pot Soup Recipes
Need dinner ready super quickly? Check out this crazy fast instant pot potato soup!
This tasty and nutritious soup turns out absolutely perfect in the Instant Pot. It's so easy and delicious!
If you're needing some easy vegetarian instant pot recipes, this will be one of your favorites! This lentil soup is packed full of protein and so tasty.
Switch things up on taco Tuesday and make this yummy instant pot taco soup. It's got the perfect balance of spice and is full of veggies and protein.
Italian soup just got so much easier! This lasagna soup is such an easy Instant Pot meal. Throw it together for a yummy dinner on a busy weeknight.
This easy taco soup will be a hit with the whole family! I love throwing this together on an especially cold evening. It's so hearty and just hits the spot.
Craving a cozy, hearty meal? This Instant Pot Beef Stew is the perfect "stick to your ribs" meal.
Everyone needs a winning chili recipe, and this one is it! Plus, all the hard work is taken care of by the instant pot. What a win win!
Instant Pot Dinner Recipes
Yes, you can make chicken wings in the instant pot! Make these for you next game day party, or even for an easy dinner one evening. They're so delicious, you'll be craving them more than you expect!
This is one of the easiest instant pot recipes out there. It's basically an entire meal in one pot. Protein, veggies, and a starch, all quickly cooked together.
Instant Pot French Dip is so easy to make with a virtually hands-off approach. This crazy easy recipe will yield the most tender beef that just melts in your mouth!
If you're craving seafood, this is the instant pot dinner recipe for you. It's actually really easy to make the perfect shrimp boil in your instant pot. This recipe is loaded with flavor and oh so buttery!
This Instant Pot Pork Carnitas recipe is the perfect family dinner recipe. Taco night, made easy, and absolutely tasty too!
Meatloaf, made right in the Instant Pot…yum! Plus mashed potatoes made in the Instant Pot…double yum! This is a great, well rounded dinner.
It may surprise you how amazing ribs cooked in the instant pot turn out. They're so easy to make and don't take long at all!
This is instant pot dinner recipe is always a hit in our home. Picky eaters will gobble up this yummy chili mac with absolutely no complaint.
Take the guess work out of spaghetti and meatballs by cooking it all in the Instant Pot. Pasta night made easy!
Need a cajun fix? You can make the most perfect jambalaya right in your instant pot. Loaded with flavor, this recipe is such a good dish to make for dinner.
These ribs are made with a delicious spiced rub and are perfectly sticky and sweet. They just fall right off the bone…exactly how ribs should!
More Instant Pot ideas for pasta night. This chicken alfredo is made with a jar of sauce, but doesn't lack in flavor at all!
This shredded chicken can be used in dozens and dozens of recipes! If your recipe calls for cooked chicken, just make it in the Instant Pot to make things extra easy.
The Instant Pot taco night ideas just keep coming. You'll love these flavorful and simple chicken tacos!
Goulash is the perfect thing to make when you don't know what to make. It's such a classic and comforting dish, perfect for any time!
Stop making a box mix of stroganoff, and make it from scratch. It's just as easy as the box if you make it in the Instant Pot!
Pulled pork has so many different uses, and now you can make it perfectly in the Instant Pot! It's so tender and is melt-in-your-mouth delicous.
Pork loin made in the instant pot turns out amazing every single time. This instant pot dinner recipe is seasoned to perfection, and is such a great dish to serve for dinner.
This is such a popular crock pot recipe, and now you can make it in your Instant Pot. If you forgot to throw crack chicken into the slow cooker, make it extra quickly in the instant pot.
Got a busy night ahead of you? Make this delicious Instant Pot pork roast with vegetables. This entire meal is made in your pressure cooker and only takes about 90 minutes.
Hamburger helper is so popular, so why not make it from scratch and pop it into your instant pot. One pot dinners like this always make things so much easier on busy evenings.
These Swedish meatballs are drool-worthy! I love making this tasty meal on a crazy evening. So filling and easy to throw together.
Meatloaf is already delicious, but this french onion meatloaf is next level. You've got to try it out next time you need a quick and easy dinner.
Ham and penne pasta is one of my favorite instant pot recipes. Pair it with a really simple side and you've got an easy, well rounded dinner in just minutes.
Instant Pot Side Dishes
Baked beans in the instant pot are so easy! Plus, it's perfect to throw together if you had an "uh-oh" moment and forgot to make a side dish to bring to the potluck.
Everyone needs a reliable and quick mac and cheese recipe. Skip the boxed mac and cheese and make this easy instant pot meal.
Oh how I love potato salad, and making it in the instant pot has made it go more quickly. This is a fabulous dish to make for your summer cook-outs and potlucks.
Once you make corn on the cob, you'll never go back. It's by far the easiest way to make the tastiest corn.
Grab your pressure cooker and make these fabulous Instant Pot Baked Potatoes. They perfect side dish for your dinner.
The best hard boiled eggs ever, plus they are so easy to make! Make deviled eggs, slice eggs to put in a salad, or even dye these hard boiled eggs.
Skip the canned cranberry sauce and make this homemade sauce in the instant pot. It's so easy and tastes way better than the canned stuff!
If you love your sweet potatoes creamy on the inside you ,will want to try these Instant Pot sweet potatoes!
Instant Pot Desserts
We have tested this recipe over and over again so you can make a perfectly smooth, delicious cheesecake of your dreams! Yes, even in the instant pot!