If you need a nutritious and fun snack that kids will eat try this easy Ants on a Log! A celery stick slathered with creamy peanut butter and dotted with raisins or "ants" marching in a row. It's a playful snack that kids will eat, plus you'll feel great about giving it to them!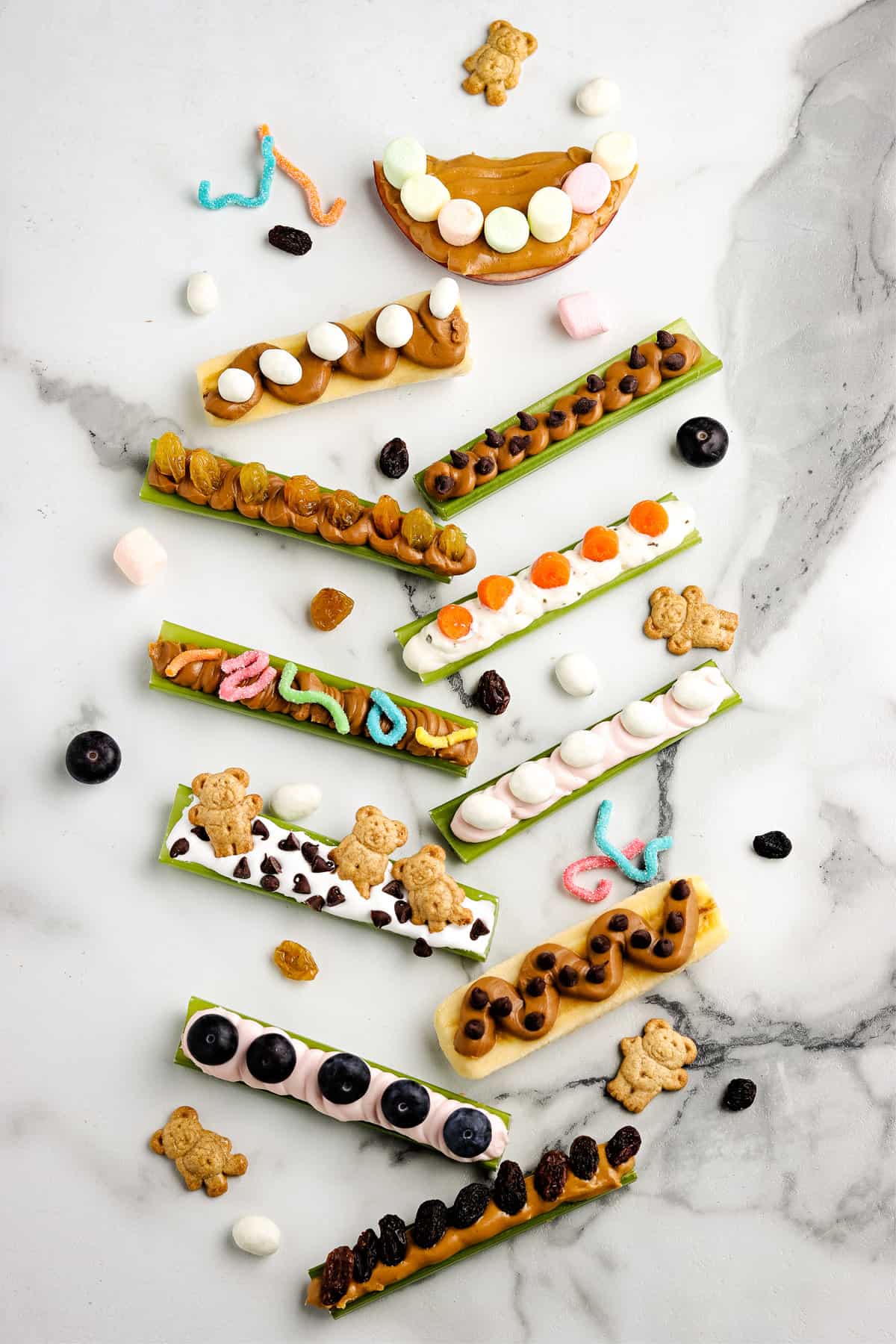 This classic snack just never gets old! Ants on a log is the easiest recipe that you can throw together with just a few ingredients. Whenever I'm stumped on what healthy snack to make, I turn to this easy and healthy snack idea.
Celery get a bad rap, but it has a lot of potential. This kids snack has stood the test of time as an easy go-to snack, and I can see why! I love making variations of this recipe too. Apple slices and banana slices topped with peanut butter and extra toppings is so tasty.
Make this recipe or apple nachos as fun and healthy snack options as the kids are home for the summer. And berry smoothies are a great cold option to sip on during a hot day!
But if you've got celery, peanut butter, and raisins on hand then throw together some yummy ants on a log in just minutes.
Why You'll Love this Ants on a Log Recipe
It's a great way to get your picky eaters to eat veggies! Plus you have the added benefit of protein from the peanut butter.
You can make this easy snack in just five minutes time. It's a great last minute snack idea since it doesn't take long and requires minimal ingredients.
Make them as a fun themed treat for parties and school lessons! If you're learning about bugs, make ants on a log and dirt cups.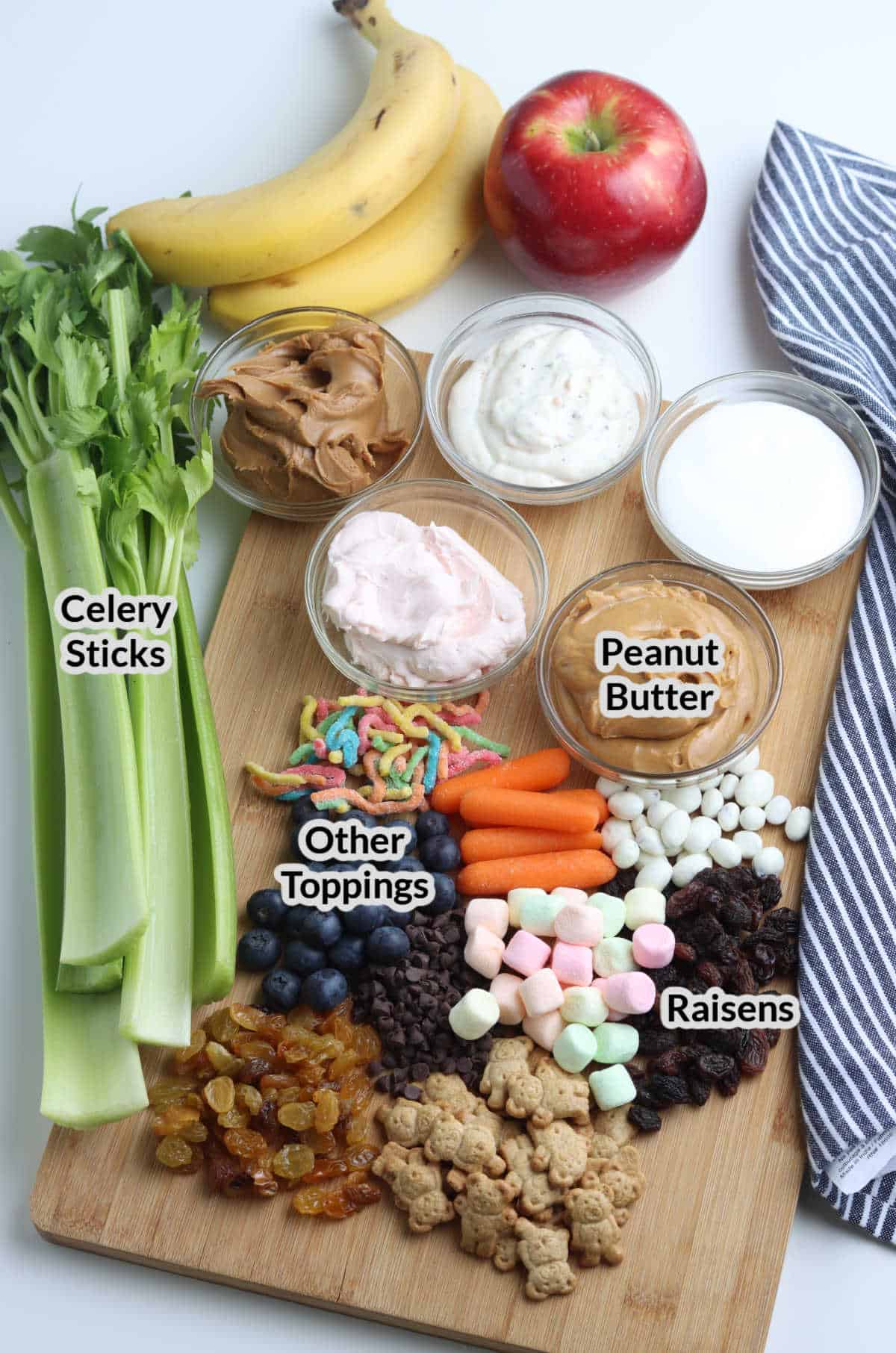 Ingredients for Ants on a Log
Celery sticks – Celery sticks are the most classic option to use as the "log", but you can also use apple slices and banana slices.
Peanut butter – Even though celery, peanut butter, and raisins is the most popular combination, you can use any other nut butter! Sunflower butter, almond butter, and cashew butter are pretty common.
Raisins – Raisins most resemble the little ants on the log. If you don't like raisins, feel free to substitute with any of my other topping ideas or anything else you can think of.
Other toppings:

Marshmallows
Teddy grahams
Blueberries
Chocolate chips
Gummy worms
Yogurt covered raisins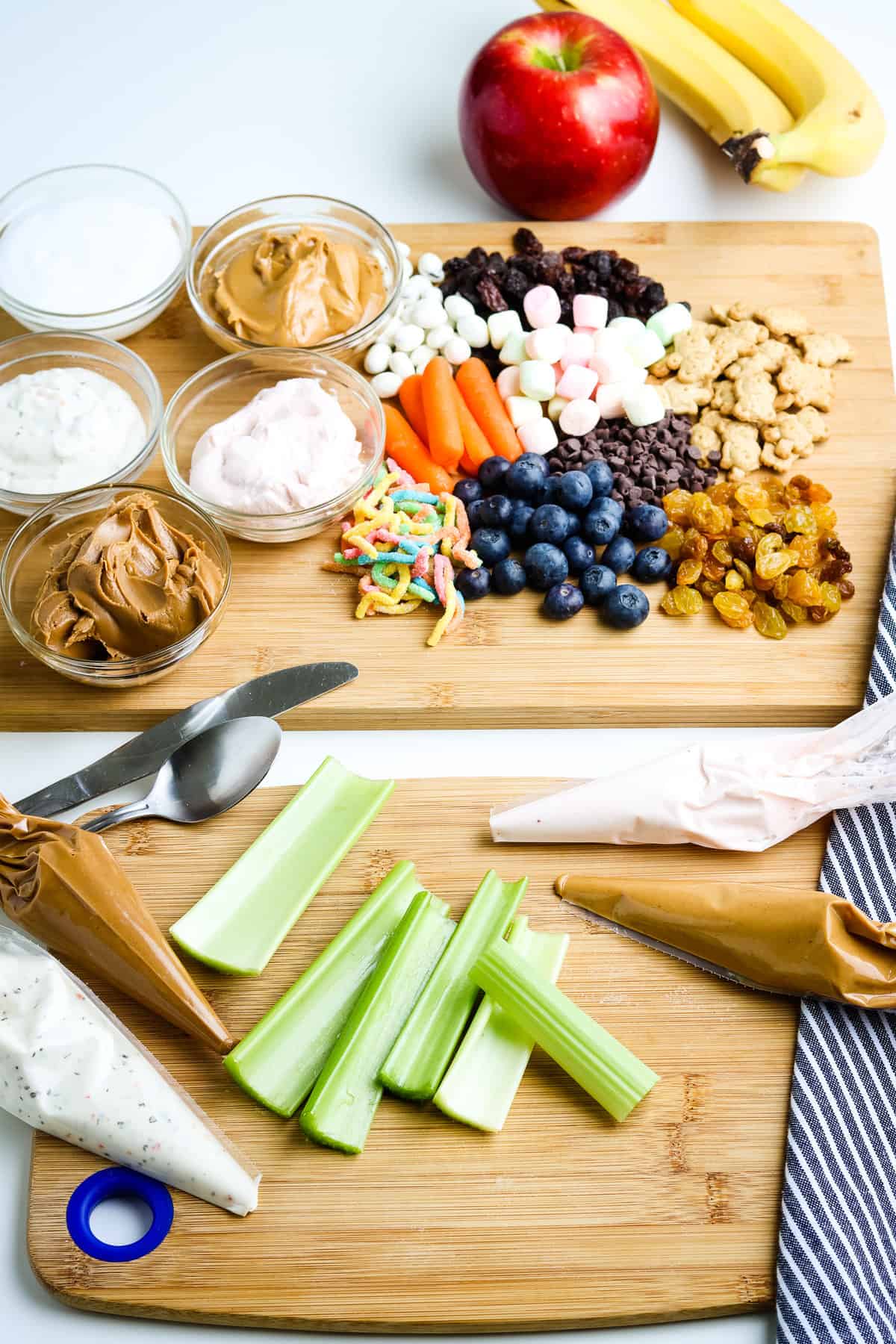 How to Make Ants on a Log
Clean the stalks really well and then cut them into pieces. You'll want the slices to be 2-3 inches long.
Using a spoon or piping bag, fill the inside well of the celery slices with peanut butter. You can also cut the corner off of the plastic bag and use that too! Fill the bag with peanut butter, cut the corner, and carefully pipe peanut butter onto the celery.
Place raisins, or other toppings, on the top and serve!
What to serve with this ants on a log recipe
You can serve this snack as a stand alone item, but there are a number of tasty things you can pair it with as well!
Make a tasty drink like blueberry lemonade or iced peach green tea to serve with your snack. A cold glass of milk or juice would be yummy too! If you're looking to make it part of lunch time, kids would love these air fryer mini corndogs or pepperoni pizza sliders alongside it.
Ham and cheese pinwheels are a favorite lunch item of mine too! And making ants on a log to go with it is perfect.
How to Store Leftover Ants on a Log
Place any leftovers into an airtight container and store in the refrigerator for up to 3 days. However, I recommend just making a few servings at a time. They taste best fresh!
What other fillings and toppings can I use?
Any nut butters are a great option! But, you can also use things like Greek yogurt, cottage cheese, cream cheese, hummus, and even mashed avocado.
The best toppings will be determined by what filling you use. The most common topping is raisins, but you can use fruit, candy, chocolate chips, little cookies, dried cranberries and so much more.
What other logs can I use?
Apple slices and horizontally sliced bananas are great to use in this ants on a log recipe. You can also slice cucumbers or other fruit like pears and oranges and use those as your log base.
Pro Tips!
Don't overfill your log with peanut butter! It may take trial and error to get the right proportions, but start with less and you can always add more.
Keep the celery really cold right up until you make this snack. For some reason, it just tastes so much better cold.
You can add multiple toppings to one log! Don't be afraid to change things up, the "ants" don't all have to be the same.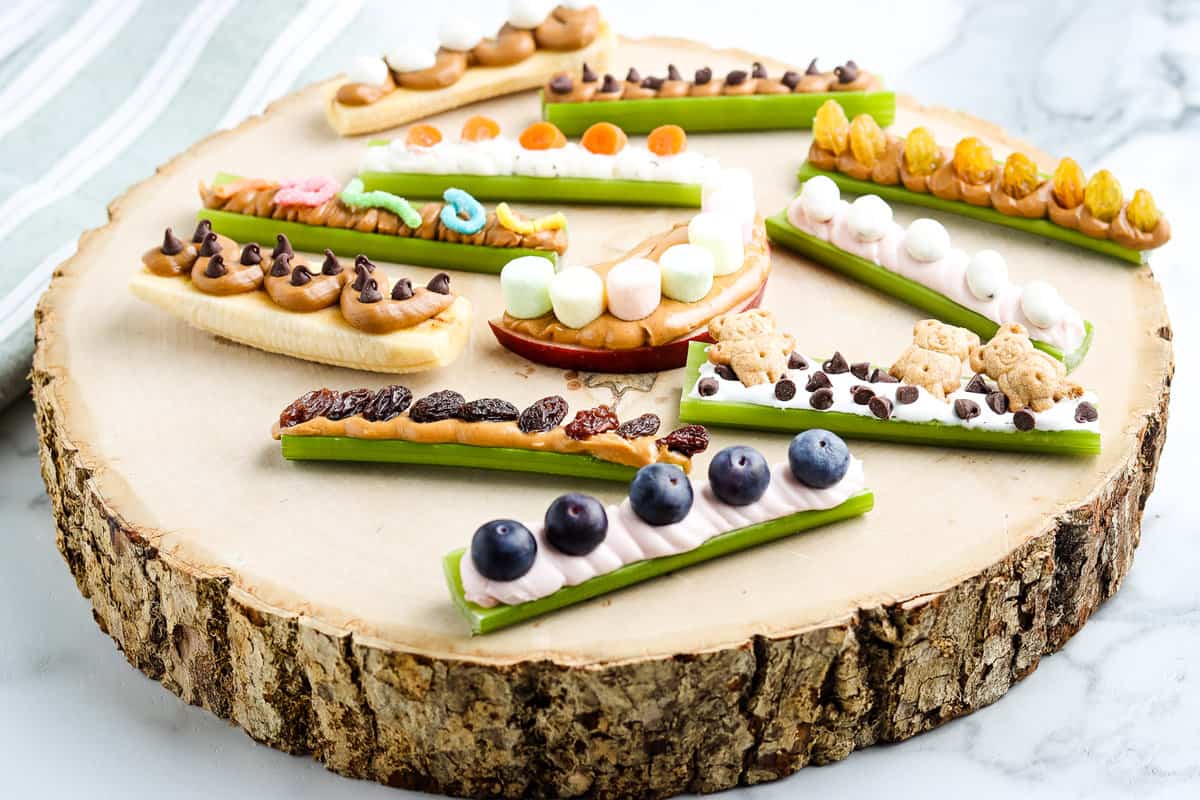 This easy and fun creation is a great classic snack! Follow this recipe to make it whenever you want something healthy and tasty.
More Snack Recipes You'll Love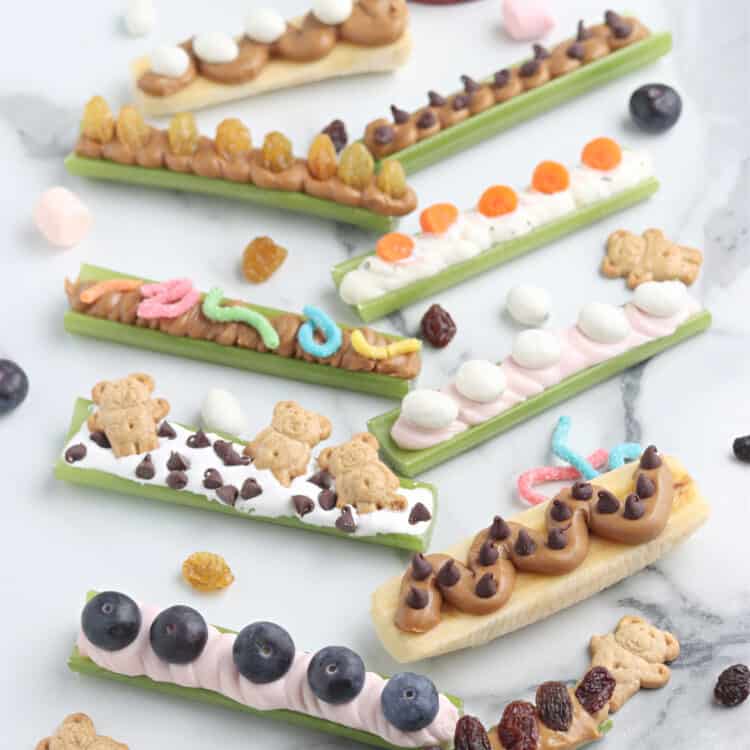 Ants on a Log
Delicious, nutritious and easy snack that's healthy! Ants on a Log is a celery stick filled with peanut butter and topped with raisins or chocolate chips for the ants!
Ingredients
3

celery sticks

about 3'' long

¼

cup

creamy peanut butter

¼

cup

raisins
Instructions
Clean celery and cut into pieces about 2-3 inches long.

Fill celery with peanut butter. We like using a plastic bag to fill the celery easily. Fill a resealable storage bag with peanut butter, snip off the corner and "pipe" the peanut butter into the celery stick.

Add raisins on top of peanut butter for the "ants".
Tips
Place any leftovers into an airtight container and store in the refrigerator for up to 3 days. However, I recommend just making a few servings at a time. They taste best fresh!
Nutrition Information
Calories:
82
kcal
(4%)
,
Carbohydrates:
7
g
(2%)
,
Protein:
3
g
(6%)
,
Fat:
6
g
(9%)
,
Saturated Fat:
1
g
(6%)
,
Polyunsaturated Fat:
1
g
,
Monounsaturated Fat:
3
g
,
Sodium:
49
mg
(2%)
,
Potassium:
116
mg
(3%)
,
Fiber:
1
g
(4%)
,
Sugar:
1
g
(1%)
,
Vitamin A:
9
IU
,
Vitamin C:
0.4
mg
,
Calcium:
8
mg
(1%)
,
Iron:
0.3
mg
(2%)