Cheesy Ham Oven Baked Omelet Recipe
Cheesy Ham Oven Baked Omelet Recipe ~ Light & Fluffy Omelet That is Baked and Stuffed Full of Ham & Cheese! Perfect for Brunch or Breakfast Recipe!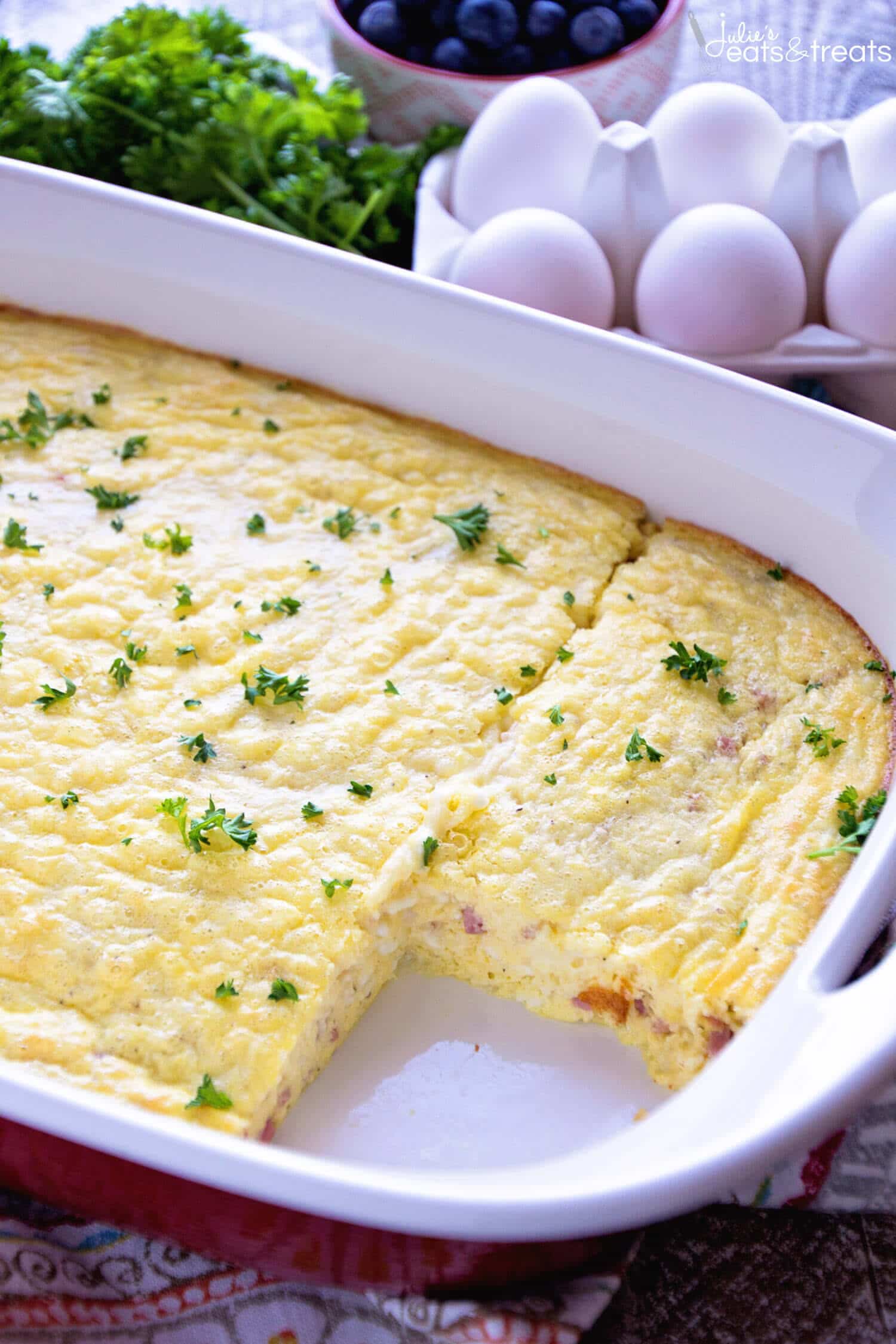 Sometimes I feel like that people that watch my family quickly think that it's a three ring circus at all times. For example, my girls love to take walks at the cabin. One would think this would be a rather safe experience, but not in my life. I'm pretty sure all the neighbors come out to their decks just to watch the mass chaos that ensues.
Picture yourself this. First they insist on taking our large black lab with us because we will have a meltdown by RyRy if we don't. Not only does she insist on taking Miley with she insists on helping hold her leash. Ok, so far we have the two kids and the dog. Next up, the stroller or wagon. One would think this would be an asset to my adventure called a walk, but quickly it becomes a hindrance. The girls make it approximately 500 feet and decide they should also walk. Therefore, now I'm dragging the stroller/wagon, the dog and chasing after two little girls. Henceforth, the entertainment for the neighbors.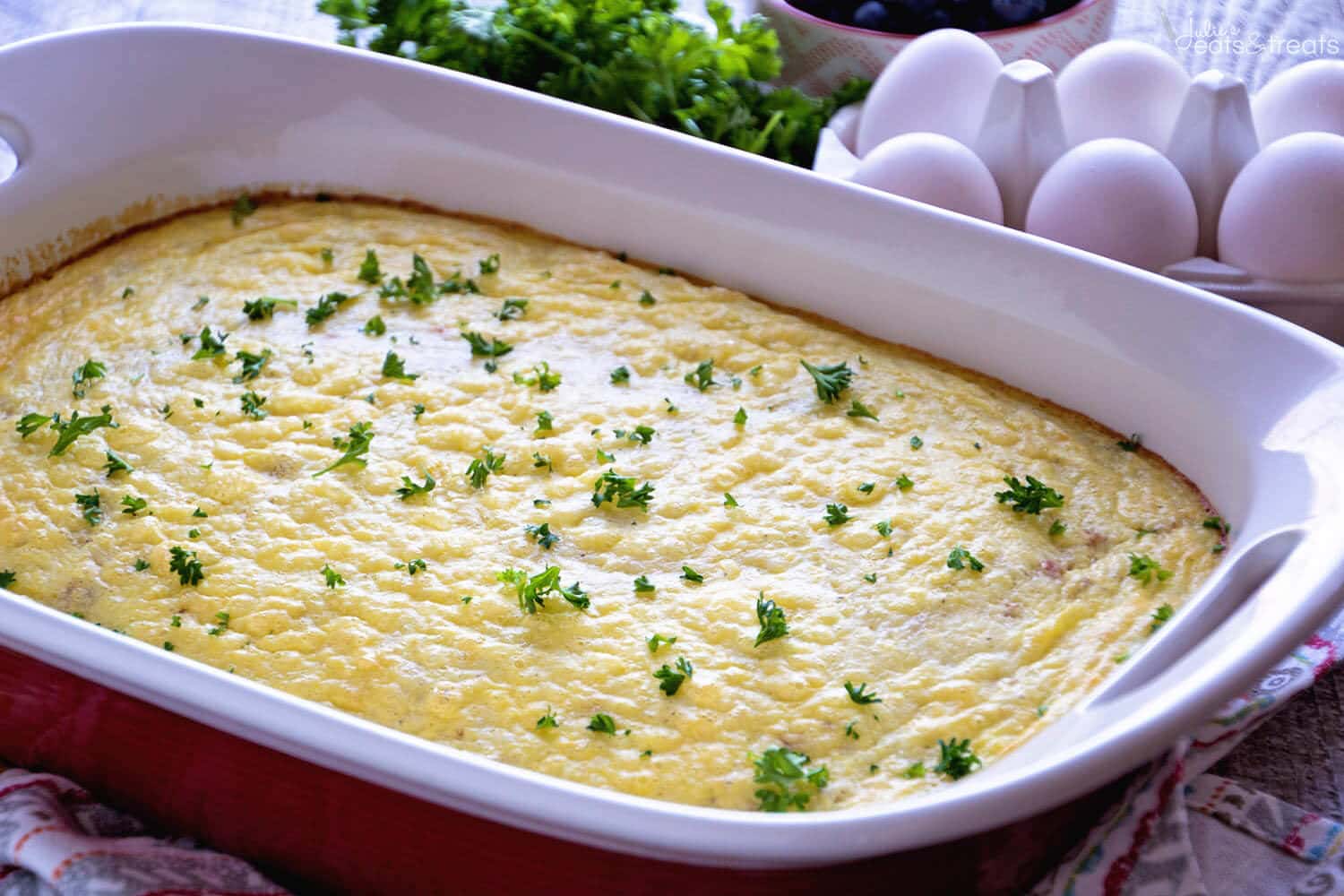 Most of the time I don't even realize what a circus my life is until I observe someone else watching all the action go down. Take tonight, we were at my parents and my little brother was also there. He is married with no children. While we were sitting in the family room watching the girls play and be crazy, I glance over at him and he has this look of disbelief. I start giggling and quickly ask what was going on in his mind.
He quickly answered that he can't imagine having one of these creatures around at all times let alone two of them, soon to be three! Sometimes I think I should stay away from him or his poor wife might never convince him to have children!
Did I mention Miss K stripped down this morning while at the cabin and came running out of the bathroom declaring she was a naked super hero? I was laughing so hard I almost peed myself.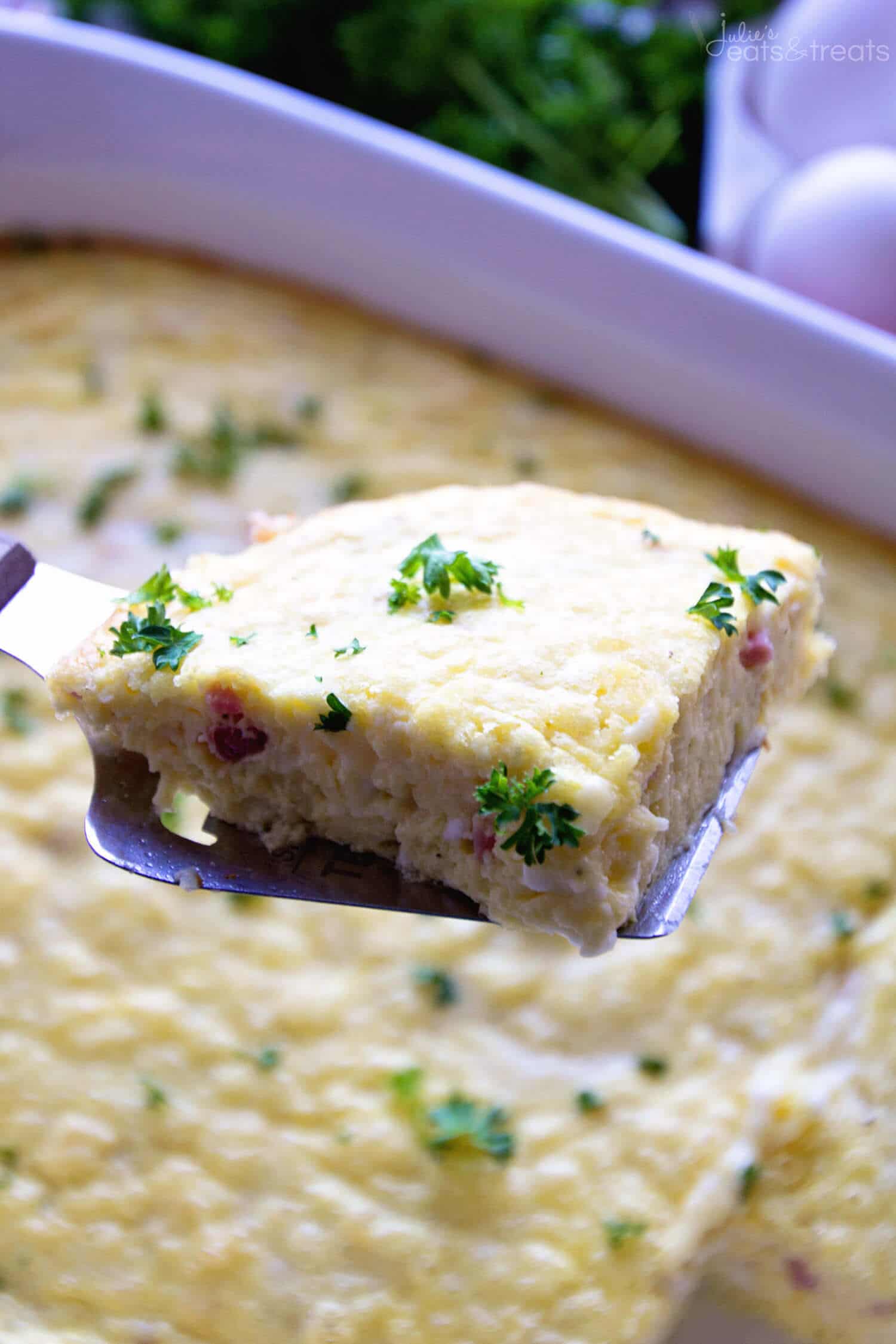 As you can see, my life is a hot mess most of the time so I need easy and fast! That's why I love easy breakfasts. When I want to treat my family to a hot breakfast I still need them to be quick and easy because you know, naked super heros can come flying through my life at any time!
This Cheesy Ham Oven Baked Omelet is a mix it, throw it in the oven and forget it kind of breakfast. It doesn't take much prep and it's delicious!  Plus, the leftovers are just as amazing! Serve some easy Mini Caramel Rolls on the side for an extra sweet treat!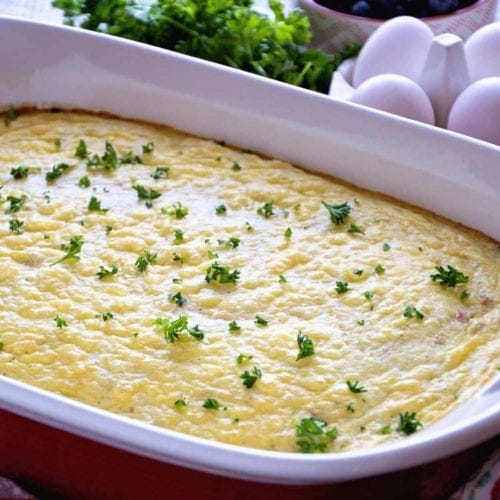 Cheesy Ham Oven Baked Omelet Recipe
Cheesy Ham Oven Baked Omelet Recipe ~ Light & Fluffy Omelet That is Baked and Stuffed Full of Ham & Cheese! Perfect for Brunch or Breakfast Recipe!
Print
Pin
Rate
Ingredients
10

eggs

1/2

c.

all-purpose flour

1

tsp

baking powder

1/2

tsp

salt

2

c.

shredded Monterey Jack cheese

2

c.

cottage cheese

8

oz

diced ham

1/2

tsp

pepper
Instructions
Preheat oven to 350 degrees.

In a large bowl, beat eggs with a hand mixer on medium speed for 3 minutes or until light and lemon-colored. Combine the flour, baking powder and salt in a different bowl. Gradually add eggs and mix well. Stir in cheeses and ham.

Pour into greased 13x9 in. baking dish. Bake at 350 degrees for 35-40 minutes or until a knife inserted near the center comes out clean. Let stand 5 minutes before serving.
Nutrition
Calories:
442
kcal
|
Carbohydrates:
14
g
|
Protein:
34
g
|
Fat:
26
g
|
Saturated Fat:
14
g
|
Cholesterol:
282
mg
|
Sodium:
1126
mg
|
Potassium:
264
mg
|
Sugar:
2
g
|
Vitamin A:
835
IU
|
Calcium:
550
mg
|
Iron:
2.4
mg
LEAVE A COMMENT
Things You Might Need for this Recipe!
Craving More Great Breakfast Recipes?
Follow My Breakfast Recipes! Board on Pinterest!
Follow Julie Evink | Julie's Eats & Treats's board Breakfast Recipes! on Pinterest.
On Julie's Eats & Treats!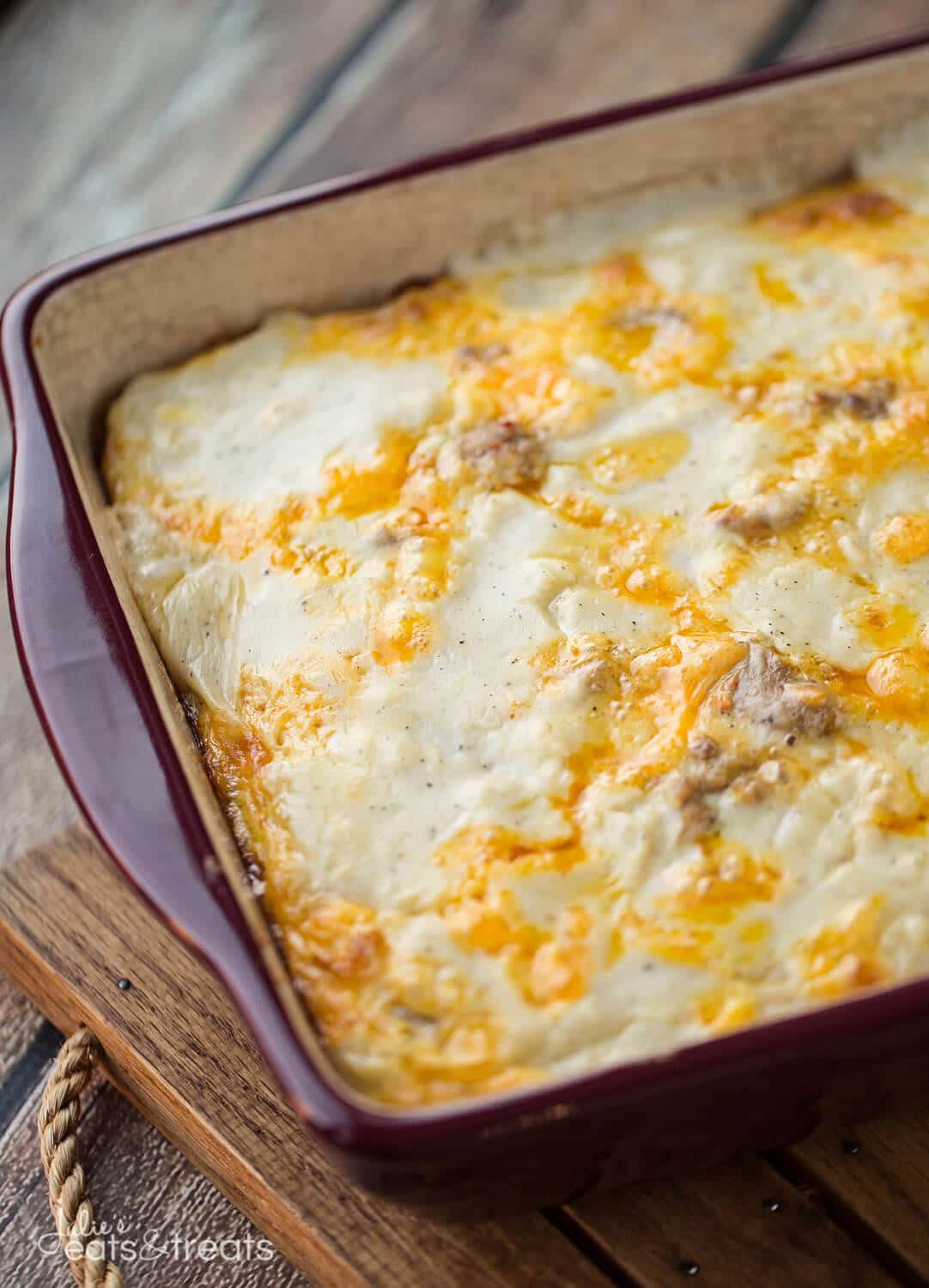 Biscuits and Gravy Overnight Breakfast Casserole ~ Comforting, Hearty Breakfast Casserole That is Prepared the Night Before and Baked in the Morning! Biscuits Loaded with Gravy, Sausage, Eggs and Cheese!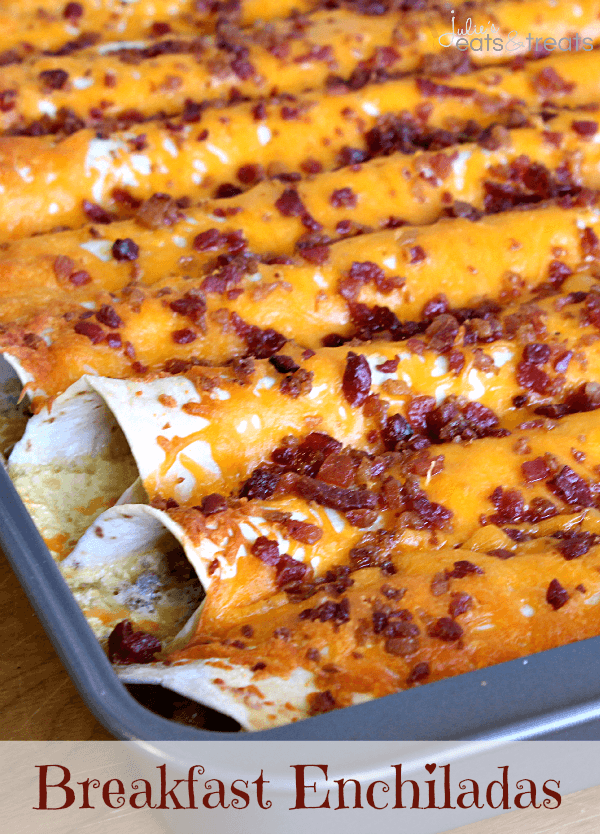 Breakfast Enchiladas ~ Tortillas stuffed with sausage, eggs, cheese and bacon then topped with more bacon and cheese! Make the night before!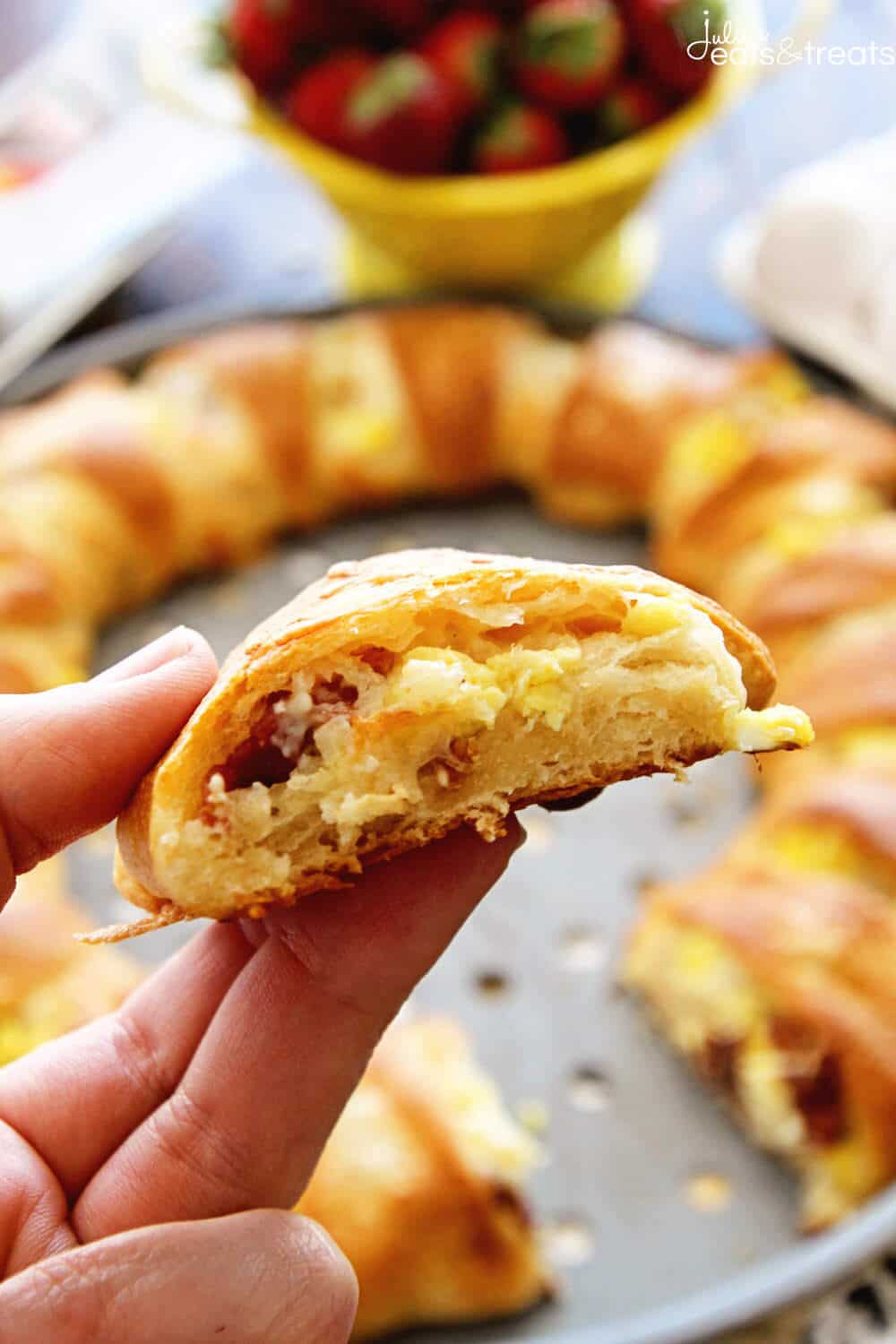 Cheesy Bacon & Egg Crescent Ring ~ Flaky Crescent Rolls Stuffed with Scrambled Eggs, Cheese, and Bacon for a Delicious Breakfast Recipe!