Christmas Tree Mini Pizza
Christmas Tree Mini Pizza ~ This is the perfect Holiday Small Bite Party Appetizer. Ready in 30 minutes these mini pizzas are definitely crowd-pleasers!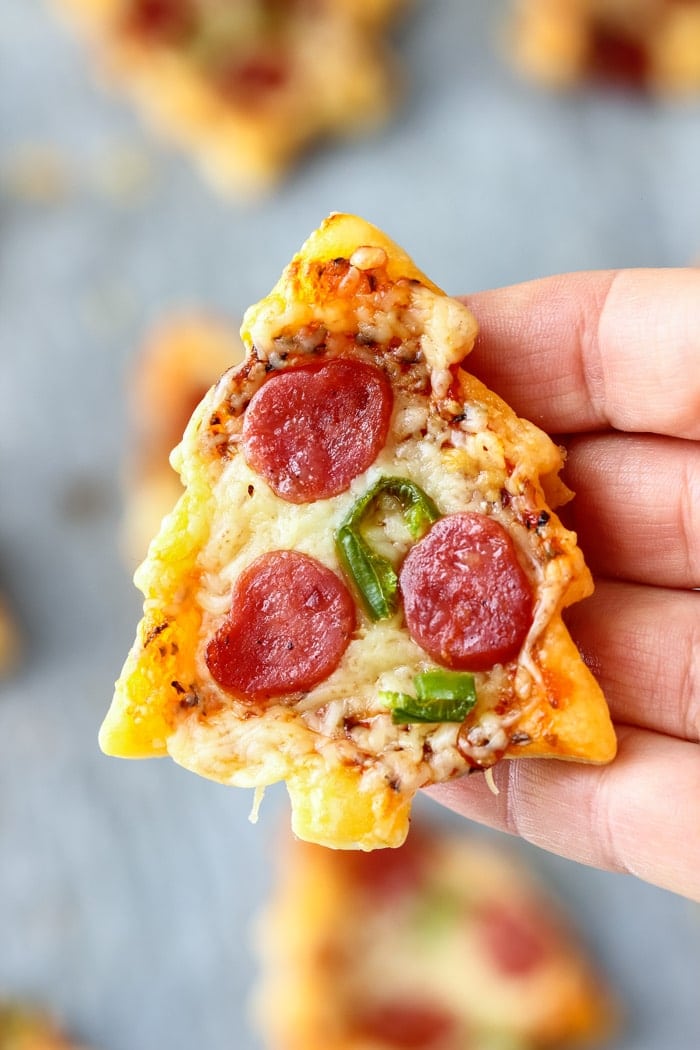 Party Appetizer
Pizza is always a treat in our house, like Pull Apart Pizza Bread! But today I have for you Christmas tree mini pizzas! These festive snacks are fun to make and taste delicious. But hey, anything pizza tastes delicious, right? Not only are they cute and delicious, but they are ready in 30 minutes for the perfect small bite appetizer!
By the way, what are you all baking this year? I will be baking Linzer Cookies and gingerbread cookies. I have already made Homemade Gingerbread Syrup and Homemade Gingerbread Spice Mix. When wrapped nicely, these would all make great DIY edible gifts (in case you were looking for some ideas).
Now these Christmas tree mini pizzas wouldn't work well as gifts but if you are planning a Christmas party or looking for some cool ideas to make with kids then you should put them on your TO DO list.
They are very easy to make and in 30 minutes you are ready to serve!
I got 24 Christmas tree mini pizzas out of my puff pastry but the amount can vary depending on the size of your Christmas tree cutter. Mine was not very large but the size was perfect for a 2-bite snack. I wouldn't use a cutter that is smaller than 2.5 inch.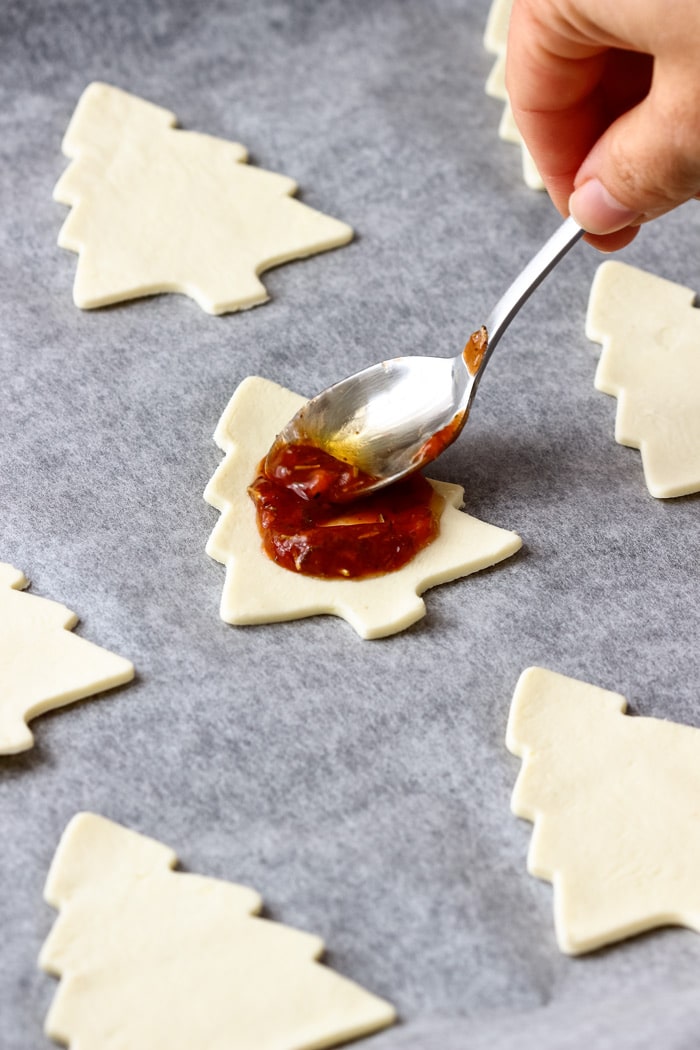 Ingredients needed for Christmas Tree Mini Pizzas:
Puff pastry
Green pepper
Grated cheese
Pepperoni snack sticks
Pizza sauce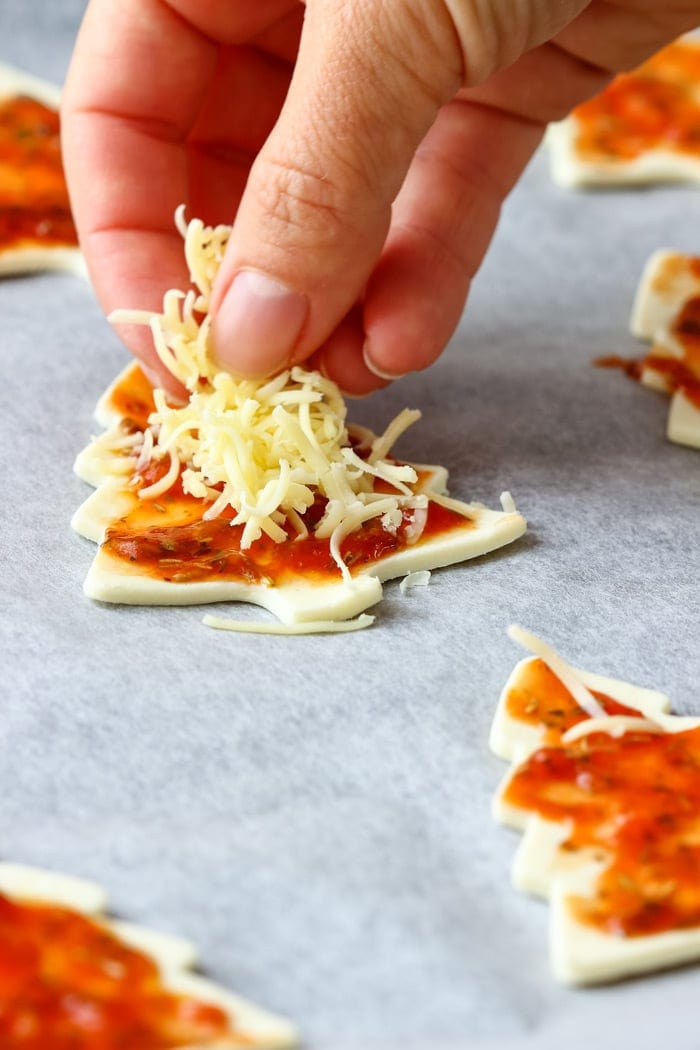 Christmas Appetizer
To make these Christmas tree mini pizzas I used a sheet of puff pastry. You can use pizza dough but I can tell you from my own experience that cutting out the trees was a real challenge as the dough was way too soft and sticky. If you decide to try making these with the pizza dough, I recommend placing it in the freezer for about 20-30 minutes. This should make it easier for you to cut the trees out.
The puff pastry will rise in the oven so use reasonable amount of toppings. For the toppings, you can use anything you like. If you don't like green pepper, omit it completely or use a few slices of olives. I could not find pepperoni snack sticks in my local supermarket so I got some Spanish salami snack sticks instead. Ham will also work well.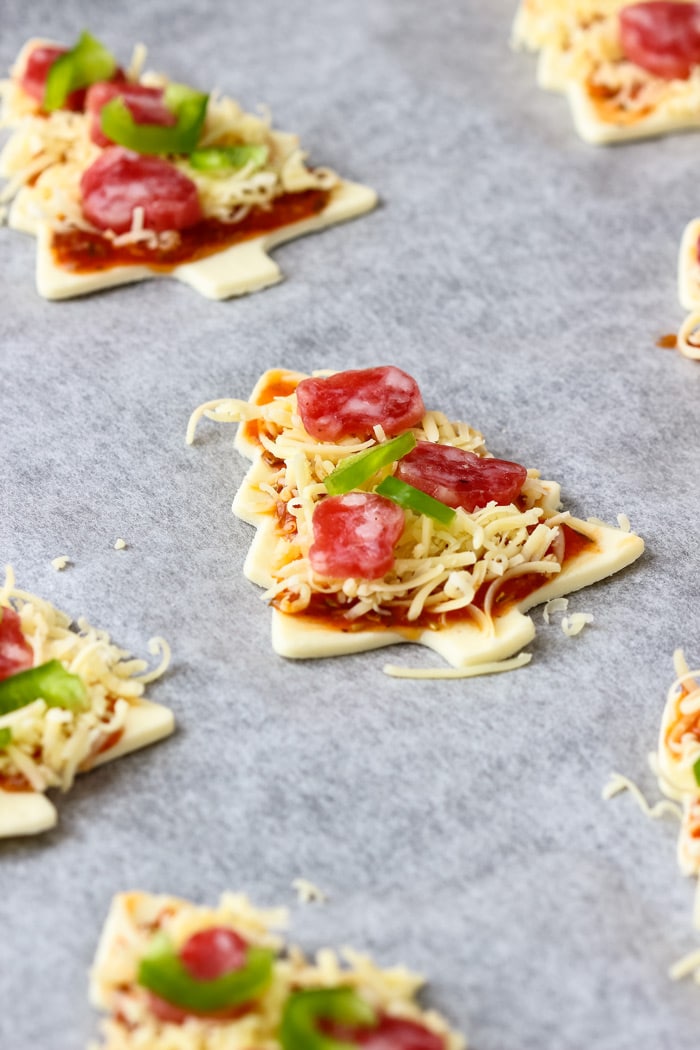 Because these are tiny pizzas you only need a few tablespoons of pizza sauce. I made mine by mixing dried oregano, ketchup, garlic and olive oil together. You can use any pizza sauce of your choice but if you have nothing on hand, this one works perfectly.
Baking these Christmas tree mini pizzas only takes about 10 minutes. Now this does not mean that it can't take longer than that. Every oven bakes differently and also the thickness of your puff pastry might be different from the one I used so keep an eye on them when making them for the first time.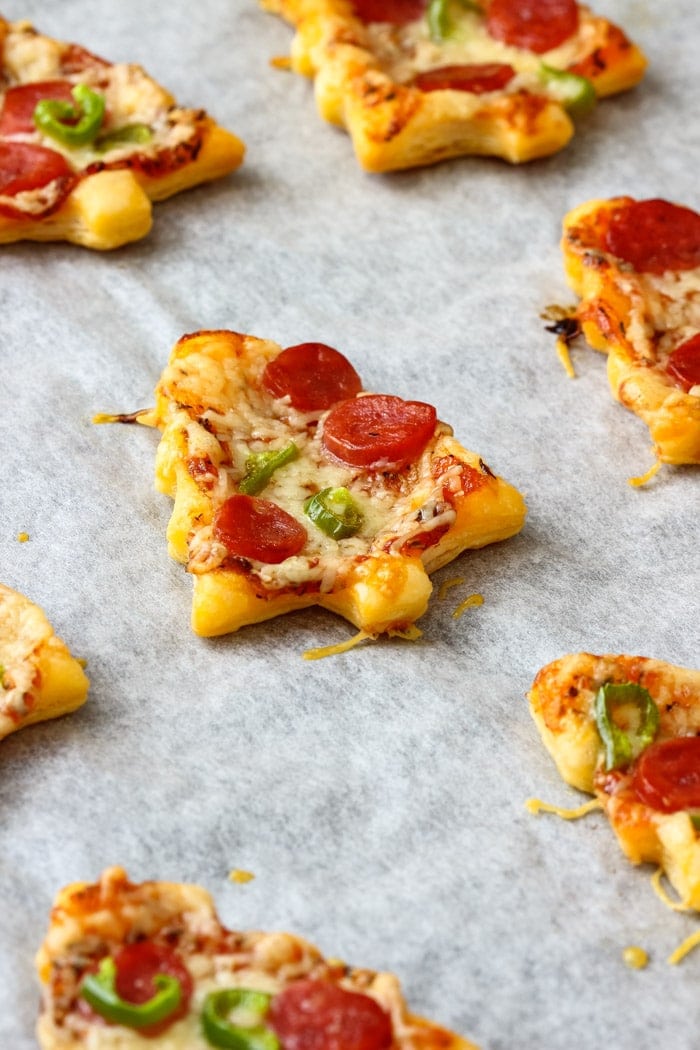 Tools Used to Make Christmas Tree Mini Pizza
Guys, if you try making these, let me know what you think! I'd love to hear from you.
WATCH THE STEP BY STEP VIDEO FOR THIS HAMBURGER STROGANOFF RECIPE BELOW:
If you enjoy watching these videos make sure you subscribe to my YouTube Channel to be notified each time a post a new video!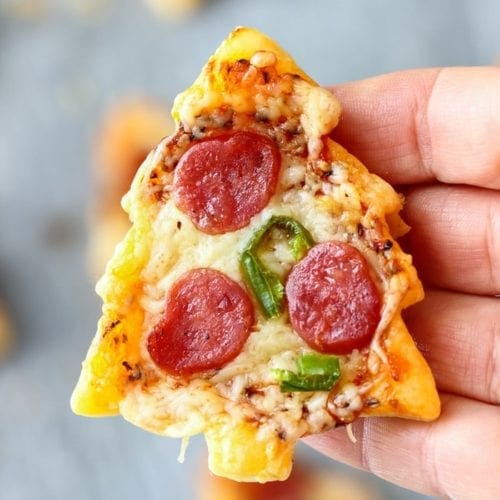 Christmas Tree Mini Pizzas
This is the perfect Holiday Small Bite Party Appetizer. Ready in 30 minutes these mini pizzas are definitely crowd-pleasers!

Ingredients
1

Ready Rolled Puff Pastry Sheet

10oz

4

tbsp

Pizza Sauce

4.5

oz

Grated Cheese

3

Pepperoni Snack Sticks

or any other sausage snack sticks

1

Green Pepper
Instructions
Use a tree cookie cutter to cut out as many trees as possible out of your pastry sheet.

Place them onto a baking tray lined with baking paper or silicone mat. Spread pizza sauce over, sprinkle with some cheese and top with a few slices of pepperoni and pepper.

Bake in a preheated oven at 400F for 10 minutes or until the pastry is puffed and golden brown.

Best served right away.
Notes
These mini pizzas are very versatile when it comes to the ingredients so feel free to use what you like. Just bear in mind they will be quite small so you will be able to top each tree with only a few pieces.
Use any pizza sauce you like. Pesto is also a great option. For homemade pizza sauce combine 1 tbsp dried oregano, 4 tbsp ketchup, 1 tsp olive oil (optional) and 2 garlic cloves (minced).
The puff pastry will rise in the oven but it will deflate a bit after it has been taken out of the oven.
The tree cutter I used here is 3 inch long & 2.4 inch wide (in the widest part).
Nutrition
Calories:
81
kcal
Carbohydrates:
5
g
Protein:
2
g
Fat:
5
g
Saturated Fat:
1
g
Cholesterol:
4
mg
Sodium:
124
mg
Potassium:
29
mg
Vitamin A:
75
IU
Vitamin C:
4.1
mg
Calcium:
60
mg
Iron:
0.4
mg
Homemade Linzer Cookies with Raspberry Jam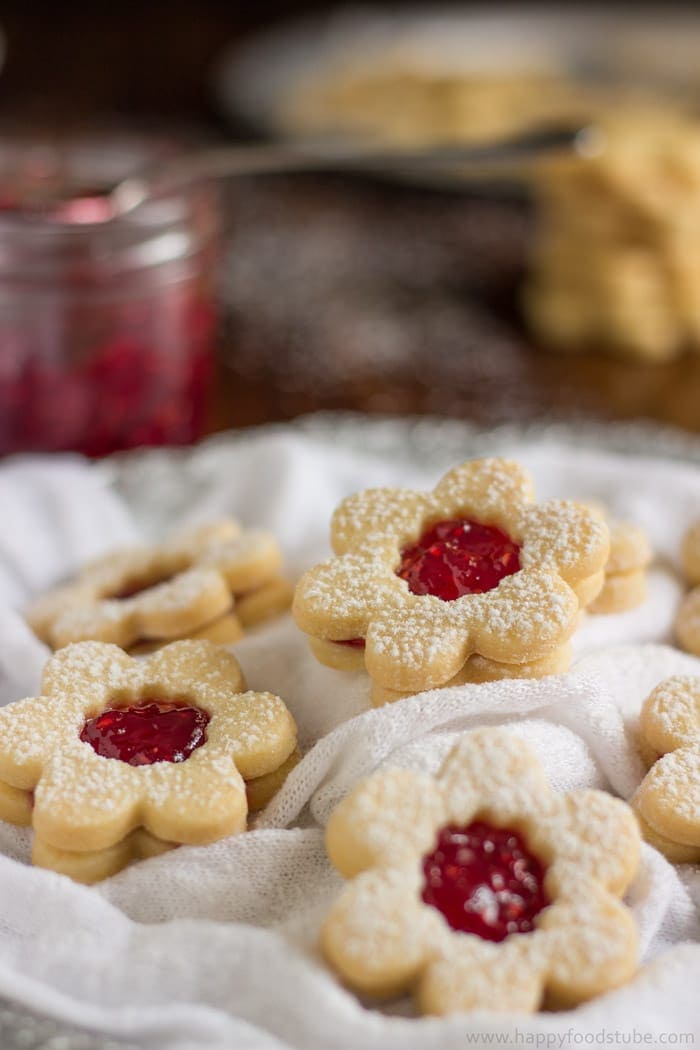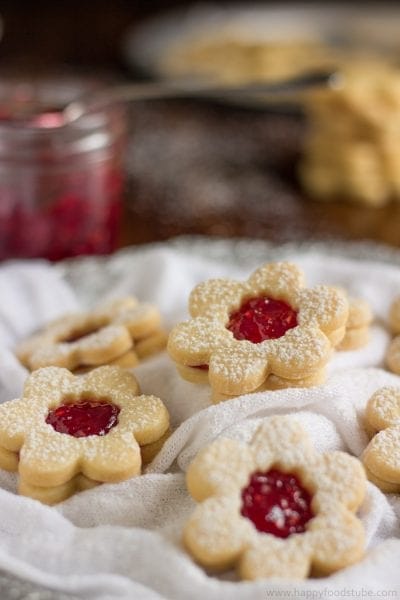 Homemade Gingerbread Spice Mix