This creamy Avocado Salsa has a tang from the tomatillos and creaminess from the avocados for the perfect blend. The depth of flavor is amazing from roasting the tomatillos, chili peppers and onion. It's great served with chips or as a topping on your tacos or other Mexican dishes!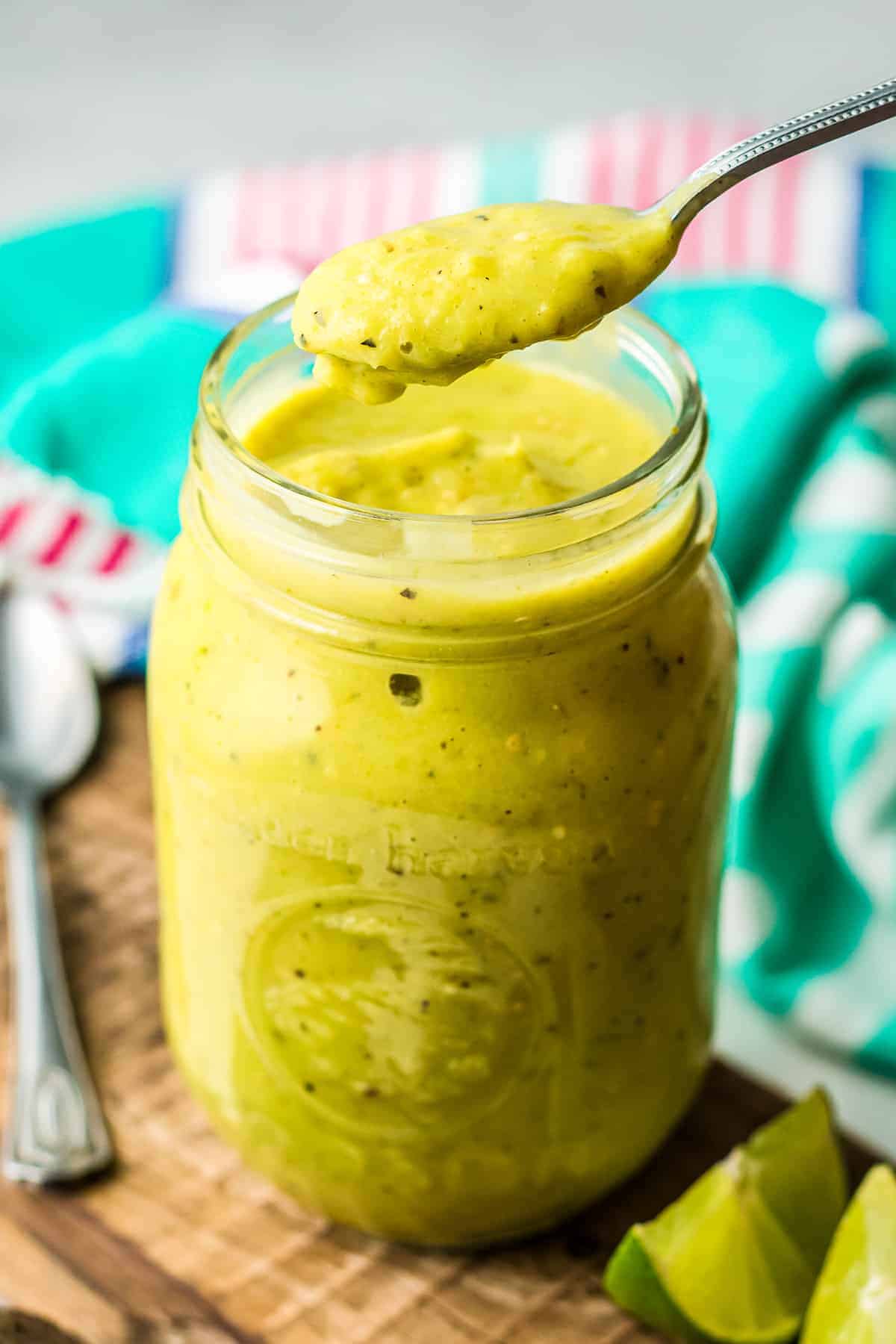 Making your own homemade salsa is so easy and the flavor combinations are endless!
You don't have to make a tomato-based one – this green salsa is made with tomatillos, avocados, peppers, and seasonings for a creamy, delicious sauce you can serve with so many things.
It's basically a salsa verde with avocados. They give the salsa a rich and creamy texture. The combination is so good!
The Best Avocado Salsa
This easy from-scratch recipe is better than any store-bought salsa – it's made with fresh ingredients and tastes amazing!
The tomatillos and peppers are cooked under the broiler until their skin blackens. This process gives the salsa tons of flavor.
Pop everything in a food processor, pulse a few times, and then you have an avocado salsa that is a little tangy, creamy with some heat from the peppers. It's delicious!
Serve this creamy avocado salsa as a dip with chips or use it as a sauce and spoon it on all of your favorite Mexican meals like tacos, nachos, and enchiladas!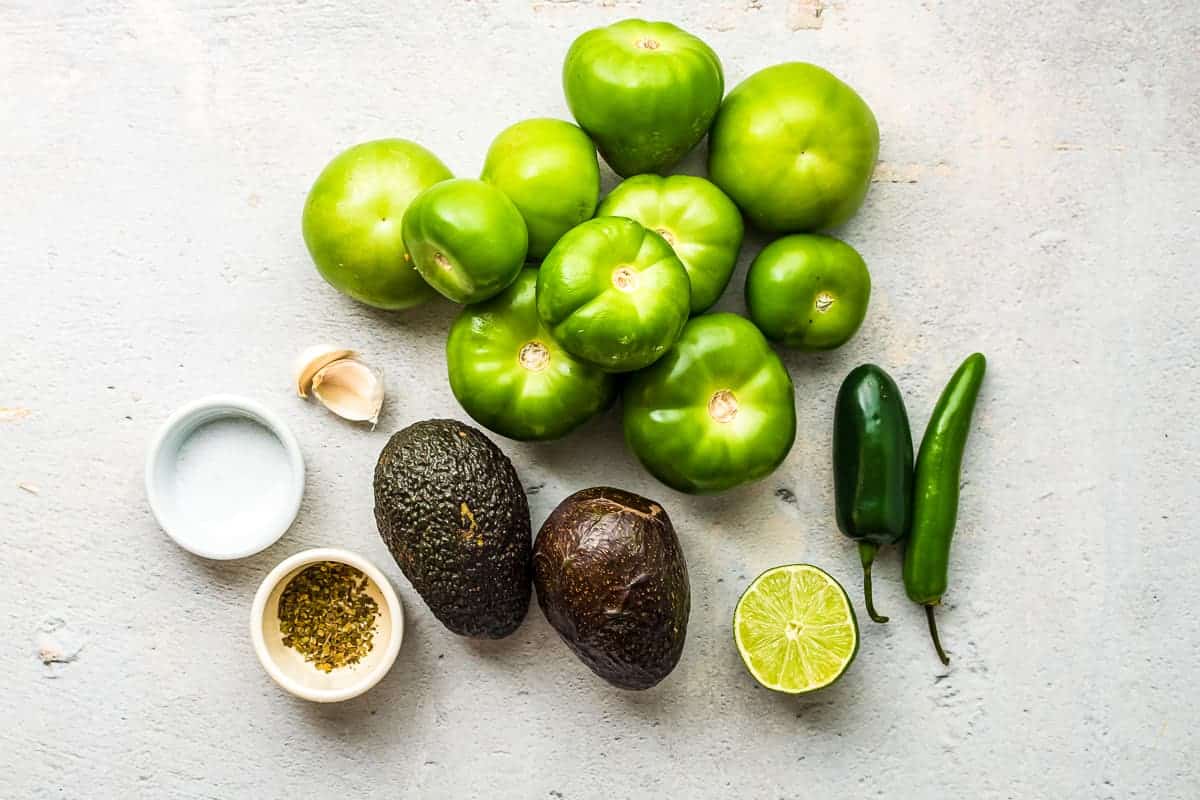 Ingredients
Tomatillos – they look like little green tomatoes wrapped in a papery husk. Remove the husk, give them a rinse, and that's all you need to do to prep them.
Jalapeno pepper and serrano peppers – these peppers bring flavor and some heat. Feel free to adjust the amount so it's the right amount of spicy for you.
White onion – you only need one thick slice for this recipe.
Mexican oregano – this is a dried herb that is different from oregano used in Italian food. It's peppery with a lemon flavor and has a stronger aroma. If you can't find it, you can sub the other kind it will just have a different flavor.
Garlic cloves
Avocados – When picking avocados look for one that feels lightly soft, but not "mushy" to the touch.
Salt and lime juice
How to Make It
Place an oven rack close to the broiler. Turn on the broiler to 500°F.
Place the tomatillos, peppers, and onion on a sheet pan. Place them under the broiler and cook them until the skins blacken in spots. Turn them over and blacken the skins on the other side.
This doesn't take long, so keep an eye on them – they can go from blackened to totally burnt pretty quickly!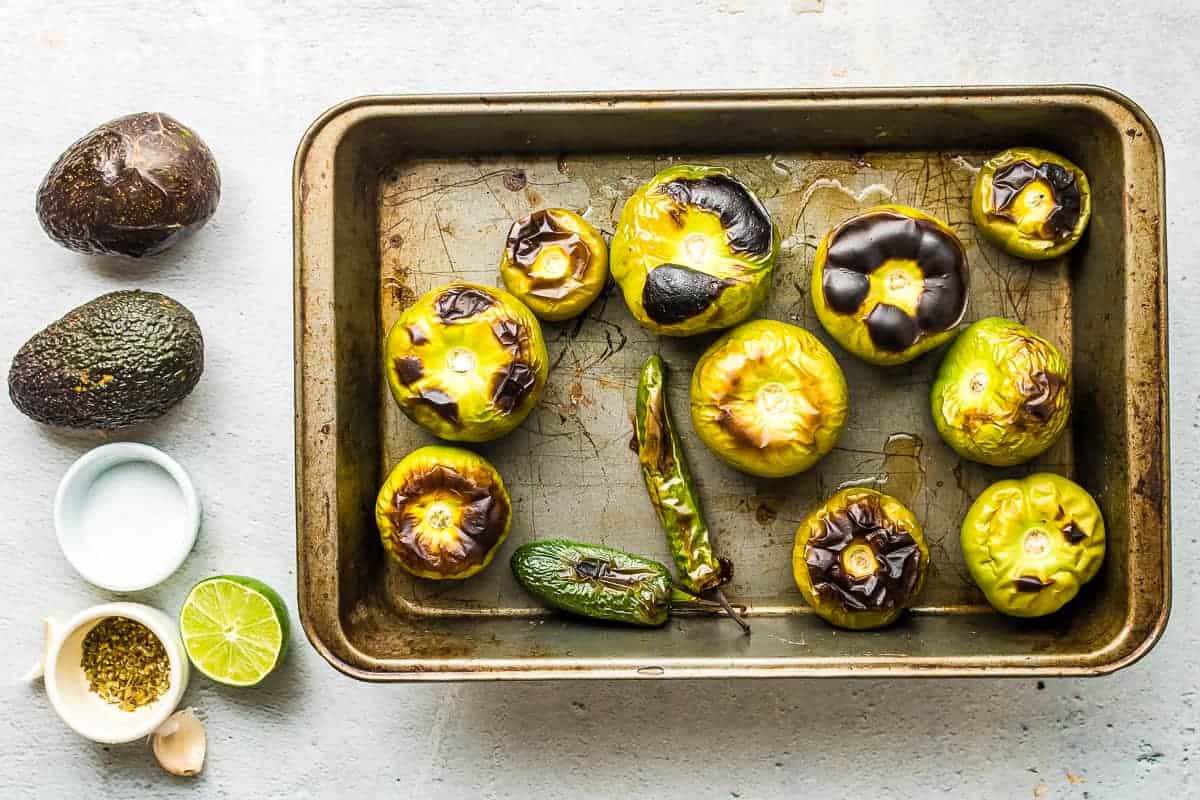 Take them out of the oven and let them cool for about five minutes.
Place them in a food processor with the rest of the ingredients and process until smooth.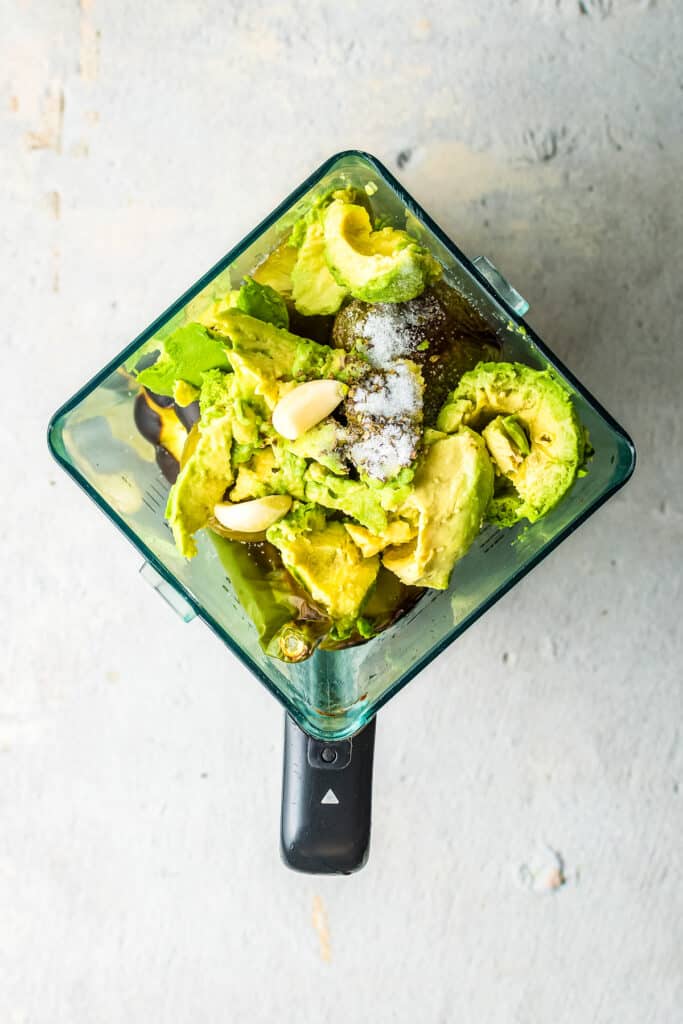 You can serve the creamy avocado salsa right away or leave it in the fridge for a few hours before serving. Letting it sit allows the flavors to develop, so it tastes even better.
FAQs
Is creamy avocado salsa just guacamole?
No, they are two different things. The main difference is that avocado salsa is made with tomatillos and has a different texture. They do have other similar flavors like lime, salt, and sometimes cilantro, which is why avocado salsa is sometimes called guacamole salsa.
What do you eat guacamole salsa with?
Pretty much anything you would eat regular tomato salsa with! We love it as a dip or you can serve it with tacos, enchiladas, nachos… all of your favorite Mexican recipes.
How long is tomatillo avocado salsa good for in the fridge?
It will keep well for up to five days. Keep it in an airtight container to keep it fresh.
Can you freeze it?
Yes, you can freeze it for up to three months in a freezer container.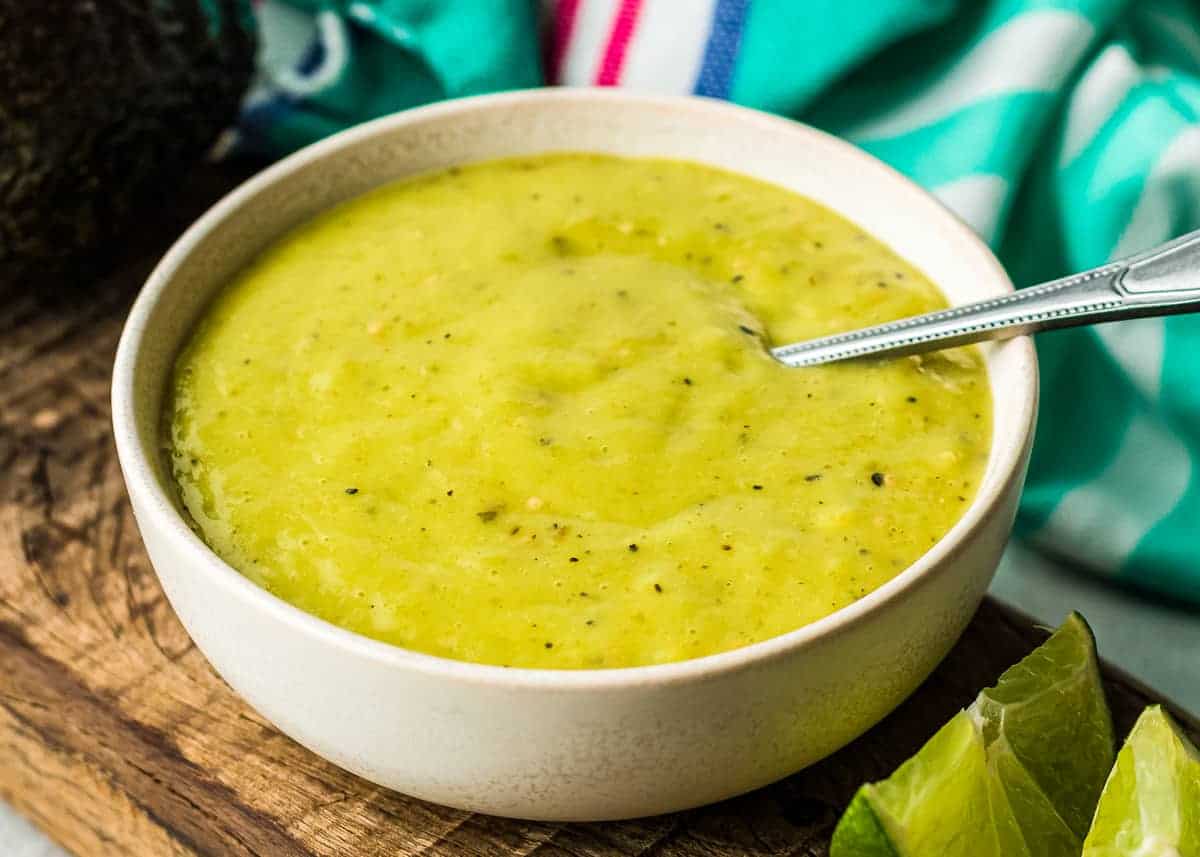 Break out the tortilla chips because you are going to love this green salsa recipe!
The combination of creamy avocados, roasted peppers and tomatillos, and seasonings are so good. Add an ice-cold Paloma to go with it and enjoy!
More Mexican Food Recipes
Make some homemade Pico de Gallo or Salsa to go with all your favorite tacos, burritos, or scoop them up with tortilla chips.
We love to make Guacamole and Margaritas for parties and happy hours!
Make a batch of Crock Pot Chicken Tacos or my easy Beef Taco Meat for your next taco Tuesday.
Don't forget dessert – Tres Leches Cake is easy to make and so good!
The delicious Avocado Toast is layered with a homemade Avocado Butter and Grilled Corn Salsa for the ultimate way to make Avocado Toast!
Love this recipe? Be sure and comment below and leave a 5-star rating! I know you'll love this delicious recipe as much as we do!
And if you're like me and snap photos, be sure to tag me on Instagram @julieseatsandtreats or #julieseatsandtreats that way I'm sure to see your yummy dish!!!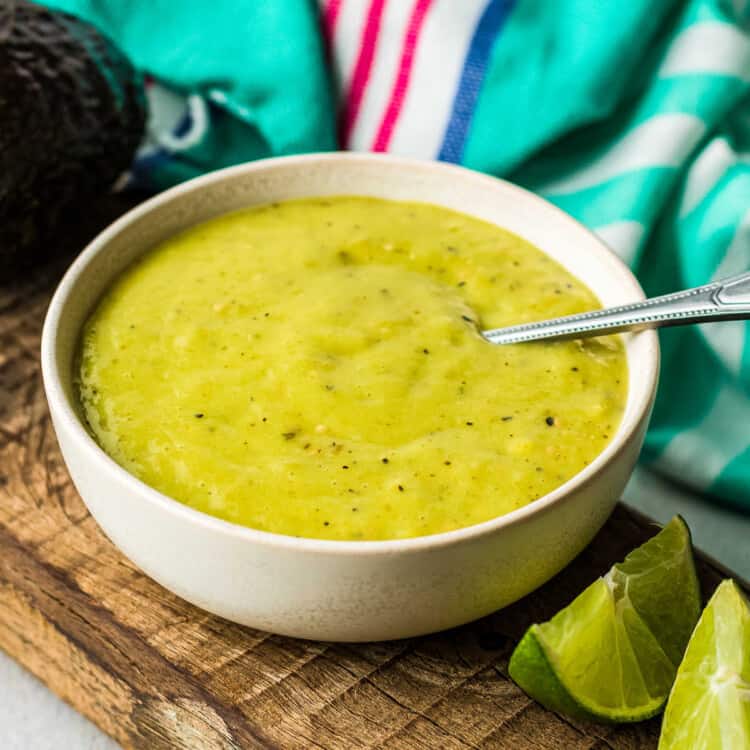 Creamy Avocado Salsa
This creamy salsa has a nice tang from the tomatillos and creaminess of the avocados. Great serve with chips or on tacos.
Ingredients
10 to

matillos

dehusked and washed

1

jalapeno

1-2

serrano peppers

1

thick slice white onion

2

garlic cloves

2

avocados

1

Tablespoon

lime juice

½

teaspoon

salt

½

teaspoon

Mexican oregano
Instructions
Preheat broiler to 500° and place rack close to the top of the oven

Place tomatillos, chili peppers and onion on a pan and place under the broiler. Broil till the vegetables blacken a bit, then flip and blacken the other side.

Remove from the oven and let cool for 5 minutes. Place all the ingredients in a blender and blend until smooth.

Serve with chips or on a delicious taco.
Tips
How long is tomatillo avocado salsa good for in the fridge?
It will keep well for up to five days. Keep it in an airtight container to keep it fresh.
Can you freeze it?
Yes, you can freeze it for up to three months in a freezer container.
Nutrition Information
Calories:
409
kcal
(20%)
,
Carbohydrates:
35
g
(12%)
,
Protein:
7
g
(14%)
,
Fat:
31
g
(48%)
,
Saturated Fat:
5
g
(31%)
,
Sodium:
601
mg
(26%)
,
Potassium:
1564
mg
(45%)
,
Fiber:
18
g
(75%)
,
Sugar:
11
g
(12%)
,
Vitamin A:
604
IU
(12%)
,
Vitamin C:
57
mg
(69%)
,
Calcium:
65
mg
(7%)
,
Iron:
3
mg
(17%)