50+ Seafood Main Dish Recipes
Looking for an easy seafood main dish recipe? We have you covered with everything from shrimp to scallops, crab and more! These are the perfect dinner recipes for Lent on Fridays, or just because you are craving seafood.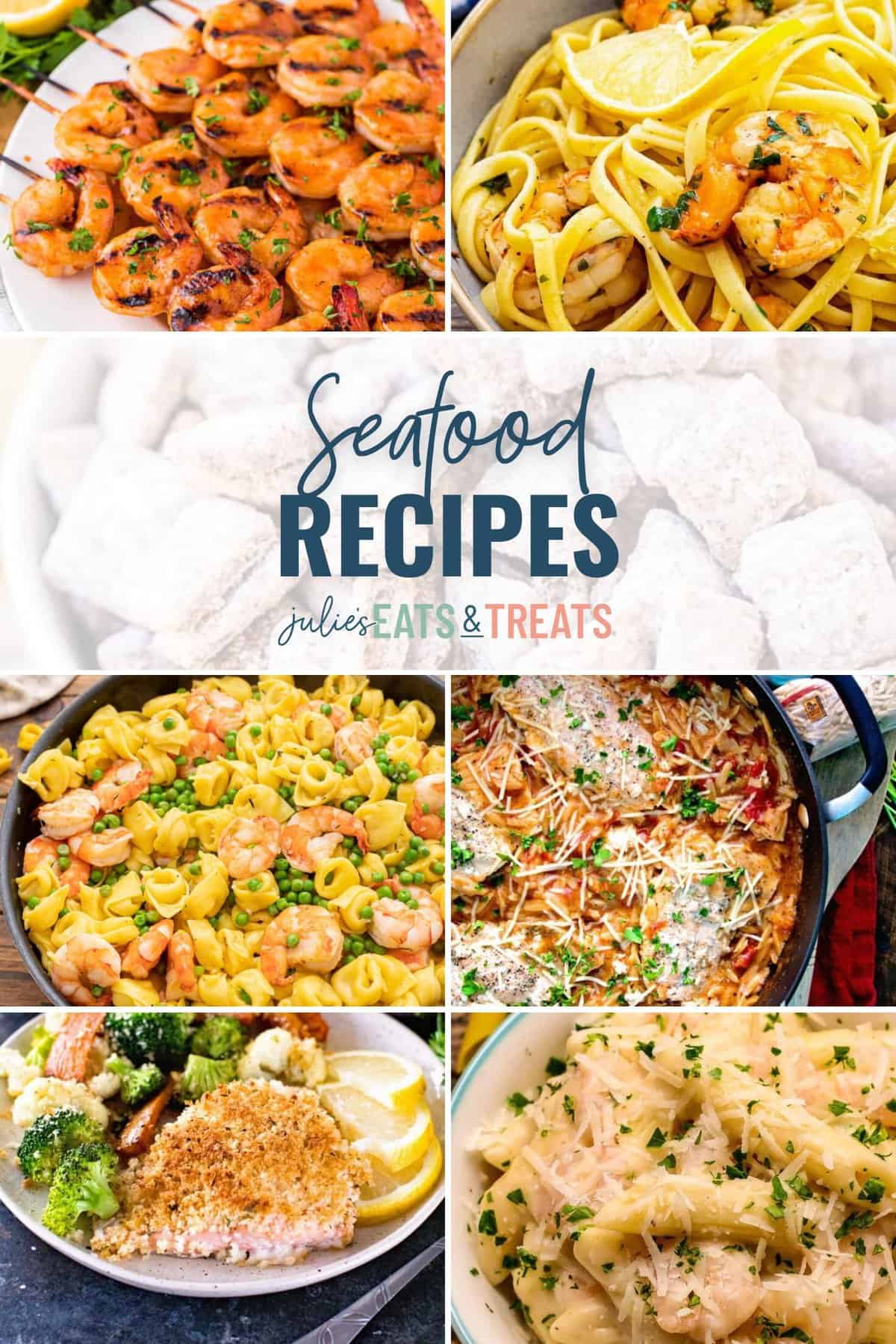 There's no shortage of amazing seafood dishes out there, but how do you know if a recipe is worth it or not? Well, now you don't have to doubt! I've rounded up some of my most favorite seafood main dish recipes so that you can choose a trusted recipe.
These recipes are great to use during Lent, summer barbecues, or even a simple weeknight dinner! Many of these dishes will pair great with a side dish of veggies like air fryer corn on the cob, easy oven roasted vegetables, or bacon wrapped green beans. Make some bread like these rolls, garlic bread, or breadsticks too!
Shrimp, scallop, Lobster & crab Recipes
As simple as they are to make, the best lobster roll debate always comes down to two things: Butter or mayonnaise? Personally, I love them both. So why not make them with both!
This is an easy seafood main course that's ready in under 30 minutes! Such a simple seafood dinner recipe. It's quick enough for a weeknight dinner, but fancy enough to serve at a dinner party.
If you are craving pasta and want a fresh "summertime" dish, you have to try this Shrimp & Asparagus Pasta! It's loaded with shrimp, pasta, asparagus, tomatoes, parmesan cheese and drizzled in a garlic and olive oil sauce. Just don't plan on using leftovers as another meal during the week, because there probably won't be any left!
If you didn't know you can cook shrimp in an air fryer, now you do! This seafood main course takes less than 10 minutes to make. It's an easy, healthy, and well seasoned dinner to make when you're craving seafood.
Though this isn't your typical pizza recipe, it's absolutely delicious! Spice up Friday pizza night with this delicious seafood pizza.
There's no need to go out to eat when you can make this delicious garlic shrimp tortellini at home. You can whip up this seafood main dish recipe in 20 minutes! It's the perfect combination of cheese tortellini, peas, and shrimp, tossed in a light garlic sauce.
I love making seafood on the grill during the summer. Grilled pineapple is already amazing, but pair it with shrimp and it's next level good! These grilled BBQ pineapple shrimp bites are the perfect summer seafood main course.
Pasta night doesn't have to mean you spend a long time in the kitchen. This shrimp penne pasta can be ready in under 30 minutes. So easy and so delicious!
Ever heard of Bang Bang Shrimp? It's fried shrimp appetizer that is coated in a creamy, spicy sauce. This would be a great first course, or main course, for your summer barbecues.
Need to add some low carb options to your list of seafood main dish recipes? This creamy garlic shrimp is an incredible dinner! Serve it with low card sides (or carb-loaded sides!) and you've got one amazing meal.
Yes, you can have a sandwich as a seafood main course! These chipotle shrimp sandwiches are insane. They're loaded with sweet and spicy jalapeño peach salsa and truly are the perfect seafood sandwich.
Honey garlic shrimp is perfect to eat over a salad or serve over brown rice. It only takes about 20 minutes to make, and I think you'll want to add it your regular dinner rotation!
Want some more seafood main dish recipes to throw on the grill? These spicy grilled shrimp are great! Baste the spicy shrimp in marinade and grill them on kabobs for an easy and quick meal.
This 15 minute recipe packs quite a punch. It's such a great seafood dinner, especially if you like spicy food. Give it a try!
Do you love Chinese takeout but are looking to save money? Here's a budget friendly version of General Tso's Sweet Chili Shrimp. It's healthier than takeout and won't take very long to make.
If you love shrimp salad, then you'll really love this recipe. It's incredibly simple and tastes great as a sandwich!
These shrimp tacos are to die for! These tender shrimp are served on a lightly charred corn tortilla and topped with cabbage, slaw, and a creamy spicy taco sauce. Add a squeeze of lime juice and a bit of fresh cilantro and then dig in.
Scallops don't have to be difficult to make! This simple scallop recipe is a great seafood main course. They are truly melt-in-your-mouth delicious.
Pasta night just got extra fancy with this creamy scallop main dish recipe. I love pairing it with fettuccini or angel hair pasta. Don't forget the bread sticks!
Honey Garlic Butter Scallops are so delicious! It's a great twist on how scallops tend to be cooked.
Macaroni and cheese just got a whole lot better. Add crabmeat to these cheesy noodles and eat this as a side dish or a main dish at dinner!
There's a lot of gumbo recipes out there that aren't any good. This is not one of those recipes! This gumbo has the perfect amount of kick and is packed with delicious flavor.
Salmon, Tilapia, and Tuna Recipes
I love sheet pan dishes! The minimal cleanup is a dream. This sheet pan lemon parmesan is super easy and absolutely delicious.
This Light Italian One Pot Salmon & Orzo Recipe is a go-to. It's packed with so much flavor and is a one-pot dish, making clean up really quick.
Looking for a gluten free seafood main dish? These cauliflower rice fish taco bowls are amazing! Make a homemade greek yogurt sauce to drizzle on top of these tasty fish filets.
You don't have to fry fish for it to have a crispy crust. This parmesan crusted tilapia is perfectly flaky and moist and is absolutely amazing!
If you need to cook a lot of fish at once, try this oven baked tilapia. It's the perfect seafood main dish recipe to cook for large families, and even for parties!
You can never have too many fish taco recipes! These tacos are topped with a garlic lime crema that is insanely addictive. Make these fish tacos for your next taco Tuesday.
Honey garlic glazed salmon is so tasty. Even those who aren't a fan of salmon will like this main dish recipe thats loaded with flavor. Plus, it only takes 20 minutes to make!
This baked salmon tastes like it came straight from your favorite seafood restaurant. It's flaky and delicious and so easy to make. Such a perfect and simple meal.
This seafood main dish recipe comes together super quickly and only requires a handful ingredients. Great to throw together on a busy weeknight or for a last minute get-together.
Grilling salmon is one of favorite ways to prepare this type of fish! It just brings out the flavors so well. This recipe is perfect for the whole family.
Jazz up a caesar salad by adding salmon and a homemade southwest dressing. This romaine lettuce base is also loaded with black beans, cherry tomatoes, croutons, and pepitas. Mouthwateringly delicious!
This grilled mahi mahi is a great seafood dinner recipe! If you're not a fan of "fishy" tasting fish, give Mahi Mahi a try.
Fish Stick Recipes
If you're craving fish tacos but don't have time, these fish stick tacos will come to the rescue! Grab your favorite frozen fish sticks and some corn tortillas and make this quick and easy weeknight meal.
Fish sticks, but fancy! This po boy uses fish sticks as the main star, topped with a homemade tartar sauce and served on a hoagie bun.
This may sound a little funny, but don't knock it 'till you try it. This casserole can be a side dish or you can eat it as an easy seafood dinner recipe.