Planning a picnic? Complete your outdoor feast with these mouthwatering Picnic Side Dishes. From refreshing salads to savory bites, these dishes are easy to pack, full of flavor, and guaranteed to enhance your picnic experience.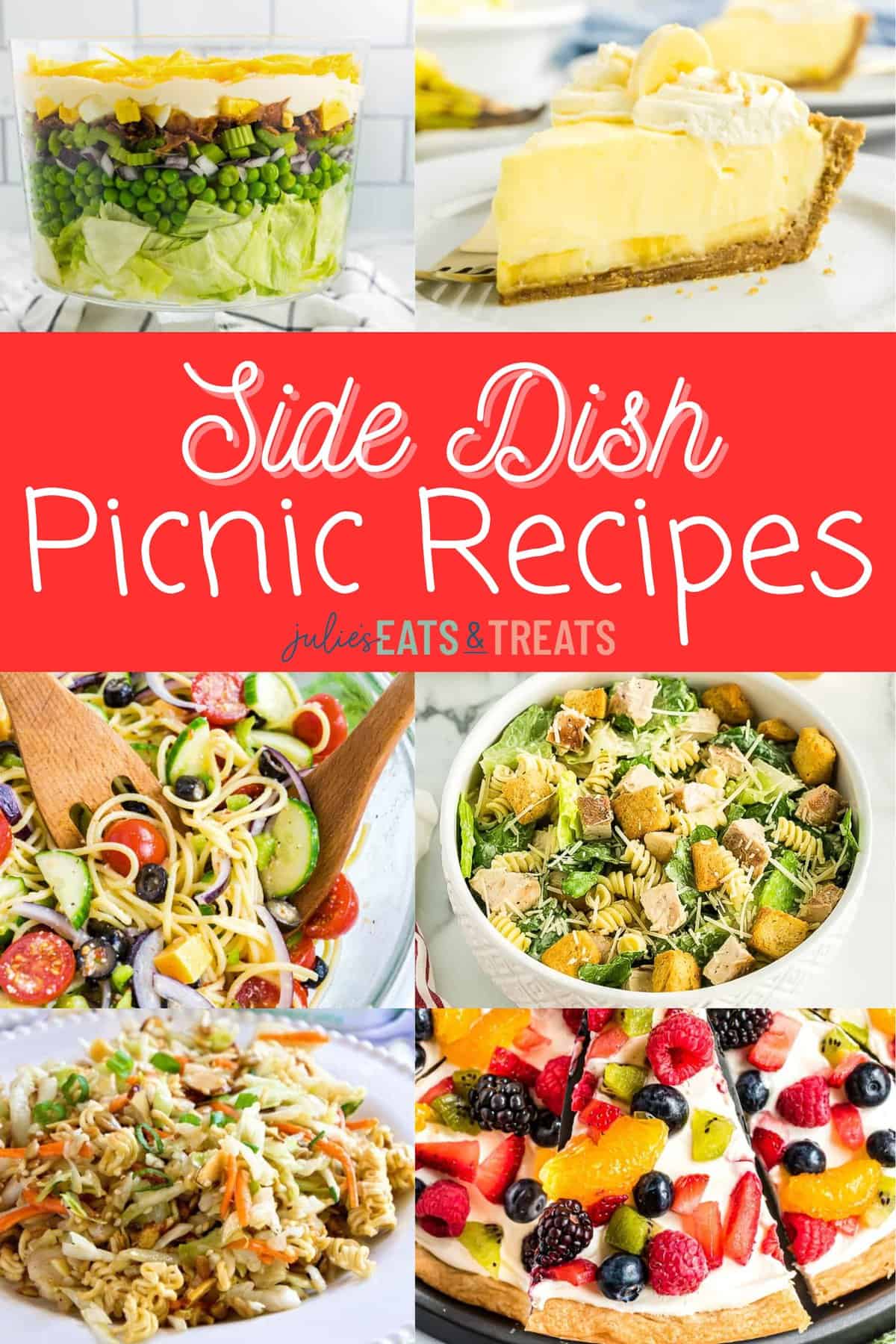 With summer in full swing, it's the perfect time for picnics in the park! ☀ To make your outdoor dining experience even more enjoyable, I wanted to share some mouthwatering side dish recipes that are picnic-friendly. From refreshing salads to tasty bites, these recipes are easy to make and guaranteed to impress.🤩
Get ready to savor the flavors of the season and create unforgettable picnic memories with these delicious recipes.
So, pack your basket, gather your loved ones, and get ready for a delicious picnic spread. Enjoy the sunshine, good company, and of course, these delicious side dishes!
Click any of the headings below to jump straight to that section!
Picnic Side Dishes!
Pasta Salads
It's a versatile salad that can be enjoyed as a main course or served as a side dish for a summer barbecue or potluck
Spaghetti salad is a delicious and versatile dish that combines cooked spaghetti noodles with a variety of fresh vegetables, herbs, and a flavorful dressing.
Asian Ramen Salad is a popular and flavorful dish that combines crunchy ramen noodles, fresh vegetables, and a tangy dressing.
It's a perfect combination of tangy tomatoes, creamy mozzarella, fresh basil, and balsamic dressing, all tossed with cooked pasta.
Pesto Pasta Salad is a vibrant and flavorful dish that combines cooked pasta with pesto sauce and an array of fresh vegetables and herbs.
Indulge in the Taste of Summer with our Crab Pasta Salad – A Seafood Delight!
Bring on the Bold Flavors with our Pepperoni Cold Pasta Salad – A Zesty Twist on a Classic!
Transport Your Taste Buds to the Mediterranean with our Greek Pasta Salad – Fresh, Vibrant, and Bursting with Flavor!
Satisfy Your Cravings with our Bacon Ranch Pasta Salad – Creamy, Crispy, and Irresistibly Delicious!
Elevate Your Salad Game with our Caesar Pasta Salad – A Perfect Fusion of Classic Caesar and Pasta Perfection
Classic Comfort: Dive into the Creamy Goodness of Our Irresistible Macaroni Salad.
Seafood Sensation: Enjoy this Delightful Harmony of Tuna and Pasta in Our Flavorful Tuna Pasta Salad!
Experience the Freshness of the Sea in Our Scrumptious Shrimp Pasta Salad!
Share a Plate of Happiness with Our Friendly Italian Pasta Salad – A Flavorful Delight for Every Gathering!
Bite Size Appetizers
Create Smiles with Our Friendly Veggie Pizza Recipe – A Flavorful and Wholesome Delight
Roll and Savor: Enjoy Every Bite of Our Friendly Tortilla Pinwheels – Perfect for Snacking and Sharing
Enjoy our Cheesy Turkey Bacon Ranch Pinwheels – Irresistible Flavor in Every Bite!
They are a popular appetizer at parties and gatherings due to their delicious taste and the fact that they can be prepared in advance.
Crunchy and Flavorful: Savor the Addictive Delight of Our Ranch Pretzels.
Dips
Enjoy the Friendly Flavors of Our Texas Caviar – A Colorful and Zesty Party Favorite!
With its combination of smoky, creamy, tangy, and savory flavors, our Mexican street corn dip is a true crowd-pleaser that brings the vibrant spirit of Mexican street food right to your table.
Dive into the Delightful Goodness of Our Friendly Corn Dip – A Creamy and Flavorful Crowd-Pleaser
Creamy, Bacony, and Perfect for Any Occasion!
Indulge in the Smoky Goodness of our Grilled Corn Guacamole – A Perfect Fusion of Freshness and Charred Flavors!
A Creamy and Flavorful Delight Worth Every Penny! 😉
Effortless fiesta- a quick and crowd-pleasing appetizer!
Stacked with Flavor: Indulge in the Delicious Layers of Our Layered Taco Dip.
Corn salsa is one of my favorite appetizers for a summer party or you can serve it as a side dish.
Dill pickle dip is popular among pickle enthusiasts and those who enjoy bold and tangy flavors.
Spicy Ranch Fiesta: Delight in the Fiery Kick of Our Kickin' Ranch Corn Dip – A Bold and Flavorful Party Favorite.
Vegetable and Fruits Salads & Sides
Couscous salad is a delicious and adaptable dish that is sure to please.
Now, that my friends is a Sweet Potato Salad that packs a punch!
Pure comfort in every bite: a classic potato salad that never fails to satisfy.
Crunchy, vibrant, and oh-so-delicious: this broccoli salad is a refreshing twist on greens!
A masterpiece of layers and flavors: indulge in the vibrant harmony of the seven layer salad.
Smoky perfection made simple: savor the irresistible flavor of easy smoked vegetables.
Roasted to perfection, this red potato salad is a delightful blend of flavors and textures.
Bursting with sunny flavors and vibrant colors, this sunshine fruit salad is a refreshing taste of summer.
Crispy indulgence meets garden-fresh goodness: enjoy the satisfying crunch of lettuce frito salad.
A sweet and refreshing delight: indulge in the juicy goodness of grape salad.
Effortlessly delicious: this easy fruit salad is a refreshing medley of flavors that will satisfy your cravings.
Picnic Desserts & Drinks
Sweet dreams are made of this: Golden Oreo Dream Salad, a heavenly treat that's both creamy and crunchy.
The perfect blend of tea and lemonade: sip on the timeless and refreshing Arnold Palmer Drink.
A delightful twist on a classic dessert: indulge in the layers of goodness with banana split trifles.
A zesty and fruity twist on a classic cocktail: sip on the refreshing delight of strawberry lemonade margaritas.
An irresistible combination of sweet and crunchy: indulge in the decadence of Snickers salad, a delightful treat for your taste buds.
Deliciously refreshing and alcohol-free: enjoy the vibrant flavors of a virgin strawberry margarita, a perfect mocktail for any occasion.
A delightful fusion of sweet and creamy: treat yourself to the whimsical delight of cookie salad, a dessert that will satisfy your cravings.
A delightful dessert that's effortless to make.
Dive into the delightful world of fruit pizza, a dessert that combines the best of both worlds.
Whip up a cloud of irresistible delight with Oreo fluff, a creamy and decadent treat that will satisfy your sweet tooth.
Capture the essence of strawberry season in a vibrant and fruity dessert.
Experience the perfect balance of tangy and sweet with blueberry lemonade, a refreshing drink that captures the essence of summer.