Easy Ground Beef Casseroles
Have a freezer stocked with ground beef? Make one of these easy and hearty ground beef casseroles! They are a perfect easy dinner, great making freezer meals and fuss free!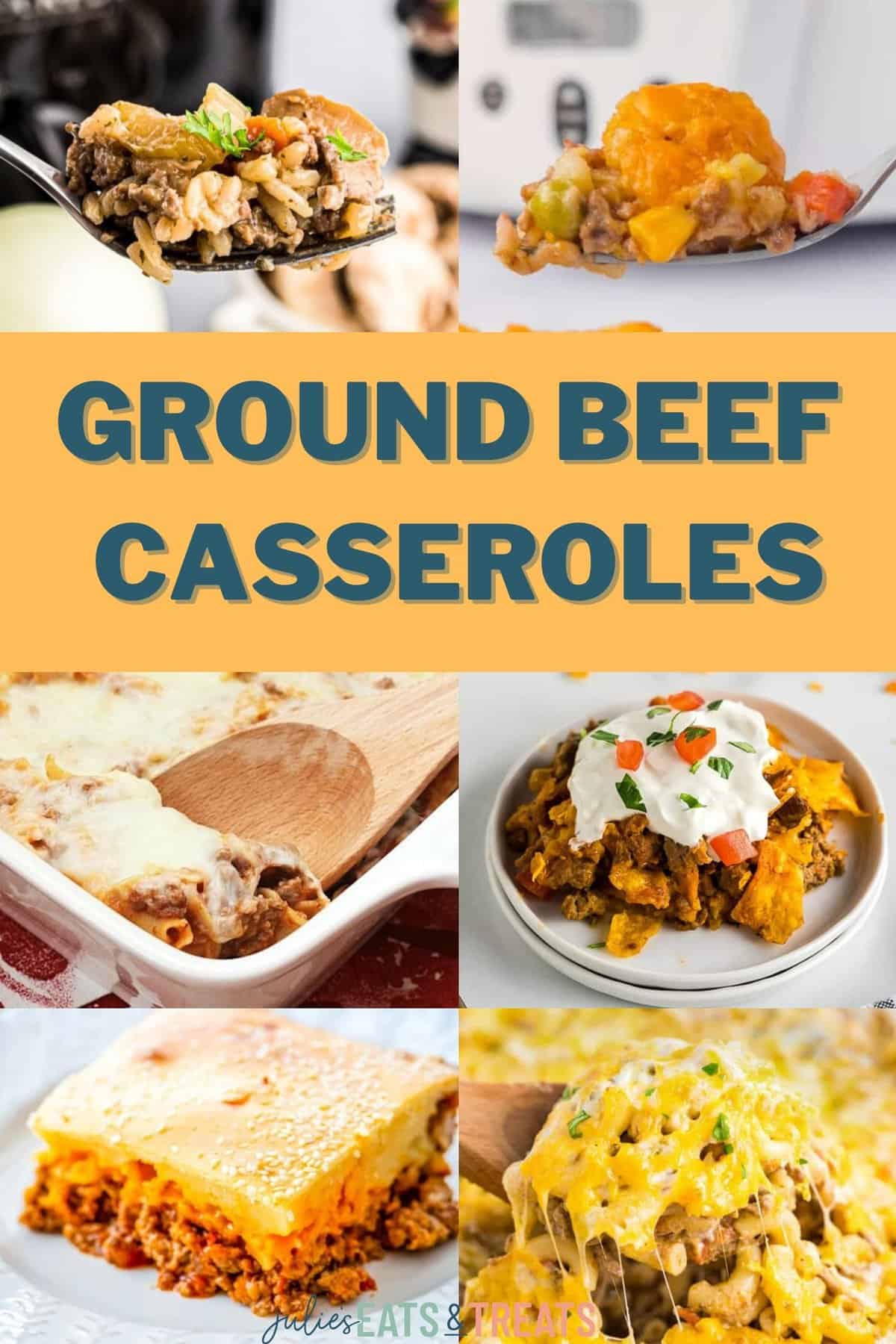 From classic cheesy lasagnas that sing "cheese, please!" to zesty Tex-Mex bakes that'll have you shouting "Olé!" – we've got a casserole for every craving. And did we mention the leftovers? Brace yourself for the lunch envy of your coworkers. 💼🥘
Easy ground beef casseroles will be the saving grace of your dinner rotation. Many of these recipes take less than half an hour to make. And there are plenty that are made in one pot! If you're looking for ways to use that ground beef sitting in your fridge, then choose to make an easy casserole with ground beef.
Dig into comfort with this hearty Frito Pie Casserole! Layer of cheesy goodness and packed with flavorful beef.
All the flavors you love in a cheeseburger, baked to perfection. This cheeseburger casserole is one of my favorite easy ground beef casseroles.
A crunchy and savory fiesta that's as easy to make as it is delicious to eat. Get ready for a flavor-packed dish!
All the zesty flavors you love, layered for maximum deliciousness. Taco casserole would be fun twist for your dinner this Taco Tuesday!
Enjoy all the richness of classic lasagna, but in a convenient and delightful casserole form. So easy to make and perfect for pasta night.
Have kiddo who will only eat pizza? Make this delicious pizza casserole creation and let your slow cooker do the work while you enjoy a cheesy, saucy, and flavor-packed twist on a favorite.
Set it, forget it, and savor the magic of a delicious twist on a timeless favorite! Cheeseburger tater tot casserole is a fabulous easy dinner on a busy day.
A delightful blend of hearty ground beef, earthy wild rice, and savory seasonings. Comforting, easy, and oh-so-satisfying – a true taste of home!
All the deliciousness of a classic meatball sub, transformed into a hearty and cheesy casserole. This easy casserole with ground beef is a fun dish to try!
All the bold and saucy goodness of classic Sloppy Joes, now in a convenient casserole form. A simple and comforting casserole for any occasion.
This is really best when made fresh and served immediately. So invite your friends over, make it a party and bake this amazing casserole!
Get ready to take your taste buds on a south-of-the-border journey without leaving your kitchen! This easy ground beef casserole is loaded with the most incredible combination of flavors.
Elevate your pasta night with our Baked Spaghetti Recipe! 🍝🧀 Noodle bakes are truly one of the best comfort foods.
A savory and satisfying dish where pasta meets pie, resulting in layers of flavors and a delightful twist on tradition. Add this to the top of your list of easy ground beef casseroles.
Indulge in pizza night the casserole way with our Pizza Casserole! 🍕 Pepperonis and ground beef make for a protein packed meal loaded with flavor.
Layers of tortillas, savory fillings, and irresistible sauce come together for a Tex-Mex delight that's easy to make and even easier to love. One of our family's favorite easy ground beef casserole recipes.
Our recipe combines the best of tacos and pasta, filling jumbo pasta shells with savory seasoned beef, gooey cheese, and all your favorite taco toppings.
Our Baked Ziti recipe is a true crowd-pleaser, perfect for gatherings or cozy nights in. Italian dishes always go over so well!
Hearty comfort food meets bold flavor in this Chili Mac! An explosion of flavors all in one pot. Perfect if you need an easy recipe with minimal clean-up.
Spice up your dinner routine with Mexican Lasagna! Serve this up as a twist for pasta night or taco night.
Turn ordinary ground beef into an extraordinary meal in minutes. Our Hamburger Helper brings convenience and flavor to your table, making dinnertime a breeze.
Ground beef, tender macaroni, and vibrant tomatoes come together in a single pot for a hearty dish that's as easy to make as it is to love.
Try our easy ground beef casserole recipe that's layered with rich flavors and ooey-gooey cheesiness. Classic comfort food baked up in the oven with loads of cheese!