Mexican Pasta Casserole ~ Easy Casserole Loaded with Pasta, Beef, Salsa, Corn and Mexican Cheese!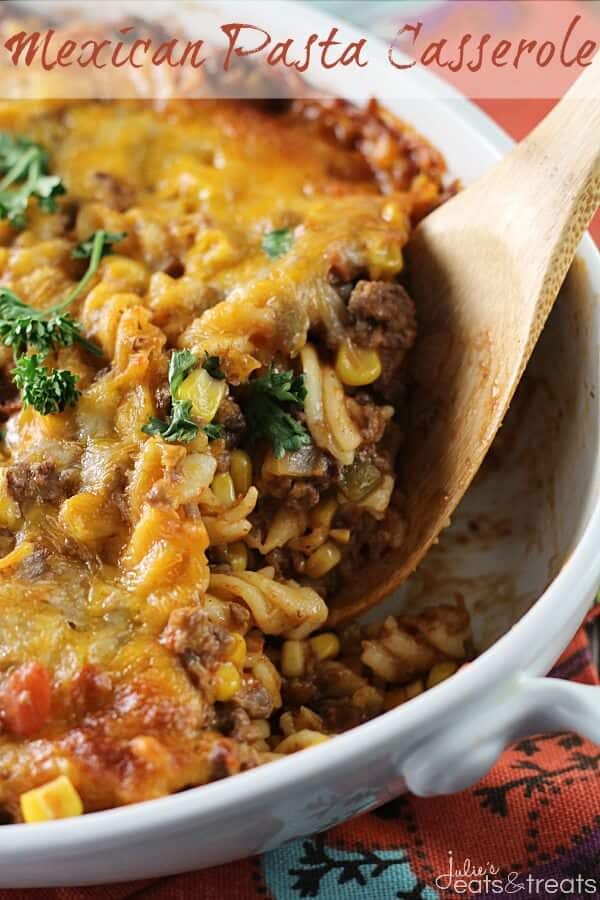 Today is the first in about two weeks the temperatures got above freezing here in Minnesota. Sigh. Depressing huh? Now you understand why my freezer is full of Christmas treats and my Christmas tree is up. The white stuff outside made me go straight to Christmas this year. I think the baby did too. Trying to plan ahead a little so I'm not quite as overwhelmed at the holiday time. The majority of the presents are bought, but they need to be wrapped. Some wonderful elf (like you!) wants to come do that for me right? Glad we got that figured out!
As the temperatures dip I crave more comfort foods like this casserole. Casseroles are the best because I often can make them the night ahead and then just pop them in the oven when I come home from work. So much easier to prep after the kiddos are in bed and so much easier to pop it in the oven and feed them ASAP when we get home because they might die if I don't. At least that's what they make me feel like how about you?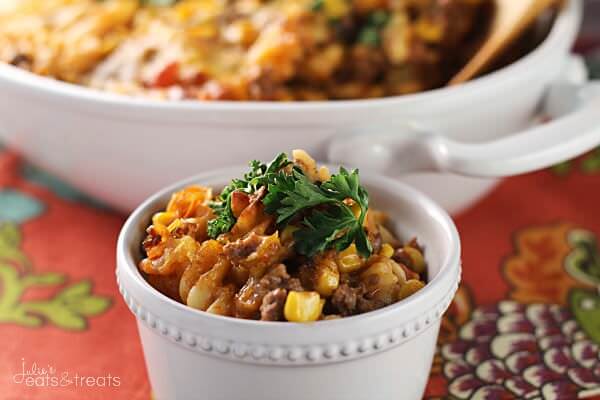 As the temperatures finally got warm enough to work on the shed for my husband again I decided to disappear for the morning out to my parents with Miss K. It's so much easier to do that then fight the constant, can I go outside with Daddy question! Apparently nothing I do inside is as fun as what he does outside. There's probably some truth to this. I was completely fine with this visit to my parents as it gave me an excuse to ignore everything I needed to do at my house and simply relax out there. That's until I went downstairs to my mom's office and started pitching everything in sight. I stressed her, but peeps it needed to be done and I must have took my nesting instincts to my parents instead of my house because that has not happened here and it probably should. Maybe I'm just not ready to pop yet even if my due date is tomorrow? Sigh.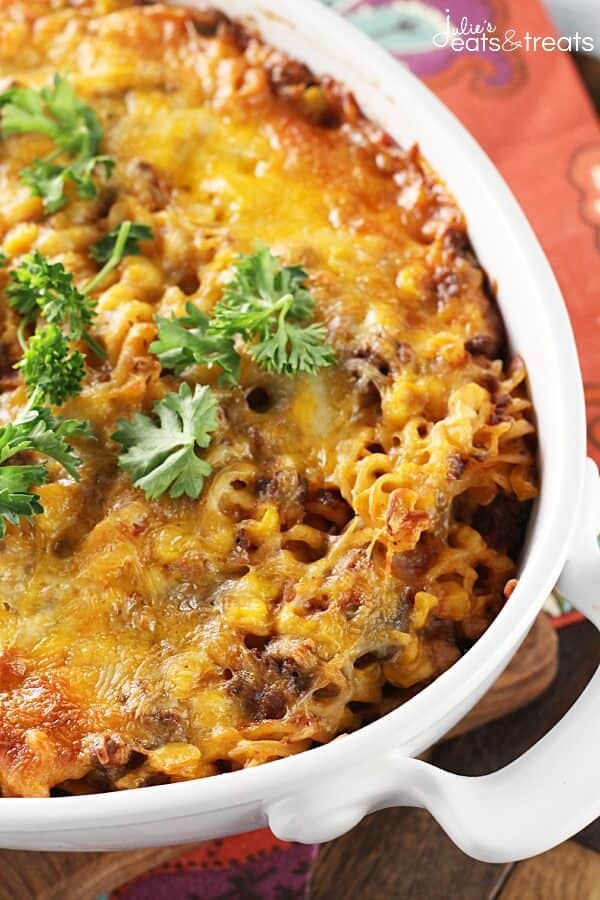 This would be a fabulous casserole to bring to a new mom! Do you do that with your friends? I try as much as I can because I remember those moments when I was like oh crud I have to actually make supper tonight? That's never fun when you have a newborn, wait it's never fun period. That's why I figure if I'm a month late on the whole I'll bring you supper concept that's fine because no mother on earth is going to turn down a home cooked meal that she did not have to make. In fact I'm pretty sure Miss K is 2 1/2 years old and if someone showed up on my doorstep with supper just because I would hug and kiss them!
A few more delicious casseroles you should be sure and try are Haystack Casserole, Mexican Chicken Casserole and Mexican Lasagna Recipe, yum!!!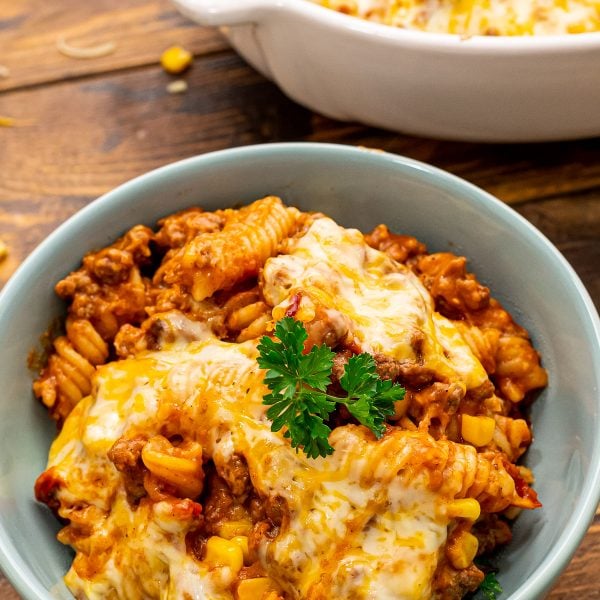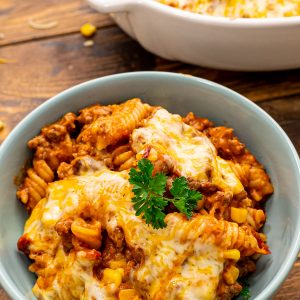 Mexican Pasta Baked
Easy casserole recipe that is a mixture of ground beef, corn, salsa and more!
Ingredients
1

lb

ground beef

15

oz

can corn

drained

2

c.

uncooked spiral pasta

15.5

oz

jar salsa

10.75

oz

can condensed cream of chicken soup

1

c.

shredded Mexican cheese

divided
Instructions
Preheat oven to 350 degrees.

Prepare pasta according to package directions.

Brown beef over medium heat in a large skillet until no longer pink. Drain off grease. Stir in salsa, corn, soup and 1/2 c. of cheese. Heat mixture through. Stir in drained and cooked pasta to mixture.

Transfer to greased 2 quart casserole dish. Sprinkle with remaining cheese.

Cover and bake at 350 degrees for 15-20 minutes or until cheese is melted.
Nutrition
Calories:
719
kcal
Carbohydrates:
84
g
Protein:
38
g
Fat:
26
g
Saturated Fat:
12
g
Cholesterol:
91
mg
Sodium:
1014
mg
Potassium:
1103
mg
Fiber:
6
g
Sugar:
12
g
Vitamin A:
1002
IU
Vitamin C:
5
mg
Calcium:
312
mg
Iron:
3
mg